Guide to the 2012 Topps 661 Bryce Harper Cards
Not unlike what they did in 2010 with Stephen Strasburg, Topps added a 661st card of Bryce Harper to their 2012 flagship. And just like in 2010, Topps produced multiple versions of Bryce Harper's first Topps cards. This guide is to assist collectors in identifying each of the several Harper "661" cards.
Versions "661A" & "661AU": The Series Two Gimmicked Short-Prints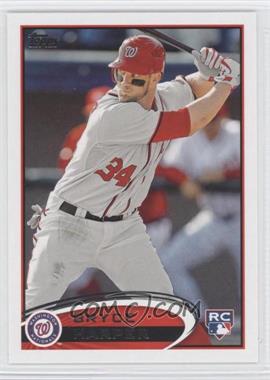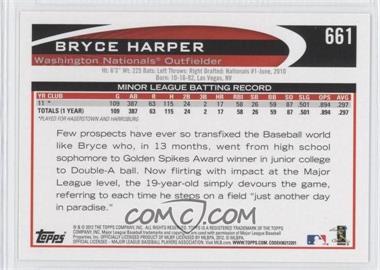 Almost as soon as Harper was called-up to the Nationals, Topps issued a press release announcing that Harper would be included as an additional card in the Series Two base set; however the card would be short-printed -- marking the first time the Topps base set would include an intentionally SPed rookie card. For purposes of this checklist, we consider this to be card "661A".
Even though Beckett has given card 661A it's "RC" label, because of the "gimmick" nature of the card, BCP does not.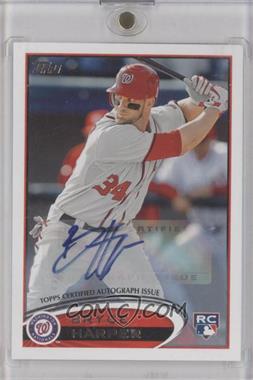 In addition, a limited number of 661A cards with a sticker autograph of Harper were also randomly seeded into Series Two packs. This card is notated "TOPPS CERTIFIED AUTOGRAPHED ISSUE" on the front, but is otherwise no different than the unautographed card. We consider the autographed version to be card "661AU."
Versions "B" & "C": Factory sets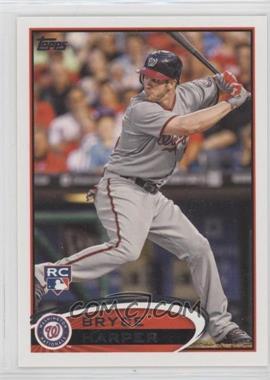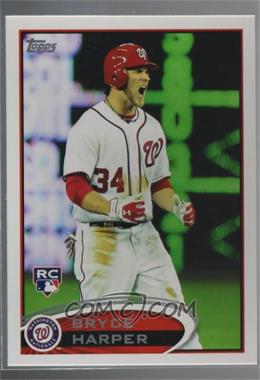 Just like with Strasburg in 2010, each 2012 Topps Factory Set contained a Bryce Harper "661" card that is completely different than the once inserted into packs. This is often referred to as the "leg up" card. This is version "661B," and is considered by BCP to be his "true RC."
Inside specially-marked retail factory sets was a pack of five rookie variations, one of which is of Harper. This is card "661C" and is referred to by some as the "green" Harper for the green scoreboard in the background, or the "screaming" Harper.
2012 Topps Updates
For 2012 Topps Update, Topps produced two different Harper base cards and two short-printed variations. The two base cards are from the "Rookie Debut" and "All-Star Game" subsets (cards #US183 and #US299, respectively), while the two variations are different versions of card #US299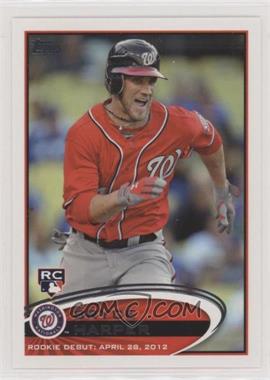 Over the last couple of years, Topps Update has included a "Rookie Debut" subset -- essentially, an excuse for Topps to make yet another card of the current rookie card class. Because the player's "true" rookie card was already issued (either in Series One, Series Two, or, in some cases, the Update Series itself), Rookie Debut's are not considered RCs.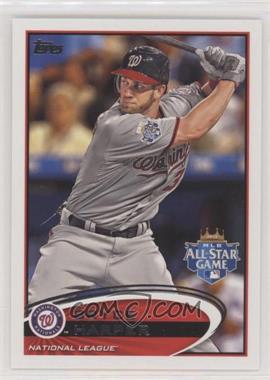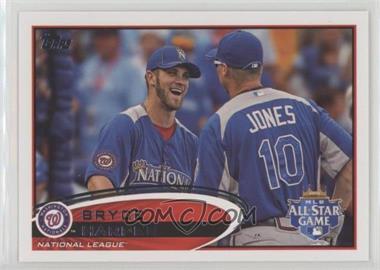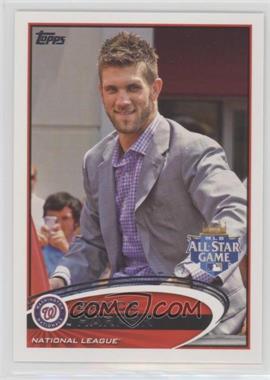 Card #US299 is from the All-Star Game subset and commemorates Harper's selection to the 2012 National League All-Star Team. There are two variations of this card: #US299B is a horizontal card with Chipper Jones, the other (#US299C) is Harper in a suit.
Other Topps Bryce Harper Cards
Parallels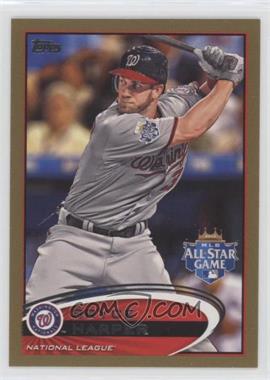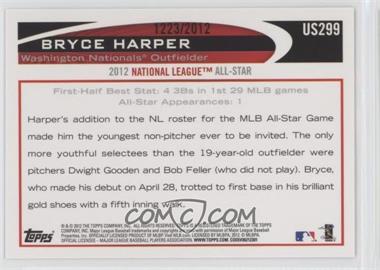 One-of-one Platinum and Wood parallels, as well as a set of four Printing Plates, of card 661A and the two Update Series base cards were also randomly inserted into Series Two and Update Series packs.
In addition, both Update Series base cards are available in the following parallels:
Golden Memories
Blue (exclusive to packs sold at Wal-Mart)
Red (exclusive to packs sold at Target)
Gold (serial-numbered to 2012 copies)
Black (serial-numbered to 61 copies)
Finally, a framed Silk card, serial-numbered to 50 copies, of card #US183 was randomly inserted into Update Series packs.
Topps Mini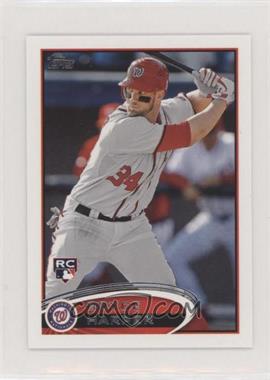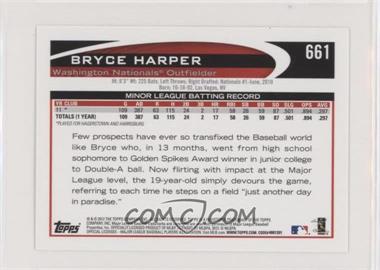 The 2012 Topps Mini set contains a Bryce Harper card that is a miniature reproduction of his 661A card. Unlike the 661A card, is was produced in exactly the same quantities as any other Mini base card and therefore is a "true" rookie card. Gold (serial-numbered to 61 copies), Platinum (serial-numbered to five copies), and Printing Plate (set of four) parallels were also made available.
NSCC Promo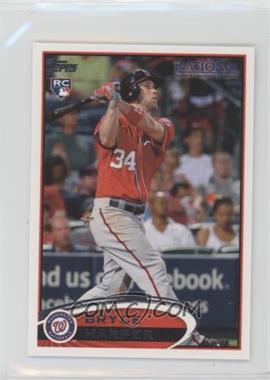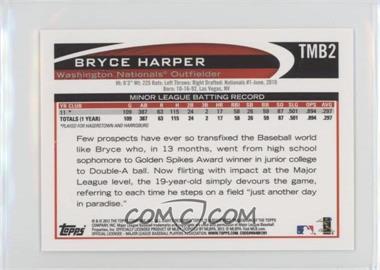 Topps also produced a mini-sized Promo card of Harper that was distributed exclusively at the 2012 National Sports Collectors Convention in Baltimore.