2015 Topps Chrome Update
Description
2015 Topps Chrome Update is a 50-card set released exclusively to Target stores starting the first week of November. Each $14.99 "Mega" box contains five packs of 2015 Topps Update and two packs of four 2015 Topps Chrome Update cards. Unlike last year, this set is skip-numbered using the same sequential numbers from the Topps Update set.
New for 2015: Each card (base, Refractor parallel, insert, and game used) has a "Speckled" Refractor sheen.
Distribution
Retail: Mega boxes, 2 Chrome packs per box; MSRP $14.99
Reviews
Insertion Ratios
| Cards | Total Cards | Numbered To | Retail Odds |
| --- | --- | --- | --- |
| Base | 50 | 9800* | 4:1 |
| Gold Parallel | 50 | 250 | 1:12 |
| Black Parallel | 50 | 99 | 1:29 |
| Rookie Sensations | 25 | 2800* | 1:2 |
| All-Star Stitches Relics | 25 | 175* | 1:32 |
| All-Star Stitches Auto Relics | 10 | 25 | 1:559 |
* We estimate approximately 9800 copies of each base card, 2800 of each Rookie Sensations insert, and 175 of each All-Star Stitches Relic were produced.
Checklist
Base Set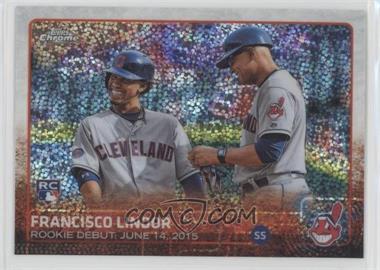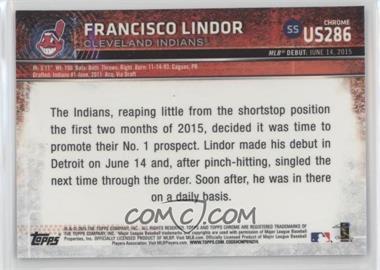 NOTE: This set is skip-numbered. Each card is sequentially-numbered to match their base card in 2015 Topps Update.
US9 Shane Greene FS
US11 Evan Gattis FS
US16 John Axford
US23 Kevin Plawecki RC
US32 Blake Swihart RC
US46 David Price
US102 Chi Chi Gonzalez RC
US103 Joey Gallo RC
US119 Jacob Lindgren RC
US127 Eduardo Rodriguez RC
US135 Jason Heyward
US136 Byron Buxton RD
US144 Delino DeShields Jr. RC
US151 Colby Lewis
US155 Yoenis Cespedes
US157 Noah Syndergaard RC
US161 Jeff Samardzija
US170 Mike Foltynewicz RC
US174 Carlos Correa RC
US181 Jimmy Paredes FS
US190 Shelby Miller
US208 Addison Russell RD
US220 Addison Russell RC
US225 Keone Kela RC
US237 Craig Kimbrel
US238 A.J. Cole RC
US257 Josh Hamilton
US264 Brock Holt FS
US272 Matt Duffy FS
US280 Mike Bolsinger FS
US283 Kris Bryant RD
US286 Francisco Lindor RD
US291 Eddie Butler FS
US294 Mark Trumbo
US308 Joey Butler
US309 Howie Kendrick
US319 Will Harris FS
US320 Josh Donaldson
US324 Carlos Rodon RC
US325 Matt Kemp
US341 Eddie Rosario RC
US350 Didi Gregorius
US362 Rick Porcello
US376 Joc Pederson RD
US377 Taijuan Walker FS
US388 Kevin Pillar FS
US392 Odrisamer Despaigne FS
US395 Dexter Fowler
US396 Ichiro
US398 J.T. Realmuto
Parallels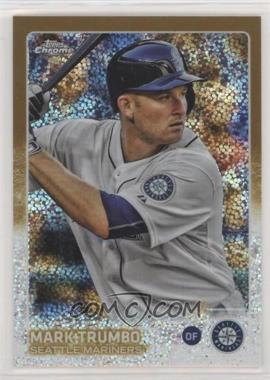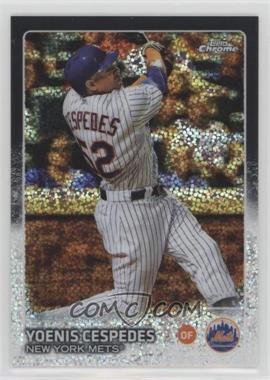 All 50 base cards are available in the following Speckled Refractor parallels.
Gold (serial-numbered to 250 copies)
Black (serial-numbered to 99 copies)
Inserts
Rookie Sensations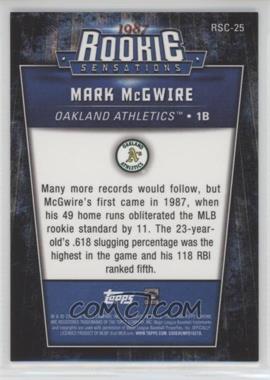 RSC-1 Hanley Ramirez
RSC-2 Ichiro
RSC-3 Mike Trout
RSC-4 Mike Piazza
RSC-5 Carlton Fisk
RSC-6 Nomar Garciaparra
RSC-7 Troy Tulowitzki
RSC-8 Jose Fernandez
RSC-9 Jacob deGrom
RSC-10 Fernando Valenzuela
RSC-11 Dwight Gooden
RSC-12 Ted Williams
RSC-13 Jeff Bagwell
RSC-14 Jose Abreu
RSC-15 Dustin Pedroia
RSC-16 Jackie Robinson
RSC-17 Cal Ripken Jr.
RSC-18 Derek Jeter
RSC-19 Neftali Feliz
RSC-20 Tom Seaver
RSC-21 Albert Pujols
RSC-22 Bryce Harper
RSC-23 Buster Posey
RSC-24 Livan Hernandez
RSC-25 Mark McGwire
Autographs & Game-Used
All-Star Stitches Relics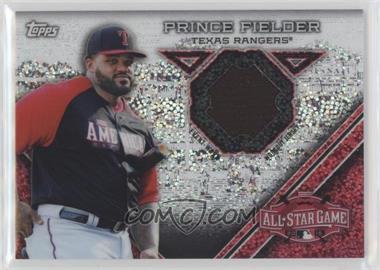 ASCR-AE Alcides Escobar
ASCR-AJ Adam Jones
ASCR-AM Andrew McCutchen
ASCR-AP Albert Pujols
ASCR-BH Bryce Harper
ASCR-BP Buster Posey
ASCR-CS Chris Sale
ASCR-JA Jose Altuve
ASCR-JDE Jacob deGrom
ASCR-JDO Josh Donaldson
ASCR-JPD Joc Pederson
ASCR-JPR Jhonny Peralta
ASCR-KB Kris Bryant
ASCR-LC Lorenzo Cain
ASCR-MB Madison Bumgarner
ASCR-MM Manny Machado
ASCR-MTE Mark Teixeira
ASCR-MTR Mike Trout
ASCR-NC Nelson Cruz
ASCR-PF Prince Fielder
ASCR-PG Paul Goldschmidt
ASCR-SM Shelby Miller
ASCR-SP Salvador Perez
ASCR-TF Todd Frazier
ASCR-ZG Zack Greinke
All-Star Stitches Auto Relics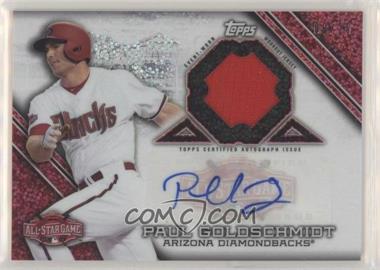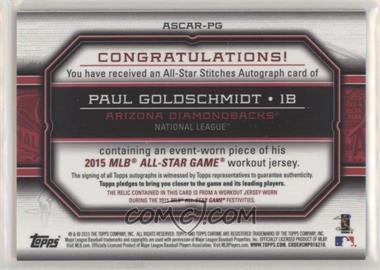 Each All-Star Stitches Auto Relic is serial-numbered to 25 copies.
ASCAR-AG Adrian Gonzalez
ASCAR-BP Buster Posey
ASCAR-CS Chris Sale
ASCAR-DP David Price
ASCAR-JA Jose Altuve
ASCAR-JD Jacob deGrom
ASCAR-MM Manny Machado
ASCAR-MT Mike Trout
ASCAR-PG Paul Goldschmidt
ASCAR-SP Salvador Perez