2012 Topps Update
Description
2012 Topps Update, a 330-card set, was released on Monday, October 1, 2012. As in recent years, Update will include 55 rookies, various All-Star Game and season highlight cards, and cards of some players who had changed teams during the 2012 season. Each 36-pack Hobby box is scheduled to include either an autograph or relic card, and each 10-pack Home Team Advantage-exclusive Jumbo box will yield one autograph, a Relic, and a manufactured "Relic" insert. Like recent Topps flagship releases, short-print variations and super short-prints are also seeded into packs.
Distribution
Reviews
Insertion Ratios
| Cards | Total Cards | Numbered To | Hobby Odds | Retail Odds | Hanger Box Odds |
| --- | --- | --- | --- | --- | --- |
| Base | 330 | - | ? | ? | 64:1 |
| All-Star Gimmicks | 24 | - | ? | ? | ? |
| Traded Gimmicks | 8 | - | ? | ? | ? |
| Blue | 330 | - | N/A | W | W |
| Red | 330 | - | N/A | T | T |
| Gold Sparkle | 330 | - | 1:4 | ? | 1:1 |
| Orange | 330 | 210 | ? | 5 per 2012 Topps factory holiday set | N/A |
| Gold | 990 | 2012 | 1:5 | ? | 3:1 |
| Black | 330 | 61 | 1:59 | N/A | N/A |
| Platinum | 330 | one-of-one | 1:11,700 | ? | 1:600 |
| Wood | 330 | one-of-one | 1:11,700 | ? | 1:600 |
| Printing Plates | 330 | four for each | 1:911 | N/A | N/A |
| Silk | 100 | 50 | ? | ? | N/A |
| Blockbusters | 30 | - | 1:4 | ? | one-per-box |
| Golden Greats | 25 | - | ? | ? | 1:2 |
| Golden Moments | 50 | - | 1:4 | ? | one-per-box |
| 1987 Topps Minis | 50 | - | ? | ? | 1:1 |
| Presidential Predictors | 100 | - | 1:81 | ? | ? |
| Blockbusters Commemorative Hat Logo Patch | 30 | - | N/A | ? | N/A |
| Award Winners Gold Rings | 15 | - | 1:940 | N/A | N/A |
| Gold HOF Plaques | 15 | - | 1:940 | N/A | N/A |
| Solid Gold Futures | 4 | - | ? | ? | N/A |
| Gold Futures Coins | 5 | - | ? | ? | N/A |
| Gold Engraving Reprints | 3 | - | 1:8053 | N/A | N/A |
| Ichiro Yankees Commemorative Logo Patch | 1 | 200 | 1:23,700 | ? | ? |
| All-Star Stitches | 55 | - | 1:49 | ? | ? |
| All-Star Stitches Gold | 55 | 50 | 1:1216 | ? | ? |
| All-Star Stitches Platinum | 55 | one-of-one | 1:64,400 | ? | ? |
| All-Star Stitches Autographs | 15 | 25 | 1:3200 | ? | ? |
| All-Star Jumbo Patches | 45 | 6 | 1:4400 | ? | ? |
| All-Star Jumbo Patch Autographs | 10 | 6 | 1:19,800 | ? | ? |
| All-Star Stitches Dual | 10 | 25 | 1:13,200 | ? | ? |
| All-Star Stitches Triple | 10 | 25 | 1:4800 | N/A | N/A |
| Blockbusters Relics | 10 | 50 | 1:6700 | ? | ? |
| Blockbusters Autographs | 10 | 25 | 1:13,215 | ? | ? |
| Blockbusters Autographed Relics | 5 | 5 | 1:48,850 | ? | ? |
| Golden Debut Autographs | 20 | - | 1:915 | ? | ? |
| Golden Debut Autographs Gold | 20 | 10 | ? | ? | ? |
| General Manager Autographs | 14 | - | 1:1345 | ? | ? |
Checklist
Base Set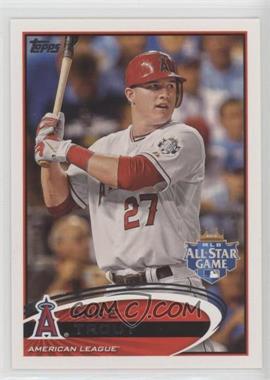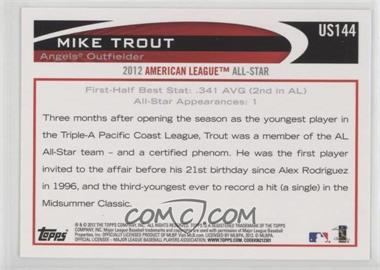 US1 Francisco Liriano
US2 Kris Medlen
US3 Adam Kennedy
US4 Matt Treanor
US5 Wade Miley RD
US6 Carlos Gonzalez HRD
US7 Joe Mauer AS
US8 Luis Perez
US9 Andrew McCutchen HRD
US10 Mark Trumbo AS
US11 Rick Ankiel
US12 Jake Westbrook
US13 Matt Lindstrom
US14 Jeremy Hefner RC
US15 Justin Verlander AS
US16 Patrick Corbin RC
US17 Joe Smith
US18 Tom Wilhelmsen
US19 Jonathan Broxton
US20 Christian Friedrich RC
US21 Buster Posey AS
US22 Chris Nelson
US23 Matt Harvey RC
US24 J.P. Howell
US25 Joe Mather
US26 Santiago Casilla
US27 Cesar Izturis
US28 Matt Albers
US29 Jonathan Sanchez
US30 Jonny Gomes
US31 Esmil Rogers
US32 Adam Jones AS
US33 Nathan Eovaldi RC
US34 A. J. Griffin RC
US35 Craig Breslow
US36 Juan Cruz
US37 Billy Butler AS
US38 Elian Herrera RC
US39 Cory Wade
US40 Jose Bautista HRD
US41 Juan Francisco
US42 Yoenis Cespedes RD
US43 Michael Bowden
US44 Jeremy Hermida
US45 Eric Chavez
US46 Jamie Moyer
US47 Yuniesky Betancourt
US48 Asdrubal Cabrera AS
US49 A.J. Burnett
US50 C.J. Wilson AS
US51 Manny Parra
US52 Clayton Kershaw AS
US53 Omar Infante
US54 Phil Coke
US55 Austin Kearns
US56 Matt Diaz
US57 Hanley Ramirez RC
US58 Manny Acosta
US59 Jerome Williams
US60 Edwin Jackson
US61 Alfredo Simon
US62 CC Sabathia AS
US63 Gerald Laird
US64 Matt Moore RD
US65 Derek Norris RC
US66 James Russell
US67 Jamey Carroll
US68 Fernando Rodney AS
US69 Brett Jackson RC
US70 Will Middlebrooks RC
US71 Brett Myers
US72 Carlos Beltran HRD
US73 Joel Peralta
US74 Starlin Castro AS
US75 Rafael Furcal AS
US76 Adam Dunn AS
US77 Miguel Batista
US78 Chad Durbin
US79 Mike Baxter
US80 Jered Weaver AS
US81 Lou Marson
US82 Ty Wigginton
US83 Carlos Lee
US84 Eric Thames RC
US85 Jacob Diekman RC
US86 Anibal Sanchez
US87 Andrew McCutchen AS
US88 Will Ohman
US89 Andrew Cashner
US90 Michael Saunders
US91 Jonathan Papelbon AS
US92 Chone Figgins
US93 Chris Iannetta
US94 Kevin Slowey
US95 Edward Mujica
US96 Jose Mijares
US97 Shelley Duncan
US98 Hector Santiago RC
US99 Chris Johnson
US100 Ryan Dempster
US101 Casey McGehee
US102 Brandon League
US103 Jack Wilson
US104 Yasmani Grandal RC
US105 Mat Latos
US106 Pedro Strop
US107 Randy Choate
US108 Kameron Loe
US109 Starling Marte RC
US110 Robinson Cano HRD
US111 Clay Rapada
US112 Eduardo Escobar RC
US113 Scott Elbert
US114 Jeremy Guthrie
US115 Jason Grilli
US116 Chris Denorfia
US117 Chris Resop
US118 David Freese AS
US119 Derek Jeter AS
US120 Robinson Cano AS
US121 Johnny Damon
US122 Logan Ondrusek
US123 Jamie Moyer RB
US124 Brad Peacock
US125 Mark Lowe
US126 John McDonald
US127 Josh Harrison
US128 Dan Straily RC
US129 Giancarlo Stanton AS
US130 Laynce Nix
US131 Mitchell Boggs
US132 Tom Milone
US133 Matt Kemp AS
US134 Ramon Martinez
US135 Clay Hensley
US136 Reed Johnson
US137 Josh Hamilton AS
US138 Ernesto Frieri
US139 Zack Greinke
US140 Brian Duensing
US141 R.A. Dickey RB
US142 Erik Bedard
US143 Jose Veras
US144 Mike Trout AS
US145 Joey Devine
US146 Casey Kotchman
US147 Steve Delabar
US148 Paul Konerko AS
US149 Octavio Dotel
US150 Jake Arrieta
US151 Jordany Valdespin RC
US152 Jim Thome RB
US153 Paul Maholm RC
US154 Giancarlo Stanton
US155 Franklin Morales
US156 Troy Patton
US157 Kole Calhoun RC
US158 Jared Burton
US159 Ben Sheets
US160 Marco Scutaro
US161 Brian Dozier RC
US162 Yu Darvish AS
US163 Scott Diamond
US164 Melky Cabrera AS
US165 Jacob Turner
US166 Chipper Jones AS
US167 Trevor Cahill
US168 Yu Darvish RD
US169 Steve Cishek
US170 Jerry Hairston, Jr.
US171 Rhiner Cruz RC
US172 Wilson Valdez
US173 Jose Bautista AS
US174 Javier Lopez
US175 Tim Byrdak
US176 Brad Ziegler
US177 Mike Napoli AS
US178 Lance Lynn
US179 Matt Adams RC
US180 Roy Oswalt
US181 Takashi Saito
US182 Pablo Sandoval AS
US183 Bryce Harper RD RC
US184 Stephen Strasburg AS
US185 Donovan Solano RC
US186 Jason Hammel
US187 John Jaso
US188 Dallas Keuchel RC
US189 Melky Cabrera
US190 Francisco Cordero
US191 Bobby Abreu
US192 Josh Hamilton RB
US193 Henry Blanco
US194 Brad Lincoln
US195 Chad Qualls
US196 Seth Smith
US197 Cody Ransom
US198 Michael Pineda
US199 Nate Schierholtz
US200 Chris Perez AS
US201 Jason Frasor
US202 Mark Trumbo HRD
US203 Fernando Rodney
US204 Jesus Montero
US205 Travis Ishikawa
US206 Cole Hamels AS
US207 Greg Dobbs
US208 Tyler Moore RC
US209 Yasmani Grandal RD
US210 Tyler Chatwood
US211 Matt Cain RB
US212 Trevor Bauer RD
US213 Trevor Bauer RC
US214 Jeremy Affeldt
US215 Brian Bogusevic
US216 Matt Cain AS
US217 Matt Guerrier
US218 Alfredo Aceves
US219 Brian Fuentes
US220 Adrian Beltre AS
US221 Drew Smyly RC
US222 Jairo Asencio
US223 Boone Logan
US224 Matt Belisle
US225 Josh Lindblom
US226 Rafael Soriano
US227 Mark DeRosa
US228 Aaron Cunningham
US229 Quintin Berry RC
US230 Xavier Nady
US231 Tim Dillard
US232 Andrelton Simmons RC
US233 Jose Arrendondo
US234 Jeff Keppinger
US235 Marc Rzepczynski
US236 Lucas Luetge RC
US237 Prince Fielder HRD
US238 Shawn Camp
US239 Luke Scott
US240 Ronny Paulino
US241 Curtis Granderson AS
US242 Joe Kelly RC
US243 Brandon Inge
US244 Matt Downs
US245 Erasmo Ramirez RC
US246 Miguel Cabrera AS
US247 Ryan Ludwick
US248 Felix Doubront
US249 Angel Pagan
US250 Cristhian Martinez
US251 Kyle McClellan
US252 Chad Gaudin
US253 Ryan Webb
US254 Jason Marquis
US255 Joey Votto AS
US256 Joe Nathan AS
US257 Jose Quintana RC
US258 Josh Vitters RC
US259 Carlos Gonzalez AS
US260 Ryan Cook RC
US261 Darren Oliver
US262 Matt Kemp HRD
US263 Travis Snider
US264 Josh Edgin RC
US265 Will Middlebrooks RD
US266 Brandon Lyon
US267 Darren O'Day
US268 Craig Kimbrel AS
US269 Drew Hutchinson RC
US270 Luis Ayala
US271 Ryan Braun AS
US272 Ichiro
US273 Yadier Molina AS
US274 Jeff Gray
US275 Todd Frazier
US276 Matt Harvey RD
US277 Ben Francisco
US278 Andy Pettite
US279 Ryan Cook AS
US280 David Wright AS
US281 Matt Reynolds
US282 Darnell McDonald
US283 Elvis Andrus AS
US284 R.A. Dickey AS
US285 Ian Kinsler AS
US286 J.A. Happ
US287 Dan Wheeler
US288 Maicer Izturis
US289 Prince Fielder AS
US290 Joaquin Benoit
US291 Jesus Montero RD
US292 David Ortiz AS
US293 Shane Victorino
US294 Sergio Santos
US295 Carlos Ruiz AS
US296 Henry Rodriguez
US297 Hunter Pence
US298 Gaby Sanchez
US299 Bryce Harper AS
US300 Mark Kotsay
US301 Carlos Beltran AS
US302 Lucas Harrell
US303 Kevin Millwood
US304 A.J. Ellis
US305 David Price AS
US306 Joe Wieland RC
US307 Ryan Roberts
US308 Jay Bruce AS
US309 Chris Heisey
US310 Kelly Shoppach
US311 Dan Uggla AS
US312 Craig Stammen
US313 Wandy Rodriguez RC
US314 Eric O'Flaherty
US315 Ross Detwiler
US316 Ryan Theriot
US317 Marco Estrada
US318 Anthony Bass
US319 A.J. Pollock RC
US320 Xavier Avery RC
US321 David Carpenter RC
US322 Jordan Banks RC
US323 Fernando Abad
US324 Jamey Wright
US325 Joel Hanrahan AS
US326 Gio Gonzalez AS
US327 Chris Sale AS
US328 Geovany Soto RC
US329 Jason Isringhausen
US330 Alex Burnett
Errors, Gimmicks, and Variations
All-Star Gimmicks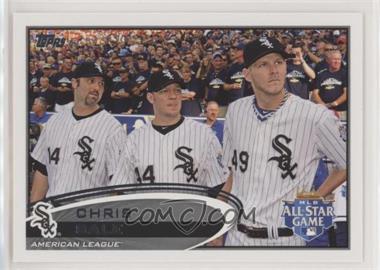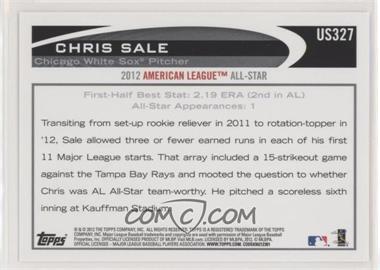 Most of the variations have an All-Star Game theme and show either an alternative photograph, or a photo of the player attending the ASG festivities in street clothes.
It is believed that the All-Star variations are easier to find than other recent variation cards; while the seven "traded" Gimmick cards and the Ichiro variation (see below) are tougher to find.
US10 Mark Trumbo
US15 Justin Verlander
US37 Billy Butler
US37 George Brett
US52 Clayton Kershaw
US62 CC Sabathia
US87 Andrew McCutchen
US120 Robinson Cano
US133 Matt Kemp
US137 Josh Hamilton
US144 Mike Trout
US162 Yu Darvish
US166 Chipper Jones
US241 Curtis Granderson
US255 Joey Votto
US259 Carlos Gonzalez
US268 Craig Kimbrel
US271 Ryan Braun
US280 David Wright
US289 Prince Fielder
US292 David Ortiz
US299 Bryce Harper
US299 Bryce Harper
US327 Chris Sale
Traded Gimmicks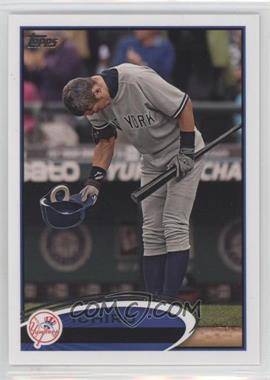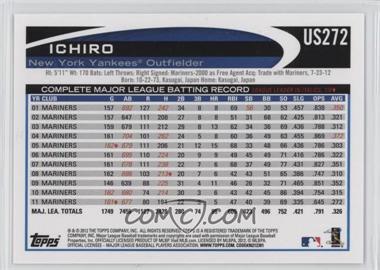 Seven cards of prominent players who changed teams during the 2012 season, are NOT included in the Topps Update base set; but are included as super-short-printed gimmick cards. According to Topps' Twitter account, the seven cards (sequentially-numbered as #US1-#US7) and a variation of Ichiro (#US272) were all "late add's" (sic) and could only be printed in extremely limited amounts ... allegedly.
While the five players involved in the August 25th Red Sox/Dodgers blockbuster are among them (#US1-#US5), it should be noted that Kevin Youkilis (#US6) and Jim Thome (#US7) were traded to the White Sox and Orioles, respectively, in June -- a full three months prior to the release of this product.
Mysteriously, there are numerous players who changed teams in July and August who Topps was able to include in the base set, including Ichiro who was traded in July to the Yankees. He has both a regular base card and a Traded gimmick.
US1 Adrian Gonzalez SP
US2 Carl Crawford SP
US3 Josh Beckett SP
US4 Nick Punto SP
US5 James Loney SP
US6 Kevin Youkilis SP
US7 Jim Thome SP
US272 Ichiro SP (Bowing)
Parallels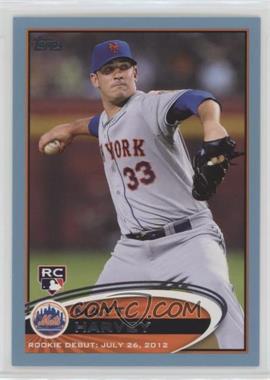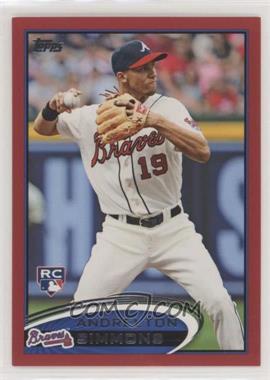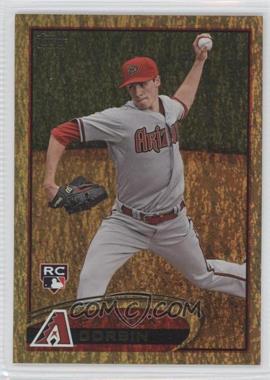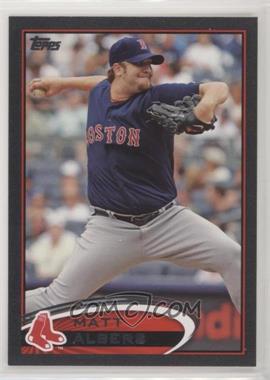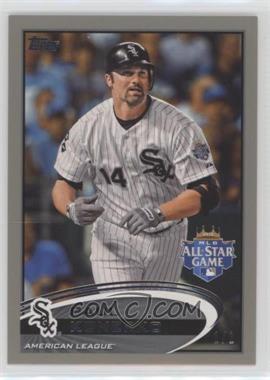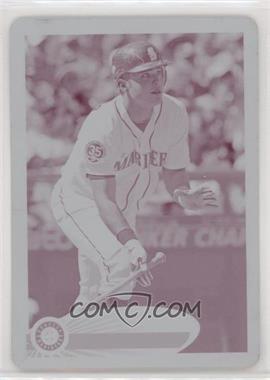 All 330 cards are available in the following parallels.
Blue (Wal-Mart exclusive)
Red (Target exclusive)
Gold Sparkle
Black (serial-numbered to 61 copies, Hobby and HTA only)
Platinum (one-of-one)
Wood (one-of-one)
Printing Plates (four for each, Hobby and HTA only)
Gold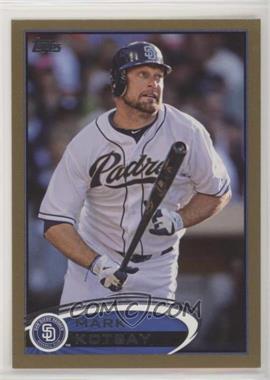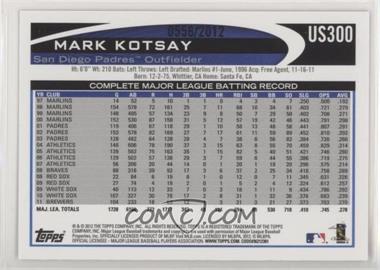 All 330 Update cards plus all 661 cards from Topps Series One and Two were randomly seeded into Update packs. Each card is serial-numbered to 2012 copies.
Orange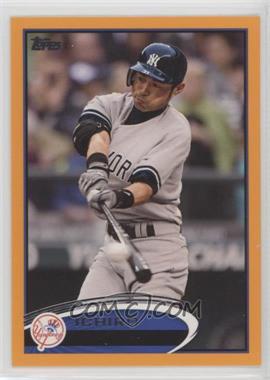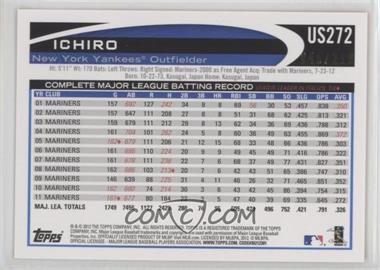 Randomly inserted into specially-marked 2012 Topps factory sets was a pack of five Update Series Orange parallels. These factory sets, which were issued late in 2012, contain no Update Series base cards -- just the entire 661-card 2012 Topps Baseball flagship set. Each Orange parallel is serial-numbered to 210 copies.
This set is not to be confused with a similar factory set that was issued earlier in the year which contained a five-pack of Orange parallels from the flagship set. That factory set was distributed exclusively to Hobby outlets.
Silk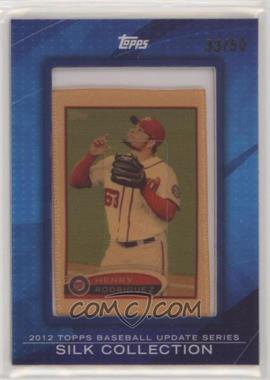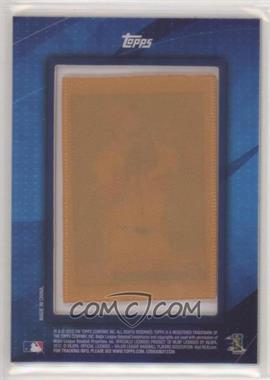 Each Silk card is framed and serial-numbered to 50 copies.
A.J. Ellis
A.J. Pollock
Adam Kennedy
Alfredo Aceves
Alfredo Simon
Andrew Cashner
Andy Pettitte
Angel Pagan
Austin Kearns
Bobby Abreu
Brad Peacock
Brad Ziegler
Brandon Inge
Brian Duensing
Brian Fuentes
Bryce Harper
Carl Crawford
Casey Kotchman
Casey McGehee
Cesar Izturis
Chone Figgins
Chris Nelson
Dan Wheeler
Darren Oliver
Drew Hutchinson
Drew Smyly
Edwin Jackson
Eric Chavez
Erik Bedard
Ernesto Frieri
Felix Doubront
Fernando Rodney
Gerald Laird
Giancarlo Stanton
Greg Dobbs
Hector Santiago
Henry Rodriguez
J.P. Howell
Jake Westbrook
Jamey Carroll
Jason Grilli
Jason Hammel
Jason Marquis
Javier Lopez
Jerry Hairston, Jr.
Jesus Montero
Joaquin Benoit
Joe Smith
Joel Peralta
John McDonald
Johnny Damon
Jonathan Broxton
Jonny Gomes
Jose Arrendondo
Josh Harrison
Kevin Millwood
Kevin Slowey
Kyle McClellan
Lance Lynn
Lucas Harrell
Luke Scott
Maicer Izturis
Manny Acosta
Mark DeRosa
Mat Latos
Matt Albers
Matt Diaz
Matt Lindstrom
Matt Moore
Matt Treanor
Melky Cabrera
Michael Pineda
Michael Saunders
Miguel Batista
Mitchell Boggs
Octavio Dotel
Phil Coke
Rafael Soriano
Randy Choate
Rick Ankiel
Ross Detwiler
Ryan Ludwick
Ryan Theriot
Santiago Casilla
Sergio Santos
Steve Cishek
Takashi Saito
Todd Frazier
Tom Milone
Travis Ishikawa
Trevor Bauer
Trevor Cahill
Ty Wigginton
Will Middlebrooks
Will Ohman
Xavier Nady
Yoenis Cespedes
Yu Darvish
Yuniesky Betancourt
Inserts
Blockbusters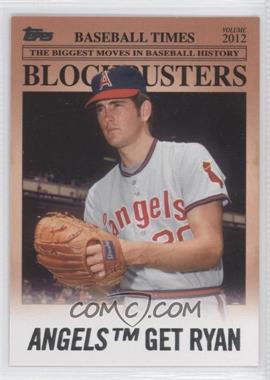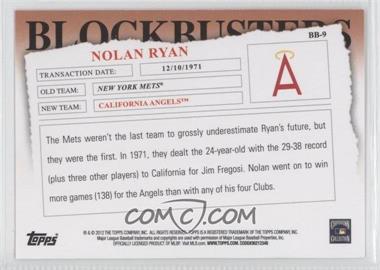 BB-1 Albert Pujols
BB-2 CC Sabathia
BB-3 Frank Robinson
BB-4 Gary Carter
BB-5 Hanley Ramirez
BB-6 Jay Buhner
BB-7 Ken Griffey, Jr.
BB-8 Miguel Cabrera
BB-9 Nolan Ryan
BB-10 Prince Fielder
BB-11 Rickey Henderson
BB-12 Tom Seaver
BB-13 Yoenis Cespedes
BB-14 Yu Darvish
BB-15 Babe Ruth
BB-16 Ivan Rodriguez
BB-17 Catfish Hunter
BB-18 Carlton Fisk
BB-19 Ryne Sandberg
BB-20 David Ortiz
BB-21 Roy Halladay
BB-22 Josh Beckett
BB-23 Ichiro
BB-24 Steve Carlton
BB-25 Alex Rodriguez
BB-26 Bruce Sutter
BB-27 Carlos Gonzalez
BB-28 Johan Santana
BB-29 Manny Ramirez
BB-30 Jose Bautista
Golden Greats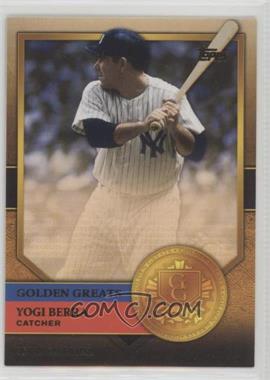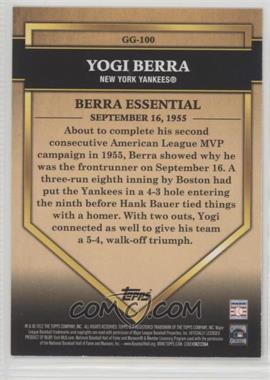 GG-76 Andre Dawson
GG-77 Bob Gibson
GG-78 Brooks Robinson
GG-79 Dave Winfield
GG-80 Don Mattingly
GG-81 Ernie Banks
GG-82 Gary Carter
GG-83 Harmon Killebrew
GG-84 Jim Palmer
GG-85 Joe Morgan
GG-86 John Smoltz
GG-87 Johnny Bench
GG-88 Ken Griffey, Jr.
GG-89 Lou Brock
GG-90 Mike Schmidt
GG-91 Ozzie Smith
GG-92 Reggie Jackson
GG-93 Rickey Henderson
GG-94 Stan Musial
GG-95 Tony Gwynn
GG-96 Tony Perez
GG-97 Wade Boggs
GG-98 Warren Spahn
GG-99 Willie Stargell
GG-100 Yogi Berra
Golden Moments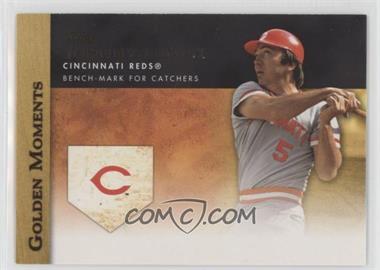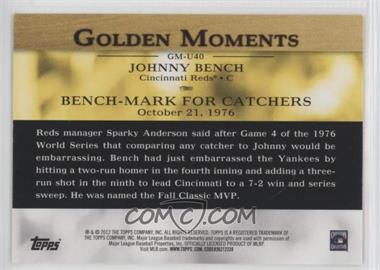 GM-U1 Bryce Harper
GM-U2 Mike Trout
GM-U3 Jered Weaver
GM-U4 Josh Hamilton
GM-U5 Johan Santana
GM-U6 Adam Jones
GM-U7 Phillip Humber
GM-U8 Ian Kennedy
GM-U9 Miguel Cabrera
GM-U10 Justin Verlander
GM-U11 Yu Darvish
GM-U12 Curtis Granderson
GM-U13 Matt Cain
GM-U14 Yoenis Cespedes
GM-U15 Starlin Castro
GM-U16 Andre Ethier
GM-U17 David Price
GM-U18 Bob Feller
GM-U19 Joey Votto
GM-U20 David Ortiz
GM-U21 Ernie Banks
GM-U22 Albert Belle
GM-U23 Nolan Ryan
GM-U24 Giancarlo Stanton
GM-U25 Ryan Braun
GM-U26 Robin Yount
GM-U27 Matt Kemp
GM-U28 Harmon Killebrew
GM-U29 David Wright
GM-U30 Cal Ripken, Jr.
GM-U31 Reggie Jackson
GM-U32 Mike Schmidt
GM-U33 Roy Halladay
GM-U34 Andrew McCutchen
GM-U35 Eric Hosmer
GM-U36 Matt Holliday
GM-U37 Tony Gwynn
GM-U38 Tim Lincecum
GM-U39 Ryan Zimmerman
GM-U40 Johnny Bench
GM-U41 Derek Jeter
GM-U42 Billy Butler
GM-U43 Jose Bautista
GM-U44 Jake Peavy
GM-U45 Troy Tulowitzki
GM-U46 Jon Lester
GM-U47 George Brett
GM-U48 Madison Bumgarner
GM-U49 Edgar Martinez
GM-U50 Al Kaline
1987 Topps Minis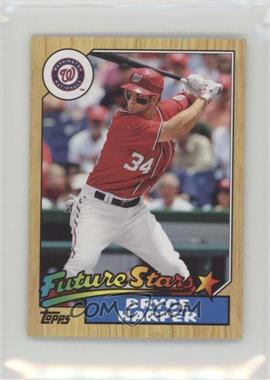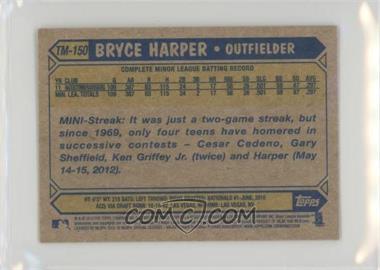 Each 1987 Topps Mini is done in the style of the 1987 Topps set and measures 2 1/8" X 3 1/4" -- the same size as the 1975 Topps Mini set. It should be noted that the actual 1987 Topps Mini Leaders have a different design.
TM-101 Paul Goldschmidt
TM-102 Reggie Jackson
TM-103 Lance Lynn
TM-104 Chipper Jones
TM-105 Ichiro
TM-106 Al Kaline
TM-107 Madison Bumgarner
TM-108 Jesus Montero
TM-109 Carl Yastrzemski
TM-110 Asdrubal Cabrera
TM-111 Andy Pettitte
TM-112 Yu Darvish
TM-113 Billy Butler
TM-114 Jonathan Papelbon
TM-115 Carlos Beltran
TM-116 Ian Kennedy
TM-117 Gary Carter
TM-118 Austin Jackson
TM-119 Gio Gonzalez
TM-120 Matt Cain
TM-121 Mat Latos
TM-122 Yonder Alonso
TM-123 C.J. Wilson
TM-124 Yoenis Cespedes
TM-125 Lou Gehrig
TM-126 Jackie Robinson
TM-127 Mike Trout
TM-128 Freddie Freeman
TM-129 Elvis Andrus
TM-130 Ty Cobb
TM-131 Jimmy Rollins
TM-132 Jim Rice
TM-133 Will Middlebrooks
TM-134 Bryan LaHair
TM-135 Mike Moustakas
TM-136 Brandon Beachy
TM-137 Cal Ripken, Jr.
TM-138 Ryan Dempster
TM-139 Matt Moore
TM-140 Don Mattingly
TM-141 Nolan Ryan
TM-142 Albert Belle
TM-143 R.A. Dickey
TM-144 Mark Trumbo
TM-145 Chris Sale
TM-146 Brett Lawrie
TM-147 Johan Santana
TM-148 Justin Morneau
TM-149 Giancarlo Stanton
TM-150 Bryce Harper
Presidential Predictors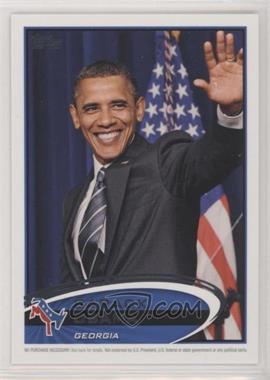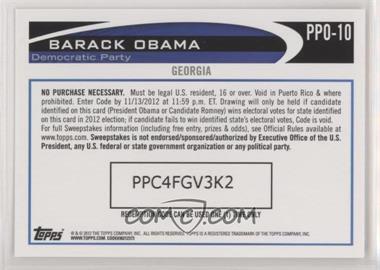 Randomly inserted into packs are 100 redemption cards -- one card for President Obama and the other for Governor Romney -- for each of the 50 states. If the candidate depicted wins the state in the 2012 Presidential Election, the card is then eligible for entry into a contest. 50 winning cards will be chosen and will be given a special commemorative manufactured patch card of the winner of the 2012 Election.
Manufactured Relics
Gold Hall of Fame Plaques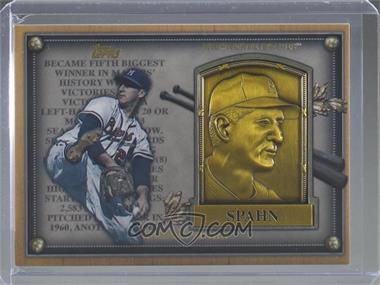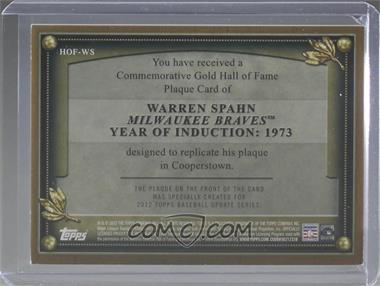 HOF-BR Babe Ruth
HOF-CR Cal Ripken, Jr.
HOF-CY Carl Yastrzemski
HOF-GB George Brett
HOF-GC Gary Carter
HOF-JB Johnny Bench
HOF-JD Joe DiMaggio
HOF-JR Jackie Robinson
HOF-JR Jackie Robinson
HOF-LG Lou Gehrig
HOF-MM Mickey Mantle
HOF-MS Mike Schmidt
HOF-NR Nolan Ryan
HOF-OS Ozzie Smith
HOF-RC Roberto Clemente
HOF-RH Rickey Henderson
HOF-RJ Reggie Jackson
HOF-RS Ryne Sandberg
HOF-SK Sandy Koufax
HOF-SM Stan Musial
HOF-TC Ty Cobb
HOF-TS Tom Seaver
HOF-WB Wade Boggs
HOF-WM Willie Mays
HOF-WS Warren Spahn
HOF-YB Yogi Berra
Award Winners Gold Ring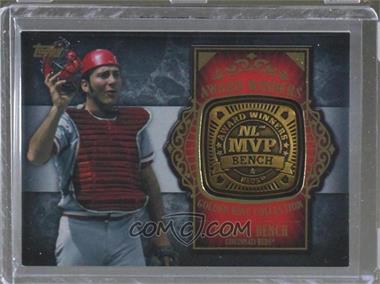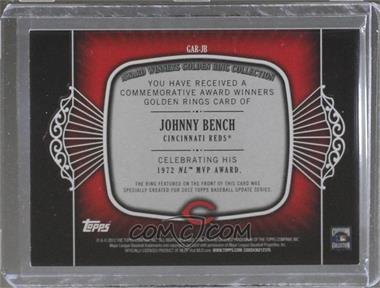 GAR-AD Andre Dawson
GAR-AP Albert Pujols
GAR-BR Babe Ruth
GAR-CF Carlton Fisk
GAR-CR Cal Ripken Jr
GAR-CY Carl Yastrzemski
GAR-DJ Derek Jeter
GAR-FR Frank Robinson
GAR-I Ichiro
GAR-JB Johnny Bench
GAR-JD Joe DiMaggio
GAR-JR Jackie Robinson
GAR-JV Justin Verlander
GAR-KG Ken Griffey, Jr.
GAR-LG Lou Gehrig
GAR-MM Mickey Mantle
GAR-MS Mike Schmidt
GAR-RB Ryan Braun
GAR-RC Roberto Clemente
GAR-RH Roy Halladay
GAR-RJ Reggie Jackson
GAR-SK Sandy Koufax
GAR-SM Stan Musial
GAR-TL Tim Lincecum
GAR-TS Tom Seaver
GAR-WM Willie Mays
Gold Futures Coins
Each Gold Futures Coin "relic" is serial-numbered to the player's uniform jersey number (see below). In addition, each is also available in a one-of-one Solid Gold Futures parallel.
JD Martinez 14
Yu Darvish 11
Bryce Harper 34
Yoenis Cespedes 52
Brett Lawrie 13
Gold Engravings Reprints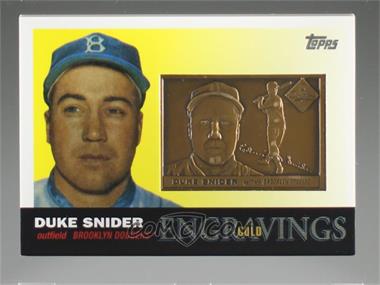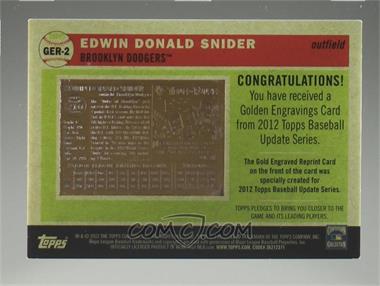 GER-BR Brooks Robinson
GER-DS Duke Snider
GER-HA Hank Aaron
Blockbusters Hat Logo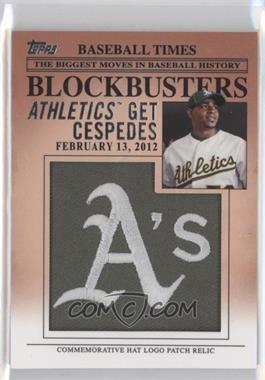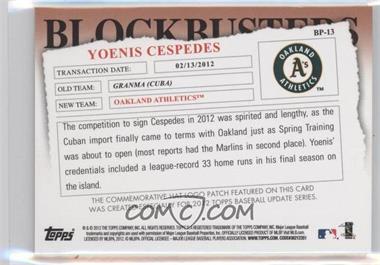 This set is exclusive to Blaster boxes sold at mass-market retail outlets.
BP-1 Albert Pujols
BP-2 CC Sabathia
BP-3 Frank Robinson
BP-4 Gary Carter
BP-5 Hanley Ramirez
BP-6 Jay Buhner
BP-7 Ken Griffey, Jr.
BP-8 Miguel Cabrera
BP-9 Nolan Ryan
BP-10 Prince Fielder
BP-11 Rickey Henderson
BP-12 Tom Seaver
BP-13 Yoenis Cespedes
BP-14 Yu Darvish
BP-15 Babe Ruth
BP-16 Ivan Rodriguez
BP-17 Catfish Hunter
BP-18 Carlton Fisk
BP-19 Ryne Sandberg
BP-20 David Ortiz
BP-21 Roy Halladay
BP-22 Josh Beckett
BP-23 Ichiro
BP-24 Steve Carlton
BP-25 Alex Rodriguez
BP-26 Johan Santana
BP-27 Carlos Gonzalez
BP-28 John Smoltz
BP-29 Jose Reyes
BP-30 Jose Bautista
Ichiro Yankees Commemorative Logo Patch
To commemorate his mid-season trade to the Yankees, Topps created 200 serial-numbered logo patch cards.
Autographs & Game-Used
All-Star Stitches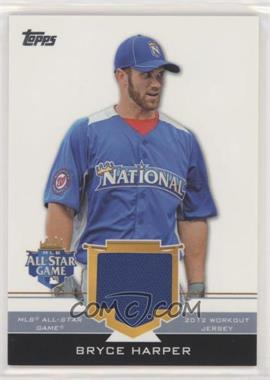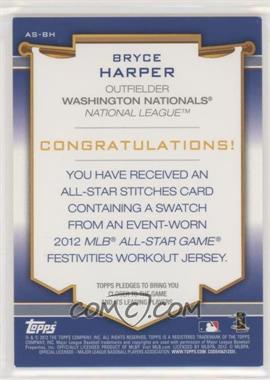 All cards are available in the Gold (serial-numbered to 50 copies) AND Platinum (one-of-one) parallels.
AS-AB Adrian Beltre
AS-AJ Adam Jones
AS-AM Andrew McCutchen
AS-BB Billy Butler
AS-BH Bryce Harper
AS-BP Buster Posey
AS-CB Carlos Beltran
AS-CAG Carlos Gonzalez
AS-CR Carlos Ruiz
AS-CCS CC Sabathia
AS-CP Chris Perez
AS-CHS Chris Sale
AS-CJ Chipper Jones
AS-CW C.J. Wilson
AS-CLK Clayton Kershaw
AS-CH Cole Hamels
AS-CRK Craig Kimbrel
AS-CUG Curtis Granderson
AS-DU Dan Uggla
AS-DO David Ortiz
AS-DP David Price
AS-DW David Wright
AS-DJ Derek Jeter
AS-EA Elvis Andrus
AS-FH Felix Hernandez
AS-FR Fernando Rodney
AS-GG Gio Gonzalez
AS-IK Ian Kinsler
AS-JAB Jay Bruce
AS-JW Jered Weaver
AS-JM Joe Mauer
AS-JN Joe Nathan
AS-JOV Joey Votto
AS-JOP Jonathan Papelbon
AS-JOB Jose Bautista
AS-JHM Josh Hamilton
AS-MAC Matt Cain
AS-MK Matt Kemp
AS-MAH Matt Harrison
AS-MHO Matt Holliday
AS-MAT Mark Trumbo
AS-MEC Melky Cabrera
AS-MIC Miguel Cabrera
AS-MIT Mike Trout
AS-MN Mike Napoli
AS-PS Pablo Sandoval
AS-PK Paul Konerko
AS-PF Prince Fielder
AS-RD R.A. Dickey
AS-RF Rafael Furcal
AS-ROC Robinson Cano
AS-RB Ryan Braun
AS-SC Starlin Castro
AS-SS Stephen Strasburg
AS-YD Yu Darvish
Autographs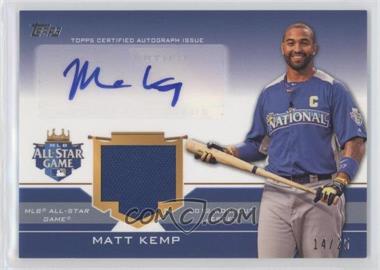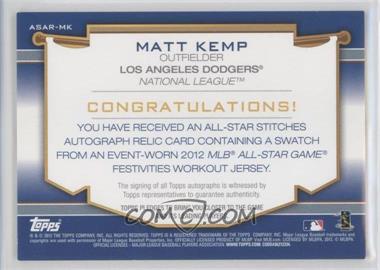 Each All-Star Stitches Autograph is serial-numbered to 25 copies.
ASAR-AC Aroldis Chapman
ASAR-AJ Adam Jones
ASAR-BB Billy Butler
ASAR-CS Chris Sale
ASAR-DU Dan Uggla
ASAR-FR Fernando Rodney
ASAR-GG Gio Gonzalez
ASAR-JN Joe Nathan
ASAR-JH Joel Hanrahan
ASAR-JP Jonathan Papelbon
ASAR-MT Mark Trumbo
ASAR-MK Matt Kemp
ASAR-MC Melky Cabrera
ASAR-MIT Mike Trout
ASAR-PS Pablo Sandoval
Jumbo Patch
Each All-Star Jumbo Patch is exclusive to Hobby and HTA packs and serial-numbered to six copies.
ASJP-AB Adrian Beltre
ASJP-AJ Adam Jones
ASJP-AM Andrew McCutchen
ASJP-AD Adam Dunn
ASJP-BH Bryce Harper
ASJP-BP Buster Posey
ASJP-CB Carlos Beltran
ASJP-CAG Carlos Gonzalez
ASJP-BL Bryan LaHair
ASJP-CCS CC Sabathia
ASJP-DF David Freese
ASJP-CHS Chris Sale
ASJP-CJ Chipper Jones
ASJP-CW C.J. Wilson
ASJP-CH Cole Hamels
ASJP-CRK Craig Kimbrel
ASJP-CUG Curtis Granderson
ASJP-DU Dan Uggla
ASJP-DO David Ortiz
ASJP-DP David Price
ASJP-DJ Derek Jeter
ASJP-EA Elvis Andrus
ASJP-FR Fernando Rodney
ASJP-GG Gio Gonzalez
ASJP-IK Ian Kinsler
ASJP-JM Joe Mauer
ASJP-JN Joe Nathan
ASJP-JOV Joey Votto
ASJP-JOP Jonathan Papelbon
ASJP-LL Lance Lynn
ASJP-JHM Josh Hamilton
ASJP-MAC Matt Cain
ASJP-MK Matt Kemp
ASJP-MAT Mark Trumbo
ASJP-MIC Miguel Cabrera
ASJP-MN Mike Napoli
ASJP-PS Pablo Sandoval
ASJP-PK Paul Konerko
ASJP-PF Prince Fielder
ASJP-RD R.A. Dickey
ASJP-RF Rafael Furcal
ASJP-ROC Robinson Cano
ASJP-WM Wade Miley
ASJP-SS Stephen Strasburg
ASJP-YD Yu Darvish
Jumbo Patch Autograph
Each All-Star Jumbo Patch Autograph is exclusive to Hobby and HTA packs and serial-numbered to six copies.
ASPA-AJ Adam Jones
ASPA-CK Clayton Kershaw
ASPA-DW David Wright
ASPA-FH Felix Hernandez
ASPA-JB Jose Bautista
ASPA-JW Jered Weaver
ASPA-MC Melky Cabrera
ASPA-MT Mike Trout
ASPA-RB Ryan Braun
ASPA-SC Starlin Castro
Dual
Each All-Star Stitches Dual is serial-numbered to 25 copies.
ASD-JO Derek Jeter / David Ortiz
ASD-VF Joey Votto / Prince Fielder
ASD-KD Paul Konerko / Adam Dunn
ASD-SD Stephen Strasburg / Yu Darvish
ASD-HT Bryce Harper / Mike Trout
ASD-PC Buster Posey / Matt Cain
ASD-HB Josh Hamilton / Adrian Beltre
ASD-KK Matt Kemp / Clayton Kershaw
ASD-TT Mike Trout / Mark Trumbo
ASD-BK Ryan Braun / Matt Kemp
Triple
Each All-Star Stitches Triple is exclusive to Hobby and HTA packs and serial-numbered to 25 copies.
AST-HTH Bryce Harper / Mike Trout / Josh Hamilton
AST-KHS Clayton Kershaw / Cole Hamels / CC Sabathia
AST-WPW Jered Weaver / David Price / C.J. Wilson
AST-VWC Joey Votto / David Wright / Starlin Castro
AST-BFC Jose Bautista / Prince Fielder / Miguel Cabrera
AST-KHT Matt Kemp / Josh Hamilton / Mike Trout
AST-DSC R.A. Dickey / Stephen Strasburg / Matt Cain
AST-CJG Robinson Cano / Derek Jeter / Curtis Granderson
AST-BKG Ryan Braun / Matt Kemp / Carlos Gonzalez
AST-DHK Yu Darvish / Josh Hamilton / Ian Kinsler
Mickey Mantle Reprint Relic
MMR-69 Mickey Mantle 69
Blockbusters
Relics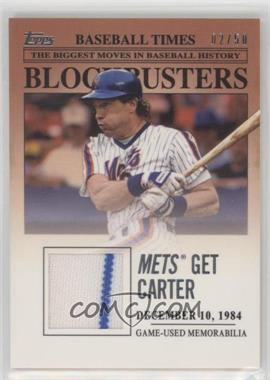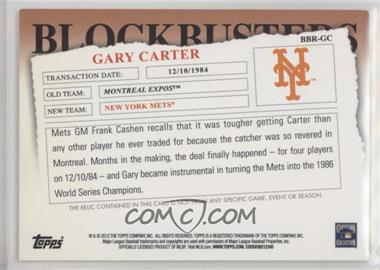 Each Blockbusters Relic is serial-numbered to 50 copies.
BBR-AP Albert Pujols
BBR-BR Babe Ruth
BBR-GC Gary Carter
BBR-HR Hanley Ramirez
BBR-JB Jose Bautista
BBR-KG Ken Griffey, Jr.
BBR-MC Miguel Cabrera
BBR-NR Nolan Ryan
BBR-RH Roy Halladay
BBR-YD Yu Darvish
Autographs
Each is exclusive to Hobby and HTA packs and serial-numbered to 25 copies.
BBA-AP Albert Pujols
BBA-CC CC Sabathia
BBA-CG Carlos Gonzalez
BBA-DO David Ortiz
BBA-GC Gary Carter
BBA-JB Jay Buhner
BBA-MR Manny Ramirez
BBA-PF Prince Fielder
BBA-SC Steve Carlton
BBA-YC Yoenis Cespedes
Autographed Relic
Each is exclusive to Hobby and HTA packs and serial-numbered to five copies.
BBAR-GC Gary Carter
BBAR-HR Hanley Ramirez
BBAR-MC Miguel Cabrera
BBAR-PF Prince Fielder
BBAR-SC Steve Carlton
Golden Greats Autograph
GGA-BG Bob Gibson
GGA-BR Brooks Robinson
GGA-CRJ Cal Ripken, Jr.
GGA-DM Don Mattingly
GGA-EK Ed Kranepool
GGA-GC Gary Carter
GGA-JB Johnny Bench
GGA-JS John Smoltz
GGA-KGJ Ken Griffey, Jr.
GGA-MS Mike Schmidt
GGA-RK Ralph Kiner
GGA-RJ Reggie Jackson
GGA-TG Tony Gwynn
Autograph Relic
Each Golden Greats Autograph Relics is exclusive to Hobby and HTA packs and serial-numbered to five copies.
GGAR-RK Ralph Kiner
GGAR-BG Bob Gibson
GGAR-BR Brooks Robinson
GGAR-DM Don Mattingly
GGAR-EK Ed Kranepool
GGAR-GC Gary Carter
GGAR-JS John Smoltz
GGAR-KGJ Ken Griffey, Jr.
GGAR-MS Mike Schmidt
GGAR-RJ Reggie Jackson
Golden Moments Autographs
GMA-AE A.J. Ellis
GMA-AC Andrew Carignan
GMA-AB Antonio Bastardo
GMA-BL Brett Lawrie
GMA-BS Bruce Sutter
GMA-BH Bryce Harper
GMA-CR Cody Ross
GMA-DB Daniel Bard
GMA-DH Derek Holland
GMA-EK Ed Kranepool
GMA-JG Jason Grilli
GMA-JN Jeff Niemann
GMA-JM Jesus Montero
GMA-JDM J.D. Martinez
GMA-JH Joel Hanrahan
GMA-JW Jordan Walden
GMA-JT Justin Turner
GMA-JV Justin Verlander
GMA-MR Manny Ramirez
GMA-MH Mark Hamburger
GMA-MM Matt Moore
GMA-MP Michael Pineda
GMA-RD Rafael Dolis
GMA-RK Ralph Kiner
GMA-RW Rickie Weeks
GMA-SP Salvador Perez
GMA-TB Trevor Bauer
GMA-TP Tyler Pastornicky
GMA-WM Will Middlebrooks
GMA-ZC Zack Cozart
Golden Debut Autographs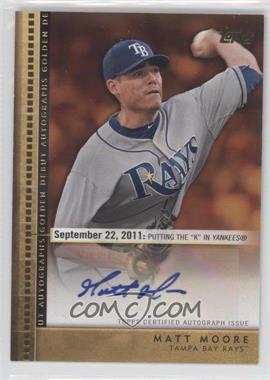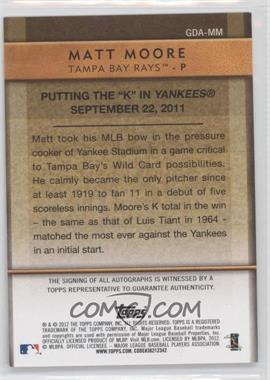 GDA-AR Anthony Rizzo
GDA-BB Brandon Belt
GDA-DM Devin Mesoraco
GDA-HI Hisashi Iwakuma
GDA-JPA Jarrod Parker
GDA-JW Jemile Weeks
GDA-JP Jordan Pacheco
GDA-LH Liam Hendricks
GDA-MH Mark Hamburger
GDA-MM Matt Moore
GDA-NE Nathan Eovaldi
GDA-PG Paul Goldschmidt
GDA-TM Tom Milone
GDA-TB Trevor Bauer
GDA-TP Tyler Pastornicky
GDA-WM Will Middlebrooks
GDA-WR Wilin Rosario
GDA-YC Yoenis Cespedes
GDA-YA Yonder Alonso
GDA-YD Yu Darvish
General Manager Autographs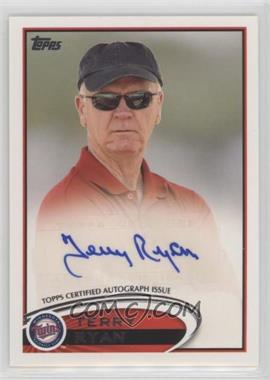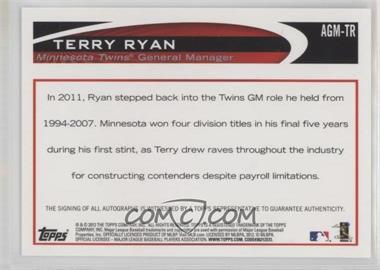 AGM-AF Andrew Friedman
AGM-DM Dayton Moore
AGM-DO Dan O'Dowd
AGM-FW Frank Wren
AGM-JB Josh Byrnes
AGM-JD Jon Daniels
AGM-JD Jerry Dipoto
AGM-JL Jeff Luhnow
AGM-JZ Jack Zduriencik
AGM-MR Mike Rizzo
AGM-NC Ned Colletti
AGM-NH Neal Huntington
AGM-SA Sandy Alderson
AGM-TR Terry Ryan