2011 Topps Update
Description
2011 Topps Update is a 330-card set released on October 5, 2011. As in recent year's, Update included 55 rookies, various All-Star Game and season highlight cards, and cards of players who had changed teams during the 2011 season.
New for 2011 are the addition of two more Diamond parallels: Hope and Cognac. In addition to the 330 Update cards, the Hope Diamond and Cognac Diamond parallels will also include all 660 base cards and the 49 Legend variations from Series One and Series Two. The Update series adds 25 more Legend variations (available in every parallel).
Each 36-pack Hobby box is scheduled to include either an autograph or relic card, and each 10-pack Home Team Advantage-exclusive Jumbo box will yield one autograph, a relic, and a manufactured Glove Leather insert.
The Diamond Sparkle cards were NOT carried-over from Series One and Series Two.
The set is notable for a strong rookie card class including: Paul Goldschmidt, Anthony Rizzo, Jose Altuve, Eric Hosmer, Mike Trout, J.D. Martinez, and Charlie Blackmon, with the Trout card (#US175) becoming one of the more iconic cards of the 2010s.
Distribution
Hobby = 8 cards per pack, 36 packs per box Retail = 12 cards per pack, 24 packs per box. MSRP is $1.99. Retail Value Packs = Five retail packs, one 2011 Bowman Chrome hobby pack, a code card and a 2011 Bowman Chrome Bryce Harper refractor. MSRP is $14.99.
Reviews
Insertion Ratios
| Cards | Total Cards | Numbered To | Hobby Odds | Retail Odds | HTA Jumbo Odds |
| --- | --- | --- | --- | --- | --- |
| Base | 330 | - | 7:1 (typical) | 8:1 | 37-40 |
| Gold | 330 | 2011 | 1:3 | 1:10 | 1:1 |
| Black | 330 | 60 | 1:58 | N/A | 1:11 |
| Platinum | 330 | one-of-one | 1:4,100 | 1:25,500 | 1:2,125 |
| Printing Plates | 330 | four-for-each | 1:846 | N/A | 1:169 |
| Silk | 100 | 50 | 1:221 | N/A | 1:45 |
| Platinum Diamond | 330 | - | 1:4 | 1:4 | 1:4 |
| Hope Diamond | 1064* | 60 | 1:68 | 1:415 (U), 1:208 (S1, S2) | 1:35 |
| Cognac Diamond | 1064* | "limited" | 1:12 (U), 1:6 (S1,S2) | 1:3 | ? |
| Canary Diamond | 330 | one-of-one | 1:4,100 | 1:25,000 | 1:2,125 |
| Diamond Duos | 30 | - | 1:8 | 1:8 | 1:2 |
| Toppstown.com | 50 | - | 1:8 | 1:8 | 1:2 |
| Topps 60 | 50 | - | 1:4 | 1:4 | 1:2 |
| Cognac Diamond Short Print Variation Parallel | ? | ? | ? | 1:53 | ? |
| Hope Diamond Short Print Variation Parallel | ? | ? | ? | 1:1,677 | ? |
| Kimball Champions | 50 | - | 1:4 | 1:4 | 1:2 |
| Topps 60 Autographs | 30 | - | 1:620 | 1:1,522 | 1:22 |
| Next 60 Autographs | 20 | - | 1:566 | 1:1,375 | 1:20 |
| Glove Leather | ? | - | 1:770 | N/A | 1:17 |
| Black Glove Leather | ? | 99 | 1:935 | N/A | 1:26 |
| Nickname Glove Leather | ? | one-of-one | 1:87,500 | N/A | 1:2,595 |
| MLB All-Star Game Stitches | 65 | - | 1:51 | 1:103 | 1:12 |
| MLB All-Star Game Stitches Platinum | 65 | 50 | 1:759 | 1:945 | 1:173 |
| MLB All-Star Game Stitches Canary | 65 | one-of-one | 1:45,000 | 1:40,000 | 1:13,700 |
| MLB All-Star Game Autographed Stitches | 15 | 25 | 1:9,380 | N/A | 1:1,850 |
| MLB All-Star Game Jumbo Patches | 55 | 6 | 1:2,500 | N/A | 1:665 |
| MLB All-Star Game Autographed Jumbo Patches | 10 | - | 1:18,725 | N/A | 1:3,700 |
| MLB All-Star Game Stitches Dual Relic | 10 | 25 | ? | 1:17,275 | 1:2,825 |
| MLB All-Star Game Stitches Triple Relic | 10 | 25 | ? | N/A | 1:896 |
| Diamond Duo Relics | 15 | 50 | ? | N/A | 1:940 |
| 1966 Mickey Mantle Reprint Relic | 1 | 66 | 1:52,500 | 1:63,350 | 1:9,600 |
| 60th Anniversary Sketch Cards | ? | one-of-one | 1:11,150 | N/A | 1:2,250 |
| Player Sketch Cards | ? | one-of-one | 1:4,865 | N/A | 1:985 |
| 60th Anniversary Autographs | 5 | 60 | 1:11,675 | 1:14,600 | 1:2,450 |
*In addition to the 330-card Update set, both the Hope and Cognac Diamond parallels will include all 660 cards from 2011 Topps Series One and Series Two, as well as all 74 Legends Variations from all three Series.
Checklist
Base Set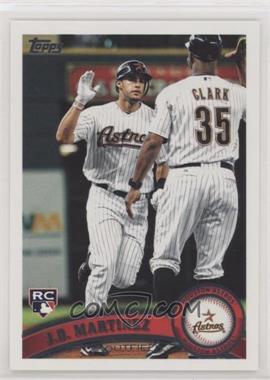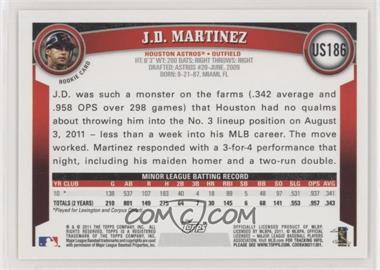 US1 Adrian Gonzalez
US2 Ty Wigginton
US3 Blake Beavan
US4 Brian McCann AS
US5 Josh Willingham
US6 Prince Fielder HRD
US7 Nate Schierholtz
US8 David Robertson
US9 Jose Iglesias RC
US10 Jose Bautista AS
US11 Jason Pridie
US12 Greg Dobbs
US13 Koyie Hill
US14 Alex Avila AS
US15 Aaron Heilman
US16 Welington Castillo
US17 Craig Gentry
US18 Robinson Cano AS
US19 Mike Napoli
US20 Adrian Gonzalez AS
US21 Prince Fielder AS
US22 Randall Delgado RC
US23 Chance Ruffin RC
US24 Rex Brothers RC
US25 Tim Stauffer
US26 Jered Weaver RB
US27 Joey Devine
US28 Adam Kennedy
US29 Mike MacDougal
US30 Dustin Ackley RC
US31 Curtis Granderson AS
US32 Matt Stairs
US33 Jayson Nix
US34 David Ross
US35 Eduardo Nunez RC
US36 Josh Judy RC
US37 Rick Ankiel
US38 Josh Hamilton AS
US39 Eduardo Sanchez RC
US40 Brian Fuentes
US41 Lou Marson
US42 David Ortiz AS
US43 Carlos Quentin AS
US44 Matt Treanor
US45 Peter Moylan
US46 Angel Sanchez
US47 Paul Goldschmidt RC
US48 Scott Hairston
US49 Rickie Weeks AS
US50 Jered Weaver AS
US51 Andruw Jones
US52 Lance Berkman AS
US53 Koji Uehara
US54 Jerry Sands RC
US55 Anthony Rizzo RC
US56 Ryan Adams RC
US57 Tony Campana RC
US58 Tim Lincecum AS
US59 Matt Kemp AS
US60 Heath Bell AS
US61 Nick Masset
US62 Jason Marquis
US63 Doug Fister
US64 J.C. Romero
US65 Mitchell Boggs
US66 Andy Dirks RC
US67 Miguel Olivo
US68 Tyler Clippard AS
US69 Gerald Laird
US70 Michael Wuertz
US71 Jeff Francis
US72 Colby Rasmus
US73 Juan Nicasio RC
US74 Henry Blanco
US75 Gio Gonzalez AS
US76 Nolan Reimold
US77 Freddy Garcia
US78 David Ortiz HRD
US79 Chris Dickerson
US80 Jose Bautista HRD
US81 Aaron Harang
US82 Mark Ellis
US83 Brandon Belt RC
US84 Pablo Sandoval AS
US85 Roy Halladay AS
US86 Rafael Furcal
US87 Clayton Mortensen
US88 Orlando Cabrera
US89 Sean O'Sullivan
US90 James Russell
US91 Brandon League AS
US92 Hunter Pence
US93 Matt Downs
US94 Ryan Vogelsong
US95 Lyle Overbay
US96 Ryan Hanigan
US97 Cody Eppley RC
US98 Alexi Ogando AS
US99 Carlos Villanueva
US100 Cliff Lee
US101 Scott Downs
US102 Sean Burnett
US103 Josh Collmenter RC
US104 Logan Forsythe RC
US105 Joel Hanrahan AS
US106 Ryan Ludwick
US107 Brandon McCarthy
US108 Ubaldo Jimenez
US109 Jair Jurrjens AS
US110 Edgar Renteria
US111 Scott Sizemore
US112 Lonnie Chisenhall RC
US113 Chris Perez AS
US114 Lance Lynn RC
US115 Kerry Wood
US116 Shawn Camp
US117 Michael Stutes RC
US118 Michael Pineda AS
US119 Jeff Francoeur
US120 Bobby Parnell
US121 Jon Rauch
US122 Alfredo Aceves
US123 Brad Penny
US124 Xavier Paul
US125 Joel Peralta
US126 Adrian Gonzalez HRD
US127 Rickie Weeks HRD
US128 Mariano Rivera RB
US129 Brooks Conrad
US130 David Robertson AS
US131 Jeff Keppinger
US132 Jose Altuve RC
US133 Fernando Salas
US134 Michael Bourn
US135 Grant Balfour
US136 Brandon Crawford
US137 Willie Bloomquist
US138 Michael Young AS
US139 Rafael Soriano
US140 Clayton Kershaw AS
US141 Mike Cameron
US142 Alex White
US143 Craig Kimbrel AS
US144 Kevin Youkilis AS
US145 Bartolo Colon
US146 Jordan Walden AS
US147 C.J. Wilson AS
US148 Alex Presley RC
US149 Omar Infante
US150 Adrian Beltre
US151 Cory Gearrin RC
US152 Julio Teheran RC
US153 Matt Guerrier
US154 Cliff Lee AS
US155 Eric Hosmer RC
US156 Humberto Quintero
US157 Reed Johnson
US158 Darren Oliver
US159 Alex Cobb RC
US160 Victor Martinez
US161 Conor Jackson
US162 Troy Tulowitzki AS
US163 Adrian Beltre AS
US164 Hector Noesi RC
US165 Al Alburquerque RC
US166 David Ortiz RB
US167 Brendan Ryan
US168 Bruce Chen
US169 Ezequiel Carrera RC
US170 Brad Ziegler
US171 Matt Lindstrom
US172 Jonny Venters AS
US173 Charlie Furbush RC
US174 Jacob Turner RC
US175 Mike Trout RC
US176 Xavier Nady
US177 Rene Tosoni RC
US178 Jason Bourgeois
US179 Michael Pineda
US180 Daniel Moskos RC
US181 Jo-Jo Reyes
US182 Ronny Paulino
US183 Carlos Peguero RC
US184 Tyler Chatwood RC
US185 Orlando Hudson
US186 J.D. Martinez RC
US187 Bobby Wilson
US188 Eric Hosmer RC
US189 Wilson Valdez
US190 Alexi Ogando
US191 Andy Sonnanstine
US192 MIke Moustakas RC
US193 Lonnie Chisenhall RD
US194 Jason Kipnis RC
US195 Joey Votto AS
US196 Philip Humber
US197 Brandon League
US198 Kevin Jepsen
US199 Micah Owings
US200 Vladimir Guerrero
US201 Hisanori Takahashi
US202 Derrek Lee
US203 Juan Nicasio RC
US204 Brian Wilson AS
US205 D.J. LeMahieu RC
US206 J.P. Howell
US207 Jay Bruce AS
US208 Javier Lopez
US209 Rubby De La Rosa RC
US210 Jayson Werth
US211 Dustin Moseley
US212 Pat Neshek
US213 Louis Coleman RC
US214 Matt Daley
US215 Michael Dunn
US216 Takashi Saito
US217 Elliot Johnson
US218 Matt Kemp HRD
US219 George Sherrill
US220 Adam Dunn
US221 Jamey Carroll
US222 Chris Gimenez
US223 Arthur Rhodes
US224 Bill Hall
US225 David DeJesus
US226 Steve Pearce
US227 Kosuke Fukudome
US228 Zach Britton
US229 Asdrubal Cabrera AS
US230 Miguel Cabrera AS
US231 Charlie Blackmon RC
US232 Miguel Tejada
US233 John McDonald
US234 Brandon Crawford RC
US235 Charlie Morton
US236 Jose Morales
US237 Ryan Roberts
US238 Carlos Beltran AS
US239 J.J. Hardy
US240 Blake Tekotte RC
US241 Brandon Wood
US242 Matt Holliday HRD
US243 Chris Denorfia
US244 Francisco Rodriguez
US245 Kevin Correia
US246 Alcides Escobar
US247 Zack Cozart RC
US248 Octavio Dotel
US249 Starlin Castro AS
US250 Zack Greinke
US251 Justin Turner
US252 Derek Jeter RB
US253 Scott Linebrink
US254 Dustin Ackley
US255 Allen Craig
US256 Mark Kotsay
US257 Erik Bedard
US258 Andre Ethier AS
US259 Andre Ethier RB
US260 Matt Holliday AS
US261 John Buck
US262 Javy Guerra (RC)
US263 Chad Qualls
US264 Alex White
US265 Willie Harris
US266 Jason Isringhausen
US267 Sam Fuld
US268 Yadier Molina AS
US269 Sergio Santos
US270 Todd Frazier RC
US271 Eric O'Flaherty
US272 Jorge Cantu
US273 Miguel Montero AS
US274 Jeff Karstens
US275 Michael Cuddyer AS
US276 Yuniesky Betancourt
US277 Sam LeCure
US278 Jacoby Ellsbury AS
US279 Trevor Plouffe
US280 Kyle Farnsworth
US281 Mark Melancon
US282 Brad Hand RC
US283 LaTroy Hawkins
US284 Laynce Nix
US285 David Purcey
US286 Rich Thompson
US287 Matt Joyce AS
US288 Eric Thames RC
US289 Eric Chavez
US290 Sean Burroughs
US291 Andrew McCutchen AS
US292 Mike Adams
US293 Howie Kendrick AS
US294 Edwin Jackson
US295 Wilson Ramos
US296 Bobby Jenks
US297 Chase d'Arnaud RC
US298 Yorvit Torrealba
US299 Robinson Cano HRD
US300 Carl Crawford
US301 Tom Gorzelanny
US302 Alex Torres RC
US303 Juan Uribe
US304 Hunter Pence AS
US305 Carlos Beltran
US306 Brandon Phillips AS
US307 Casey Coleman
US308 Kyle Seager RC
US309 Paul Konerko AS
US310 Scott Rolen AS
US311 Drew Butera
US312 Danny Duffy RC
US313 Tyson Ross
US314 Armando Galarraga
US315 Carlos Pena
US316 Justin Upton AS
US317 Craig Counsell
US318 Brayan Pena
US319 Corey Patterson
US320 Russell Martin
US321 Gabby Sanchez AS
US322 Fernando Martinez
US323 Jhonny Peralta AS
US324 Melvin Mora
US325 Jason Giambi
US326 Trevor Bell
US327 Blake Beavan RC
US328 Kevin Gregg
US329 Dee Gordon RC
US330 Lance Berkman
Legends Variations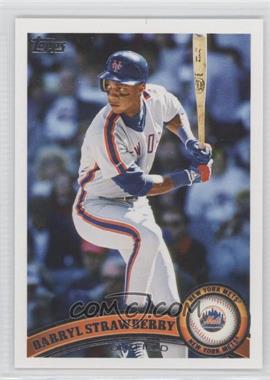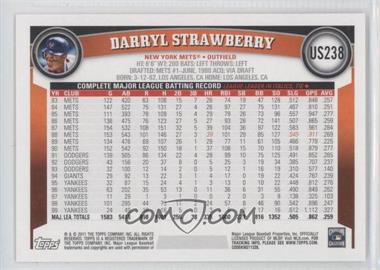 US4 Carlton Fisk
US10 Hank Aaron
US18 Joe DiMaggio
US21 Willie McCovey
US31 Paul O'Neill
US38 Roger Maris
US42 Frank Thomas
US50 Nolan Ryan
US58 Bert Blyleven
US59 Rickey Henderson
US85 Tom Seaver
US138 Paul Molitor
US140 Sandy Koufax
US154 Babe Ruth
US195 Larry Walker
US207 Frank Robinson
US229 Roberto Alomar
US230 Al Kaline
US238 Darryl Strawberry
US249 Ozzie Smith
US258 Monte Irvin
US260 Ty Cobb
US278 Tris Speaker
US291 Andre Dawson
US309 Jimmy Foxx
Parallels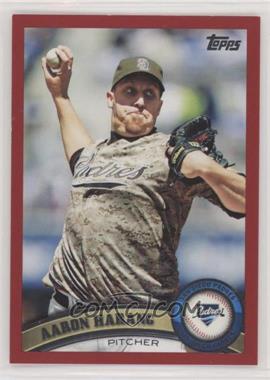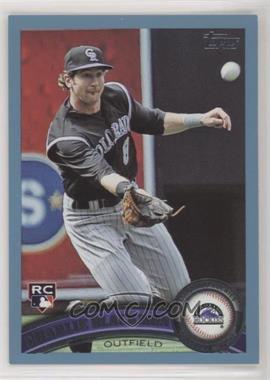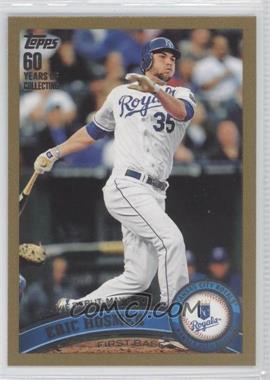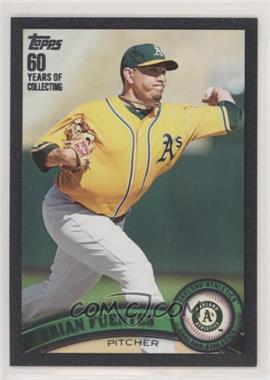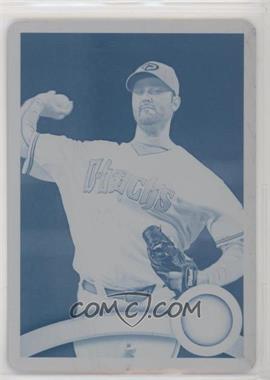 All 330 Update base cards are available in the following parallels.
Dark Red (Target exclusive)
Light Blue (Walmart exclusive)
Gold (serial-numbered to 2011)
Black (serial-numbered to 60, Hobby and HTA Jumbo exclusive)
Platinum (one-of-one)
Printing Plates (four-for-each, Hobby and HTA Jumbo exclusive)
Diamond Anniversary Parallels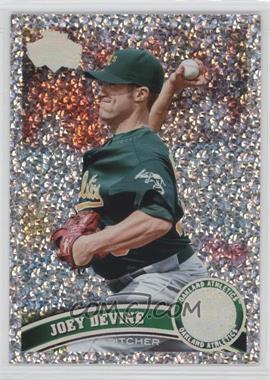 All 330 Update cards are available in the following "Diamond" parallels.
Platinum Diamond
Canary Diamond (one-of-one)
Two additional Diamond Anniversary parallels have been added, and are exclusive to packs of Update.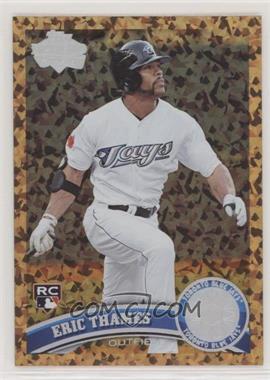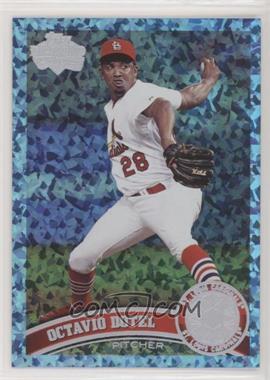 Cognac Diamond
Hope Diamond (serial-numbered to 60 copies)
In addition to the 330 Update cards, Hope and Cognac Diamond cards will also be produced for all 660 cards in the Topps flagship set, and all 74 Legends Variations randomly inserted into Series One, Two & Update.
Silk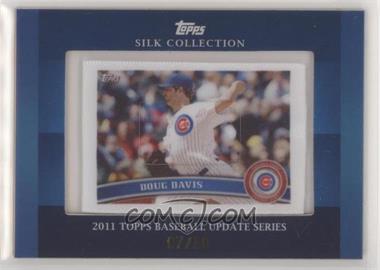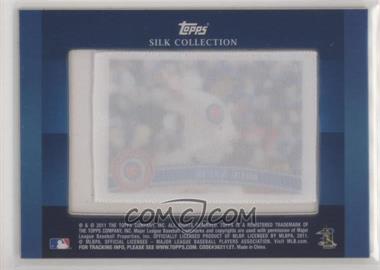 Each Silk card is serial-numbered to 50 copies and exclusive to Hobby and HTA Jumbo packs.
Adrian Gonzalez
Josh Willingham
Jose Iglesias
Mike Napoli
Conor Jackson
Tim Stauffer
Carlos Pena
Rick Ankiel
Russell Martin
Zach Britton
Brian Fuentes
Angel Sanchez
Andruw Jones
Jerry Sands
Brandon Belt
Jonathan Herrera
Yuniesky Betancourt
Mitchell Boggs
Andy Dirks
Zack Greinke
Jeff Francis
Nolan Reimold
Freddy Garcia
Aaron Harang
Kerry Wood
Orlando Cabrera
Lyle Overbay
Scott Downs
Sean Burnett
Victor Martinez
Logan Forsythe
Brandon McCarthy
Joe Mather
Edgar Renteria
Scott Sizemore
Jeff Francoeur
Kyle Farnsworth
Jon Rauch
Brad Penny
Fernando Salas
Doug Davis
Pete Kozma
Alfredo Amezaga
Mark Melancon
Rafael Soriano
Alex White
Bartolo Colon
Trystan Magnuson
Omar Infante
Carl Crawford
Matt Guerrier
Alexi Amarista
Humberto Quintero
Reed Johnson
Darren Oliver
Alex Cobb
Josh Collmenter
Michael Pineda
Jon Garland
Lance Berkman
Eduardo Sanchez
John Mayberry, Jr.
Brendan Ryan
Bruce Chen
Alexi Ogando
Brad Ziegler
Jason Giambi
Charlie Furbush
Julio Teheran
Vladimir Guerrero
Xavier Nady
Kevin Gregg
Jason Bourgeois
Derrek Lee
Adrian Beltre
Daniel Moskos
Carlos Peguero
Tyler Chatwood
Orlando Hudson
Jayson Werth
Philip Humber
Brandon League
J.P. Howell
Michael Dunn
Miguel Tejada
Jamey Carroll
Arthur Rhodes
Bill Hall
David DeJesus
Adam Dunn
Charlie Morton
J.J. Hardy
Kevin Correia
Alcides Escobar
Danny Duffy
Justin Turner
John Buck
Sergio Santos
Todd Frazier
Cliff Lee
Inserts
Topps 60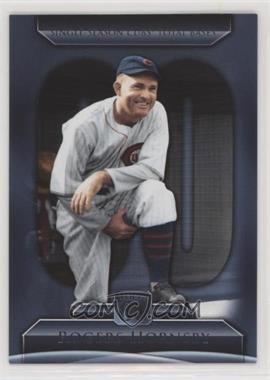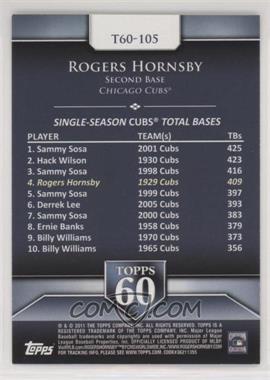 T60-101 Joe DiMaggio
T60-102 Hank Aaron
T60-103 Alex Rodriguez
T60-104 Alex Rodriguez
T60-105 Rogers Hornsby
T60-106 Jimmie Foxx
T60-107 Johnny Mize
T60-108 Babe Ruth
T60-109 Luis Aparicio
T60-110 Carlton Fisk
T60-111 Reggie Jackson
T60-112 Reggie Jackson
T60-113 Willie McCovey
T60-114 Nolan Ryan
T60-115 Nolan Ryan
T60-116 Nolan Ryan
T60-117 Fergie Jenkins
T60-118 Joe Morgan
T60-119 Tom Seaver
T60-120 Ozzie Smith
T60-121 Pee Wee Reese
T60-122 Roberto Alomar
T60-123 Andre Dawson
T60-124 Rickey Henderson
T60-125 Paul Molitor
T60-126 Frank Robinson
T60-127 Duke Snider
T60-128 Frank Thomas
T60-129 Ty Cobb
T60-130 Lou Gehrig
T60-131 Christy Mathewson
T60-132 George Sisler
T60-133 Tris Speaker
T60-134 Honus Wagner
T60-135 Cy Young
T60-136 Bert Blyleven
T60-137 Steve Garvey
T60-138 Roger Maris
T60-139 Dan Uggla
T60-140 Eric Hosmer
T60-141 Danny Duffy
T60-142 Tyler Chatwood
T60-143 Lance Berkman
T60-144 Zach Britton
T60-145 Michael Pineda
T60-146 Freddie Freeman
T60-147 Kyle Drabek
T60-148 Craig Kimbrel
T60-149 Drew Storen
T60-150 Sandy Koufax
Kimball Champions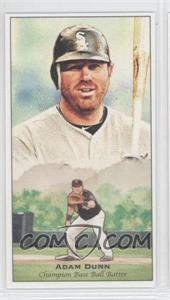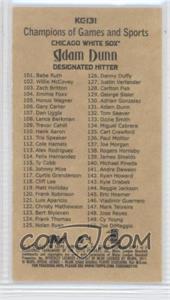 KC-101 Babe Ruth
KC-102 Willie McCovey
KC-103 Zach Britton
KC-104 Jimmie Foxx
KC-105 Honus Wagner
KC-106 Gary Carter
KC-107 Dan Uggla
KC-108 Lance Berkman
KC-109 Trevor Cahill
KC-110 Hank Aaron
KC-111 Tris Speaker
KC-112 Cole Hamels
KC-113 Alex Rodriguez
KC-114 Felix Hernandez
KC-115 Ty Cobb
KC-116 Johnny Mize
KC-117 Curtis Granderson
KC-118 Cliff Lee
KC-119 Matt Holliday
KC-120 Frank Robinson
KC-121 Luis Aparicio
KC-122 Christy Mathewson
KC-123 Bert Blyleven
KC-124 Frank Thomas
KC-125 Nolan Ryan
KC-126 Danny Duffy
KC-127 Justin Verlander
KC-128 Carlton Fisk
KC-129 George Sisler
KC-130 Adrian Gonzalez
KC-131 Adam Dunn
KC-132 Tom Seaver
KC-133 Ozzie Smith
KC-134 Miguel Cabrera
KC-135 Carl Crawford
KC-136 Paul Molitor
KC-137 Joe Morgan
KC-138 Rogers Hornsby
KC-139 James Shields
KC-140 Michael Pineda
KC-141 Andre Dawson
KC-142 Ryan Howard
KC-143 Kyle Drabek
KC-144 Reggie Jackson
KC-145 Eric Hosmer
KC-146 Vladimir Guerrero
KC-147 Mark Teixeira
KC-148 Jose Reyes
KC-149 Cy Young
KC-150 Joe DiMaggio
Diamond Duos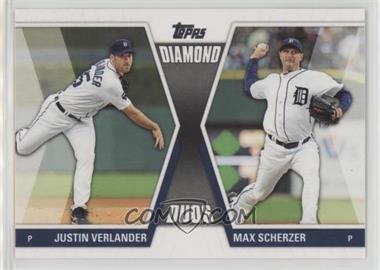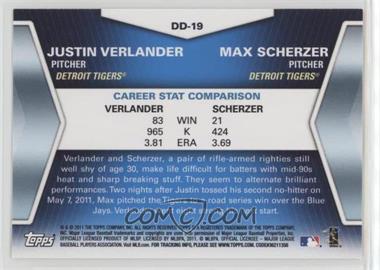 NOTE: The 30 Diamond Duos inserted into Update Series packs were erroneously numbered DD-1 to DD-30, the same as the cards in Series Two. The only way to differentiate between the Series Two and Update Series cards is to turn the card over to the reverse. In the lower-right corner of the reverse, Update Series cards should have a production code of #36211356.
DD-1 Felix Hernandez / Michael Pineda
DD-2 Andre Ethier / Matt Kemp
DD-3 Jered Weaver / Dan Haren
DD-4 Albert Pujols / Lance Berkman
DD-5 Eric Hosmer / Brandon Belt
DD-6 Brett Anderson / Trevor Cahill
DD-7 Starlin Castro / Darwin Barney
DD-8 Joey Votto / Jay Bruce
DD-9 Zack Greinke / Shaun Marcum
DD-10 Michael Pineda / Zach Britton
DD-11 Adam Dunn / Paul Konerko
DD-12 Matt Holliday / Colby Rasmus
DD-13 Giancarlo Stanton / Logan Morrison
DD-14 Jose Bautista / Adam Lind
DD-15 Joe DiMaggio / Derek Jeter
DD-16 Eric Hosmer / Danny Duffy
DD-17 Craig Kimbrel / Julio Teheran
DD-18 Adrian Gonzalez / Jose Bautista
DD-19 Justin Verlander / Max Scherzer
DD-20 Hank Aaron / Jose Bautista
DD-21 David Price / James Shields
DD-22 Ricky Romero / Kyle Drabek
DD-23 David Ortiz / Vladimir Guerrero
DD-24 Evan Longoria / Ben Zobrist
DD-25 Eric Hosmer / Freddie Freeman
DD-26 Buster Posey / Brian McCann
DD-27 Grady Sizemore / Shin-Soo Choo
DD-28 Brandon Phillips / Howie Kendrick
DD-29 Matt Kemp / Jerry Sands
DD-30 Sandy Koufax / Ryan Braun
toppstown.com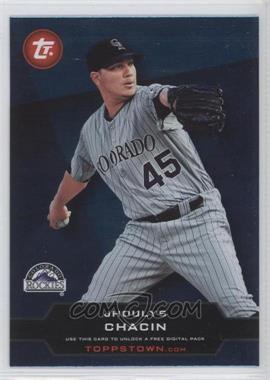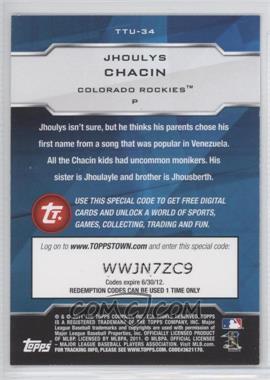 TTU-1 Eric Hosmer
TTU-2 Francisco Liriano
TTU-3 Prince Fielder
TTU-4 Carlos Beltran
TTU-5 Ricky Romero
TTU-6 Vernon Wells
TTU-7 Rickie Weeks
TTU-8 Brian Wilson
TTU-9 Colby Rasmus
TTU-10 Zach Britton
TTU-11 Wandy Rodriguez
TTU-12 Gaby Sanchez
TTU-13 Shane Victorino
TTU-14 Matt Garza
TTU-15 Francisco Rodriguez
TTU-16 Drew Stubbs
TTU-17 James Shields
TTU-18 Heath Bell
TTU-19 Fausto Carmona
TTU-20 Freddie Freeman
TTU-21 Chad Billingsley
TTU-22 Stephen Drew
TTU-23 Jimmy Rollins
TTU-24 Vladimir Guerrero
TTU-25 Gio Gonzalez
TTU-26 Curtis Granderson
TTU-27 Neil Walker
TTU-28 Alfonso Soriano
TTU-29 Michael Young
TTU-30 Paul Konerko
TTU-31 Adam Lind
TTU-32 Ben Zobrist
TTU-33 Travis Hafner
TTU-34 Jhoulys Chacin
TTU-35 Jaime Garcia
TTU-36 Jered Weaver
TTU-37 Max Scherzer
TTU-38 Alex Rodriguez
TTU-39 Jacoby Ellsbury
TTU-40 Matt Kemp
TTU-41 Michael Bourn
TTU-42 Kurt Suzuki
TTU-43 Brian McCann
TTU-44 CC Sabathia
TTU-45 Josh Beckett
TTU-46 Adrian Beltre
TTU-47 Drew Storen
TTU-48 Ian Desmond
TTU-49 Matt Cain
TTU-50 Michael Pineda
Manufactured Relics
Glove Leather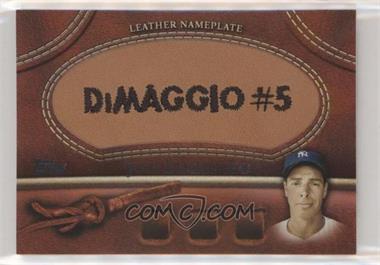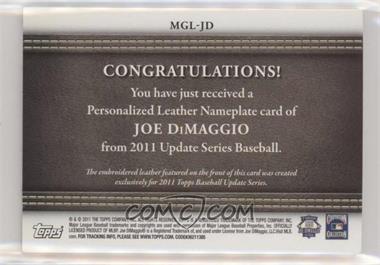 All Glove Leather cards are exclusive to Hobby and HTA Jumbo packs and are available in the following parallels.
Black (serial-numbered to 99 copies)
Nickname (one-of-one)
MGL-AD Andre Dawson
MGL-ADU Adam Dunn
MGL-AR Alex Rodriguez
MGL-ARO Alex Rodriguez
MGL-BB Brandon Belt
MGL-BR Babe Ruth
MGL-BW Brian Wilson
MGL-BZ Ben Zobrist
MGL-CF Carlton Fisk
MGL-CH Cole Hamels
MGL-DD Danny Duffy
MGL-DS Duke Snider
MGL-EH Eric Hosmer
MGL-FJ Fergie Jenkins
MGL-FR Frank Robinson
MGL-FT Frank Thomas
MGL-HA Hank Aaron
MGL-JB Jose Bautista
MGL-JD Joe DiMaggio
MGL-JF Jimmie Foxx
MGL-JM Johnny Mize
MGL-JMO Joe Morgan
MGL-JS James Shields
MGL-JSA Jerry Sands
MGL-JT Julio Teheran
MGL-JW Jayson Werth
MGL-JWE Jered Weaver
MGL-KY Kevin Youkilis
MGL-LA Luis Aparicio
MGL-LB Lance Berkman
MGL-MC Miguel Cabrera
MGL-MK Matt Kemp
MGL-MP Michael Pineda
MGL-MS Max Scherzer
MGL-NOR Nolan Ryan
MGL-NR Nolan Ryan
MGL-NRY Nolan Ryan
MGL-OS Ozzie Smith
MGL-PM Paul Molitor
MGL-PWR Pee Wee Reese
MGL-RA Roberto Alomar
MGL-RH Rogers Hornsby
MGL-RHE Rickey Henderson
MGL-RJ Reggie Jackson
MGL-RJA Reggie Jackson
MGL-TH Travis Hafner
MGL-TN Tsuyoshi Nishioka
MGL-TS Tom Seaver
MGL-WM Willie McCovey
MGL-ZB Zach Britton
Throwback Patches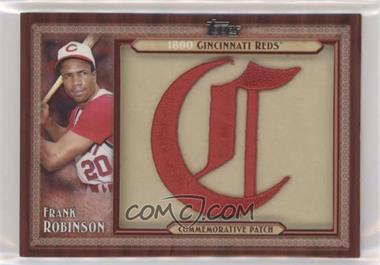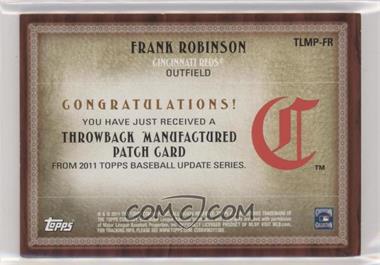 Throwback Patch cards are exclusive to retail Blaster Boxes. As with Series 1 and Series 2, this set includes 50 players each paired with a team patch from the past.
TLMP-AK Al Kaline
TLMP-BB Brandon Belt
TLMP-BG Bob Gibson
TLMP-BL Barry Larkin
TLMP-BM Bill Mazeroski
TLMP-BR Babe Ruth
TLMP-CF Carlton Fisk BOS
TLMP-CFI Carlton Fisk CWS
TLMP-DG Dee Gordon
TLMP-DP David Price
TLMP-EH Eric Hosmer
TLMP-FF Freddie Freeman
TLMP-FJ Fergie Jenkins CHC
TLMP-FJE Fergie Jenkins BOS
TLMP-FR Frank Robinson
TLMP-FT Frank Thomas
TLMP-GP Gaylord Perry
TLMP-HA Hank Aaron
TLMP-JB Johnny Bench
TLMP-JBA Jose Bautista
TLMP-JF Jimmie Foxx
TLMP-JM Juan Marichal
TLMP-JMI Johnny Mize
TLMP-JMO Joe Morgan
TLMP-JS John Smoltz
TLMP-LA Luis Aparicio
TLMP-MI Monte Irvin
TLMP-MP Michael Pineda
TLMP-MS Mike Schmidt
TLMP-NR Nolan Ryan HOU
TLMP-NRY Nolan Ryan TEX
TLMP-OS Ozzie Smith
TLMP-PM Paul Molitor MKE
TLMP-PMO Paul Molitor MIN
TLMP-PO Paul O'Neill
TLMP-RA Roberto Alomar TOR
TLMP-RAL Roberto Alomar CLE
TLMP-RB Ryan Braun
TLMP-RED Red Schoendienst
TLMP-RF Rollie Fingers
TLMP-RH Rickey Henderson
TLMP-RJ Reggie Jackson OAK
TLMP-RJA Reggie Jackson BAL
TLMP-RM Roger Maris
TLMP-RS Ryne Sandberg
TLMP-SG Steve Garvey
TLMP-TS Tom Seaver
TLMP-WM Willie McCovey
TLMP-ZB Zach Britton
Autographs & Game-Used
2011 MLB All-Star Game
All-Star Stitches
Each All-Star Stitch features a swatch (red jersey or black jersey) from the respective player's 2011 MLB All-Star Game workout jersey. Each card is also available in the following parallels.
Diamond Anniversary (serial-numbered to 60 copies)
Gold Canary Diamond (one-of-one)
AS-1 Jose Bautista
AS-2 Alex Avila
AS-3 Robinson Cano
AS-4 Adrian Gonzalez
AS-5 Curtis Granderson
AS-6 Josh Hamilton
AS-7 David Ortiz
AS-8 Carlos Quentin
AS-9 Jered Weaver
AS-10 Tim Lincecum
AS-11 Gio Gonzalez
AS-12 Brandon League
AS-13 Alexi Ogando
AS-14 Chris Perez
AS-15 Justin Verlander
AS-16 David Robertson
AS-17 Michael Young
AS-18 Kevin Youkilis
AS-19 Josh Beckett
AS-20 C.J. Wilson
AS-21 Adrian Beltre
AS-22 Asdrubal Cabrera
AS-23 Miguel Cabrera
AS-24 Michael Cuddyer
AS-25 Jacoby Ellsbury
AS-26 Matt Joyce
AS-27 Howie Kendrick
AS-28 Paul Konerko
AS-29 Justin Upton
AS-30 Jhonny Peralta
AS-31 Brian McCann
AS-32 Prince Fielder
AS-33 Rickie Weeks
AS-34 Lance Berkman
AS-35 Matt Kemp
AS-36 Heath Bell
AS-37 Tyler Clippard
AS-38 Pablo Sandoval
AS-39 Roy Halladay
AS-40 Joel Hanrahan
AS-41 Jair Jurrjens
AS-42 Clayton Kershaw
AS-43 Craig Kimbrel
AS-44 Cliff Lee
AS-45 Troy Tulowitzki
AS-46 Jonathan Venters
AS-47 Joey Votto
AS-48 Brian Wilson
AS-49 Jay Bruce
AS-50 Carlos Beltran
AS-51 Starlin Castro
AS-52 Andre Ethier
AS-53 Matt Holliday
AS-54 Yadier Molina
AS-55 Miguel Montero
AS-56 Andrew McCutchen
AS-57 Hunter Pence
AS-58 Brandon Phillips
AS-59 Scott Rolen
AS-60 Gaby Sanchez
AS-61 Kevin Correia
AS-62 Russell Martin
AS-63 Jose Valverde
AS-64 Jose Reyes
AS-65 Ryan Braun
AS-66 Felix Hernandez
AS-67 Jon Lester
AS-68 David Price
AS-69 James Shields
AS-70 Matt Cain
AS-71 Cole Hamels
AS-72 Ryan Vogelsong
AS-73 Placido Polanco
AS-74 Shane Victorino
AS-75 Ricky Romero
All-Star Stitches Autographed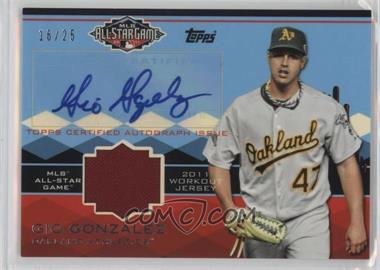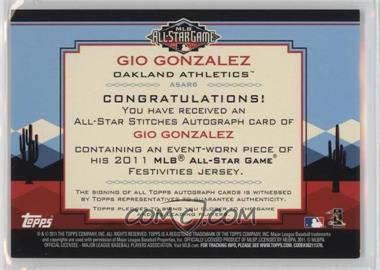 Each All-Star Stitches Autographed is serial-numbered to 25 copies.
ASA-AC Asdrubal Cabrera
ASA-AG Adrian Gonzalez
ASA-BL Brandon League
ASA-BM Brian McCann
ASA-CK Craig Kimbrel
ASA-CL Cliff Lee
ASA-GG Gio Gonzalez
ASA-JB Jose Bautista
ASA-MC Miguel Cabrera
ASA-MK Matt Kemp
ASA-RB Ryan Braun
ASA-RC Robinson Cano
All-Star Jumbo Patches
Each All-Star Jumbo Patch is exclusive to Hobby and HTA Jumbo packs and is serial-numbered to six copies.
ASJP-1 Jose Bautista
ASJP-2 Alex Avila
ASJP-3 Robinson Cano
ASJP-4 Adrian Gonzalez
ASJP-5 Curtis Granderson
ASJP-6 David Ortiz
ASJP-7 Carlos Quentin
ASJP-8 Jered Weaver
ASJP-9 Tim Lincecum
ASJP-10 Gio Gonzalez
ASJP-11 Brandon League
ASJP-12 Alexi Ogando
ASJP-13 Chris Perez
ASJP-14 David Robertson
ASJP-15 Michael Young
ASJP-16 Kevin Youkilis
ASJP-17 Justin Verlander
ASJP-18 C.J. Wilson
ASJP-19 Adrian Beltre
ASJP-20 Asdrubal Cabrera
ASJP-21 Miguel Cabrera
ASJP-22 Michael Cuddyer
ASJP-23 Jacoby Ellsbury
ASJP-24 Matt Joyce
ASJP-25 Howie Kendrick
ASJP-26 Paul Konerko
ASJP-27 Jhonny Peralta
ASJP-28 Brian McCann
ASJP-29 Rickie Weeks
ASJP-30 Lance Berkman
ASJP-31 Matt Kemp
ASJP-32 Heath Bell
ASJP-33 Tyler Clippard
ASJP-34 Pablo Sandoval
ASJP-35 Jair Jurrjens
ASJP-36 Craig Kimbrel
ASJP-37 Cliff Lee
ASJP-38 Jonathan Venters
ASJP-39 Joey Votto
ASJP-40 Brian Wilson
ASJP-41 Jay Bruce
ASJP-42 Carlos Beltran
ASJP-43 Andre Ethier
ASJP-44 Matt Holliday
ASJP-45 Yadier Molina
ASJP-46 Miguel Montero
ASJP-47 Andrew McCutchen
ASJP-48 Hunter Pence
ASJP-49 Scott Rolen
ASJP-50 Gaby Sanchez
ASJP-51 Kevin Correia
ASJP-52 Russell Martin
ASJP-53 Jose Valverde
ASJP-54 Ryan Braun
ASJP-55 Shane Victorino
ASJP-56 Josh Beckett
ASJP-57 Felix Hernandez
ASJP-58 Jon Lester
ASJP-59 David Price
ASJP-60 James Shields
ASJP-61 Matt Cain
ASJP-62 Cole Hamels
ASJP-63 Ryan Vogelsong
ASJP-64 Jose Reyes
ASJP-65 Ricky Romero
All-Star Jumbo Patches Autographed
Each All-Star Jumbo Patches Autographed is exclusive to Hobby and HTA Jumbo packs and is serial-numbered to six copies.
ASPA1 Roy Halladay
ASPA2 Joel Hanrahan
ASPA3 Prince Fielder
ASPA4 Brandon Phillips
ASPA5 Josh Hamilton
ASPA6 Troy Tulowitzki
ASPA7 Justin Upton
ASPA8 Starlin Castro
ASPA9 Clayton Kershaw
ASPA10 Michael Pineda
All-Star Stitches Dual
Each All-Star Stitches Dual is serial-numbered to 25 copies.
ASD-1 Jose Bautista / Lance Berkman
ASD-2 Robinson Cano / Curtis Granderson
ASD-3 Josh Hamilton / Michael Young
ASD-4 David Ortiz / Prince Fielder
ASD-5 Adrian Gonzalez / Joey Votto
ASD-6 Justin Upton / Miguel Montero
ASD-7 Brian Wilson / Tim Lincecum
ASD-8 Michael Pineda / Jordan Walden
ASD-9 Miguel Cabrera / Paul Konerko
ASD-10 Brandon Phillips / Jay Bruce
All-Star Stitches Triple
Each All-Star Stitches Triple is exclusive to Hobby and HTA Jumbo packs and is serial-numbered to 25 copies.
AST-1 Adrian Gonzalez / Kevin Youkilis / Jacoby Ellsbury
AST-2 Jose Bautista / Josh Hamilton / Miguel Cabrera
AST-3 Brian McCann / Jair Jurrjens / Craig Kimbrel
AST-4 Matt Kemp / Clayton Kershaw / Andre Ethier
AST-5 Jered Weaver / Michael Pineda / Gio Gonzalez
AST-6 Matt Holliday / Jay Bruce / Hunter Pence
AST-7 Roy Halladay / Cliff Lee / Cole Hamels
AST-8 Troy Tulowitzki / Starlin Castro / Asdrubal Cabrera
AST-9 Robinson Cano / Brandon Phillips / Howie Kendrick
AST-10 Curtis Granderson / Justin Upton / Andrew McCutchen
Diamond Duos Relics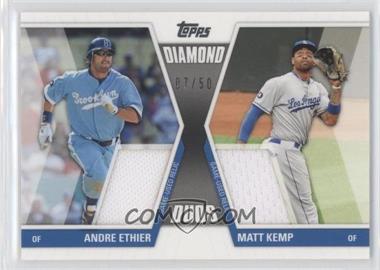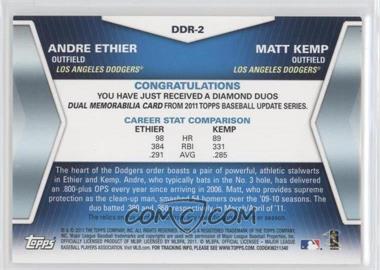 Each Diamond Duos Relic is serial-numbered to 50 copies.
DDR-1 Felix Hernandez / Michael Pineda
DDR-2 Andre Ethier / Matt Kemp
DDR-3 Jered Weaver / Dan Haren
DDR-4 Albert Pujols / Lance Berkman
DDR-5 Eric Hosmer / Brandon Belt
DDR-6 Brett Anderson / Trevor Cahill
DDR-7 Starlin Castro / Darwin Barney
DDR-8 Joey Votto / Jay Bruce
DDR-9 Zack Greinke / Shaun Marcum
DDR-10 Michael Pineda / Zach Britton
DDR-11 Adam Dunn / Paul Konerko
DDR-12 Matt Holliday / Colby Rasmus
DDR-13 Giancarlo Stanton / Logan Morrison
DDR-14 Jose Bautista / Adam Lind
DDR-15 Joe DiMaggio / Derek Jeter
1966 Mickey Mantle Reprint Relic
This card is a reprint of Mantle's 1966 Topps card, with a piece of his jersey mounted. Only 66 serial-numbered copies were produced.
Topps 60 Autographs
T60A-AC Andrew Cashner
T60A-AG Adrian Gonzalez
T60A-AP Albert Pujols
T60A-APA Angel Pagan
T60A-BA Brett Anderson
T60A-BC Brett Cecil
T60A-BL Brandon League
T60A-CB Clay Buchholz
T60A-CC Carl Crawford
T60A-CR Colby Rasmus
T60A-CY Chris Young
T60A-DB Daniel Bard
T60A-DH Derek Holland
T60A-DM Daniel McCutchen
T60A-DS Drew Stubbs
T60A-DW David Wright
T60A-FH Felix Hernandez
T60A-FR Fernando Rodney
T60A-GC Gary Carter
T60A-GS Gaby Sanchez
T60A-HA Hank Aaron
T60A-JB Jose Bautista
T60A-JJ Josh Johnson
T60A-JJA Jon Jay
T60A-JN Jon Niese
T60A-JNI Jeff Niemann
T60A-JT Josh Thole
T60A-JZ Jordan Zimmermann
T60A-MC Miguel Cabrera
T60A-MM Mitch Moreland
T60A-NW Neil Walker
T60A-PA Pedro Alvarez
T60A-PS Pablo Sandoval
T60A-SK Sandy Koufax
T60A-TH Tim Hudson
Next 60 Autographs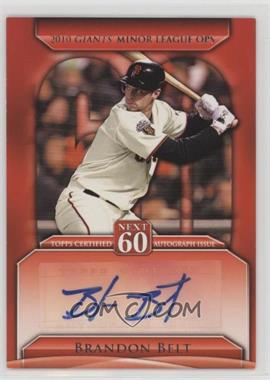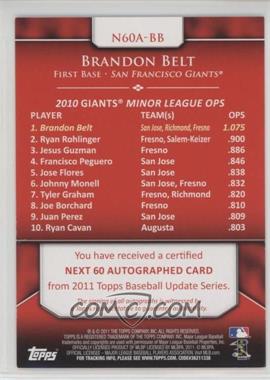 N60A-AC Aroldis Chapman
N60A-AJ Austin Jackson
N60A-AO Alexi Ogando
N60A-BB Brandon Belt
N60A-BW Brett Wallace
N60A-DH Daniel Hudson
N60A-FF Freddie Freeman
N60A-HC Hank Conger
N60A-JH Jeremy Hellickson
N60A-JJ Jeremy Jeffress
N60A-JT Jose Tabata
N60A-KD Kyle Drabek
N60A-LF Logan Forsythe
N60A-MP Michael Pineda
N60A-MS Giancarlo Stanton
N60A-MT Mark Trumbo
N60A-NF Neftali Feliz
N60A-SC Starlin Castro
N60A-TN Tsuyoshi Nishioka
N60A-ZB Zach Britton
60th Anniversary Autographs
See 2011 Topps 60th Anniversary Autographs.