2004 Topps Opening Day
Description
2004 Topps Opening Day is a 165-card parallel brand, released exclusively to mass-market retail outlets, in March, 2004. Like previous Opening Day sets, the design is nearly identical to that of the Topps' flagship, but with the addition of an "Opening Day" logo.
The set reprints 109 cards of 2004 Topps Series One and 55 from Series Two.
Distribution
36 packs per box, six cards per pack (MSRP: $0.99). 20 boxes per case. Retail only.
Reviews
Insertion Ratios
| Cards | Total Cards | Numbered To | Retail Odds |
| --- | --- | --- | --- |
| Base | 165 | - | ? |
| Opening Day Autographs | 6 | - | 1:628 |
| Team Topps Legends | ? | - | 1:1256 |
Checklist
Base Set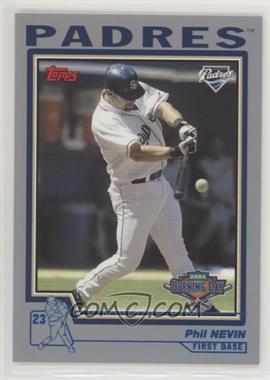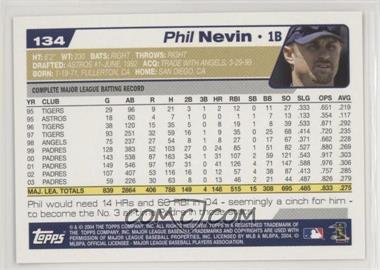 1 Jim Thome
2 Edgardo Alfonzo
3 Marlon Anderson
4 Ichiro Suzuki
5 Frank Thomas
6 Tom Glavine
7 Bo Hart
8 Marcus Giles
9 Kevin Millar
10 Derek Jeter
11 Corey Patterson
12 Jay Payton
13 Lance Berkman
14 Juan Pierre
15 Mike Piazza
16 Richie Sexson
17 Tim Hudson
18 Fred McGriff
19 Brad Radke
20 John Smoltz
21 Jay Gibbons
22 Michael Young
23 Steve Finley
24 Ramon Hernandez
25 Albert Pujols
26 Trot Nixon
27 Kevin Millwood
28 Mark Prior
29 Mike Lowell
30 Paul Lo Duca
31 Jacque Jones
32 Ty Wigginton
33 Cliff Floyd
34 Marlon Byrd
35 Mark Mulder
36 Johnny Damon
37 Jimmy Rollins
38 Javy Lopez
39 Andruw Jones
40 Hank Blalock
41 Hee Seop Choi
42 Jose Vidro
43 Hideo Nomo
44 Javier Vazquez
45 Jorge Posada
46 Al Leiter
47 Orlando Cabrera
48 Mike Hampton
49 Esteban Loaiza
50 Todd Helton
51 Jose Contreras
52 Jason Phillips
53 Vernon Wells
54 Randy Winn
55 Curt Schilling
56 Mark Buehrle
57 Dmitri Young
58 Kazuhisa Ishii
59 A.J. Pierzynski
60 Greg Maddux
61 Jarrod Washburn
62 Omar Vizquel
63 Alex Gonzalez
64 Sean Casey
65 Eric Chavez
66 Mike Lieberthal
67 Jason Kendall
68 Mike Cameron
69 Woody Williams
70 Nomar Garciaparra
71 Bernie Williams
72 Darin Erstad
73 Bill Mueller
74 Damian Miller
75 Jason Giambi
76 Adam Dunn
77 Carlos Lee
78 Angel Berroa
79 Erubiel Durazo
80 Bret Boone
81 Aubrey Huff
82 Carlos Delgado
83 Toby Hall
84 Roy Halladay
85 Preston Wilson
86 Bartolo Colon
87 Moises Alou
88 Luis Castillo
89 Manny Ramirez
90 Garret Anderson
91 Ryan Klesko
92 Rich Aurilia
93 Rafael Furcal
94 Rocco Baldelli
95 Eric Gagne
96 Jeff Kent
97 Josh Beckett
98 Alex Gonzalez
99 Jose Cruz
100 Alex Rodriguez
101 Troy Glaus
102 Carlos Beltran
103 Luis Gonzalez
104 A.J. Burnett
105 Gary Sheffield
106 Benito Santiago
107 Tony Batista
108 David Ortiz
109 Shannon Stewart
110 Jim Edmonds
111 Kenny Lofton
112 Paul Konerko
113 Rafael Palmeiro
114 Pat Burrell
115 Barry Zito
116 Edgar Martinez
117 Austin Kearns
118 Geoff Jenkins
119 Mike Mussina
120 Alfonso Soriano
121 Shea Hillenbrand
122 Ivan Rodriguez
123 Kerry Wood
124 Scott Rolen
125 Jeff Bagwell
126 Roberto Alomar
127 Carl Crawford
128 Mike Sweeney
129 Melvin Mora
130 Larry Walker
131 Matt Morris
132 Shawn Green
133 Scott Podsednik
134 Phil Nevin
135 Dontrelle Willis
136 Torii Hunter
137 Carl Everett
138 Pedro Martinez
139 Roy Oswalt
140 Vladimir Guerrero
141 Chipper Jones
142 Jose Reyes
143 Sammy Sosa
144 Nick Johnson
145 Miguel Tejada
146 Bobby Abreu
147 Magglio Ordonez
148 Sean Burroughs
149 Jody Gerut
150 Jermaine Dye
151 Craig Biggio
152 Randy Johnson
153 Jeff Conine
154 Edgar Renteria
155 Mark Teixeira
156 Eric Hinske
157 Kevin Brown
158 Ken Griffey, Jr.
159 Brandon Webb
160 Brian Giles
161 Jason Schmidt
162 Aramis Ramirez
163 Aaron Boone
164 Miguel Cabrera
165 Checklist
Autographs
Autographs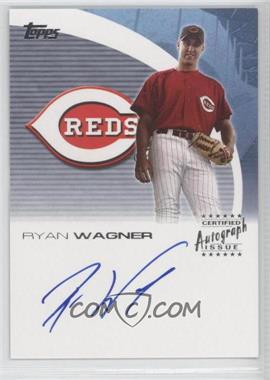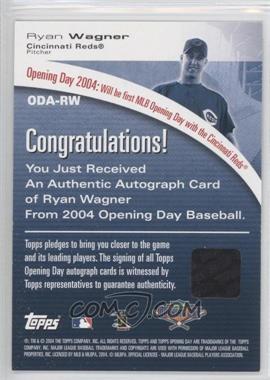 AT Andres Torres
DW Dontrelle Willis
JD Jeff Duncan
JW Jerome Williams
RH Rich Harden
RW Ryan Wagner
Team Topps Legends
See 2004 Team Topps Legends Autographs