2008 Topps Updates & Highlights
Description
2008 Topps Update is a 330-card set released October 22, 2008. The base set contains one of the strongest rookie card "classes" in years including: Evan Longoria, Max Scherzer, and Clayton Kershaw. Each Hobby box contained either an autograph or a game used "relic."
For the first time, two base cards from Updates and Highlights were included in every pack of 2008 Topps Heritage High Number Series.
Distribution
Hobby/Retail: 36 packs per box, 10 cards per pack.
HTA Jumbo: 10 packs per box, 46 cards per pack.
Two base cards in every pack of 2008 Topps Heritage High Number.
Reviews
Insertion Ratios
| Cards | Total Cards | Numbered To | Hobby Odds | Retail Odds | HTA Jumbo |
| --- | --- | --- | --- | --- | --- |
| Base | 330 | - | ? | ? | ? |
| Gold Foil | 330 | - | 1:2 | ? | ? |
| Gold | 330 | 2008 | 1:5 | ? | ? |
| Black | 330 | 57 | 1:59 | N/A | ? |
| Platinum | 330 | one-of-one | 1:9434 | ? | ? |
| Printing Plates | 330 | four-for-each | 1:457 | ? | ? |
| Silk | 100 | 50 | 1:246 | ? | ? |
| Chrome Rookie Refractors | 55 | - | one-per-box | N/A | one-per-box |
| Year in Review | 58 | - | 1:6 | ? | ? |
| First Couples | 41 | - | 1:6 | ? | ? |
| Ring of Honor: 1986 Mets | 10 | - | 1:18 | ? | ? |
| Ring of Honor Gold: 1986 Mets | 10 | 25 | 1:11,743 | ? | ? |
| Ring of Honor: World Series Champions | 12 | - | 1:18 | ? | ? |
| Ring of Honor Gold: World Series Champions | 12 | 25 | 1:11,743 | ? | ? |
| Take Me Out to the Ballgame | 1 | - | 1:72 | ? | ? |
| World Baseball Classic Preview | 25 | - | 1:9 | ? | ? |
| 2008 Presidential Picks | 2 | 100 | 1:15,984 | ? | ? |
| Dick Perez | 10 | - | N/A | ? | N/A |
| K-Mart Gold | 10 | - | N/A | ? | N/A |
| All-Star Stitches | 66 | - | 1:44 | ? | ? |
| All-Star Stitches Gold | 66 | 50 | 1:373 | ? | ? |
| All-Star Jumbo Patches | 66 | 6 | 1:4496 | N/A | ? |
| All-Star Stitches Platinum | 66 | one-of-one | 1:23,017 | ? | ? |
| All-Star Stitches Autographs | 10 | 25 | 1:6394 | ? | ? |
| All-Star Stitches Dual | 10 | 25 | 1:5994 | ? | ? |
| All-Star Stitches Triple | 11 | 25 | 1:5994 | ? | ? |
| All-Star Autographed Jumbo Patches | 10 | 6 | 1:23,017 | N/A | ? |
| 1957 Mickey Mantle Reprint Relic | 1 | 57 | 1:17,982 | ? | ? |
| Ring of Honor: 1986 Mets Autographs | 10 | - | 1:2849 | ? | ? |
| Ring of Honor: World Series Champions Autographs | 10 | - | 1:2569 | ? | ? |
| 2008 Highlights Autographs | 29 | - | varies | ? | ? |
| First Lady Cut Signatures | 25 | one-of-one | 1:47,952 | ? | ? |
Checklist
Base Set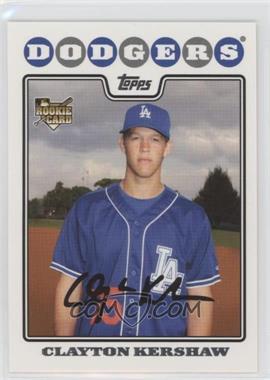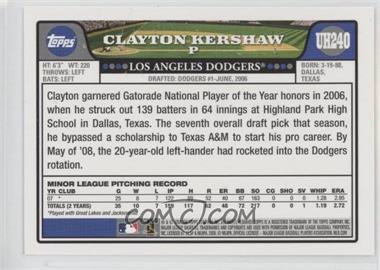 UH1 Kosuke Fukudome RC
UH2 Sean Casey
UH3 Freddie Bynum
UH4 Brent Lillibridge (RC)
UH5 Chipper Jones AS
UH6 Yamid Haad
UH7 Josh Anderson
UH8 Jeff Mathis
UH9 Shawn Riggans
UH10 Evan Longoria RC
UH11 Matt Holliday AS
UH12 Trot Nixon
UH13 Geoff Blum
UH14 Bartolo Colon
UH15 Kevin Cash
UH16 Paul Janish (RC)
UH17 Russell Martin AS
UH18 Andy Phillips
UH19 Johnny Estrada
UH20 Justin Masterson RC
UH21 Darrell Rasner
UH22 Brian Moehler
UH23 Cristian Guzman AS
UH24 Tony Armas, Jr.
UH25 Lance Berkman AS
UH26 Chris Iannetta
UH27 Reid Brignac
UH28 Miguel Tejada AS
UH29 Ryan Ludwick AS
UH30 Brendan Harris
UH31 Marco Scutaro
UH32 Cody Ross
UH33 Carlos Marmol
UH34 Nate McLouth AS
UH35 Hanley Ramirez AS
UH36 Xavier Nady
UH37 Connor Robertson
UH38 Carlos Villanueva
UH39 Jose Molina
UH40 Jon Rauch
UH41 Joe Mauer AS
UH42 Chip Ambres
UH43 Jason Bartlett
UH44 Ryan Sweeney
UH45 Eric Hurley (RC)
UH46 Kevin Youkilis AS
UH47 Dustin Pedroia AS
UH48 Grant Balfour
UH49 Ryan Ludwick
UH50 Matt Garza
UH51 Fernando Tatis
UH52 Derek Jeter AS
UH53 Justin Duchscherer AS
UH54 Matt Ginter
UH55 Cesar Izturis
UH56 Roy Halladay AS
UH57 Ramon Castro
UH58 Scott Kazmir AS
UH59 Cliff Lee AS
UH60 Jim Edmonds
UH61 Randy Wolf
UH62 Matt Albers
UH63 Eric Bruntlett
UH64 Joe Nathan AS
UH65 Alex Rodriguez AS
UH66 Robinson Cancel
UH67 Jamey Carroll
UH68 Jonathan Papelbon AS
UH69 Chad Moeller
UH70 George Sherrill
UH71 Mariano Rivera AS
UH72 Pete Orr
UH73 Jonathan Albaladejo RC
UH74 Corey Patterson
UH75 Matt Treanor
UH76 Francisco Rodriguez AS
UH77 Ervin Santana AS
UH78 Dallas Braden
UH79 Willie Harris
UH80 Erik Bedard
UH81 J.C. Romero
UH82 Joe Saunders AS
UH83 George Sherrill AS
UH84 Julian Tavarez
UH85 Chad Gaudin
UH86 David Aardsma
UH87 Ryan Langerhans
UH88 Dan Haren / Russell Martin CC
UH89 Joakim Soria AS
UH90 Dan Haren
UH91 Billy Buckner
UH92 Eric Hinske
UH93 Chris Coste
UH94 Edinson Volquez / Russell Martin CC
UH95 Ichiro AS
UH96 Vladimir Nunez
UH97 Sean Gallagher
UH98 Denny Bautista
UH99 Hanley Ramirez / David Ortiz CC
UH100 Jay Bruce (RC)
UH101 Dioner Navarro AS
UH102 Matt Murton
UH103 Chris Burke
UH104 Omar Infante
UH105 Dan Giese (RC)
UH106 Carlos Guillen / Josh Hamilton CC
UH107 Jason Varitek AS
UH108 Shin-Soo Choo
UH109 Alberto Callaspo
UH110 Jose Valverde
UH111 Brandon Boggs (RC)
UH112 Josh Hamilton / J.D. Drew CC
UH113 Justin Morneau AS
UH114 Billy Traber
UH115 Mike Lamb
UH116 Odalis Perez
UH117 Jed Lowrie (RC)
UH118 Justin Morneau / David Ortiz CC
UH119 Ken Griffey, Jr. HL
UH120 Angel Berroa
UH121 Jacque Jones
UH122 Dewayne Wise
UH123 Matt Joyce RC
UH124 Alex Rodriguez / Evan Longoria CC
UH125 John Smoltz HL
UH126 Morgan Ensberg
UH127 Michael Young / Derek Jeter CC
UH128 LaTroy Hawkins
UH129 Nick Adenhart (RC)
UH130 Mike Cameron
UH131 Manny Ramirez HL
UH132 Jorge De La Rosa
UH133 Tadahito Iguchi
UH134 Joey Devine
UH135 Jose Arredondo RC
UH136 Hanley Ramirez / Albert Pujols CC
UH137 Evan Longoria HL
UH138 T.J. Beam
UH139 Jon Lieber
UH140 Dana Eveland
UH141 Michael Aubrey RC
UH142 Adrian Gonzalez / Matt Holliday CC
UH143 Chipper Jones HL
UH144 Robinson Tejeda
UH145 Kip Wells
UH146 Carlos Gonzalez (RC)
UH147 Josh Banks (RC)
UH148 David Wright AS
UH149 Paul Hoover
UH150 Jon Lester HL
UH151 Darin Erstad
UH152 Steve Trachsel
UH153 Armando Galarraga RC
UH154 Grady Sizemore HRD
UH155 Jay Bruce HL
UH156 Juan Rincon
UH157 Mark Hendrickson
UH158 Chad Durbin
UH159 Mike Aviles RC
UH160 Orlando Cabrera
UH161 Asdrubal Cabrera HL
UH162 Eric Stults
UH163 Miguel Cairo
UH164 Jason LaRue
UH165 Burke Badenhop RC
UH166 Ryan Braun HRD
UH167 Justin Morneau HRD
UH168 Ben Zobrist
UH169 Eulogio De La Cruz
UH170 Greg Smith (RC)
UH171 Brian Bixler (RC)
UH172 Evan Longoria HRD
UH173 Randy Johnson HL
UH174 D.J. Carrasco
UH175 Luis Vizcaino
UH176 Brad Wilkerson
UH177 Emmanuel Burriss RC
UH178 Lance Berkman HRD
UH179 Johnny Damon HL
UH180 Scott Rolen
UH181 Runelvys Hernandez
UH182 Sidney Ponson
UH183 Greg Reynolds RC
UH184 Chase Utley HRD
UH185 Joey Votto HL
UH186 Wes Littleton
UH187 Rod Barajas
UH188 Ray Durham
UH189 Micah Hoffpauir RC
UH190 Manny Ramirez AS
UH191 Ian Kinsler AS
UH192 Craig Hansen
UH193 Jeremy Affeldt
UH194 Gary Bennett
UH195 Chris Carter (RC)
UH196 Dan Uggla HRD
UH197 Michael Young AS
UH198 Andy LaRoche
UH199 Lance Cormier
UH200 Luke Scott
UH201 Travis Denker RC
UH202 Josh Hamilton
UH203 Joe Crede AS
UH204 Franquelis Osoria
UH205 Octavio Dotel
UH206 Russell Branyan
UH207 Alberto Gonzalez RC
UH208 Kerry Wood AS
UH209 Carlos Guillen AS
UH210 Joe Saunders
UH211 Brett Tomko
UH212 Guillermo Mota
UH213 German Duran RC
UH214 Carlos Zambrano AS
UH215 Josh Hamilton AS
UH216 Jason Bay
UH217 Willy Aybar
UH218 Salomon Torres
UH219 Damaso Marte
UH220 Geoff Jenkins
UH221 J.D. Drew AS
UH222 Dave Borkowski
UH223 Jeff Ridgway RC
UH224 Angel Pagan
UH225 Ryan Tucker (RC)
UH226 Brian McCann AS
UH227 Carlos Quentin AS
UH228 Joe Blanton
UH229 Adrian Gonzalez AS
UH230 Jason Jennings
UH231 Chris Davis RC
UH232 Geovany Soto AS
UH233 Grady Sizemore AS
UH234 Carl Pavano
UH235 Eddie Guardado
UH236 Chris Snelling
UH237 Manny Ramirez
UH238 Dan Uggla AS
UH239 Milton Bradley AS
UH240 Clayton Kershaw RC
UH241 Chase Utley AS
UH242 Raul Chavez
UH243 Joe Mather RC
UH244 Brandon Webb AS
UH245 Ryan Braun AS
UH246 Kelvin Jimenez
UH247 Scott Podsednik
UH248 Doug Mientkiewicz
UH249 Chris Volstad (RC)
UH250 Pedro Feliz
UH251 Mark Redman
UH252 Tony Clark
UH253 Josh Johnson
UH254 Jose Castillo
UH255 Brian Horwitz RC
UH256 Aramis Ramirez AS
UH257 Casey Blake
UH258 Arthur Rhodes
UH259 Aaron Boone
UH260 Emil Brown
UH261 Matt Macri (RC)
UH262 Brian Wilson AS
UH263 Eric Patterson
UH264 David Ortiz
UH265 Tony Abreu
UH266 Rob Mackowiak
UH267 Gregorio Petit RC
UH268 Alfonso Soriano AS
UH269 Robert Andino
UH270 Justin Duchscherer
UH271 Brad Thompson
UH272 Guillermo Quiroz
UH273 Chris Perez RC
UH274 Albert Pujols AS
UH275 Rich Harden
UH276 Corey Hart AS
UH277 John Rheinecker
UH278 So Taguchi
UH279 Alex Hinshaw RC
UH280 Max Scherzer RC
UH281 Chris Aguila
UH282 Carlos Marmol AS
UH283 Alex Cintron
UH284 Curtis Thigpen
UH285 Kosuke Fukudome AS
UH286 Aaron Cook AS
UH287 Chase Headley
UH288 Evan Longoria AS
UH289 Chris Gomez
UH290 Carlos Gomez
UH291 Jonathan Herrera RC
UH292 Ryan Dempster AS
UH293 Adam Dunn
UH294 Mark Teixeira
UH295 Aaron Miles
UH296 Gabe Gross
UH297 Cory Wade (RC)
UH298 Dan Haren AS
UH299 Jolbert Cabrera
UH300 C.C. Sabathia
UH301 Tony Pena, Jr.
UH302 Brandon Moss
UH303 Taylor Teagarden RC
UH304 Brad Lidge AS
UH305 Ben Francisco
UH306 Casey Kotchman
UH307 Greg Norton
UH308 Shelley Duncan
UH309 John Bowker (RC)
UH310 Kyle Lohse
UH311 Oscar Salazar
UH312 Ivan Rodriguez
UH313 Tim Lincecum AS
UH314 Wilson Betemit
UH315 Sean Rodriguez (RC)
UH316 Ben Sheets AS
UH317 Brian Buscher
UH318 Kyle Farnsworth
UH319 Ruben Gotay
UH320 Heath Bell
UH321 Jeff Niemann (RC)
UH322 Edinson Volquez AS
UH323 Jorge Velandia
UH324 Ken Griffey, Jr. CWS
UH325 Clay Hensley
UH326 Kevin Mench
UH327 Hernan Iribarren (RC)
UH328 Billy Wagner AS
UH329 Jeremy Sowers
UH330 Johan Santana
Gimmicks
Topps included five unannounced gimmicks for Update. On three of the cards, the images of Kosuke Fukudome, Evan Longoria, and Jay Bruce has been flipped upside down. The other two feature 2008 GOP Vice-Presidential nominee Sarah Palin. One shows Palin as Governor of Alaska, the other is a photo of Palin as a teenager competing in a beauty pageant.
UH1 Kosuke Fukudome
UH10 Evan Longoria
UH100 Jay Bruce
SP Sarah Palin
SP Sarah Palin Pagent Photo
Factory Set Kosuke Fukudome
Inserted into each 2008 Topps factory set is a special Kosuke Fukudome card. This card, which is sequentially-numbered "UH1," features a different photo then the UH1 card inserted into packs of Updates & Highlights. Despite having the "ROOKIE CARD" icon, the factory set card is NOT considered a "true" rookie card.
Parallels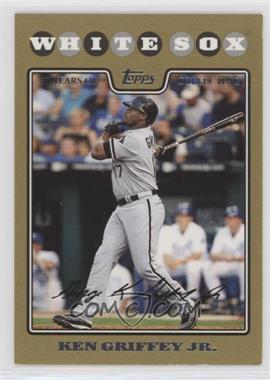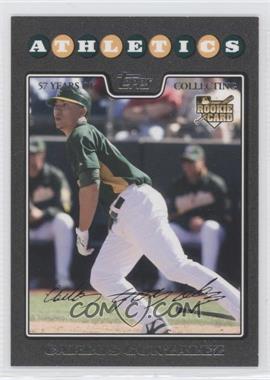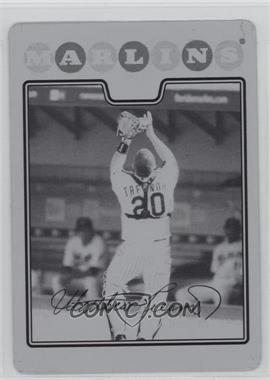 All base cards are available in the following parallels.
Gold-Foil (Hobby and HTA only)
Gold (numbered to 2008)
Black (numbered to 57; Hobby and HTA packs only)
Platinum (one-of-one)
Printing Plate (four-for-each)
Chrome Refractor Rookies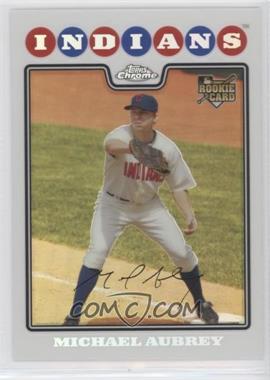 One Chrome Refractor Rookie was packaged as a box topper in each Hobby wax and HTA Jumbo box.
CHR1 Jay Bruce
CHR2 Dan Giese
CHR3 Brandon Boggs
CHR4 Jed Lowrie
CHR5 Matt Joyce
CHR6 Nick Adenhart
CHR7 Jose Arredondo
CHR8 Michael Aubrey
CHR9 Josh Banks
CHR10 Armando Galarraga
CHR11 Mike Aviles
CHR12 Burke Badenhop
CHR13 Reid Brignac
CHR14 Emmanuel Burriss
CHR15 Greg Reynolds
CHR16 Chris Volstad
CHR17 Brian Bixler
CHR18 Chris Carter
CHR19 Travis Denker
CHR20 Alberto Gonzalez
CHR21 Robinzon Diaz
CHR22 Brett Gardner
CHR23 Micah Hoffpauir
CHR24 Hernan Iribarren
CHR25 Greg Smith
CHR26 German Duran
CHR27 Kosuke Fukudome
CHR28 Ryan Tucker
CHR29 Paul Janish
CHR30 Clayton Kershaw
CHR31 Chris Davis
CHR32 Joe Mather
CHR33 Nick Hundley
CHR34 Brian Horwitz
CHR35 Carlos Gonzalez
CHR36 Matt Macri
CHR37 Gregorio Petit
CHR38 Chris Perez
CHR39 Alex Hinshaw
CHR40 Max Scherzer
CHR41 Jonathan Van Every
CHR42 Jonathan Herrera
CHR43 Cory Wade
CHR44 Max Ramirez
CHR45 John Bowker
CHR46 Sean Rodriguez
CHR52 Brent Lillibridge
CHR47 Jeff Niemann
CHR48 Taylor Teagarden
CHR49 Mark Worrell
CHR50 Evan Longoria
CHR51 Chris Smith
CHR53 Colt Morton
CHR54 Eric Hurley
CHR55 Justin Masterson
Silk Collection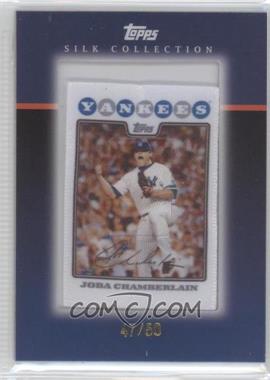 Each Silk Collection card is serial-numbered to 50 copies.
Jim Edmonds
Rich Harden
Alex Rodriguez
Scott Kazmir
Ivan Rodriguez
Joe Mauer
Ken Griffey, Jr.
Nick Markakis
Mickey Mantle
Erik Bedard
Derrek Lee
Miguel Cabrera
Yovanni Gallardo
Victor Martinez
Curtis Granderson
Chris Young
Jimmy Rollins
Dan Uggla
Felix Hernandez
Alex Rios
Jason Bay
Jose Reyes
Mike Lowell
Carl Crawford
Chipper Jones
Troy Glaus
Cole Hamels
Chris Young
Torii Hunter
Hideki Matsui
Freddy Sanchez
Josh Beckett
Mark Buehrle
Brian Bannister
Carlos Beltran
Dontrelle Willis
Vladimir Guerrero
Matt Holliday
Adam Dunn
Gary Matthews, Jr.
Travis Hafner
Chase Utley
Vernon Wells
Lance Berkman
Jeff Francis
Curt Schilling
Alfonso Soriano
Jarrod Saltalamacchia
Hideki Okajima
Pedro Martinez
Jorge Posada
Justin Upton
Tom Gorzelanny
Carlos Delgado
Edgar Renteria
Chien-Ming Wang
C.C. Sabathia
B.J. Upton
Delmon Young
Tim Lincecum
Carlos Zambrano
Magglio Ordonez
Brandon Webb
Ben Sheets
Brad Penny
John Lackey
Hanley Ramirez
Gary Sheffield
Ubaldo Jimenez
Barry Zito
Daisuke Matsuzaka
Justin Morneau
Jacoby Ellsbury
John Smoltz
Chris Carpenter
Ryan Braun
Prince Fielder
Carlos Lee
Ryan Zimmerman
Troy Tulowitzki
Michael Young
Johan Santana
Hunter Pence
Adrian Gonzalez
Jake Peavy
Derek Jeter
Ichiro
Miguel Tejada
Trevor Hoffman
Kevin Youkilis
David Wright
Albert Pujols
Todd Helton
Fausto Carmona
Mark Teixeira
Justin Verlander
Tim Hudson
Jeff Francoeur
Manny Ramirez
David Ortiz
Ryan Howard
Johan Santana
Cristian Guzman
Brendan Harris
Randy Wolf
Cliff Lee
Roy Halladay
Dustin Pedroia
Chris Iannetta
Kerry Wood
Jon Rauch
Ryan Sweeney
Ryan Ludwick
George Sherrill
Matt Garza
Nate McLouth
Eric Hinske
Adrian Gonzalez
Carlos Marmol
Jose Valverde
Shane Victorino
Brad Wilkerson
Dana Eveland
Luke Scott
Mike Cameron
Ervin Santana
Ryan Dempster
Geoff Jenkins
Billy Wagner
Pedro Feliz
Stephen Drew
Mark Hendrickson
Orlando Hudson
Pat Burrell
Russell Martin
James Loney
Justin Masterson
Matt Kemp
Hiroki Kuroda
Joe Crede
Joakim Soria
Armando Galarraga
Jason Varitek
Aaron Cook
Orlando Cabrera
Ian Kinsler
Carlos Gomez
Mike Aviles
Carlos Guillen
Erik Bedard
J.D. Drew
Marco Scutaro
James Shields
Cesar Izturis
Akinori Iwamura
Aramis Ramirez
Joe Mauer
Brad Lidge
Milton Bradley
Jay Bruce
Andrew Miller
Mark Reynolds
Johnny Damon
Michael Bourn
Andre Ethier
Carlos Pena
Joe Nathan
Cody Ross
Joba Chamberlain
Clayton Kershaw
Francisco Rodriguez
Mark DeRosa
Ben Sheets
Brian Wilson
Emil Brown
Geovany Soto
Jason Giambi
Shaun Marcum
Edinson Volquez
Max Scherzer
Kelly Johnson
Mariano Rivera
Chris Perez
Jose Guillen
Kyle Lohse
Kosuke Fukudome
Takashi Saito
Mike Mussina
J.J. Putz
Evan Longoria
Jered Weaver
Grady Sizemore
Carlos Gonzalez
Brian McCann
Jonathan Papelbon
Dioner Navarro
Bobby Abreu
Carlos Quentin
Josh Hamilton
Dan Haren
Inserts
Sketch Cards
Each is a one-of-one
SKC1 Adam Dunn
SKC2 Adrian Gonzalez
SKC3 Albert Pujols
SKC4 Alex Gordon
SKC5 Alex Rios
SKC6 Alex Rodriguez
SKC7 Alfonso Soriano
SKC8 Aramis Ramirez
SKC9 B.J. Upton
SKC10 Ben Sheets
SKC11 Bobby Jenks
SKC12 Brandon Webb
SKC13 Brian McCann
SKC14 CC Sabathia
SKC15 Carl Crawford
SKC16 Carlos Beltran
SKC17 Carlos Gomez
SKC18 Carlos Lee
SKC19 Carlos Quentin
SKC20 Carlos Zambrano
SKC21 Chase Utley
SKC22 Chipper Jones
SKC23 Chien-Ming Wang
SKC24 Chris Young
SKC25 Clayton Kershaw
SKC26 Cliff Lee
SKC27 Cole Hamels
SKC28 Daisuke Matsuzaka
SKC29 Dan Haren
SKC30 Dan Uggla
SKC31 David Ortiz
SKC32 David Wright
SKC33 Derek Jeter
SKC34 Derrek Lee
SKC35 Dustin Pedroia
SKC36 Edinson Volquez
SKC37 Ervin Santana
SKC38 Evan Longoria
SKC39 Felix Hernandez
SKC40 Francisco Rodriguez
SKC41 Geovany Soto
SKC42 Grady Sizemore
SKC43 Hanley Ramirez
SKC44 Hideki Matsui
SKC45 Hunter Pence
SKC46 Ichiro
SKC47 Jacoby Ellsbury
SKC48 Jake Peavy
SKC49 Jason Bay
SKC50 Jay Bruce
SKC51 Jeff Francoeur
SKC52 Ryan Zimmerman
SKC53 Jimmy Rollins
SKC54 Joba Chamberlain
SKC55 Joe Mauer
SKC56 Joe Nathan
SKC57 Johan Santana
SKC58 John Smoltz
SKC59 Johnny Cueto
SKC60 Jonathan Papelbon
SKC61 Jose Reyes
SKC62 Jose Valverde
SKC63 Josh Beckett
SKC64 Josh Hamilton
SKC65 Justin Morneau
SKC66 Justin Upton
SKC67 Justin Verlander
SKC68 Lance Berkman
SKC69 Magglio Ordonez
SKC70 Manny Ramirez
SKC71 Mariano Rivera
SKC72 Mark Teixeira
SKC73 Matt Garza
SKC74 Matt Holliday
SKC75 Matt Kemp
SKC76 Max Scherzer
SKC77 Micah Owings
SKC78 Miguel Cabrera
SKC79 Miguel Tejada
SKC80 Mick Markakis
SKC81 Pat Burrell
SKC82 Pedro Martinez
SKC83 Prince Fielder
SKC84 Rich Harden
SKC85 Rick Ankiel
SKC86 Robinson Cano
SKC87 Roy Halladay
SKC88 Roy Oswalt
SKC89 Russell Martin
SKC90 Ryan Braun
SKC91 Ryan Howard
SKC92 Scott Kazmir
SKC93 Tim Hudson
SKC94 Tim Lincecum
SKC95 Torii Hunter
SKC96 Troy Tulowitzki
SKC97 Vernon Wells
SKC98 Victor Martinez
SKC99 Vladimir Guerrero
SKC100 Zack Grienke
The Mickey Mantle Story
See 2007 Topps The Mickey Mantle Story.
2009 World Baseball Classic Preview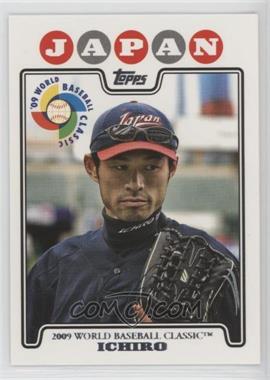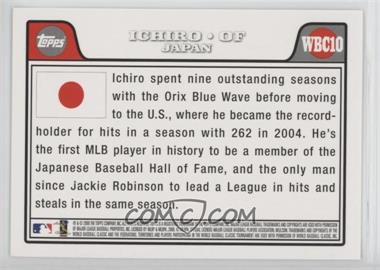 WBC1 Daisuke Matsuzaka
WBC2 Alexei Ramirez
WBC3 Derrek Lee
WBC4 Akinori Iwamura
WBC5 Chase Utley
WBC6 Jose Reyes
WBC7 Jake Peavy
WBC8 Justin Huber
WBC9 Justin Morneau
WBC10 Ichiro
WBC11 Adrian Gonzalez
WBC12 Carlos Zambrano
WBC13 Miguel Cabrera
WBC14 Carlos Beltran
WBC15 Albert Pujols
WBC16 Paul Bell
WBC17 Frank Catalanotto
WBC18 Jason Varitek
WBC19 Andruw Jones
WBC20 Johan Santana
WBC21 Carlos Lee
WBC22 David Ortiz
WBC23 Francisco Rodriguez
WBC24 Chin-Lung Hu
WBC25 Kosuke Fukudome
Year in Review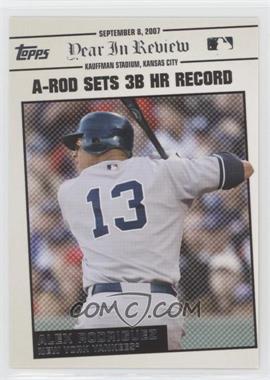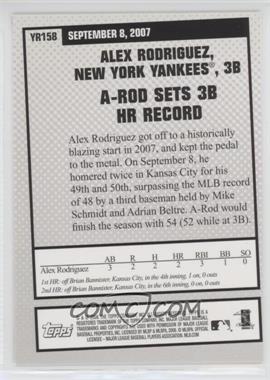 YR121 Mark Teixeira
YR122 Alex Gordon
YR123 Jermaine Dye
YR124 Vladimir Guerrero
YR125 Alex Rodriguez
YR126 Tom Glavine
YR127 Scott Rolen
YR128 Billy Wagner
YR129 Rick Ankiel
YR130 Jack Cust
YR131 Mike Mussina
YR132 Magglio Ordonez
YR133 Placido Polanco
YR134 Russell Branyan
YR135 David Price
YR136 Mike Cameron
YR137 Brandon Webb
YR138 Cameron Maybin
YR139 Johan Santana
YR140 Bobby Jenks
YR141 Garret Anderson
YR142 Jarrod Saltalamacchia
YR143 Adrian Gonzalez
YR144 Carlos Guillen
YR145 Tom Shearn
YR146 John Lackey
YR147 Jayson Werth
YR148 Aaron Harang
YR149 Chien-Ming Wang
YR150 Scott Baker
YR151 Clay Buchholz
YR152 Tom Glavine
YR153 Pedro Martinez
YR154 Doug Davis
YR155 Brandon Phillips
YR156 Jason Varitek
YR157 Jim Thome
YR158 Alex Rodriguez
YR159 Curtis Granderson
YR160 Scott Kazmir
YR161 Marlon Byrd
YR162 David Ortiz
YR163 Greg Maddux
YR164 Johnny Damon
YR165 Carlos Lee
YR166 Jim Thome
YR167 Frank Thomas
YR168 Greg Maddux
YR169 Matt Holliday
YR170 J.R. Towles
YR171 Lance Berkman
YR172 Melky Cabrera
YR173 Vladimir Guerrero
YR174 Nick Markakis
YR175 Prince Fielder
YR176 Moises Alou
YR177 Micah Owings
YR178 Carlos Zambrano
Ring of Honor
NOTE: Each card is available as a Gold parallel, serial-numbered to 25, and an autographed version.
1986 Mets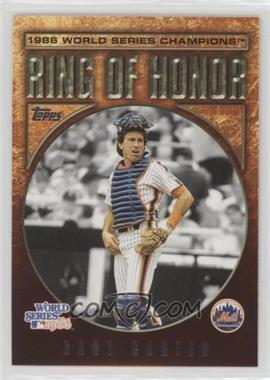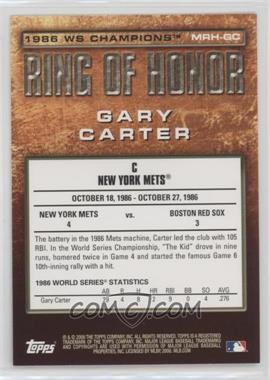 MRH-DG Dwight Gooden
MRH-DJ Davey Johnson
MRH-DS Darryl Strawberry
MRH-GC Gary Carter
MRH-HJ Howard Johnson
MRH-JO Jesse Orosco
MRH-KH Keith Hernandez
MRH-KM Kevin Mitchell
MRH-RD Ron Darling
MRH-RK Ray Knight
World Series Champions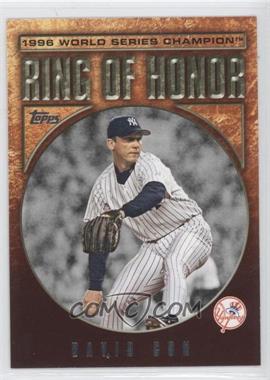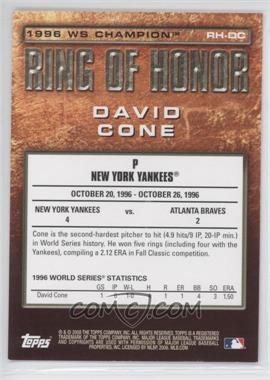 NOTES
Ray Knight appears in both the 1986 Mets and World Series Champions sets.
Early editions of David Cone's card misspells his name "CON" on the front. This error was corrected.
RH-BS Bruce Sutter
RH-DC David Cone COR
RH-DC David Cone ERR (Spelled "CON" on front)
RH-DJ David Justice
RH-DS Duke Snider
RH-JP Johnny Podres
RH-LA Luis Aparicio
RH-MI Monte Irvin
RH-ML Mike Lowell
RH-OC Orlando Cepeda
RH-RK Ray Knight
RH-WF Whitey Ford
First Couples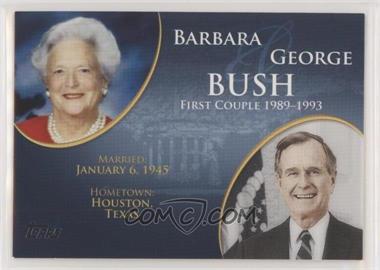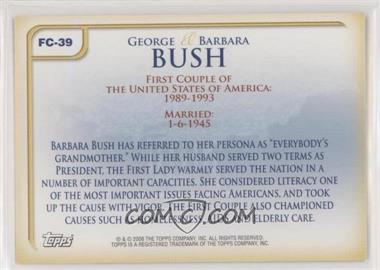 FC1 George Washington / Martha Washington
FC2 John Adams / Abagail Adams
FC3 Thomas Jefferson / Martha Jefferson
FC4 James Madison / Dolley Madison
FC5 James Monroe / Elizabeth Kotright Monroe
FC6 John Quincy Adams / Louisa Catherine Adams
FC7 Andrew Jackson / Rachel Jackson
FC8 Martin Van Buren / Hannah Van Buren
FC9 William Henry Harrison / Anna Harrison
FC10 John Tyler / Julia Tyler
FC11 James K. Polk / Sarah Polk
FC12 Zachary Taylor / Margaret Taylor
FC13 Millard Fillmore / Abigail Fillmore
FC14 Franklin Pierce / Jane M. Pierce
FC15 Abraham Lincoln/Mary Lincoln
FC16 Andrew Johnson / Eliza Johnson
FC17 Ulysses S. Grant / Julia Grant
FC18 Rutherford B. Hayes / Lucy Hayes
FC19 James A. Garfield / Lucretia Garfield
FC20 Chester A. Arthur / Ellen Arthur
FC21 Grover Cleveland / Frances Cleveland
FC22 Benjamin Harrison / Caroline Harrison
FC23 William McKinley / Ida McKinley
FC24 Theodore Roosevelt / Edith Roosevelt
FC25 William H. Taft / Helen Taft
FC26 Woodrow Wilson / Edith Wilson
FC27 Warren G. Harding / Florence Harding
FC28 Calvin Coolidge / Grace Coolidge
FC29 Herbert Hoover / Lou Hoover
FC30 Franklin D. Roosevelt / Eleanor Roosevelt
FC31 Harry S. Truman / Bess Truman
FC32 Dwight D. Eisenhower / Mamie Eisenhower
FC33 John F. Kennedy / Jacqueline Kennedy Onassis
FC34 Lyndon B. Johnson / Lady Bird Johnson
FC35 Richard M. Nixon /Pat Nixon
FC36 Gerald R. Ford / Betty Ford
FC37 Jimmy Carter / Rosalynn Carter
FC38 Ronald Reagan / Nancy Reagan
FC39 George H. W. Bush / Barbara Bush
FC40 Bill Clinton / Hillary Rodham Clinton
FC41 George W. Bush / Laura Bush
Take Me Out to the Ballgame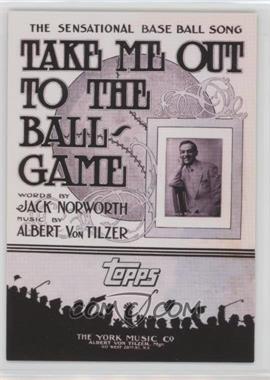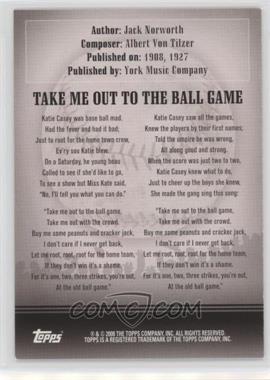 This one card commemorates the 100th Anniversary of the publishing of "Take Me Out to the Ballgame."
2008 Presidential Picks
Both cards are serial-numbered to 100 copies. Collector's with the card of the winner of the 2008 Presidential Election (Obama), could redeem their card for a special commemorative patch card of the winner.
BO Barack Obama
JM John McCain
Dick Perez
These cards were exclusive to packs sold at Wal-Mart.
WMDP21 Ryan Braun
WMDP22 Johan Santana
WMDP23 Matt Holliday
WMDP24 Ervin Santana
WMDP25 Daisuke Matsuzaka
WMDP26 Josh Hamilton
WMDP27 Chipper Jones
WMDP28 Lance Berkman
WMDP29 Hanley Ramirez
WMDP30 Mariano Rivera
K-Mart Gold Cards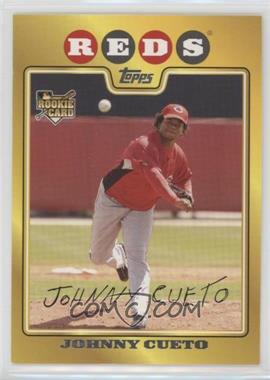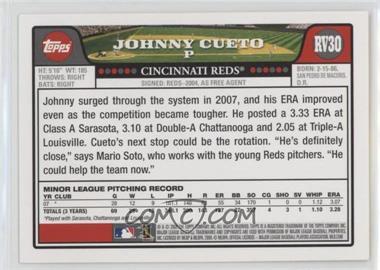 These cards were exclusive to packs sold at K-Mart.
RV21 Matt Tolbert
RV22 Brian Bass
RV23 Fernando Hernandez
RV24 Kazuo Fukumori
RV25 Brian Barton
RV26 Clete Thomas
RV27 Rico Washington
RV28 Erick Threets
RV29 Callix Crabbe
RV30 Johnny Cueto
Manufactured Relics
Presidential Stamp Collection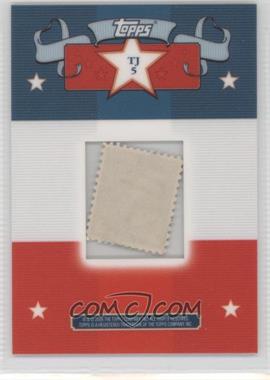 Each Presidential Stamp Collection card is serial-numbered to 90 copies.
AJWS1 Andrew Jackson/Winfield Scott
AL4 Abraham Lincoln
AL5 Abraham Lincoln
AL6 Abraham Lincoln
FDR1 Franklin D. Roosevelt
FDR2 Franklin D. Roosevelt
FDR3 Franklin D. Roosevelt
FDR4 Franklin D. Roosevelt
GW13 George Washington
GW14 George Washington
GW15 George Washington
GW16 George Washington
GW17 George Washington
GW18 George Washington
GW19 George Washington
GW20 George Washington
GW21 George Washington
GW22 George Washington
GW23 George Washington
GW24 George Washington
GW25 George Washington
GW26 Inauguration of George Washington
JA1 John Adams
JG3 James Garfield
JMA2 James Madison
LDD1 Lincoln-Douglas Debate
LDD1 Lincoln-Douglas Debate
TJ5 Thomas Jefferson
TJ5 Thomas Jefferson
USG3 Ulysses S. Grant
USG3 Ulysses S. Grant
WLU1 Washington & Lee University
WLU1 Washington & Lee University
WW3 Woodrow Wilson
WW3 Woodrow Wilson
Autographs & Game-Used
All-Star Stitches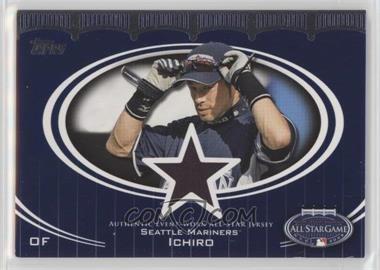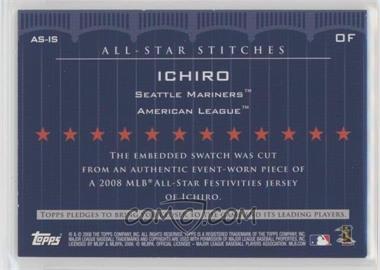 Each All-Star Stitches relic card is available in the following parallels.
Gold (serial-numbered to 50)
Jumbo Patch (serial-numbered to six)
Platinum (one-of-one)
AS-AC Aaron Cook
AS-AER Alex Rodriguez
AS-AG Adrian Gonzalez
AS-AP Albert Pujols
AS-AR Aramis Ramirez
AS-AS Alfonso Soriano
AS-BL Brad Lidge
AS-BM Brian McCann
AS-BS Ben Sheets
AS-BTW Brandon Webb
AS-BW Brian Wilson
AS-CAG Carlos Guillen
AS-CG Cristian Guzman
AS-CH Corey Hart
AS-CJ Chipper Jones
AS-CL Cliff Lee
AS-CM Carlos Marmol
AS-CQ Carlos Quentin
AS-CU Chase Utley
AS-CZ Carlos Zambrano
AS-DH Dan Haren
AS-DN Dioner Navarro
AS-DO David Ortiz
AS-DP Dustin Pedroia
AS-DU Dan Uggla
AS-DW David Wright
AS-EL Evan Longoria
AS-ES Ervin Santana
AS-EV Edinson Volquez
AS-FR Francisco Rodriguez
AS-GFS George Sherrill
AS-GPS Geovany Soto
AS-GS Grady Sizemore
AS-HE Hanley Ramirez
AS-IK Ian Kinsler
AS-IS Ichiro
AS-JC Joe Crede
AS-JCD Justin Duchscherer
AS-JD J.D. Drew
AS-JEM Justin Morneau
AS-JES Joe Saunders
AS-JH Josh Hamilton
AS-JM Joe Mauer
AS-JN Joe Nathan
AS-JP Jonathan Papelbon
AS-JS Joakim Soria
AS-JV Jason Varitek
AS-KF Kosuke Fukudome
AS-KW Kerry Wood
AS-KY Kevin Youkilis
AS-LB Lance Berkman
AS-MB Milton Bradley
AS-MH Matt Holliday
AS-MR Manny Ramirez
AS-MSR Mariano Rivera
AS-MT Miguel Tejada
AS-MY Michael Young
AS-NM Nate McLouth
AS-RB Ryan Braun
AS-RD Ryan Dempster
AS-RH Roy Halladay
AS-RL Ryan Ludwick
AS-RM Russell Martin
AS-SK Scott Kazmir
AS-TL Tim Lincecum
AS-WW Billy Wagner
Dual
Each All-Star Stitches Dual is serial-numbered to 25 copies.
BP Lance Berkman / Albert Pujols
FL Kosuke Fukudome / Ichiro
HB Josh Hamilton / Ryan Braun
HW Dan Haren / Brandon Webb
LS Cliff Lee / Ben Sheets
LV Tim Lincecum / Edinson Volquez
RR Alex Rodriguez / Manny Ramirez
RR Mariano Rivera / Francisco Rodriguez
RT Hanley Ramirez / Miguel Tejada
UU Chase Utley / Dan Uggla
Triple
Each All-Star Stitches Triple is serial-numbered to 25 copies.
HFB Matt Holliday / Kosuke Fukudome / Ryan Braun
HRS Josh Hamilton / Manny Ramirez / Ichiro
KHY Ian Kinsler / Milton Bradley / Michael Young
MMN Joe Mauer / Justin Morneau / Joe Nathan
MNM Russell Martin / Dioner Navarro / Brian McCann
PDY Dustin Pedroia / J.D. Drew / David Ortiz
PGB Albert Pujols / Adrian Gonzalez / Lance Berkman
RSS Francisco Rodriguez / Ervin Santana / Joe Saunders
RWJ Alex Rodriguez / David Wright / Chipper Jones
WLW Kerry Wood / Brad Lidge / Billy Wagner
ZSD Carlos Zambrano / Aramis Ramirez / Ryan Dempster
Autographed Relics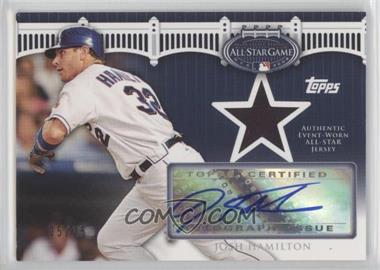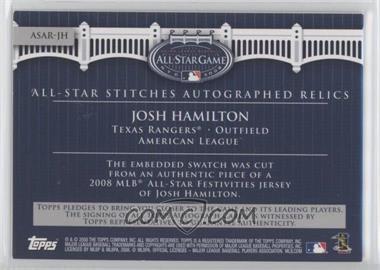 Each All-Star Stitches Autographed Relic is serial-numbered to 25 copies.
ASAR-CJ Chipper Jones
ASAR-DP Dustin Pedroia
ASAR-DU Dan Uggla
ASAR-EV Edinson Volquez
ASAR-HR Hanley Ramirez
ASAR-JH Josh Hamilton
ASAR-JV Jason Varitek
ASAR-RB Ryan Braun
ASAR-RM Russell Martin
ASAR-TL Tim Lincecum
Jumbo Patch Autographs
Each All-Star Jumbo Patch Autograph is serial-numbered to six copies.
AP Albert Pujols
CJ Chipper Jones
DO David Ortiz
DP Dustin Pedroia
DU Dan Uggla
HR Hanley Ramirez
JH Josh Hamilton
LB Lance Berkman
MR Manny Ramirez
RB Ryan Braun
Retail Relics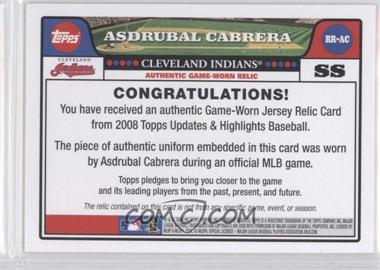 Each Retail Relic is exclusive to Blaster boxes and also available in the following parallels.
Gold (serial-numbered to 99 copies)
Black (serial-numbered to 25 copies)
RR-AB Angel Berroa
RR-AC Asdrubal Cabrera
RR-AER Alex Rodriguez
RR-CC Coco Crisp
RR-CG Curtis Granderson
RR-DN Dioner Navarro
RR-DP Dustin Pedroia
RR-DW David Wright
RR-EB Erik Bedard
RR-EC Eric Chavez
RR-HK Hong-Chi Kuo
RR-IK Ian Kinsler
RR-JE Johnny Estrada
RR-JF Jeff Francis
RR-JL Jon Lester
RR-JM John Maine
RR-JR Justin Ruggiano
RR-KH Kevin Hart
RR-KW Kerry Wood
RR-LM Lastings Milledge
RR-MK Matt Kemp
RR-MM Mark Mulder
RR-OG Ozzie Guillen
RR-RB Rocco Baldelli
RR-RF Rafael Furcal
RR-SC Sean Casey
RR-TH Todd Helton
RR-AR Aramis Ramirez
1957 Mickey Mantle Reprint Relic
MMR57 Mickey Mantle BAT 57
2008 Highlight Autographs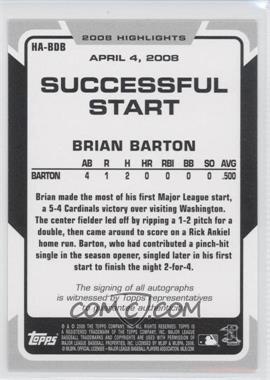 Ring of Honor Autographs
1986 Mets
DG Dwight Gooden
DJ Davey Johnson
DS Darryl Strawberry
GC Gary Carter
HJ Howard Johnson
JO Jesse Orosco
KH Keith Hernandez
KM Kevin Mitchell
RD Ron Darling
RK Ray Knight
World Series Champions
RH-BS Bruce Sutter
RH-DC David Cone
RH-DJ David Justice
RH-DS Duke Snider
RH-JP Johnny Podres
RH-LA Luis Aparicio
RH-MI Monte Irvin
RH-ML Mike Lowell
RH-OC Orlando Cepeda
RH-WF Whitey Ford
First Lady Cut Signatures
Each First Lady Cut Signature is a one-of-one
FLCS-AH Anna Tuthill Symmes Harrison
FLCS-CH Caroline Lavina Scott Harrison
FLCS-EKR Edith Kermit Carow Roosevelt
FLCS-ER Eleanor Roosevelt
FLCS-ET Elizabeth Virginia Wallace Truman
FLCS-EW Edith Bolling Galt Wilson
FLCS-FC Frances Folsom Cleveland
FLCS-FC2 Frances Folsom Cleveland
FLCS-FH Florence Kling Harding
FLCS-GC Grace Anna Goodhue Coolidge
FLCS-HC Hillary Rodham Clinton
FLCS-HL Harriet Lane
FLCS-HT Helen Herron Taft
FLCS-JG Julia Dent Grant
FLCS-JK Jacqueline Lee Bouvier Kennedy
FLCS-JT Julia Gardiner Tyler
FLCS-LA Louisa Catherine Johnson Adams
FLCS-LG Lucretia Rudolph Garfield
FLCS-LH Lucy Ware Webb Hayes
FLCS-LHH Lou Henry Hoover
FLCS-ME Mamie Geneva Doud Eisenhower
FLCS-NR Nancy Davis Reagan
FLCS-PN Patricia Ryan Nixon
FLCS-RC Rosalynn Smith Carter
FLCS-SP Sarah Childress Polk