1992 Topps Traded
Description
1992 Topps Traded set consists of 132 cards numbered 1T - 132T. The set is checklisted in alphabetical order by player's name. For the second straight year, Topps Traded includes all 25 members of the USA Baseball National Team as well as their manager.
Topps also issued a Parallel Gold edition limited to 6,000 sets. The cards are identical to the regular Traded set but with Gold-Foil strips on the front.
Notable Rookies include Nomar Garciaparra and Jason Varitek.
Distribution
Factory set only.
Gold: Factory set only, limited to 6000 sets.
Reviews
Checklist
Base Set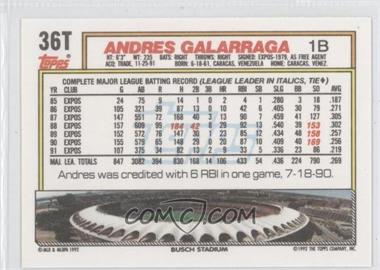 132T Checklist 1T-132T
1T Willie Adams USA RC
2T Jeff Alkire USA RC*
3T Felipe Alou MGR
4T Moises Alou
5T Ruben Amaro, Jr.
6T Jack Armstrong
7T Scott Bankhead
8T Tim Belcher
9T George Bell
10T Freddie Benavides
11T Todd Benzinger
12T Joe Boever
13T Ricky Bones
14T Bobby Bonilla
15T Hubie Brooks
16T Jerry Browne
17T Jim Bullinger
18T Dave Burba
19T Kevin Campbell
20T Tom Candiotti
21T Mark Carreon
22T Gary Carter
23T Archi Cianfrocco RC
24T Phil Clark
25T Chad Curtis RC
26T Eric Davis
27T Tim Davis USA RC
28T Gary DiSarcina
29T Darren Dreifort USA
30T Mariano Duncan
31T Mike Fitzgerald
32T John Flaherty RC
33T Darrin Fletcher
34T Scott Fletcher
35T Ron Fraser USA CO RC
36T Andres Galarraga
37T Dave Gallagher
38T Mike Gallego
39T Nomar Garciaparra USA RC
40T Jason Giambi
41T Danny Gladden
42T Rene Gonzales
43T Jeff Granger USA
44T Rick Greene USA RC
45T Jeffrey Hammonds USA
46T Charlie Hayes
47T Von Hayes
48T Rick Helling USA
49T Butch Henry RC
50T Carlos Hernandez
51T Ken Hill
52T Butch Hobson
53T Vince Horsman
54T Pete Incaviglia
55T Gregg Jefferies
56T Charles Johnson USA
57T Doug Jones
58T Brian Jordan RC
59T Wally Joyner
60T Daron Kirkreit USA RC*
61T Bill Krueger
62T Gene Lamont MGR
63T Jim Lefebvre MGR
64T Danny Leon
65T Pat Listach RC
66T Kenny Lofton
67T Dave Martinez
68T Derrick May
69T Kirk McCaskill
70T Chad McConnell USA RC*
71T Kevin McReynolds
72T Rusty Meacham
73T Keith Miller
74T Kevin Mitchell
75T Jason Moler USA RC*
76T Mike Morgan
77T Jack Morris
78T Calvin Murray USA RC
79T Eddie Murray
80T Randy Myers
81T Denny Neagle
82T Phil Nevin USA
83T Dave Nilsson
84T Junior Ortiz
85T Donovan Osborne
86T Bill Pecota
87T Melido Perez
88T Mike Perez
89T Hipolito Pichardo RC
90T Willie Randolph
91T Darren Reed
92T Bip Roberts
93T Chris Roberts USA
94T Steve Rodriguez USA
95T Bruce Ruffin
96T Scott Ruskin
97T Bret Saberhagen
98T Rey Sanchez RC
99T Steve Sax
100T Curt Schilling
101T Dick Schofield
102T Gary Scott
103T Kevin Seitzer
104T Frank Seminara RC
105T Gary Sheffield
106T John Smiley
107T Cory Snyder
108T Paul Sorrento
109T Sammy Sosa
110T Matt Stairs RC
111T Andy Stankiewicz
112T Kurt Stillwell
113T Rick Sutcliffe
114T Bill Swift
115T Jeff Tackett
116T Danny Tartabull
117T Eddie Taubensee
118T Dickie Thon
119T Michael Tucker USA RC
120T Scooter Tucker
121T Marc Valdes USA RC
122T Julio Valera
123T Jason Varitek USA RC
124T Ron Villone USA RC
125T Frank Viola
126T B.J. Wallace USA RC*
127T Dan Walters
128T Craig Wilson USA
129T Chris Wimmer USA
130T Dave Winfield
131T Herm Winningham
Parallels
Gold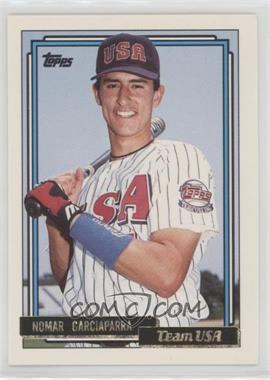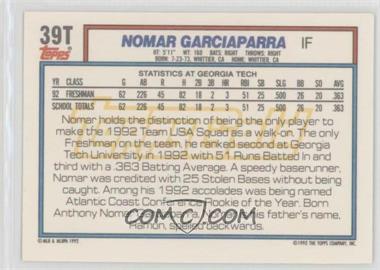 1992 Topps Traded Gold parallels Topps Traded. Similar to the "Topps Tiffany" sets of the 80s, Topps Traded Gold was distributed exclusively to The Hobby and was limited to 6000 factory sets. Each individual card is gold-foil stamped on the front, with the words "Topps Gold" ghosted on the back.
The Topps Traded checklist card was replaced with a card of Kerry Woodson in the Gold edition