2001 Topps Traded & Rookies
Description
2001 Topps Traded & Rookies with Topps Chrome was released in October 2001 and features a 265-card base set. For the first time since 1995, Topps Traded was sold exclusively in pack form and for the first time would be "bundled" with the parallel Chrome Traded. Each 10-card pack contained eight 2001 Topps Traded and two 2001 Topps Chrome Traded cards.
The 265-card set features 99 cards of players who changed teams during the 2000 off-season and 2001 season; 45 reprints of classic Topps Traded cards; six managers who were hired for the 2001 season; 60 prospects who have never appeared on a Topps card of their own; and 55 rookies who made their Major League debut, or were promoted to the 40-man roster, in 2001.
Notable rookies include Justin Mourneau, Jose Reyes, Ichiro Suzuki (Topps Chrome Traded only), and Albert Pujols (Topps Traded only).
Ichiro and Albert Pujols rookie cards
Ichiro Suzuki's Topps rookie card appeared in the second series of 2001 Topps Baseball. However, due to licensing issues, Ichiro was unable to be included in the second series of 2001 Topps Chrome and was replaced with a card of Albert Pujols -- who did not appear in Topps Baseball.
Topps included Pujols in both Topps Traded and Topps Chrome Traded as card #T247; however, because Pujols was already in Topps Chrome, only the regular Topps Traded card is considered a "true" rookie.
As for Ichiro, a 266th card was added to the Topps Chrome Traded set and is considered his "true" Topps Chrome rookie card.
Distribution
Wax: 24 packs per box, 10 cards per pack (MSRP $3)
Reviews
Insertion Ratios
| Cards | Total Cards | Numbered To | Odds |
| --- | --- | --- | --- |
| Base | 265 | - | 8:1 |
| Gold | 265 | 2001 | 1:3 |
| Chrome | 266 | - | 2:1 |
| Retrofractors | 266 | 500 | 1:12 |
| Who Would Have Thought? | 20 | - | 1:8 |
| Relics | 33 | - | 1:29 |
| Rookie Relics | 18 | - | 1:91 |
| Dual Jersey Relics | 4 | - | 1:376 |
| Farewell Dual Bat Relic | 1 | - | 1:4693 |
| Hall of Fame Dual Bat Relic | 1 | - | 1:2796 |
| Autographs | 2 | - | 1:626 |
| Team Topps Legends Autographs | 14 | - | ? |
Checklist
Base Set
Traded Veterans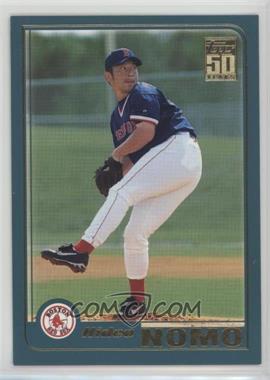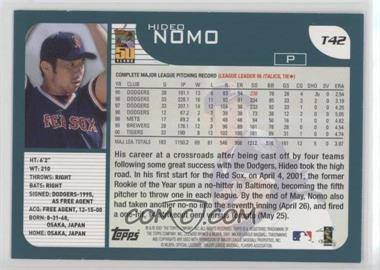 T1 Sandy Alomar, Jr.
T2 Kevin Appier
T3 Brad Ausmus
T4 Derek Bell
T5 Bret Boone
T6 Rico Brogna
T7 Ellis Burks
T8 Ken Caminiti
T9 Roger Cedeno
T10 Royce Clayton
T11 Enrique Wilson
T12 Rheal Cormier
T13 Eric Davis
T14 Shawon Dunston
T15 Andres Galarraga
T16 Tom Gordon
T17 Mark Grace
T18 Jeffrey Hammonds
T19 Dustin Hermanson
T20 Quinton McCracken
T21 Todd Hundley
T22 Charles Johnson
T23 Marquis Grissom
T24 Jose Mesa
T25 Brian Boehringer
T26 John Rocker
T27 Jeff Frye
T28 Reggie Sanders
T29 David Segui
T30 Mike Sirotka
T31 Fernando Tatis
T32 Steve Trachsel
T33 Ismael Valdes
T34 Randy Velarde
T35 Ryan Kohlmeier
T36 Mike Bordick
T37 Kent Bottenfield
T38 Pat Rapp
T39 Jeff Nelson
T40 Ricky Bottalico
T41 Luke Prokopec
T42 Hideo Nomo
T43 Bill Mueller
T44 Roberto Kelly
T45 Chris Holt
T46 Mike Jackson
T47 Devon White
T48 Gerald Williams
T49 Eddie Taubensee
T50 Brian Hunter
T51 Nelson Cruz
T52 Jeff Fassero
T53 Bubba Trammell
T54 Bo Porter
T55 Greg Norton
T56 Benito Santiago
T57 Ruben Rivera
T58 Dee Brown
T59 Jose Canseco
T60 Chris Michalak
T61 Tim Worrell
T62 Matt Clement
T63 Bill Pulsipher
T64 Troy Brohawn RC
T65 Mark Kotsay
T66 Jimmy Rollins
T67 Shea Hillenbrand
T68 Ted Lilly
T69 Jermaine Dye
T70 Jerry Hairston, Jr.
T71 John Mabry
T72 Kurt Abbott
T73 Eric Owens
T74 Jeff Brantley
T75 Roy Oswalt
T76 Doug Mientkiewicz
T77 Rickey Henderson
T78 Jason Grimsley
T79 Christian Parker RC
T80 Donne Wall
T81 Alex Arias
T82 Willis Roberts
T83 Ryan Minor
T84 Jason LaRue
T85 Ruben Sierra
T86 Johnny Damon
T87 Juan Gonzalez
T88 C.C. Sabathia
T89 Tony Batista
T90 Jay Witasick
T91 Brent Abernathy
T92 Paul LoDuca
T93 Wes Helms
T94 Mark Wohlers
T95 Rob Bell
T96 Tim Redding
T97 Bud Smith RC
T98 Adam Dunn
T99 Ichiro Suzuki / Albert Pujols
Through the Years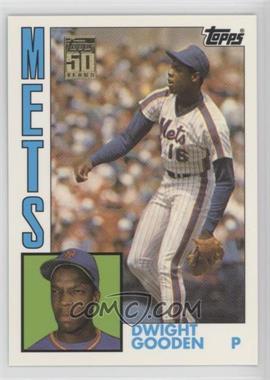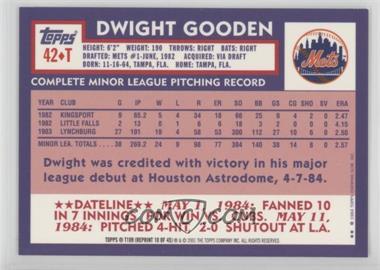 Similar to the insert in 2001 Topps Series One, this subset features reprints of classic Topps cards from previous Topps Traded sets.
T100 Carlton Fisk 81
T101 Tim Raines 81
T102 Juan Marichal 74
T103 Dave Winfield 81
T104 Reggie Jackson 82
T105 Cal Ripken, Jr. 82
T106 Ozzie Smith 82
T107 Tom Seaver 83
T108 Lou Piniella 74
T109 Dwight Gooden 84
T110 Bret Saberhagen 84
T111 Gary Carter 85
T112 Jack Clark 85
T113 Rickey Henderson 85
T114 Barry Bonds 86
T115 Bobby Bonilla 86
T116 Jose Canseco 86
T117 Will Clark 86
T118 Andres Galarraga 86
T119 Bo Jackson 86
T120 Wally Joyner 86
T121 Ellis Burks 87
T122 David Cone 87
T123 Greg Maddux 87
T124 Willie Randolph 76
T125 Dennis Eckersley 87
T126 Matt Williams 87
T127 Joe Morgan 81
T128 Fred McGriff 87
T129 Roberto Alomar 88
T130 Lee Smith 88
T131 David Wells 88
T132 Ken Griffey, Jr. 89
T133 Deion Sanders 89
T134 Nolan Ryan 89
T135 Dave Justice 90
T136 Joe Carter 91
T137 Jack Morris 92
T138 Mike Piazza 93
T139 Barry Bonds 93
T140 Terrence Long 94 DP
T141 Ben Grieve 94 DP
T142 Mike Sweeney / George Arais / Richie Sexson / Brian Schneider 95 PROS
T143 Sean Burroughs 99
T144 Alfonso Soriano 99
Managers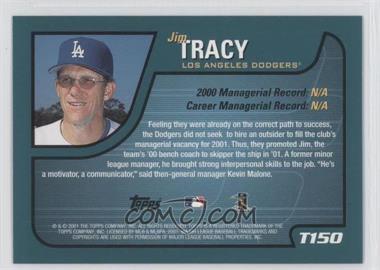 T145 Bob Boone
T146 Larry Bowa
T147 Bob Brenly
T148 Buck Martinez
T149 Lloyd McClendon
T150 Jim Tracy
Prospects
The following 60 Minor League prospects make their Topps flagship debut. Licensing restrictions in place at the time limited the number of non-Major League 40-man roster players Topps could include in many of their products. As per Topps's contract with the MLBPA, these restrictions did not apply to either Topps Traded or their Bowman-branded sets.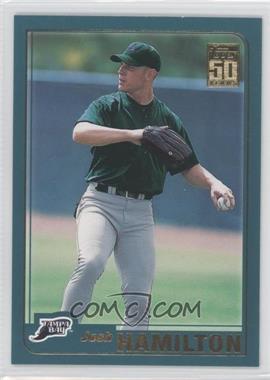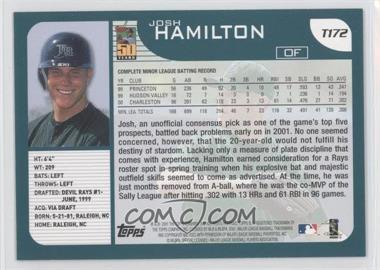 T151 Jared Abruzzo RC*
T152 Kurt Ainsworth
T153 Willie Bloomquist
T154 Ben Broussard
T155 Bobby Bradley
T156 Mike Bynum
T157 A.J. Hinch
T158 Ryan Christianson
T159 Carlos Silva
T160 Joe Crede
T161 Jack Cust
T162 Ben Diggins
T163 Phil Dumatrait
T164 Alex Escobar
T165 Miguel Olivo
T166 Chris George
T167 Marcus Giles
T168 Keith Ginter
T169 Josh Girdley
T170 Tony Alvarez
T171 Scott Seabol
T172 Josh Hamilton
T173 Jason Hart
T174 Israel Alcantara
T175 Jake Peavy
T176 Stubby Clapp RC
T177 D'Angelo Jimenez
T178 Nick Johnson
T179 Ben Johnson
T180 Larry Bigbie
T181 Allen Levrault
T182 Felipe Lopez
T183 Sean Burnett
T184 Nick Neugebauer
T185 Austin Kearns
T186 Corey Patterson
T187 Carlos Pena
T188 Ricardo Rodriguez RC
T189 Juan Rivera
T190 Grant Roberts
T191 Adam Pettyjohn RC
T192 Jared Sandberg
T193 Xavier Nady
T194 Dane Sardinha
T195 Shawn Sonnier
T196 Rafael Soriano
T197 Brian Specht RC*
T198 Aaron Myette
T199 Juan Uribe RC
T200 Jayson Werth
T201 Brad Wilkerson
T202 Horacio Estrada
T203 Joel Pineiro
T204 Matt LeCroy
T205 Michael Coleman
T206 Ben Sheets
T207 Eric Byrnes
T208 Sean Burroughs
T209 Ken Harvey
T210 Travis Hafner
Rookies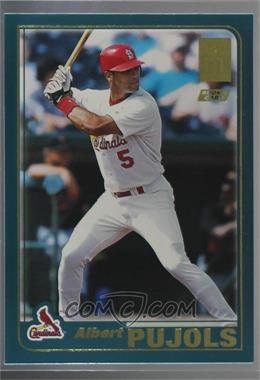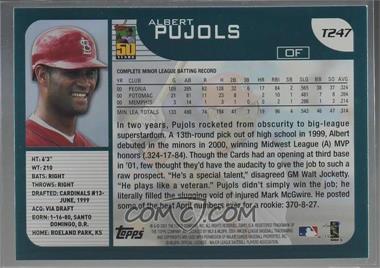 T211 Erick Almonte
T212 Jason Belcher RC*
T213 Wilson Betemit RC
T214 Hank Blalock RC
T215 Danny Borrell
T216 John Buck RC
T217 Freddie Bynum RC
T218 Noel Devarez RC*
T219 Juan Diaz RC
T220 Felix Diaz RC
T221 Josh Fogg RC
T222 Matt Ford RC
T223 Scott Heard
T224 Ben Hendrickson RC
T225 Cody Ross RC
T226 Adrian Hernandez RC
T227 Alfredo Amezaga RC
T228 Bob Keppel RC
T229 Ryan Madson RC
T230 Octavio Martinez RC*
T231 Hee Seop Choi
T232 Thomas Mitchell
T233 Luis Montanez RC
T234 Andy Morales RC*
T235 Justin Morneau RC
T236 Greg Nash RC*
T237 Valentino Pascucci RC
T238 Roy Smith RC
T239 Antonio Perez RC
T240 Chad Petty RC*
T241 Steve Smyth
T242 Jose Reyes RC
T243 Eric Reynolds RC*
T244 Dominic Rich RC*
T245 Jason Richardson RC*
T246 Ed Rogers RC
T247 Albert Pujols RC
T248 Esix Snead RC
T249 Luis Torres RC*
T250 Matt White RC*
T251 Blake Williams
T252 Chris Russ
T253 Joe Kennedy RC
T254 Jeff Randazzo RC*
T255 Beau Hale RC*
T256 Brad Hennessey RC
T257 Jake Gautreau RC*
T258 Jeff Mathis RC
T259 Aaron Heilman RC
T260 Bronson Sardinha RC
T261 Irvin Guzman RC
T262 Gabe Gross RC
T263 J.D. Martin RC
T264 Chris Smith RC*
T265 Kenny Baugh RC*
Parallels
Gold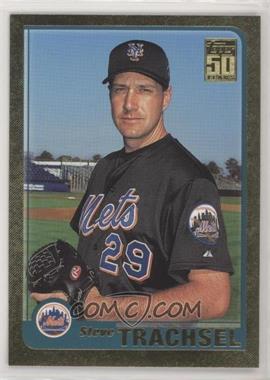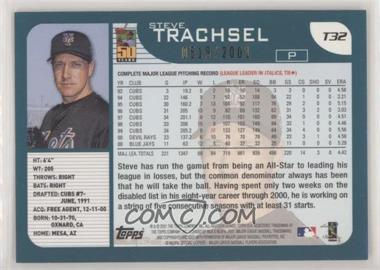 All 265 Topps Traded cards are available in a Gold parallel, which is serial-numbered to 2001 copies.
Chrome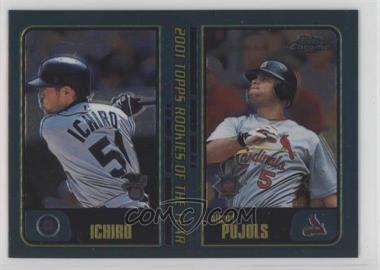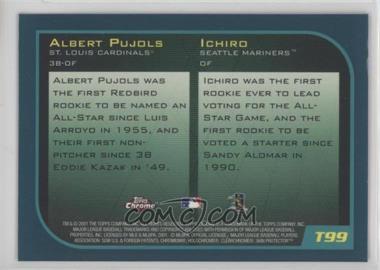 This 266 card set parallels the 2001 Topps Traded set with each pack containing two Chrome cards.
To make up for his exclusion (for licensing purposes) from the 2001 Topps Chrome set, a 266th card of Ichiro Suzuki was produced. This card is a copy of his 2001 Topps card and is considered his "true" Topps Chrome rookie. Albert Pujols's Topps Chrome Traded card is not a true rookie, as he had taken Ichiro's place in the Topps Chrome checklist.
Retrofractors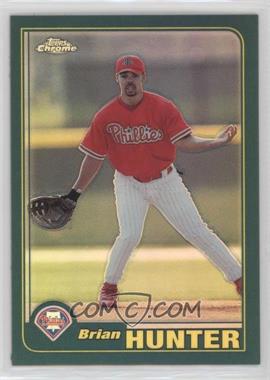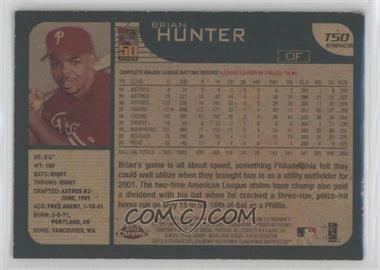 All 266 Topps Chrome Traded cards are available as a "Retrofractor" parallel, which are limited (but not serial-numbered) to 500 copies. Retrofractors are so named, because they are Chrome Refractors printed on old fashioned grayback cardstock.
Inserts
Who Would Have Thought?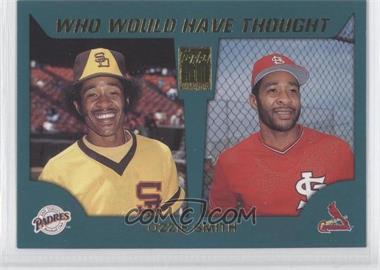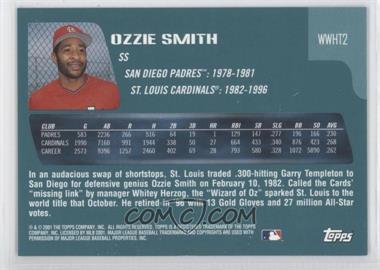 This 20-card insert set features players who switched teams at some point in their careers.
WWHT1 Nolan Ryan
WWHT2 Ozzie Smith
WWHT3 Tom Seaver
WWHT4 Steve Carlton
WWHT5 Reggie Jackson
WWHT6 Frank Robinson
WWHT7 Keith Hernandez
WWHT8 Andre Dawson
WWHT9 Lou Brock
WWHT10 Dennis Eckersley
WWHT11 Dave Winfield
WWHT12 Rod Carew
WWHT13 Willie Randolph
WWHT14 Dwight Gooden
WWHT15 Carlton Fisk
WWHT16 Dale Murphy
WWHT17 Paul Molitor
WWHT18 Gary Carter
WWHT19 Wade Boggs
WWHT20 Willie Mays
Autographs & Game-Used
Relics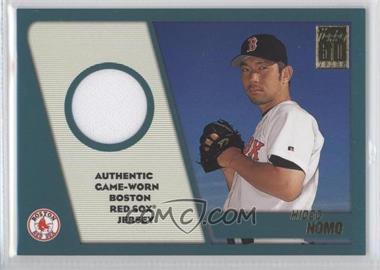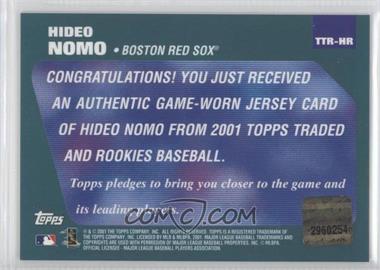 TTR-AG Andres Galarraga BAT
TTR-BB1 Bobby Bonilla BAT
TTR-BB2 Bret Boone JSY
TTR-BM Bill Mueller JSY
TTR-CJ Charles Johnson JSY
TTR-DB Derek Bell BAT
TTR-DN Denny Neagle JSY
TTR-DW David Wells JSY
TTR-ED Eric Davis BAT
TTR-EW Enrique Wilson BAT
TTR-FM Fred McGriff BAT
TTR-GW Gerald Williams BAT
TTR-HN Hideo Nomo JSY
TTR-JC Jose Canseco BAT
TTR-JD Jermaine Dye BAT SP
TTR-JD1 Johnny Damon BAT
TTR-JD2 Johnny Damon JSY
TTR-JG Juan Gonzalez BAT
TTR-JH Jeffrey Hammonds JSY
TTR-KC Ken Caminiti BAT
TTR-KS Kelly Stinnett BAT SP
TTR-MG1 Mark Grace BAT
TTR-MG2 Marquis Grissom BAT
TTR-MH Mike Hampton JSY
TTR-MS Matt Stairs JSY
TTR-NP Neifi Perez BAT
TTR-RB Rico Brogna JSY
TTR-RG Ron Gant BAT
TTR-ROC Roger Cedeno JSY
TTR-RS Ruben Sierra BAT
TTR-RSC Royce Clayton BAT
TTR-SA Sandy Alomar, Jr. BAT
TTR-TH Todd Hundley JSY
TTR-TR Tim Raines JSY
Rookie Relics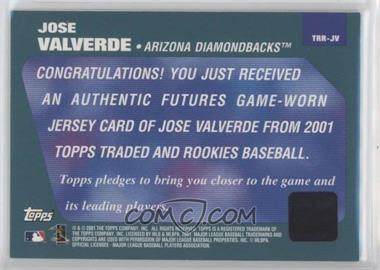 TRR-AB Angel Berroa JSY
TRR-AP Albert Pujols BAT SP
TRR-BO Bill Ortega JSY
TRR-ER Ed Rogers BAT EXCH
TRR-HC Humberto Cota JSY
TRR-JL Jason Lane JSY
TRR-JS Jae Seo JSY
TRR-JS Jamal Strong JSY
TRR-JV Jose Valverde JSY
TRR-JY Jason Young JSY
TRR-NC Nate Cornejo JSY
TRR-NN Nick Neugebauer JSY
TRR-PF Pedro Feliz JSY SP
TRR-RS Richard Stahl JSY
TRR-SB Sean Burroughs JSY
TRR-TS Tsuyoshi Shinjo BAT SP
TRR-WB Wilson Betemit BAT
TRR-WR Wilkin Ruan JSY
Dual Jersey Relics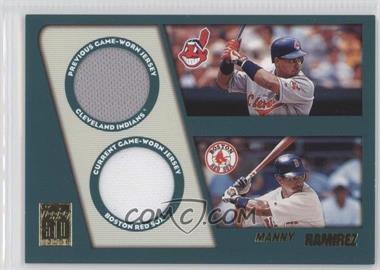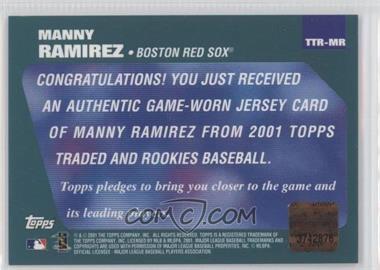 TTR-BG Ben Grieve OAK / TB EXCH
TTR-DH Dustin Hermanson MON / STL
TTR-FT Fernando Tatis STL / MON
TTR-MR Manny Ramirez CLE / BOS
Hall of Fame Bat Relic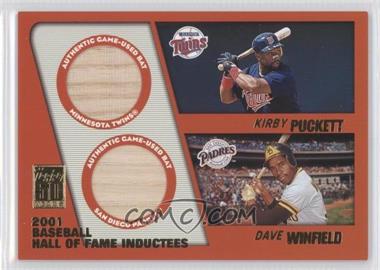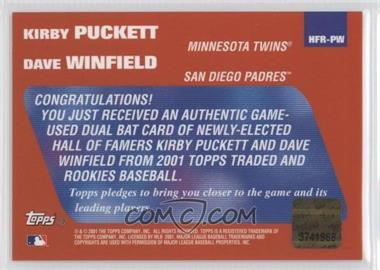 HFR-PW Kirby Puckett / Dave Winfield
Farewell Dual Relic
FR-RG Cal Ripken, Jr. / Tony Gwynn
Autographs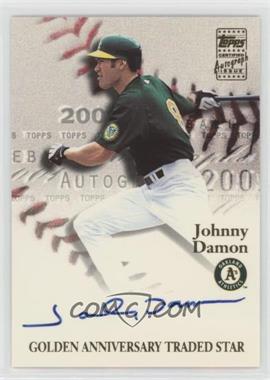 TTA-JD Johnny Damon
TTA-MM Mike Mussina
Team Topps Autographs
See 2001 Team Topps Legends Autographs.