1985 Topps/OPC Minis
Description
1985 Topps/OPC Minis are a test issue looks exactly like the 1985 Topps base set, but measures a slightly smaller (2 3/8" by 3 9/32" -- making them slightly larger than the 1975 Topps Minis) and are printed on white OPC-like card stock.
These cards were produced in extremely limited quantities and, more than likely, were meant to be destroyed Only one of the six 132-card sheets were produced in this fashion, thus none of the key Rookie Cards exist in Mini form. Card numbering matches the 1985 Topps issues; therefore we have listed the cards in skip numbered fashion below.
It is estimated that 100 or less of each card exists. Approximately 2/3 of the cards were printed with the complete backs while the others are blank backed.
Distribution
Reviews
Checklist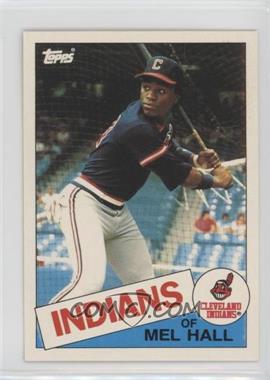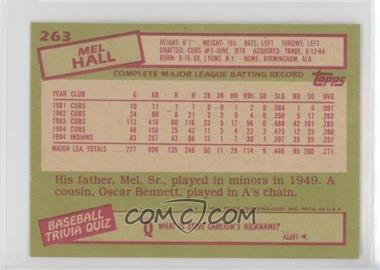 12 Davey Lopes
15 Jerry Koosman
17 Mike Scott
25 Steve Bedrosian
44 Dickie Thon
65 Bill Buckner
68 Von Hayes
72 Rick Sutcliffe
75 Willie Upshaw
82 Joe Price
88 Bryn Smith
91 Jeff Burroughs
95 Jose Cruz
96 Johnny Ray
109 Gary Roenicke
113 Tom Herr
114 Bob James
117 Greg Gross
120 Steve Kemp
121 Checklist
128 Ernie Whitt
148 Steve Yeager
150 Jim Rice
151 Moose Haas
154 Angel Salazar
156 Craig Reynolds
160 Lance Parrish
165 Dusty Baker
170 George Foster
178 Miguel Dilone
185 Al Holland
190 Rusty Staub
198 Eddie Milner
201 Burt Hooton
205 Steve Rogers
209 Bill Campbell
210 Gary Matthews
218 Doyle Alexander
222 Hubie Brooks
223 Tom Hume
225 Mike Boddicker
229 Dave LaPoint
230 Gary Carter
235 Garry Maddox
236 Mark Thurmond
237 Julio Franco
239 Tim Teufel
248 Terry Forster
250 Jesse Orosco
251 Brad Gulden
255 Lonnie Smith
261 Checklist
263 Mel Hall
266 Frank Voila
287 Walt Terrell
306 Rick Reuschel
310 Manny Trillo
313 Dave Schmidt
325 John Denny
330 Leon Durham
333 Willie Hernandez
340 Robin Yount
343 Bill Russell
345 Charlie Lea
352 Joe Morgan
355 Bert Blyleven
358 Tony Pena
360 Steve Carlton
362 Craig McMurtry
375 Jeff Reardon
379 Charles Hudson
415 Ron Darling
445 Tippy Martinez
446 Jim Sundberg
450 Steve Garvey
452 John Castino
464 Mike Mason
470 Steve Sax
485 Matt Young
487 Frank Williams
489 Bryan Clark
491 Rick Camp
495 Mario Soto
500 Mike Schmidt
501 Dan Schatzeder
504 Jerry Williard
511 Lee Smith
515 Dave Concepcion
520 LaMarr Hoyt
526 Dave Palmer
530 Dave Dravecky
538 Keith Moreland
545 Lloyd Moseby
551 Andy Van Slyke
554 Doug Flynn
556 Sixto Lezcano
560 Bill Madlock
563 Dick Ruthven
566 Ed Vande Berg
568 Cliff Johnson
569 Ken Oberkfell
575 Pedro Guerrero
580 Dwight Evans
589 Bob Dernier
592 Jeff D. Robinson
603 Rick Manning
608 Craig Lefferts
610 Jack Morris
613 Terry Puhl
615 Marvell Wynne
619 Jeffrey Leonard
625 Mark Langston
630 Tim Raines
634 Bill Dawley
670 Tom Seaver
673 Buck Martinez
674 Charlie Haag
685 Bill Caudill
700 Eddie Murray
725 Floyd Bannister
729 Don Sutton
731 Neil Allen
736 Jerry Mumphrey
748 Lee Mazzilli
753 Greg Brock
755 Ken Singleton
757 Willie McGee
760 Nolan Ryan
762 Ed Whitson
775 Mookie Wilson
780 Mike Flanagan
782 Tom Neidenfuer