1987 Topps Mini Leaders
Description
1987 Topps Mini Leaders is a 77-card set featuring the statistical leaders from the 1986 season. Each card measures 2 1/8" X 3", about the same size as the 1975 Topps Minis. The design is similar to that of the 1987 Topps set's Team Leader subset, and are printed on a glossy white cardstock.
Distribution
36 packs per box, seven cards per pack (MSRP: $0.30).
Reviews
Checklist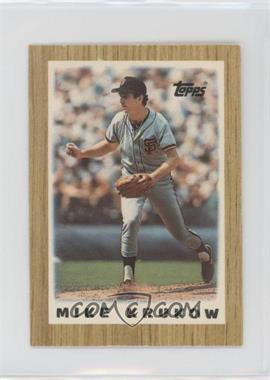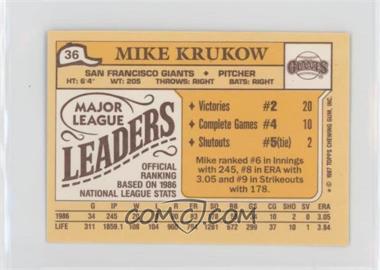 NOTE: 11 cards were double-printed and are marked with a "DP" in the checklist.
1 Bob Horner DP
2 Dale Murphy
3 Lee Smith
4 Eric Davis
5 John Franco
6 Dave Parker
7 Kevin Bass
8 Glenn Davis DP
9 Bill Doran DP
10 Bob Knepper DP
11 Mike Scott
12 Dave Smith
13 Mariano Duncan
14 Orel Hershiser
15 Steve Sax DP
16 Fernando Valenzuela
17 Tim Raines
18 Jeff Reardon
19 Floyd Youmans
20 Gary Carter DP
21 Ron Darling
22 Sid Fernandez
23 Dwight Gooden
24 Keith Hernandez
25 Bob Ojeda
26 Darryl Strawberry
27 Steve Bedrosian
28 Von Hayes DP
29 Juan Samuel
30 Mike Schmidt
31 Rick Rhoden
32 Vince Coleman
33 Danny Cox
34 Todd Worrell
35 Tony Gwynn
36 Mike Krukow
37 Candy Maldonado
38 Don Aase
39 Eddie Murray
40 Cal Ripken, Jr.
41 Wade Boggs
42 Roger Clemens
43 Bruce Hurst
44 Jim Rice
45 Wally Joyner
46 Donnie Moore
47 Gary Pettis
48 Mike Witt
49 John Cangelosi
50 Tom Candiotti
51 Joe Carter
52 Pat Tabler
53 Kirk Gibson DP
54 Willie Hernandez
55 Jack Morris
56 Alan Trammell DP
57 George Brett
58 Willie Wilson
59 Rob Deer
60 Teddy Higuera
61 Bert Blyleven DP
62 Gary Gaetti DP
63 Kirby Puckett
64 Rickey Henderson
65 Don Mattingly
66 Dennis Rasmussen
67 Dave Righetti
68 Jose Canseco
69 Dave Kingman
70 Phil Bradley
71 Mark Langston
72 Pete O'Brien
73 Jesse Barfield
74 George Bell
75 Tony Fernandez
76 Tom Henke
77 Checklist Card