1995 Topps Traded and Rookies
Description
1995 Topps Traded & Rookies is a 165-card set released in late 1995 and features rookies, draft picks and players who had been traded. Unlike previous "Topps Traded" sets, the 1995 version was distributed exclusively in pack form. After fifteen consecutive years, this would be the final Topps Traded set; however, Topps would revive Traded in 1999.
Subsets featured are: At the Break (1T-10T) and All-Stars (156T-164T). Notable Rookie Cards include Carlos Beltran and Hideo Nomo.
It should be noted that there are three different cards of Hideo Nomo in this set. Card #40T, the only card in '95TT&R done in the style of the "Star Watch" subset, is considered his "true" rookie.
Juan LeBron/Carlos Beltran Errors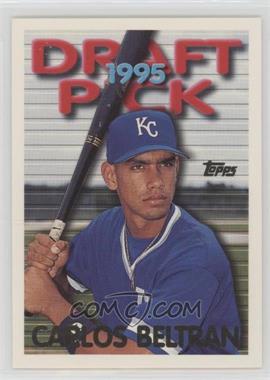 With their first two picks in the 1995 MLB First Year Player Draft, the Kansas City Royals selected two high school players from Puerto Rico: Juan LeBron and Carlos Beltran. Unfortunately, Topps confused the two and put Beltran on LeBron's '95 Topps Traded card and vice versa. While Beltran went on to have an All-Star career, LeBron never made it past Class-AA.
Topps never corrected the error, and card #18T (the one labelled "Carlos Beltran" but sporting the photo of Juan LeBron) is considered Beltran's "true" rookie. Juan LeBron's card (#12T), which has Beltran's photo, does sell for a premium, but is NOT Carlos Beltran's rookie card.
Distribution
Wax: 36 packs per box, 11 cards per pack (MSRP $1.29)
Reviews
Insertion Ratios
| Cards | Total Cards | Numbered To | Odds |
| --- | --- | --- | --- |
| Base | 165 | - | ? |
| At The Break Power Boosters | 10 | - | 1:36 |
Checklist
Proofs
Little is known about the 1995 Topps Traded & Rookies proof cards. The only known sample has the photo of Shawn Green used on his 1995 Topps Traded card (#13T) but the back is the one used in the regular 1995 Topps set. There may be more cards so all additional information is appreciated.
Base Set
At the Break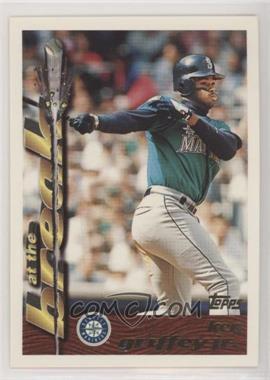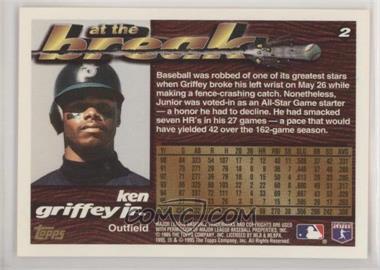 1 Frank Thomas
2 Ken Griffey, Jr.
3 Barry Bonds
4 Albert Belle
5 Cal Ripken, Jr.
6 Mike Piazza
7 Tony Gwynn
8 Jeff Bagwell
9 Mo Vaughn
10 Matt Williams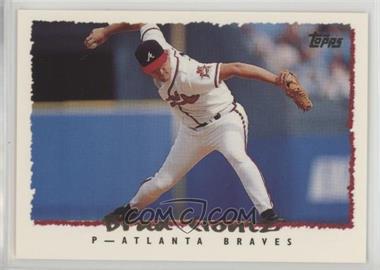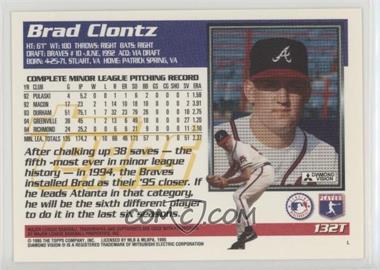 11T Ray Durham
12T Juan LeBron RC UER (Carlos Beltran depicted)
13T Shawn Green ROY
14T Kevin Gross
15T Jon Nunnally
16T Brian Maxcy RC
17T Mark Kiefer UER (mispelled "Brewerse")
18T Carlos Beltran RC UER (Photo is Juan LeBron)
19T Michael Mimbs RC
20T Larry Walker
21T Chad Curtis
22T Jeff Barry
23T Joe Oliver
24T Tomas Perez RC
25T Michael Barrett DP RC
26T Brian McRae
27T Derek Bell
28T Ray Durham ROY
29T Todd Williams
30T Ryan Jaroncyk DP RC*
31T Todd Steverson
32T Mike Devereaux
33T Rheal Cormier
34T Benito Santiago
35T Bobby Higginson RC
36T Jack McDowell
37T Mike Macfarlane
38T Tony McKnight DP RC
39T Brian L. Hunter ROY
40T Hideo Nomo ST RC
41T Brett Butler
42T Donovan Osborne
43T Scott Karl
44T Tony Phillips
45T Marty Cordova ROY
46T Dave Mlicki
47T Bronson Arroyo DP RC
48T John Burkett
49T J.D. Smart DP RC
50T Mickey Tettleton
51T Todd Stottlemyre
52T Mike Perez
53T Terry Mulholland
54T Edgardo Alfonzo
55T Zane Smith
56T Jacob Brumfield
57T Andujar Cedeno
58T Jose Parra
59T Manny Alexander
60T Tony Tarasco
61T Orel Hershiser
62T Tim Scott
63T Felix Rodriguez RC
64T Ken Hill
65T Marquis Grissom
66T Lee Smith
67T Jason Bates ROY
68T Felipe Lira
69T Alex Hernandez DP RC
70T Tony Fernandez
71T Scott Radinsky
72T Jose Canseco
73T Mark Grudzielanek RC
74T Ben Davis DP RC
75T Jim Abbott
76T Roger Bailey
77T Gregg Jefferies
78T Erik Hanson
79T Brad Radke RC
80T Jaime Navarro
81T John Wetteland
82T Chad Fonville RC
83T John Mabry
84T Glenallen Hill
85T Ken Caminiti
86T Tom Goodwin
87T Darren Bragg
88T Pat Ahearne / Gary Rath / Larry Winberly / Rob Bell PROS RC
89T Jeff Russell
90T Dave Gallagher
91T Steve Finley
92T Vaughn Eshelman
93T Kevin Jarvis
94T Mark Gubicza
95T Tim Wakefield
96T Bob Tewksbury
97T Sid Roberson RC
98T Tom Henke
99T Michael Tucker
100T Jason Bates
101T Otis Nixon
102T Mark Whiten
103T Dilson Torres RC
104T Melvin Bunch RC
105T Terry Pendleton
106T Corey Jenkins DP RC*
107T Rob Grable / Glenn Dishman OD RC
108T Reggie Taylor DP RC
109T Curtis Goodwin ROY
110T David Cone
111T Antonio Osuna
112T Paul Shuey
113T Doug Jones
114T Mark McLemore
115T Kevin Ritz
116T John Kruk
117T Trevor Wilson
118T Jerald Clark
119T Julian Tavarez
120T Tim Pugh
121T Todd Zeile
122T Mike Sweeney / George Arias / Richie Sexson / Brian Schneider PROS RC
123T Bobby Witt
124T Hideo Nomo ROY
125T Joey Cora
126T Jim Scharrer DP RC*
127T Paul Quantrill
128T Chipper Jones ROY
129T Kenny James DP RC*
130T Lyle Mouton / Mariano Rivera RC
131T Tyler Green ROY
132T Brad Clontz
133T Jon Nunnally ROY
134T Dave Magadan
135T Al Leiter
136T Bret Barberie
137T Bill Swift
138T Scott Cooper
139T Roberto Kelly
140T Charlie Hayes
141T Pete Harnisch
142T Rich Amaral
143T Rudy Seanez
144T Pat Listach
145T Quilvio Veras ROY
146T Jose Olmeda DP RC*
147T Roberto Petagine
148T Kevin Brown
149T Phil Plantier
150T Carlos Perez ROY
151T Pat Borders
152T Tyler Green
153T Stan Belinda
154T Dave Stewart
155T Andre Dawson
All-Stars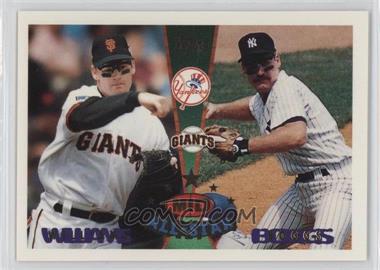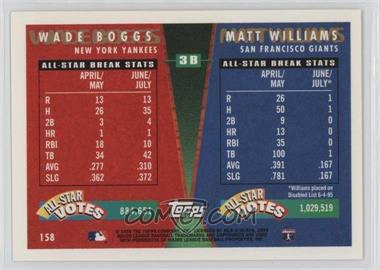 156T Frank Thomas / Fred McGriff
157T Carlos Baerga / Craig Biggio
158T Wade Boggs / Matt Williams
159T Cal Ripken, Jr. / Ozzie Smith
160T Ken Griffey, Jr. / Tony Gwynn
161T Albert Belle / Barry Bonds
162T Kirby Puckett / Lenny Dykstra
163T Ivan Rodriguez / Mike Piazza
164T Hideo Nomo / Randy Johnson
165T Checklist
Parallels
At the Break Power Boosters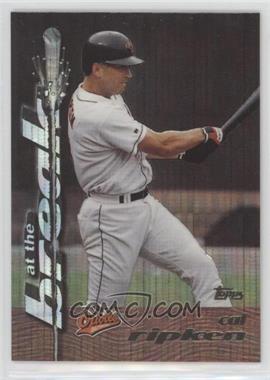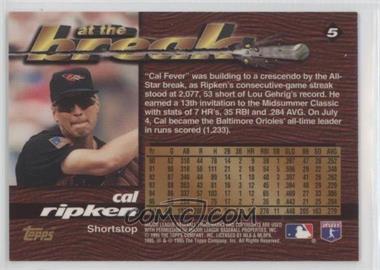 This 10-card insert set partially parallels the "At the Break" subset. All ten cards are printed on thick stock and have diffraction foil (i.e. atomic refractor) fronts. The Power Boosters were seeded at the rate of 1:36 (one-per-box) and packs containing one have only 10 cards.
1 Frank Thomas
2 Ken Griffey, Jr.
3 Barry Bonds
4 Albert Belle
5 Cal Ripken, Jr.
6 Mike Piazza
7 Tony Gwynn
8 Jeff Bagwell
9 Mo Vaughn
10 Matt Williams