1989 Topps Traded
Description
1989 Topps Traded is a 132-card set distributed exclusively in factory set form through hobby dealers. The cards are identical to the 1989 Topps regular issue cards except for whiter stock. Rookie Cards in this set include Ken Griffey Jr., Kenny Rogers, Deion Sanders and Omar Vizquel.
Distribution
Factory Sets
Tiffany Factory Sets (15,000 sets produced)
Reviews
Checklist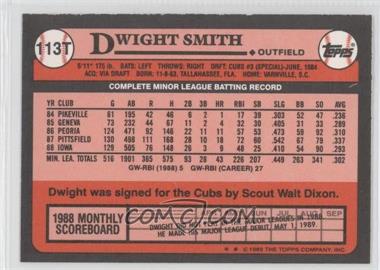 1T Don Aase
2T Jim Abbott
3T Kent Anderson
4T Keith Atherton
5T Wally Backman
6T Steve Balboni
7T Jesse Barfield
8T Steve Bedrosian
9T Todd Benzinger
10T Geronimo Berroa
11T Bert Blyleven
12T Bob Boone
13T Phil Bradley
14T Jeff Brantley RC
15T Kevin Brown
16T Jerry Browne
17T Chuck Cary
18T Carmen Castillo
19T Jim Clancy
20T Jack Clark
21T Bryan Clutterbuck
22T Jody Davis
23T Mike Devereaux
24T Frank DiPino
25T Benny Distefano
26T John Dopson
27T Lenny Dykstra
28T Jim Eisenreich
29T Nick Esasky
30T Alvaro Espinoza
31T Darrell Evans UER
32T Junior Felix RC
33T Felix Fermin
34T Julio Franco
35T Terry Francona
36T Cito Gaston MGR
37T Bob Geren UER (Photo is Mike Fennell)
38T Tom Gordon RC
39T Tommy Gregg
40T Ken Griffey, Sr.
41T Ken Griffey, Jr. RC
42T Kevin Gross
43T Lee Guetterman
44T Mel Hall
45T Erik Hanson RC
46T Gene Harris RC
47T Andy Hawkins
48T Rickey Henderson
49T Tom Herr
50T Ken Hill RC
51T Brian Holman RC
52T Brian Holton
53T Art Howe MGR
54T Ken Howell
55T Bruce Hurst
56T Chris James
57T Randy Johnson RC
58T Jimmy Jones
59T Terry Kennedy
60T Paul Kilgus
61T Eric King
62T Ron Kittle
63T John Kruk
64T Randy Kutcher
65T Steve Lake
66T Mark Langston
67T Dave LaPoint
68T Rick Leach
69T Terry Leach
70T Jim Lefebvre MGR
71T Al Leiter
72T Jeffrey Leonard
73T Derek Lilliquist RC
74T Rick Mahler
75T Tom McCarthy
76T Lloyd McClendon
77T Lance McCullers
78T Oddibe McDowell
79T Roger McDowell
80T Larry McWilliams
81T Randy Milligan
82T Mike Moore
83T Keith Moreland
84T Mike Morgan
85T Jamie Moyer
86T Rob Murphy
87T Eddie Murray
88T Pete O'Brien
89T Gregg Olson
90T Steve Ontiveros
91T Jesse Orosco
92T Spike Owen
93T Rafael Palmeiro
94T Clay Parker
95T Jeff Parrett
96T Lance Parrish
97T Dennis Powell
98T Rey Quinones
99T Doug Rader MGR
100T Willie Randolph
101T Shane Rawley
102T Randy Ready
103T Bip Roberts
104T Kenny Rogers RC
105T Ed Romero
106T Nolan Ryan
107T Luis Salazar
108T Juan Samuel
109T Alex Sanchez RC
110T Deion Sanders RC
111T Steve Sax
112T Rick Schu
113T Dwight Smith RC
114T Lonnie Smith
115T Billy Spiers RC
116T Kent Tekulve
117T Walt Terrell
118T Milt Thompson
119T Dickie Thon
120T Jeff Torborg MGR
121T Jeff Treadway
122T Omar Vizquel RC
123T Jerome Walton RC
124T Gary Ward
125T Claudell Washington
126T Curt Wilkerson
127T Eddie Williams
128T Frank Williams
129T Ken Williams
130T Mitch Williams
131T Steve Wilson RC
132T Checklist 1T-132T
Parallels
Topps Tiffany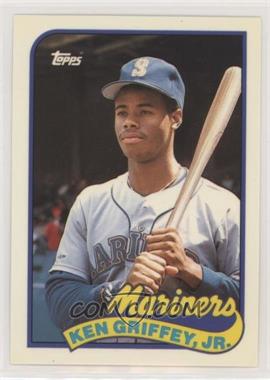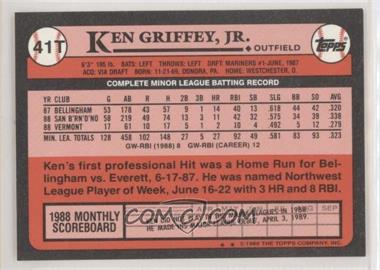 Once again, Topps produced a "high-end" Tiffany version of Topps Traded. These cards feature "glossy" fronts as well as easy to read backs. This set was issued only in complete form from the company. Like all Topps Tiffany sets, Topps' Irish printing facility produced these cards. Approximately 15,000 of these sets were produced, and Hobby dealers received a one standard Topps Traded set for each Tiffany set ordered. The Ken Griffey, Jr. rookie card is this set is particularly popular with collectors due to it being one of the only 1989 Griffey rookies that had a relatively low print run.