1997 Pinnacle
Description
1997 Pinnacle was a 200-card, single-series set released in February, 1997. Similar to previous years, each base card featured a borderless color photo with a gold foil design at the bottom or side (for landscape-oriented cards) portion of the card front - this year, the design housed the player name plate and depicted a baseball diamond with the foul territory portion covered with famous last names from that franchise's history. New for '97, each base card was printed on a thicker gauge of cardstock.
There were two subsets and Checklists at the end of the set:
There were no notable Rookie Cards in the set.
There were plans for a second 200-card series, but a Series Two was replaced with an entire new product offering, 1997 New Pinnacle. Many star players were originally planned to feature in Series Two and because of this, these players did not have a base card but instead appeared in the "Clout" subset only.
Distribution
Hobby/Retail: 24 packs per box, 10 cards per pack (MSRP: $2.49).
Magazine: 24 packs per box, seven cards per pack (MSRP: $1.99)
Insertion Ratios
| Cards | Total Cards | Numbered To | Hobby Odds | Retail Odds | Magazine Odds |
| --- | --- | --- | --- | --- | --- |
| Base | 200 | - | ? | ? | ? |
| Museum Collection | 200 | - | 1:9 | 1:9 | 1:13 |
| Artist's Proof | 200 | - | 1:47 | 1:47 | 1:55 |
| Team Pinnacle | 10 | - | 1:90 | 1:90 | ? |
| Passport to the Majors | 25 | - | 1:36 | 1:36 | ? |
| Cardfrontations | 20 | - | 1:23 | N/A | N/A |
| Shades | 10 | - | N/A | 1:23 | N/A |
| Home/Away | 24 | - | N/A | N/A | 1:33 |
Checklist
Base Set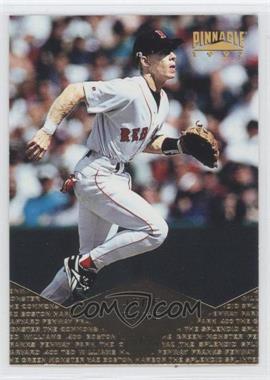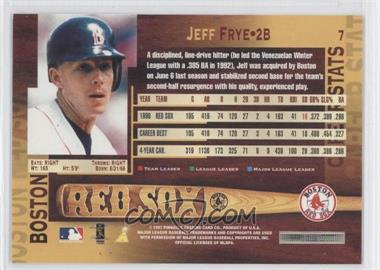 1 Cecil Fielder
2 Garret Anderson
3 Charles Nagy
4 Darryl Hamilton
5 Greg Myers
6 Eric Davis
7 Jeff Frye
8 Marquis Grissom
9 Curt Schilling
10 Jeff Fassero
11 Alan Benes
12 Orlando Miller
13 Alex Fernandez
14 Andy Pettitte
15 Andre Dawson
16 Mark Grudzielanek
17 Joe Vitiello
18 Juan Gonzalez
19 Mark Whiten
20 Lance Johnson
21 Trevor Hoffman
22 Marc Newfield
23 Jim Eisenreich
24 Joe Carter
25 Jose Canseco
26 Bill Swift
27 Ellis Burks
28 Ben McDonald
29 Edgar Martinez
30 Jamie Moyer
31 Chan Ho Park
32 Carlos Delgado
33 Kevin Mitchell
34 Carlos Garcia
35 Darryl Strawberry
36 Jim Thome
37 Jose Offerman
38 Ryan Klesko
39 Ruben Sierra
40 Devon White
41 Brian Jordan
42 Tony Gwynn
43 Rafael Palmeiro
44 Dante Bichette
45 Scott Stahoviak
46 Roger Cedeno
47 Ivan Rodriguez
48 Bob Abreu
49 Darryl Kile
50 Darren Dreifort
51 Shawon Dunston
52 Mark McGwire
53 Tim Salmon
54 Gene Schall
55 Roger Clemens
56 Rondell White
57 Ed Sprague
58 Craig Paquette
59 David Segui
60 Jaime Navarro
61 Tom Glavine
62 Jeff Brantley
63 Kimera Bartee
64 Fernando Vina
65 Eddie Murray
66 Lenny Dykstra
67 Kevin Elster
68 Vinny Castilla
69 Mike Fetters
70 Brett Butler
71 Robby Thompson
72 Reggie Jefferson
73 Todd Hundley
74 Jeff King
75 Ernie Young
76 Jeff Bagwell
77 Dan Wilson
78 Paul Molitor
79 Kevin Seitzer
80 Kevin Brown
81 Ron Gant
82 Dwight Gooden
83 Todd Stottlemyre
84 Ken Caminiti
85 James Baldwin
86 Jermaine Dye
87 Harold Baines
88 Pat Hentgen
89 Frank Rodriguez
90 Mark Johnson
91 Jason Kendall
92 Alex Rodriguez
93 Alan Trammell
94 Scott Brosius
95 Delino DeShields
96 Chipper Jones
97 Barry Bonds
98 Brady Anderson
99 Ryne Sandberg
100 Albert Belle
101 Jeff Cirillo
102 Frank Thomas
103 Mike Piazza
104 Rickey Henderson
105 Rey Ordonez
106 Mark Grace
107 Terry Steinbach
108 Ray Durham
109 Barry Larkin
110 Tony Clark
111 Bernie Williams
112 John Smoltz
113 Moises Alou
114 Alex Gonzalez
115 Rico Brogna
116 Eric Karros
117 Jeff Conine
118 Todd Hollandsworth
119 Troy Percival
120 Paul Wilson
121 Orel Hershiser
122 Ozzie Smith
123 Dave Hollins
124 Ken Hill
125 Rick Wilkins
126 Scott Servais
127 Fernando Valenzuela
128 Mariano Rivera
129 Mark Loretta
130 Shane Reynolds
131 Darren Oliver
132 Steve Trachsel
133 Darren Bragg
134 Jason Dickson
135 Darrin Fletcher
136 Gary Gaetti
137 Joey Cora
138 Terry Pendleton
139 Derek Jeter
140 Danny Tartabull
141 John Flaherty
142 B.J. Surhoff
143 Mike Sweeney
144 Chad Mottola
145 Andujar Cedeno
146 Tim Belcher
147 Mark Thompson
148 Rafael Bournigal
149 Marty Cordova
150 Osvaldo Fernandez
151 Mike Stanley
152 Ricky Bottalico
153 Donne Wall
154 Omar Vizquel
155 Mike Mussina
Rookies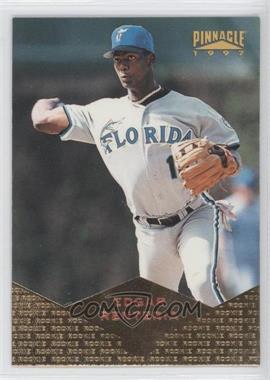 156 Brant Brown
157 F.P. Santangelo
158 Ryan Hancock
159 Jeff D'Amico
160 Luis Castillo
161 Darin Erstad
162 Ugueth Urbina
163 Andruw Jones
164 Steve Gibralter
165 Robin Jennings
166 Mike Cameron
167 George Arias
168 Chris Stynes
169 Justin Thompson
170 Jamey Wright
171 Todd Walker
172 Nomar Garciaparra
173 Jose Paniagua
174 Marvin Benard
175 Rocky Coppinger
176 Quinton McCracken
177 Amaury Telemaco
178 Neifi Perez
179 Todd Greene
180 Jason Thompson
181 Wilton Guerrero
182 Edgar Renteria
183 Billy Wagner
184 Alex Ochoa
185 Dmitri Young
Clout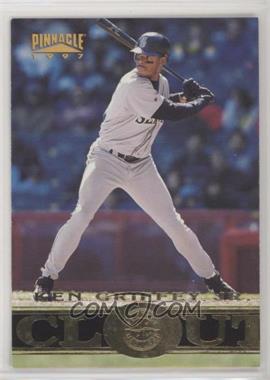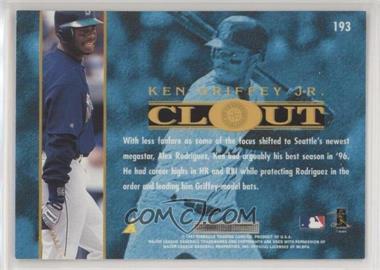 186 Kenny Lofton
187 Andres Galarraga
188 Chuck Knoblauch
189 Greg Maddux
190 Mo Vaughn
191 Cal Ripken, Jr.
192 Hideo Nomo
193 Ken Griffey, Jr.
194 Sammy Sosa
195 Jay Buhner
196 Manny Ramirez
197 Matt Williams
Checklists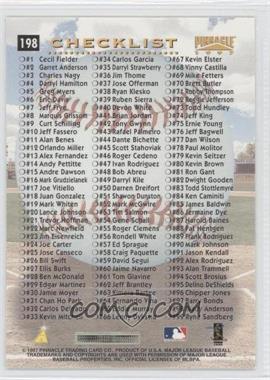 198 Andruw Jones
199 Darin Erstad
200 Trey Beamon
Parallels
Museum Collection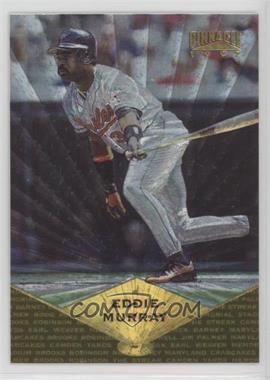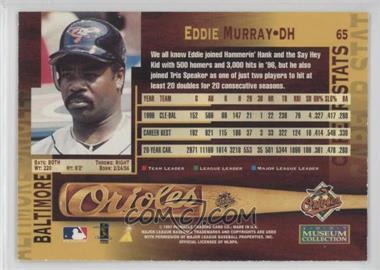 After a one-year hiatus in name, the "Museum Collection" moniker returned. All 200 base cards were available in a Museum Collection parallel and utilized the same photo and design as the base set but featured a Dufex finish that emanated from the gold foil baseball diamond design.
Artist's Proof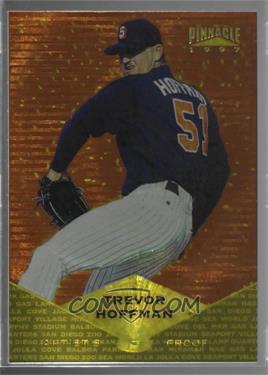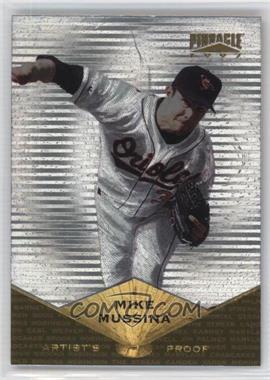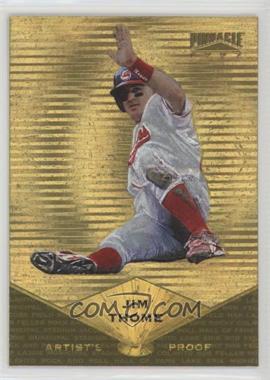 All 200 cards were also available in an Artist's Proof parallel. Following a similar structure to the 1997 Finest brand, the Artist's Proof parallel set was "fractured" into three different groups, represented by the color of Dufex finish:
125 Bronze Artist's Proofs
50 Silver Artist's Proofs
25 Gold Artist's Proofs (print run of 300 copies)
Gold Artist's Proofs are scarcest and had an announced print run of only 300 non serial-numbered copies; the Silver Artist's Proofs were the second hardest to pull and the Bronze Artist's Proofs were the least scarce of the three. All three shared the same Artist's Proof logo on front.
PP1 Cecil Fielder B
PP2 Garret Anderson B
PP3 Charles Nagy B
PP4 Darryl Hamilton B
PP5 Greg Myers B
PP6 Eric Davis B
PP7 Jeff Frye B
PP8 Marquis Grissom S
PP9 Curt Schilling B
PP10 Jeff Fassero B
PP11 Alan Benes S
PP12 Orlando Miller B
PP13 Alex Fernandez B
PP14 Andy Pettitte G 300
PP15 Andre Dawson B
PP16 Mark Grudzielanek B
PP17 Joe Vitiello B
PP18 Juan Gonzalez G 300
PP19 Mark Whiten B
PP20 Lance Johnson B
PP21 Trevor Hoffman B
PP22 Marc Newfield B
PP23 Jim Eisenreich B
PP24 Joe Carter S
PP25 Jose Canseco S
PP26 Bill Swift B
PP27 Ellis Burks B
PP28 Ben McDonald B
PP29 Edgar Martinez S
PP30 Jamie Moyer B
PP31 Chan Ho Park S
PP32 Carlos Delgado S
PP33 Kevin Mitchell B
PP34 Carlos Garcia B
PP35 Darryl Strawberry G 300
PP36 Jim Thome G 300
PP37 Jose Offerman B
PP38 Ryan Klesko S
PP39 Ruben Sierra B
PP40 Devon White B
PP41 Brian Jordan G 300
PP42 Tony Gwynn S
PP43 Rafael Palmeiro S
PP44 Dante Bichette B
PP45 Scott Stahoviak B
PP46 Roger Cedeno B
PP47 Ivan Rodriguez G 300
PP48 Bob Abreu S
PP49 Darryl Kile B
PP50 Darren Dreifort B
PP51 Shawon Dunston B
PP52 Mark McGwire S
PP53 Tim Salmon S
PP54 Gene Schall B
PP55 Roger Clemens B
PP56 Rondell White S
PP57 Ed Sprague B
PP58 Craig Paquette B
PP59 David Segui B
PP60 Jaime Navarro B
PP61 Tom Glavine S
PP62 Jeff Brantley B
PP63 Kimera Bartee B
PP64 Fernando Vina B
PP65 Eddie Murray S
PP66 Lenny Dykstra B
PP67 Kevin Elster B
PP68 Vinny Castilla B
PP69 Mike Fetters S
PP70 Brett Butler B
PP71 Robby Thompson B
PP72 Reggie Jefferson B
PP73 Todd Hundley S
PP74 Jeff King B
PP75 Ernie Young S
PP76 Jeff Bagwell G 300
PP77 Dan Wilson B
PP78 Paul Molitor G 300
PP79 Kevin Seitzer B
PP80 Kevin Brown S
PP81 Ron Gant S
PP82 Dwight Gooden S
PP83 Todd Stottlemyre B
PP84 Ken Caminiti G 300
PP85 James Baldwin B
PP86 Jermaine Dye S
PP87 Harold Baines B
PP88 Pat Hentgen B
PP89 Frank Rodriguez B
PP90 Mark Johnson B
PP91 Jason Kendall S
PP92 Alex Rodriguez G 300
PP93 Alan Trammell B
PP94 Scott Brosius B
PP95 Delino DeShields B
PP96 Chipper Jones S
PP97 Barry Bonds S
PP98 Brady Anderson S
PP99 Ryne Sandberg S
PP100 Albert Belle G 300
PP101 Jeff Cirillo B
PP102 Frank Thomas G 300
PP103 Mike Piazza S
PP104 Rickey Henderson B
PP105 Rey Ordonez S
PP106 Mark Grace S
PP107 Terry Steinbach B
PP108 Ray Durham B
PP109 Barry Larkin S
PP110 Tony Clark S
PP111 Bernie Williams G 300
PP112 John Smoltz G 300
PP113 Moises Alou B
PP114 Alex Gonzalez B
PP115 Rico Brogna B
PP116 Eric Karros B
PP117 Jeff Conine S
PP118 Todd Hollandsworth G 300
PP119 Troy Percival S
PP120 Paul Wilson S
PP121 Orel Hershiser B
PP122 Ozzie Smith S
PP123 Dave Hollins B
PP124 Ken Hill B
PP125 Rick Wilkins B
PP126 Scott Servais B
PP127 Fernando Valenzuela B
PP128 Mariano Rivera G 300
PP129 Mark Loretta B
PP130 Shane Reynolds S
PP131 Darren Oliver B
PP132 Steve Trachsel B
PP133 Darren Bragg B
PP134 Jason Dickson B
PP135 Darren Fletcher B
PP136 Gary Gaetti B
PP137 Joey Cora B
PP138 Terry Pendleton B
PP139 Derek Jeter G 300
PP140 Danny Tartabull B
PP141 John Flaherty B
PP142 B.J. Surhoff B
PP143 Mike Sweeney B
PP144 Chad Mottola B
PP145 Andujar Cedeno B
PP146 Tim Belcher B
PP147 Mark Thompson B
PP148 Rafael Bournigal B
PP149 Marty Cordova S
PP150 Osvaldo Fernandez B
PP151 Mike Stanley B
PP152 Ricky Bottalico B
PP153 Donne Wall B
PP154 Omar Vizquel B
PP155 Mike Mussina S
PP156 Brant Brown B
PP157 F.P. Santangelo S
PP158 Ryan Hancock B
PP159 Jeff D'Amico B
PP160 Luis Castillo B
PP161 Darin Erstad G 300
PP162 Ugueth Urbina B
PP163 Andruw Jones G 300
PP164 Steve Gibralter B
PP165 Robin Jennings S
PP166 Mike Cameron B
PP167 George Arias S
PP168 Chris Stynes B
PP169 Justin Thompson B
PP170 Jamey Wright B
PP171 Todd Walker G 300
PP172 Nomar Garciaparra B
PP173 Jose Paniagua B
PP174 Marvin Benard B
PP175 Rocky Coppinger B
PP176 Quinton McCracken B
PP177 Amaury Telemaco B
PP178 Neifi Perez B
PP179 Todd Greene B
PP180 Jason Thompson B
PP181 Wilton Guerrero B
PP182 Edgar Renteria S
PP183 Billy Wagner S
PP184 Alex Ochoa G 300
PP185 Dmitri Young B
PP186 Kenny Lofton B
PP187 Andres Galarraga B
PP188 Chuck Knoblauch G 300
PP189 Greg Maddux S
PP190 Mo Vaughn S
PP191 Cal Ripken, Jr. G 300
PP192 Hideo Nomo S
PP193 Ken Griffey, Jr. G 300
PP194 Sammy Sosa S
PP195 Jay Buhner S
PP196 Manny Ramirez G 300
PP197 Matt Williams B
PP198 Andruw Jones B
PP199 Darin Erstad B
PP200 Trey Beamon CL
Press Plate Previews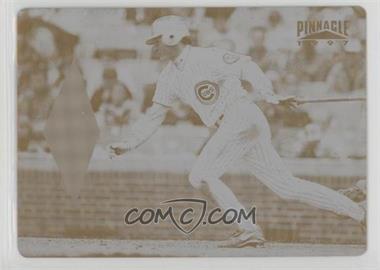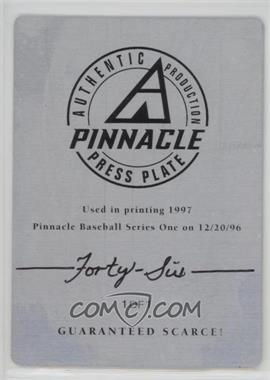 To promote the new press plate concept that was eventually introduced in the 1997 New Pinnacle release, press plates that were used to print cards from the 1997 Pinnacle set were distributed within sealed cases of 1997 New Pinnacle. Each press plate was hand serial numbered and spelled out (e.g., "Forty Six", rather than "46") and the cases were serial-numbered as well. Dealers lucky enough to have been sent a case where the serial number on the case matched the serial number on the press plate would win a prize for their store.
There were Press Plate Preview "parallels" of all 200 base cards and all 10 Shades inserts; thus, a total of 1680 Press Plate Preview cards were distributed. Each card has 8 press plates - four "front" plates of different colors and four "back" plates of different colors:
Front Cyan
Front Magenta
Front Yellow
Front Black
Back Cyan
Back Magenta
Back Yellow
Back Black
Inserts
Team Pinnacle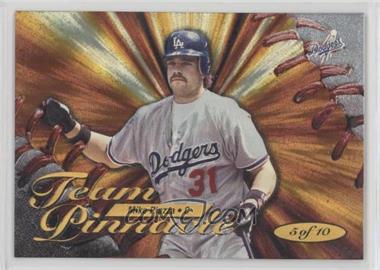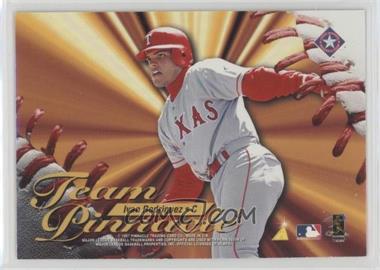 For the sixth consecutive year, Pinnacle featured their flagship insert, this time on a landscape-oriented, silver, yellow, and orange-colored baseball background design that had a Dufex finish. This 10-card set included Pinnacle's picks for the top players at each position with an American League player on one side and a National League player on the the other. Similar to the previous year's iteration of this set, there is only one version of each card: the front of each card (which had the National League player) featured the Dufex finish but the back of the card (American Leaguer) did not feature any Dufex foil; thus, there is no version featuring a Dufex finish on both sides of the card.
The tenth card in the set featured all 18 players featured in the insert with a similar design structure: all nine National Leaguers front, all nine American Leaguers on the back, and the front of the card featured a Dufex finish.
1 Frank Thomas / Jeff Bagwell
2 Chuck Knoblauch / Eric Young
3 Ken Caminiti / Jim Thome
4 Alex Rodriguez / Chipper Jones
5 Mike Piazza / Ivan Rodriguez
6 Barry Bonds / Albert Belle
7 Ken Griffey, Jr. / Ellis Burks
8 Juan Gonzalez / Gary Sheffield
9 John Smoltz / Andy Pettitte
10 All 18 players
Passport to the Majors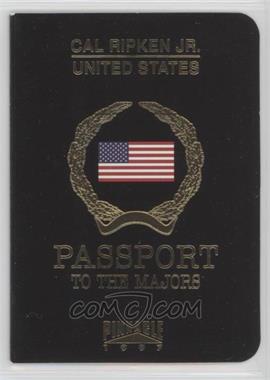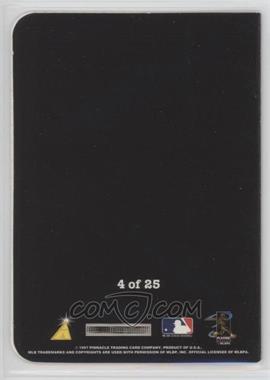 This 25-card set honored the rise to fame of some of baseball's most high profile superstars on a black die-cut, bi-fold card design that resembled a Passport and folded outwards.
1 Greg Maddux
2 Ken Griffey, Jr.
3 Frank Thomas
4 Cal Ripken, Jr.
5 Mike Piazza
6 Alex Rodriguez
7 Mo Vaughn
8 Chipper Jones
9 Roberto Alomar
10 Edgar Martinez
11 Javy Lopez
12 Ivan Rodriguez
13 Juan Gonzalez
14 Carlos Baerga
15 Sammy Sosa
16 Manny Ramirez
17 Raul Mondesi
18 Henry Rodriguez
19 Rafael Palmeiro
20 Rey Ordonez
21 Hideo Nomo
22 Mac Suzuki
23 Chan Ho Park
24 Larry Walker
25 Ruben Rivera
Cardfrontation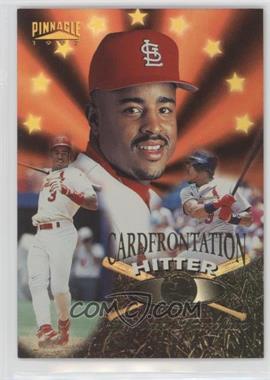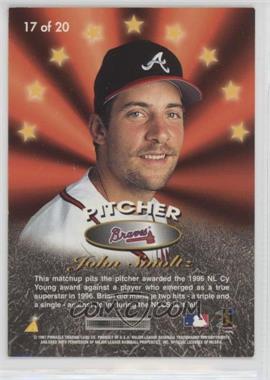 This 20-card set highlighted theoretical batter/pitcher matchups in the game on a "dual-front" card that featured a top hitter one side and his opponent pitcher on the other. The front/hitter side of the card featured a holographic orange and black finish while the back of the card had a regular glossy finish. Out of the pack, both sides were covered with an opaque "peel and reveal" protective cover that had to be removed, similar to the Mystery Finest inserts from the Topps Finest brand. This set was exclusive to Hobby packs only.
1 Mike Piazza / Greg Maddux
2 Tom Glavine / Ken Caminiti
3 Cal Ripken, Jr. / Randy Johnson
4 Mark McGwire / Kevin Appier
5 Juan Gonzalez / Andy Pettitte
6 Albert Belle / Pat Hentgen
7 Chipper Jones / Hideo Nomo
8 Sammy Sosa / Ismael Valdes
9 Mike Mussina / Manny Ramirez
10 Jay Buhner / David Cone
11 Mark Wohlers / Gary Sheffield
12 Barry Bonds / Andy Benes
13 Ivan Rodriguez / Roger Clemens
14 Ken Griffey, Jr. / Mariano Rivera
15 Frank Thomas / Dwight Gooden
16 Darin Erstad / John Wetteland
17 John Smoltz / Brian Jordan
18 Jeff Bagwell / Kevin Brown
19 Alex Rodriguez / Jack McDowell
20 Charles Nagy / Bernie Williams
Shades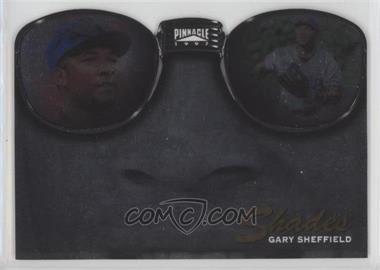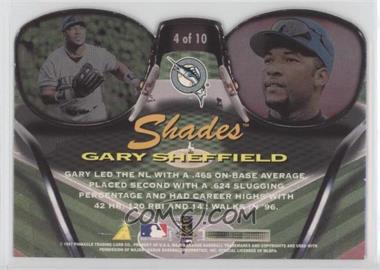 This 10-card included some of the most popular players in the game on a black and grey die-cut, "mirror mylar" foil finish that featured the player's pictures appearing in the lens on a pair of sunglasses. This set was exclusive to Retail packs only.
Press Plate versions of all cards in this insert set (front and back) exist.
1 Ken Griffey, Jr.
2 Juan Gonzalez
3 John Smoltz
4 Gary Sheffield
5 Cal Ripken, Jr.
6 Mo Vaughn
7 Brian Jordan
8 Mike Piazza
9 Frank Thomas
10 Alex Rodriguez
Home/Away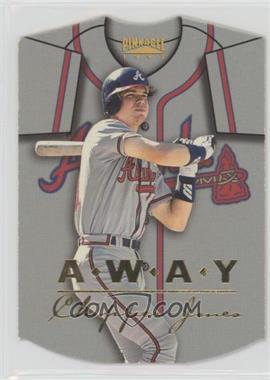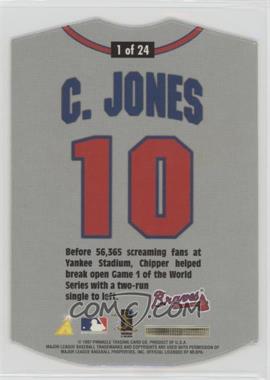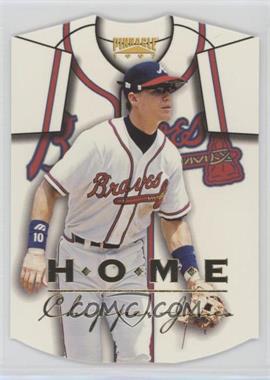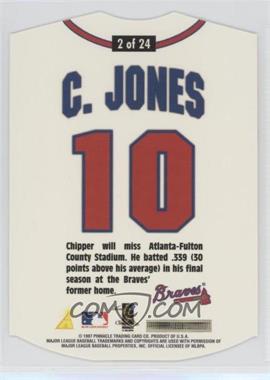 This 24-card set featured 12 of the top players in the game on a card that was die-cut into the shape of the player's home or away jersey. "Home" jersey cards had even-number sequential ordering and "Away" jersey cards had odd-number sequential ordering. This set was exclusive to Magazine packs. While never confirmed by Pinnacle Brands, Inc., some collectors speculate that the Home cards were short-printed.
1 Chipper Jones
2 Chipper Jones
3 Ken Griffey, Jr.
4 Ken Griffey, Jr.
5 Mike Piazza
6 Mike Piazza
7 Frank Thomas
8 Frank Thomas
9 Jeff Bagwell
10 Jeff Bagwell
11 Alex Rodriguez
12 Alex Rodriguez
13 Barry Bonds
14 Barry Bonds
15 Mo Vaughn
16 Mo Vaughn
17 Derek Jeter
18 Derek Jeter
19 Mark McGwire
20 Mark McGwire
21 Cal Ripken, Jr.
22 Cal Ripken, Jr.
23 Albert Belle
24 Albert Belle
Pinnacle
Pinnacle Brands Era:
Panini America Era:
---
Boxed Sets:
Other Pinnacle Brands: