1998 Pinnacle Snapshots
Description
1998 Pinnacle Snapshots was a series of fifteen, 18-"card", team photo sets. Snapshots were not designed as a traditional trading card product, but rather produced and marketed as postcard-sized (4" X 6") photographs, printed on photo-quality paper. Snapshots were sold in eight photo "packs" that resembled an envelope and distributed regionally, in each selected team's home market.
The fifteen teams were: Angels, Braves, Diamondbacks, Orioles, Cubs, Indians, Rockies, Mariners, Rangers, Red Sox, Dodgers, Mets, Yankees, Cardinals, and Devil Rays.
Distribution
Eight photographs per pack (MSRP: $1.99).
Checklist
Promos
One of 6 different photo-cards was included in each dealer order form for 1998 Pinnacle Snapshots baseball to preview the upcoming product. These sample photo-cards are identical to the regular issue photo-cards except for the light grey shaded "SAMPLE" text running diagonally against the back of the card.
NOTE: Each Sample is sequentially-numbered "1 of 18" on the back. Only 6 Samples were issued. Items 6-9 below are actually one card.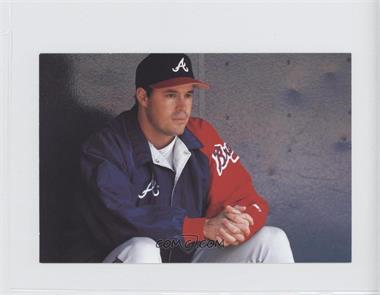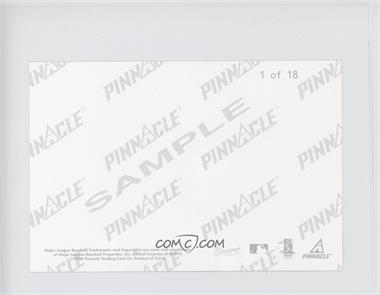 1 Greg Maddux
2 Cal Ripken, Jr.
3 Travis Lee
4 Brian Jordan
5 Mike Piazza
6 Alex Rodriguez
7 Edgar Martinez
8 Joey Cora
9 Alvaro Espinoza
Base Set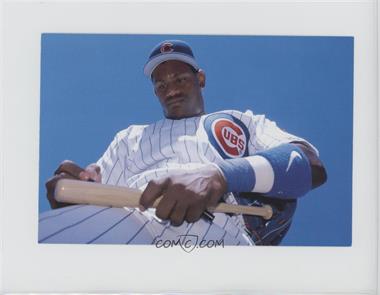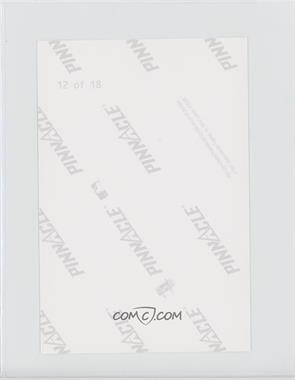 AA1 Jason Dickson
AA2 Gary DiSarcina
AA3 Garret Anderson
AA4 Shigetoshi Hasegawa
AA5 Ken Hill
AA6 Todd Greene
AA7 Tim Salmon
AA8 Jim Edmonds
AA9 Garret Anderson
AA10 Dave Hollins
AA11 Todd Greene
AA12 Troy Percival
AA13 Gary DiSarcina
AA14 Cecil Fielder
AA15 Darin Erstad
AA16 Chuck Finley
AA17 Jim Edmonds
AA18 Jason Dickson
AB1 Ryan Klesko
AB2 Walt Weiss
AB3 Tom Glavine
AB4 Randall Simon
AB5 John Smoltz
AB6 Chipper Jones
AB7 Javy Lopez
AB8 Greg Maddux
AB9 Andruw Jones
AB10 Michael Tucker
AB11 Andres Galarraga
AB12 Andres Galarraga
AB13 Greg Maddux
AB14 Wes Helms
AB15 Bruce Chen
AB16 Denny Neagle
AB17 Mark Wohlers
AB18 Kevin Millwood
AD1 Travis Lee
AD2 Matt Williams
AD3 Jay Bell
AD4 Devon White
AD5 Andy Benes
AD6 Tony Batista
AD7 Jay Bell
AD8 Edwin Diaz
AD9 Devon White
AD10 Bob Wolcott
AD11 Karim Garcia
AD12 Yamil Benitez
AD13 Jorge Fabregas
AD14 Jeff Suppan
AD15 Ben Ford
AD16 Brian Anderson
AD17 Travis Lee
AD18 Matt Williams
BO1 Cal Ripken, Jr.
BO2 Rocky Coppinger
BO3 Eric Davis
BO4 Chris Hoiles
BO5 Mike Mussina
BO6 Joe Carter
BO7 Rafael Palmeiro
BO8 B.J. Surhoff
BO9 Jimmy Key
BO10 Scott Erickson
BO11 Armando Benitez
BO12 Roberto Alomar
BO13 Cal Ripken, Jr.
BO14 Mike Bordick
BO15 Roberto Alomar
BO16 Jeffrey Hammonds
BO17 Rafael Palmeiro
BO18 Brady Anderson
CC1 Mark Grace
CC2 Manny Alexander
CC3 Jeremi Gonzalez
CC4 Brant Brown
CC5 Mark Grace
CC6 Lance Johnson
CC7 Mark Clark
CC8 Kevin Foster
CC9 Brant Brown
CC10 Kevin Foster
CC11 Kevin Tapani
CC12 Sammy Sosa
CC13 Sammy Sosa
CC14 Pat Cline
CC15 Kevin Orie
CC16 Steve Trachsel
CC17 Lance Johnson
CC18 Robin Jennings
CI1 Manny Ramirez
CI2 Travis Fryman
CI3 Jaret Wright
CI4 Brian Giles
CI5 Bartolo Colon
CI6 Kenny Lofton
CI7 Dave Justice
CI8 Brian Giles
CI9 Sandy Alomar
CI10 Jose Mesa
CI11 Jim Thome
CI12 Sandy Alomar
CI13 Omar Vizquel
CI14 Geronimo Berroa
CI15 John Smiley
CI16 Chad Ogea
CI17 Charles Nagy
CI18 Enrique Wilson
CR1 Larry Walker
CR2 Pedro Astacio
CR3 Jamey Wright
CR4 Darryl Kile
CR5 Kirt Manwaring
CR6 Todd Helton
CR7 Mike Lansing
CR8 Neifi Perez
CR9 Dante Bichette
CR10 Derrick Gibson
CR11 Neifi Perez
CR12 Darryl Kile
CR13 Larry Walker
CR14 Roger Bailey
CR15 Ellis Burks
CR16 Dante Bichette
CR17 Derrick Gibson
CR18 Ellis Burks
SM1 Alex Rodriguez
SM2 Jay Buhner
SM3 Russ Davis
SM4 Joey Cora
SM5 Joey Cora
SM6 Jay Buhner
SM7 Ken Griffey, Jr.
SM8 Raul Ibanez
SM9 Rich Amaral
SM10 Shane Monahan
SM11 Alex Rodriguez
SM12 Dan Wilson
SM13 Bob Wells
SM14 Randy Johnson
SM15 Randy Johnson
SM16 Jeff Fassero
SM17 Ken Cloude
SM18 Edgar Martinez
TR1 Ivan Rodriguez
TR2 Fernando Tatis
TR3 Danny Patterson
TR4 Will Clark
TR5 Kevin Elster
TR6 Rusty Greer
TR7 Darren Oliver
TR8 John Burkett
TR9 Tom Goodwin
TR10 Roberto Kelly
TR11 Aaron Sele
TR12 Rick Helling
TR13 Mark McLemore
TR14 Lee Stevens
TR15 John Wetteland
TR16 Will Clark
TR17 Juan Gonzalez
TR18 Roger Pavlik
BRS1 Tim Naehring
BRS2 Brian Rose
BRS3 Darren Bragg
BRS4 Pedro Martinez
BRS5 Mo Vaughn
BRS6 Jim Leyritz
BRS7 Troy O'Leary
BRS8 Mo Vaughn
BRS9 Nomar Garciaparra
BRS10 Michael Coleman
BRS11 Tom Gordon
BRS12 Tim Naehring
BRS13 Nomar Garciaparra
BRS14 John Valentin
BRS15 Steve Avery
BRS16 Damon Buford
BRS17 Troy O'Leary
BRS18 Bret Saberhagen
LAD1 Mike Piazza
LAD2 Eric Karros
LAD3 Raul Mondesi
LAD4 Wilton Guerrero
LAD5 Darren Dreifort
LAD6 Roger Cedeno
LAD7 Todd Zeile
LAD8 Paul Konerko
LAD9 Todd Hollandsworth
LAD10 Ismael Valdes
LAD11 Hideo Nomo
LAD12 Ramon Martinez
LAD13 Chan Ho Park
LAD14 Eric Young
LAD15 Dennis Reyes
LAD16 Eric Karros
LAD17 Mike Piazza
LAD18 Raul Mondesi
NYM1 Rey Ordonez
NYM2 Todd Hundley
NYM3 Preston Wilson
NYM4 Rich Becker
NYM5 Bernard Gilkey
NYM6 Rey Ordonez
NYM7 Butch Huskey
NYM8 Carlos Baerga
NYM9 Edgardo Alfonzo
NYM10 Bill Pulsipher
NYM11 John Franco
NYM12 Todd Pratt
NYM13 Brian McRae
NYM14 Bobby Jones
NYM15 John Olerud
NYM16 Todd Hundley
NYM17 Jay Payton
NYM18 Paul Wilson
NYY1 Andy Pettitte
NYY2 Darryl Strawberry
NYY3 Joe Girardi
NYY4 Derek Jeter
NYY5 Andy Pettitte
NYY6 Tim Raines
NYY7 Mariano Rivera
NYY8 Tino Martinez
NYY9 Derek Jeter
NYY10 Hideki Irabu
NYY11 Tino Martinez
NYY12 David Cone
NYY13 Bernie Williams
NYY14 David Cone
NYY15 Bernie Williams
NYY16 Chuck Knoblauch
NYY17 Paul O'Neill
NYY18 David Wells
SLC1 Alan Benes
SLC2 Ron Gant
SLC3 Donovan Osborne
SLC4 Eli Marrero
SLC5 Mark McGwire
SLC6 Delino DeShields
SLC7 Tom Pagnozzi
SLC8 Delino DeShields
SLC9 Mark McGwire
SLC10 Royce Clayton
SLC11 Brian Jordan
SLC12 Ray Lankford
SLC13 Brian Jordan
SLC14 Matt Morris
SLC15 John Mabry
SLC16 Luis Ordaz
SLC17 Ron Gant
SLC18 Todd Stottlemyre
TBDR1 Kevin Stocker
TBDR2 Paul Sorrento
TBDR3 John Flaherty
TBDR4 Wade Boggs
TBDR5 Rich Butler
TBDR6 Wilson Alvarez
TBDR7 Bubba Trammell
TBDR8 Dave Martinez
TBDR9 Brooks Kieschnick
TBDR10 Tony Saunders
TBDR11 Esteban Yan
TBDR12 Quinton McCracken
TBDR13 Albie Lopez
TBDR14 Roberto Hernandez
TBDR15 Fred McGriff
TBDR16 Bubba Trammell
TBDR17 Brooks Kieschnick
TBDR18 Fred McGriff
Pinnacle
Pinnacle Brands Era:
Panini America Era:
---
Boxed Sets:
Other Pinnacle Brands: