1998 Team Pinnacle Collector's Club
Description
The Team Pinnacle Collector's Club was an attempt by Pinnacle Brands to create a "club" similar to Topps' Stadium Club. For $29.95 collectors would receive a tin box containing...
An exclusive 30-card set featuring 10 baseball, football, and hockey cards.
Three Pinnacle Mint football coins.
An exclusive members t-shirt.
A Pinnacle-branded lucite screw-down card holder.
A one-year subscription to Sports Cards magazine.
A membership card.
Access to an exclusive website (www.teampinnacle.com) for members only.
Club members were to have received a quarterly newsletter along with club-exclusive promo cards and other offers -- one of which was the 1998 Pinnacle Expansion Team Box Sets.
Just a couple of months after Team Pinnacle started, Pinnacle Brands went bankrupt and the club was discontinued. Playoff, which purchased Pinnacle's assets in bankruptcy court, chose not to continue Team Pinnacle. The teampinnacle.com website remained active until 2000.
Distribution
Factory set, available to club members only.
Reviews
Checklist
Base Set
This 30-card set was given to all Team Pinnacle club members as part of their initial package
Baseball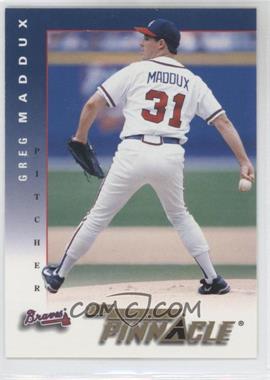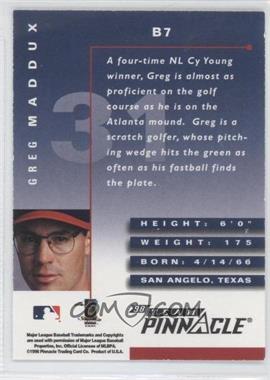 B1 Ken Griffey, Jr.
B2 Frank Thomas
B3 Cal Ripken, Jr.
B4 Alex Rodriguez
B5 Mike Piazza
B6 Derek Jeter
B7 Greg Maddux
B8 Chipper Jones
B9 Mark McGwire
B10 Juan Gonzalez
Football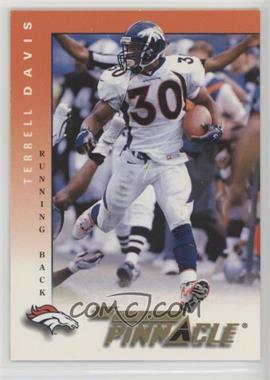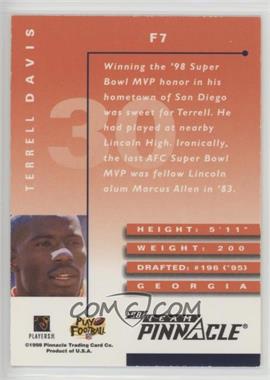 F1 Dan Marino
F2 Brett Favre
F3 Emmitt Smith
F4 Drew Bledsoe
F5 Eddie George
F6 Barry Sanders
F7 Terrell Davis
F8 Mark Brunell
F9 Jerry Rice
F10 Kordell Stewart
Hockey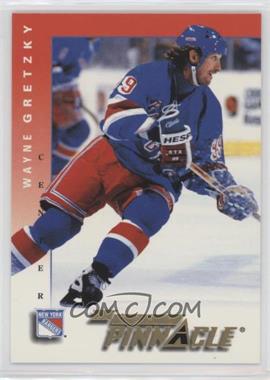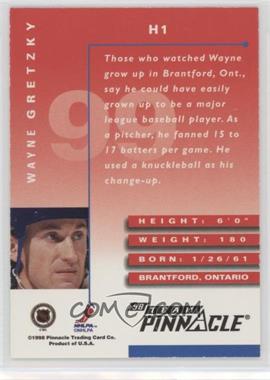 H1 Wayne Gretzky
H2 Patrick Roy
H3 Eric Lindros
H4 Paul Kariya
H5 Peter Forsberg
H6 John Vanbiesbrouck
H7 Martin Brodeur
H8 Steve Yzerman
H9 Jaromir Jagr
H10 Mark Messier
Coins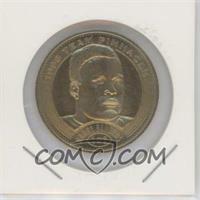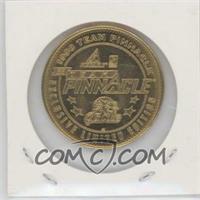 John Elway
Brett Favre
Barry Sanders
Unreleased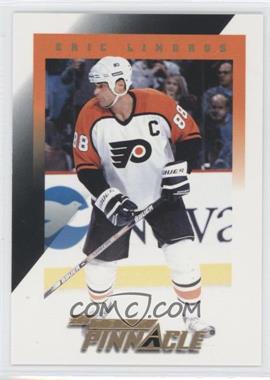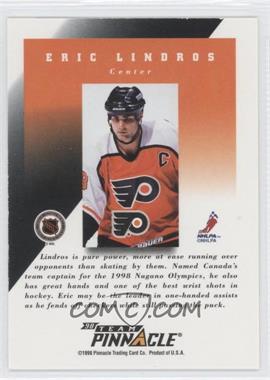 These five cards did not emerge until after Pinnacle Brands' bankruptcy. It is believed that these cards, which are not sequentially-numbered, were to have been issued to members of the Pinnacle Collector's Club later in 1998. Each card reads "Team Pinnacle" at the bottom of the cardfront with the player's name above the image on the front.
The checklist below is incomplete. Any assistance in identifying any other cards would be greatly appreciated.
Ken Griffey, Jr.
Derek Jeter
Cal Ripken, Jr.
John Elway
Dan Marino
Peter Forsberg
Eric Lindros
Pinnacle
Pinnacle Brands Era:
Panini America Era:
---
Boxed Sets:
Other Pinnacle Brands: