1998 Fleer Tradition Update
Description
1998 Fleer Tradition Update was a 100-card set issued exclusively in factory set form and issued in November, 1998. After a one-year hiatus, Fleer brought back the post-season Update set in large part to get the first J.D. Drew Rookie Card on the market. The set featured a Season Highlights subset (U1-U10) and rookie cards featured a gold foiled "Rookie" stamp on the front.
The specific availability of this Update set marked the return of the factory set-only distribution method that had a rich history and was used between 1984 through 1994.
Distribution
Factory Sets only.
Insertion Ratios
| Cards | Total Cards | Numbered To | Odds |
| --- | --- | --- | --- |
| Base | 100 | - | 100:1 |
Checklist
Base Set
Season Highlights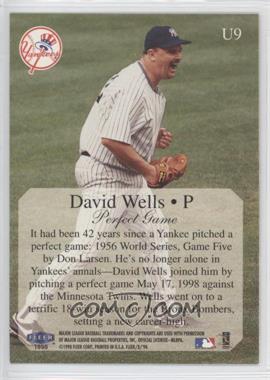 U1 Mark McGwire
U2 Sammy Sosa
U3 Roger Clemens
U4 Barry Bonds
U5 Kerry Wood
U6 Paul Molitor
U7 Ken Griffey, Jr.
U8 Cal Ripken, Jr.
U9 David Wells
U10 Alex Rodriguez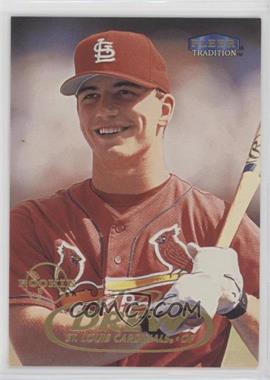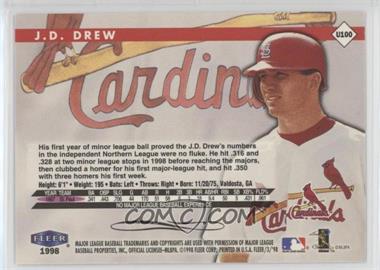 U11 Angel Pena
U12 Bruce Chen
U13 Craig Wilson
U14 Orlando Hernandez
U15 Aramis Ramirez
U16 Aaron Boone
U17 Bob Henley
U18 Juan Guzman
U19 Darryl Hamilton
U20 Jay Payton
U21 Jeremy Powell
U22 Ben Davis
U23 Preston Wilson
U24 Jim Parque
U25 Odalis Perez
U26 Ronnie Belliard
U27 Royce Clayton
U28 George Lombard
U29 Tony Phillips
U30 Fernando Seguignol
U31 Armando Rios
U32 Jerry Hairston, Jr.
U33 Justin Baughman
U34 Seth Greisinger
U35 Alex Gonzalez
U36 Michael Barrett
U37 Carlos Beltran
U38 Ellis Burks
U39 Jose Jimenez
U40 Carlos Guillen
U41 Marlon Anderson
U42 Scott Elarton
U43 Glenallen Hill
U44 Shane Monahan
U45 Dennis Martinez
U46 Carlos Febles
U47 Carlos Perez
U48 Wilton Guerrero
U49 Randy Johnson
U50 Brian Simmons
U51 Carlton Loewer
U52 Mark DeRosa
U53 Tim Young
U54 Gary Gaetti
U55 Eric Chavez
U56 Carl Pavano
U57 Mike Stanley
U58 Todd Stottlemyre
U59 Gabe Kapler
U60 Mike Jerzembeck
U61 Mitch Meluskey
U62 Bill Pulsipher
U63 Derrick Gibson
U64 John Rocker
U65 Calvin Pickering
U66 Blake Stein
U67 Fernando Tatis
U68 Gabe Alvarez
U69 Jeffrey Hammonds
U70 Adrian Beltre
U71 Ryan Bradley
U72 Edgard Clemente
U73 Rick Croushore
U74 Matt Clement
U75 Dermal Brown
U76 Paul Bako
U77 Placido Polanco
U78 Jay Tessmer
U79 Jarrod Washburn
U80 Kevin Witt
U81 Mike Metcalfe
U82 Daryle Ward
U83 Benj Sampson
U84 Mike Kinkade
U85 Randy Winn
U86 Jeff Shaw
U87 Troy Glaus
U88 Hideo Nomo
U89 Mark Grudzielanek
U90 Mike Frank
U91 Bobby Howry
U92 Ryan Minor
U93 Corey Koskie
U94 Matt Anderson
U95 Joe Carter
U96 Paul Konerko
U97 Sidney Ponson
U98 Jeremy Giambi
U99 Jeff Kubenka
U100 J.D. Drew
Fleer/Fleer Tradition
Pre-License Era:
Triopoly Era:
Junk Wax Era:
Marvel Entertainment Era:
Fleer Tradition Era:
Upper Deck Era:
---
Update Sets:
---
Other Fleer/Fleer Tradition Brands: