1996 Fleer Update
Description
1996 Fleer Update was a 250-card set released in December, 1996 that featured many players who were rookies, traded (depicted in new uniforms), or were not included in the 1996 Fleer base set. An Encore subset (U211-U245) and Checklists (U246-U250) were part of the Update base set
Distribution
Hobby/Retail: 36 packs per box, 11 cards per pack (MSRP: $1.49).
Insertion Ratios
| Cards | Total Cards | Numbered To | Hobby Odds | Retail Odds |
| --- | --- | --- | --- | --- |
| Base | 250 | - | 10:1 | ? |
| Tiffany | 250 | - | 1:1 | 1:1 |
| Smooth Leather | 10 | - | 1:5 | 1:5 |
| Soaring Stars | 10 | - | 1:11 | 1:11 |
| New Horizons | 20 | - | 1:5 | N/A |
| Headliners | 20 | - | N/A | 1:20 |
| Diamond Tribute | 10 | - | 1:100 | 1:100 |
Checklist
Base Set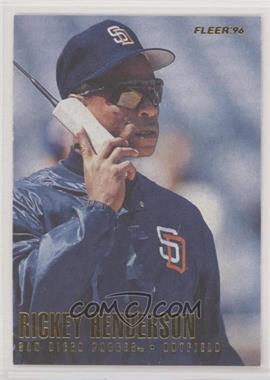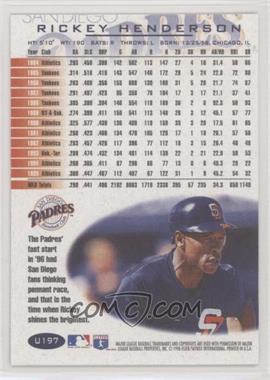 U1 Roberto Alomar
U2 Mike Devereaux
U3 Scott McClain RC
U4 Roger McDowell
U5 Kent Mercker
U6 Jimmy Myers RC
U7 Randy Myers
U8 B.J. Surhoff
U9 Tony Tarasco
U10 David Wells
U11 Wil Cordero
U12 Tom Gordon
U13 Reggie Jefferson
U14 Jose Malave
U15 Kevin Mitchell
U16 Jamie Moyer
U17 Heathcliff Slocumb
U18 Mike Stanley
U19 George Arias
U20 Jorge Fabregas
U21 Don Slaught
U22 Randy Velarde
U23 Harold Baines
U24 Mike Cameron RC
U25 Darren Lewis
U26 Tony Phillips
U27 Bill Simas
U28 Chris Snopek
U29 Kevin Tapani
U30 Danny Tartabull
U31 Julio Franco
U32 Jack McDowell
U33 Kimera Bartee
U34 Mark Lewis
U35 Melvin Nieves
U36 Mark Parent
U37 Eddie Williams
U38 Tim Belcher
U39 Sal Fasano
U40 Chris Haney
U41 Mike Macfarlane
U42 Jose Offerman
U43 Joe Randa
U44 Bip Roberts
U45 Chuck Carr
U46 Bobby Hughes
U47 Graeme Lloyd
U48 Ben McDonald
U49 Kevin Wickander
U50 Rick Aguilera
U51 Mike Durant
U52 Chip Hale
U53 LaTroy Hawkins
U54 Dave Hollins
U55 Roberto Kelly
U56 Paul Molitor
U57 Dan Naulty
U58 Mariano Duncan
U59 Andy Fox RC
U60 Joe Girardi
U61 Dwight Gooden
U62 Jimmy Key
U63 Matt Luke
U64 Tino Martinez
U65 Jeff Nelson
U66 Tim Raines
U67 Ruben Rivera
U68 Kenny Rogers
U69 Gerald Williams
U70 Tony Batista RC
U71 Allen Battle
U72 Jim Corsi
U73 Steve Cox
U74 Pedro Munoz
U75 Phil Plantier
U76 Scott Spiezio
U77 Ernie Young
U78 Russ Davis
U79 Sterling Hitchcock
U80 Edwin Hurtado
U81 Raul Ibanez RC
U82 Mike Jackson
U83 Ricky Jordan
U84 Paul Sorrento
U85 Doug Strange
U86 Mark Brandenberg RC
U87 Damon Buford
U88 Kevin Elster
U89 Darryl Hamilton
U90 Ken Hill
U91 Ed Vosberg
U92 Craig Worthington
U93 Tilson Brito RC
U94 Giovanni Carrara RC
U95 Felipe Crespo
U96 Erik Hanson
U97 Marty Janzen RC
U98 Otis Nixon
U99 Charlie O'Brien
U100 Robert Perez
U101 Paul Quantrill
U102 Bill Risley
U103 Juan Samuel
U104 Jermaine Dye
U105 Wonderful Monds RC
U106 Dwight Smith
U107 Jerome Walton
U108 Terry Adams
U109 Leo Gomez
U110 Robin Jennings
U111 Doug Jones
U112 Brooks Kieschnick
U113 Dave Magadan
U114 Jason Maxwell RC
U115 Rodney Myers RC
U116 Eric Anthony
U117 Vince Coleman
U118 Eric Davis
U119 Steve Gibralter
U120 Curtis Goodwin
U121 Willie Greene
U122 Mike Kelly
U123 Marcus Moore
U124 Chad Mottola
U125 Chris Sabo
U126 Roger Salkeld
U127 Pedro Castellano
U128 Trenidad Hubbard
U129 Jayhawk Owens
U130 Jeff Reed
U131 Kevin Brown
U132 Al Leiter
U133 Matt Mantei RC
U134 David Weathers
U135 Devon White
U136 Bob Abreu
U137 Sean Berry
U138 Doug Brocail
U139 Richard Hidalgo
U140 Alvin Morman
U141 Mike Blowers
U142 Roger Cedeno
U143 Greg Gagne
U144 Karim Garcia
U145 Wilton Guerrero RC
U146 Israel Alcantara RC
U147 Omar Daal
U148 Ryan McGuire
U149 Sherman Obando
U150 Jose Paniagua
U151 Henry Rodriguez
U152 Andy Stankiewicz
U153 Dave Veres
U154 Juan Acevedo
U155 Mark Clark
U156 Bernard Gilkey
U157 Pete Harnisch
U158 Lance Johnson
U159 Brent Mayne
U160 Rey Ordonez
U161 Kevin Roberson
U162 Paul Wilson
U163 David Doster RC
U164 Mike Grace RC
U165 Rich Hunter RC
U166 Pete Incaviglia
U167 Mike Lieberthal
U168 Terry Mulholland
U169 Ken Ryan
U170 Benito Santiago
U171 Kevin Sefcik RC
U172 Lee Tinsley
U173 Todd Zeile
U174 Francisco Cordova RC
U175 Danny Darwin
U176 Charlie Hayes
U177 Jason Kendall
U178 Mike Kingery
U179 Jon Lieber
U180 Zane Smith
U181 Luis Alicea
U182 Cory Bailey
U183 Andy Benes
U184 Pat Borders
U185 Mike Busby RC
U186 Royce Clayton
U187 Dennis Eckersley
U188 Gary Gaetti
U189 Ron Gant
U190 Aaron Holbert
U191 Willie McGee
U192 Miguel Mejia RC
U193 Jeff Parrett
U194 Todd Stottlemyre
U195 Sean Bergman
U196 Archi Cianfrocco
U197 Rickey Henderson
U198 Wally Joyner
U199 Craig Shipley
U200 Bob Tewksbury
U201 Tim Worrell
U202 Rich Aurilia RC
U203 Doug Creek
U204 Shawon Dunston
U205 Osvaldo Fernandez RC
U206 Mark Gardner
U207 Stan Javier
U208 Marcus Jensen
U209 Chris Singleton RC
U210 Allen Watson
Encore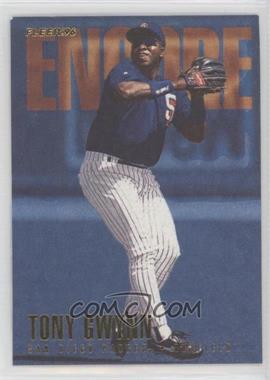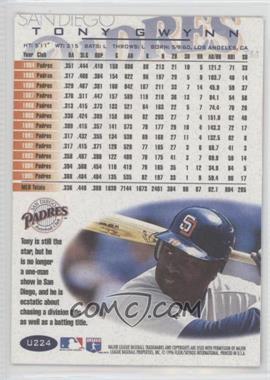 U211 Jeff Bagwell
U212 Derek Bell
U213 Albert Belle
U214 Wade Boggs
U215 Barry Bonds
U216 Jose Canseco
U217 Marty Cordova
U218 Jim Edmonds
U219 Cecil Fielder
U220 Andres Galarraga
U221 Juan Gonzalez
U222 Mark Grace
U223 Ken Griffey, Jr.
U224 Tony Gwynn
U225 Jason Isringhausen
U226 Derek Jeter
U227 Randy Johnson
U228 Chipper Jones
U229 Ryan Klesko
U230 Barry Larkin
U231 Kenny Lofton
U232 Greg Maddux
U233 Raul Mondesi
U234 Hideo Nomo
U235 Mike Piazza
U236 Manny Ramirez
U237 Cal Ripken, Jr.
U238 Tim Salmon
U239 Ryne Sandberg
U240 Reggie Sanders
U241 Gary Sheffield
U242 Sammy Sosa
U243 Frank Thomas
U244 Mo Vaughn
U245 Matt Williams
Checklists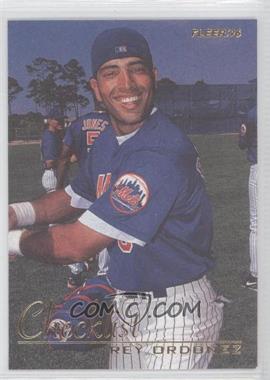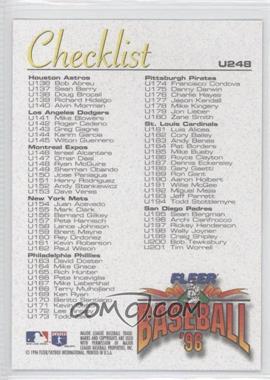 U246 Barry Bonds
U247 Ken Griffey, Jr.
U248 Rey Ordonez
U249 Ryne Sandberg
U250 Frank Thomas
Parallels
Tiffany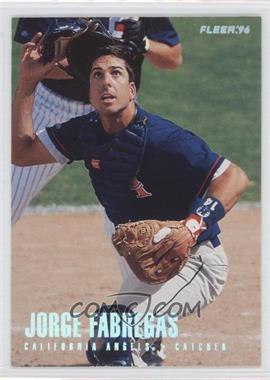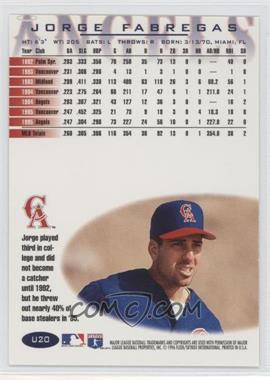 Similar to the base set, every base card was also available in a "Tiffany" parallel. TIffany cards had a glossy finish (in contrast to the matte-finished base card) and a silver holographic foil nameplate.
Inserts
Smooth Leather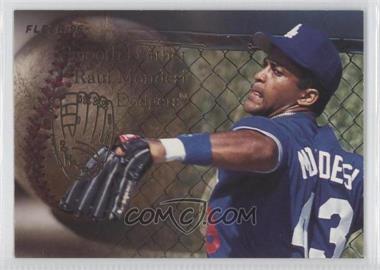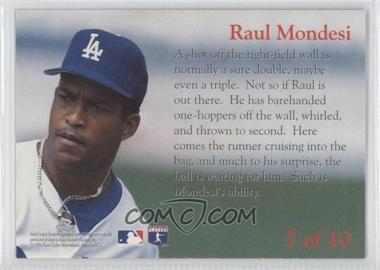 This 10-card set featured some of the best defensive players in the game. Cards featured a baseball and fence background with a gold foil-stamped nameplate and fielder's glove design.
1 Roberto Alomar
2 Barry Bonds
3 Will Clark
4 Ken Griffey, Jr.
5 Kenny Lofton
6 Greg Maddux
7 Raul Mondesi
8 Rey Ordonez
9 Cal Ripken, Jr.
10 Matt Williams
Soaring Stars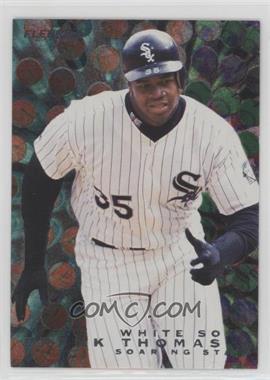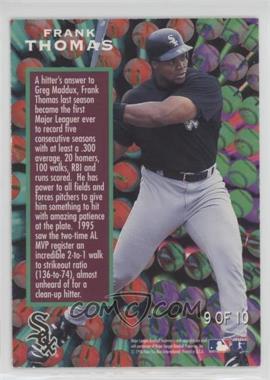 Similar to the previous year's insert set, this 10-card set featured the top stars in the game at the time on a multi-colored, 100% etched foil design. Unlike the previous year, all card backgrounds featured a "balls" design that was accentuated by the etched foil.
1 Jeff Bagwell
2 Barry Bonds
3 Juan Gonzalez
4 Ken Griffey, Jr.
5 Chipper Jones
6 Greg Maddux
7 Mike Piazza
8 Manny Ramirez
9 Frank Thomas
10 Matt Williams
New Horizons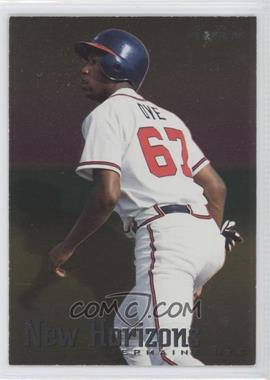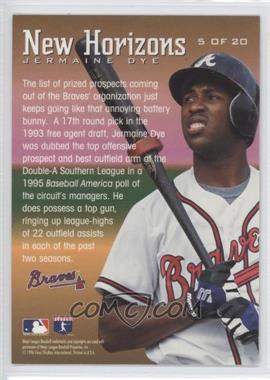 This 20-card set highlighted young players in the game at the time on a multi-colored foil background designed to resemble a morning landscape vista. This set was exclusive to Hobby packs.
1 Bob Abreu
2 George Arias
3 Tony Batista
4 Steve Cox
5 Jermaine Dye
6 Andy Fox
7 Mike Grace
8 Todd Greene
9 Wilton Guerrero
10 Richard Hidalgo
11 Raul Ibanez
12 Robin Jennings
13 Marcus Jensen
14 Jason Kendall
15 Jason Maxwell
16 Ryan McGuire
17 Miguel Mejia
18 Wonderful Monds
19 Rey Ordonez
20 Paul Wilson
Headliners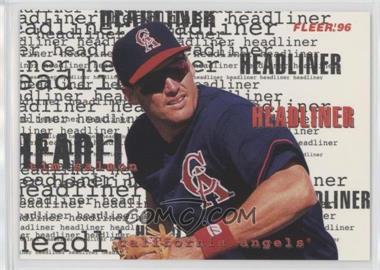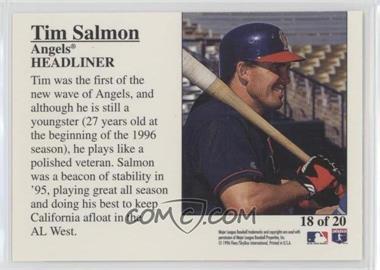 This 20-card set featured players were drew fans to the game and attention in the newspapers. Cards featured a word cloud-themed design using the insert title against a white background. This set was exclusive to retail packs.
1 Roberto Alomar
2 Jeff Bagwell
3 Albert Belle
4 Barry Bonds
5 Cecil Fielder
6 Juan Gonzalez
7 Ken Griffey, Jr.
8 Tony Gwynn
9 Randy Johnson
10 Chipper Jones
11 Ryan Klesko
12 Kenny Lofton
13 Greg Maddux
14 Hideo Nomo
15 Mike Piazza
16 Manny Ramirez
17 Cal Ripken, Jr.
18 Tim Salmon
19 Frank Thomas
20 Matt Williams
Diamond Tribute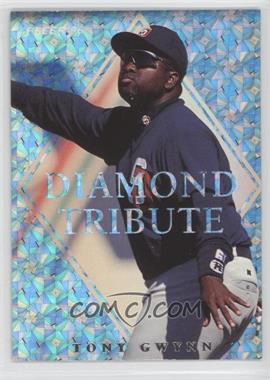 This 10-card set paid homage to the top players in the game at the time on an eye-catching, diamond-patterned holographic foil background.
1 Wade Boggs
2 Barry Bonds
3 Ken Griffey, Jr.
4 Tony Gwynn
5 Rickey Henderson
6 Greg Maddux
7 Eddie Murray
8 Cal Ripken, Jr.
9 Ozzie Smith
10 Frank Thomas