1981 Fleer
Description
1981 Fleer is a 660-card set and marks Fleer's first modern era entry into the current player baseball card market since 1963. Unopened packs contained 17 cards as well as a piece of gum -- the only year Fleer packs would contain gum. Wax boxes contained 38 packs. As a matter of fact, the boxes actually told the retailer there was extra profit as they were charged as if there were 36 packs in the box.
Cards are grouped in team order and teams are ordered based upon their standings from the 1980 season with the World Series champion Philadelphia Phillies starting off the set. (Not coincedentially, Fleer was based in Philadelphia.) Cards 638-660 feature specials and checklists.
The 1981 Fleer set is best known for the sheer amount of errors that riddled it. There were three distinct printings: the two following the primary run were designed to correct numerous errors. The variations caused by these multiple printings are noted in the checklist below (P1, P2, or P3). The Craig Nettles variation was corrected before the end of the first printing and thus is not included in the complete set consideration due to scarcity.
All cards of pitchers in this set erroneously show a heading (on the card backs) of "Batting Record" over their career pitching statistics. Fleer never bothered to correct it.
Key Rookie Cards in this set are Danny Ainge, Harold Baines, Kirk Gibson, Jeff Reardon, and Fernando Valenzuela, whose first name was erroneously spelled "Fernand" on the card front.
Distribution
Wax: 38 packs per box, 17 cards plus one stick of gum per pack (MSRP: $0.30). 20 boxes per case.
500 card Vending Boxes. 24 boxes per case.
Reviews
Checklist
Base Set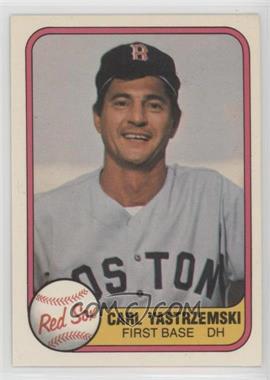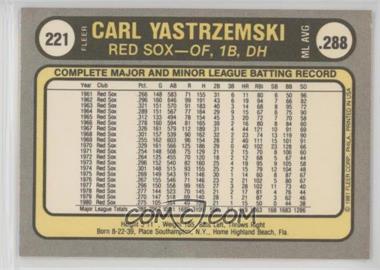 1 Pete Rose UER (270 H is '63, should be 170)
2 Larry Bowa
3 Manny Trillo
4 Bob Boone
5 Mike Schmidt VAR (Batting pose)
5 Mike Schmidt VAR (Portrait)
6 Steve Carlton VAR ERR ("`Lefty' The Golden Arm" on front, "1066" on back")
6 Steve Carlton VAR ERR ("Pitcher of the Year" on front, "1066" on back")
6 Steve Carlton COR ("Pitcher of the Year" on front, "1966" on back"
7 Tug McGraw VAR ("Game Saver" on front)
7 Tug McGraw VAR ("Pitcher" on front)
8 Larry Christenson
9 Bake McBride
10 Greg Luzinski UER
11 Ron Reed
12 Dickie Noles
13 Keith Moreland RC
14 Bob Walk RC
15 Lonnie Smith
16 Dick Ruthven
17 Sparky Lyle
18 Greg Gross UER
19 Garry Maddox
20 Nino Espinosa
21 George Vukovich RC
22 John Vukovich
23 Ramon Aviles
24 Kevin Saucier ERR ("Ken" on back)
24 Kevin Saucier COR ("Kevin" on back)
25 Randy Lerch
26 Del Unser
27 Tim McCarver
28 George Brett VAR (".390 Average" on front)
28 George Brett VAR "M.V.P." on front)
29 Willie Wilson VAR (Batting pose)
29 Willie Wilson VAR ("Most Hits, Most Runs" on front; portrait)
30 Paul Splittorff
31 Dan Quisenberry
32 Amos Otis VAR (Batting pose)
32 Amos Otis VAR (Portrait)
33 Steve Busby UER
34 U.L. Washington
35 Dave Chalk
36 Darrell Porter
37 Marty Pattin
38 Larry Gura
39 Renie Martin
40 Rich Gale
41 Hal McRae VAR "Double Threat" ("Royals" in dark blue on front)
41 Hal McRae VAR "Double Threat" ("Royals" in light blue on front)
42 Dennis Leonard
43 Willie Aikens
44 Frank White
45 Clint Hurdle
46 John Wathan
47 Pete LaCock
48 Rance Mulliniks
49 Jeff Twitty RC
50 Jamie Quirk
51 Art Howe
52 Ken Forsch
53 Vern Ruhle
54 Joe Niekro
55 Frank LaCorte
56 J.R. Richard
57 Nolan Ryan
58 Enos Cabell
59 Cesar Cedeno
60 Jose Cruz
61 Bill Virdon MGR
62 Terry Puhl
63 Joaquin Andujar
64 Alan Ashby
65 Joe Sambito
66 Denny Walling
67 Jeffrey Leonard
68 Luis Pujols
69 Bruce Bochy
70 Rafael Landestoy
71 Dave Smith RC
72 Danny Heep RC
73 Julio Gonzalez
74 Craig Reynolds
75 Gary Woods
76 Dave Bergman
77 Randy Niemann
78 Joe Morgan
79 Reggie Jackson VAR ("Reggie Jackson" on front, batting pose)
79 Reggie Jackson VAR ("Mr. October" on front; portrait)
80 Bucky Dent
81 Tommy John
82 Luis Tiant
83 Rick Cerone
84 Dick Howser MGR
85 Lou Piniella
86 Ron Davis
87 Graig Nettles ERR (Name misspelled Craig)
87 Graig Nettles COR
88 Ron Guidry
89 Rich Gossage
90 Rudy May
91 Gaylord Perry
92 Eric Soderholm
93 Bob Watson
94 Bobby Murcer
95 Bobby Brown
96 Jim Spencer
97 Tom Underwood
98 Oscar Gamble
99 Johnny Oates
100 Fred Stanley
101 Ruppert Jones
102 Dennis Werth RC
103 Joe Lefebvre RC
104 Brian Doyle
105 Aurelio Rodriguez
106 Doug Bird
107 Mike Griffin RC
108 Tim Lollar RC
109 Willie Randolph
110 Steve Garvey
111 Reggie Smith
112 Don Sutton
113 Burt Hooton
114 Davey Lopes ERR (Small hand on back)
114 Davey Lopes COR
115 Dusty Baker
116 Tom Lasorda MGR
117 Bill Russell
118 Jerry Reuss
119 Terry Forster
120 Bob Welch (Name on back Bob)
120 Bob Welch (Name on back Robert)
121 Don Stanhouse
122 Rick Monday
123 Derrel Thomas
124 Joe Ferguson
125 Rick Sutcliffe
126 Ron Cey (Small hand on back)
126 Ron Cey
127 Dave Goltz
128 Jay Johnstone
129 Steve Yeager
130 Gary Weiss RC
131 Mike Scioscia RC
132 Vic Davalillo
133 Doug Rau
134 Pepe Frias
135 Mickey Hatcher
136 Steve Howe
137 Robert Castillo
138 Gary Thomasson
139 Rudy Law
140 Fernando Valenzuela RC
141 Manny Mota
142 Gary Carter
143 Steve Rogers
144 Warren Cromartie
145 Andre Dawson
146 Larry Parrish
147 Rowland Office
148 Ellis Valentine
149 Dick Williams MGR
150 Bill Gullickson RC
151 Elias Sosa
152 John Tamargo
153 Chris Speier
154 Ron LeFlore
155 Rodney Scott
156 Stan Bahnsen
157 Bill Lee
158 Fred Norman
159 Woodie Fryman
160 David Palmer
161 Jerry White
162 Roberto Ramos RC
163 John D'Acquisto
164 Tommy Hutton
165 Charlie Lea
166 Scott Sanderson
167 Ken Macha
168 Tony Bernazard
169 Jim Palmer
170 Steve Stone
171 Mike Flanagan
172 Al Bumbry
173 Doug DeCinces
174 Scott McGregor
175 Mark Belanger
176 Tim Stoddard
177 Rick Dempsey (Small hand on back)
177 Rick Dempsey
178 Earl Weaver MGR
179 Tippy Martinez
180 Dennis Martinez
181 Sammy Stewart
182 Rich Dauer
183 Lee May
184 Eddie Murray
185 Benny Ayala
186 John Lowenstein
187 Gary Roenicke
188 Ken Singleton
189 Dan Graham
190 Terry Crowley
191 Kiko Garcia
192 Dave Ford RC
193 Mark Corey
194 Lenn Sakata
195 Doug DeCinces
196 Johnny Bench
197 Dave Concepcion
198 Ray Knight
199 Ken Griffey, Sr.
200 Tom Seaver
201 Dave Collins
202 George Foster
203 Junior Kennedy
204 Frank Pastore
205 Dan Driessen
206 Hector Cruz
207 Paul Moskau
208 Charlie Leibrandt RC
209 Harry Spilman
210 Joe Price RC
211 Tom Hume
212 Joe Nolan RC
213 Doug Bair
214 Mario Soto
215 Bill Bonham (Small hand on back)
215 Bill Bonham
216 George Foster (Same photo as 202)
216 George Foster
217 Paul Householder RC
218 Ron Oester
219 Sam Mejias
220 Sheldon Burnside RC
221 Carl Yastrzemski
222 Jim Rice
223 Fred Lynn
224 Carlton Fisk
225 Rick Burleson
226 Dennis Eckersley
227 Butch Hobson
228 Tom Burgmeier
229 Garry Hancock
230 Don Zimmer MGR
231 Steve Renko
232 Dwight Evans
233 Mike Torrez
234 Bob Stanley
235 Jim Dwyer
236 Dave Stapleton RC
237 Glenn Hoffman RC
238 Jerry Remy
239 Dick Drago
240 Bill Campbell
241 Tony Perez
242 Phil Niekro
243 Dale Murphy
244 Bob Horner
245 Jeff Burroughs
246 Rick Camp
247 Bobby Cox MGR
248 Bruce Benedict
249 Gene Garber
250 Jerry Royster
251 Gary Matthews (Small hand on back)
251 Gary Matthews
252 Chris Chambliss
253 Luis Gomez
254 Bill Nahorodny
255 Doyle Alexander
256 Brian Asselstine
257 Biff Pocoroba
258 Mike Lum
259 Charlie Spikes
260 Glenn Hubbard
261 Tommy Boggs
262 Al Hrabosky
263 Rick Matula
264 Preston Hanna
265 Larry Bradford
266 Rafael Ramirez RC
267 Larry McWilliams
268 Rod Carew
269 Bob Grich
270 Carney Lansford
271 Don Baylor
272 Joe Rudi
273 Dan Ford
274 Jim Fregosi MGR
275 Dave Frost
276 Frank Tanana
277 Dickie Thon
278 Jason Thompson
279 Rick Miller
280 Bert Campaneris
281 Tom Donohue
282 Brian Downing
283 Fred Patek
284 Bruce Kison
285 Dave LaRoche
286 Don Aase
287 Jim Barr
288 Alfredo Martinez RC
289 Larry Harlow
290 Andy Hassler
291 Dave Kingman
292 Bill Buckner
293 Rick Reuschel
294 Bruce Sutter
295 Jerry Martin
296 Scot Thompson
297 Ivan DeJesus
298 Steve Dillard
299 Dick Tidrow
300 Randy Martz RC
301 Lenny Randle
302 Lynn McGlothen
303 Cliff Johnson
304 Tim Blackwell
305 Dennis Lamp
306 Bill Caudill
307 Carlos Lezcano RC
308 Jim Tracy
309 Doug Capilla UER
310 Willie Hernandez
311 Mike Vail
312 Mike Krukow RC
313 Barry Foote
314 Larry Biittner
315 Mike Tyson
316 Lee Mazzilli
317 John Stearns
318 Alex Trevino
319 Craig Swan
320 Frank Taveras
321 Steve Henderson
322 Neil Allen
323 Mark Bomback RC
324 Mike Jorgensen
325 Joe Torre MGR
326 Elliott Maddox
327 Pete Falcone
328 Ray Burris
329 Claudell Washington
330 Doug Flynn
331 Joel Youngblood
332 Bill Almon
333 Tom Hausman
334 Pat Zachry
335 Jeff Reardon RC
336 Wally Backman RC
337 Dan Norman
338 Jerry Morales
339 Ed Farmer
340 Bob Molinaro
341 Todd Cruz
342 Britt Burns (Small hand on back)
342 Britt Burns
343 Kevin Bell
344 Tony LaRussa MGR
345 Steve Trout
346 Harold Baines RC
347 Rich Wortham
348 Wayne Nordhagen
349 Mike Squires
350 Lamar Johnson
351 Rickey Henderson
352 Francisco Barrios
353 Thad Bosley
354 Chet Lemon
355 Bruce Kimm
356 Rich Dotson RC
357 Jim Morrison
358 Mike Proly
359 Greg Pryor
360 Dave Parker
361 Omar Moreno
362 Kent Tekulve (Back 1071 Waterbury)
362 Kent Tekulve (Back 1971 Waterbury)
363 Willie Stargell
364 Phil Garner
365 Ed Ott
366 Don Robinson
367 Chuck Tanner MGR
368 Jim Rooker
369 Dale Berra
370 Jim Bibby
371 Steve Nicosia
372 Mike Easler
373 Bill Robinson
374 Lee Lacy
375 John Candelaria
376 Manny Sanguillen
377 Rick Rhoden
378 Grant Jackson
379 Tim Foli
380 Rod Scurry RC
381 Bill Madlock
382 Kurt Bevacqua ERR (Reverse Negative)
382 Kurt Bevacqua COR
383 Bert Blyleven
384 Eddie Solomon
385 Enrique Romo
386 John Milner
387 Mike Hargrove
388 Jorge Orta
389 Toby Harrah
390 Tom Veryzer
391 Miguel Dilone
392 Dan Spillner
393 Jack Brohamer
394 Wayne Garland
395 Sid Monge
396 Rick Waits
397 Joe Charboneau RC
398 Gary Alexander
399 Jerry Dybzinski RC
400 Mike Stanton RC
401 Mike Paxton UER (Indians/Red Sox)
402 Gary Gray RC
403 Rick Manning
404 Bo Diaz
405 Ron Hassey
406 Ross Grimsley
407 Victor Cruz
408 Len Barker
409 Bob Bailor
410 Otto Velez
411 Ernie Whitt
412 Jim Clancy
413 Barry Bonnell
414 Dave Stieb
415 Damaso Garcia RC
416 John Mayberry
417 Roland Howell
418 Danny Ainge RC
419 Jesse Jefferson Pirates
419 Jesse Jefferson Blue Jays
420 Joey McLaughlin
421 Lloyd Moseby RC
422 Al Woods
423 Garth Iorg
424 Doug Ault UER (Missing 1980 line)
425 Ken Schrom RC
426 Mike Willis
427 Steve Braun
428 Bob Davis
429 Jerry Garvin
430 Alfredo Griffin
431 Bobby Mattick MGR
432 Vida Blue
433 Jack Clark
434 Willie McCovey
435 Mike Ivie
436 Darrell Evans ERR (Darrel on front)
436 Darrell Evans COR
437 Terry Whitfield
438 Rennie Stennett
439 John Montefusco
440 Jim Wohlford
441 Billy North
442 Milt May
443 Max Venable RC
444 Ed Whitson
445 Al Holland RC
446 Randy Moffitt
447 Bob Knepper
448 Gary Lavelle
449 Greg Minton
450 Johnnie LeMaster
451 Larry Herndon
452 Rich Murray RC
453 Joe Pettini RC
454 Allen Ripley
455 Dennis Littlejohn
456 Tommy Griffith
457 Alan Hargesheimer RC
458 Joe Strain
459 Steve Kemp
460 Sparky Anderson MGR
461 Alan Trammell
462 Mark Fidrych
463 Lou Whitaker
464 Dave Rozema
465 Milt Wilcox
466 Champ Summers
467 Lance Parrish
468 Dan Petry
469 Pat Underwood
470 Rick Peters RC
471 Al Cowens
472 John Wockenfuss
473 Tom Brookens
474 Richie Hebner
475 Jack Morris
476 Jim Lentine
477 Bruce Robbins
478 Mark Wagner
479 Tim Corcoran
480 Stan Papi (Position on front is Pitcher)
480 Stan Papi
481 Kirk Gibson
482 Dan Schatzeder
483 Amos Otis (Same photo as 32)
483 Amos Otis
484 Dave Winfield
485 Rollie Fingers
486 Gene Richards
487 Randy Jones
488 Ozzie Smith
489 Gene Tenace
490 Bill Fahey
491 John Curtis
492 Dave Cash
493 Tim Flannery (Reverse negative)
493 Tim Flannery
494 Jerry Mumphrey
495 Bob Shirley
496 Steve Mura
497 Eric Rasmussen
498 Broderick Perkins
499 Barry Evans
500 Chuck Baker
501 Luis Salazar
502 Gary Lucas
503 Mike Armstrong
504 Jerry Turner
505 Dennis Kinney
506 Willie Montanez
507 Gorman Thomas
508 Ben Oglivie
509 Larry Hisle
510 Sal Bando
511 Robin Yount
512 Mike Caldwell
513 Sixto Lezcano
514 Bill Travers (Name is Jerry Augustine)
514 Bill Travers
515 Paul Molitor
516 Moose Haas
517 Bill Castro
518 Jim Slaton
519 Lary Sorensen
520 Bob McClure
521 Charlie Moore
522 Jim Gantner
523 Reggie Cleveland
524 Don Money
525 Bill Travers
526 Buck Martinez
527 Dick Davis
528 Ted Simmons
529 Garry Templeton
530 Ken Reitz
531 Tony Scott
532 Ken Oberkfell
533 Bob Sykes
534 Keith Smith
535 John Littlefield
536 Jim Kaat
537 Bob Forsch
538 Mike Phillips
539 Terry Landrum
540 Leon Durham
541 Terry Kennedy
542 George Hendrick
543 Dane Iorg
544 Mark Littell
545 Keith Hernandez
546 Silvio Martinez
547 Don Hood ERR (Photo is Pete Vuckovich)
547 Don Hood
548 Bobby Bonds
549 Mike Ramsey
550 Tom Herr
551 Roy Smalley
552 Jerry Koosman
553 Ken Landreaux
554 John Castino
555 Doug Corbett
556 Bombo Rivera
557 Ron Jackson
558 Butch Wynegar
559 Hosken Powell
560 Pete Redfern
561 Roger Erickson
562 Glenn Adams
563 Rick Sofield
564 Geoff Zahn
565 Pete Mackanin
566 Mike Cubbage
567 Darrell Jackson
568 Dave Edwards
569 Rob Wilfong
570 Sal Butera RC
571 Jose Morales
572 Rick Langford
573 Mike Norris
574 Rickey Henderson
575 Tony Armas
576 Dave Revering
577 Jeff Newman
578 Bob Lacey
579 Brian Kingman
580 Mitchell Page
581 Billy Martin MGR
582 Rob Picciolo
583 Mike Heath
584 Mickey Klutts
585 Orlando Gonzalez
586 Mike Davis RC
587 Wayne Gross
588 Matt Keough
589 Steve McCatty
590 Dwayne Murphy
591 Mario Guerrero
592 Dave McKay
593 Jim Essian
594 Dave Heaverlo
595 Maury Wills MGR
596 Juan Beniquez
597 Rodney Craig
598 Jim Anderson
599 Floyd Bannister
600 Bruce Bochte
601 Julio Cruz
602 Ted Cox
603 Dan Meyer
604 Larry Cox
605 Bill Stein
606 Steve Garvey "Most Hits in N.L."
607 Dave Roberts
608 Leon Roberts
609 Reggie Walton RC
610 Dave Edler RC
611 Larry Milbourne
612 Kim Allen RC
613 Mario Mendoza
614 Tom Paciorek
615 Glenn Abbott
616 Joe Simpson
617 Mickey Rivers
618 Jim Kern
619 Jim Sundberg
620 Richie Zisk
621 Jon Matlack
622 Fergie Jenkins
623 Pat Corrales MGR
624 Ed Figueroa
625 Buddy Bell
626 Al Oliver
627 Doc Medich
628 Bump Wills
629 Rusty Staub
630 Pat Putnam
631 Johnny Grubb
632 Danny Darwin
633 Ken Clay
634 Jim Norris
635 John Butcher RC
636 Dave Roberts
637 Billy Sample
Checklists and Specials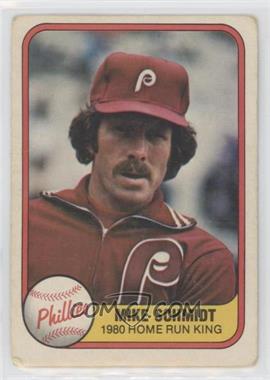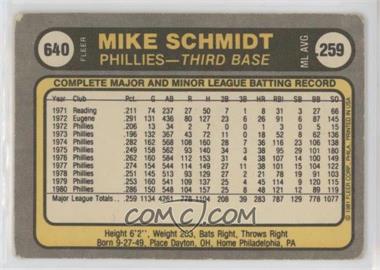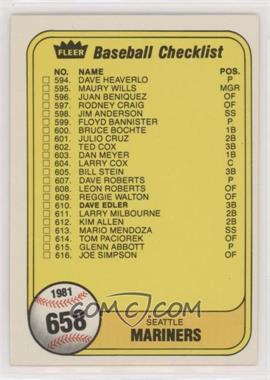 638 Carl Yastrzemski "400 Home Run Club"
639 Cecil Cooper
640 Mike Schmidt "1980 Home Run King"
641 Checklist CL PHL / KC ERR ("#41 Hal McRae")
641 Checklist CL PHL / KC COR ("#41 Hal McRae Double Threat")
642 Checklist CL HOU / NYY
643 Checklist CL LA / MTL
644 Checklist CL BAL / CIN ERR ("#202 George Foster")
644 Checklist CL BAL / CIN COR ("#202 George Foster Slugger")
645 Mike Schmidt / Pete Rose / Larry Bowa ERR NNO "Triple Threat"
645 Mike Schmidt / Pete Rose / Larry Bowa COR "Triple Threat"
646 Checklist CL BOS / ATL
647 Checklist CL CAL / CHC
648 Checklist CL NYM / CWS
649 Checklist CL PIT / CLE
650 Reggie Jackson "Mr. Baseball"
651 Checklist CL TOR / SF
652 Checklist CL DET / SD ERR (No #483)
652 Checklist CL DET / SD COR
653 Willie Wilson "Most Hits -- Most Runs"
654 Checklist 507-550, 639 ERR (514 Augustine)
654 Checklist 507-550, 639 COR (514 Travers)
655 George Brett
656 Twins/A's Checklist
657 Tug McGraw
658 Rangers/Mariners Checklist - CL Rangers
659 Checklist (A)
659 Checklist (B)
660 Steve Carlton ERR (1066 Cardinals)
660 Steve Carlton COR (1966 Cardinals)