1984 Fleer Update
Description
1984 Fleer Update is a 132-card, Hobby-exclusive, update set. This set was Fleer's first attempt at a Topps Traded-like update set and like Topps Traded, the cards were distributed exclusively through Fleer's Hobby dealer network and only available as a factory set. The set was quite popular with collectors, and, apparently, the print run was relatively short (believed to be around 12,000 sets).
The key XRCs in this set are Roger Clemens, Dwight Gooden, Kirby Puckett, and Bret Saberhagen. The XRC class coupled with the small print run, have made '84 Fleer Update one of the landmark products of the 80s.
Distribution
Factory sets. Hobby only (MSRP: $7.00)
Reviews
Checklist
Base Set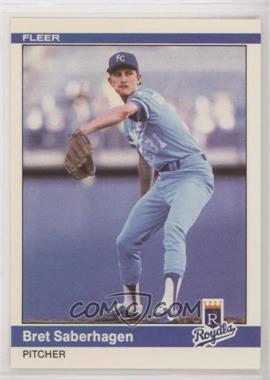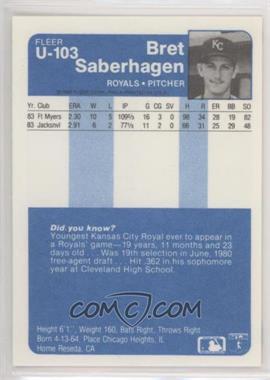 NOTE: Collectors are advised to be careful if purchasing single cards of Clemens, Darling, Gooden, Puckett, Rose, or Saberhagen as these specific cards have been counterfeited. These fakes are blurry when compared to the real cards and have noticeably different printing dot patterns under 8X or greater magnification. Collectors should be advised to buy either professionally graded cards or a sealed factory set. Also, 1984 Fleer Update cards (genuine ones) are notoriously tough to find perfectly centered.
1 Willie Aikens
2 Luis Aponte
3 Mark Bailey XRC
4 Bob Bailor
5 Dusty Baker
6 Steve Balboni
7 Alan Bannister
8 Marty Barrett XRC
9 Dave Beard
10 Joe Beckwith
11 Dave Bergman
12 Tony Bernazard
13 Bruce Bochte
14 Barry Bonnell
15 Phil Bradley XRC
16 Fred Breining
17 Mike C. Brown XRC
18 Bill Buckner
19 Ray Burris
20 John Butcher
21 Brett Butler
22 Enos Cabell
23 Bill Campbell
24 Bill Caudill
25 Bobby Clark
26 Bryan Clark
27 Roger Clemens XRC
28 Jaime Cocanower XRC
29 Ron Darling XRC
30 Alvin Davis XRC
31 Bob Dernier
32 Carlos Diaz
33 Mike Easler
34 Dennis Eckersley
35 Jim Essian
36 Darrell Evans
37 Mike Fitzgerald XRC
38 Tim Foli
39 John Franco XRC
40 George Frazier
41 Rich Gale
42 Barbaro Garbey XRC
43 Dwight Gooden XRC
44 Rich Gossage
45 Wayne Gross
46 Mark Gubicza XRC
47 Jackie Gutierrez XRC
48 Toby Harrah
49 Ron Hassey
50 Richie Hebner
51 Willie Hernandez
52 Ed Hodge XRC
53 Ricky Horton XRC
54 Art Howe
55 Dane Iorg
56 Brook Jacoby XRC
57 Dion James XRC
58 Mike Jeffcoat XRC
59 Ruppert Jones
60 Bob Kearney
61 Jimmy Key XRC
62 Dave Kingman
63 Brad Komminsk XRC
64 Jerry Koosman
65 Wayne Krenchicki
66 Rusty Kuntz
67 Frank LaCorte
68 Dennis Lamp
69 Terry Landrum
70 Mark Langston XRC
71 Rick Leach
72 Craig Lefferts
73 Gary Lucas
74 Jerry Martin
75 Carmelo Martinez
76 Mike Mason XRC
77 Gary Matthews, Sr.
78 Andy McGaffigan
79 Joey McLaughlin
80 Joe Morgan
81 Darryl Motley
82 Graig Nettles
83 Phil Niekro
84 Ken Oberkfell
85 Al Oliver
86 Jorge Orta
87 Amos Otis
88 Bob Owchinko
89 Dave Parker
90 Jack Perconte
91 Tony Perez
92 Gerald Perry XRC
93 Kirby Puckett XRC
94 Shane Rawley
95 Floyd Rayford
96 Ron Reed
97 R.J. Reynolds XRC
98 Gene Richards
99 Jose Rijo XRC
100 Jeff D. Robinson XRC
101 Ron Romanick XRC
102 Pete Rose
103 Bret Saberhagen XRC
104 Scott Sanderson
105 Dick Schofield XRC
106 Tom Seaver
107 Jim Slaton
108 Mike Smithson
109 Lary Sorensen
110 Tim Stoddard
111 Jeff Stone XRC
112 Champ Summers
113 Jim Sundberg
114 Rick Sutcliffe
115 Craig Swan
116 Derrel Thomas
117 Gorman Thomas
118 Alex Trevino
119 Manny Trillo
120 John Tudor
121 Tom Underwood
122 Mike Vail
123 Tom Waddell XRC
124 Gary Ward
125 Terry Whitfield
126 Curt Wilkerson XRC
127 Frank Williams XRC
128 Glenn Wilson
129 John Wockenfuss
130 Ned Yost
131 Mike Young XRC
132 Checklist