2000 Fleer Tradition Update
Description
2000 Fleer Tradition Update is a 149-card, Hobby-exclusive, factory set released in October, 2000. Notable Rookie Cards include Johan Santana, Kazuhiro Sasaki and Barry Zito.
Finally, one in every 80 sets contained a Mickey Mantle game-worn jersey memorabilia card. According to representatives at Fleer, the Mickey Mantle MP1 card features a pair of grey, away, game-used pants.
Distribution
Factory set only (MSRP: $29.99)
Reviews
Insertion Ratios
| Cards | Total Cards | Numbered To | Odds |
| --- | --- | --- | --- |
| Base | 149 | - | ? |
| Mickey Mantle Game Used | 1 | - | 1:80 |
Checklist
Base Set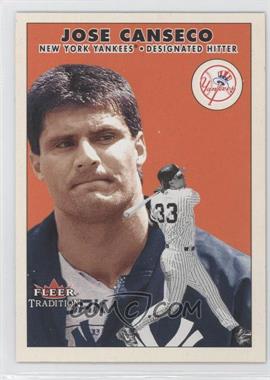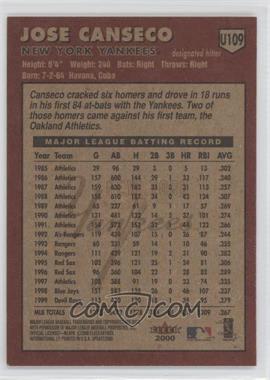 NOTE: Card #50 does not exist. It was intended for C.C. Sabathia, but was pulled from the set after the Indians dropped him from the 40-man roster.
U1 Ken Griffey, Jr. SH
U2 Cal Ripken, Jr. SH
U3 Randy Velarde SH
U4 Fred McGriff SH
U5 Derek Jeter SH
U6 Tom Glavine SH
U7 Brent Mayne SH
U8 Alex Ochoa SH
U9 Scott Sheldon SH
U10 Randy Johnson SH
U11 Daniel Garibay RC
U12 Brad Fullmer
U13 Kazuhiro Sasaki RC
U14 Andy Tracy RC
U15 Bret Boone
U16 Chad Durbin RC
U17 Mark Buehrle RC
U18 Julio Zuleta RC
U19 Jeremy Giambi
U20 Gene Stechschulte RC
U21 Lou Pote / Ben Molina
U22 Darrell Einertson RC
U23 Ken Griffey, Jr.
U24 Jeff Sparks / Dan Wheeler RC
U25 Aaron Fultz RC
U26 Derek Bell
U27 Rob Bell / D.T. Cromer
U28 Robert Fick
U29 Darryl Kile
U30 Clayton Andrews / John Bale RC
U31 Dave Veres
U32 Hector Mercado RC
U33 Willie Morales RC
U34 Kelly Wunsch / Kip Wells
U35 Hideki Irabu
U36 Sean DePaula RC
U37 Dewayne Wise / Chris Woodward
U38 Curt Schilling
U39 Mark Johnson
U40 Mike Cameron
U41 Scott Sheldon / Tom Evans
U42 Brett Tomko
U43 Johan Santana RC
U44 Andy Benes
U45 Matt LeCroy / Mark Redman
U46 Ryan Klesko
U47 Andy Ashby
U48 Octavio Dotel
U49 Eric Byrnes RC
U51 Kenny Rogers
U52 Ben Weber RC
U53 Matt Blank / Scott Strickland
U54 Tom Goodwin
U55 Jim Edmonds
U56 Derrick Turnbow RC
U57 Mark Mulder
U58 Tarrik Brock / Ruben Quevedo
U59 Danny Young RC
U60 Fernando Vina
U61 Justin Brunette RC
U62 Jimmy Anderson
U63 Reggie Sanders
U64 Adam Kennedy
U65 Jesse Garcia / B.J. Ryan
U66 Al Martin
U67 Kevin Walker RC
U68 Brad Penny
U69 B.J. Surhoff
U70 Geoff Blum / Trace Coquillette RC
U71 Jose Jimenez
U72 Chuck Finley
U73 Valerio De Los Santos / Everett Stull
U74 Terry Adams
U75 Rafael Furcal
U76 John Roskos / Mike Darr
U77 Quilvio Veras
U78 Armando Almanza / Nate Rolison
U79 Greg Vaughn
U80 Keith McDonald RC
U81 Eric Cammack RC
U82 Horacio Estrada / Raymond King
U83 Kory DeHaan
U84 Kevin Hodges RC
U85 Mike Lamb RC
U86 Shawn Green
U87 Dan Reichert / Jason Rakers
U88 Adam Piatt
U89 Mike Garcia
U90 Rodrigo Lopez RC
U91 John Olerud
U92 Barry Zito / Terrence Long RC
U93 Jimmy Rollins
U94 Denny Neagle
U95 Rickey Henderson
U96 Adam Eaton / Buddy Carlyle
U97 Brian O'Connor RC
U98 Andy Thompson RC
U99 Jason Boyd RC
U100 Joel Pineiro / Carlos Guillen RC
U101 Raul Gonzalez RC
U102 Brandon Kolb RC
U103 Jason Maxwell / Mike Lincoln
U104 Luis Matos RC
U105 Morgan Burkhart RC
U106 Ismael Villegas / Steve Sisco RC
U107 Dave Justice
U108 Pablo Ozuna
U109 Jose Canseco
U110 Alex Cora / Shawn Gilbert
U111 Will Clark
U112 Keith Luuloa / Eric Weaver
U113 Bruce Chen
U114 Adam Hyzdu
U115 Scott Forster / Yovanny Lara RC
U116 Allen McDill / Jose Macias RC
U117 Kevin Nicholson
U118 Israel Alcantara / Tim Young
U119 Juan Alvarez RC
U120 Julio Lugo / Mitch Meluskey
U121 B.J. Waszgis RC
U122 Jeff D'Amico / Brett Laxton RC
U123 Ricky Ledee
U124 Mark DeRosa / Jason Marquis
U125 Alex Cabrera RC
U126 Augie Ojeda / Gary Matthews, Jr. RC
U127 Richie Sexson
U128 Santiago Perez / Hector Ramirez RC
U129 Rondell White
U130 Craig House RC
U131 Kevin Beirne / Jon Garland
U132 Wayne Franklin RC
U133 Henry Rodriguez
U134 Jay Payton / Jim Mann
U135 Ron Gant
U136 Paxton Crawford / Sang-Hoon Lee RC
U137 Kent Bottenfield
U138 Rocky Biddle RC
U139 Travis Lee
U140 Ryan Vogelsong RC
U141 Jason Conti / Geraldo Guzman RC
U142 Matt Watson / Tim Drew RC
U143 John Parrish / Chris Richard RC
U144 Javier Cardona / Brandon Villafuerte RC
U145 Tike Redman / Steve Sparks RC
U146 Brian Schneider / Matt Skrmetta RC
U147 Pasqual Coco RC
U148 Lorenzo Barcelo / Joe Crede RC
U149 Jace Brewer
U150 Tomas De La Rosa / Milton Bradley RC
Autographs & Game-Used
Mickey Mantle
Fleer/Fleer Tradition
Pre-License Era:
Triopoly Era:
Junk Wax Era:
Marvel Entertainment Era:
Fleer Tradition Era:
Upper Deck Era:
---
Update Sets:
---
Other Fleer/Fleer Tradition Brands: