1988 Fleer Update
Description
1988 Fleer Update is a 132-card update set released at the conclusion of the 1988 baseball season.
The key XRCs in this set are Roberto Alomar, Craig Biggio and John Smoltz.
Glossy Tin Set
For the second and final time, Fleer produced a Glossy version of the Update set. The cards are identical to the regular Update set, except for a glossy sheen on the front of each card. The set was packaged in a tin box and distributed exclusive to Hobby dealers.
Approximately 40,000 to 60,000 Glossy sets were produced.
Distribution
Factory Sets only.
Reviews
Checklist
Base Set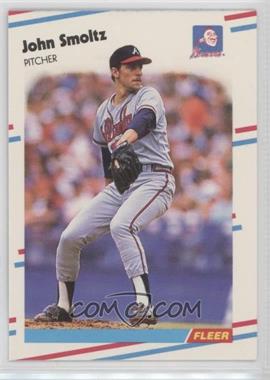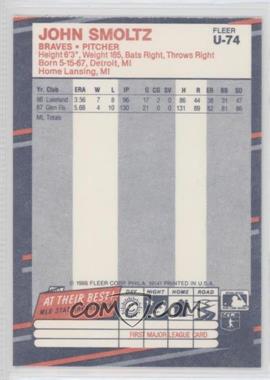 1 Jose Bautista XRC
2 Joe Orsulak
3 Doug Sisk
4 Craig Worthington
5 Mike Boddicker
6 Rick Cerone
7 Larry Parrish
8 Lee Smith
9 Mike Smithson
10 John Trautwein
11 Sherman Corbett
12 Chili Davis
13 Jim Eppard
14 Bryan Harvey XRC
15 John Davis
16 Dave Gallagher
17 Ricky Horton
18 Dan Pasqua
19 Melido Perez
20 Jose Segura
21 Andy Allanson
22 Jon Perlman
23 Domingo Ramos
24 Rick Rodriguez
25 Willie Upshaw
26 Paul Gibson
27 Don Heinkel
28 Ray Knight
29 Gary Pettis
30 Luis Salazar
31 Mike Macfarlane XRC
32 Jeff Montgomery
33 Ted Power
34 Israel Sanchez
35 Kurt Stillwell
36 Pat Tabler
37 Don August
38 Darryl Hamilton XRC
39 Jeff Leonard
40 Joey Meyer
41 Allan Anderson
42 Brian Harper
43 Tom Herr
44 Charlie Lea
45 John Moses
46 John Candelaria
47 Jack Clark
48 Rich Dotson
49 Al Leiter XRC
50 Rafael Santana
51 Don Slaught
52 Todd Burns
53 Dave Henderson
54 Doug Jennings
55 Dave Parker
56 Walt Weiss
57 Bob Welch
58 Henry Cotto
59 Mario Diaz UER (Listed as "Marion" on card front)
60 Mike Jackson
61 Bill Swift
62 Jose Cecena
63 Ray Hayward
64 Jim Steels UER (Listed as "Steele" on card back)
65 Pat Borders XRC
66 Sil Campusano
67 Mike Flanagan
68 Todd Stottlemyre XRC
69 David Wells XRC
70 Jose Alvarez XRC
71 Paul Runge
72 Cesar Jimenez
73 Pete Smith
74 John Smoltz XRC
75 Damon Berryhill XRC
76 Goose Gossage
77 Mark Grace XRC
78 Darrin Jackson XRC
79 Vance Law
80 Jeff Pico
81 Gary Varsho
82 Tim Birtsas
83 Rob Dibble XRC
84 Danny Jackson
85 Paul O'Neill
86 Jose Rijo
87 Chris Sabo XRC
88 John Fishel
89 Craig Biggio XRC
90 Terry Puhl
91 Rafael Ramirez
92 Louie Meadows
93 Kirk Gibson
94 Alfredo Griffin
95 Jay Howell
96 Jesse Orosco
97 Alejandro Pena
98 Tracy Woodson XRC
99 John Dopson
100 Brian Holman XRC
101 Rex Hudler
102 Jeff Parrett
103 Nelson Santovenia
104 Kevin Elster
105 Jeff Innis
106 Mackey Sasser XRC
107 Phil Bradley
108 Danny Clay
109 Greg Harris
110 Ricky Jordan XRC
111 David Palmer
112 Jim Gott
113 Tommy Gregg UER (Photo is Randy Milligan)
114 Barry Jones
115 Randy Milligan XRC
116 Luis Alicea XRC
117 Tom Brunansky
118 John Costello
119 Jose DeLeon
120 Bob Horner
121 Scott Terry
122 Roberto Alomar XRC
123 Dave Leiper
124 Keith Moreland
125 Mark Parent XRC
126 Dennis Rasmussen
127 Randy Bockus
128 Brett Butler
129 Donell Nixon
130 Earnest Riles
131 Roger Samuels
132 Checklist U1-U132