1963 Fleer
Description
1963 Fleer (ACC: R418-4) is a 67-card set and was the firm's short-lived attempt to break into the active-player baseball card business. Since Topps had a monopoly on the marketing baseball cards of current players with or without "confectionery products," each pack included a sugarless cherry "cookie." Players included in the set were either those (like 1962 NL MVP Maury Wills) passed over by Topps as Minor Leaguers, or those that let their "steak dinner" contracts with Topps expire.
The cards were printed in sheets of 66 with the scarce card of Joe Adcock (#46) replaced by the unnumbered checklist card for the final press run. A set is considered complete with both Adcock and the checklist. The only Rookie Card in this set is Wills.
'63 Fleer was intended to include multiple series, however Topps sued to prevent any future Fleer releases. It would be another 18 years until the next Fleer Baseball set.
Despite this, the star power of the checklist combined with the small set size has made '63 Fleer a collector favorite.
Distribution
24 packs per box, five cards plus one "cookie" per pack (MSRP: $0.05).
Reviews
Checklist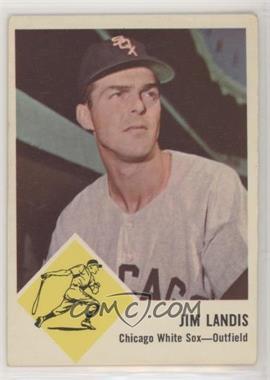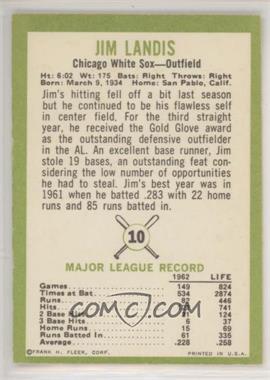 1 Steve Barber
2 Ron Hansen
3 Milt Pappas
4 Brooks Robinson
5 Willie Mays
6 Lou Clinton
7 Bill Monbouquette
8 Carl Yastrzemski
9 Ray Herbert
10 Jim Landis
11 Dick Donovan
12 Tito Francona
13 Jerry Kindall
14 Frank Lary
15 Dick Howser
16 Jerry Lumpe
17 Norm Siebern
18 Don Lee
19 Albie Pearson
20 Bob Rodgers
21 Leon Wagner
22 Jim Kaat
23 Vic Power
24 Rich Rollins
25 Bobby Richardson
26 Ralph Terry
27 Tom Cheney
28 Chuck Cottier
29 Jimmy Piersall
30 Dave Stenhouse
31 Glen Hobbie
32 Ron Santo
33 Gene Freese
34 Vada Pinson
35 Bob Purkey
36 Joe Amalfitano
37 Bob Aspromonte
38 Dick Farrell
39 Al Spangler
40 Tommy Davis
41 Don Drysdale
42 Sandy Koufax
43 Maury Wills RC
44 Frank Bolling
45 Warren Spahn
46 Joe Adcock SP
47 Roger Craig
48 Al Jackson
49 Rod Kanehl
50 Ruben Amaro, Sr.
51 Johnny Callison
52 Clay Dalrymple
53 Don Demeter
54 Art Mahaffey
55 Smoky Burgess
56 Roberto Clemente
57 Roy Face
58 Vern Law
59 Bill Mazeroski
60 Ken Boyer
61 Bob Gibson
62 Gene Oliver
63 Bill White
64 Orlando Cepeda
65 Jim Davenport
66 Billy O'Dell
NNO Checklist SP
Fleer/Fleer Tradition
Pre-License Era:
Triopoly Era:
Junk Wax Era:
Marvel Entertainment Era:
Fleer Tradition Era:
Upper Deck Era:
---
Update Sets:
---
Other Fleer/Fleer Tradition Brands: