2003 Fleer Tradition Update
Description
2003 Fleer Tradition Update is a 398-card set released in October, 2003. Each Hobby box contained 32 packs of ten cards, and a 25-card mini box. The last 99 cards in the base set (U300-U398) were exclusive to the mini box. The last fifteen pack-inserted base cards (U286-U299) are short-printed.
Each Hobby box is expected to yield two memorabilia cards.
Distribution
Hobby: 32 packs plus one 25-card mini box per box, ten cards per pack (MSRP: $2). 20 boxes per case.
Reviews
Insertion Ratios
| Cards | Total Cards | Numbered To | Hobby Odds | Retail Odds |
| --- | --- | --- | --- | --- |
| Base | 398 | - | ? | ? |
| short set | 285 | - | ? | ? |
| SPs | 14 | - | 1:4 | 1:4 |
| Mini Box Exclusive | 99 | - | 25:1 | N/A |
| Glossy | 883 | 100 | ? | 1:24 |
| Milestones | 20 | - | 1:8 | 1:6 |
| Diamond Debuts | 25 | - | 1:10 | 1:8 |
| Long Gone! | 20 | varies | ? | 1:72 |
| Turn Back the Clock | 10 | - | 1:160 | 1:288 |
| Milestones Game Jersey | 16 | - | 1:20 | 1:96 |
| Milestones Game Jersey Gold | 16 | 100 | ? | ? |
| Throwback Threads | 5 | - | 1:64 | 1:288 |
| Throwback Threads Patch | 5 | 100 | ? | ? |
| Throwback Threads Dual | 2 | 100 | ? | ? |
Checklist
Base Set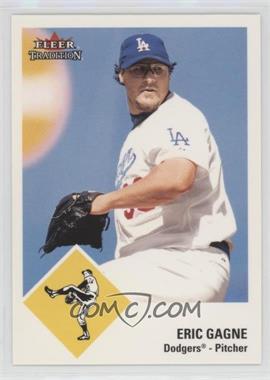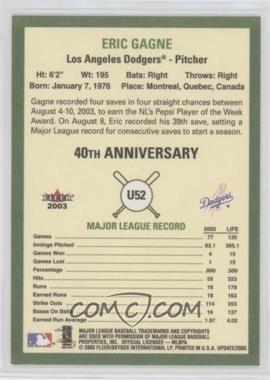 U1 Aaron Boone
U2 Carl Everett
U3 Eduardo Perez
U4 Jason Michaels
U5 Karim Garcia
U6 Rainer Olmedo
U7 Scott Williamson
U8 Adam Kennedy
U9 Carl Pavano
U10 Eli Marrero
U11 Jason Simontacchi
U12 Keith Foulke
U13 Preston Wilson
U14 Scott Hatteberg
U15 Adam Dunn
U16 Carlos Baerga
U17 Elmer Dessens
U18 Javier Vazquez
U19 Kenny Rogers
U20 Quinton McCracken
U21 Shane Reynolds
U22 Adam Eaton
U23 Carlos Zambrano
U24 Enrique Wilson
U25 Jeff DaVanon
U26 Kenny Lofton
U27 Ramon Castro
U28 Shannon Stewart
U29 Al Martin
U30 Carlos Guillen
U31 Eric Karros
U32 Tim Worrell
U33 Kevin Millwood
U34 Randall Simon
U35 Shawn Chacon
U36 Alex Rodriguez
U37 Casey Blake
U38 Eric Munson
U39 Jeff Kent
U40 Kris Benson
U41 Randy Winn
U42 Shea Hillenbrand
U43 Alfonso Soriano
U44 Chris George
U45 Eric Bruntlett
U46 Jeromy Burnitz
U47 Kyle Farnsworth
U48 Torii Hunter
U49 Sidney Ponson
U50 Andres Galarraga
U51 Chris Singleton
U52 Eric Gagne
U53 Jesse Foppert
U54 Lance Carter
U55 Ray Durham
U56 Tanyon Sturtze
U57 Andy Ashby
U58 Cliff Floyd
U59 Eric Young
U60 Jhonny Peralta
U61 Livan Hernandez
U62 Reggie Sanders
U63 Tim Spooneybarger
U64 Angel Berroa
U65 Coco Crisp
U66 Eric Hinske
U67 Jim Edmonds
U68 Luis Matos
U69 Rickey Henderson
U70 Todd Walker
U71 Antonio Alfonseca
U72 Corey Koskie
U73 Erubiel Durazo
U74 Jim Thome
U75 Lyle Overbay
U76 Robert Fick
U77 Todd Hollandsworth
U78 Aramis Ramirez
U79 Cristian Guzman
U80 Esteban Loaiza
U81 Jody Gerut
U82 Mark Grudzielanek
U83 Roberto Alomar
U84 Todd Hundley
U85 Mike Hampton
U86 Curt Schilling
U87 Francisco Rodriguez
U88 John Lackey
U89 Mark Redman
U90 Robin Ventura
U91 Todd Zeile
U92 B.J. Surhoff
U93 Raul Mondesi
U94 Frank Catalanotto
U95 John Smoltz
U96 Mark Ellis
U97 Rocco Baldelli
U98 Todd Pratt
U99 Barry Bonds
U100 Danny Graves
U101 Fred McGriff
U102 John Burkett
U103 Marquis Grissom
U104 Rocky Biddle
U105 Tom Glavine
U106 Bartolo Colon
U107 Darren Bragg
U108 Gabe Kapler
U109 John Franco
U110 Matt Mantei
U111 Rod Beck
U112 Tomo Ohka
U113 Ben Petrick
U114 Darren Dreifort
U115 Garret Anderson
U116 John Vander Wal
U117 Melvin Mora
U118 Rodrigo Lopez
U119 Raul Ibanez
U120 Benito Santiago
U121 David Ortiz
U122 Gary Bennett
U123 Jon Garland
U124 Michael Young
U125 Rodrigo Rosario
U126 Travis Lee
U127 Bill Mueller
U128 Derek Lowe
U129 Gil Meche
U130 Jose Guillen
U131 Miguel Cabrera
U132 Ron Calloway
U133 Troy Percival
U134 Billy Koch
U135 Dmitri Young
U136 Glendon Rusch
U137 Jose Jimenez
U138 Miguel Tejada
U139 John Thomson
U140 Troy O'Leary
U141 Bobby Kielty
U142 Dontrelle Willis
U143 Greg Myers
U144 Jose Vizcaino
U145 Mike MacDougal
U146 Ronnie Belliard
U147 Tyler Houston
U148 Brady Clark
U149 Edgardo Alfonzo
U150 Guillermo Mota
U151 Jose Lima
U152 Mike Williams
U153 Roy Oswalt
U154 Scott Podsednik
U155 Brandon Lyon
U156 Henry Mateo
U157 Jose Macias
U158 Mike Bordick
U159 Royce Clayton
U160 Vance Wilson
U161 Brent Abernathy
U162 Horacio Ramirez
U163 Jose Reyes
U164 Nick Punto
U165 Ruben Sierra
U166 Victor Zambrano
U167 Brett Tomko
U168 Ivan Rodriguez
U169 Jose Mesa
U170 Octavio Dotel
U171 Russ Ortiz
U172 Vladimir Guerrero
U173 Brian Lawrence
U174 Jae Weong Seo
U175 Jose Cruz, Jr.
U176 Pat Burrell
U177 Russell Branyan
U178 Warren Morris
U179 Brian Boehringer
U180 Jason Johnson
U181 Josh Phelps
U182 Paul Konerko
U183 Ryan Franklin
U184 Wes Helms
U185 Brooks Kieschnick
U186 Jason Davis
U187 Juan Pierre
U188 Paul Wilson
U189 Sammy Sosa
U190 Wil Cordero
U191 Byung-Hyun Kim
U192 Juan Encarnacion
U193 Placido Polanco
U194 Sandy Alomar, Jr.
U195 Julio Lugo
U196 Junior Spivey
U197 Woody Williams
U198 Xavier Nady
U199 Mark Loretta
U200 Deivi Cruz
All-Stars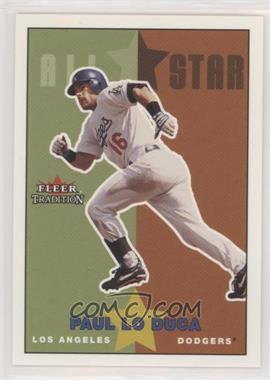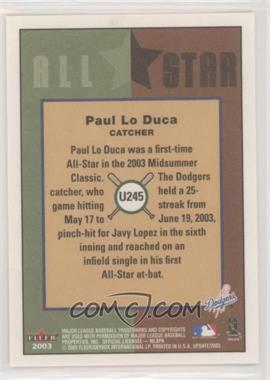 U201 Jorge Posada
U202 Carlos Delgado
U203 Alfonso Soriano
U204 Alex Rodriguez
U205 Troy Glaus
U206 Garret Anderson
U207 Hideki Matsui
U208 Ichiro
U209 Esteban Loaiza
U210 Manny Ramirez
U211 Roger Clemens
U212 Roy Halladay
U213 Jason Giambi
U214 Edgar Martinez
U215 Bret Boone
U216 Hank Blalock
U217 Nomar Garciaparra
U218 Vernon Wells
U219 Melvin Mora
U220 Magglio Ordonez
U221 Mike Sweeney
U222 Barry Zito
U223 Carl Everett
U224 Shigetoshi Hasegawa
U225 Jamie Moyer
U226 Mark Mulder
U227 Eddie Guardado
U228 Ramon Hernandez
U229 Keith Foulke
U230 Javy Lopez
U231 Todd Helton
U232 Marcus Giles
U233 Edgar Renteria
U234 Scott Rolen
U235 Barry Bonds
U236 Albert Pujols
U237 Gary Sheffield
U238 Jim Edmonds
U239 Jason Schmidt
U240 Mark Prior
U241 Dontrelle Willis
U242 Kerry Wood
U243 Kevin Brown
U244 Woody Williams
U245 Paul Lo Duca
U246 Richie Sexson
U247 Jose Vidro
U248 Luis Castillo
U249 Aaron Boone
U250 Mike Lowell
U251 Rafael Furcal
U252 Andruw Jones
U253 Preston Wilson
U254 John Smoltz
U255 Eric Gagne
U256 Randy Wolf
U257 Billy Wagner
U258 Luis Gonzalez
U259 Russ Ortiz
Interleague Play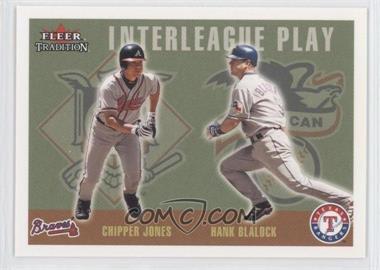 U260 Jim Thome / Pedro Martinez
U261 Alfonso Soriano / Jeff Bagwell
U262 Dontrelle Willis / Rocco Baldelli
U263 Carlos Delgado / Vladimir Guerrero
U264 Sammy Sosa / Magglio Ordonez
U265 Jason Giambi / Adam Dunn
U266 Mike Sweeney / Albert Pujols
U267 Barry Bonds / Torii Hunter
U268 Ichiro / Andruw Jones
U269 Chipper Jones / Hank Blalock
U270 Mark Prior / Vernon Wells
U271 Nomar Garciaparra / Scott Rolen
U272 Alex Rodriguez / Lance Berkman
U273 Roger Clemens / Kerry Wood
U274 Derek Jeter / Jose Reyes
U275 Greg Maddux / Barry Zito
Tale of the Tape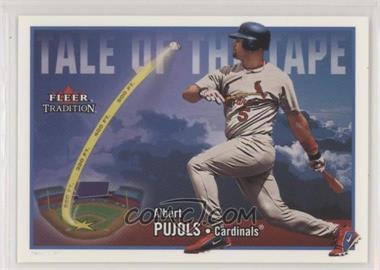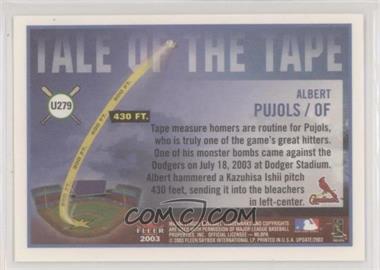 U276 Carlos Delgado
U277 J.D. Drew
U278 Barry Bonds
U279 Albert Pujols
U280 Jim Thome
U281 Sammy Sosa
U282 Alfonso Soriano
U283 Hideki Matsui RC
U284 Mike Piazza
U285 Vladimir Guerrero
Rookie 03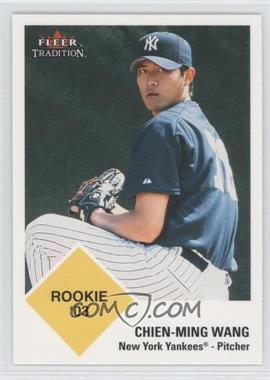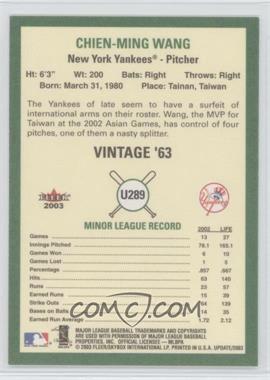 U286 Rich Harden
U287 Chin-Hui Tsao
U288 Edwin Jackson RC
U289 Chien-Ming Wang RC
U290 Josh Willingham RC
U291 Matt Kata RC
U292 Jose Contreras RC
U293 Chris Bootcheck
U294 Javier A. Lopez RC
U295 Delmon Young RC
U296 Pedro Liriano
U297 Noah Lowry
U298 Khalil Greene
U299 Rob Bowen
Box-Exclusive Rookies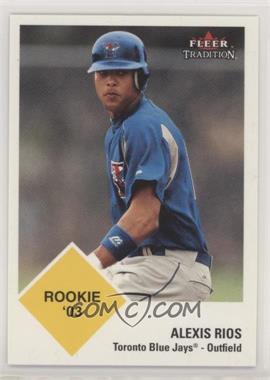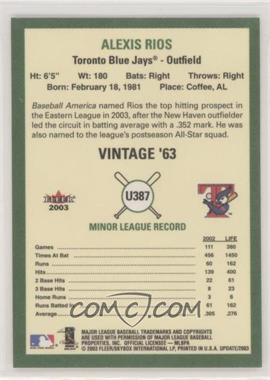 Each sealed Hobby box contained, in addition to the 32 packs, a 25-card "Rookie Update Box." The 99 cards listed below are exclusive to this box.
U300 Bo Hart RC
U301 Beau Kemp RC*
U302 Gerald Laird
U303 Miguel Ojeda RC
U304 Todd Wellemeyer RC
U305 Ryan Wagner RC
U306 Jeff Duncan RC
U307 Wilfredo Ledezma RC
U308 Wes Obermueller
U309 Bernie Castro RC
U310 Tim Olson RC
U311 Colin Porter RC
U312 Francisco Cruceta RC
U313 Guillermo Quiroz RC
U314 Brian Stokes RC
U315 Robby Hammock RC
U316 Lew Ford RC
U317 Todd Linden
U318 Mike Gallo RC
U319 Francisco Rosario RC
U320 Rosman Garcia RC
U321 Felix Sanchez RC
U322 Chad Gaudin RC
U323 Phil Seibel RC
U324 Jason Gilfillan RC
U325 Terrmel Sledge RC
U326 Alfredo Gonzalez RC*
U327 Josh Stewart RC
U328 Jeremy Griffiths RC
U329 Cory Stewart RC*
U330 Josh Hall RC
U331 Arnie Munoz RC
U332 Garrett Atkins
U333 Neal Cotts
U334 Dan Haren RC
U335 Shane Victorino RC
U336 David Sanders RC
U337 Oscar Villarreal RC
U338 Michael Hessman RC
U339 Andrew Brown RC
U340 Kevin Hooper
U341 Prentice Redman RC
U342 Brandon Webb RC
U343 Jimmy Gobble
U344 Pete LaForest RC
U345 Chris Waters RC
U346 Hideki Matsui
U347 Chris Capuano RC
U348 Jon Leicester RC
U349 Mike Nicolas RC*
U350 Nook Logan RC
U351 Craig Brazell RC
U352 Aaron Looper RC
U353 D.J. Carrasco RC
U354 Clint Barmes RC
U355 Doug Waechter RC
U356 Julio Manon RC
U357 Jeremy Bonderman RC
U358 Diegomar Markwell RC*
U359 Dave Matranga RC
U360 Luis Ayala RC
U361 Jason Stanford
U362 Roger Deago RC
U363 Geoff Geary RC
U364 Edgar Gonzalez RC
U365 Michel Hernandez RC
U366 Aquilino Lopez RC
U367 David Manning
U368 Carlos Mendez RC
U369 Matt Miller RC
U370 Micheal Nakamura RC
U371 Mike Neu RC
U372 Ramon Nivar RC
U373 Kevin Ohme RC
U374 Alex Prieto RC
U375 Stephen Randolph RC
U376 Brian Sweeney RC
U377 Matt Diaz RC
U378 Mike Gonzalez
U379 Daniel Cabrera RC
U380 Fernando Cabrera RC
U381 David DeJesus RC
U382 Mike Ryan RC
U383 Rick Roberts RC*
U384 Seung Song
U385 Rickie Weeks RC
U386 Humberto Quintero RC
U387 Alexis Rios
U388 Aaron Miles RC
U389 Tom Gregorio RC
U390 Anthony Ferrari RC
U391 Kevin Correia RC
U392 Rafael Betancourt RC
U393 Rett Johnson RC*
U394 Richard Fischer RC*
U395 Greg Aquino RC
U396 Daniel Garcia RC
U397 Sergio Mitre RC
U398 Edwin Almonte
Parallels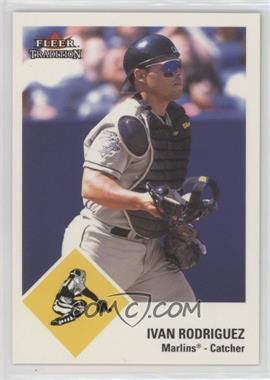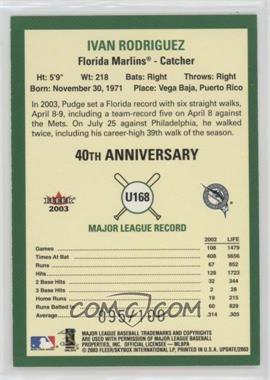 Randomly inserted into packs are Glossy parallels, each serial-numbered to 100, for the entire 398-card base set (including the 99 "Box Exclusive" rookies). Also randomly inserted into Update packs are Glossies for the entire 485-card 2003 Fleer Tradition set.
Inserts
Milestones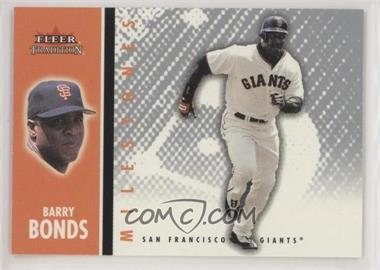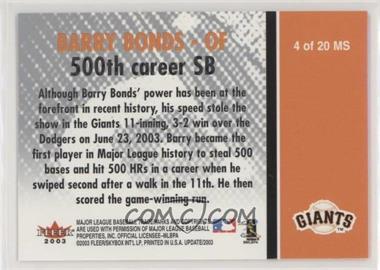 1 MS Roger Clemens
2 MS Rafael Palmeiro
3 MS Jeff Bagwell
4 MS Barry Bonds
5 MS Sammy Sosa
6 MS Albert Pujols
7 MS Ichiro
8 MS Alfonso Soriano
9 MS Alex Rodriguez
10 MS Randy Johnson
11 MS Manny Ramirez
12 MS Chipper Jones
13 MS Todd Helton
14 MS Ken Griffey, Jr.
15 MS Jim Thome
16 MS Frank Thomas
17 MS Pedro Martinez
18 MS Hideo Nomo
19 MS Jason Schmidt
20 MS Carlos Delgado
Diamond Debuts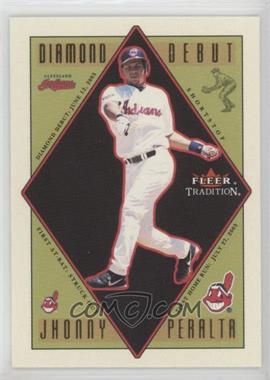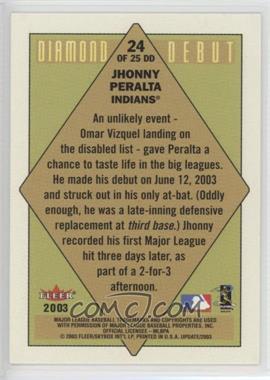 1 DD Dontrelle Willis
2 DD Bo Hart
3 DD Jose Reyes
4 DD Chin-Hui Tsao
5 DD Brandon Webb
6 DD Rich Harden
7 DD Jesse Foppert
8 DD Rocco Baldelli
9 DD Hideki Matsui
10 DD Ron Calloway
11 DD Jeremy Bonderman
12 DD Mark Teixeira
13 DD Ryan Wagner
14 DD Jose Contreras
15 DD Miguel Cabrera
16 DD Lew Ford
17 DD Jeff Duncan
18 DD Matt Kata
19 DD Jeremy Griffiths
20 DD Todd Wellemeyer
21 DD Robby Hammock
22 DD Dave Matranga
23 DD Laynce Nix
24 DD Jhonny Peralta
25 DD Oscar Villarreal
Long Gone!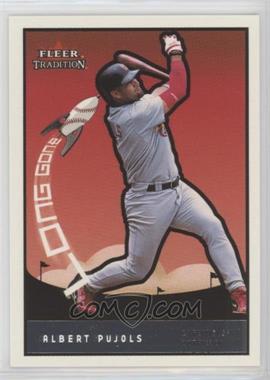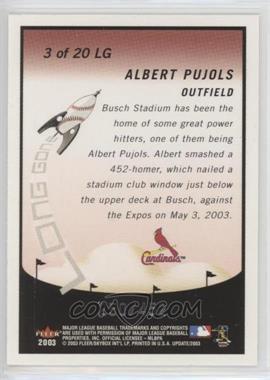 Each Long Gone! insert is serial-numbered to the distance (in feet) of the longest home run that player hit in 2002.
1 LG Barry Bonds 475
2 LG Jason Giambi 440
3 LG Albert Pujols 452
4 LG Chipper Jones 420
5 LG Manny Ramirez 430
6 LG Sammy Sosa 536
7 LG Alfonso Soriano 440
8 LG Alex Rodriguez 430
9 LG Jim Thome 445
10 LG Vladimir Guerrero 502
11 LG Austin Kearns 430
12 LG Jeff Bagwell 420
13 LG Andruw Jones 430
14 LG Carlos Delgado 451
15 LG Nomar Garciaparra 440
16 LG Adam Dunn 464
17 LG Mike Piazza 450
18 LG Derek Jeter 410
19 LG Ken Griffey, Jr. 430
20 LG Hank Blalock 424
Turn Back the Clock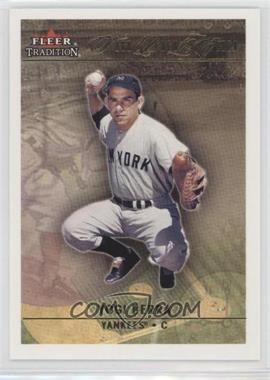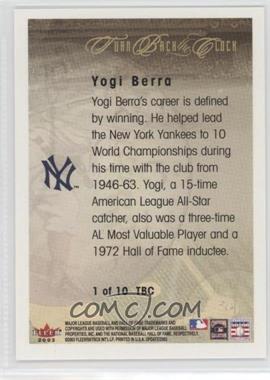 1 TBC Yogi Berra
2 TBC Mike Schmidt
3 TBC Tom Seaver
4 TBC Reggie Jackson
5 TBC Pee Wee Reese
6 TBC Phil Rizzuto
7 TBC Jim Palmer
8 TBC Robin Yount
9 TBC Nolan Ryan
10 TBC Al Kaline
Game-Used
Milestones Game Jersey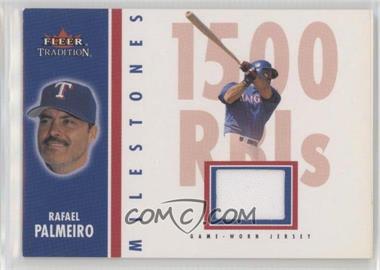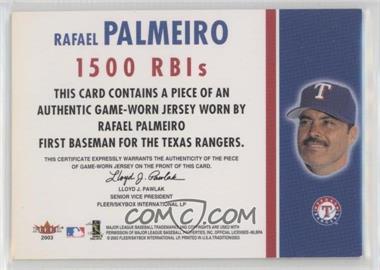 Each Milestones Game Jersey is also available in a Gold parallel, which is serial-numbered to 100 copies. As with the Milestones Gold cards in 2003 Fleer Tradition, other than the serial-numbered on the back, there is no discernible difference between the base and Gold parallels.
MS-AR Alex Rodriguez
MS-AR Alfonso Soriano
MS-CD Carlos Delgado
MS-CJ Chipper Jones
MS-FT Frank Thomas
MS-HN Hideo Nomo
MS-JB Jeff Bagwell
MS-JS Jason Schmidt
MS-JT Jim Thome
MS-MR Manny Ramirez
MS-PM Pedro Martinez
MS-RC Roger Clemens
MS-RJ Randy Johnson
MS-RP Rafael Palmeiro
MS-SS Sammy Sosa
MS-TH Todd Helton
Throwback Threads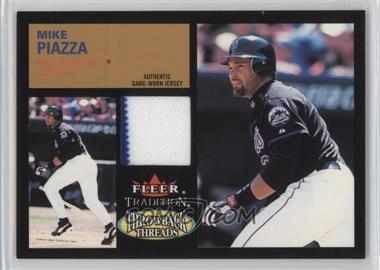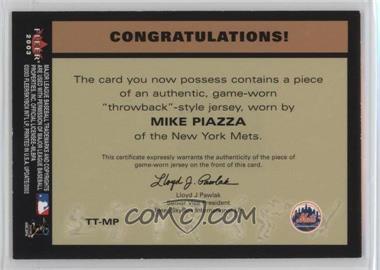 Each Throwback Threads is also available in a Patch parallel, which is serial-numbered to 100 copies.
TT-AL Al Leiter
TT-KM Kevin Millwood
TT-MP Mike Piazza
TT-TG Tory Glaus
TT-VG Vladimir Guerrero
Dual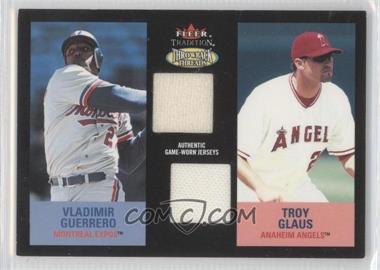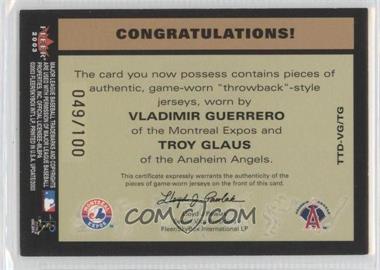 Each Throwback Threads Dual is serial-numbered to 100 copies.
MPAL Mike Piazza / Al Leiter
VGTG Vladimir Guerrero / Troy Glaus