1986 Leaf
Description
1986 Leaf is a 264-card set issued for the Canadian market by Donruss. Except for the sequential-numbering, the company logo, and the bilingual backs, the cards are essentially the same as the American set.
Two Dick Perez art cards of Jeff Reardon (#214) and Jesse Barfield (#254), are called Canadian Greats (CG) and are not contained in the Donruss set. Diamond Kings (numbers 1-26, denoted DK) and Rated Rookies (numbers 27-29, denoted RR) are included just as in the American set; however, those players included as Diamond Kings do not have a regular card.
As in most Canadian sets (like O-Pee-Chee), the players featured are heavily biased toward Canadian teams and those American teams closest to the Canadian border. The checklist cards (listed at the end of the list below) are numbered one, two and three (but are not given a traditional card number); the Diamond Kings checklist card is also unnumbered.
The only two true Rookie Cards in the set are of Andres Galarraga and Fred McGriff. Curiously, Jose Canseco, whose 1986 Donruss Rated Rookie card was one of the preeminent cards of The Junk Wax Era, was not included in Leaf. The third Rated Rookie is of Phillies pitcher Dave Shipanoff, a native of Edmonton.
Distribution
36 packs per box, 12 cards plus one Hank Aaron puzzle piece per pack.
Reviews
Insertion Ratios
| Cards | Total Cards | Numbered To | Odds |
| --- | --- | --- | --- |
| Base | 264 | - | 12:1 |
Checklist
Base Set
Diamond Kings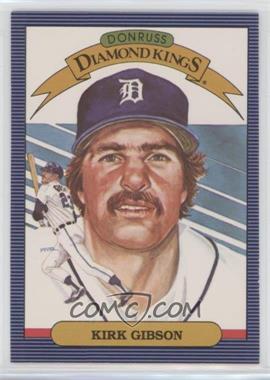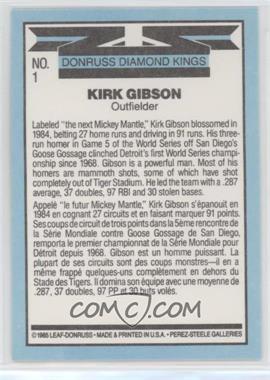 1 Diamond King - Kirk Gibson
2 Goose Gossage
3 Willie McGee
4 George Bell
5 Tony Armas
6 Chili Davis
7 Cecil Cooper
8 Mike Boddicker
9 Davey Lopes
10 Bill Doran
11 Bret Saberhagen
12 Brett Butler
13 Diamond King - Harold Baines
14 Mike Davis
15 Diamond King - Tony Perez
16 Willie Randolph
17 Bob Boone
18 Diamond King - Orel Hershiser
19 Diamond King - Johnny Ray
20 Gary Ward
21 Rick Mahler
22 Phil Bradley
23 Jerry Koosman
24 Tom Brunansky
25 Diamond King - Andre Dawson
26 Diamond King - Dwight Gooden
Rated Rookies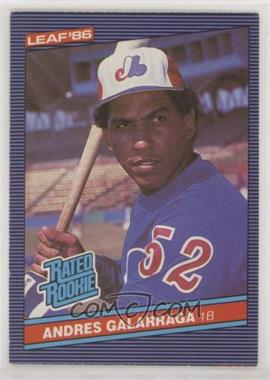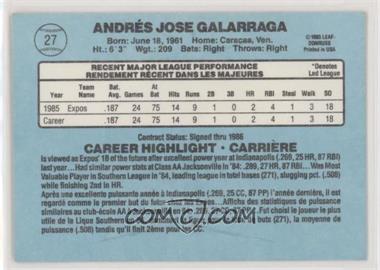 27 Andres Galarraga
28 Fred McGriff
29 Dave Shipanoff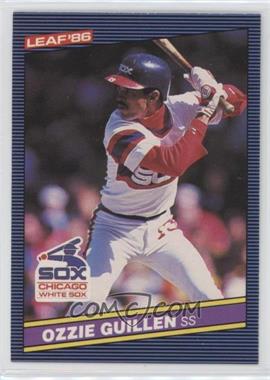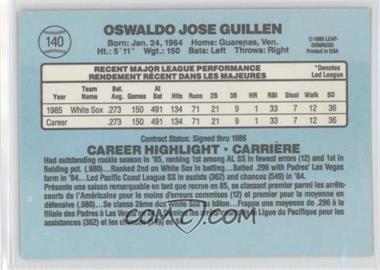 30 Danny Jackson
31 Robin Yount
32 Mike Fitzgerald
33 Lou Whitaker
34 Alfredo Griffin
35 Dennis Boyd
36 Ron Guidry
37 Rickey Henderson
38 Jack Morris
39 Brian Downing
40 Mike Marshall
41 Tony Gwynn
42 George Brett
43 Jim Gantner
44 Hubie Brooks
45 Tony Fernandez
46 Oddibe McDowell
47 Ozzie Smith
48 Ken Griffey, Sr.
49 Jose Cruz
50 Mariano Duncan
51 Mike Schmidt
52 Pat Tabler
53 Pete Rose
54 Frank White
55 Carney Lansford
56 Steve Garvey
57 Vance Law
58 Tony Pena
59 Wayne Tolleson
60 Dale Murphy
61 LaMarr Hoyt
62 Ryne Sandberg
63 Gary Carter
64 Lee Smith
65 Alvin Davis
66 Edwin Nunez
67 Kent Hrbek
68 Dave Stieb
69 Kirby Puckett
70 Paul Molitor
71 Glenn Hubbard
72 Lloyd Moseby
73 Mike Smithson
74 Jeff Leonard
75 Danny Darwin
76 Kevin McReynolds
77 Bill Buckner
78 Ron Oester
79 Tommy Herr
80 Mike Pagliarulo
81 Ron Romanick
82 Brook Jacoby
83 Eddie Murray
84 Gary Pettis
85 Chet Lemon
86 Toby Harrah
87 Mike Scioscia
88 Bert Blyleven
89 Dave Righetti
90 Bob Knepper
91 Fernando Valenzuela
92 Dave Dravecky
93 Julio Franco
94 Keith Moreland
95 Darryl Motley
96 Jack Clark
97 Tim Wallach
98 Steve Balboni
99 Storm Davis
100 Jay Howell
101 Alan Trammell
102 Willie Hernandez
103 Don Mattingly
104 Lee Lacy
105 Pedro Guerrero
106 Willie Wilson
107 Craig Reynolds
108 Tim Raines
109 Shane Rawley
110 Larry Parrish
111 Eric Show
112 Mike Witt
113 Dennis Eckersley
114 Mike Moore
115 Vince Coleman
116 Damaso Garcia
117 Steve Carlton
118 Floyd Bannister
119 Mario Soto
120 Fred Lynn
121 Bob Horner
122 Rick Sutcliffe
123 Walt Terrell
124 Keith Hernandez
125 Dave Winfield
126 Frank Viola
127 Dwight Evans
128 Willie Upshaw
129 Andre Thornton
130 Donnie Moore
131 Darryl Strawberry
132 Nolan Ryan
133 Garry Templeton
134 John Tudor
135 Dave Parker
136 Larry McWilliams
137 Terry Pendleton
138 Terry Puhl
139 Bob Dernier
140 Ozzie Guillen
141 Jim Clancy
142 Cal Ripken, Jr.
143 Mickey Hatcher
144 Dan Petry
145 Rich Gedman
146 Jim Rice
147 Butch Wynegar
148 Donnie Hill
149 Jim Sundberg
150 Joe Hesketh
151 Chris Codiroli
152 Charlie Hough
153 Herm Winningham
154 Dave Rozema
155 Don Slaught
156 Juan Beniquez
157 Ted Higuera
158 Andy Hawkins
159 Don Robinson
160 Glenn Wilson
161 Earnest Riles
162 Nick Esasky
163 Carlton Fisk
164 Claudell Washington
165 Scott McGregor
166 Nate Snell
167 Ted Simmons
168 Wade Boggs
169 Marty Barrett
170 Bud Black
171 Charlie Leibrandt
172 Charlie Lea
173 Reggie Jackson
174 Bryn Smith
175 Glenn Davis
176 Von Hayes
177 Danny Cox
178 Sammy Khalifa
179 Tom Browning
180 Scott Garrelts
181 Shawon Dunston
182 Doyle Alexander
183 Jim Presley
184 Al Cowens
185 Mark Salas
186 Tom Niedenfuer
187 Dave Henderson
188 Lonnie Smith
189 Bruce Bochte
190 Leon Durham
191 Terry Francona
192 Bruce Sutter
193 Steve Crawford
194 Bob Brenly
195 Dan Pasqua
196 Juan Samuel
197 Floyd Rayford
198 Tim Burke
199 Ben Oglivie
200 Don Carman
201 Lance Parrish
202 Terry Forster
203 Neal Heaton
204 Ivan Calderon
205 Jorge Orta
206 Tom Henke
207 Rick Reuschel
208 Dan Quisenberry
209 Highlights - Pete Rose
210 Floyd Youmans
211 Tom Filer
212 R.J. Reynolds
213 Gorman Thomas
214 Jeff Reardon
215 Chris Brown
216 Rick Aguilera
217 Ernie Whitt
218 Joe Orsulak
219 Jimmy Key
220 Charlie Haag
221 Ron Darling
222 Zane Smith
223 Bob Welch
224 Reid Nichols
225 Vince Coleman / Willie McGee "Fleet Feet"
226 Mark Gubicza
227 Tim Birtsas
228 Mike Hargrove
229 Randy St. Claire
230 Larry Herndon
231 Dusty Baker
232 Mookie Wilson
233 Jeff Lahti
234 Tom Seaver
235 Mike Scott
236 Don Sutton
237 Roy Smalley
238 Bill Madlock
239 Charlie Hudson
240 John Franco
241 Frank Tanana
242 Sid Fernandez
243 Knuckle Brothers - Phil Niekro / Joe Niekro
244 Dennis Lamp
245 Gene Nelson
246 Terry Harper
247 Vida Blue
248 Roger McDowell
249 Tony Bernazard
250 Cliff Johnson
251 Hal McRae
252 Garth Iorg
253 Mitch Webster
254 Jesse Barfield
255 Dan Driessen
256 Mike Brown
257 Ron Kittle
258 Bo Diaz
259 Hank Aaron PUZZLE
260 Pete Rose KING
Checklists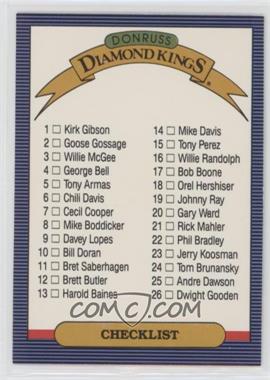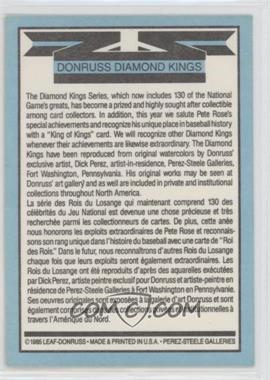 Checklist Diamond Kings 1-26
Checklist 27-106
Checklist 107-186
Checklist 187-260
Leaf
Vintage Era:
Canadian Era:
Donruss Era:
Pinnacle Brands Era:
Donruss-Playoff Era:
---
Parallel Brands:
---
Other Leaf Brands: