1985 Donruss Action All-Stars
Description
1985 Donruss Action All-Stars is a 60-card oversized set. Each card measures 3 1/2" X 5" and each five-card pack contains three pieces of the same Lou Gehrig puzzle that was inserted into 1985 Donruss packs.
As in previous years, packs are transparent, like a cello pack. Packs with star players showing on the top or bottom can sell for a premium.
Distribution
38 packs per box, five cards plus three Lou Gehrig puzzle pieces per pack (MSRP: $0.30).
Reviews
Checklist
Base Set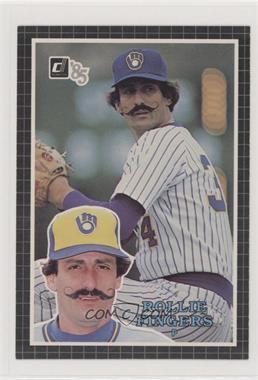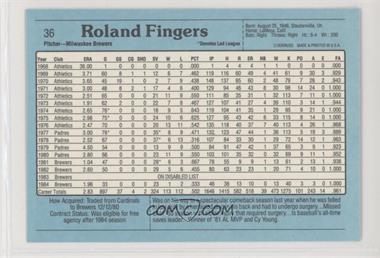 1 Tim Raines
2 Jim Gantner
3 Mario Soto
4 Spike Owen
5 Lloyd Moseby
6 Damaso Garcia
7 Cal Ripken, Jr.
8 Dan Quisenberry
9 Eddie Murray
10 Tony Pena
11 Buddy Bell
12 Dave Winfield
13 Ron Kittle
14 Rich Gossage
15 Dwight Evans
16 Alvin Davis
17 Mike Schmidt
18 Pascual Perez
19 Tony Gwynn
20 Nolan Ryan
21 Robin Yount
22 Mike Marshall
23 Brett Butler
24 Ryne Sandberg
25 Dale Murphy
26 George Brett
27 Jim Rice
28 Ozzie Smith
29 Larry Parrish
30 Jack Clark
31 Manny Trillo
32 Dave Kingman
33 Geoff Zahn
34 Pedro Guerrero
35 Dave Parker
36 Rollie Fingers
37 Fernando Valenzuela
38 Wade Boggs
39 Reggie Jackson
40 Kent Hrbek
41 Keith Hernandez
42 Lou Whitaker
43 Tom Herr
44 Alan Trammell
45 Butch Wynegar
46 Leon Durham
47 Dwight Gooden
48 Don Mattingly
49 Phil Niekro
50 Johnny Ray
51 Doug DeCinces
52 Willie Upshaw
53 Lance Parrish
54 Jody Davis
55 Steve Carlton
56 Juan Samuel
57 Gary Carter
58 Harold Baines
59 Eric Show
60 Checklist Card