1984 Donruss Champions
Description
1984 Donruss Champions is a 60-card oversized set. Similar to the Action All-Stars of the era, each card measures 3 1/2" X 5".
The theme of this set features a Grand Champion and those current players that are directly behind him in a baseball statistical category, for example, Season Home Runs (1-7), Career Home Runs (8-13), Season Batting Average (14-19), Career Batting Average (20-25), Career Hits (26-30), Career Victories (31-36), Career Strikeouts (37-42), Most Valuable Players (43-49), World Series stars (50-54), and All-Star heroes (55-59). Each subset is led off with a "Grand Champion" featuring the artwork of Dick Perez of Perez-Steele Galleries. Current players in the set feature photographs.
The cards were issued in five-card cello packs with pieces of the Duke Snider puzzle.
Distribution
36 packs per box, five cards plus one three-piece Duke snider puzzle "panel" per pack (MSRP: $0.35).
Reviews
Insertion Ratios
| Cards | Total Cards | Numbered To | Hobby Odds |
| --- | --- | --- | --- |
| Base | 60 | - | ? |
Checklist
Base Set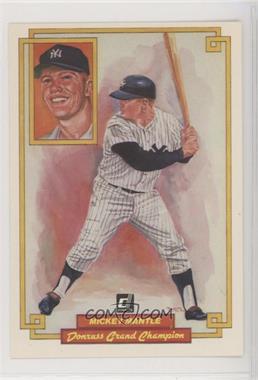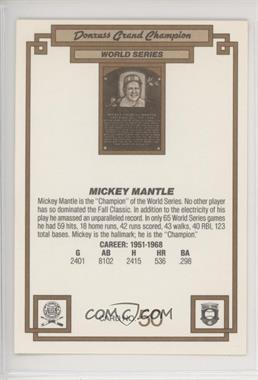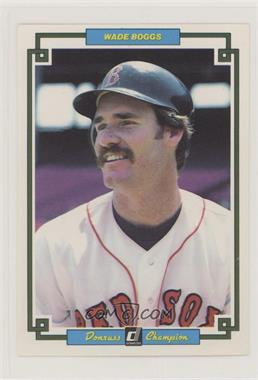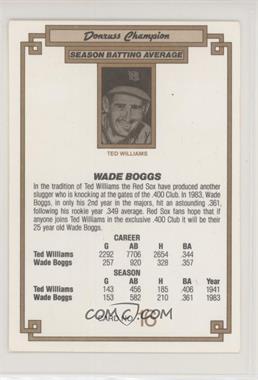 1 Babe Ruth
2 George Foster
3 Dave Kingman
4 Jim Rice
5 Gorman Thomas
6 Ben Oglivie
7 Jeff Burroughs
8 Hank Aaron
9 Reggie Jackson
10 Carl Yastrzemski
11 Mike Schmidt
12 Graig Nettles
13 Greg Luzinski
14 Ted Williams
15 George Brett
16 Wade Boggs
17 Hal McRae
18 Bill Buckner
19 Eddie Murray
20 Roger Hornsby
21 Rod Carew
22 Bill Madlock
23 Lonnie Smith
24 Cecil Cooper
25 Ken Griffey, Sr.
26 Ty Cobb
27 Pete Rose
28 Rusty Staub
29 Tony Perez
30 Al Oliver
31 Cy Young
32 Gaylord Perry
33 Fergie Jenkins
34 Phil Niekro
35 Jim Palmer
36 Tommy John
37 Walter Johnson
38 Steve Carlton
39 Nolan Ryan
40 Tom Seaver
41 Don Sutton
42 Bert Blyleven
43 Frank Robinson
44 Joe Morgan
45 Rollie Fingers
46 Keith Hernandez
47 Robin Yount
48 Cal Ripken, Jr.
49 Dale Murphy
50 Mickey Mantle
51 Johnny Bench
52 Carlton Fisk
53 Tug McGraw
54 Paul Molitor
55 Carl Hubbell
56 Steve Garvey
57 Dave Parker
58 Gary Carter
59 Fred Lynn
60 Checklist Card