1960 Leaf
Description
1960 Leaf is a 144-card set of active players produced jointly by Sports Novelties, Inc., and Leaf. As an end-around Topps' monopoly of producing baseball cards of active players with or without "confectionery products," each pack came with a marble instead of gum.
Cards 73-144 are more difficult to find than the lower numbers. Photo variations exist (probably proof cards) for the eight cards listed with an asterisk and there is a well-known error card, number 25 showing Brooks Lawrence (in a Reds uniform) with Jim Grant's name on front, and Grant's biography and record on back. The corrected version with Grant's photo is the more difficult variety.
Distribution
24 cards per pack, five cards plus one marble per pack. (MSRP: $0.05).
Reviews
Checklist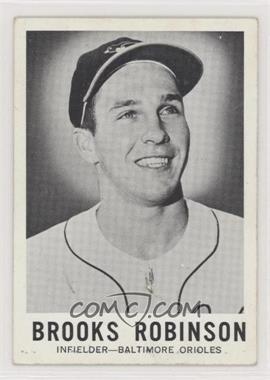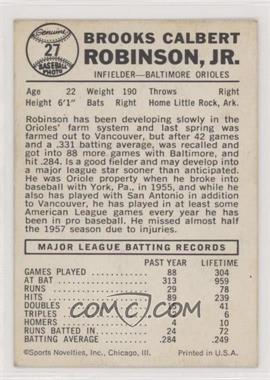 1 Luis Aparicio
2 Woody Held
3 Frank Lary
4 Camilo Pascual
5 Pancho Herrera
6 Felipe Alou
7 Benjamin Daniels
8 Roger Craig
9 Eddie Kasko
10 Bob Grim
11 Jim Busby
12 Ken Boyer *
13 Bob Boyd
14 Sam Jones
15 Larry Jackson
16 Roy Face
17 Walt Moryn *
18 Jim Gilliam
19 Don Newcombe
20 Glen Hobbie
21 Pedro Ramos
22 Ryne Duren
23 Joey Jay *
24 Lou Berberet
25 Jim Grant ERR (Photo is Brooks Lawrence)
25 Jim Grant COR
26 Tom Borland RC
27 Brooks Robinson
28 Jerry Adair RC
29 Ron Jackson
30 George Strickland
31 Rocky Bridges
32 Bill Tuttle
33 Ken Hunt RC
34 Hal Griggs
35 Jim Coates *
36 Brooks Lawrence
37 Duke Snider
38 Al Spangler RC
39 Jim Owens
40 Bill Virdon
41 Ernie Broglio
42 Andre Rodgers
43 Julio Becquer
44 Tony Taylor
45 Jerry Lynch
46 Clete Boyer
47 Jerry Lumpe
48 Charlie Maxwell
49 Jim Perry
50 Danny McDevitt
51 Juan Pizarro
52 Dallas Green RC
53 Bob Friend
54 Jack Sanford
55 Jim Rivera
56 Ted Wills RC
57 Milt Pappas
58 Hal Smith *
59 Bobby Avila
60 Clem Labine
61 Norman Rehm RC
62 John Gabler RC
63 John Tsitouris RC
64 Dave Sisler
65 Vic Power
66 Earl Battey
67 Bob Purkey
68 Moe Drabowsky
69 Hoyt Wilhelm
70 Humberto Robinson
71 Whitey Herzog
72 Dick Donovan *
73 Gordon Jones
74 Joe Hicks RC
75 Ray Culp RC
76 Dick Drott
77 Bob Duliba RC
78 Art Ditmar
79 Steve Korcheck
80 Henry Mason RC
81 Harry Simpson
82 Gene Green
83 Bob Shaw
84 Howard Reed
85 Dick Stigman
86 Rip Repulski
87 Seth Morehead
88 Camilo Carreon RC
89 Johnny Blanchard
90 Billy Hoeft
91 Fred Hopke RC
92 Joe Martin RC
93 Wally Shannon RC
94 Hal R. Smith / Hal W. Smith
95 Al Schroll
96 John Kucks
97 Tom Morgan
98 Willie Jones
99 Marshall Renfroe RC
100 Willie Tasby
101 Irv Noren
102 Russ Snyder RC
103 Bob Turley
104 Jim Woods RC
105 Ronnie Kline
106 Steve Bilko
107 Elmer Valo
108 Tom McAvoy RC
109 Stan Williams
110 Earl Averill
111 Lee Walls
112 Paul Richards MGR
113 Ed Sadowski
114 Stover McIlwain RC
115 Chuck Tanner UER (Photo is of Ken Kuhn)
116 Lou Klimchock RC
117 Neil Chrisley
118 Johnny Callison
119 Hal Smith
120 Carl Sawatski
121 Frank Leja
122 Earl Torgeson
123 Art Schult
124 Jim Brosnan
125 Sparky Anderson
126 Joe Pignatano
127 Rocky Nelson
128 Orlando Cepeda
129 Daryl Spencer
130 Ralph Lumenti
131 Sam Taylor
132 Harry Brecheen CO
133 Johnny Groth
134 Wayne Terwilliger
135 Kent Hadley
136 Faye Throneberry
137 Jack Meyer
138 Chuck Cottier RC
139 Joe DeMaestri
140 Gene Freese
141 Curt Flood
142 Gino Cimoli
143 Clay Dalrymple
144 Jim Bunning
Leaf
Vintage Era:
Canadian Era:
Donruss Era:
Pinnacle Brands Era:
Donruss-Playoff Era:
---
Parallel Brands:
---
Other Leaf Brands: