1991 Stadium Club Members Only
Description
This 50-card multi-sport set was sent in three installments to members of the Topps Stadium Club. The first two installments of ten and twenty cards respectively featured baseball players, while the third spotlighted six football and twelve hockey players.
The design is identical to the 1991 Stadium Club set, with the words "Members Only" are printed in gold foil lettering immediately below the stripe. The back design features a newspaper-like masthead (The Stadium Club Herald) complete with a headline announcing a major event in the player's season with copy below providing more information about the event. The cards are unnumbered and arranged below alphabetically according to and within installments.
Distribution
Three installments of 10, 20, and 20 cards, exclusively from Topps directly to Stadium Club members.
Checklist
Base Set
NOTE: This set is NOT sequentially-numbered.
Installment One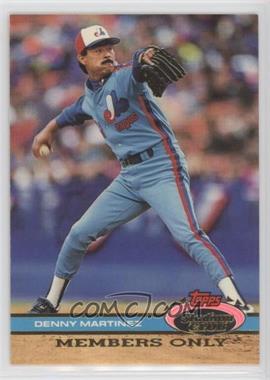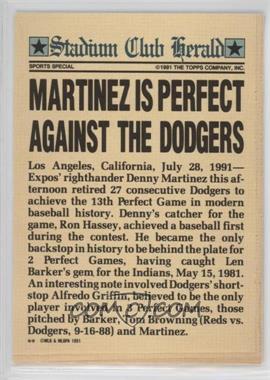 Tommy Greene
Andy Ashby
Wilson Alvarez
Rickey Henderson
Denny Martinez
Paul Molitor
Nolan Ryan
Robby Thompson
Dave Winfield
Bob Milacki / Mike Flanagan / Mark Williamson / Gregg Olson / Chris Hoiles
Installment Two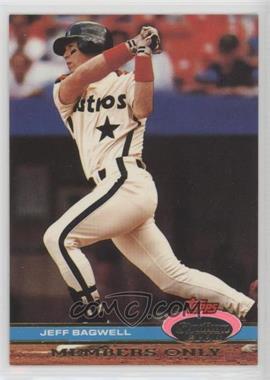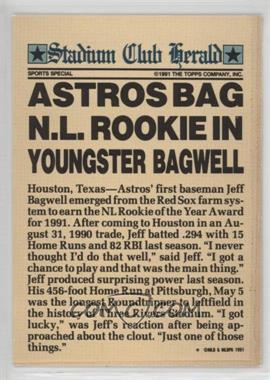 Jeff Bagwell
Roger Clemens
David Cone
Carlton Fisk
Julio Franco
Tom Glavine
Pete Harnish
Rickey Henderson
Howard Johnson
Chuck Knoblauch
Ray Lankford
Jack Morris
Terry Pendelton "NL's Leading Batsman"
Terry Pendelton "Close MVP Race"
Jeff Reardon
Cal Ripken, Jr.
Nolan Ryan
Bret Saberhagen
Cecil Fielder / Jose Canseco
Kent Mercker / Mark Wohlers / Alajendro Pena
Installment Three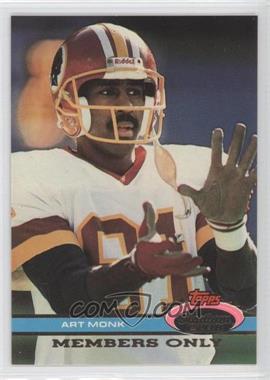 NOTE: The third installment features no baseball players.
Art Monk
Warren Moon
Leonard Russell
Mark Rypien
Barry Sanders
Emmitt Smith
Tony Zendejas
Pavel Bure
Guy Carbonneau
Paul Coffey
Mike Gartner "Mike Makes It Two"
Mike Gartner "Mike Makes It 500"
Michel Goulet
Wayne Gretzky
Brett Hull
Brian Leetch
Mario Lemieux "Mario Repeats as MVP"
Mario Lemieux "Lemieux Takes 3rd Ross"
Mark Messier
Patrick Roy
Stadium Club
---
Chrome:
Members Only Sets:
Other Stadium Club Related Products: