1991 Stadium Club Charter Member
Description
As part of the launch of the new Stadium Club brand, Topps created a collector's club of the same name. This 50-card multi-sport set was sent to "Charter Members" in the Topps Stadium Club. 32 of the 50 cards in the set are of baseball players, with the remaining 18 cards evenly divided among football and hockey -- the two other sports Topps had a license for at the time.
The cards have the same design as the 1991 Stadium Club Baseball base set, but with the words "Charter Member" printed in gold foil lettering immediately below the stripes. The back design features a newspaper-like masthead complete with a headline announcing a major event in the player's season with copy below providing more information about the event. The cards are unnumbered and arranged below alphabetically within sports.
Topps apparently made two printings of this set, which are most easily identifiable by the small asterisks on the bottom left of the card backs. The first printing cards have one asterisk, the second printing cards have two.
In addition to the 50-card set, Charter Member sets also included a baseball card-sized Nolan Ryan bronze ingot, a key chain, and a personalized membership card. Some of the early ignots were produced in a size slightly larger than 2 1/2" X 3 1/2". It is believed that very early members of the Stadium Club received this over-sized Ryan Ingot. A third version of the Ryan ingot is known to exist: this one has a 24K logo on it. It is believed that the 24K version may have been sold exclusively on the Home Shopping Network.
Distribution
Factory set exclusive.
Reviews
Checklist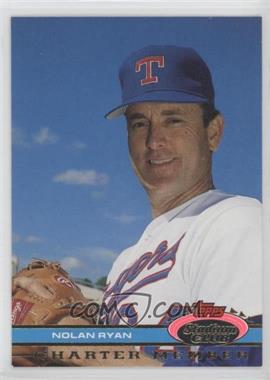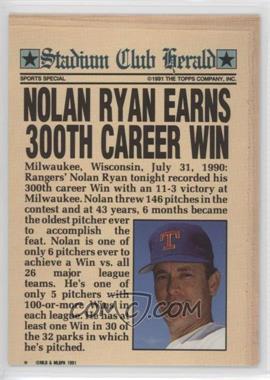 NOTE: This set is not sequentially-numbered.
Sandy Alomar, Jr.
George Brett
Barry Bonds
Ellis Burks
Eric Davis
Delino DeShields
Doug Drabek
Cecil Fielder
Carlton Fisk
Ken Griffey, Jr. / Ken Griffey, Sr.
Billy Hatcher
Andy Hawkins
Rickey Henderson AL MVP
Rickey Henderson "AL's Leading Thief"
Randy Johnson
David Justice
Mark Langston / Mike Witt
Kevin Maas
Ramon Martinez
Willie McGee
Terry Mulholland
Jose Offerman
Melido Perez
Nolan Ryan 7th No-Hitter
Nolan Ryan 300th Win
Ryne Sandberg
Dave Stewart
Dave Steib
Bobby Thigpen
Fernando Valenzuela
Frank Viola
Bob Welch
Ottis Anderson Super Bowl MVP
Ottis Anderson 10,000 Yards Career Rushing
Randall Cunningham
Warren Moon
Barry Sanders
Pete Sotyanovich
Lawrence Taylor
Derrick Thomas
Richmond Webb
Ed Belfour Vezina Trophy
Ed Belfour Top Goaltender
Ray Bourque
Paul Coffey
Wayne Gretzky 2000 Points
Wayne Gretzky The 700 Club
Brett Hull Hart Trophy
Brett Hull 50-50 Club
Mario Lemieux
Nolan Ryan Bronze Ingot
Nolan Ryan Large Bronze Ingot
Nolan Ryan 24K Bronze Ingot
Membership Card
Keychain
Stadium Club
---
Chrome:
Members Only Sets:
Other Stadium Club Related Products: