1993 Stadium Club Members Only
Description
1993 Stadium Club Members Only is a 59-card, multi-sport, set set out to Topps Stadium Club Members in four separate installments. In addition to football and hockey, for the first time the Members Only set included basketball cards (Topps acquired an NBA license in 1992.) Each installment contained several sports. The design is identical to that of the 1993 Stadium Club set (except in basketball), but with the words "Members Only" printed in gold foil at the bottom along with the player's name and the Stadium Club logo on a blue bar.
This set is not to be confused with the Members Only factory set which was offered for the first time in 1993.
Distribution
Checklist
Base Set
Installment I
13 total cards: 8 basketball, 3 hockey and 2 baseball.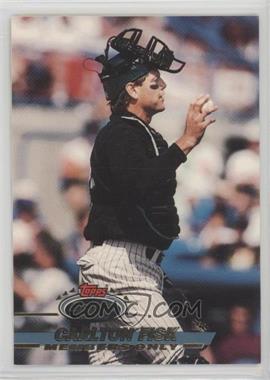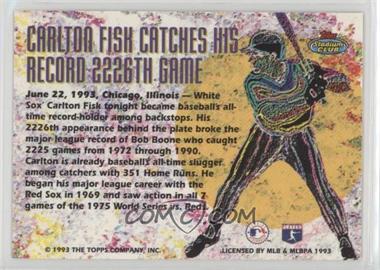 Chris Bosio
Mark Grace
Brian Shaw BK
Cliff Robinson BK
Hakeem Olajuwon BK
Isiah Thomas BK
John Stockton BK
Mark Eaton BK
Micheal Williams BK
Shaquille O'Neal BK
Mario Lemieux HK
Partick Roy HK
Teemu Selanne HK
Installment II
15 total cards: 12 baseball, 2 football and 1 basketball.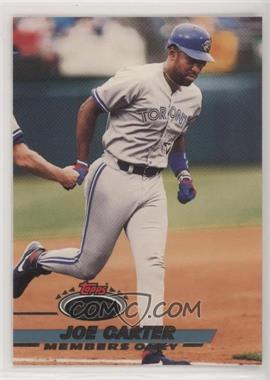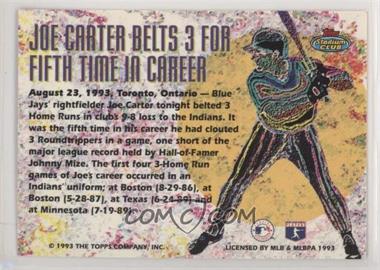 Carlton Fisk
Darren Lewis
Darryl Kile
George Brett
Jay Buhner
Jeff Reardon
Jim Abbott
Ken Griffey, Jr.
Kirby Puckett
Mark Whiten
Travis Fryman
Joe Carter "Belts 3 for 5th Time in Career"
Michael Jordan BK
Dan Marino FB
Morten Andersen FB
Installment III
15 total cards: 14 baseball and 1 basketball. The checklist on the original Topps letter was missing Dave Stewart.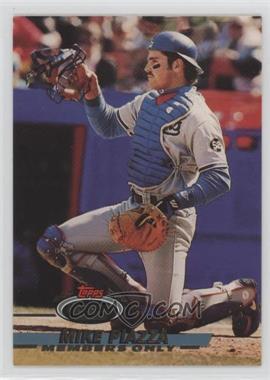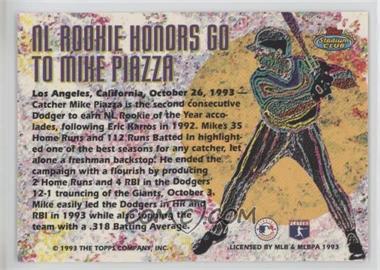 Dave Stewart
Barry Bonds
Curt Schilling
Dave Winfield
Eddie Murray
Frank Thomas
Greg Maddux
Jack McDowell
Lee Smith
Paul Molitor
Tim Salmon
Joe Carter "Carter's Dramatics Give Jays Series"
Houston Rockets BK
Mike Piazza MLB RC HR
Mike Piazza NL ROY
Installment IV
16 total cards: 6 basketball, 7 football and 3 hockey.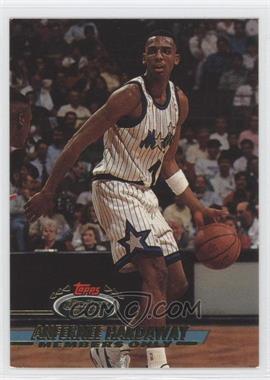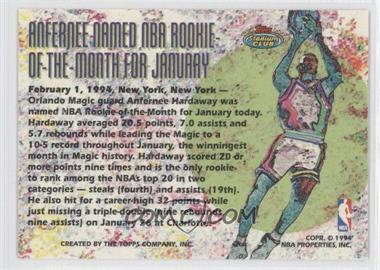 Anfernee Hardaway BK
Chris Webber BK
Danny Ainge BK
David Robinson BK
Dominique Wilkins BK
Patrick Ewing BK
Dana Stubblefield FB
Emmitt Smith FB
Jerome Bettis FB
Jim Kelly FB
Sterling Sharpe FB
Steve Christie FB
Steve Young FB
Mike Gartner HK
Mike Richter HK
Peter Bondra HK
Stadium Club
---
Chrome:
Members Only Sets:
Other Stadium Club Related Products: