2022 Topps International Trading Card Day
Description
The 2022 Topps International Trading Card Day promotion was August 6th. For 2022, Topps has expanded their "National Baseball Card Day" promotion to include their UEFA Champions League and Garbage Pail Kids licenses. In addition, for the first time, Hobby shops in Europe and Japan will participate.
On that day, participating Hobby shops will be giving away special five-card packs. Collectors can choose between either a Baseball, Soccer, or Garbage Pail Kids pack. All three sets consists of 30 cards and once again, autographs will be randomly inserted into these packs.
Two bonus cards will be available will a qualifying purchase. Beginning August 6th, collectors spending $10 or more on Topps products will receive an ITCD card of Shohei Ohtani. Starting August 13th, a second bonus card of Wander Franco will become available.
Distribution
Reviews
Checklist
Baseball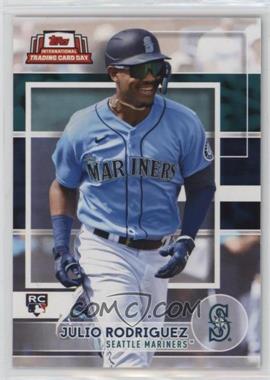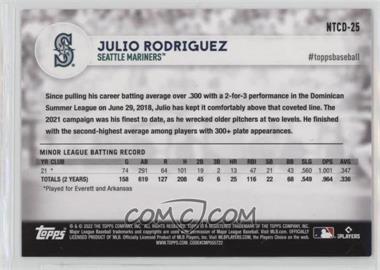 NTCD-1 Mike Trout
NTCD-2 Ketel Marte
NTCD-3 Ronald Acuña Jr.
NTCD-4 Ryan Mountcastle
NTCD-5 Kris Bryant
NTCD-6 Willson Contreras
NTCD-7 Luis Robert
NTCD-8 Jonathan India
NTCD-9 Jose Ramirez
NTCD-10 Trevor Story
NTCD-11 Spencer Torkelson
NTCD-12 Jose Altuve
NTCD-13 Bobby Witt Jr.
NTCD-14 Mookie Betts
NTCD-15 Jazz Chisholm Jr.
NTCD-16 Christian Yelich
NTCD-17 Carlos Correa
NTCD-18 Max Scherzer
NTCD-19 Aaron Judge
NTCD-20 Cristian Pache
NTCD-21 Bryce Harper
NTCD-22 Oneil Cruz
NTCD-23 CJ Abrams
NTCD-24 Joey Bart
NTCD-25 Julio Rodriguez
NTCD-26 Nolan Arenado
NTCD-27 Vidal Brujan
NTCD-28 Corey Seager
NTCD-29 Vladimir Guerrero Jr.
NTCD-30 Juan Soto
Bonus Cards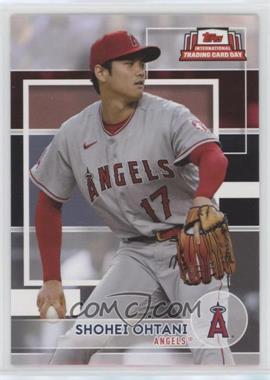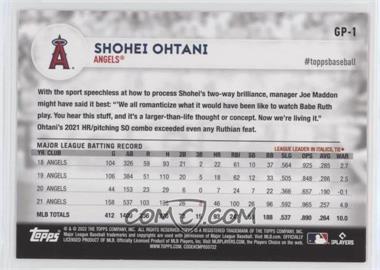 GP-1 Shohei Ohtani
GP-2 Wander Franco
Autographs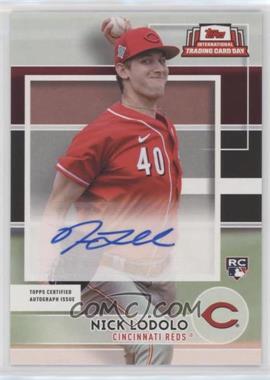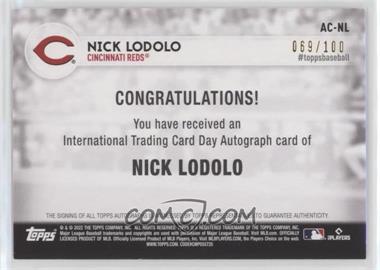 AC-BD Bryan De La Cruz
AC-BS Bryson Stott
AC-BW Bobby Witt Jr.
AC-CM Cedric Mullins
AC-CW Colton Welker
AC-DS Dansby Swanson
AC-HG Hunter Greene
AC-JB Jake Burger
AC-JD Jarren Duran
AC-JL Josh Lowe
AC-JR Julio Rodriguez
AC-JS Juan Soto
AC-LR Luis Robert
AC-MT Mike Trout
AC-NL Nick Lodolo
AC-ST Spencer Torkelson
AC-VB Vidal Brujan
AC-WF Wander Franco
UEFA Champions League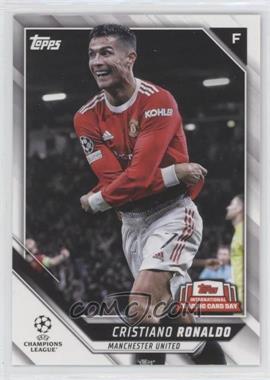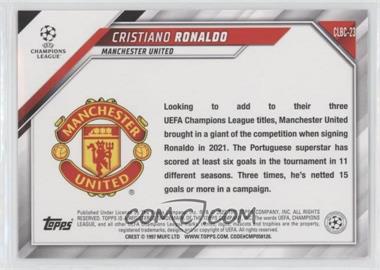 NOTE: Despite being released at the beginning of the 2022-23 European soccer season, all players are depicted on their 2021-22 clubs.
CLBC-1 João Félix
CLBC-2 Pedri
CLBC-3 Karim Benzema
CLBC-4 Marcus Rashford
CLBC-5 Kevin De Bruyne
CLBC-6 Christian Pulisic
CLBC-7 Mohamed Salah
CLBC-8 Robert Lewandowski
CLBC-9 Giovanni Reyna
CLBC-10 Erling Haaland
CLBC-11 Tyler Adams
CLBC-12 Sergiño Dest
CLBC-13 Lautaro Martínez
CLBC-14 Weston McKennie
CLBC-15 Zlatan Ibrahimovi?
CLBC-16 Neymar Jr
CLBC-17 Kylian Mbappé
CLBC-18 Jack Grealish
CLBC-19 Lionel Messi
CLBC-20 Romelu Lukaku
CLBC-21 Brenden Aaronson
CLBC-22 Karim Adeyemi
CLBC-23 Cristiano Ronaldo
CLBC-24 Ansu Fati
CLBC-25 Vini Jr.
CLBC-26 Phil Foden
CLBC-27 Virgil van Dijk
CLBC-28 Jude Bellingham
CLBC-29 Gavi
CLBC-30 Benjamin Sesko
Garbage Pail Kids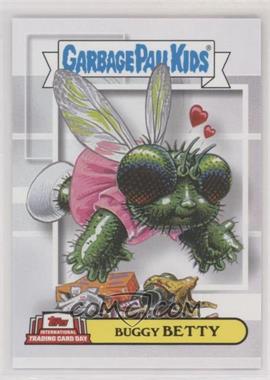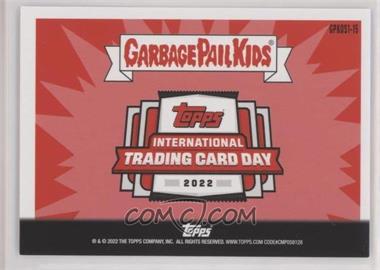 The GPK set consists of fifteen original cards, and fifteen reprints from the 1985 Series One set.
GPKB-1 Researching RALPH
GPKB-2 Spammed SAM
GPKB-3 Book MARK
GPKB-4 Angry AHAB
GPKB-5 ABNER Underpants
GPKB-6 Whittled WOODY
GPKB-7 Hexing HERMIONE
GPKB-8 Flattened FRANK
GPKB-9 Slappy SLY
GPKB-10 Split KIT
GPKB-11 Stacked JACK
GPKB-12 Cheshire PAT
GPKB-13 Story Book BASTIAN
GPKB-14 Too-Hot TOM
GPKB-15 Ambushed ART
GPKOS1-1 Nasty NICK
GPKOS1-2 Junkfood JOHN
GPKOS1-3 Up CHUCK
GPKOS1-4 Dead TED
GPKOS1-5 Stormy HEATHER
GPKOS1-6 ADAM Bomb
GPKOS1-7 Tee-Vee STEVIE
GPKOS1-8 Potty SCOTTY
GPKOS1-9 Junky JEFF
GPKOS1-10 Drippy DAN
GPKOS1-11 Nervous REX
GPKOS1-12 Creepy CAROL
GPKOS1-13 New Wave DAVE
GPKOS1-14 Slimy SAM
GPKOS1-15 Buggy BETTY
Artist Autographs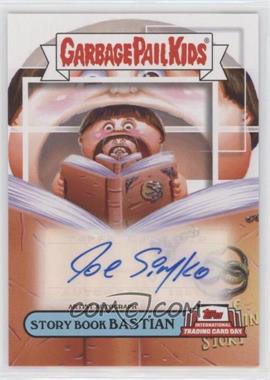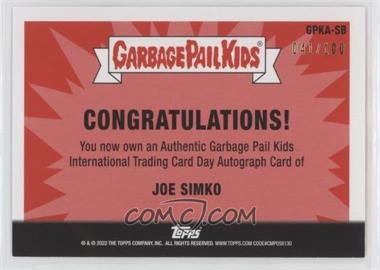 GPKA-AA Angry AHAB
GPKA-AAR Ambushed ART
GPKA-AU ABNER Underpants
GPKA-BM Book MARK
GPKA-CP Cheshire PAT
GPKA-FF Flattened FRANK
GPKA-HH Hexing HERMIONE
GPKA-RR Researching RALPH
GPKA-SB Story Book BASTIAN
GPKA-SJ Stacked JACK
GPKA-SK Split KIT
GPKA-SS Spammed SAM
GPKA-SSL Slappy SLY
GPKA-TT Too-Hot TOM
GPKA-WW Whittled WOODY
National Baseball Card Day
Team Sets:
---
Other Promotional Sets: