2017 Topps National Baseball Card Day Team Sets
Description
2017 Topps National Baseball Card Day Team Sets was a series of stadium giveaways distributed in the months of July and August, 2017. Most team sets consisted of ten cards, with nine active players and one legend.
The design is the same as the National Baseball Card Day set.
Distribution
Reviews
Checklist
Arizona Diamondbacks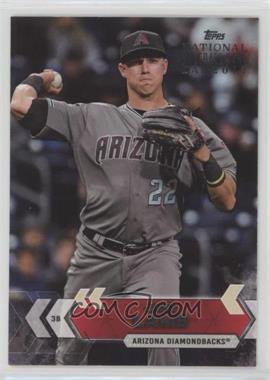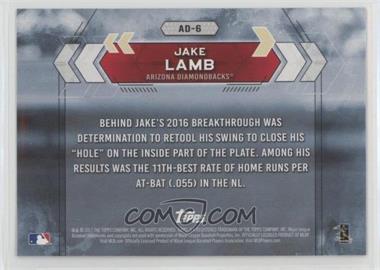 AD-1 A.J. Pollock
AD-2 Zack Greinke
AD-3 Taijuan Walker
AD-4 David Peralta
AD-5 Paul Goldschmidt
AD-6 Jake Lamb
AD-7 Fernando Rodney
AD-8 Yasmany Tomas
AD-9 Patrick Corbin
AD-10 Randy Johnson
Atlanta Braves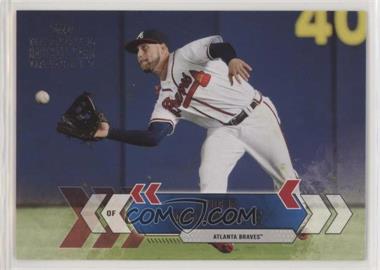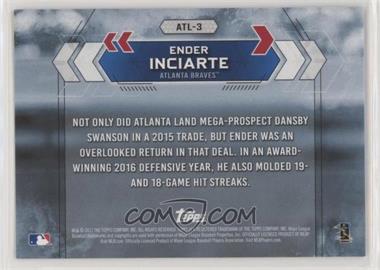 ATL-1 Dansby Swanson
ATL-2 Freddie Freeman
ATL-3 Ender Inciarte
ATL-4 Julio Teheran
ATL-5 Nick Markakis
ATL-6 Mike Foltynewicz
ATL-7 Bartolo Colon
ATL-8 Matt Kemp
ATL-9 Hank Aaron
ATL-10 Chipper Jones
Baltimore Orioles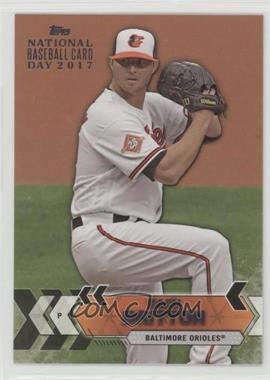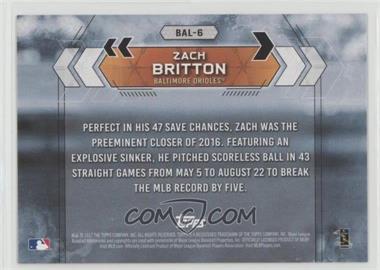 BAL-1 Manny Machado
BAL-2 Adam Jones
BAL-3 Chris Tillman
BAL-4 J.J. Hardy
BAL-5 Mark Trumbo
BAL-6 Zach Britton
BAL-7 Chris Davis
BAL-8 Kevin Gausman
BAL-9 Jonathan Schoop
BAL-10 Cal Ripken, Jr.
Boston Red Sox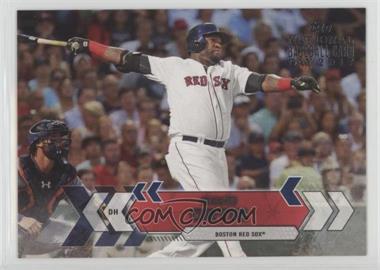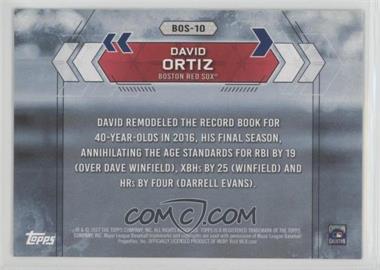 BOS-1 Xander Bogaerts
BOS-2 Dustin Pedroia
BOS-3 Mookie Betts
BOS-4 Rick Porcello
BOS-5 Jackie Bradley, Jr.
BOS-6 Andrew Benintendi
BOS-7 Craig Kimbrel
BOS-8 David Price
BOS-9 Hanley Ramirez
BOS-10 David Ortiz
Chicago Cubs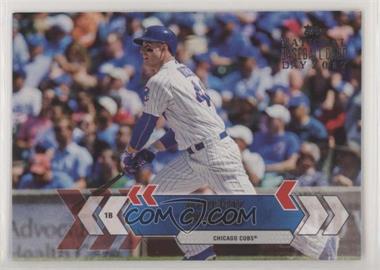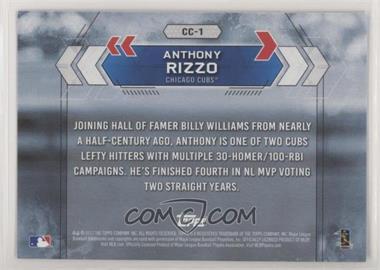 CC-1 Anthony Rizzo
CC-2 Jake Arrieta
CC-3 Javier Baez
CC-4 Kris Bryant
CC-5 Kyle Schwarber
CC-6 Ben Zobrist
CC-7 Addison Russell
CC-8 Jon Lester
CC-9 Kyle Hendricks
CC-10 Ryne Sandberg
Chicago White Sox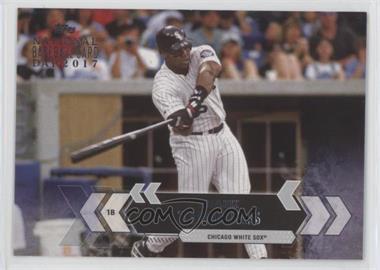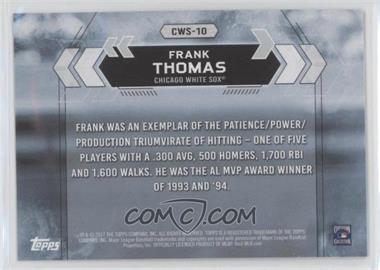 CWS-1 Jose Abreu
CWS-2 Nate Jones
CWS-3 Yoan Moncada
CWS-4 Carlos Rodon
CWS-5 James Shields
CWS-6 Tim Anderson
CWS-7 Zach Putnam
CWS-8 Avisail Garcia
CWS-9 Tyler Saladino
CWS-10 Frank Thomas
Cincinnati Reds
CIN-1 Joey Votto
CIN-2 Eugenio Suarez
CIN-3 Billy Hamilton
CIN-4 Anthony DeSclafani
CIN-5 Adam Duvall
CIN-6 Jose Peraza
CIN-7 Raisel Iglesias
CIN-8 Brandon Finnegan
CIN-9 Homer Bailey
CIN-10 Johnny Bench
Cleveland Indians
CLE-1 Francisco Lindor
CLE-2 Carlos Santana
CLE-3 Corey Kluber
CLE-4 Carlos Carrasco
CLE-5 Jose Ramirez
CLE-6 Edwin Encarnacion
CLE-7 Cody Allen
CLE-8 Andrew Miller
CLE-9 Jason Kipnis
CLE-10 Jim Thome
Colorado Rockies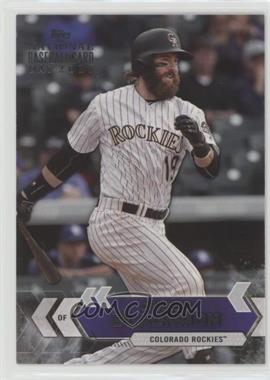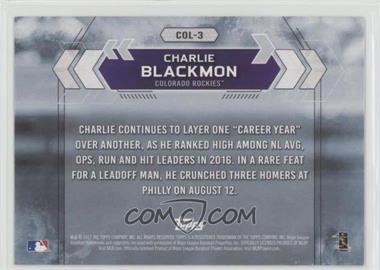 COL-1 Nolan Arenado
COL-2 Chad Bettis
COL-3 Charlie Blackmon
COL-4 David Dahl
COL-5 Ian Desmond
COL-6 Carlos Gonzalez
COL-7 Jon Gray
COL-8 DJ LeMahieu
COL-9 Trevor Story
COL-10 Andres Galarraga
Detroit Tigers
DET-1 Miguel Cabrera
DET-2 Jordan Zimmermann
DET-3 Nicholas Castellanos
DET-4 Michael Fulmer
DET-5 J.D. Martinez
DET-6 Victor Martinez
DET-7 James McCann
DET-8 Justin Verlander
DET-9 Ian Kinsler
DET-10 Al Kaline
Houston Astros
HOU-1 Jose Altuve
HOU-2 Carlos Correa
HOU-3 Alex Bregman
HOU-4 Dallas Keuchel
HOU-5 George Springer
HOU-6 Brian McCann
HOU-7 Carlos Beltran
HOU-8 Josh Reddick
HOU-9 Lance McCullers, Jr.
HOU-10 Jeff Bagwell
Kansas City Royals
KCR-1 Ian Kennedy
KCR-2 Raul Mondesi
KCR-3 Paulo Orlando
KCR-4 Joakim Soria
KCR-5 Alex Gordon
KCR-6 Jorge Soler
KCR-7 Danny Duffy
KCR-8 Salvador Perez
KCR-9 Kelvin Herrera
KCR-10 George Brett
Los Angeles Angels of Anaheim
ANG-1 Mike Trout
ANG-2 C.J. Cron
ANG-3 Albert Pujols
ANG-4 Garrett Richards
ANG-5 Kole Calhoun
ANG-6 Matt Shoemaker
ANG-7 Huston Street
ANG-8 Cameron Maybin
ANG-9 Danny Espinosa
ANG-10 Rod Carew
Los Angeles Dodgers
LAD-1 Clayton Kershaw
LAD-2 Adrian Gonzalez
LAD-3 Kenley Jansen
LAD-4 Kenta Maeda
LAD-5 Corey Seager
LAD-6 Julio Urias
LAD-7 Justin Turner
LAD-8 Joc Pederson
LAD-9 Rich Hill
LAD-10 Mike Piazza
Miami Marlins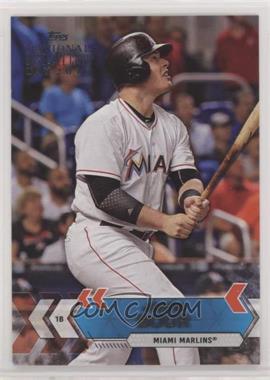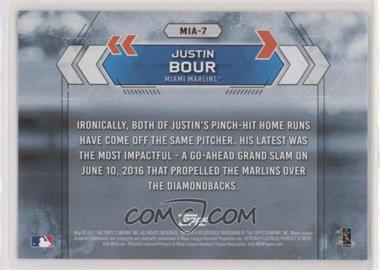 MIA-1 Christian Yelich
MIA-2 Marcell Ozuna
MIA-3 Martin Prado
MIA-4 Wei-Yin Chen
MIA-5 Giancarlo Stanton
MIA-6 Ichiro
MIA-7 Justin Bour
MIA-8 A.J. Ramos
MIA-9 Adeiny Hechavarria
MIA-10 Ivan Rodriguez
Milwaukee Brewers
MIL-1 Keon Broxton
MIL-2 Ryan Braun
MIL-3 Jonathan Villar
MIL-4 Junior Guerra
MIL-5 Domingo Santana
MIL-6 Travis Shaw
MIL-7 Eric Thames
MIL-8 Orlando Arcia
MIL-9 Zach Davies
MIL-10 Robin Yount
Minnesota Twins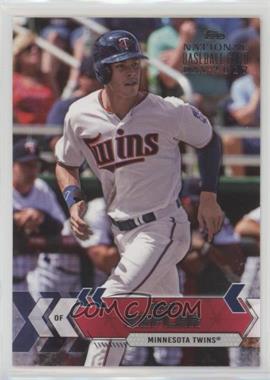 MIN-1 Byron Buxton
MIN-2 Max Kepler
MIN-3 Joe Mauer
MIN-4 Eddie Rosario
MIN-5 Miguel Sano
MIN-6 Phil Hughes
MIN-7 Jason Castro
MIN-8 Eduardo Escobar
MIN-9 Jorge Polanco
MIN-10 Rod Carew
New York Mets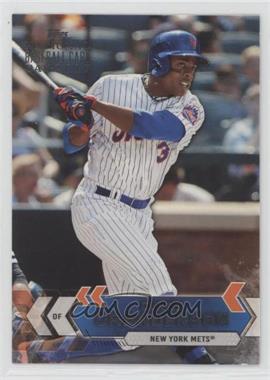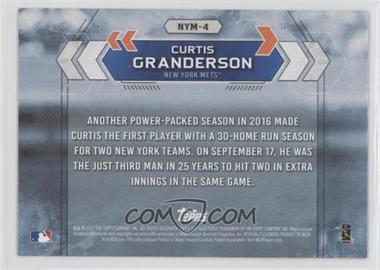 NOTE: The Mets team set is only nine cards.
NYM-1 Matt Harvey
NYM-2 Noah Syndergaard
NYM-3 Yoenis Cespedes
NYM-4 Curtis Granderson
NYM-5 David Wright
NYM-6 Neil Walker
NYM-7 Asdrubal Cabrera
NYM-8 Steven Matz
NYM-9 Mike Piazza
New York Yankees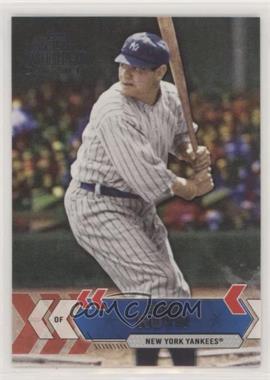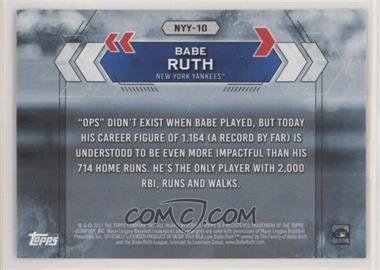 NYY-1 Dellin Betances
NYY-2 Aaron Judge
NYY-3 Starlin Castro
NYY-4 Jacoby Ellsbury
NYY-5 Masahiro Tanaka
NYY-6 Gary Sanchez
NYY-7 Matt Holliday
NYY-8 Didi Gregorius
NYY-9 Brett Gardner
NYY-10 Babe Ruth
Oakland Athletics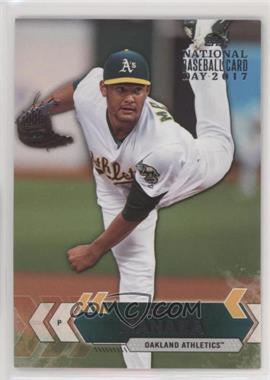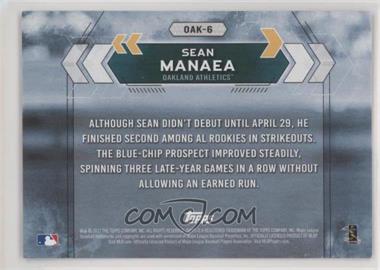 OAK-1 Khris Davis
OAK-2 Kendall Graveman
OAK-3 Ryon Healy
OAK-4 Marcus Semien
OAK-5 Sonny Gray
OAK-6 Sean Manaea
OAK-7 Sean Doolittle
OAK-8 Yonder Alonso
OAK-9 Matt Joyce
OAK-10 Rickey Henderson
Philadelphia Phillies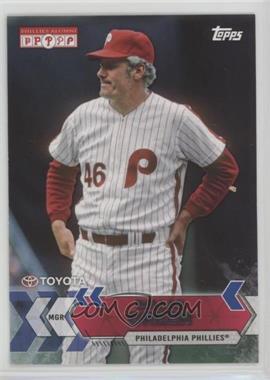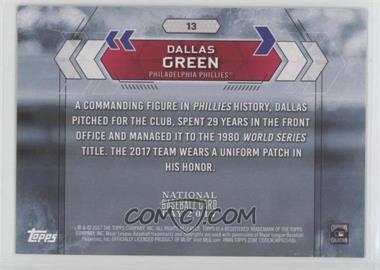 NOTE: The Phillies team set is 20 cards and was distributed during their annual Alumni Weekend. Each card has the Phillies Alumni Weekend logo, and the logo of Toyota Motors -- Alumni Weekend's sponsor.
1 Robin Roberts
2 Richie Ashburn
3 Jim Bunning
4 Steve Carlton
5 John Kruk
6 Mike Schmidt
7 Larry Bowa
8 Dick Allen
9 Greg Luzinski
10 Tug McGraw
11 Tony Taylor
12 Bob Boone
13 Dallas Green
14 Juan Samuel
15 Darren Daulton
16 Mike Lieberthal
17 Charlie Manuel
18 Pat Burrell
19 Jim Thome
20 Garry Maddox
Pittsburgh Pirates
PIT-1 Josh Bell
PIT-2 Gerrit Cole
PIT-3 Francisco Cervelli
PIT-4 Josh Harrison
PIT-5 Ivan Nova
PIT-6 Andrew McCutchen
PIT-7 Jordy Mercer
PIT-8 Gregory Polanco
PIT-9 Jameson Taillon
PIT-10 Roberto Clemente
San Diego Padres
SDP-1 Travis Jankowski
SDP-2 Yangervis Solarte
SDP-3 Hunter Renfroe
SDP-4 Wil Myers
SDP-5 Luis Sardinas
SDP-6 Ryan Schimpf
SDP-7 Erick Aybar
SDP-8 Austin Hedges
SDP-9 Manny Margot
SDP-10 Tony Gwynn
San Francisco Giants
SFG-1 Brandon Belt
SFG-2 Brandon Crawford
SFG-3 Johnny Cueto
SFG-4 Mark Melancon
SFG-5 Matt Moore
SFG-6 Joe Panik
SFG-7 Hunter Pence
SFG-8 Buster Posey
SFG-9 Jeff Samardzija
SFG-10 1997 San Francisco Giants
Seattle Mariners
SEA-1 Robinson Cano
SEA-2 Hisashi Iwakuma
SEA-3 Kyle Seager
SEA-4 Jean Segura
SEA-5 Nelson Cruz
SEA-6 Felix Hernandez
SEA-7 Mitch Haniger
SEA-8 Edwin Diaz
SEA-9 James Paxton
SEA-10 Edgar Martinez
St. Louis Cardinals
STL-1 Matt Carpenter
STL-2 Aledmys Diaz
STL-3 Randal Grichuk
STL-4 Carlos Martinez
STL-5 Yadier Molina
STL-6 Seung-Hwan Oh
STL-7 Dexter Fowler
STL-8 Stephen Piscotty
STL-9 Adam Wainwright
STL-10 Ozzie Smith
Tampa Bay Rays
TBR-1 Steven Souza, Jr.
TBR-2 Kevin Kiermaier
TBR-3 Blake Snell
TBR-4 Chris Archer
TBR-5 Evan Longoria
TBR-6 Matt Duffy
TBR-7 Brad Miller
TBR-8 Jake Odorizzi
TBR-9 Colby Rasmus
TBR-10 Wade Boggs
Texas Rangers
TEX-1 Jonathan Lucroy
TEX-2 Adrian Beltre
TEX-3 Nomar Mazara
TEX-4 Cole Hamels
TEX-5 Yu Darvish
TEX-6 Rougned Odor
TEX-7 Carlos Gomez
TEX-8 Elvis Andrus
TEX-9 Shin-Soo Choo
TEX-10 Ivan Rodriguez
Toronto Blue Jays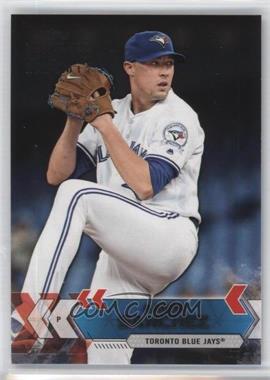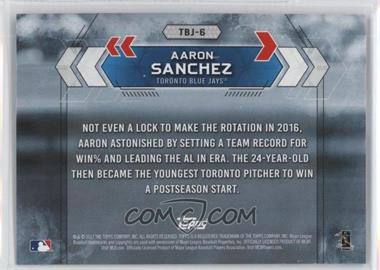 TBJ-1 Marco Estrada
TBJ-2 Jos? Bautista
TBJ-3 Troy Tulowitzki
TBJ-4 Marcus Stroman
TBJ-5 Josh Donaldson
TBJ-6 Aaron Sanchez
TBJ-7 J.A. Happ
TBJ-8 Roberto Osuna
TBJ-9 Kevin Pillar
TBJ-10 Roy Halladay
Washington Nationals
NOTE: Tim Raines is depicted as a Montreal Expo.
WAS-1 Bryce Harper
WAS-2 Daniel Murphy
WAS-3 Stephen Strasburg
WAS-4 Trea Turner
WAS-5 Max Scherzer
WAS-6 Adam Eaton
WAS-7 Jayson Werth
WAS-8 Ryan Zimmerman
WAS-9 Tanner Roark
WAS-10 Tim Raines
National Baseball Card Day
Team Sets:
---
Other Promotional Sets: