2018 Topps Archives Snapshots
Description
2018 Topps Archives Snapshots was released, with very little fanfare, on October 26th. The product is exclusive to topps.com and each 12-card box will contain one autograph.
Distribution
12 cards per box ($24.99). Exclusive to topps.com
Reviews
Insertion Ratios
| Cards | Total Cards | Numbered To | Odds |
| --- | --- | --- | --- |
| Base | 50 | - | ? |
| Black & White | 50 | - | one-per-box |
| Autographs | 36 | - | one-per-box |
Checklist
Base Set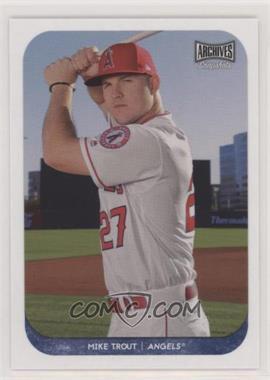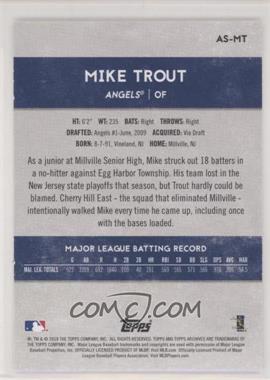 AS-AJ Andruw Jones
AS-AJU Aaron Judge
AS-AR Amed Rosario RC
AS-AS Andrew Stevenson RC
AS-AV Alex Verdugo RC
AS-BD Brian Dozier
AS-BP Buster Posey
AS-CB Charlie Blackmon
AS-CC Carlos Correa
AS-CH Charlie Hough
AS-CJ Chipper Jones
AS-CK Clayton Kershaw
AS-CR Cal Ripken, Jr.
AS-CS Chance Sisco RC
AS-DE David Eckstein
AS-DG Didi Gregorius
AS-EM Edgar Martinez
AS-FL Francisco Lindor
AS-FM Francisco Mejia RC
AS-FV Frank Viola
AS-GA Greg Allen RC
AS-GS Giancarlo Stanton
AS-GT Gleyber Torres RC
AS-JA Jose Altuve
AS-JB Jim Bouton
AS-JC Jose Canseco
AS-JO John Olerud
AS-JT Jim Thome
AS-JTO Joe Torre
AS-KB Kris Bryant
AS-KD Khris Davis
AS-MF Max Fried RC
AS-MO Matt Olson
AS-MP Mike Piazza
AS-MT Mike Trout
AS-NR Nolan Ryan
AS-OA Ozzie Albies RC
AS-PD Paul DeJong
AS-RA Rick Ankiel
AS-RAC Ronald Acuña, Jr. RC
AS-RD Rafael Devers RC
AS-RM Ryan McMahon RC
AS-RR Raudy Read RC
AS-SA Sandy Alcantara RC
AS-SO Shohei Ohtani RC
AS-TL Tzu-Wei Lin
AS-TM Tyler Mahle RC
AS-TP Tommy Pham
AS-WB Walker Buehler RC
AS-YM Yadier Molina
Parallels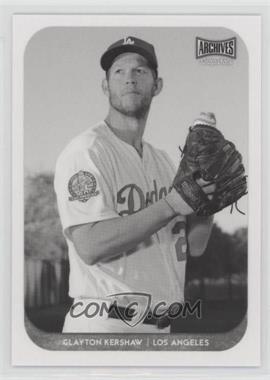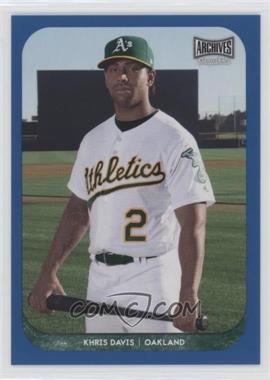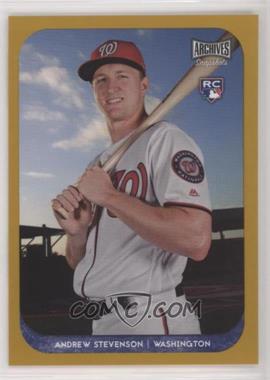 All 50 base cards are available in the following parallels.
Black & White
Blue (serial-numbered to 50)
Gold (serial-numbered to ten)
Black (one-of-one)
Autographs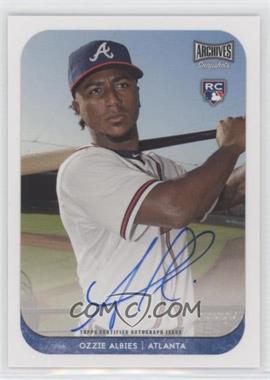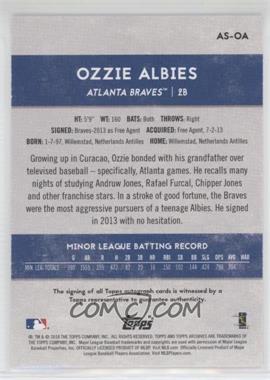 All 50 base cards are available in the following parallels.
Blue (serial-numbered to 50)
Black & White (serial-numbered to 25 copies)
Gold (serial-numbered to ten)
Black (one-of-one)
AS-AJ Andruw Jones
AS-AJU Aaron Judge
AS-AR Amed Rosario
AS-AV Alex Verdugo
AS-CB Charlie Blackmon
AS-CH Charlie Hough
AS-CJ Chipper Jones
AS-CS Chance Sisco
AS-DE David Eckstein
AS-DG Didi Gregorius
AS-FL Francisco Lindor
AS-FV Frank Viola
AS-GT Gleyber Torres
AS-JA Jose Altuve
AS-JB Jim Bouton
AS-JC Jose Canseco
AS-JO John Olerud
AS-JT Joe Torre
AS-KB Kris Bryant
AS-KD Khris Davis
AS-MO Matt Olson
AS-MT Mike Trout
AS-OA Ozzie Albies
AS-PD Paul DeJong
AS-RA Rick Ankiel
AS-RAC Ronald Acuña, Jr.
AS-RD Rafael Devers
AS-RM Ryan McMahon
AS-RR Raudy Read
AS-SA Sandy Alcantara
AS-SO Shohei Ohtani
AS-TL Tzu-Wei Lin
AS-TM Tyler Mahle
AS-TP Tommy Pham
AS-WB Walker Buehler
AS-YM Yadier Molina
Topps Archives
Reprint Era:
Replication Era:
---
Parallel Brands:
---
All-Time Fan Favorites:
Archives Snapshots:
Other Archives Brands: