1995 Topps Archives Brooklyn Dodgers
Description
1995 Topps Archives Brooklyn Dodgers is a 165-card set celebrating the Dodger teams of the mid 1950s. The set consists of 127 reprints of Topps and Bowman cards from 1952-56 with the rest of the set filled out with a number of "cards that never were."
Although never confirmed by Topps, it is believed that the last 55 cards in the base set (#111-165) were short-printed. Sandy Koufax also autographed a number of his cards for random insertion.
Collectors should be advised that this set is sequentially-numbered twice: Once as part of the Archives set, and as part of the set the card was originally from.
Distribution
24 packs per box, ten cards per pack.
Reviews
Insertion Ratios
| Cards | Total Cards | Numbered To | Odds |
| --- | --- | --- | --- |
| Base | 165 | - | ? |
| Sandy Koufax Autograph | 2 | - | ? |
Checklist
Base Set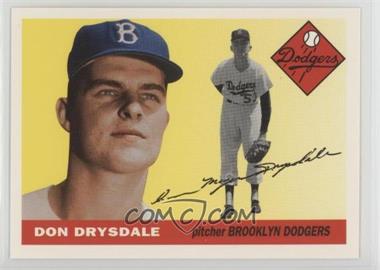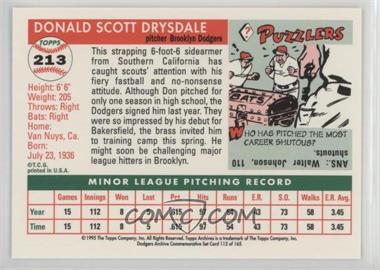 1 Andy Pafko
2 Wayne Terwilliger
3 Billy Loes
4 Gil Hodges
5 Duke Snider
6 Jim Russell
7 Chris Van Cuyk
8 Preacher Roe
9 Johnny Schmitz
10 Bud Podbielan
11 Phil Haugstad
12 Clyde King
13 Billy Cox
14 Rocky Bridges
15 Carl Erskine
16 Erv Palica
17 Ralph Branca
18 Jackie Robinson
19 Roy Campanella
20 Rube Walker
21 Johnny Rutherford
22 Joe Black
23 George Shuba
24 Pee Wee Reese
25 Clem Labine
26 Bobby Morgan
27 Cookie Lavagetto
28 Chuck Dressen
29 Ben Wade
30 Rocky Nelson
31 Billy Herman
32 Jake Pitler
33 Dick Williams
34 Cal Abrams
35 Carl Furillo
36 Don Newcombe
37 Jackie Robinson
38 Ben Wade
39 Clem Labine
40 Roy Campanella
41 George Shuba
42 Chuck Dressen
43 Pee Wee Reese
44 Joe Black
45 Bobby Morgan
46 Dick Williams
47 Rube Walker
48 Johnny Rutherford
49 Billy Loes
50 Don Hoak
51 Jim Hughes
52 Bob Milliken
53 Preacher Roe
54 Dixie Howell
55 Junior Gilliam
56 Johnny Podres
57 Bill Antonello
58 Ralph Branca
59 Gil Hodges
60 Carl Furillo
61 Carl Erskine
62 Don Newcombe
63 Duke Snider
64 Billy Cox
65 Russ Meyer
66 Jackie Robinson
67 Preacher Roe
68 Duke Snider
69 Junior Gilliam
70 Billy Herman
71 Joe Black
72 Gil Hodges
73 Clem Labine
74 Ben Wade
75 Tom Lasorda
76 Rube Walker
77 Johnny Podres
78 Jim Hughes
79 Bob Milliken
80 Charlie Thompson
81 Don Hoak
82 Roberto Clemente
83 Don Zimmer
84 Roy Campanella
85 Billy Cox
86 Carl Erskine
87 Carl Furillo
88 Don Newcombe
89 Pee Wee Reese
90 George Shuba
91 Junior Gilliam
92 Billy Herman
93 Johnny Podres
94 Don Hoak
95 Jackie Robinson
96 Jim Hughes
97 Bob Borkowski
98 Sandy Amoros
99 Karl Spooner
100 Don Zimmer
101 Rube Walker
102 Bob Milliken
103 Sandy Koufax
104 Joe Black
105 Clem Labine
106 Gil Hodges
107 Ed Roebuck
108 Bert Hamrik
109 Duke Snider
110 Bob Borkowski
111 Roger Craig
112 Don Drysdale
113 Dixie Howell
114 Frank Kellert
115 Tom Lasorda
116 Chuck Templeton
117 World Series
118 World Series
119 World Series
120 World Series
121 Don Hoak
122 Roy Campanella
123 Pee Wee Reese
124 Bob Darnell
125 Don Zimmer
126 George Shuba
127 Johnny Podres
128 Junior Gilliam
129 Don Newcombe
130 Jim Hughes
131 Gil Hodges
132 Carl Furillo
133 Carl Erskine
134 Erv Palica
135 Russ Meyer
136 Billy Loes
137 Walt Moryn
138 Chico Fernandez
139 Charlie Neal
140 Ken Lehman
141 Walter Alston
142 Jackie Robinson
143 Sandy Amoros
144 Ed Roebuck
145 Roger Craig
146 Sandy Koufax
147 Karl Spooner
148 Don Zimmer
149 Roy Campanella
150 Gil Hodges
151 Duke Snider
152 Team Card
153 Johnny Podres
154 Don Bessent
155 Carl Furillo
156 Randy Jackson
157 Carl Erskine
158 Don Newcombe
159 Pee Wee Reese
160 Billy Loes
161 Junior Gilliam
162 Clem Labine
163 Charlie Neal
164 Rube Walker
165 Checklist
Autographs
Sandy Koufax Autograph
103 Sandy Koufax
146 Sandy Koufax