2010 Upper Deck
Description
2010 Upper Deck Baseball is a 600-card set released the first week of February, 2010.
In August 2009, Topps was named Major League Baseball Properties' (MLBP) exclusive trading card licensee for 2010 and beyond. Upper Deck (who had extended their license with the Major League Baseball Players Association (MLBPA) earlier in 2009) announced that, despite losing their MLB license, they had no intention of exiting the baseball card market. As 2009 turned to 2010, UD was tight-lipped as to their plans for baseball, only announcing that MLBPA-licensed products would continue to be released in 2010.
In late January 2010, Upper Deck released their first partially-licensed baseball products: "2009" Ultimate Collection and "2009" UD Signature Stars. 2010 Upper Deck Baseball Series One would follow suit in early February. All three products continued to depict MLBPA players in MLB uniforms -- albeit with team logos strategically concealed, but NOT airbrushed out. For continuing to depict MLB players in uniform, UD was shortly thereafter sued by MLBP and Topps for copyright infringement.
On March 3rd, 2010, as part of a settlement with Major League Baseball Properties, Upper Deck agreed not to release any baseball card products currently in development -- to include 2010 SP Authentic, 2010 SPx, and 2010 Upper Deck Goudey. The settlement with MLBP allowed Upper Deck to sell any excess 2010 Upper Deck inventory. As such, this set is considered authorized and licensed by BOTH MLBP and the MLBPA, and the rookie cards are "true."
Wave 2
2010 Upper Deck Baseball Series One Wave 2, was scheduled for release (exclusive to retail outlets) May 4th, 2010. Series One Wave 2 was to have 50 additional cards in the set (#601-#650) along with a selection of cards from the 600-card Series One set -- similar to the "High-Number" packs from Upper Deck's early years. Series One Wave 2 was never released.
Distribution
Retail: 18 cards per pack, (MSRP: $3)
Hobby: 20 cards per pack, 16 packs per Hobby box, (MSRP: $5)
Fat Packs: 36 cards per pack, (MSRP: $5)
Blasters: 10 packs of eight cards per Blaster, (MSRP: $19.99)
NOTE: Despite Series Two never being issued, all packs and boxes are labelled "2010 Upper Deck Series One."
Reviews
Celebrity Predictors Insert Set Review: http://sanjosefuji.blogspot.com/2011/11/set-showcase-16-2010-ud-celebrity.html
Insertion Ratios
| Cards | Total Cards | Numbered To | Hobby Odds | Retail Odds | Fat Pack Odds |
| --- | --- | --- | --- | --- | --- |
| Base | 600 | - | 17:1 | 17:1 | 33:1 |
| Double-Take Variations | 25 | - | 1:96 | 1:960 | ? |
| Gold | 600 | 99 | ? | ? | ? |
| Upper Deck Portraits | 100 | - | ? | ? | ? |
| Upper Deck Portraits Black Glossy | 100 | 99 | ? | ? | ? |
| Season Biography | 200 | - | 2:1 | 1:1 | 1:1 |
| Joe DiMaggio Heroes | 10 | - | ? | ? | ? |
| 20th Anniversary Heroes | 10 | - | 1:16 | ? | ? |
| Tape Measure Shots | 25 | - | N/A | N/A | 2:1 |
| All World | 15 | - | ? | ? | ? |
| Pure Heat | 15 | - | ? | ? | ? |
| 10th Anniversary 2000 UD Rookie Update | 20 | - | ? | ? | ? |
| Celebrity Predictors | 10 | - | ? | ? | ? |
| Supreme Green | 100 | - | N/A | 1:8 | N/A |
| Supreme Blue | 100 | - | N/A | 1:27 | N/A |
| UD Game Jersey | 100 | - | 1:8 | ? | ? |
| UD Game Jersey Patch | 100 | 25 | ? | ? | ? |
| Gary Sheffield A Piece of History 500 HR Club Bat | 1 | 350 | ? | ? | ? |
| Signature Sensations | 100 | - | 1:16 | ? | ? |
| 20th Anniversary Heroes Art Card Signatures | 10 | 90 | ? | ? | ? |
| Joe DiMaggio Cut Signature | 1 | 56 | ? | ? | ? |
Checklist
Base Set
Star Rookies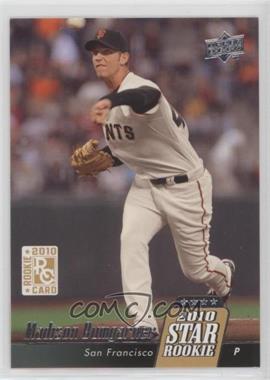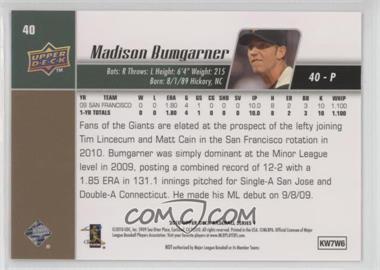 1 Star Rookie Checklist UER (Back incorrectly lists card #34 as Josh Butler)
2 Daniel McCutchen SR RC
3 Eric Young, Jr. SR (RC)
4 Michael Brantley SR RC
5 Brian Matuz SR RC
6 Ian Desmond SR (RC)
7 Carlos Carrasco SR (RC)
8 Dustin Richardson SR RC
9 Tyler Flowers SR RC
10 Drew Stubbs SR RC
11 Reid Gorecki SR (RC)
12 Tommy Manzella SR (RC)
13 Wade Davis SR (RC)
14 Esmil Rogers SR RC
15 Michael Dunn SR RC
16 Luis Durango SR RC
17 Juan Francisco SR RC
18 Ernesto Frieri SR RC
19 Tyler Colvin SR RC
20 Armando Gabino SR RC
21 Adam Moore SR RC
22 Cesar Ramos SR (RC)
23 Chris Johnson SR RC
24 Chris Pettit SR RC
25 Brandon Allen SR (RC)
26 Brad Kilby SR RC
27 Dusty Hughes SR RC
28 Buster Posey SR RC
29 Kevin Richardson SR (RC)
30 Josh Thole SR RC
31 John Hester SR RC
32 Kyle Phillips SR RC
33 Neil Walker SR (RC)
34 Matt Carson SR (RC)
35 Pedro Strop SR RC
36 Pedro Viola SR RC
37 Daniel Runzler SR RC
38 Henry Hodriguez SR RC
39 Justin Turner SR RC
40 Madison Bumgarner SR RC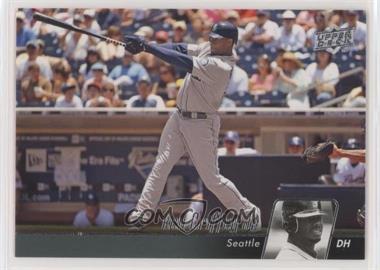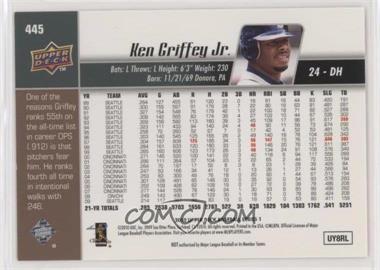 41 Chris B. Young
42 Justin Upton
43 Conor Jackson
44 Augie Ojeda
45 Mark Reynolds
46 Miguel Montero
47 Max Scherzer
48 Doug Slaten
49 Chad Qualls
50 Dan Haren
51 Juan Gutierrez
52 Doug Davis
53 Leo Rosales
54 Chad Tracy
55 Stephen Drew
56 Jordan Schafer
57 Rafael Soriano
58 Javier Vazquez
59 Brandon Jones
60 Matt Diaz
61 Jair Jurrjens
62 Adam LaRoche
63 Martin Prado
64 Omar Infante
65 Chipper Jones
66 Yunel Escobar
67 David Ross
68 Derek Lowe
69 James Parr
70 Kenshin Kawakami
71 Kris Medlen
72 Ryan Church
73 Nate McLouth
74 Adam Jones
75 Luke Scott
76 Nolan Reimold
77 Felix Pie
78 Lou Montanez
79 Ty Wigginton
80 Cesar Izturis
81 Robert Andino
82 Chad Moeller
83 Koji Uehara
84 Matt Wieters
85 Jim Johnson
86 Chris Ray
87 Danys Baez
88 David Hernandez
89 Jeremy Guthrie
90 Rich Hill
91 Dustin Pedroia
92 David Ortiz
93 J.D. Drew
94 Jeff Bailey
95 Kevin Youkilis
96 Clay Buchholz
97 Jed Lowrie
98 Mike Lowell
99 George Kottaras
100 Takashi Saito
101 Hideki Okajima
102 Jason Varitek
103 Jon Lester
104 Josh Beckett
105 Daniel Bard
106 Jonathan Papelbon
107 Nick Green
108 Kevin Gregg
109 Ryan Theriot
110 Kosuke Fukudome
111 Derrek Lee
112 Bobby Scales
113 Aramis Ramirez
114 Aaron Miles
115 Mike Fontenot
116 Koyie Hill
117 Carlos Zambrano
118 Jeff Samardzija
119 Randy Wells
120 Sean Marshall
121 Carlos Marmol
122 Ryan Dempster
123 Reed Johnson
124 Jake Fox
125 Tony Pena
126 Carlos Quentin
127 A.J. Pierzynski
128 Scott Podsednik
129 Alexei Ramirez
130 Paul Konerko
131 Josh Fields
132 Alex Rios
133 Matt Thornton
134 Mark Buehrle
135 Scott Linebrink
136 Freddy Garcia
137 John Danks
138 Bobby Jenks
139 Gavin Floyd
140 DJ Carrasco
141 Jake Peavy
142 Justin Lehr
143 Wladimir Balentien
144 Laynce Nix
145 Chris Dickerson
146 Joey Votto
147 Paul Janish
148 Brandon Phillips
149 Scott Rolen
150 Ryan Hanigan
151 Edinson Volquez
152 Arthur Rhodes
153 Micah Owings
154 Ramon Hernandez
155 Francisco Cordero
156 Bronson Arroyo
157 Jared Burton
158 Homer Bailey
159 Travis Hafner
160 Grady Sizemore
161 Matt LaPorta
162 Jeremy Sowers
163 Trevor Crowe
164 Asdrubal Cabrera
165 Shin-Soo Choo
166 Kelly Shoppach
167 Kerry Wood
168 Jake Westbrook
169 Fausto Carmona
170 Aaron Laffey
171 Justin Masterson
172 Jhonny Peralta
173 Jensen Lewis
174 Luis Valbuena
175 Jason Giambi
176 Ryan Spilborghs
177 Seth Smith
178 Matt Murton
179 Dexter Fowler
180 Troy Tulowitzki
181 Ian Stewart
182 Omar Quintanilla
183 Clint Barmes
184 Garrett Atkins
185 Chris Iannetta
186 Huston Street
187 Franklin Morales
188 Todd Helton
189 Carlos Gonzalez
190 Aaron Cook
191 Jason Hammel
192 Edwin Jackson
193 Clete Thomas
194 Marcus Thames
195 Ryan Raburn
196 Fernando Rodney
197 Adam Everett
198 Brandon Inge
199 Miguel Cabrera
200 Gerald Laird
201 Joel Zumaya
202 Curtis Granderson
203 Justin Verlander
204 Bobby Seay
205 Nate Robertson
206 Rick Porcello
207 Ryan Perry
208 Fu-Te Ni
209 Cody Ross
210 Jeremy Hermida
211 Alfredo Amezaga
212 Chris Coghlan
213 Wes Helms
214 Emilio Bonifacio
215 Ricky Nolasco
216 Anibal Sanchez
217 Josh Johnson
218 Burke Badenhop
219 Kiko Calero
220 Renyel Pinto
221 Andrew Miller
222 Hanley Ramirez
223 Gaby Sanchez
224 Hunter Pence
225 Carlos Lee
226 Michael Bourn
227 Kazuo Matsui
228 Darin Erstad
229 Lance Berkman
230 Humberto Quintero
231 J.R. Towles
232 Wesley Wright
233 Jose Valverde
234 Wandy Rodriguez
235 Roy Oswalt
236 Latroy Hawkins
237 Bud Norris
238 Alberto Arias
239 Billy Butler
240 Jose Guillen
241 David DeJesus
242 Willie Bloomquist
243 Mike Aviles
244 Alberto Callaspo
245 John Buck
246 Joakim Soria
247 Zack Greinke
248 Miguel Olivo
249 Kyle Davies
250 Juan Cruz
251 Luke Hochevar
252 Brian Bannister
253 Robinson Tejeda
254 Kyle Farnsworth
255 John Lackey
256 Torii Hunter
257 Chone Figgins
258 Kevin Jepsen
259 Reggie Willits
260 Kendry Morales
261 Howie Kendrick
262 Erick Aybar
263 Brandon Wood
264 Maicer Izturis
265 Mike Napoli
266 Jeff Mathis
267 Jered Weaver
268 Joe Saunders
269 Ervin Santana
270 Brian Fuentes
271 Jose Arredondo
272 Chad Billingsley
273 Juan Pierre
274 Matt Kemp
275 Randy Wolf
276 Doug Mientkiewicz
277 James Loney
278 Casey Blake
279 Rafael Furcal
280 Blake DeWitt
281 Russell Martin
282 Jeff Weaver
283 Cory Wade
284 Eric Stults
285 George Sherrill
286 Hiroki Kuroda
287 Hong-Chih Kuo
288 Clayton Kershaw
289 Corey Hart
290 Jody Gerut
291 Ryan Braun
292 Mike Cameron
293 Casey McGehee
294 Mat Gamel
295 J.J. Hardy
296 Braden Looper
297 Yovani Gallardo
298 Mike Rivera
299 Carlos Villanueva
300 Jeff Suppan
301 Mitch Stetter
302 David Riske
303 Manny Parra
304 Seth McClung
305 Todd Coffey
306 Joe Mauer
307 Delmon Young
308 Michael Cuddyer
309 Matt Tolbert
310 Nick Punto
311 Jason Kubel
312 Brendan Harris
313 Brian Buscher
314 Kevin Slowey
315 Glen Perkins
316 Joe Nathan
317 Nick Blackburn
318 Jesse Crain
319 Matt Guerrier
320 Scott Baker
321 Anthony Swarzak
322 Jon Rauch
323 David Wright
324 Jeremy Reed
325 Angel Pagan
326 Jose Reyes
327 Jeff Francoeur
328 Luis Castillo
329 Daniel Murphy
330 Omir Santos
331 John Maine
332 Brian Schneider
333 Johan Santana
334 Francisco Rodriguez
335 Tim Redding
336 Mike Pelfrey
337 Bobby Parnell
338 Pat Misch
339 Pedro Feliciano
340 Nick Swisher
341 Melky Cabrera
342 Mark Teixeira
343 CC Sabathia
344 Ramiro Pena
345 Derek Jeter
346 Andy Pettitte
347 Jorge Posada
348 Francisco Cervelli
349 Chien-Ming Wang
350 Mariano Rivera
351 Phil Hughes
352 Phil Coke
353 A.J. Burnett
354 Jose Molina
355 Jonathan Albaladejo
356 Ryan Sweeney
357 Jack Cust
358 Rajai Davis
359 Andrew Bailey
360 Aaron Cunningham
361 Adam Kennedy
362 Mark Ellis
363 Daric Barton
364 Kurt Suzuki
365 Brad Ziegler
366 Michael Wuertz
367 Josh Outman
368 Edgar Gonzalez
369 Joey Devine
370 Craig Breslow
371 Trevor Cahill
372 Brett Anderson
373 Scott Hairston
374 Jayson Werth
375 Raul Ibanez
376 Chase Utley
377 Greg Dobbs
378 Eric Bruntlett
379 Shane Victorino
380 Jimmy Rollins
381 Jack Taschner
382 Ryan Madson
383 Brad Lidge
384 J.A. Happ
385 Cole Hamels
386 Carlos Ruiz
387 J.C. Romero
388 Kyle Kendrick
389 Chad Durbin
390 Cliff Lee
391 Delwyn Young
392 Brandon Moss
393 Ramon Vazquez
394 Andy LaRoche
395 Jason Jaramillo
396 Ross Ohlendorf
397 Paul Maholm
398 Jeff Karstens
399 Charlie Morton
400 Zach Duke
401 Jesse Chavez
402 Lastings Milledge
403 Matt Capps
404 Evan Meek
405 Ryan Doumit
406 Drew Macias
407 Chase Headley
408 Tony Gwynn, Jr.
409 Kevin Kouzmanoff
410 Edgar Gonzalez
411 David Eckstein
412 Everth Cabrera
413 Nick Hundley
414 Chris Young
415 Luis Perdomo
416 Edward Mujica
417 Clayton Richard
418 Luke Gregerson
419 Heath Bell
420 Kevin Correia
421 Cha-Seung Baek
422 Joe Thatcher
423 Luis Rodriguez
424 Bengie Molina
425 Ryan Garko
426 Nate Schierholtz
427 Aaron Rowand
428 Eugenio Velez
429 Pablo Sandoval
430 Edgar Renteria
431 Kevin Frandsen
432 Rich Aurilia
433 Jonathan Sanchez
434 Barry Zito
435 Brian Wilson
436 Merkin Valdez
437 Juan Uribe
438 Brandon Medders
439 Noah Lowry
440 Tim Lincecum
441 Jeremy Affeldt
442 Russell Branyan
443 Ian Snell
444 Franklin Gutierrez
445 Ken Griffey, Jr.
446 Matt Tuiasosopo
447 Jose Lopez
448 Michael Saunders
449 Ryan Rowland-Smith
450 Carlos Silva
451 Ichiro
452 Brandon Morrow
453 Chris Jakubauskas
454 Felix Hernandez
455 David Aardsma
456 Mark Lowe
457 Rob Johnson
458 Garrett Olson
459 Ryan Ludwick
460 Colby Rasmus
461 Brendan Ryan
462 Skip Schumaker
463 Albert Pujols
464 Joe Thurston
465 Julio Lugo
466 Yadier Molina
467 Adam Wainwright
468 Brad Thompson
469 Dennys Reyes
470 Mitchell Boggs
471 Jason Motte
472 Kyle McClellan
473 Kyle Lohse
474 Chris Carpenter
475 Ryan Franklin
476 Fernando Perez
477 Ben Zobrist
478 Evan Longoria
479 Gabe Gross
480 Pat Burrell
481 Carlos Pena
482 Jason Bartlett
483 Willie Aybar
484 Dioner Navarro
485 Dan Wheeler
486 Andy Sonnanstine
487 James Shields
488 Jeff Niemann
489 J.P. Howell
490 Grant Balfour
491 David Price
492 Matt Garza
493 David Murphy
494 Nelson Cruz
495 Michael Young
496 Ian Kinsler
497 Chris Davis
498 Elvis Andrus
499 Taylor Teagarden
500 Jarrod Saltalamacchia
501 CJ Wilson
502 Derek Holland
503 Darren O'Day
504 Brandon McCarthy
505 Scott Feldman
506 Jason Jennings
507 Eddie Guardado
508 Frank Francisco
509 Marlon Byrd
510 Scott Downs
511 Adam Lind
512 Brett Cecil
513 Travis Snider
514 Ricky Romero
515 Lyle Overbay
516 Aaron Hill
517 Jose Bautista
518 Michael Barrett
519 Roy Halladay
520 Brian Tallet
521 Marc Rzepczynski
522 Robert Ray
523 Dustin McGowan
524 Shaun Marcum
525 Jesse Litsch
526 Josh Willingham
527 Nyjer Morgan
528 Adam Dunn
529 Ryan Zimmerman
530 Willie Harris
531 Wil Nieves
532 Ron Villone
533 Livan Hernandez
534 Austin Kearns
535 Alberto Gonzalez
536 Shairon Martis
537 Ross Detwiler
538 Garrett Mock
539 Mike MacDougal
540 Jason Bergmann
Ballparks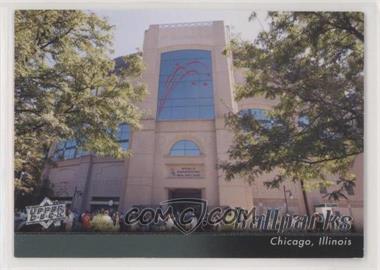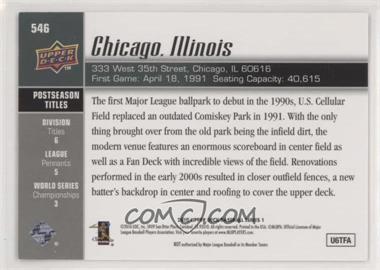 541 Chase Field
542 Turner Field
543 Oriole Park at Camden Yards
544 Fenway Park
545 Wrigley Field
546 U.S. Cellular Field
547 The Great American Ballpark
548 Progressive Field
549 Coors Field
550 Comerica Park
551 Landshark Stadium
552 Minute Maid Park
553 Kaufmann Stadium
554 Angels Stadium
555 Dodger Stadium
556 Miller Park
557 Target Field
558 Citi Field
559 Yankee Stadium
560 Oakland-Alameda County Coliseum
561 Citizens Bank Park
562 PNC Park
563 Petco Park
564 AT&T Park
565 Busch Stadium
566 SAFECO Field
567 Tropicana Field
568 Rangers Ballpark in Arlington
569 Rogers Centre
570 Nationals Park
Team Checklists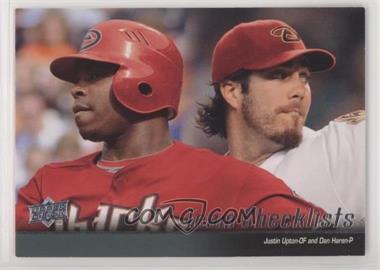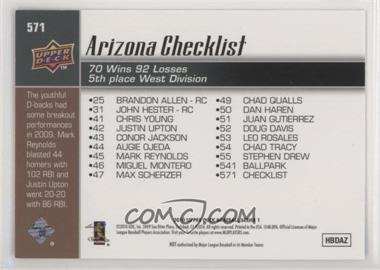 571 Justin Upton / Dan Haren
572 Chipper Jones / Kenshin Kawakami
573 Adam Jones / Koji Uehara
574 Dustin Pedroia / Josh Beckett
575 Aramis Ramirez / Carlos Zambrano
576 Mark Buehrle / Carlos Quentin
577 Brandon Phillips / Joey Votto
578 Grady Sizemore / Travis Hafner
579 Troy Tulowitzki / Todd Helton
580 Curtis Granderson / Justin Verlander
581 Hanley Ramirez / Josh Johnson
582 Lance Berkman / Roy Oswalt
583 Zack Greinke / Joakim Soria
584 Jered Weaver / Kendry Morales
585 Clayton Kershaw / Matt Kemp
586 Ryan Braun / Yovani Gallardo
587 Joe Mauer / Joe Nathan
588 Johan Santana / Jose Reyes
589 Derek Jeter / Mariano Rivera
590 Andrew Bailey / Kurt Suzuki
591 Chase Utley / Ryan Howard
592 Zach Duke / Ryan Doumit
593 Chase Headley / Tony Gwynn, Jr.
594 Tim Lincecum / Pablo Sandoval
595 Albert Pujols / Adam Wainwright
596 Ichiro / Felix Hernandez
597 Evan Longoria / James Shields
598 Ian Kinsler / Michael Young
599 Roy Halladay / Aaron Hill
600 Ryan Zimmerman / Adam Dunn
Wave 2
Wave 2 was to have been a 50-card retail-exclusive extension on the base set, and was scheduled to hit store shelves in May, 2010. However, on March 3rd, 2010, as part of a settlement with Major League Baseball Properties, Upper Deck agreed not to release any future baseball card products -- to include 2010 Upper Deck Wave 2.
Gimmicks
Double-Take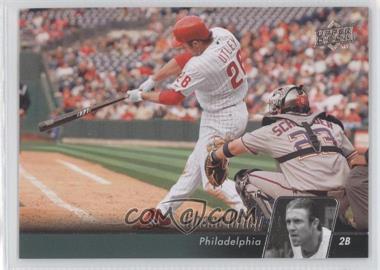 25 base cards have scarce "Double-Take" variations. Double-Take's feature between two and four subtle tweaks to the image shown on the commonly seeded version of the card. Beginning in February, 2010 each week Upper Deck was to have revealed the existence of a new Double-Take card. On March 5th, 2010, two days after settling their lawsuit with MLB Properties, Upper Deck released a checklist of all 25 variants; however since then, they've ceased to announce what the tweaks on each card are. Any assistance in identifying the unknown tweaks would be greatly appreciated.
The 25 card set is fractured into four levels: Common (C), Rare (R), Super Rare (SR), and Ultra Rare (UR). Common being the least scarce and Ultra Rare being the most scarce. Each card's level is designated in the checklist.
The first five collectors who completed a full set of 25 Double-Take's, were to receive a collection of autographed Upper Deck Authenticated memorabilia. But with the lawsuit settlement it is unknown if this promotion is still valid.
NOTE: The state odds of finding a Double-Take variation card are 1:96 Hobby packs and 1:960 retail packs.
42 Justin Upton C (UD Logo flipped to upper-left side, all-black bat, ball closer to hitter
66 Yunel Escobar UR (No finger behind glove, left-most wall is green, added 2nd base)
83 Koji Uehara UR (Advertisement changed to red letters, outfield fence extended farther t
104 Josh Beckett SR (1B is between legs, two neckalaces)
109 Ryan Theriot UR (UD logo in left corner, outfielder is missing)
110 Kosuke Fukudome UR (More visable grass, missing elbow pad)
129 Alexei Ramirez R (NO Nike "Swoosh" on both wristbands)
146 Joey Votto SR (UD logo in right corner, batting glove in back pocket)
165 Shin-Soo Choo UR (UD Logo in right corner, guy in dugout missing, sleeve is all blue)
180 Troy Tulowitski R ("Marketplace" airbrushed from background, baseball added to foreground,
198 Brandon Inge UR ( No wristband is on right wrist, two on left wrist. No dirt in photo)
212 Chris Coghlan UR (UD Logo flipped to upper-right, player in dugout moved left)
226 Michael Bourn UR (Bat held perpendicular, player in dugout removed)
267 Jered Weaver C (UD logo flipped to upper-right, "VEGAS" removed from outfield wall, extr
288 Clayton Kershaw C (Chair moved, 1st base added)
291 Ryan Braun C (Shorter bat barrel, catcher's mitt lowered)
323 David Wright SR (Outfield line is green, left fielder is missing)
347 Jorge Posada C (Ball boy w/o bat, more people in crowd, arm not on towel, purple backsto
350 Mariano Rivera SR (missing logos on rain tarp, 1B's entire body is shown)
376 Chase Utley C (UD Logo flipped to upper-right corner, grandstand wall is solid green)
408 Tony Gwynn, Jr. UR (Wall and glove colors changed, UD Logo moved to upper-left, sunglasses
419 Heath Bell UR
451 Ichiro R (bat through fan's head, two dugout bars)
466 Yadier Molina SR (Wristband, bat and player in dugout all removed)
498 Elvis Andrus R (Black glove, extra wristband, ball in glove)
Parallels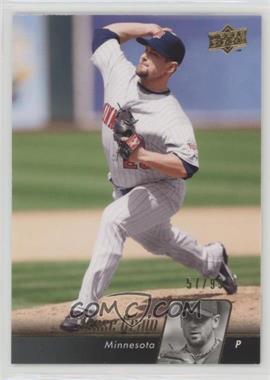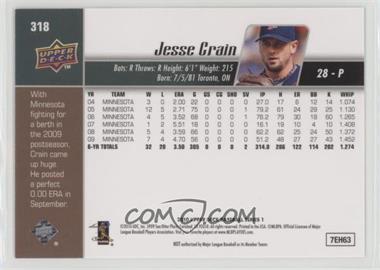 Each base card is also available in a Gold parallel, numbered to 99 copies.
Inserts
Portraits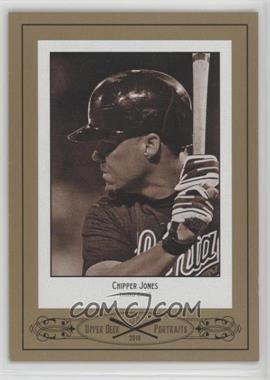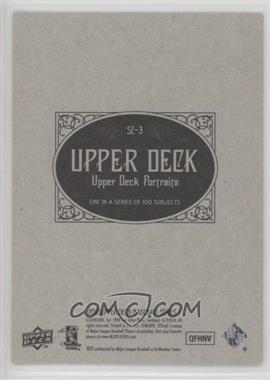 All cards are also available in a Glossy parallel, which is serial-numbered to 99 copies.
SE-1 Justin Upton
SE-2 Dan Haren
SE-3 Chipper Jones
SE-4 Yunel Escobar
SE-5 Derek Lowe
SE-6 Nick Markakis
SE-7 Brian Roberts
SE-8 Koji Uehara
SE-9 Josh Beckett
SE-10 Jon Lester
SE-11 David Ortiz
SE-12 Jason Varitek
SE-13 Carlos Zambrano
SE-14 Kosuke Fukudome
SE-15 Aramis Ramirez
SE-16 Mark Buehrle
SE-17 Paul Konerko
SE-18 Carlos Quentin
SE-19 Joey Votto
SE-20 Brandon Phillips
SE-21 Edinson Volquez
SE-22 Shin-Soo Choo
SE-23 Kerry Wood
SE-24 Grady Sizemore
SE-25 Troy Tulowitzki
SE-26 Aaron Cook
SE-27 Todd Helton
SE-28 Justin Verlander
SE-29 Miguel Cabrera
SE-30 Rick Porcello
SE-31 Chris Coghlan
SE-32 Josh Johnson
SE-33 Carlos Lee
SE-34 Lance Berkman
SE-35 Roy Oswalt
SE-36 Zack Greinke
SE-37 Billy Butler
SE-38 Joakim Soria
SE-39 Jered Weaver
SE-40 Torii Hunter
SE-41 Kendry Morales
SE-42 Chone Figgins
SE-44 Clayton Kershaw
SE-45 Matt Kemp
SE-46 Hiroki Kuroda
SE-47 Alcides Escobar
SE-48 Yovani Gallardo
SE-49 Ryan Braun
SE-50 Justin Morneau
SE-51 Justin Morneau
SE-52 Michael Cuddyer
SE-53 Johan Santana
SE-54 David Wright
SE-55 Jose Reyes
SE-56 Francisco Rodriguez
SE-57 Mark Teixeira
SE-58 Derek Jeter
SE-59 Mariano Rivera
SE-60 A.J. Burnett
SE-61 Jorge Posada
SE-62 Jack Cust
SE-63 Mark Ellis
SE-64 Andrew Bailey
SE-65 Chase Utley
SE-66 Cole Hamels
SE-67 Raul Ibanez
SE-68 Jimmy Rollins
SE-69 Ryan Doumit
SE-70 Zach Duke
SE-71 Tony Gwynn
SE-72 Chris Young
SE-73 Heath Bell
SE-74 Barry Zito
SE-75 Pablo Sandoval
SE-76 Aaron Rowand
SE-77 Tim Lincecum
SE-78 Felix Hernandez
SE-79 Ichiro
SE-80 Franklin Gutierrez
SE-81 Albert Pujols
SE-82 Adam Wainwright
SE-83 Chris Carpenter
SE-84 Colby Rasmus
SE-85 Yadier Molina
SE-86 Evan Longoria
SE-87 Jeff Neimann
SE-88 James Shields
SE-89 Carlos Pena
SE-90 Scott Feldman
SE-91 Michael Young
SE-92 Ian Kinsler
SE-93 Elvis Andrus
SE-94 Ricky Romero
SE-95 Roy Halladay
SE-96 Adam Lind
SE-97 Aaron Hill
SE-98 Ryan Zimmerman
SE-99 Adam Dunn
SE-100 Nyjer Morgan
2009 Season Biography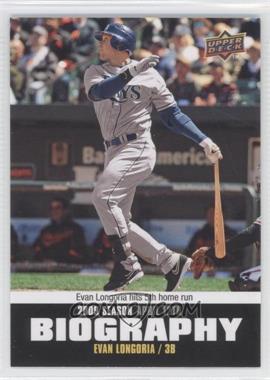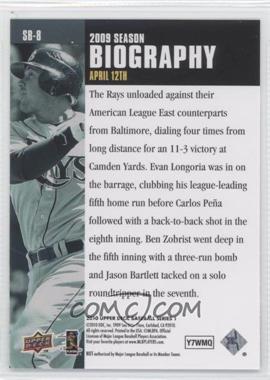 SB-1 Derek Lowe
SB-2 Johan Santana
SB-3 Aaron Rowand
SB-4 Koji Uehara
SB-5 Everth Cabrera
SB-6 Miguel Cabrera
SB-7 Justin Verlander
SB-8 Evan Longoria
SB-9 Orlando Hudson
SB-10 Zach Duke
SB-11 Ken Griffey, Jr.
SB-12 Ian Kinsler
SB-13 Tim Wakefield
SB-14 Grady Sizemore
SB-15 Gary Sheffield
SB-16 Tim Lincecum
SB-17 Randy Johnson
SB-18 Dustin Pedroia
SB-19 Ryan Braun
SB-20 Dan Haren
SB-21 Dave Bush
SB-22 Carlos Pena
SB-23 Albert Pujols
SB-24 Jacoby Ellsbury
SB-25 Dexter Fowler
SB-26 Ryan Howard
SB-27 Jorge Cantu
SB-28 Yovani Gallardo
SB-29 Evan Longoria
SB-30 Matt Garza
SB-31 Jake Peavy
SB-32 Jason Marquis
SB-33 Carl Crawford
SB-34 Zack Greinke
SB-35 Vincente Padilla
SB-36 Manny Ramirez
SB-37 Hanley Ramirez
SB-38 Alex Rodriguez
SB-39 Joe Saunders
SB-40 Torii Hunter
SB-41 Brett Cecil
SB-42 Ryan Zimmerman
SB-43 Derek Holland
SB-44 Ryan Zimmerman
SB-45 Torii Hunter
SB-46 Barack Obama
SB-47 Alex Rodriguez
SB-48 Ivan Rodriguez
SB-49 Clayton Kershaw
SB-50 Jake Peavy
SB-51 Jason Kendall
SB-52 Mark Teixeira
SB-53 David Ortiz
SB-54 Joe Mauer
SB-55 Raul Ibanez
SB-56 Kenshin Kawakami
SB-57 Nelson Cruz
SB-58 Alex Gonzalez
SB-59 Freddy Sanchez
SB-60 Chris Young
SB-61 Rick Porcello
SB-62 Nolan Reimold
SB-63 Scott Feldman
SB-64 Ryan Howard
SB-65 Ryan Dempster
SB-66 Jamie Moyer
SB-67 Jim Thome
SB-68 Roy Halladay
SB-69 Jeff Niemann
SB-70 Randy Johnson
SB-71 Jonathan Broxton
SB-72 Carlos Zambrano
SB-73 Jon Lester
SB-74 Alfonso Soriano
SB-75 Dan Haren
SB-76 Vin Mazzaro
SB-77 Sean West
SB-78 Andre Ethier
SB-79 Colby Rasmus
SB-80 Jim Thome
SB-81 Tim Lincecum
SB-82 Miguel Tejada
SB-83 Torii Hunter
SB-84 Albert Pujols
SB-85 Todd Helton
SB-86 Jered Weaver
SB-87 Ryan Braun / Prince Fielder
SB-88 Robinson Cano
SB-89 Ivan Rodriguez
SB-90 Tommy Hanson
SB-91 Kenshin Kawakami
SB-92 Jeff Weaver
SB-93 Albert Pujols
SB-94 B.J. Upton
SB-95 Trevor Cahill
SB-96 Tim Lincecum
SB-97 Troy Tulowitzki
SB-98 Jermaine Dye
SB-99 Lance Berkman
SB-100 Hanley Ramirez
SB-101 Alex Rodriguez
SB-102 Albert Pujols
SB-103 Tommy Hanson
SB-104 Zack Greinke
SB-105 Brandon Phillips
SB-106 Dallas Braden
SB-107 Joey Votto
SB-108 Albert Pujols
SB-109 Adam Dunn
SB-110 Ricky Nolasco
SB-111 Ted Lilly
SB-112 Vladimir Guerrero
SB-113 Ryan Spilborghs
SB-114 Garrett Atkins
SB-115 Jonathan Sanchez
SB-116 Josh Beckett
SB-117 Kurt Suzuki
SB-118 Ichiro / Barack Obama
SB-119 Ryan Howard
SB-120 Marc Rzepczynski
SB-121 Clayton Kershaw
SB-122 Roy Halladay
SB-123 Jason Marquis
SB-124 Manny Ramirez
SB-125 Scott Hairston
SB-126 A.J. Burnett
SB-127 Mark Buehrle
SB-128 Jeremy Sowers
SB-129 Chone Figgins
SB-130 Cliff Lee
SB-131 Michael Young
SB-132 Josh Willingham
SB-133 Pablo Sandoval
SB-134 Cliff Lee
SB-135 Aaron Hill
SB-136 Bud Norris
SB-137 Neftali Feliz
SB-138 Chase Utley
SB-139 Fausto Carmona
SB-140 Barry Zito
SB-141 Jered Weaver
SB-142 Roy Halladay
SB-143 Wandy Rodriguez
SB-144 Mark Teixeira
SB-145 Vladimir Guerrero
SB-146 Adrian Gonzalez
SB-147 Tim Lincecum
SB-148 Pedro Martinez
SB-149 Felix Pie
SB-150 Jim Thome
SB-151 Derek Jeter
SB-152 Gregg Zaun
SB-153 Ian Kinsler
SB-154 Brandon Inge
SB-155 Hanley Ramirez
SB-156 Russell Branyan
SB-157 Pedro Martinez
SB-158 Michael Cuddyer
SB-159 Jake Fox
SB-160 John Smoltz
SB-161 Ryan Howard
SB-162 Matt LaPorta
SB-163 Joe Saunders
SB-164 Tony Gwynn
SB-165 Carlos Ruiz
SB-166 Edgar Renteria
SB-167 Josh Hamilton
SB-168 Tim Hudson
SB-169 Garrett Jones
SB-170 Landon Powell
SB-171 Casey McGehee
SB-172 Ichiro
SB-173 Daniel Murphy
SB-174 Jon Lester
SB-175 Derrek Lee
SB-176 Mark Buehrle
SB-177 Mark Teixeira
SB-178 Brad Penny
SB-179 Wade LeBlanc
SB-180 Micah Hoffpauir
SB-181 Ian Desmond
SB-182 Derek Jeter
SB-183 Brian Matusz
SB-184 Ichiro
SB-185 Josh Johnson
SB-186 Luis Durango
SB-187 Jody Gerut
SB-188 Francisco Rodriguez
SB-189 Jake Peavy
SB-190 Mariano Rivera
SB-191 Sonia Sotomayor
SB-192 Willy Aybar
SB-193 Wade Davis
SB-194 Cesar Ramos
SB-195 Kevin Millwood
SB-196 Andres Torres
SB-197 Erick Aybar
SB-198 Clayton Kershaw
SB-199 Justin Verlander
SB-200 Alexi Casilla
Joe DiMaggio Baseball Heroes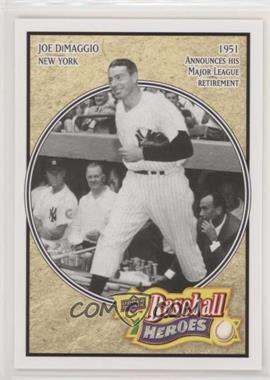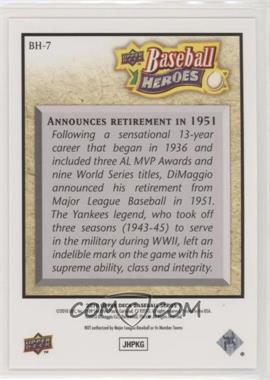 BH-JD Header Card
BH-1 1937: Paces the American League with 46 Homers
BH-2 1939: Wins the AL MVP Award
BH-3 1940: Tops the AL with a .352 Batting Average
BH-4 1941: Joe Takes Home His Second AL MVP Award
BH-5 1947: Claims His Third American League MVP Award
BH-6 1948: Leads the American League in HRs and RBI
BH-7 1951: Announces His Major League Retirement
BH-8 1955: Is Inducted into The Baseball Hall of Fame
BHA-JD Baseball Heroes Art Card / Checklist
20th Anniversary Heroes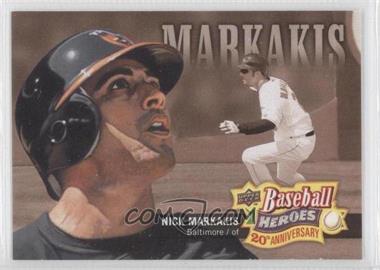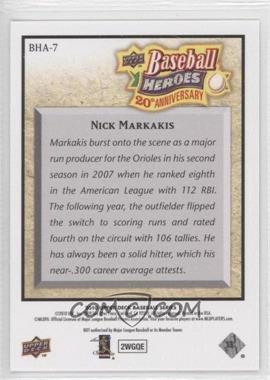 BHA-1 Ken Griffey, Jr.
BHA-2 Derek Jeter
BHA-3 Evan Longoria
BHA-4 Hanley Ramirez
BHA-5 David Price
BHA-6 Jon Lester
BHA-7 Nick Markakis
BHA-8 Cole Hamels
BHA-9 Jonathan Papelbon
BHA-10 Chipper Jones
All-World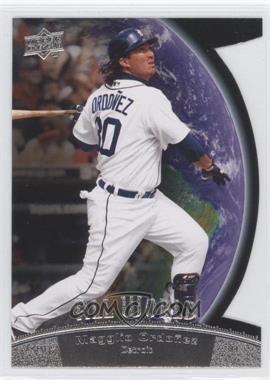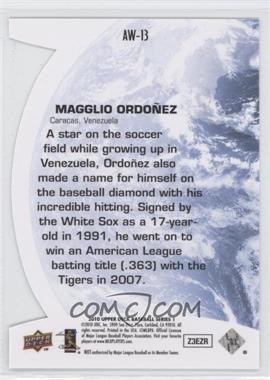 AW-1 Albert Pujols
AW-2 Carlos Beltran
AW-3 Carlos Lee
AW-4 Chien-Ming Wang
AW-5 Daisuke Matsuzaka
AW-6 Derek Jeter
AW-7 Felix Hernandez
AW-8 Hanley Ramirez
AW-9 Ichiro
AW-10 Johan Santana
AW-11 Justin Morneau
AW-12 Kendry Morales
AW-13 Magglio Ordonez
AW-14 Russell Martin
AW-15 Vladimir Guerrero
Pure Heat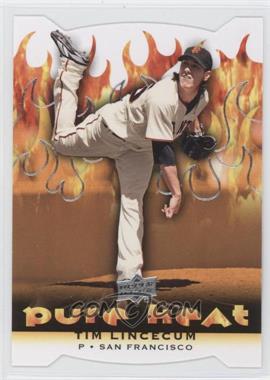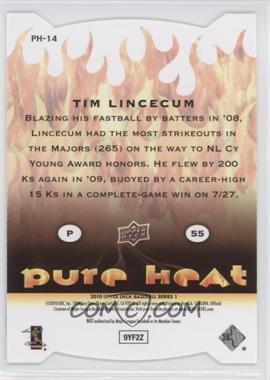 PH-1 Adrian Gonzalez
PH-2 Albert Pujols
PH-3 Alex Rodriguez
PH-4 Cole Hamels
PH-5 CC Sabathia
PH-6 Evan Longoria
PH-7 Josh Beckett
PH-8 Joe Mauer
PH-9 Justin Verlander
PH-10 Manny Ramirez
PH-11 Mark Teixeira
PH-12 Prince Fielder
PH-13 Ryan Howard
PH-14 Tim Lincecum
PH-15 Troy Tulowitzki
10th Anniversary 2000 Upper Deck Star Rookie Update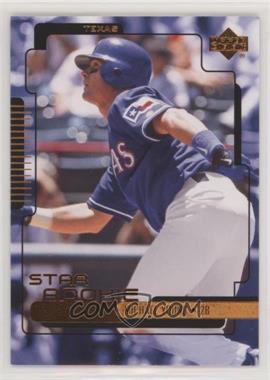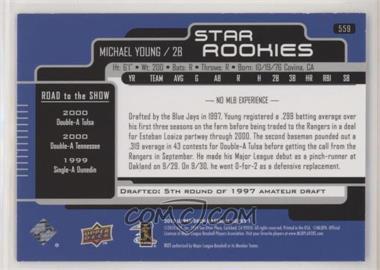 Each card inserted into packs was placed inside a penny sleeve with a second card explaining the 2000 Upper Deck Star Rookie Update program. This set is designed as, and sequentially-numbered as an extension of, the 2000 Upper Deck set.
541 Mark Buehrle
542 Miguel Cabrera
543 Jorge Cantu
544 Carl Crawford
545 Adam Dunn
546 Adrian Gonzalez
547 Matt Holliday
548 Brandon Inge
549 Roy Oswalt
550 Carlos Pena
551 Brandon Phillips
552 Francisco Rodriguez
553 Jimmy Rollins
554 Aaron Rowand
555 CC Sabathia
556 Johan Santana
557 Grady Sizemore
558 Adam Wainwright
559 Michael Young
560 Carlos Zambrano
Celebrity Predictors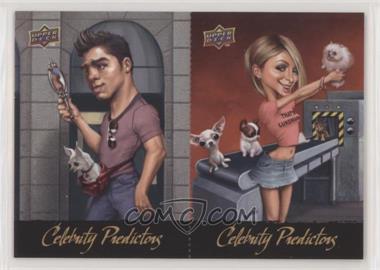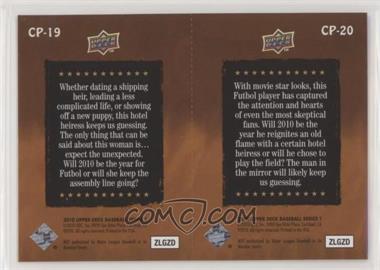 This unannounced, stealth, insert features caricatures of famous celebrity couples. The cards are perforated down the middle for ease of "separation" -- just in case.
CP-1/2 Jennifer Anniston / John Mayer
CP-3/4 Cameron Diaz / Justin Timberlake
CP-5/6 Megan Fox / Shia LeBeouf
CP-7/8 Katie Holmes / Tom Cruise
CP-9/10 Gwyneth Paltrow / Chris Martin
CP-11/12 Anna Kornikova / Enrique Iglesias
CP-13/14 Mariah Carey / Nick Cannon
CP-15/16 Kristen Stewart / Robert Pattinson
CP-17/18 Angelina Jolie / Brad Pitt
CP-19/20 Paris Hilton / Cristiano Ronaldo
Exquisite
See 2010 Upper Deck Exquisite.
Supreme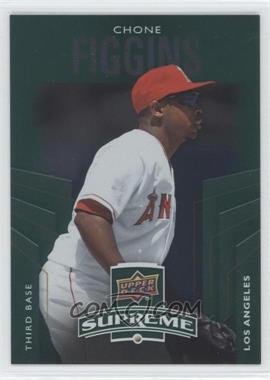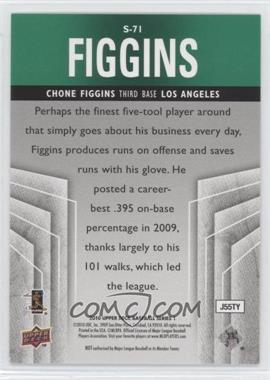 This retail-exclusive insert was available in Blue and Green versions, with the Blues (1:27/packs) tougher to find than the Greens (1:8). Initially a third version (Red) was to have been included (at the rate of 1:100/packs) in the now-canceled Wave 2 release. It was initially announced by Upper Deck that the Green Supreme's would be serial-numbered to 100 copies, but this appears not to be the case.
S-1 Dan Haren
S-2 Chipper Jones
S-3 Tommy Hanson
S-4 Adam Jones
S-5 Jonathan Papelbon
S-6 Dustin Pedroia
S-7 Kevin Youkilis
S-8 Jason Bay
S-9 Alfonso Soriano
S-10 Paul Konerko
S-11 Mark Buehrle
S-12 Joey Votto
S-13 Grady Sizemore
S-14 Travis Hafner
S-15 Troy Tulowitzki
S-16 Jason Marquis
S-17 Brandon Inge
S-18 Justin Verlander
S-19 Josh Johnson
S-20 Carlos Lee
S-21 Billy Butler
S-22 Vladimir Guerrero
S-23 Torii Hunter
S-24 Manny Ramirez
S-25 Ryan Braun
S-26 Michael Cuddyer
S-27 Joe Mauer
S-28 Carlos Beltran
S-29 David Wright
S-30 Hideki Matsui
S-31 Derek Jeter
S-32 CC Sabathia
S-33 Kurt Suzuki
S-34 Ryan Howard
S-35 Cole Hamels
S-36 Mat Latos
S-37 Tim Lincecum
S-38 Pablo Sandoval
S-39 Ichiro
S-40 Matt Holliday
S-41 Yadier Molina
S-42 Colby Rasmus
S-43 Evan Longoria
S-44 Carlos Pena
S-45 Carl Crawford
S-46 Ian Kinsler
S-47 Josh Hamilton
S-48 Scott Feldman
S-49 Roy Halladay
S-50 Ryan Zimmerman
S-51 Justin Upton
S-52 Mark Reynolds
S-53 Brian McCann
S-54 Nick Markakis
S-55 Matt Wieters
S-56 Jacoby Ellsbury
S-57 David Ortiz
S-58 Josh Beckett
S-59 Carlos Zambrano
S-60 Gordon Beckham
S-61 Jay Bruce
S-62 Shin-Soo Choo
S-63 Todd Helton
S-64 Dexter Fowler
S-65 Miguel Cabrera
S-66 Curtis Granderson
S-67 Hanley Ramirez
S-68 Dan Uggla
S-69 Lance Berkman
S-70 Zack Greinke
S-71 Chone Figgins
S-72 John Lackey
S-73 Russell Martin
S-74 Matt Kemp
S-75 Prince Fielder
S-76 Yovani Gallardo
S-77 Justin Morneau
S-78 Jose Reyes
S-79 Johan Santana
S-80 Francisco Rodriguez
S-81 Johnny Damon
S-82 Mark Teixeira
S-83 Mariano Rivera
S-84 Alex Rodriguez
S-85 Cliff Lee
S-86 Chase Utley
S-87 Shane Victorino
S-88 Zach Duke
S-89 Andrew McCutchen
S-90 Adrian Gonzalez
S-91 Matt Cain
S-92 Ken Griffey, Jr.
S-93 Felix Hernandez
S-94 Albert Pujols
S-95 Adam Wainwright
S-96 David Price
S-97 B.J. Upton
S-98 Michael Young
S-99 Adam Lind
S-100 Adam Dunn
Tape Measure Shots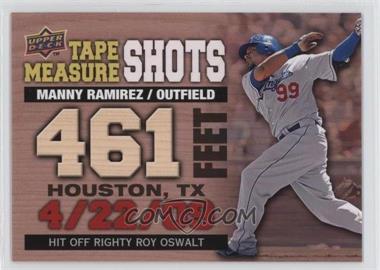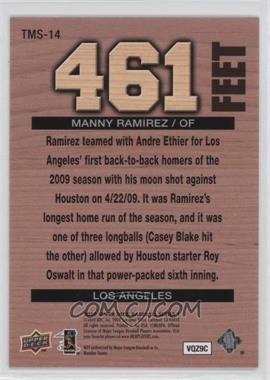 This set is exclusive to retail fat packs.
TMS-1 Mark Reynolds
TMS-2 Raul Ibanez
TMS-3 Joey Votto
TMS-4 Adam Dunn
TMS-5 Josh Hamilton
TMS-6 Adrian Gonzalez
TMS-7 Miguel Montero
TMS-8 Seth Smith
TMS-9 Nelson Cruz
TMS-10 Carlos Pena
TMS-11 Albert Pujols
TMS-12 Pablo Sandoval
TMS-13 Josh Willingham
TMS-14 Manny Ramirez
TMS-15 Prince Fielder
TMS-16 Jermaine Dye
TMS-17 Brandon Inge
TMS-18 Lance Berkman
TMS-19 Kelly Shoppach
TMS-20 Ian Stewart
TMS-21 Magglio Ordonez
TMS-22 Michael Cuddyer
TMS-23 Ryan Howard
TMS-24 Troy Tulowitzki
TMS-25 Colby Rasmus
Retail-Exclusive Inserts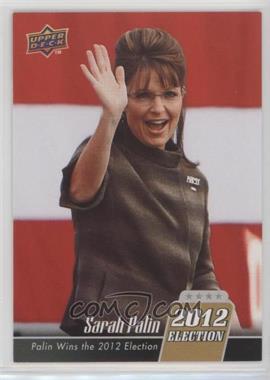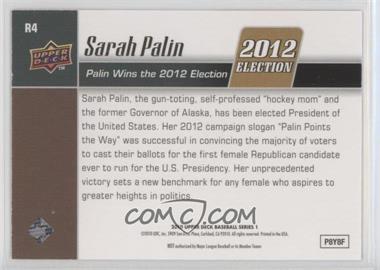 These four cards were randomly inserted into retail looseys, and were not acknowledged by Upper Deck until almost a month after the product's release. Cards R1 and R4 are exclusive to Wal-Mart packs, while R2 and R3 are exclusive to Target packs. Although Upper Deck never announced the insertion ratios, it appears that Target-exclusive cards were tougher to pull than the Wal-Mart cards.
R1 Pete Rose
R2 5X World Champions (Jorge Posada / Derek Jeter /
R3 Shoeless Joe Jackson
R4 Sarah Palin
Rookie Debut
These cards were to have been inserted into Fat Packs of the canceled Wave 2. The checklist was never revealed.
Autographs & Game-Used
UD Game Jersey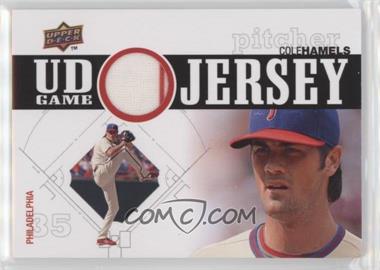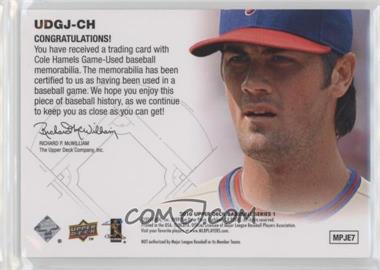 All UD Game Jerseys are available in a Patch version. The Patches are serial numbered to 25 copies, and are numbered with a UDGP prefix.
UDGJ-AE Andre Ethier
UDGJ-AG Alex Gordon
UDGJ-AJ Adam Jones
UDGJ-AP Albert Pujols
UDGJ-AR Aramis Ramirez
UDGJ-BE Josh Beckett
UDGJ-BI Brandon Inge
UDGJ-BM Brandon Morrow
UDGJ-BO John Bowker
UDGJ-BR Ryan Braun
UDGJ-BU B.J. Upton
UDGJ-BZ Barry Zito
UDGJ-CA Matt Cain
UDGJ-CB Clay Buchholz
UDGJ-CC Chris Carpenter
UDGJ-CF Chone Figgins
UDGJ-CG Curtis Granderson
UDGJ-CH Cole Hamels
UDGJ-CJ Chipper Jones
UDGJ-CR Carl Crawford
UDGJ-CU Chase Utley
UDGJ-CY Chris Young
UDGJ-DA Johnny Damon
UDGJ-DE David Eckstein
UDGJ-DH Dan Haren
UDGJ-DJ Derek Jeter
UDGJ-DL Derrek Lee
UDGJ-DO David Ortiz
UDGJ-EJ Edwin Jackson
UDGJ-EL Evan Longoria
UDGJ-EM Evan Meek
UDGJ-EV Eugenio Velez
UDGJ-FC Fausto Carmona
UDGJ-FH Felix Hernandez
UDGJ-FL Francisco Liriano
UDGJ-FN Fu-Te Ni
UDGJ-FR Fernando Rodney
UDGJ-GA Armando Galarraga
UDGJ-GO Adrian Gonzalez
UDGJ-GS Grady Sizemore
UDGJ-HB Hank Blalock
UDGJ-HE Chase Headley
UDGJ-HK Howie Kendrick
UDGJ-HR Hanley Ramirez
UDGJ-IK Ian Kinsler
UDGJ-JB Jeremy Bonderman
UDGJ-JD Jermaine Dye
UDGJ-JE Jacoby Ellsbury
UDGJ-JH Josh Hamilton
UDGJ-JN Jayson Nix
UDGJ-JP Jonathan Papelbon
UDGJ-JR Jimmy Rollins
UDGJ-JS Johan Santana
UDGJ-JU Justin Morneau
UDGJ-JV Jason Varitek
UDGJ-KE Kendrys Morales
UDGJ-KF Kosuke Fukudome
UDGJ-KG Ken Griffey, Jr.
UDGJ-KH Kevin Hart
UDGJ-KK Kevin Kouzmanoff
UDGJ-KM Kevin Millwood
UDGJ-KY Kevin Youkilis
UDGJ-MA Max Scherzer
UDGJ-MB Mark Buehrle
UDGJ-MC Michael Cuddyer
UDGJ-MI Miguel Cabrera
UDGJ-MK Matt Kemp
UDGJ-ML Matt LaPorta
UDGJ-MM Melvin Mora
UDGJ-MO Magglio Ordonez
UDGJ-MR Mariano Rivera
UDGJ-MT Matt Tolbert
UDGJ-MY Michael Young
UDGJ-NM Nick Markakis
UDGJ-PF Prince Fielder
UDGJ-PH Phil Hughes
UDGJ-PM Pedro Martinez
UDGJ-PO Jorge Posada
UDGJ-RC Robinson Cano
UDGJ-RE Jose Reyes
UDGJ-RH Roy Halladay
UDGJ-RI Raul Ibanez
UDGJ-RM Russell Martin
UDGJ-RO Alex Rodriguez
UDGJ-RT Ramon Troncoso
UDGJ-RW Randy Wells
UDGJ-RZ Ryan Zimmerman
UDGJ-SC Shin-Soo Choo
UDGJ-SD Stephen Drew
UDGJ-SK Scott Kazmir
UDGJ-TH Travis Hafner
UDGJ-TL Tim Lincecum
UDGJ-TO Todd Helton
UDGJ-TT Troy Tulowitzki
UDGJ-UP Justin Upton
UDGJ-VE Justin Verlander
UDGJ-VG Vladimir Guerrero
UDGJ-WW Wesley Wright
UDGJ-YY Yasuhiko Yabuta
UDGJ-ZG Zack Greinke
Gary Sheffield A Piece of History 500 HR Club Bat card
See Upper Deck A Piece of History 500 HR Club.
Signature Sensations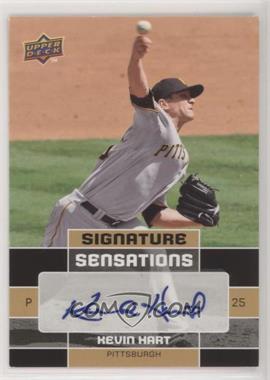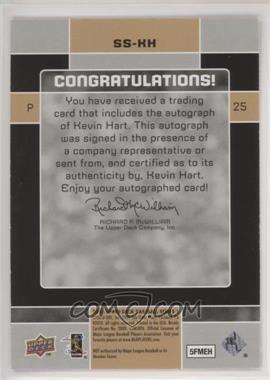 According to Upper Deck customer service reps, the following nine (9) cards were not produced: Wainwright, Granderson, Pie, Parra, Montero, Tolbert, Braun, Markakis and, Vanden Hurk.
SS-AA Aaron Rowand
SS-AD Adam Dunn
SS-AE Alcides Escobar EXCH
SS-AG Adrian Gonzalez
SS-AH Aaron Harang
SS-AI Akinori Iwamura
SS-AL Andy LaRoche
SS-AM Andrew McCutchen
SS-AP Albert Pujols
SS-AR Alex Romero
SS-AS Anibal Sanchez
SS-AW Adam Wainwright EXCH (not produced)
SS-BA Burke Badenhop
SS-BB Brian Bixler
SS-BE Josh Beckett
SS-BO Jeremy Bonderman
SS-BU Billy Butler
SS-BW Brandon Webb
SS-CB Clay Buchholz
SS-CC Chris Carpenter
SS-CF Chone Figgins
SS-CG Curtis Granderson EXCH (not produced)
SS-CH Chase Headley
SS-CJ Chipper Jones
SS-CK Clayton Kershaw
SS-CL Carlos Lee
SS-CP Carlos Pena
SS-DE David Eckstein
SS-DJ Derek Jeter
SS-DO Darren O'Day
SS-DP Dustin Pedroia
SS-DS Denard Span
SS-DU Dan Uggla
SS-DV Donald Veal
SS-EB Emilio Bonifacio
SS-ED Elijah Dukes
SS-EM Evan Meek
SS-EV Eugenio Velez
SS-FC Fausto Carmona
SS-FP Felix Pie EXCH (not produced)
SS-GP Gerardo Parra EXCH (not produced)
SS-GS Grady Sizemore
SS-HA Cole Hamels
SS-HE Jeremy Hermida
SS-HJ Josh Hamilton
SS-HP Hunter Pence
SS-JA Jonathan Albaladejo
SS-JB Jason Bay
SS-JC Johnny Cueto
SS-JH J.A. Happ
SS-JL Jesse Litsch
SS-JM John Maine
SS-JO Joaquin Arias
SS-JP Jonathan Papelbon
SS-JS James Shields
SS-JW Josh Willingham
SS-KG Khalil Greene
SS-KH Kevin Hart
SS-KJ Kelly Johnson
SS-KK Kevin Kouzmanoff
SS-KS Kevin Slowey
SS-KU Koji Uehara
SS-KY Kevin Youkilis
SS-LA John Lackey
SS-LB Lance Berkman
SS-MA Joe Mauer
SS-MB Marlon Byrd
SS-MC Miguel Cabrera
SS-MG Mat Gamel
SS-MM Miguel Montero EXCH (not produced)
SS-MO Micah Owings
SS-MP Mike Pelfrey
SS-MR Mark Reynolds
SS-MT Matt Tolbert EXCH (not produced)
SS-NM Nick Markakis EXCH (not produced)
SS-NY Nyjer Morgan
SS-PA Felipe Paulino
SS-PF Prince Fielder
SS-RA Alexei Ramirez
SS-RB Ryan Braun EXCH (not produced)
SS-RH Roy Halladay
SS-RM Russell Martin
SS-RO Ross Ohlendorf
SS-RT Ryan Theriot
SS-RV Rick Vanden Hurk EXCH (not produced)
SS-SA Alfonso Soriano
SS-SK Scott Kazmir
SS-SM Sean Marshall
SS-SO Sean O'Sullivan
SS-TC Trevor Crowe
SS-TE Miguel Tejada
SS-TH Travis Hafner
SS-TP Troy Patton
SS-TR Ramon Troncoso
SS-TS Takashi Saito
SS-VO Edinson Volquez
SS-WW Wesley Wright
SS-YE Yunel Escobar
SS-YG Yovani Gallardo
SS-ZD Zach Duke
20th Anniversary Heroes Art Card Signatures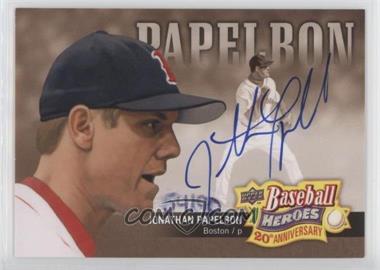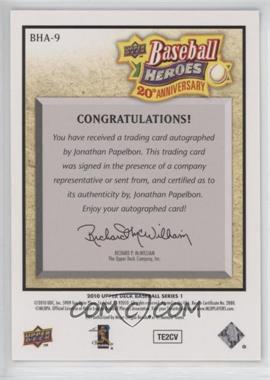 Each card is serial-numbered to 90 copies.
According to Upper Deck customer service reps, BHA-5 (David Price) was not produced.
BHA-1 Ken Griffey, Jr.
BHA-2 Derek Jeter
BHA-3 Evan Longoria
BHA-4 Hanley Ramirez EXCH
BHA-6 Jon Lester
BHA-7 Nick Markakis
BHA-8 Cole Hamels EXCH
BHA-9 Jonathan Papelbon
BHA-10 Chipper Jones
Baseball Heroes Joe DiMaggio Cut Signature
The Joe DiMaggio Cut Signature card is serial-numbered to 56 copies.