1996 Upper Deck
Description
1996 Upper Deck is a 510-card set released in two series of 240 cards and a 30 card Update set. The 30-card Update sets (U481-U510) were available through a Series Two wrapper exchange program. In addition, for the first time since 1993, Upper Deck issued 15,000 serial-numbered factory sets (containing all 510 cards) and 5000 "wood box" factory sets at season's end.
The only Rookie Card of note is Livan Hernandez.
Distribution
Hobby: 28 packs per box, 10 cards per pack (MSRP: $1.99).
Retail: 32 packs per box, 12 cards per pack.
Tech: 20 packs, eight UD cards plus one Diamond Destiny insert per pack. Exclusive to Wal-Mart.
Factory Sets: 15,000 factory sets were produced.
Wood Box Factory Set: 5000 factory sets produced.
NOTE: Despite producing a limited number of factory sets, the cards inside are no different that the cards found in packs. (e.g. the cards do NOT have a special stamp, special cardstock, or different colored hologram like the 1992 and 1993 UD Factory Sets.) Since UD did not include any exclusive inserts, the factory sets carry no special premium over a hand-collated set.
Reviews
Collation data from one Series 2 retail box. Base Set Completion: 100% (240 of 240); Duplicates: 136; V.J. Lovero Showcase Completion: 26% (5 of 19); Nomo Highlights 40% (2 of 5); Ripken Collection 20% (1 of 5); Predictor .01% (1 of 60)
Insertion Ratios
| Cards | Total Cards | Numbered To | Odds |
| --- | --- | --- | --- |
| Base | 480 | - | ? |
| Future Stock Prospects (S1) | 20 | - | 1:6 |
| Power Driven (S1) | 20 | - | 1:36 |
| Blue Chip Prospects (S1) | 20 | - | 1:72 |
| V.J. Lovero Showcase (S2) | 19 | - | 1:6 |
| Hideo Nomo Highlights (S2) | 5 | - | 1:24 |
| Hot Commodities (S2) | 20 | - | 1:36 |
| Run Producers (S2) | 20 | - | 1:71 |
| Predictors (S1, S2) | 120 | - | 1:12 |
| Ripken Collection (S1, S2) | 9 | - | 1:24 |
| Diamond Destiny (S2) | 40 | - | one-per-pack TECH |
| Diamond Destiny Silver (S2) | 40 | - | 1:35 TECH |
| Diamond Destiny Gold (S2) | 40 | - | 1:143 TECH |
| Game Face (S2) | 10 | - | GF |
TECH: Available only in specially-marked "Upper Deck Tech" packs, exclusive to Wal-Mart.
GF: Available in specially-marked eight-card Upper Deck Series Two and 16-card Collector's Choice Series Two packs, exclusive to Wal-Mart.
Checklist
Promo
Base Set
Series One
NOTE: The Milestones, Beat the Odds, and Star Rookies subsets, as well as card #98 are printed on foilboard.
Milestones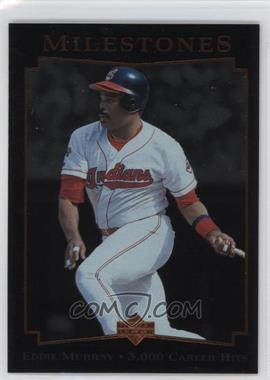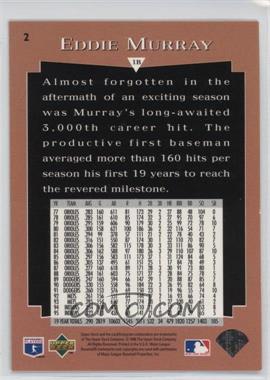 1 Cal Ripken, Jr. 2131
2 Eddie Murray 3000 Hits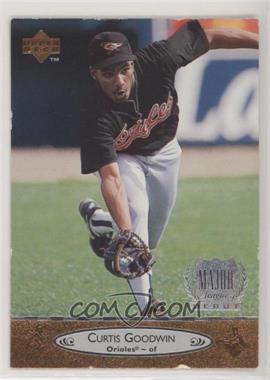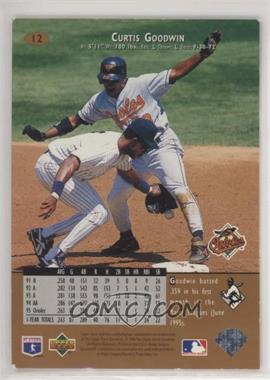 3 Mark Wohlers
4 Dave Justice
5 Chipper Jones
6 Javy Lopez
7 Mark Lemke
8 Marquis Grissom
9 Tom Glavine
10 Greg Maddux
11 Manny Alexander
12 Curtis Goodwin
13 Scott Erickson
14 Chris Hoiles
15 Rafael Palmeiro
16 Rick Krivda
17 Jeff Manto
18 Mo Vaughn
19 Tim Wakefield
20 Roger Clemens
21 Tim Naehring
22 Troy O'Leary
23 Mike Greenwell
24 Stan Belinda
25 John Valentin
26 J.T. Snow
27 Gary DiSarcina
28 Mark Langston
29 Brian Anderson
30 Jim Edmonds
31 Garret Anderson
32 Orlando Palmeiro
33 Brian McRae
34 Kevin Foster
35 Sammy Sosa
36 Todd Zeile
37 Jim Bullinger
38 Luis Gonzalez
39 Lyle Mouton
40 Ray Durham
41 Ozzie Guillen
42 Alex Fernandez
43 Brian Keyser
44 Robin Ventura
45 Reggie Sanders
46 Pete Schourek
47 John Smiley
48 Jeff Brantley
49 Thomas Howard
50 Bret Boone
51 Kevin Jarvis
52 Jeff Branson
53 Carlos Baerga
54 Jim Thome
55 Manny Ramirez
56 Omar Vizquel
57 Jose Mesa
58 Julian Tavarez
59 Orel Hershiser
60 Larry Walker
61 Bret Saberhagen
62 Vinny Castilla
63 Eric Young
64 Bryan Rekar
65 Andres Galarraga
66 Steve Reed
67 Chad Curtis
68 Bob Higginson
69 Phil Nevin
70 Cecil Fielder
71 Felipe Lira
72 Chris Gomez
73 Charles Johnson
74 Quilvio Veras
75 Jeff Conine
76 John Burkett
77 Greg Colbrunn
78 Terry Pendleton
79 Shane Reynolds
80 Jeff Bagwell
81 Orlando Miller
82 Mike Hampton
83 James Mouton
84 Brian L. Hunter
85 Derek Bell
86 Kevin Appier
87 Joe Vitiello
88 Wally Joyner
89 Michael Tucker
90 Johnny Damon
91 Jon Nunnally
92 Jason Jacome
93 Chad Fonville
94 Chan Ho Park
95 Hideo Nomo
96 Ismael Valdes
97 Greg Gagne
98 Diamondbacks / Devil Rays
99 Raul Mondesi
Young at Heart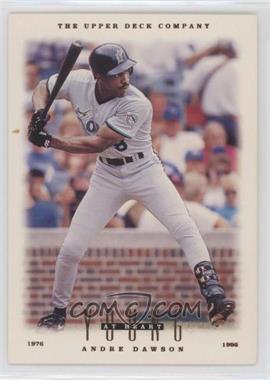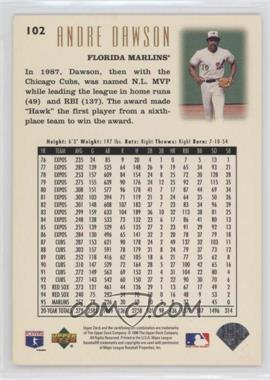 100 Dave Winfield
101 Dennis Eckersley
102 Andre Dawson
103 Dennis Martinez
104 Lance Parrish
105 Eddie Murray
106 Alan Trammell
107 Lou Whitaker
108 Ozzie Smith
109 Paul Molitor
110 Rickey Henderson
111 Tim Raines
112 Harold Baines
113 Lee Smith
114 Fernando Valenzuela
115 Cal Ripken, Jr.
116 Tony Gwynn
117 Wade Boggs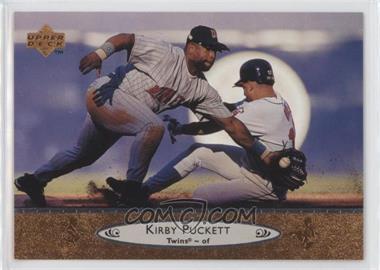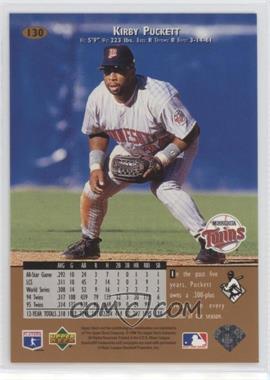 118 Todd Hollandsworth
119 Dave Nilsson
120 Jose Valentin
121 Steve Sparks
122 Chuck Carr
123 John Jaha
124 Scott Karl
125 Chuck Knoblauch
126 Brad Radke
127 Pat Meares
128 Ron Coomer
129 Pedro Munoz
130 Kirby Puckett
131 David Segui
132 Mark Grudzielanek
133 Mike Lansing
134 Sean Berry
135 Rondell White
136 Pedro Martinez
137 Carl Everett
138 Dave Mlicki
139 Bill Pulsipher
140 Jason Isringhausen
141 Rico Brogna
142 Edgardo Alfonzo
143 Jeff Kent
144 Andy Pettitte
Beat the Odds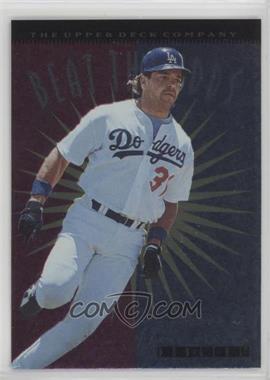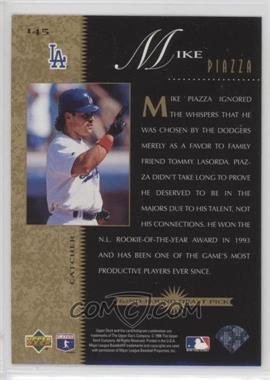 145 Mike Piazza
146 Cliff Floyd
147 Jason Isringhausen
148 Tim Wakefield
149 Chipper Jones
150 Hideo Nomo
151 Mark McGwire
152 Ron Gant
153 Gary Gaetti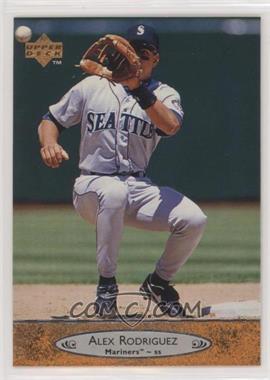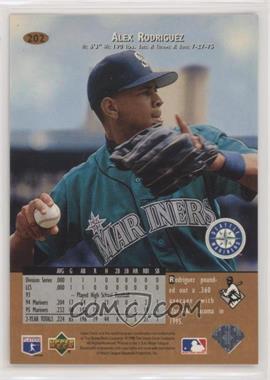 154 Don Mattingly
155 Paul O'Neill
156 Derek Jeter
157 Joe Girardi
158 Ruben Sierra
159 Jorge Posada
160 Geronimo Berroa
161 Steve Ontiveros
162 George Williams RC
163 Doug Johns
164 Ariel Prieto
165 Scott Brosius
166 Mike Bordick
167 Tyler Green
168 Mickey Morandini
169 Darren Daulton
170 Gregg Jefferies
171 Jim Eisenreich
172 Heathcliff Slocumb
173 Kevin Stocker
174 Esteban Loaiza
175 Jeff King
176 Mark Johnson
177 Denny Neagle
178 Orlando Merced
179 Carlos Garcia
180 Brian Jordan
181 Mike Morgan
182 Mark Petkovsek
183 Bernard Gilkey
184 John Mabry
185 Tom Henke
186 Glenn Dishman
187 Andy Ashby
188 Bip Roberts
189 Melvin Nieves
190 Ken Caminiti
191 Brad Ausmus
192 Deion Sanders
193 Jamie Brewington RC
194 Glenallen Hill
195 Barry Bonds
196 William VanLandingham
197 Mark Carreon
198 Royce Clayton
199 Joey Cora
200 Ken Griffey, Jr.
201 Jay Buhner
202 Alex Rodriguez
203 Norm Charlton
204 Andy Benes
205 Edgar Martinez
206 Juan Gonzalez
207 Will Clark
208 Kevin Gross
209 Roger Pavlik
210 Ivan Rodriguez
211 Rusty Greer
212 Angel Martinez
213 Tomas Perez
214 Alex Gonzalez
215 Joe Carter
216 Shawn Green
217 Edwin Hurtado
Postseason Checklists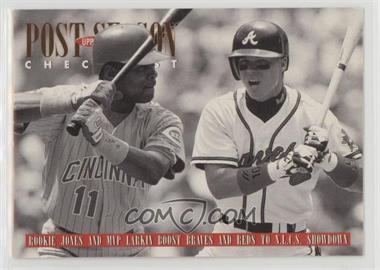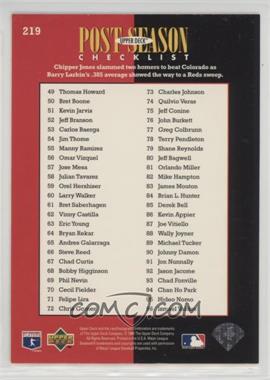 218 Edgar Martinez / Tony Pena
219 Chipper Jones / Barry Larkin
220 Orel Hershiser
221 Mike Devereaux
222 Tom Glavine
Star Rookies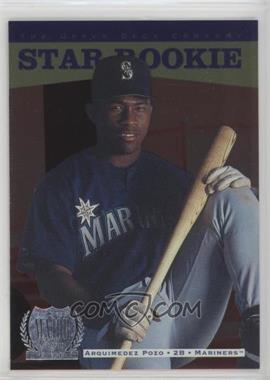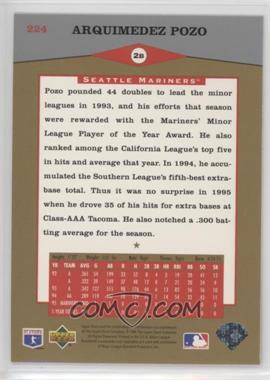 223 Karim Garcia
224 Arquimedez Pozo
225 Billy Wagner
226 John Wasdin
227 Jeff Suppan
228 Steve Gibralter
229 Jimmy Haynes
230 Ruben Rivera
231 Chris Snopek
232 Alex Ochoa
233 Shannon Stewart
234 Quinton McCracken
235 Trey Beamon
236 Billy McMillon
237 Steve Cox
238 George Arias
239 Yamil Benitez
240 Todd Greene
Series Two
NOTE: The Star Rookies, Diamond Debuts, Best of a Generation, Strange but True, and Managerial Salute Checklists subsets are all printed on foilboard.
Star Rookies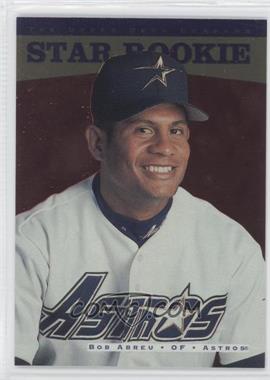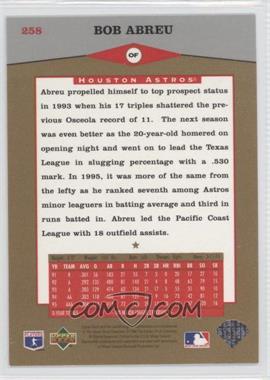 241 Jason Kendall
242 Brooks Kieschnick
243 Osvaldo Fernandez RC
244 Livan Hernandez RC
245 Rey Ordonez
246 Mike Grace RC
247 Jay Canizaro
248 Bob Wolcott
249 Jermaine Dye
250 Jason Schmidt
251 Mike Sweeney RC
252 Marcus Jensen
253 Mendy Lopez
254 Wilton Guerrero RC
255 Paul Wilson
256 Edgar Renteria
257 Richard Hidalgo
258 Bob Abreu
Diamond Debuts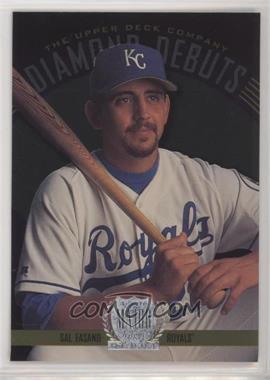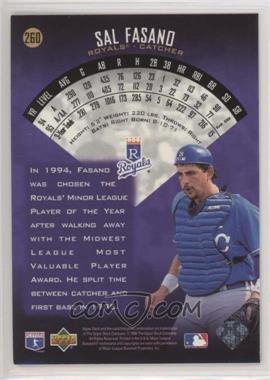 259 Robert Smith RC
260 Sal Fasano
261 Enrique Wilson
262 Rich Hunter RC
263 Sergio Nunez
264 Dan Serafini
265 David Doster
266 Ryan McGuire
267 Scott Spiezio
268 Rafael Orellano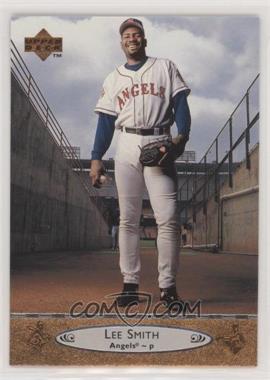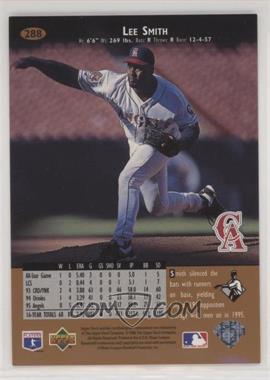 269 Steve Avery
270 Fred McGriff
271 John Smoltz
272 Ryan Klesko
273 Jeff Blauser
274 Brad Clontz
275 Roberto Alomar
276 B.J. Surhoff
277 Jeffrey Hammonds
278 Brady Anderson
279 Bobby Bonilla
280 Cal Ripken, Jr.
281 Mike Mussina
282 Wil Cordero
283 Mike Stanley
284 Aaron Sele
285 Jose Canseco
286 Tom Gordon
287 Heathcliff Slocumb
288 Lee Smith
289 Troy Percival
290 Tim Salmon
291 Chuck Finley
292 Jim Abbott
293 Chili Davis
294 Steve Trachsel
295 Mark Grace
296 Rey Sanchez
297 Scott Servais
298 Jaime Navarro
299 Frank Castillo
300 Frank Thomas
301 Jason Bere
302 Danny Tartabull
303 Darren Lewis
304 Roberto Hernandez
305 Tony Phillips
306 Wilson Alvarez
307 Jose Rijo
308 Hal Morris
309 Mark Portugal
310 Barry Larkin
311 Dave Burba
312 Eddie Taubensee
313 Sandy Alomar
314 Dennis Martinez
315 Albert Belle
316 Eddie Murray
317 Charles Nagy
318 Chad Ogea
319 Kenny Lofton
320 Dante Bichette
321 Armando Reynoso
322 Walt Weiss
323 Ellis Burks
324 Kevin Ritz
325 Bill Swift
326 Jason Bates
327 Tony Clark
328 Travis Fryman
329 Mark Parent
330 Alan Trammell
331 C.J. Nitkowski
332 Jose Lima
333 Phil Plantier
334 Kurt Abbott
335 Andre Dawson
336 Chris Hammond
337 Robb Nen
338 Pat Rapp
339 Al Leiter
340 Gary Sheffield
341 Todd Jones
342 Doug Drabek
343 Greg Swindell
344 Tony Eusebio
345 Craig Biggio
346 Darryl Kile
347 Mike Macfarlane
348 Jeff Montgomery
349 Chris Haney
350 Bip Roberts
351 Tom Goodwin
352 Mark Gubicza
353 Joe Randa
354 Ramon Martinez
355 Eric Karros
356 Delino DeShields
357 Brett Butler
358 Todd Worrell
359 Mike Blowers
360 Mike Piazza
361 Ben McDonald
362 Ricky Bones
363 Greg Vaughn
364 Matt Mieske
365 Kevin Seitzer
366 Jeff Cirillo
367 LaTroy Hawkins
368 Frank Rodriguez
369 Rick Aguilera
Best of a Generation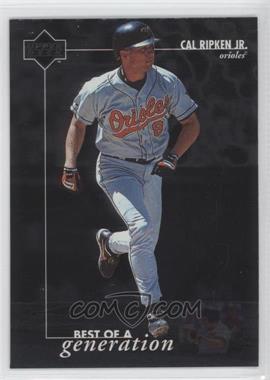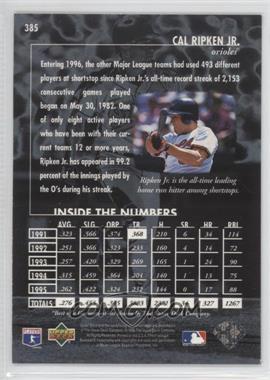 370 Roberto Alomar
371 Albert Belle
372 Wade Boggs
373 Barry Bonds
374 Roger Clemens
375 Dennis Eckersley
376 Ken Griffey, Jr.
377 Tony Gwynn
378 Rickey Henderson
379 Greg Maddux
380 Fred McGriff
381 Paul Molitor
382 Eddie Murray
383 Mike Piazza
384 Kirby Puckett
385 Cal Ripken, Jr.
386 Ozzie Smith
387 Frank Thomas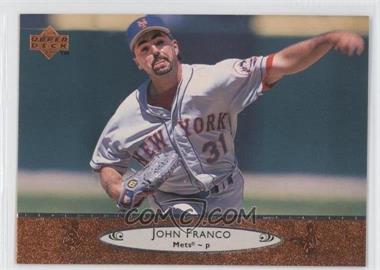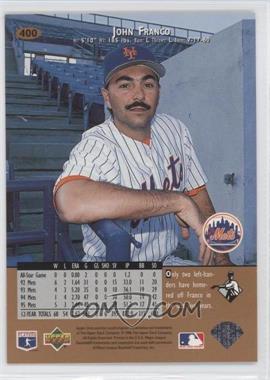 388 Matt Walbeck
389 Dave Stevens
390 Marty Cordova
391 Darrin Fletcher
392 Cliff Floyd
393 Mel Rojas
394 Shane Andrews
395 Moises Alou
396 Carlos Perez
397 Jeff Fassero
398 Bobby Jones
399 Todd Hundley
400 John Franco
401 Jose Vizcaino
402 Bernard Gilkey
403 Pete Harnisch
404 Pat Kelly
405 David Cone
406 Bernie Williams
407 John Wetteland
408 Scott Kamieniecki
409 Tim Raines
410 Wade Boggs
411 Terry Steinbach
412 Jason Giambi
413 Todd Van Poppel
414 Pedro Munoz
Strange But True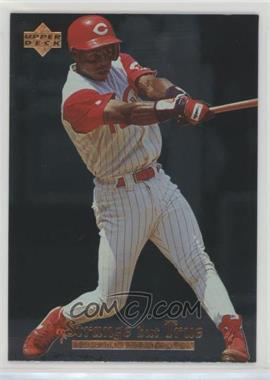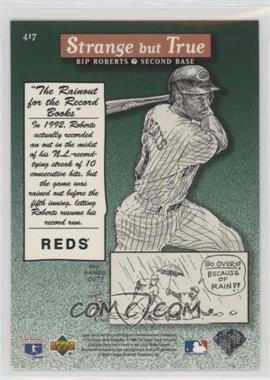 415 Eddie Murray
416 Dennis Eckersley
417 Bip Roberts
418 Glenallen Hill
419 John Hudek
420 Derek Bell
421 Larry Walker
422 Greg Maddux
423 Ken Caminiti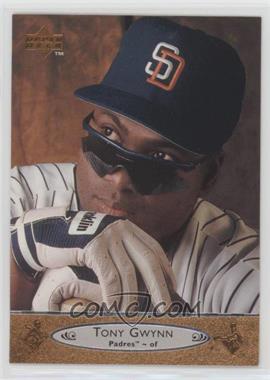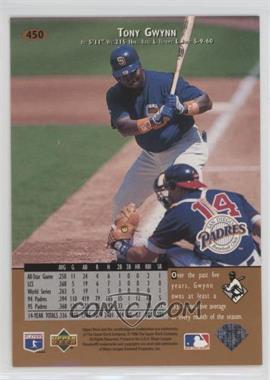 424 Brent Gates
425 Mark McGwire
426 Mark Whiten
427 Sid Fernandez
428 Ricky Bottalico
429 Mike Mimbs
430 Lenny Dykstra
431 Todd Zeile
432 Benito Santiago
433 Danny Miceli
434 Al Martin
435 Jay Bell
436 Charlie Hayes
437 Mike Kingery
438 Paul Wagner
439 Tom Pagnozzi
440 Ozzie Smith
441 Ray Lankford
442 Dennis Eckersley
443 Ron Gant
444 Alan Benes
445 Rickey Henderson
446 Jody Reed
447 Trevor Hoffman
448 Andujar Cedeno
449 Steve Finley
450 Tony Gwynn
451 Joey Hamilton
452 Mark Leiter
453 Rod Beck
454 Kirt Manwaring
455 Matt Williams
456 Robby Thompson
457 Shawon Dunston
458 Russ Davis
459 Paul Sorrento
460 Randy Johnson
461 Chris Bosio
462 Luis Sojo
463 Sterling Hitchcock
464 Benji Gil
465 Mickey Tettleton
466 Mark McLemore
467 Darryl Hamilton
468 Ken Hill
469 Dean Palmer
470 Carlos Delgado
471 Ed Sprague
472 Otis Nixon
473 Pat Hentgen
474 Juan Guzman
475 John Olerud
Managerial Salute Checklists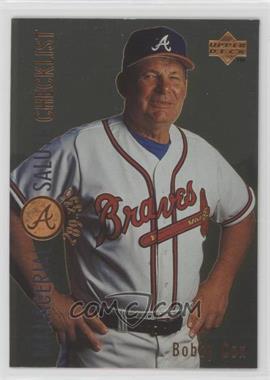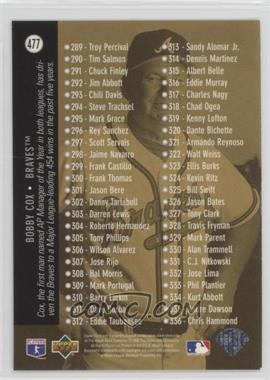 476 Buck Showalter CL
477 Bobby Cox CL
478 Tom Lasorda CL
479 Buck Showalter CL
480 Sparky Anderson CL
Update Series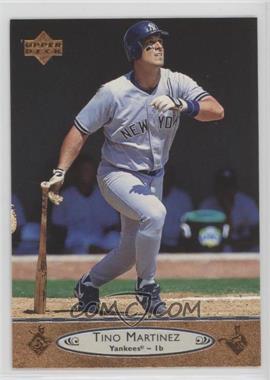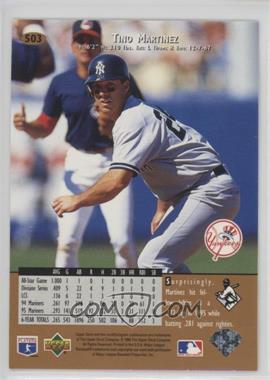 The 1996 Upper Deck Update Series was available via a Series Two wrapper redemption program. In addition, each factory set also included the Update Series.
481U Randy Myers
482U Kent Mercker
483U David Wells
484U Kevin Mitchell
485U Randy Velarde
486U Ryne Sandberg
487U Doug Jones
488U Terry Adams
489U Kevin Tapani
490U Harold Baines
491U Eric Davis
492U Julio Franco
493U Jack McDowell
494U Devon White
495U Kevin Brown
496U Rick Wilkins
497U Sean Berry
498U Keith Lockhart
499U Mark Loretta
500U Paul Molitor
501U Roberto Kelly
502U Lance Johnson
503U Tino Martinez
504U Kenny Rogers
505U Todd Stottlemyre
506U Gary Gaetti
507U Royce Clayton
508U Andy Benes
509U Wally Joyner
510U Erik Hanson
Inserts
Future Stock Prospects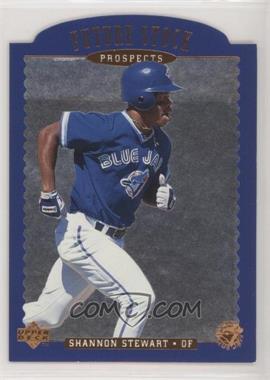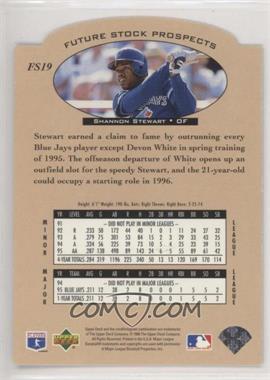 FS1 George Arias
FS2 Brian Barber
FS3 Trey Beamon
FS4 Yamil Benitez
FS5 Jamie Brewington
FS6 Tony Clark
FS7 Steve Cox
FS8 Carlos Delgado
FS9 Chad Fonville
FS10 Alex Ochoa
FS11 Curtis Goodwin
FS12 Todd Greene
FS13 Jimmy Haynes
FS14 Quinton McCracken
FS15 Billy McMillon
FS16 Chan Ho Park
FS17 Arquimedez Pozo
FS18 Chris Snopek
FS19 Shannon Stewart
FS20 Jeff Suppan
Power Driven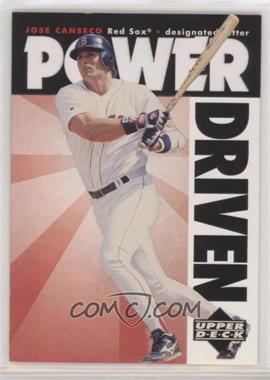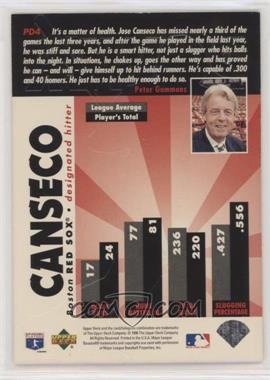 PD1 Albert Belle
PD2 Barry Bonds
PD3 Jay Buhner
PD4 Jose Canseco
PD5 Cecil Fielder
PD6 Juan Gonzalez
PD7 Ken Griffey, Jr.
PD8 Eric Karros
PD9 Fred McGriff
PD10 Mark McGwire
PD11 Rafael Palmeiro
PD12 Mike Piazza
PD13 Manny Ramirez
PD14 Tim Salmon
PD15 Reggie Sanders
PD16 Sammy Sosa
PD17 Frank Thomas
PD18 Mo Vaughn
PD19 Larry Walker
PD20 Matt Williams
Blue Chip Prospects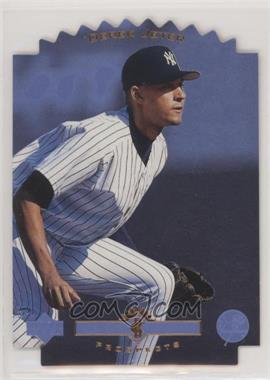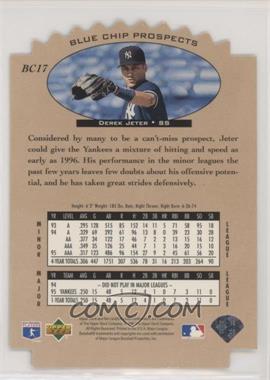 BC1 Hideo Nomo
BC2 Johnny Damon
BC3 Jason Isringhausen
BC4 Bill Pulsipher
BC5 Marty Cordova
BC6 Michael Tucker
BC7 John Wasdin
BC8 Karim Garcia
BC9 Ruben Rivera
BC10 Chipper Jones
BC11 Billy Wagner
BC12 Brooks Kieschnick
BC13 Alan Benes
BC14 Roger Cedeno
BC15 Alex Rodriguez
BC16 Jason Schmidt
BC17 Derek Jeter
BC18 Brian L. Hunter
BC19 Garret Anderson
BC20 Manny Ramirez
V.J. Lovero Showcase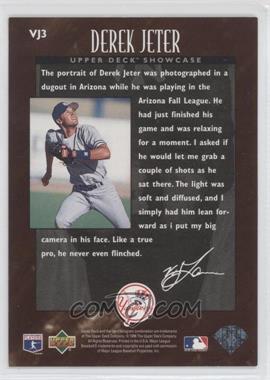 VJ1 Jim Abbott
VJ2 Hideo Nomo
VJ3 Derek Jeter
VJ4 Barry Bonds
VJ5 Greg Maddux
VJ6 Mark McGwire
VJ7 Jose Canseco
VJ8 Ken Caminiti
VJ9 Raul Mondesi
VJ10 Ken Griffey, Jr.
VJ11 Jay Buhner
VJ12 Randy Johnson
VJ13 Roger Clemens
VJ14 Brady Anderson
VJ15 Frank Thomas
VJ16 Garrett Anderson / Jim Edmonds / Tim Salmon
VJ17 Mike Piazza
VJ18 Dante Bichette
VJ19 Tony Gwynn
Nomo Highlights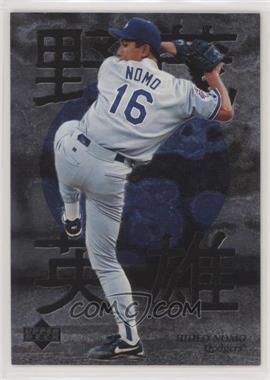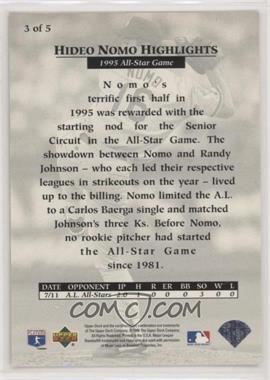 1 Hideo Nomo
2 Hideo Nomo
3 Hideo Nomo
4 Hideo Nomo
5 Hideo Nomo
Hot Commodities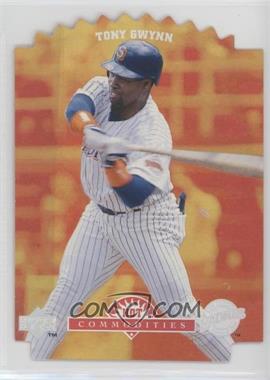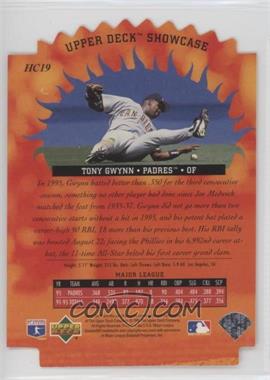 HC1 Ken Griffey, Jr.
HC2 Hideo Nomo
HC3 Roberto Alomar
HC4 Paul Wilson
HC5 Albert Belle
HC6 Manny Ramirez
HC7 Kirby Puckett
HC8 Johnny Damon
HC9 Randy Johnson
HC10 Greg Maddux
HC11 Chipper Jones
HC12 Barry Bonds
HC13 Mo Vaughn
HC14 Mike Piazza
HC15 Cal Ripken, Jr.
HC16 Tim Salmon
HC17 Sammy Sosa
HC18 Kenny Lofton
HC19 Tony Gwynn
HC20 Frank Thomas
Run Producers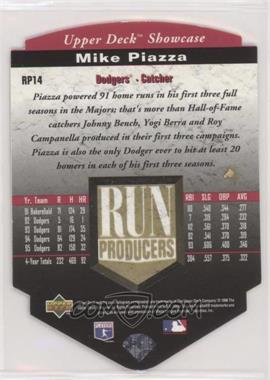 NOTE: Run Producers are die-cut in the shape of a home plate and are thermographically printed giving it a rubber texture. These cards are highly condition sensitive, often found with noticeable chipping on the edges and at the bottom "tip."
RP1 Albert Belle
RP2 Dante Bichette
RP3 Barry Bonds
RP4 Jay Buhner
RP5 Jose Canseco
RP6 Juan Gonzalez
RP7 Ken Griffey, Jr.
RP8 Tony Gwynn
RP9 Kenny Lofton
RP10 Edgar Martinez
RP11 Fred McGriff
RP12 Mark McGwire
RP13 Rafael Palmeiro
RP14 Mike Piazza
RP15 Manny Ramirez
RP16 Tim Salmon
RP17 Sammy Sosa
RP18 Frank Thomas
RP19 Mo Vaughn
RP20 Matt Williams
Predictor
Predictor is a 120-card set where collectors could compete for special 10-card parallel exchange sets. If the player depicted won the award category for any calendar month during the 1996 season, that player's Predictor could then be redemmed for a special 10-card foil parallel set of all ten players in that card's subset.
Winner cards are signified with a W in our listings and are in noticeably shorter supply since they had to be mailed in to Upper Deck (where they were destroyed) to claim your exchange cards. The deadline to mail in winning cards was November 18th, 1996.
Retail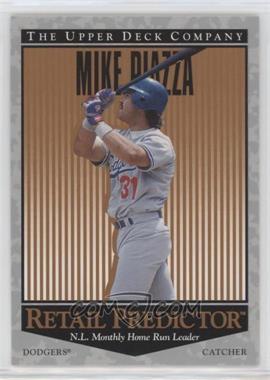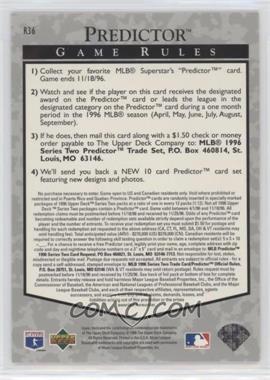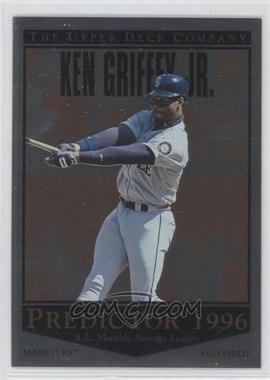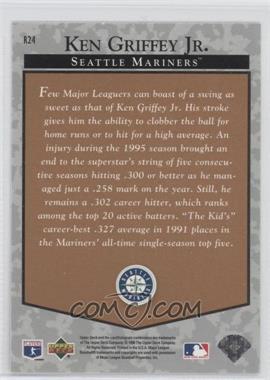 R1 Albert Belle
R2 Jay Buhner W
R3 Juan Gonzalez
R4 Ken Griffey, Jr.
R5 Mark McGwire
R6 Rafael Palmeiro
R7 Tim Salmon
R8 Frank Thomas
R9 Mo Vaughn
R10 AL Monthly HR Long Shot W
R11 Albert Belle
R12 Jay Buhner
R13 Jim Edmonds
R14 Cecil Fielder
R15 Ken Griffey, Jr.
R16 Edgar Martinez
R17 Manny Ramirez
R18 Frank Thomas
R19 Mo Vaughn
R20 AL Monthly RBI Long Shot W
R21 Roberto Alomar
R22 Carlos Baerga
R23 Wade Boggs
R24 Ken Griffey, Jr.
R25 Chuck Knoblauch
R26 Kenny Lofton
R27 Edgar Martinez
R28 Tim Salmon
R29 Frank Thomas
R30 AL Monthly Batting Avg. Long Shot W
R31 Dante Bichette
R32 Barry Bonds
R33 Ron Gant
R34 Chipper Jones
R35 Fred McGriff
R36 Mike Piazza
R37 Sammy Sosa W
R38 Larry Walker
R39 Matt Williams
R40 NL Monthly HR Long Shot W
R41 Jeff Bagwell
R42 Dante Bichette W
R43 Barry Bonds
R44 Jeff Conine
R45 Andres Galarraga
R46 Mike Piazza
R47 Reggie Sanders
R48 Sammy Sosa
R49 Matt Williams
R50 NL Monthly RBI Long Shot W
R51 Jeff Bagwell
R52 Derek Bell
R53 Dante Bichette
R54 Craig Biggio
R55 Barry Bonds
R56 Bret Boone
R57 Tony Gwynn
R58 Barry Larkin
R59 Mike Piazza
R60 NL Monthly Batting Avg. Long Shot W
Hobby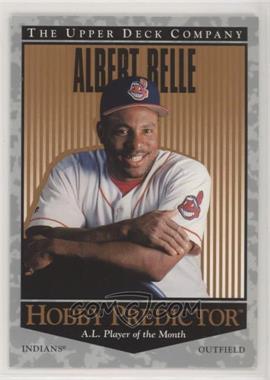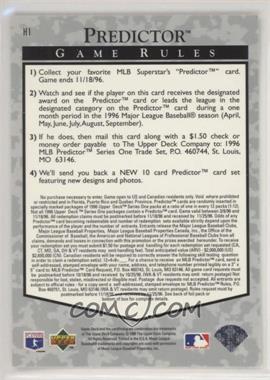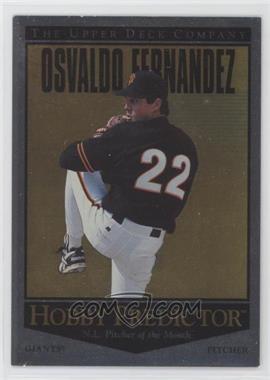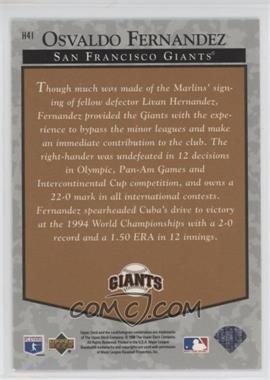 H1 Albert Belle
H2 Kenny Lofton
H3 Rafael Palmeiro
H4 Ken Griffey, Jr.
H5 Tim Salmon
H6 Cal Ripken, Jr.
H7 Mark McGwire
H8 Frank Thomas
H9 Mo Vaughn
H10 AL Player of Month Long Shot W
H11 Roger Clemens
H12 David Cone
H13 Jose Mesa
H14 Randy Johnson
H15 Chuck Finley
H16 Mike Mussina
H17 Kevin Appier
H18 Kenny Rogers
H19 Lee Smith
H20 AL Pitcher of Month Long Shot W
H21 George Arias
H22 Jose Herrera
H23 Tony Clark
H24 Todd Greene
H25 Derek Jeter
H26 Arquimedez Pozo
H27 Matt Lawton
H28 Shannon Stewart
H29 Chris Snopek
H30 AL Most Rookie Hits Long Shot W
H31 Jeff Bagwell
H32 Dante Bichette W
H33 Barry Bonds
H34 Tony Gwynn
H35 Chipper Jones
H36 Eric Karros
H37 Barry Larkin
H38 Mike Piazza
H39 Matt Williams
H40 NL Player of Month Long Shot W
H41 Osvaldo Fernandez
H42 Tom Glavine
H43 Jason Isringhausen
H44 Greg Maddux
H45 Pedro Martinez
H46 Hideo Nomo
H47 Pete Schourek
H48 Paul Wilson
H49 Mark Wohlers
H50 NL Pitcher of Month Long Shot W
H51 Bob Abreu
H52 Trey Beamon
H53 Yamil Benitez
H54 Roger Cedeno W
H55 Todd Hollandsworth
H56 Marvin Benard
H57 Jason Kendall
H58 Brooks Kieschnick
H59 Rey Ordonez
H60 NL Most Rookie Hits Long Shot W
Ripken Collection
See 1996 Upper Deck Ripken Collection.
Diamond Destiny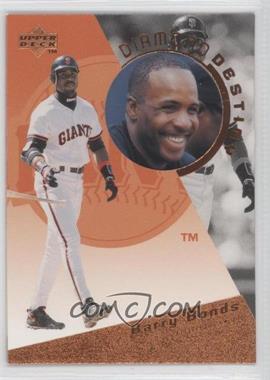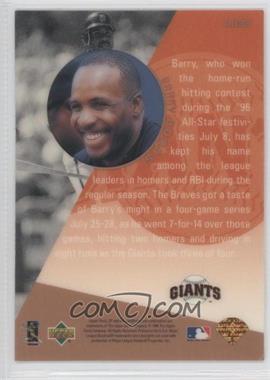 This 40-card set was randomly inserted into special "Upper Deck Tech" packs sold exclusively at Wal-Mart, at the rate of one-per-pack. Each Tech pack contained eight Upper Deck base cards and one Diamond Destiny insert. In addition, these cards are also available in the following parallels.
DD1 Chipper Jones
DD2 Fred McGriff
DD3 John Smoltz
DD4 Ryan Klesko
DD5 Greg Maddux
DD6 Cal Ripken, Jr.
DD7 Roberto Alomar
DD8 Eddie Murray
DD9 Brady Anderson
DD10 Mo Vaughn
DD11 Roger Clemens
DD12 Darin Erstad
DD13 Sammy Sosa
DD14 Frank Thomas
DD15 Barry Larkin
DD16 Albert Belle
DD17 Manny Ramirez
DD18 Kenny Lofton
DD19 Dante Bichette
DD20 Gary Sheffield
DD21 Jeff Bagwell
DD22 Hideo Nomo
DD23 Mike Piazza
DD24 Kirby Puckett
DD25 Paul Molitor
DD26 Chuck Knoblauch
DD27 Wade Boggs
DD28 Derek Jeter
DD29 Rey Ordonez
DD30 Mark McGwire
DD31 Ozzie Smith
DD32 Tony Gwynn
DD33 Barry Bonds
DD34 Matt Williams
DD35 Ken Griffey, Jr.
DD36 Jay Buhner
DD37 Randy Johnson
DD38 Alex Rodriguez
DD39 Juan Gonzalez
DD40 Joe Carter
Gameface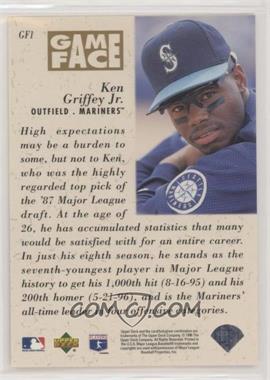 This 10-card set was randomly inserted into specially marked 1996 Upper Deck and 1996 Collector's Choice packs sold exclusively at Wal-Mart. Each Upper Deck pack had seven cards plus one Gameface; while Collector's Choice packs had 15 cards and one Gameface.
GF1 Ken Griffey, Jr.
GF2 Frank Thomas
GF3 Barry Bonds
GF4 Albert Belle
GF5 Cal Ripken, Jr.
GF6 Mike Piazza
GF7 Chipper Jones
GF8 Matt Williams
GF9 Hideo Nomo
GF10 Greg Maddux