2016 Topps Transcendent
Description
2016 Topps Transcendent was released December 9th. Produced to commemorate the 65th Anniversary of Topps Baseball, this one-of-a-kind product, limited to 65 factory sets, was the most expensive baseball card product ever released, to date.
Each factory set, which is packaged in a Halliburton-style aluminum case contains the following:
One complete 50-card set -- each serial-numbered to 65 copies.
One complete 65-card Sketch Reproductions set -- also serial-numbered to 65 copies.
One of the 65 sketches used to create the Sketch Reproductions.
50 Framed Autographs -- all serial-numbered to 52 copies or less, with at least one being a one-of-one.
One one-of-one Kris Bryant autograph, done in the style of one of the Topps Baseball base set designs -- 65 total.
One one-of-one Cut Signature Box Topper.
One invitation to a 65th Anniversary party in Las Vegas, featuring an appearance by Kris Bryant in January, 2017.
This is the first Topps product in fifteen years to have Derek Jeter autographs.
Distribution
Factory Sets Only (MSRP: $25,000)
Reviews
Insertion Ratios
| Cards | Total Cards | Numbered To | Hobby Odds |
| --- | --- | --- | --- |
| Base | 50 | 65 | one set per box |
| Sketch Reproductions | 65 | 65 | one set per box |
| Sketch Reproductions original sketches | 65 | one-of-one | one per box |
| Framed Autographs | 39 | 52 | AU |
| Framed Autographs Blue | 39 | 25 | AU |
| Framed Autographs Purple | 39 | 10 | AU |
| Framed Autographs Red | 39 | one-of-one | AU* |
| Framed Autographs Black | 39 | one-of-one | AU* |
| Kris Bryant Autographs | 65 | one-of-one | one per box |
| Cut Signature Box Topper | 65 | one-of-one | one per box |
AU: Each factory set will contain a total of 50 autographs randomly selected from among the "base" and the various parallels. All of the 39 signers will have at least one card in every set. In addition, every set will have a minimum of one one-of-one autograph (Red or Black).
Checklist
Base Set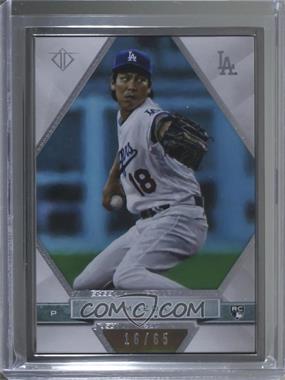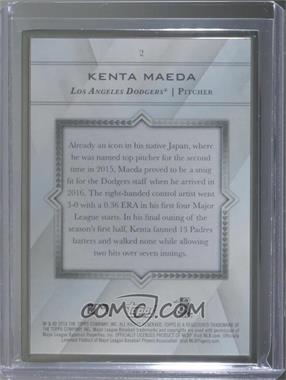 NOTE: Each base card is serial-numbered to 65 copies.
1 Babe Ruth
2 Kenta Maeda
3 Buster Posey
4 Julio Urias
5 Ty Cobb
6 Frank Robinson
7 Chipper Jones
8 Mark McGwire
9 Honus Wagner
10 Corey Seager
11 Manny Machado
12 Kris Bryant
13 Willie Mays
14 Clayton Kershaw
15 Mike Piazza
16 Randy Johnson
17 Albert Pujols
18 Madison Bumgarner
19 Frank Thomas
20 Carl Yastrzemski
21 Ken Griffey, Jr.
22 Satchel Paige
23 Johnny Bench
24 Bryce Harper
25 Hank Aaron
26 Don Mattingly
27 Ichiro
28 Lou Gehrig
29 Nolan Ryan
30 Ozzie Smith
31 Eddie Mathews
32 Reggie Jackson
33 David Price
34 Felix Hernandez
35 Harmon Killebrew
36 Rickey Henderson
37 Kyle Schwarber
38 Roger Clemens
39 Mike Trout
40 Greg Maddux
41 Carlos Correa
42 Jackie Robinson
43 John Smoltz
44 Barry Larkin
45 Roberto Clemente
46 Roger Maris
47 Ted Williams
48 Ryne Sandberg
49 Cal Ripken, Jr.
50 Sandy Koufax
Inserts
Sketch Reproductions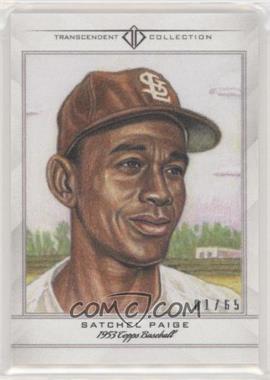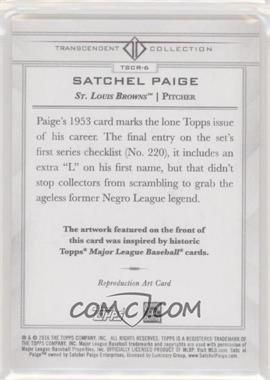 NOTE: Each Sketch Reproduction is serial-numbered to 65 copies. In addition, each set contains one of the actual sketches used to create these cards.
TSC-1 Willie Mays
TSC-2 Jackie Robinson
TSC-3 Eddie Mathews
TSC-4 Phil Rizzuto
TSC-5 Monte Irvin
TSC-6 Satchel Paige
TSC-7 Jackie Robinson
TSC-8 Hank Aaron
TSC-9 Ted Williams
TSC-10 Willie Mays
TSC-11 Al Kaline
TSC-12 Sandy Koufax
TSC-13 Roberto Clemente
TSC-14 Ted Williams
TSC-15 Jackie Robinson
TSC-16 Hank Aaron
TSC-17 Frank Robinson
TSC-18 Sandy Koufax
TSC-19 Roger Maris
TSC-20 Orlando Cepeda
TSC-21 Roberto Clemente
TSC-22 Carl Yastrzemski
TSC-23 Willie McCovey
TSC-24 Roger Maris
TSC-25 Jim Palmer
TSC-26 Steve Carlton
TSC-27 Rod Carew
TSC-28 Reggie Jackson
TSC-29 Johnny Bench
TSC-30 Nolan Ryan
TSC-31 Roberto Clemente
TSC-32 Joe Morgan
TSC-33 Dave Winfield
TSC-34 George Brett
TSC-35 Dennis Eckersley
TSC-36 Reggie Jackson
TSC-37 Robin Yount
TSC-38 Eddie Murray
TSC-39 Ozzie Smith
TSC-40 Rickey Henderson
TSC-41 Cal Ripken, Jr.
TSC-42 Wade Boggs
TSC-43 Don Mattingly
TSC-44 Darryl Strawberry
TSC-45 Mark McGwire
TSC-46 Roger Clemens
TSC-47 Dwight Gooden
TSC-48 Greg Maddux
TSC-49 Ken Griffey, Jr.
TSC-50 Randy Johnson
TSC-51 Frank Thomas
TSC-52 Chipper Jones
TSC-53 Mike Piazza
TSC-54 Nomar Garciaparra
TSC-55 Alex Rodriguez
TSC-56 Miguel Cabrera
TSC-57 Albert Pujols
TSC-58 Ichiro
TSC-59 Clayton Kershaw
TSC-60 Buster Posey
TSC-61 Mike Trout
TSC-62 Bryce Harper
TSC-63 Kris Bryant
TSC-64 Carlos Correa
TSC-65 Jose Bautista
Kris Bryant Unautographed Set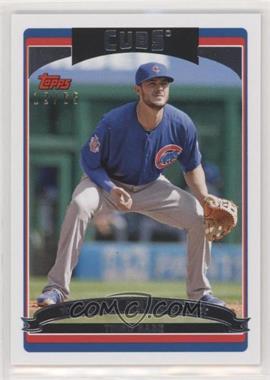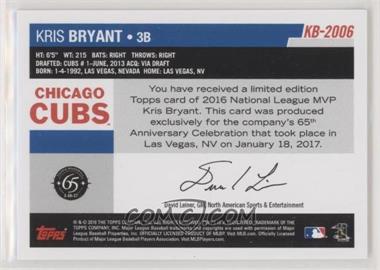 Attendees of the Topps 65th Anniversary VIP Party were given a 65-card unautographed version of the Kris Bryant autographed set (see below). Each card is serial-numbered to 65 copies.
Kris Bryant BUNT Card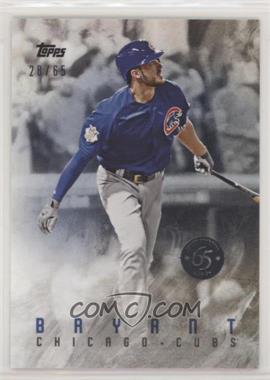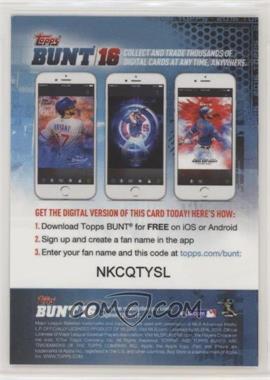 Attendees of the Topps 65th Anniversary VIP Party were also given a special Kris Bryant card to be used with the Topps BUNT mobile game. This card is also serial-numbered to 65 copies.
One-of-One Parallels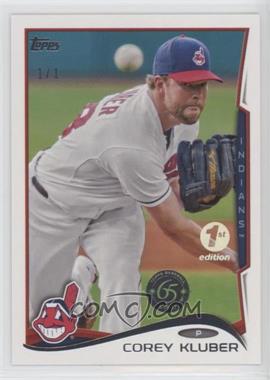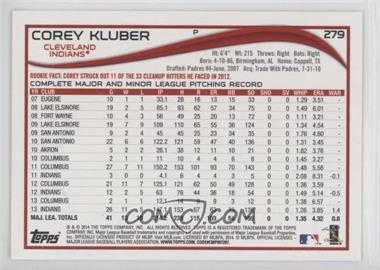 Also given away to attendees of the Topps 65th Anniversary VIP Party were various one-of-one parallels from previously released and soon-to-be released Topps products. Most cards came from the 2014 Topps 1st Edition factory set and the 2016 Topps Sapphire Chrome Factory Set. In addition, cards from the upcoming 2017 Topps Series One base set were also given away. Each card is stamped with a special "65th Anniversary" logo and is serial-numbered as a one-of-one.
Autographs
Framed Autographs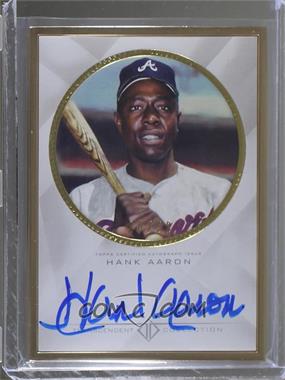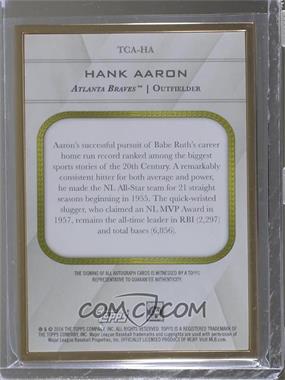 Each Framed Autograph is serial-numbered to 52 copies and available in the following parallels.
Blue (serial-numbered to 25 copies)
Purple (serial-numbered to ten)
Red (one-of-one)
Black (one-of-one)
TCA-AP Albert Pujols
TCA-AR Alex Rodriguez
TCA-BB Barry Bonds
TCA-BH Bryce Harper
TCA-BP Buster Posey
TCA-CC Carlos Correa
TCA-CJ Chipper Jones
TCA-CK Clayton Kershaw
TCA-CR Cal Ripken, Jr.
TCA-CS Corey Seager EXCH
TCA-CY Carl Yastrzemski
TCA-DJ Derek Jeter
TCA-DM Don Mattingly
TCA-DO David Ortiz
TCA-DR Daisy Ridley
TCA-FR Frank Robinson
TCA-FT Frank Thomas
TCA-GM Greg Maddux
TCA-HA Hank Aaron
TCA-I Ichiro
TCA-JB Johnny Bench
TCA-JBA Jon Boyega EXCH
TCA-KB Kris Bryant
TCA-KGJ Ken Griffey, Jr. EXCH
TCA-KM Kenta Maeda
TCA-KS Kyle Schwarber
TCA-MM Mark McGwire
TCA-MP Mike Piazza
TCA-MT Mike Trout
TCA-MTA Masahiro Tanaka
TCA-NR Nolan Ryan
TCA-OS Ozzie Smith
TCA-OV Omar Vizquel
TCA-PM Pele
TCA-PM Pedro Martinez
TCA-RC Roger Clemens
TCA-RH Rickey Henderson
TCA-RJ Randy Johnson
TCA-RJA Reggie Jackson
TCA-RS Ryne Sandberg
TCA-SK Sandy Koufax
TCA-VS Vin Scully
Kris Bryant
Kris Bryant signed 65 cards done in the style of the each of the Topps Baseball flagship sets from 1951-2016. Each card is a one-of-one.
1952 Kris Bryant
1953 Kris Bryant
1954 Kris Bryant
1955 Kris Bryant
1956 Kris Bryant
1957 Kris Bryant
1958 Kris Bryant
1959 Kris Bryant
1960 Kris Bryant
1961 Kris Bryant
1962 Kris Bryant
1963 Kris Bryant
1964 Kris Bryant
1965 Kris Bryant
1966 Kris Bryant
1967 Kris Bryant
1968 Kris Bryant
1969 Kris Bryant
1970 Kris Bryant
1971 Kris Bryant
1972 Kris Bryant
1973 Kris Bryant
1974 Kris Bryant
1975 Kris Bryant
1976 Kris Bryant
1977 Kris Bryant
1978 Kris Bryant
1979 Kris Bryant
1980 Kris Bryant
1981 Kris Bryant
1982 Kris Bryant
1983 Kris Bryant
1984 Kris Bryant
1985 Kris Bryant
1986 Kris Bryant
1987 Kris Bryant
1988 Kris Bryant
1989 Kris Bryant
1990 Kris Bryant
1991 Kris Bryant
1992 Kris Bryant
1993 Kris Bryant
1994 Kris Bryant
1995 Kris Bryant
1996 Kris Bryant
1997 Kris Bryant
1998 Kris Bryant
1999 Kris Bryant
2000 Kris Bryant
2001 Kris Bryant
2002 Kris Bryant
2003 Kris Bryant
2004 Kris Bryant
2005 Kris Bryant
2006 Kris Bryant
2007 Kris Bryant
2008 Kris Bryant
2009 Kris Bryant
2010 Kris Bryant
2011 Kris Bryant
2012 Kris Bryant
2013 Kris Bryant
2014 Kris Bryant
2015 Kris Bryant
2016 Kris Bryant
Kris Bryant/Mike Trout 65th Anniversary VIP Party Autographs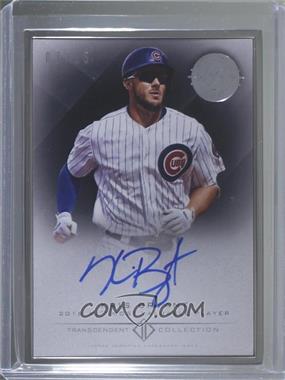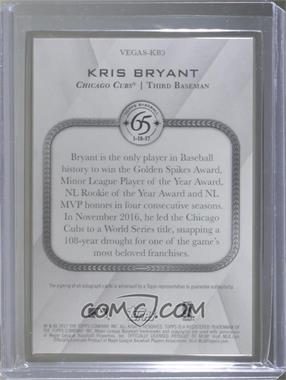 Attendees of the Topps 65th Anniversary VIP Party received one of five exclusive Kris Bryant and one of five exclusive Mike Trout autographs. Each is serial-numbered to 15 copies.
Cut Signature Box Toppers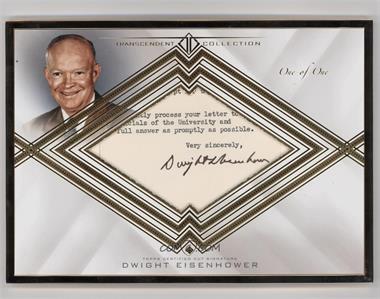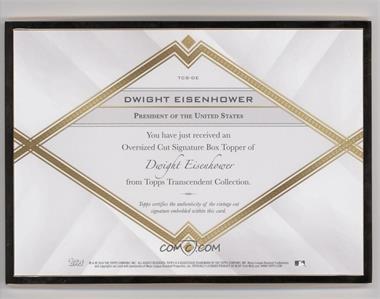 Each Cut Signature Box Topper is a one-of-one.
TCS-AH Audrey Hepburn
TCS-BC Bill Clinton
TCS-BD Bette Davis
TCS-BH Ben Hogan
TCS-BO Barack Obama
TCS-BR Babe Ruth
TCS-CC Calvin Coolidge
TCS-CM Connie Mack
TCS-CMA Christy Mathewson
TCS-CR Christopher Reeve
TCS-CY Cy Young
TCS-DD Dizzy Dean
TCS-DE Dwight Eisenhower
TCS-EH Ernie Harwell
TCS-ER Eleanor Roosevelt
TCS-FR Franklin D. Roosevelt
TCS-GC Grover Cleveland
TCS-GF Gerald Ford
TCS-GH Gordie Howe
TCS-GHB George H. Bush
TCS-GHO Gil Hodges
TCS-GS George Steinbrenner
TCS-GW George Washington
TCS-GWB George W. Bush
TCS-HC Hillary Clinton
TCS-HCO Howard Cosell
TCS-HG Hank Greenberg
TCS-HH Herbert Hoover
TCS-HT Harry Truman
TCS-HW Honus Wagner
TCS-IB Ingmar Bergman
TCS-JC Jimmy Carter
TCS-JD Joe DiMaggio
TCS-JF Jimmie Foxx
TCS-JFR Joe Frazier
TCS-JG Jerry Garcia
TCS-JGA Judy Garland
TCS-JO Jesse Owens
TCS-JOC Johnny Cash
TCS-JR Jackie Robinson
TCS-JU Johnny Unitas
TCS-KML Kenesaw Mountain Landis
TCS-LG Lou Gehrig
TCS-MO Mel Ott
TCS-NA Neil Armstrong
TCS-NF Nellie Fox
TCS-PM Pete Maravich
TCS-PR Phil Rizzuto
TCS-PWR Pee Wee Reese
TCS-RA Red Auerbach
TCS-RC Roy Campanella
TCS-RCL Roberto Clemente
TCS-RM Rocky Marciano
TCS-RMA Roger Maris
TCS-RN Richard Nixon
TCS-RW Robin Williams
TCS-SM Stan Musial
TCS-SO Sadaharu Oh
TCS-SP Satchel Paige
TCS-TS Tupac Shakur
TCS-TSP Tris Speaker
TCS-VL Vince Lombardi
TCS-WHT William Howard Taft
TCS-WS Warren Spahn
TCS-WW Woodrow Wilson
Topps Transcendent
Bowman Edition:
Derek Jeter
Hall of Fame Edition:
Japan Edition: