2018 Topps Transcendent
Description
2018 Topps Transcendent was released December 14th. Only 83 sets were produced.
Each factory set, which is packaged in a wooden case contains the following:
One 50-Card base set -- serial-numbered to 83 sets.
One 65-Card Origins Sketch Reproductions Set -- also serial-numbered to 83 sets.
One, one-of-one Origins Sketch Card or a one-of-one Hall of Fame Icons Sketch card.
50 Autographs –- all serial-numbered to 25 copies or fewer.
One, one-of-one Mike Trout Through the Years Autograph.
One, one-of-one 1983 Auto Patch or one-of-one Cut Signature Relic Book Cards.
One, one-of-one 1952 Autographed Superfractors
One, one-of-one Oversized Cut Signature
One invitation to a VIP meet-and-greet with Mike Trout, February 22nd, 2019 in Scottsdale, Arizona.
Distribution
Reviews
Insertion Ratios
| Cards | Total Cards | Numbered To | Odds |
| --- | --- | --- | --- |
| Base | 50 | 83 | one set per box |
| Origins Sketch Reproductions | 65 | 83 | one set per box |
| Origins Sketch Cards | 65 | one-of-one | SK |
| Hall of Fame Icons Sketch Cards | 18 | one-of-one | SK |
| Autographs | 88 | 25 | AU |
| Autographs Emerald | 88 | 15 | AU |
| Autographs Purple | 88 | 10 | AU |
| Autographs Red | 88 | one-of-one | AU |
| Autographs Platinum | 88 | one-of-one | AU |
| Mike Trout Through the Years Autograph | 83 | one-of-one | one-per-box |
| 1983 Auto Patch | 66 | one-of-one | '83 |
| 1983 Cut Signature Relic Book | 17 | one-of-one | '83 |
| Autographed 1952 SuperFractor | 83 | one-of-one | one-per-box |
| Oversize Cut Signature | 83 | one-of-one | one-per-box |
* SK: One Original Sketch Card or Hall of Fame Icons Sketch Card per box.
* AU: 50 Autographs per box.
*'83: One 1983 Auto Patch or one 1983 Cut Signature Relic Book per box.
Checklist
Base Set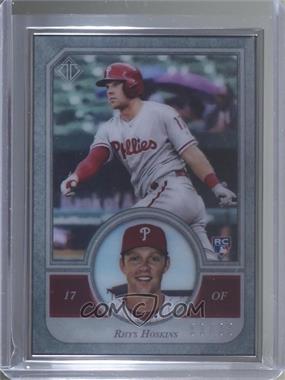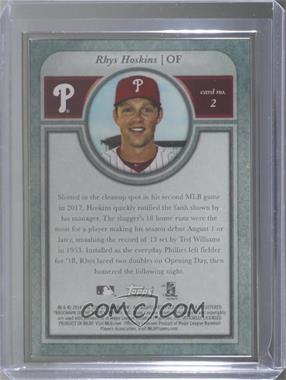 Each card is serial-numbered to 83 copies.
1 Sandy Koufax
2 Rhys Hoskins
3 Ryne Sandberg
4 Hideki Matsui
5 Gleyber Torres
6 Mariano Rivera
7 Mike Piazza
8 Jose Altuve
9 Frank Thomas
10 Shohei Ohtani
11 Johnny Bench
12 Francisco Lindor
13 George Brett
14 Roger Clemens
15 Tom Seaver
16 Aaron Judge
17 Lou Gehrig
18 Ty Cobb
19 Chipper Jones
20 Kris Bryant
21 Pedro Martinez
22 Greg Maddux
23 Clayton Kershaw
24 Randy Johnson
25 Derek Jeter
26 Bo Jackson
27 Rafael Devers
28 David Ortiz
29 Tommy Lasorda
30 Bryce Harper
31 Jimmie Foxx
32 Gary Sanchez
33 Alex Rodriguez
34 Ted Williams
35 Manny Machado
36 Rickey Henderson
37 Honus Wagner
38 Mark McGwire
39 Jackie Robinson
40 Ichiro
41 Roberto Clemente
42 Mike Trout
43 Reggie Jackson
44 Cal Ripken, Jr.
45 Albert Pujols
46 Don Mattingly
47 Anthony Rizzo
48 Nolan Ryan
49 Ronald Acuña, Jr.
50 Hank Aaron
Inserts
Origins Sketch Reproductions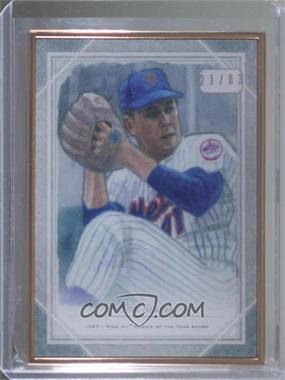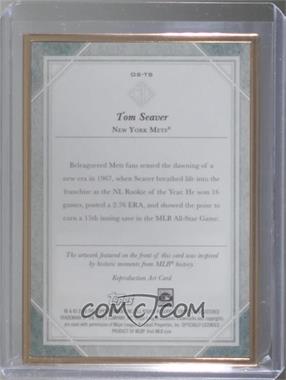 Each Origins Sketch Reproduction is serial-numbered to 83 copies. In addition, randomly selected boxes will contain one of the actual sketches used to create this set.
OS-AAJ Aaron Judge
OS-AB Andrew Benintendi
OS-AD Andre Dawson
OS-AJ Aaron Judge
OS-AJU Aaron Judge
OS-AP Albert Pujols
OS-AR Alex Rodriguez
OS-ARI Anthony Rizzo
OS-BF Bob Feller
OS-BH Bryce Harper
OS-BHA Bryce Harper
OS-BJ Bo Jackson
OS-BP Buster Posey
OS-BW Billy Williams
OS-CAR Cal Ripken, Jr.
OS-CB Cody Bellinger
OS-CC Carlos Correa
OS-CF Carlton Fisk
OS-CRJ Cal Ripken, Jr.
OS-CS Corey Seager
OS-DEJ Derek Jeter
OS-DJ Derek Jeter
OS-DJE Derek Jeter
OS-DP Dustin Pedroia
OS-EM Eddie Murray
OS-FL Francisco Lindor
OS-FR Frank Robinson
OS-GM Greg Maddux
OS-GS Gary Sanchez
OS-HA Hank Aaron
OS-HM Hideki Matsui
OS-HMI Hideki Matsui
OS-I Ichiro
OS-ICS Ichiro
OS-IS Ichiro
OS-JB Jeff Bagwell
OS-JBE Johnny Bench
OS-JR Jackie Robinson
OS-JRO Jackie Robinson
OS-KB Kris Bryant
OS-KBR Kris Bryant
OS-LA Luis Aparicio
OS-LG Lou Gehrig
OS-MC Miguel Cabrera
OS-MIT Mike Trout
OS-MM Manny Machado
OS-MMC Mark McGwire
OS-MP Mike Piazza
OS-MR Mariano Rivera
OS-MT Mike Trout
OS-MTR Mike Trout
OS-NR Nolan Ryan
OS-OC Orlando Cepeda
OS-RC Roberto Clemente
OS-RCA Rod Carew
OS-RCL Roger Clemens
OS-RH Rhys Hoskins
OS-RHE Rickey Henderson
OS-RJ Randy Johnson
OS-SK Sandy Koufax
OS-SO Shohei Ohtani
OS-SOH Shohei Ohtani
OS-TS Tom Seaver
OS-TW Ted Williams
OS-WM Willie McCovey
Hall of Fame Icons Sketches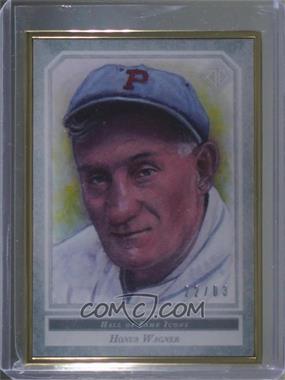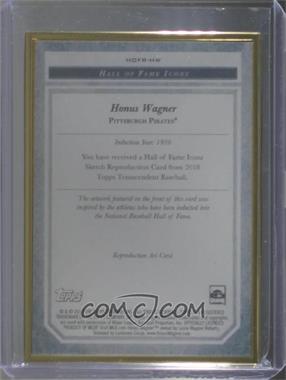 Boxes not containing an Origins Sketch Card will contain a Hall of Fame Icons Sketch. Each is a one-of-one. In addition, each set contained a redemption card good for a Hall of Fame Icons Reproductions set similar to the Origins Reproductions.
HOF-CRJ Cal Ripken, Jr.
HOF-FT Frank Thomas
HOF-GB George Brett
HOF-GM Greg Maddux
HOF-HA Hank Aaron
HOF-HW Honus Wagner
HOF-JF Jimmie Foxx
HOF-JR Jackie Robinson
HOF-LG Lou Gehrig
HOF-MP Mike Piazza
HOF-NR Nolan Ryan
HOF-PM Pedro Martinez
HOF-RC Roberto Clemente
HOF-RJ Reggie Jackson
HOF-SK Sandy Koufax
HOF-TC Ty Cobb
HOF-TL Tommy Lasorda
HOF-TW Ted Williams
VIP Party Mike Trout Through the Years Unautographed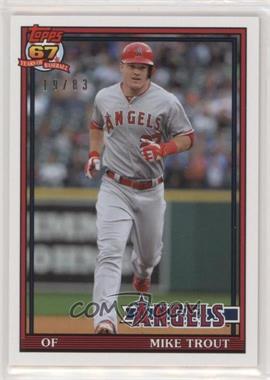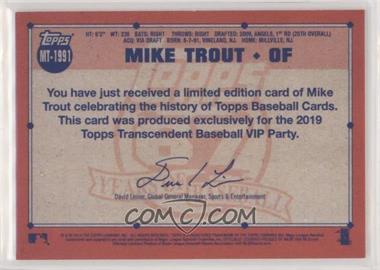 As has been custom, once again attendees to the Transcendent VIP Party were awarded with a complete (unsigned) Mike Trout Through the Years set (see below). Each card is serial-numbered to 83 copies, and each set contained a one-of-one Relic parallel.
VIP Party Mike Trout Topps BUNT
An exclusive Mike Trout Topps BUNT card serial-numbered to 83 copies was distributed to attendees of the Transcendent VIP Party.
VIP Party Mike Trout On-Demand
Attendees of the Transcendent VIP Party also received a ten-card Mike Trout On-Demand set. Each set is serial-numbered to 83 copies.
VIP Party Ones-of-One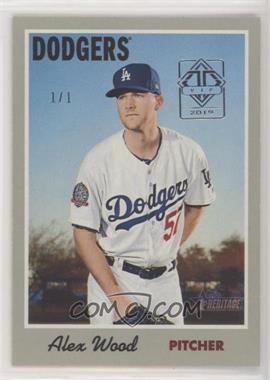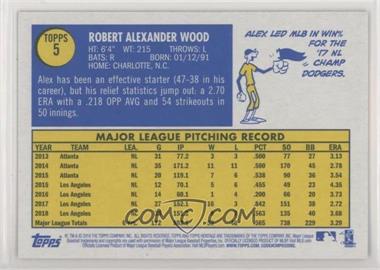 As usual, one-of-one parallels of Topps cards were given away. Among this year's sets that got the one-of-one treatment include the 2018 Bowman Draft and 2018 Bowman Chrome Draft base sets, as well as the Bowman Draft Recommended Viewing, Franchise Futures, and Sterling inserts. In addition, preview cards for 2019 Topps Series One, Heritage, Gypsy Queen, Bowman, and Bowman Chrome, and most of their inserts were also given away. Each card is stamped with a Transcendent logo and is serial-numbered "1/1".
Autographs
Autographs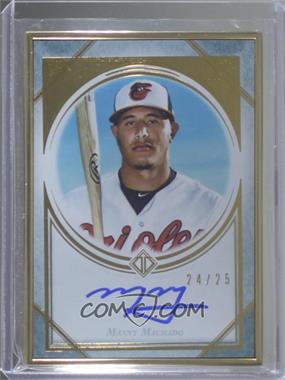 Each Autograph is serial-numbered to 25 copies and is also available in the following parallels.
Emerald (serial-numbered to fifteen)
Purple (serial-numbered to ten)
Red (one-of-one)
Platinum (one-of-one)
NOTE: Most players have two distinct cards in this set: one vertical the other horizontal. The only exceptions are Andy Pettitte and Derek Jeter. Not all sets have a Jeter or Pettitte.
TCA-AJ1 Aaron Judge
TCA-AJ2 Aaron Judge
TCA-AM1 Andrew McCutchen
TCA-AM2 Andrew McCutchen
TCA-ANP Andy Pettitte
TCA-AP1 Albert Pujols LAA
TCA-AP2 Albert Pujols STL
TCA-AR1 Alex Rodriguez NYY
TCA-AR2 Alex Rodriguez SEA
TCA-ARI1 Anthony Rizzo
TCA-ARI2 Anthony Rizzo
TCA-BH1 Bryce Harper
TCA-BH2 Bryce Harper
TCA-BJ1 Bo Jackson
TCA-BJ2 Bo Jackson
TCA-CJ1 Chipper Jones
TCA-CJ2 Chipper Jones
TCA-CK1 Clayton Kershaw
TCA-CK2 Clayton Kershaw
TCA-CR1 Cal Ripken, Jr.
TCA-CR2 Cal Ripken, Jr.
TCA-DJ Derek Jeter
TCA-DM1 Don Mattingly
TCA-DM2 Don Mattingly
TCA-DO1 David Ortiz BOS
TCA-DO2 David Ortiz MIN
TCA-FL1 Francisco Lindor
TCA-FL2 Francisco Lindor
TCA-FT1 Frank Thomas
TCA-FT2 Frank Thomas
TCA-GM1 Greg Maddux ATL
TCA-GM2 Greg Maddux CHC
TCA-GS1 Gary Sanchez
TCA-GS2 Gary Sanchez
TCA-GT1 Gleyber Torres
TCA-GT2 Gleyber Torres
TCA-HA1 Hank Aaron
TCA-HA2 Hank Aaron
TCA-HM1 Hideki Matsui
TCA-HM2 Hideki Matsui
TCA-I1 Ichiro SEA
TCA-I2 Ichiro MIA
TCA-JA1 Jose Altuve
TCA-JA2 Jose Altuve
TCA-JB1 Johnny Bench
TCA-JB2 Johnny Bench
TCA-JS1 Juan Soto
TCA-JS2 Juan Soto
TCA-JT1 Jim Thome CLE
TCA-JT2 Jim Thome PHL
TCA-KB1 Kris Bryant
TCA-KB2 Kris Bryant
TCA-MM1 Mark McGwire STL
TCA-MM2 Mark McGwire OAK
TCA-MMA1 Manny Machado
TCA-MMA2 Manny Machado
TCA-MP1 Mike Piazza NYM
TCA-MP2 Mike Piazza LAD
TCA-MR1 Mariano Rivera
TCA-MR2 Mariano Rivera
TCA-MT1 Mike Trout
TCA-MT2 Mike Trout
TCA-NR1 Nolan Ryan HOU
TCA-NR2 Nolan Ryan TEX
TCA-PM1 Pedro Martinez BOS
TCA-PM2 Pedro Martinez MTL
TCA-RAC1 Ronald Acuña, Jr.
TCA-RAC2 Ronald Acuña, Jr.
TCA-RC1 Roger Clemens NYY
TCA-RC2 Roger Clemens BOS
TCA-RD1 Rafael Devers
TCA-RD2 Rafael Devers
TCA-RH1 Rickey Henderson
TCA-RH2 Rickey Henderson
TCA-RHO1 Rhys Hoskins
TCA-RHO2 Rhys Hoskins
TCA-RJ1 Randy Johnson MTL
TCA-RJ2 Randy Johnson ARZ
TCA-RJA1 Reggie Jackson NYY
TCA-RJA2 Reggie Jackson OAK
TCA-RS1 Ryne Sandberg
TCA-RS2 Ryne Sandberg
TCA-SK1 Sandy Koufax
TCA-SK2 Sandy Koufax
TCA-SO1 Shohei Ohtani
TCA-SO2 Shohei Ohtani
TCA-YM1 Yadier Molina
TCA-YM2 Yadier Molina
Mike Trout Through the Years Autograph
Each Mike Trout Through the Years Autograph is a one-of-one and is done in the style of a previously released Topps Baseball design.
MT-1952 Mike Trout
MT-1953 Mike Trout
MT-1954 Mike Trout
MT-1955 Mike Trout
MT-1956 Mike Trout
MT-1957 Mike Trout
MT-1958 Mike Trout
MT-1959 Mike Trout
MT-1960 Mike Trout
MT-1961 Mike Trout
MT-1962 Mike Trout
MT-1963 Mike Trout
MT-1964 Mike Trout
MT-1965 Mike Trout
MT-1966 Mike Trout
MT-1967 Mike Trout
MT-1968 Mike Trout
MT-1969 Mike Trout
MT-1970 Mike Trout
MT-1971 Mike Trout
MT-1972 Mike Trout
MT-1973 Mike Trout
MT-1974 Mike Trout
MT-1975 Mike Trout
MT-1976 Mike Trout
MT-1977 Mike Trout
MT-1978 Mike Trout
MT-1979 Mike Trout
MT-1980 Mike Trout
MT-1981 Mike Trout
MT-1982 Mike Trout
MT-1983 Mike Trout
MT-1984 Mike Trout
MT-1985 Mike Trout
MT-1986 Mike Trout
MT-1987 Mike Trout
MT-1988 Mike Trout
MT-1989 Mike Trout
MT-1990 Mike Trout
MT-1991 Mike Trout
MT-1992 Mike Trout
MT-1993 Mike Trout
MT-1994 Mike Trout
MT-1995 Mike Trout
MT-1996 Mike Trout
MT-1997 Mike Trout
MT-1998 Mike Trout
MT-1999 Mike Trout
MT-2000 Mike Trout
MT-2001 Mike Trout
MT-2002 Mike Trout
MT-2003 Mike Trout
MT-2004 Mike Trout
MT-2005 Mike Trout
MT-2006 Mike Trout
MT-2007 Mike Trout
MT-2008 Mike Trout
MT-2009 Mike Trout
MT-2010 Mike Trout
MT-2011 Mike Trout
MT-2012 Mike Trout
MT-2013 Mike Trout
MT-2014 Mike Trout
MT-2015 Mike Trout
MT-2016 Mike Trout
MT-2017 Mike Trout
MT-2018 Mike Trout
MT-51PB Mike Trout
MT-55BB Mike Trout
MT-58AS Mike Trout
MT-68TG Mike Trout
MT-69TS Mike Trout
MT-72IA Mike Trout
MT-75TH Mike Trout
MT-77TB Mike Trout
MT-78RB Mike Trout
MT-82IA Mike Trout
MT-82TH Mike Trout
MT-88AS Mike Trout
MT-88RB Mike Trout
MT-89RB Mike Trout
MT-90RB Mike Trout
MT-91AS Mike Trout
VIP Party Mike Trout Autographs
Attendees of the Transcendent VIP Party received two of ten exclusive Mike Trout autographs. Six cards are serial-numbered to 15 copies, while the other four are numbered to 25. Each guest received a card numbered to 15 and one numbered to 25.
1983 Auto Patch
Each 1983 Auto Patch is a one-of-one.
AR-AD Andre Dawson
AR-AJ Aaron Judge
AR-AJU Aaron Judge
AR-AMR Amed Rosario
AR-ANP Andy Pettitte
AR-AP Albert Pujols
AR-APU Albert Pujols
AR-AR Alex Rodriguez
AR-ARI Anthony Rizzo
AR-ARO Alex Rodriguez
AR-BH Bryce Harper
AR-BJ Bo Jackson
AR-CK Clayton Kershaw
AR-CR Cal Ripken, Jr.
AR-CS Chris Sale
AR-DAW Dave Winfield
AR-DJ Derek Jeter
AR-DO David Ortiz
AR-DOR David Ortiz
AR-DW Dave Winfield
AR-FF Freddie Freeman
AR-GS George Springer
AR-GT Gleyber Torres
AR-HA Hank Aaron
AR-HAN Hank Aaron
AR-I Ichiro
AR-IR Ivan Rodriguez
AR-IS Ichiro
AR-JA Jose Altuve
AR-JB Johnny Bench
AR-JBE Johnny Bench
AR-JD Jacob deGrom
AR-JT Jim Thome
AR-JTH Jim Thome
AR-JV Joey Votto
AR-KB Kris Bryant
AR-KBR Kris Bryant
AR-MM Mark McGwire
AR-MMA Manny Machado
AR-MMC Mark McGwire
AR-MP Mike Piazza
AR-MPI Mike Piazza
AR-MR Mariano Rivera
AR-MRI Mariano Rivera
AR-MT Mike Trout
AR-MTR Mike Trout
AR-NG Nomar Garciaparra
AR-NR Nolan Ryan
AR-NRY Nolan Ryan
AR-NS Noah Syndergaard
AR-OA Ozzie Albies
AR-PG Paul Goldschmidt
AR-PM Pedro Martinez
AR-PMA Pedro Martinez
AR-RAC Ronald Acuña, Jr.
AR-RC Roger Clemens
AR-RCA Rod Carew
AR-RCL Roger Clemens
AR-RD Rafael Devers
AR-RDE Rafael Devers
AR-RH Rickey Henderson
AR-RHE Rickey Henderson
AR-RJ Randy Johnson
AR-RJA Reggie Jackson
AR-SC Steve Carlton
AR-TG Tom Glavine
1983 Cut Signature Relic Book
Each 1983 Cut Signature Relic Book is a one-of-one.
CSB-BF Bob Feller
CSB-BL Bob Lemon
CSB-DS Duke Snider
CSB-EB Ernie Banks
CSB-EW Early Wynn
CSB-GC Gary Carter
CSB-HN Hal Newhouser
CSB-HW Honus Wagner
CSB-HWA Honus Wagner
CSB-HWI Hoyt Wilhelm
CSB-RC Roberto Clemente
CSB-RCL Roberto Clemente
CSB-RS Red Schoendienst
CSB-TW Ted Williams
CSB-TWI Ted Williams
CSB-WS Warren Spahn
CSB-WST Willie Stargell
Autographed 1952 SuperFractor
Each Autographed 1952 SuperFractor is done in the style of the 1952 Topps Baseball set and is a one-of-one.
52S-AB Adrian Beltre
52S-AJ Aaron Judge
52S-AJU Aaron Judge
52S-AK Al Kaline
52S-AM Andrew McCutchen
52S-ANP Andy Pettitte
52S-AP Albert Pujols
52S-AR Alex Rodriguez
52S-ARI Anthony Rizzo
52S-ARO Amed Rosario
52S-BG Bob Gibson
52S-BH Bryce Harper
52S-BJ Bo Jackson
52S-BL Barry Larkin
52S-BP Buster Posey
52S-BW Bernie Williams
52S-CB Craig Biggio
52S-CF Carlton Fisk
52S-CFR Clint Frazier
52S-CJ Chipper Jones
52S-CKL Corey Kluber
52S-CRJ Cal Ripken, Jr.
52S-CS Chris Sale
52S-DJ Derek Jeter
52S-DJE Derek Jeter
52S-DM Don Mattingly
52S-DO David Ortiz
52S-DSM Salvador Perez
52S-FF Freddie Freeman
52S-FL Francisco Lindor
52S-FT Frank Thomas
52S-GM Greg Maddux
52S-GS George Springer
52S-GSA Gary Sanchez
52S-GT Gleyber Torres
52S-HA Hank Aaron
52S-HAA Hank Aaron
52S-HM Hideki Matsui
52S-I Ichiro
52S-IH Ian Happ
52S-JA Jose Altuve
52S-JB Johnny Bench
52S-JBA Jeff Bagwell
52S-JD Jacob deGrom
52S-JS John Smoltz
52S-JSO Juan Soto
52S-JT Jim Thome
52S-JV Joey Votto
52S-KB Kris Bryant
52S-KBR Kris Bryant
52S-LB Lou Brock
52S-LS Luis Severino
52S-MM Mark McGwire
52S-MMA Manny Machado
52S-MP Mike Piazza
52S-MR Mariano Rivera
52S-MT Mike Trout
52S-MTR Mike Trout
52S-NR Nolan Ryan
52S-NS Noah Syndergaard
52S-OA Ozzie Albies
52S-OS Ozzie Smith
52S-PG Paul Goldschmidt
52S-PM Pedro Martinez
52S-RA Roberto Alomar
52S-RAC Ronald Acuña, Jr.
52S-RC Roger Clemens
52S-RCA Rod Carew
52S-RD Rafael Devers
52S-RH Rickey Henderson
52S-RHO Rhys Hoskins
52S-RJ Randy Johnson
52S-RJA Reggie Jackson
52S-RS Ryne Sandberg
52S-RY Robin Yount
52S-SC Steve Carlton
52S-SK Sandy Koufax
52S-SKO Sandy Koufax
52S-SO Shohei Ohtani
52S-SOH Shohei Ohtani
52S-VR Victor Robles
52S-WCO Willson Contreras
52S-YM Yadier Molina
Oversize Cut Signature
Each Oversize Cut Signature is a one-of-one.
TCS-AC Abbott and Costello
TCS-AE Albert Einstein
TCS-AEA Amelia Earhart
TCS-AH Alfred Hitchcock
TCS-AJ Andrew Johnson
TCS-BBC Buffalo Bill Cody
TCS-BBK B.B. King
TCS-BC Bill Clinton
TCS-BDZ Babe Didrikson Zaharias
TCS-BO Barack Obama
TCS-BR Babe Ruth
TCS-CAA Chester A. Arthur
TCS-CB Chuck Berry
TCS-CC Calvin Coolidge
TCS-CH Charlton Heston
TCS-CL Charles Lindbergh
TCS-CY Cy Young
TCS-DDE Dwight D. Eisenhower
TCS-DM Dean Martin
TCS-EH Ernest Hemingway
TCS-EK Evel Knievel
TCS-ET Elizabeth Taylor
TCS-FDR Franklin D. Roosevelt
TCS-GC Grover Cleveland
TCS-GF Gerald Ford
TCS-GH Gil Hodges
TCS-GHB George H.W. Bush
TCS-GWB George W. Bush
TCS-HB Humphrey Bogart
TCS-HH Harry Houdini
TCS-HHE Hugh Hefner
TCS-HHO Herbert Hoover
TCS-HP Herb Pennock
TCS-HT Harry S. Truman
TCS-HW Honus Wagner
TCS-JB James Buchanan
TCS-JBE John Belushi
TCS-JBR Jim Brown
TCS-JD Jack Dempsey
TCS-JDI Joe DiMaggio
TCS-JEH J. Edgar Hoover
TCS-JF Jimmie Foxx
TCS-JFK John F. Kennedy
TCS-JG James Gandolfini
TCS-JH Jim Henson
TCS-JKO Jacqueline Kennedy Onassis
TCS-JM James Monroe
TCS-JR Joey Ramone
TCS-JRO Jackie Robinson
TCS-JT Jim Thorpe
TCS-JV Jim Valvano
TCS-KR Knute Rockne
TCS-LB Lauren Bacall
TCS-LBJ Lyndon B. Johnson
TCS-LD Leo Durocher
TCS-LG Lou Gehrig
TCS-MF Millard Fillmore
TCS-MO Mel Ott
TCS-MR Maurice Richard
TCS-MT Mother Teresa
TCS-MVB Martin Van Buren
TCS-NL Nap Lajoie
TCS-NM Nelson Mandela
TCS-OW Orville Wright
TCS-RC Roberto Clemente
TCS-RH Rogers Hornsby
TCS-RM Roger Maris
TCS-RR Ronald Reagan
TCS-SDJ Sammy Davis, Jr.
TCS-SI Steve Irwin
TCS-SO Sadaharu Oh
TCS-SP Satchel Paige
TCS-ST Spencer Tracy
TCS-TE Thomas Edison
TCS-TM Thurman Munson
TCS-TP Tom Petty
TCS-TR Theodore Roosevelt
TCS-TS Tris Speaker
TCS-TW Ted Williams
TCS-WHH William Henry Harrison
TCS-WHT William Howard Taft
TCS-WM William McKinley
TCS-WW Woodrow Wilson
Topps Transcendent
Bowman Edition:
Captain's Collection:
Hall of Fame Edition:
Japan Edition: