2016 Topps Tier One
Description
2016 Topps Tier One was released June 8th. Each box will yield one Relic and two autographs.
As with previous iterations of this product, there is no "base set" in the conventional sense.
Distribution
Three cards per box (MSRP: $100). 12 boxes per case. Hobby only.
Reviews
Insertion Ratios
| Cards | Total Cards | Numbered To | Hobby Odds |
| --- | --- | --- | --- |
| Relics | 76 | varies | one-per-box |
| Relics Dual Swatch | 76 | 50 | 1:6 |
| Relics Triple Swatch | 76 | 25 | 1:12 |
| Relics Legends | 18 | varies | 1:16 |
| Relics Legends Dual Swatch | 18 | 25 | 1:54 |
| Relics Legends Triple Swatch | 18 | 5 | 1:266 |
| Prodigious Patches | 25 | 10 | 1:96 |
| Limited Lumber | 108 | one-of-one | 1:221 |
| All-Star Relics | 50 | one-of-one | 1:485 |
| Bat Knobs | 87 | one-of-one | 1:274 |
| Autographs | 28 | varies | 1:23 |
| Autographs Copper | 28 | 25 | 1:32 |
| Autographs Silver | 28 | 10 | 1:79 |
| Autographs Gold | 28 | one-of-one | 1:777 |
| Breakout Autographs | 81 | varies | one-per-box |
| Breakout Autographs Copper | 81 | 25 | 1:9 |
| Breakout Autographs Silver | 81 | 10 | 1:21 |
| Breakout Autographs Red | 81 | 5 | A |
| Breakout Autographs Gold | 81 | one-of-one | 1:203 |
| Prime Performers Autographs | 88 | varies | one-per-box |
| Prime Performers Autographs Copper | 88 | 25 | 1:9 |
| Prime Performers Autographs Silver | 88 | 10 | 1:21 |
| Prime Performers Autographs Red | 88 | 5 | A |
| Prime Performers Autographs Gold | 88 | one-of-one | 1:216 |
| Clear One Autographs | 21 | 25 | 1:48 |
| Dual Autographs | 12 | 25 | 1:63 |
| Triple Autographs | 5 | 10 | 1:474 |
| Autographed Relics | 25 | varies | 1:10 |
| Autographed Relics Dual Patch | 25 | 25 | 1:38 |
| Autographed Relics Triple Patch | 25 | one-of-one | 1:925 |
| Autographed Prodigious Patches | 22 | 10 | 1:95 |
| Autographed Prodigious Patches Platinum | 22 | 5 | 1:158 |
| Autographed Limited Lumber | 38 | one-of-one | 1:486 |
| Tool of the Trade Autographed Relics | 47 | one-of-one | 1:474 |
| Autographed Bat Knobs | 43 | one-of-one | 1:486 |
| Dual Autographed Relics | 25 | 10 | 1:95 |
| Cut Signatures | 19 | one-of-one | 1:1214 |
| Cut Signature Relics | 15 | one-of-one | 1:1494 |
A: Exclusive to packs distributed to the Asian market.
Checklist
Relics
Relics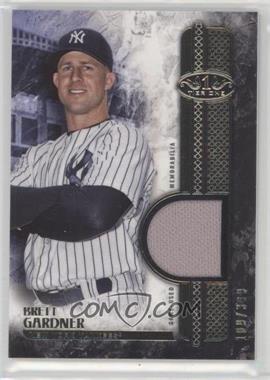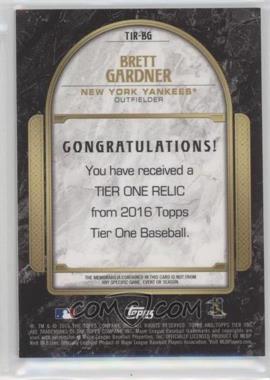 Each Relic is also available in the following parallels.
Dual Swatch (serial-numbered to 50 copies)
Triple Swatch (serial-numbered to five)
T1R-AGN Adrian Gonzalez 399
T1R-AGR Alex Gordon 205
T1R-AM Andrew McCutchen 99
T1R-APO A.J. Pollock 299
T1R-APU Albert Pujols 299
T1R-ARI Anthony Rizzo 299
T1R-ARU Addison Russell 199
T1R-AW Adam Wainwright 199
T1R-BG Brett Gardner 399
T1R-BH Bryce Harper 299
T1R-BM Brian McCann 299
T1R-BPH Brandon Phillips 299
T1R-BPO Buster Posey 299
T1R-CBE Carlos Beltran 399
T1R-CKE Clayton Kershaw 299
T1R-CM Carlos Martinez 299
T1R-CSA Carlos Santana 199
T1R-CY Christian Yelich 199
T1R-DK Dallas Keuchel 199
T1R-DO David Ortiz 299
T1R-DP Dustin Pedroia 299
T1R-DW David Wright 199
T1R-EE Edwin Encarnacion 399
T1R-EL Evan Longoria 299
T1R-FH Felix Hernandez 199
T1R-FL Francisco Lindor 299
T1R-GSP George Springer 199
T1R-GST Giancarlo Stanton 199
T1R-HP Hunter Pence 299
T1R-HR Hanley Ramirez 299
T1R-I Ichiro 199
T1R-JAB Jose Abreu 399
T1R-JBU Jose Bautista 399
T1R-JBZ Javier Baez 399
T1R-JC Jose Canseco 99
T1R-JDA Johnny Damon 399
T1R-JDE Jacob deGrom 399
T1R-JE Jacoby Ellsbury 399
T1R-JF Jose Fernandez 399
T1R-JH Josh Harrison 299
T1R-JK Jung Ho Kang 99
T1R-JLE Jon Lester 299
T1R-JLU Jonathan Lucroy 299
T1R-JS Jorge Soler 199
T1R-JVE Justin Verlander 199
T1R-JVO Joey Votto 199
T1R-KB Kris Bryant 399
T1R-KC Kole Calhoun 399
T1R-KP Kevin Plawecki 299
T1R-KSE Kyle Seager 199
T1R-KSU Kurt Suzuki 199
T1R-KW Kolten Wong 199
T1R-MCA Miguel Cabrera 399
T1R-MCR Matt Carpenter 299
T1R-MH Matt Harvey 299
T1R-MMA Manny Machado 299
T1R-MMC Mark McGwire 299
T1R-MPI Michael Pineda 299
T1R-MTA Masahiro Tanaka 199
T1R-MTE Mark Teixeira 199
T1R-MTR Mike Trout 199
T1R-NA Nolan Arenado 399
T1R-PF Prince Fielder 399
T1R-PG Paul Goldschmidt 399
T1R-PS Pablo Sandoval 199
T1R-RCA Robinson Cano 369
T1R-RCL Roger Clemens 399
T1R-RCS Rusney Castillo 99
T1R-RH Ryan Howard 299
T1R-SC Shin-Soo Choo 399
T1R-SM Steven Matz 299
T1R-TT Troy Tulowitzki 99
T1R-VG Vladimir Guerrero 399
T1R-VM Victor Martinez 299
T1R-YM Yadier Molina 299
T1R-ZW Zack Wheeler 199
T1R-TD Travis D'Arnaud 399
T1R-YT Yasmany Tomas 199
Relics Legends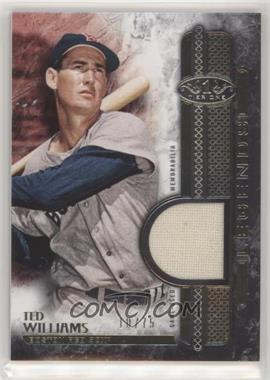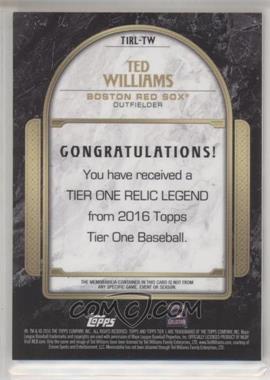 Each Relic Legend is also available in the following parallels.
Dual Swatch (serial-numbered to 25 copies)
Triple Swatch (serial-numbered to five)
T1RL-BD Bobby Doerr 75
T1RL-BF Bob Feller 75
T1RL-CB Craig Biggio 149
T1RL-CF Carlton Fisk 75
T1RL-CR Cal Ripken, Jr. 149
T1RL-GB George Brett 75
T1RL-HA Hank Aaron 75
T1RL-JG Josh Gibson 75
T1RL-RA Roberto Alomar 149
T1RL-RC Roberto Clemente 99
T1RL-RFE Rick Ferrell 75
T1RL-RFI Rollie Fingers 75
T1RL-RM Roger Maris 75
T1RL-SC Steve Carlton 75
T1RL-TGW Tony Gwynn 149
T1RL-TW Ted Williams 75
T1RL-WB Wade Boggs 75
T1RL-WSP Warren Spahn 75
Prodigious Patches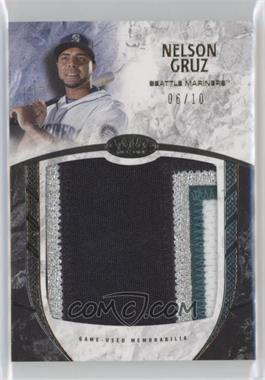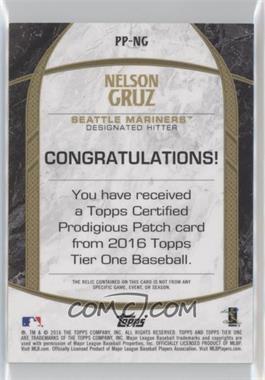 Each Prodigious Patch is serial-numbered to ten copies.
PP-AM Andrew McCutchen
PP-AP Albert Pujols
PP-AR Anthony Rizzo
PP-CB Clay Buchholz
PP-CK Clayton Kershaw
PP-DK Dallas Keuchel
PP-DO David Ortiz
PP-EH Eric Hosmer
PP-GS Giancarlo Stanton
PP-HP Hunter Pence
PP-JA Jose Altuve
PP-JB Jose Bautista
PP-JE Jacoby Ellsbury
PP-JF Jose Fernandez
PP-JVE Justin Verlander
PP-MB Madison Bumgarner
PP-MC Miguel Cabrera
PP-MH Matt Harvey
PP-MMC Mark McGwire
PP-NC Nelson Cruz
PP-PG Paul Goldschmidt
PP-SP Salvador Perez
PP-TG Tony Gwynn
PP-VM Victor Martinez
PP-YD Yu Darvish
Limited Lumber
Each Limited Lumber is a one-of-one.
LL-AB Adrian Beltre
LL-AGN Adrian Gonzalez
LL-AGO Adrian Gonzalez
LL-AJ Adam Jones
LL-AP Albert Pujols
LL-AS Andrelton Simmons
LL-AWA Adam Wainwright
LL-AWI Adam Wainwright
LL-BB Byron Buxton
LL-BD Brian Dozier
LL-BH Bryce Harper
LL-BLA Barry Larkin
LL-BLR Barry Larkin
LL-BPH Brandon Phillips
LL-BPL Brandon Phillips
LL-BPO Buster Posey
LL-BPS Buster Posey
LL-BZ Ben Zobrist
LL-CH Cole Hamels
LL-CJ Chipper Jones
LL-CUL Chase Utley
LL-CUT Chase Utley
LL-CYE Christian Yelich
LL-CYL Christian Yelich
LL-DE Dennis Eckersley
LL-DMA Don Mattingly
LL-DME Devin Mesoraco
LL-DP Dustin Pedroia
LL-DWI David Wright
LL-DWR David Wright
LL-EE Edwin Encarnacion
LL-EL Evan Longoria
LL-FM Fred McGriff
LL-FT Frank Thomas
LL-GSA Giancarlo Stanton
LL-GST Giancarlo Stanton
LL-HAA Hank Aaron
LL-HAR Hank Aaron
LL-HPE Hunter Pence
LL-HRA Hanley Ramirez
LL-HRM Hanley Ramirez
LL-HRY Hyun-Jin Ryu
LL-JAB Jose Abreu
LL-JAR Jose Abreu
LL-JBA Jose Bautista
LL-JBR Jay Bruce
LL-JBU Jose Bautista
LL-JCA Jose Canseco
LL-JCU Johnny Cueto
LL-JDA Josh Donaldson
LL-JDN Josh Donaldson
LL-JDO Josh Donaldson
LL-JEL Jacoby Ellsbury
LL-JES Jacoby Ellsbury
LL-JF Jose Fernandez
LL-JMO Joe Morgan
LL-JMR Joe Morgan
LL-JRA J.T. Realmuto
LL-JRE Jose Reyes
LL-JSM John Smoltz
LL-JSO John Smoltz
LL-JUP Justin Upton
LL-JUT Justin Upton
LL-JV Joey Votto
LL-KBN Kris Bryant
LL-KBR Kris Bryant
LL-KBY Kris Bryant
LL-KG Ken Griffey, Jr.
LL-KWO Kolten Wong
LL-MA Matt Adams
LL-MC Miguel Cabrera
LL-MG Mark Grace
LL-MH Matt Harvey
LL-MKE Matt Kemp
LL-MKM Matt Kemp
LL-MPA Mike Piazza
LL-MPI Mike Piazza
LL-MS Mike Schmidt
LL-MTO Mike Trout
LL-MTR Mike Trout
LL-MTU Mark Trumbo
LL-MZ Mike Zunino
LL-NC Nelson Cruz
LL-NG Nomar Garciaparra
LL-NS Nick Swisher
LL-PGL Paul Goldschmidt
LL-PGO Paul Goldschmidt
LL-PS Pablo Sandoval
LL-RAL Roberto Alomar
LL-RAM Roberto Alomar
LL-RAO Roberto Alomar
LL-RJ Randy Johnson
LL-RY Robin Yount
LL-RZ Ryan Zimmerman
LL-SC Starlin Castro
LL-TGA Tom Glavine
LL-TGL Tom Glavine
LL-TTL Troy Tulowitzki
LL-TTU Troy Tulowitzki
LL-VM Victor Martinez
LL-WM Willie Mays
LL-YML Yadier Molina
LL-YMO Yadier Molina
LL-YP Yasiel Puig
LL-YTM Yasmany Tomas
LL-YTO Yasmany Tomas
LL-ZGE Zack Greinke
LL-ZGR Zack Greinke
All-Star Relics
Each All-Star Relic is a one-of-one.
T1ASR-AE Alcides Escobar
T1ASR-AG Adrian Gonzalez
T1ASR-AJ Adam Jones
T1ASR-AM Andrew McCutchen
T1ASR-APO A.J. Pollock
T1ASR-APU Albert Pujols
T1ASR-AR Anthony Rizzo
T1ASR-BB Brad Boxberger
T1ASR-BC Brandon Crawford
T1ASR-BD Brian Dozier
T1ASR-BG Brett Gardner
T1ASR-BHA Bryce Harper
T1ASR-BHO Brock Holt
T1ASR-BP Buster Posey
T1ASR-CA Chris Archer
T1ASR-CK Clayton Kershaw
T1ASR-CM Carlos Martinez
T1ASR-DB Dellin Betances
T1ASR-DK Dallas Keuchel
T1ASR-DL DJ LeMahieu
T1ASR-DP David Price
T1ASR-FH Felix Hernandez
T1ASR-GC Gerrit Cole
T1ASR-JA Jose Altuve
T1ASR-JDE Jacob deGrom
T1ASR-JK Jason Kipnis
T1ASR-JM J.D. Martinez
T1ASR-JPA Joe Panik
T1ASR-JPE Joc Pederson
T1ASR-JPR Jhonny Peralta
T1ASR-JU Justin Upton
T1ASR-KB Kris Bryant
T1ASR-KH Kelvin Herrera
T1ASR-LC Lorenzo Cain
T1ASR-MB Madison Bumgarner
T1ASR-MMA Manny Machado
T1ASR-MMO Mike Moustakas
T1ASR-MTE Mark Teixeira
T1ASR-NA Nolan Arenado
T1ASR-NC Nelson Cruz
T1ASR-PF Prince Fielder
T1ASR-PG Paul Goldschmidt
T1ASR-RM Russell Martin
T1ASR-SP Salvador Perez
T1ASR-SV Stephen Vogt
T1ASR-TF Todd Frazier
T1ASR-YG Yasmani Grandal
T1ASR-YM Yadier Molina
T1ASR-ZB Zach Britton
T1ASR-ZG Zack Greinke
Bat Knobs
Each Bat Knob is a one-of-one.
T1BK-AB Adrian Beltre
T1BK-AGN Adrian Gonzalez
T1BK-AGO Adrian Gonzalez
T1BK-AJA Austin Jackson
T1BK-AJN Adam Jones
T1BK-AJO Adam Jones
T1BK-APJ Albert Pujols
T1BK-APU Albert Pujols
T1BK-ARA Alexei Ramirez
T1BK-ARE Anthony Rendon
T1BK-ARN Anthony Rendon
T1BK-BD Brian Dozier
T1BK-BG Brett Gardner
T1BK-BJ Bo Jackson
T1BK-BLA Barry Larkin
T1BK-BLR Barry Larkin
T1BK-BP Buster Posey
T1BK-BZ Ben Zobrist
T1BK-CB Carlos Beltran
T1BK-CSA Carlos Santana
T1BK-CSE Corey Seager
T1BK-DDE David DeJesus
T1BK-DDJ Delino DeShields, Jr.
T1BK-DG Dee Gordon
T1BK-DM Daniel Murphy
T1BK-DO David Ortiz
T1BK-DPD Dustin Pedroia
T1BK-DPE Dustin Pedroia
T1BK-DSN Duke Snider
T1BK-DSP Denard Span
T1BK-DV Danny Valencia
T1BK-ELG Evan Longoria
T1BK-ELN Evan Longoria
T1BK-ELO Evan Longoria
T1BK-EM Eddie Mathews
T1BK-GB George Brett
T1BK-GSI Grady Sizemore
T1BK-GST Giancarlo Stanton
T1BK-HRA Hanley Ramirez
T1BK-HRI Hanley Ramirez
T1BK-HRM Hanley Ramirez
T1BK-ID Ike Davis
T1BK-JAB Jose Abreu
T1BK-JAE Jose Abreu
T1BK-JAR Jose Abreu
T1BK-JBR Jay Bruce
T1BK-JBU Jay Bruce
T1BK-JD Josh Donaldson
T1BK-JF Jose Fernandez
T1BK-JG Josh Gibson
T1BK-JH Josh Hamilton
T1BK-JL James Loney
T1BK-JMA Jake Marisnick
T1BK-JMO Joe Morgan
T1BK-JR J.T. Realmuto
T1BK-KM Kendrys Morales
T1BK-KS Kyle Seager
T1BK-MAA Matt Adams
T1BK-MAD Matt Adams
T1BK-MAM Matt Adams
T1BK-MBA Michael Brantley
T1BK-MBR Michael Brantley
T1BK-MK Matt Kemp
T1BK-MT Mike Trout
T1BK-MZ Mike Zunino
T1BK-NM Nick Markakis
T1BK-NR Nolan Ryan
T1BK-OC Orlando Cepeda
T1BK-PF Prince Fielder
T1BK-PGL Paul Goldschmidt
T1BK-PGO Paul Goldschmidt
T1BK-POE Peter O'Brien
T1BK-PON Paul O'Neill
T1BK-RHA Ryan Howard
T1BK-RHO Ryan Howard
T1BK-RHW Ryan Howard
T1BK-RJ Reggie Jackson
T1BK-SC Starlin Castro
T1BK-SD Stephen Drew
T1BK-SM Steven Moya
T1BK-TSA Tom Seaver
T1BK-TSE Tom Seaver
T1BK-WM Willie McCovey
T1BK-YCE Yoenis Cespedes
T1BK-YCS Yoenis Cespedes
T1BK-YM Yadier Molina
T1BK-YP Yasiel Puig
Autographs
Autographs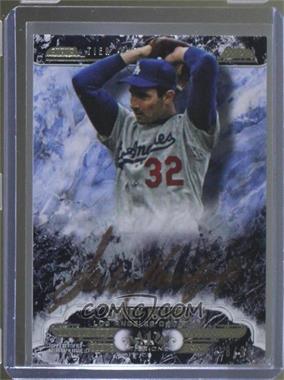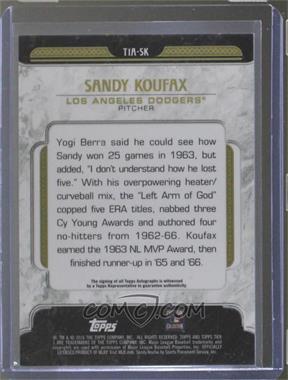 Each Autograph is also available in the following parallels.
Copper (serial-numbered to 25 copies)
Silver (serial-numbered to ten)
Gold (one-of-one)
T1A-BH Bryce Harper 30
T1A-BJ Bo Jackson 50
T1A-BP Buster Posey 30
T1A-CB Craig Biggio 75
T1A-CC Carlos Correa 75
T1A-CJ Chipper Jones 50
T1A-CK Clayton Kershaw 75
T1A-CR Cal Ripken, Jr. 50
T1A-CY Carl Yastrzemski 75
T1A-FT Frank Thomas 50
T1A-GM Greg Maddux 30
T1A-HA Hank Aaron
T1A-I Ichiro
T1A-JB Johnny Bench 50
T1A-KB Kris Bryant 75
T1A-KG Ken Griffey, Jr. 30
T1A-MM Mark McGwire 30
T1A-MP Mike Piazza 30
T1A-MT Mike Trout 50
T1A-NR Nolan Ryan
T1A-OS Ozzie Smith 50
T1A-RC Roger Clemens 30
T1A-RH Rickey Henderson 50
T1A-RJA Reggie Jackson 30
T1A-RJO Randy Johnson 30
T1A-SC Steve Carlton 75
T1A-SK Sandy Koufax 50
T1A-YD Yu Darvish 30
Break Out Autographs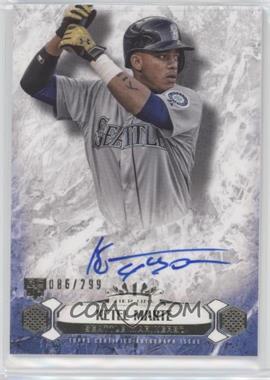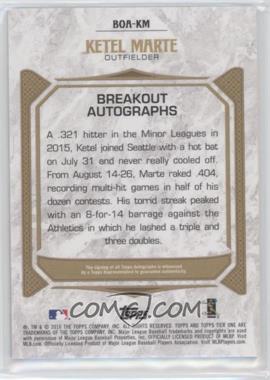 Each Break Out Autograph is also available in the following parallels.
Copper (serial-numbered to 25 copies)
Silver (serial-numbered to ten)
Red (serial-numbered to five; exclusive to packs distributed to the Asian market)
Gold (one-of-one)
BOA-AC Alex Colome 299
BOA-ANL Aaron Nola 299
BOA-ANO Aaron Nola 299
BOA-BD Brandon Drury 299
BOA-BDR Brandon Drury 249
BOA-BH Brock Holt 299
BOA-BJ Brian Johnson 299
BOA-BSI Blake Swihart 299
BOA-BSW Blake Swihart 299
BOA-BYP Byung-Ho Park 249
BOA-CED Carl Edwards, Jr. 299
BOA-CEJ Carl Edwards, Jr. 249
BOA-CEW Carl Edwards, Jr. 299
BOA-CHE Chris Heston 299
BOA-CHS Chris Heston 299
BOA-CM Carlos Martinez 249
BOA-CRA Colin Rea 249
BOA-CRE Colin Rea 299
BOA-CRO Carlos Rodon 149
BOA-CSA Corey Seager 149
BOA-CSE Corey Seager 149
BOA-DP Dalton Pompey 299
BOA-DT Devon Travis 299
BOA-ER Eduardo Rodriguez 299
BOA-FL Francisco Lindor 199
BOA-GBI Greg Bird 249
BOA-GBR Greg Bird 249
BOA-HOE Henry Owens 299
BOA-HOI Hector Olivera 299
BOA-HOL Hector Olivera 299
BOA-HOW Henry Owens 249
BOA-JD Jacob deGrom 99
BOA-JFA Jeurys Familia 299
BOA-JGR Jon Gray 159
BOA-JHA Jesse Hahn 299
BOA-JPA Joe Panik 249
BOA-JPD Joc Pederson 199
BOA-JR J.T. Realmuto 299
BOA-JS Jorge Soler 199
BOA-KM Ketel Marte 299
BOA-KMA Kenta Maeda 99
BOA-KP Kevin Plawecki 299
BOA-KSC Kyle Schwarber 199
BOA-KWA Kyle Waldrop 299
BOA-KWL Kyle Waldrop 249
BOA-KWO Kolten Wong 299
BOA-LJ Luke Jackson 299
BOA-LSE Luis Severino 249
BOA-MAL Miguel Almonte 299
BOA-MCN Michael Conforto 199
BOA-MDF Matt Duffy 299
BOA-MDU Matt Duffy 299
BOA-MRE Michael Reed 249
BOA-MRY Matt Reynolds 249
BOA-MSA Miguel Sano 199
BOA-MSE Marcus Semien 299
BOA-MSH Matt Shoemaker 299
BOA-MSN Miguel Sano 199
BOA-MT Michael Taylor 299
BOA-MWI Matt Wisler 299
BOA-MWM Mac Williamson 299
BOA-NS Noah Syndergaard 199
BOA-POB Peter O'Brien 299
BOA-RMO Raul Mondesi, Jr. 249
BOA-RRF Rob Refsnyder 299
BOA-RRS Rob Refsnyder 299
BOA-RSA Richie Shaffer 249
BOA-RSH Richie Shaffer 299
BOA-SG Sonny Gray 199
BOA-SH Slade Heathcott 299
BOA-SMA Steven Matz 299
BOA-SMT Steven Matz 299
BOA-SPI Stephen Piscotty 299
BOA-SPS Stephen Piscotty 299
BOA-TH T.J. House 299
BOA-TMU Tom Murphy 249
BOA-TTR Trea Turner 249
BOA-TTU Trea Turner 249
BOA-ZL Zach Lee 299
BOA-ZLE Zach Lee 249
BOA-ZW Zack Wheeler 199
Prime Performers Autographs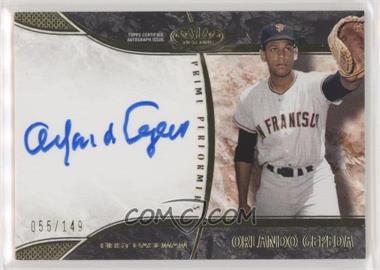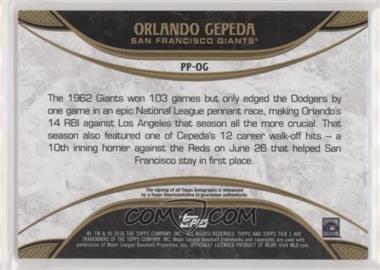 Each Prime Performers Autograph is also available in the following parallels.
Copper (serial-numbered to 25 copies)
Silver (serial-numbered to ten)
Red (serial-numbered to five; exclusive to packs distributed to the Asian market)
Gold (one-of-one)
PP-AD Andre Dawson 50
PP-AE Alcides Escobar 249
PP-AGA Andres Galarraga 249
PP-AGN Adrian Gonzalez 50
PP-AGO Alex Gordon 149
PP-AJ Adam Jones 50
PP-AK Al Kaline 99
PP-AMI Andrew Miller 249
PP-BBO Bret Boone 299
PP-BL Barry Larkin 50
PP-BMC Brian McCann 50
PP-BMO Brandon Moss 249
PP-BP Brandon Phillips 149
PP-BW Bernie Williams 50
PP-CDE Carlos Delgado 249
PP-CDL Carlos Delgado 299
PP-CF Carlton Fisk 50
PP-CHA Cole Hamels 50
PP-CHE Chase Headley 249
PP-CK Corey Kluber 149
PP-CSA Chris Sale 50
PP-CSL Chris Sale 50
PP-CY Christian Yelich 249
PP-DE Dennis Eckersley 149
PP-DGO Dee Gordon 249
PP-DGR Didi Gregorius 249
PP-DKE Dallas Keuchel 249
PP-DMA Don Mattingly 50
PP-DME Devin Mesoraco 249
PP-DP Dustin Pedroia 50
PP-DWR David Wright 50
PP-EE Edwin Encarnacion 50
PP-EL Evan Longoria 50
PP-EM Edgar Martinez 149
PP-FF Freddie Freeman 50
PP-FM Fred McGriff 50
PP-FR Frank Robinson 50
PP-FVA Fernando Valenzuela 50
PP-FVL Fernando Valenzuela 50
PP-GR Garrett Richards EXCH 299
PP-HR Hanley Ramirez 50
PP-JA Jose Altuve 249
PP-JG Juan Gonzalez 249
PP-JHA Josh Harrison 249
PP-JPA Jimmy Paredes 249
PP-JR Jim Rice 249
PP-JSH James Shields 249
PP-JSM John Smoltz 50
PP-KSE Kyle Seager 249
PP-KSU Kurt Suzuki 299
PP-LD Lucas Duda 249
PP-LG Luis Gonzalez 249
PP-MCA Matt Cain 50
PP-MMA Mike Matheny 249
PP-MMC Manny Machado 50
PP-MP Mark Prior 249
PP-MT Mark Teixeira 99
PP-MWI Matt Williams 229
PP-MZ Mike Zunino 249
PP-NEO Nathan Eovaldi 299
PP-NEV Nathan Eovaldi 249
PP-NG Nomar Garciaparra 50
PP-OC Orlando Cepeda 149
PP-OVI Omar Vizquel 249
PP-OVZ Omar Vizquel 249
PP-PMO Paul Molitor 50
PP-PN Phil Niekro 99
PP-PO Paul O'Neill 149
PP-PS Pablo Sandoval 50
PP-RA Roberto Alomar 50
PP-RB Ryan Braun 50
PP-RCA Rod Carew 50
PP-RCN Robinson Cano 50
PP-RPA Rafael Palmeiro 99
PP-RPO Rick Porcello 249
PP-RS Ryne Sandberg 50
PP-RY Robin Yount 50
PP-SGE Shawn Green 299
PP-SGR Shawn Green 249
PP-SMA Starling Marte 249
PP-SMT Starling Marte 299
PP-TG Tom Glavine 50
PP-TT Troy Tulowitzki 50
PP-VCO Vince Coleman 249
PP-VV Vince Coleman 249
PP-WMY Wil Myers 99
PP-YGO Yan Gomes 249
PP-YGR Yasmani Grandal 249
Clear One Autographs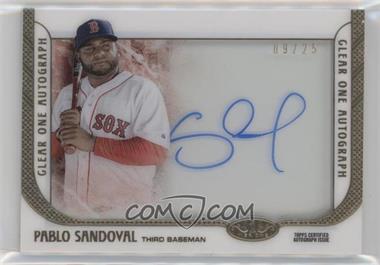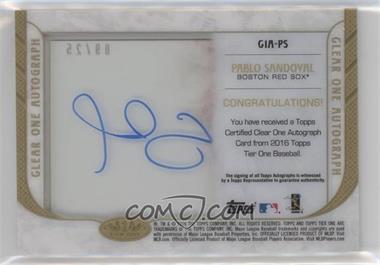 Each Clear One Autograph is printed on acetate and serial-numbered to 25 copies.
C1A-AJ Adam Jones
C1A-AM Andrew Miller
C1A-BL Barry Larkin
C1A-BW Bernie Williams
C1A-CC Carlos Correa
C1A-CS Corey Seager
C1A-DK Dallas Keuchel
C1A-DM Don Mattingly
C1A-DP Dustin Pedroia
C1A-HO Hector Olivera
C1A-JA Jose Abreu
C1A-JC Jose Canseco
C1A-JF Jeurys Familia
C1A-KS Kyle Schwarber
C1A-LS Luis Severino
C1A-MS Miguel Sano
C1A-MT Mike Trout
C1A-PM Paul Molitor
C1A-PS Pablo Sandoval
C1A-RC Rod Carew
C1A-TT Troy Tulowitzki
Dual Autographs
Each Dual Autograph is serial-numbered to 25 copies.
DA-AG Moises Alou / Andres Galarraga
DA-BA Craig Biggio / Jose Altuve
DA-CA Jose Altuve / Carlos Correa
DA-ET Edwin Encarnacion / Troy Tulowitzki
DA-GJ Alex Gordon / Bo Jackson
DA-JR Adam Jones / Frank Robinson
DA-KK Clayton Kershaw / Sandy Koufax
DA-LP Barry Larkin / Brandon Phillips
DA-OJ Chipper Jones / Hector Olivera
DA-RG Didi Gregorius / Rob Refsnyder
DA-SM Noah Syndergaard / Steven Matz
DA-TA Hank Aaron / Mike Trout
Triple Autographs
Each Triple Autograph is serial-numbered to ten.
TA-CBL Carlos Correa / Francisco Lindor / Kris Bryant
TA-HDS Noah Syndergaard / Matt Harvey / Jacob deGrom
TA-KPS Corey Seager / Clayton Kershaw / Joc Pederson
TA-MRJ Cal Ripken, Jr. / Adam Jones / Manny Machado
TA-OPR Dustin Pedroia / David Ortiz / Hanley Ramirez
Autographed Relics
Autographed Relics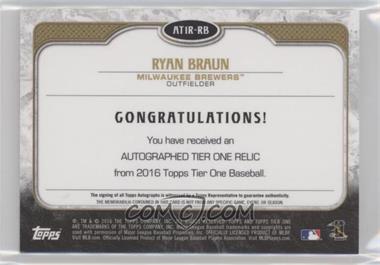 Each Autographed Relic is serial-numbered to 99 copies and available in the following parallels.
Dual Patch (serial-numbered to 25 copies)
Triple Patch (one-of-one)
AT1R-AG Alex Gordon
AT1R-AJ Adam Jones
AT1R-BB Byron Buxton
AT1R-BP Buster Posey
AT1R-CK Clayton Kershaw
AT1R-CSA Chris Sale
AT1R-CSE Corey Seager
AT1R-DG Didi Gregorius
AT1R-DK Dallas Keuchel
AT1R-DL DJ LeMahieu
AT1R-DO David Ortiz
AT1R-DP Dustin Pedroia
AT1R-DW David Wright
AT1R-HO Henry Owens
AT1R-KB Kris Bryant
AT1R-KS Kyle Schwarber
AT1R-MCA Matt Cain
AT1R-MH Matt Harvey
AT1R-MM Manny Machado
AT1R-MT Mike Trout
AT1R-NS Noah Syndergaard
AT1R-RB Ryan Braun
AT1R-RR Rob Refsnyder
AT1R-SP Stephen Piscotty
AT1R-WM Wil Myers
Autographed Prodigious Patches
Each Autographed Prodigious Patch is serial-numbered to ten with a Platinum parallel numbered to five also available.
APP-AG Adrian Gonzalez
APP-AJ Adam Jones
APP-BP Buster Posey
APP-CB Craig Biggio
APP-CSA Chris Sale
APP-CSE Corey Seager
APP-CSL Chris Sale
APP-DK Dallas Keuchel
APP-DL DJ LeMahieu
APP-I Ichiro
APP-JAL Jose Altuve
APP-JB Jeff Bagwell
APP-JD Jacob deGrom
APP-KB Kris Bryant
APP-MCA Matt Cain
APP-MCO Michael Conforto
APP-MM Manny Machado
APP-MT Mike Trout
APP-NG Nomar Garciaparra
APP-NS Noah Syndergaard
APP-RC Robinson Cano
APP-WM Wil Myers
Autographed Limited Lumber
Each Autographed Limited Lumber is a one-of-one.
ALL-AD Andre Dawson
ALL-AGN Adrian Gonzalez
ALL-AGO Adrian Gonzalez
ALL-BH Bryce Harper
ALL-BL Barry Larkin
ALL-BPH Brandon Phillips
ALL-BPL Brandon Phillips
ALL-BPO Buster Posey
ALL-BPS Buster Posey
ALL-CH Cole Hamels
ALL-DE Dennis Eckersley
ALL-DMA Don Mattingly
ALL-DME Devin Mesoraco
ALL-DP Dustin Pedroia
ALL-DWI David Wright
ALL-DWR David Wright
ALL-EL Evan Longoria
ALL-FM Fred McGriff
ALL-FR Frank Robinson
ALL-HA Hank Aaron
ALL-JC Jose Canseco
ALL-JR J.T. Realmuto
ALL-JS John Smoltz
ALL-KB Kris Bryant
ALL-KW Kolten Wong
ALL-MG Mark Grace
ALL-MP Mike Piazza
ALL-MTO Mike Trout
ALL-MTR Mike Trout
ALL-NG Nomar Garciaparra
ALL-OV Omar Vizquel
ALL-RAL Roberto Alomar
ALL-RAO Roberto Alomar
ALL-TG Tom Glavine
ALL-TTL Troy Tulowitzki
ALL-TTU Troy Tulowitzki
ALL-WB Wade Boggs
ALL-ZW Zack Wheeler
Tool of the Trade Autograph Relics
Tool of the Trade Autograph Relic features a piece of the pen used by the player to sign their Tier One cards. Each is a one-of-one.
TTAR-AG Alex Gordon
TTAR-BH Bryce Harper
TTAR-BJ Bo Jackson
TTAR-BL Barry Larkin
TTAR-BP Buster Posey
TTAR-CC Carlos Correa
TTAR-CJ Chipper Jones
TTAR-CKE Clayton Kershaw
TTAR-CKL Corey Kluber
TTAR-CR Cal Ripken, Jr.
TTAR-CSA Chris Sale
TTAR-CSE Corey Seager
TTAR-DK Dallas Keuchel
TTAR-DW David Wright
TTAR-EE Edwin Encarnacion
TTAR-FR Frank Robinson
TTAR-FT Frank Thomas
TTAR-GM Greg Maddux
TTAR-HA Hank Aaron
TTAR-I Ichiro
TTAR-JB Johnny Bench
TTAR-JD Jacob deGrom
TTAR-JP Joc Pederson
TTAR-KB Kris Bryant
TTAR-KG Ken Griffey, Jr.
TTAR-KSC Kyle Schwarber
TTAR-KSU Kurt Suzuki
TTAR-LS Luis Severino
TTAR-MM Mark McGwire
TTAR-MP Mike Piazza
TTAR-MS Miguel Sano
TTAR-MTR Mike Trout
TTAR-NR Nolan Ryan
TTAR-OS Ozzie Smith
TTAR-OV Omar Vizquel
TTAR-PN Phil Niekro
TTAR-PO Paul O'Neill
TTAR-RC Roger Clemens
TTAR-RH Rickey Henderson
TTAR-RJA Reggie Jackson
TTAR-RJO Randy Johnson
TTAR-RP Rafael Palmeiro
TTAR-RY Robin Yount
TTAR-SC Steve Carlton
TTAR-WB Wade Boggs
TTAR-WM Wil Myers
TTAR-YD Yu Darvish
Autographed Bat Knobs
Each Autographed Bat Knob is a one-of-one.
T1ABK-AG Adrian Gonzalez
T1ABK-AJ Adam Jones
T1ABK-BL Barry Larkin
T1ABK-BPH Brandon Phillips
T1ABK-BPO Buster Posey
T1ABK-CJ Chipper Jones
T1ABK-DG Dee Gordon
T1ABK-DM Devin Mesoraco
T1ABK-DO David Ortiz
T1ABK-DP Dustin Pedroia
T1ABK-DT Devon Travis
T1ABK-DW David Wright
T1ABK-EE Edwin Encarnacion
T1ABK-EL Evan Longoria
T1ABK-FF Freddie Freeman
T1ABK-FM Fred McGriff
T1ABK-FR Frank Robinson
T1ABK-FT Frank Thomas
T1ABK-GM Greg Maddux
T1ABK-HA Hank Aaron
T1ABK-HR Hanley Ramirez
T1ABK-JC Jose Canseco
T1ABK-JG Juan Gonzalez
T1ABK-JR J.T. Realmuto
T1ABK-JS Jorge Soler
T1ABK-KB Kris Bryant
T1ABK-KG Ken Griffey, Jr.
T1ABK-MG Mark Grace
T1ABK-MM Mark McGwire
T1ABK-MP Mike Piazza
T1ABK-MS Marcus Semien
T1ABK-MTE Mark Teixeira
T1ABK-MTR Mike Trout
T1ABK-NG Nomar Garciaparra
T1ABK-NR Nolan Ryan
T1ABK-OV Omar Vizquel
T1ABK-PM Paul Molitor
T1ABK-PO Paul O'Neill
T1ABK-PS Pablo Sandoval
T1ABK-RA Roberto Alomar
T1ABK-RJ Randy Johnson
T1ABK-RS Ryne Sandberg
T1ABK-RY Robin Yount
Dual Autographed Relics


Each Dual Autographed Relic is serial-numbered to ten.
DATOR-AK Jose Altuve / Dallas Keuchel
DATOR-BP Brandon Belt / Joe Panik
DATOR-BPO A.J. Pollock / Archie Bradley
DATOR-BS Kris Bryant / Jorge Soler
DATOR-BSC Kyle Schwarber / Javier Baez
DATOR-BT Greg Bird / Mark Teixeira
DATOR-CH Robinson Cano / Felix Hernandez
DATOR-CW David Wright / Michael Conforto
DATOR-ET Troy Tulowitzki / Edwin Encarnacion
DATOR-FM Steven Matz / Jeurys Familia
DATOR-FO Hector Olivera / Freddie Freeman
DATOR-LK Francisco Lindor / Corey Kluber
DATOR-LP Barry Larkin / Brandon Phillips
DATOR-MJ Adam Jones / Manny Machado
DATOR-OB Henry Owens / Matt Barnes
DATOR-OJ Chipper Jones / Hector Olivera
DATOR-PO David Ortiz / Dustin Pedroia
DATOR-PS Joc Pederson / Corey Seager
DATOR-RG Didi Gregorius / Andrew Miller
DATOR-SB Miguel Sano / Byron Buxton
DATOR-SBO Wade Boggs / Pablo Sandoval
DATOR-SD Jacob deGrom / Noah Syndergaard
DATOR-SM Wil Myers / James Shields
DATOR-TH Bryce Harper / Mike Trout
DATOR-WP Stephen Piscotty / Kolten Wong
Cut Signatures
Each Cut Signature is a one-of-one.
CS-BD Bobby Doerr
CS-BL Buck Leonard
CS-CB Cool Papa Bell
CS-CF Curt Flood
CS-DS Duke Snider
CS-EB Ernie Banks
CS-EF Elmer Flick
CS-GH Gabby Hartnett
CS-GK George Kell
CS-HG Hank Greenberg
CS-HK High Pockets Kelly
CS-JB Jack Brickhouse
CS-JD Joe DiMaggio
CS-JM Joe McCarthy
CS-JS Joe Sewell
CS-KC Kiki Cuyler
CS-LD Leo Durocher
CS-WH Waite Hoyt
CS-WM Willie McCovey
Cut Signature Relics
Each Cut Signature Relic is a one-of-one.
CSR-BF Bob Feller
CSR-BT Bobby Thomson
CSR-EM Eddie Mathews
CSR-ES Enos Slaughter
CSR-HWA Honus Wagner
CSR-HWI Hoyt Wilhelm
CSR-LG Lou Gehrig
CSR-PR Pee Wee Reese
CSR-RF Rick Ferrell
CSR-RK Ralph Kiner
CSR-RM Roger Maris
CSR-RS Ron Santo
CSR-TW Ted Williams
CSR-WSP Warren Spahn
CSR-WST Willie Stargell