1994 Bowman
Description
1994 Bowman is a 682-card set released as a single-series, in June 1994. This would be the only year Bowman went with a borderless design. Until 1999 Victory, it would also be the last baseball card product released without any inserts. There are 52 Foil cards (337-388) that include a number of top young stars and prospects. These foil cards were issued one per foil pack and two per jumbo.
Rookies include: Jorge Posada, Derrek Lee, and Jermaine Dye.
Distribution
Wax: 24 packs per box, ten cards per pack.
Jumbo: 20 packs per box, 20 cards per pack.
Tin Packs: 5 Bowman jumbo packs and 8 Bowman's Best cards
Reviews
Insertion Ratios
| Cards | Total Cards | Numbered To | Wax Odds | Jumbo Odds |
| --- | --- | --- | --- | --- |
| Base | 682 | - | 12:1 | 20:1 |
Checklist
Promos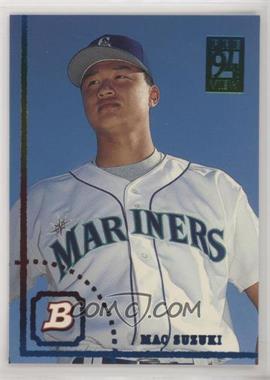 A ten-card 1994 Bowman Preview set was issued as inserts in 1994 Stadium Club Series Two. The cards are identical
Base Set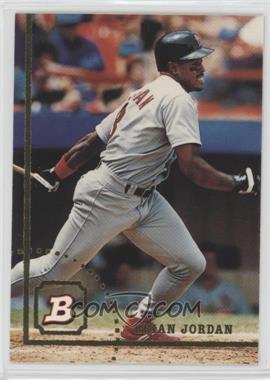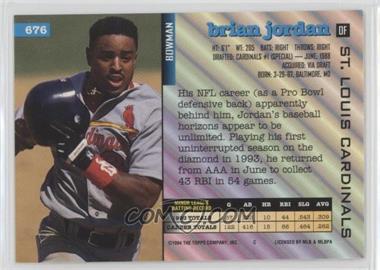 1 Joe Carter
2 Marcus Moore
3 Doug Creek RC
4 Pedro Martinez
5 Ken Griffey, Jr.
6 Greg Swindell
7 J.J. Johnson
8 Homer Bush
9 Arquimedez Pozo RC
10 Bryan Harvey
11 J.T. Snow
12 Alan Benes RC
13 Chad Kreuter
14 Eric Karros
15 Frank Thomas
16 Bret Saberhagen
17 Terrell Lowery
18 Rod Bolton
19 Harold Baines
20 Matt Walbeck
21 Tom Glavine
22 Todd Jones
23 Alberto Castillo RC
24 Ruben Sierra
25 Don Mattingly
26 Mike Morgan
27 Jim Musselwhite RC
28 Matt Brunson RC*
29 Adam Meinershagen RC
30 Joe Girardi
31 Shane Halter
32 Jose Paniagua RC
33 Paul Perkins RC
34 John Hudek RC
35 Frank Viola
36 David Lamb
37 Marshall Boze
38 Jorge Posada RC
39 Brian Anderson RC
40 Mark Whiten
41 Sean Bergman
42 Jose Parra
43 Mike Robertson
44 Pete Walker
45 Juan Gonzalez
46 Cleveland Ladell RC
47 Mark Smith
48 Kevin Jarvis UER RC
49 Amaury Telemaco RC
50 Andy Van Slyke
51 Rikkert Faneyte RC
52 Curtis Shaw
53 Matt Drews RC*
54 Wilson Alvarez
55 Manny Ramirez
56 Bobby Munoz
57 Ed Sprague
58 Jamey Wright RC
59 Jeff Montgomery
60 Kirk Rueter
61 Edgar Martinez
62 Luis Gonzalez
63 Tim VanEgmond RC
64 Bip Roberts
65 John Jaha
66 Chuck Carr
67 Chuck Finley
68 Aaron Holbert
69 Cecil Fielder
70 Tom Engle
71 Ron Karkovice
72 Joe Orsulak
73 Duff Brumley RC
74 Craig Clayton RC
75 Cal Ripken, Jr.
76 Brad Fullmer RC
77 Tony Tarasco
78 Terry Farrar RC
79 Matt Williams
80 Rickey Henderson
81 Terry Mulholland
82 Sammy Sosa
83 Paul Sorrento
84 Pete Incaviglia
85 Darren Hall RC
86 Scott Klingenbeck
87 Dario Perez
88 Ugueth Urbina
89 Dave Vanhof RC
90 Domingo Jean
91 Otis Nixon
92 Andres Berumen
93 Jose Valentin
94 Edgar Renteria RC
95 Chris Turner
96 Chris Turner
97 Danny Bautista
98 Chan Ho Park RC
99 Glenn DiSarcina RC
100 Butch Huskey
101 Ivan Rodriguez
102 Johnny Ruffin
103 Alex Ochoa
104 Torii Hunter RC
105 Ryan Klesko
106 Jay Bell
107 Kurt Peltzer RC
108 Miguel Jimenez
109 Russ Davis
110 Derek Wallace
111 Keith Lockhart RC
112 Mike Lieberthal
113 Dave Stewart
114 Tom Schmidt
115 Brian McRae
116 Moises Alou
117 Dave Fleming
118 Jeff Bagwell
119 Luis Ortiz
120 Tony Gwynn
121 Jaime Navarro
122 Benito Santiago
123 Darrell Whitmore
124 John Mabry RC
125 Mickey Tettleton
126 Tom Candiotti
127 Tim Raines
128 Bobby Bonilla
129 John Dettmer
130 Hector Carrasco
131 Chris Hoiles
132 Rick Aguilera
133 Dave Justice
134 Esteban Loaiza RC
135 Barry Bonds
136 Bob Welch
137 Mike Stanley
138 Roberto Hernandez
139 Sandy Alomar
140 Darren Daulton
141 Angel Martinez RC
142 Howard Johnson
143 Bob Hamelin
144 J.J. Thobe
145 Roger Salkeld
146 Orlando Miller
147 Dmitri Young
148 Tim Hyers RC
149 Mark Loretta RC
150 Chris Hammond
151 Joel Moore RC
152 Todd Zeile
153 Wilfredo Cordero
154 Chris Smith
155 James Baldwin
156 Edgardo Alfonzo RC
157 Kym Ashworth RC
158 Paul Bako RC
159 Rick Krivda RC
160 Pat Mahomes
161 Damon Hollins
162 Felix Martinez RC
163 Jason Myers RC
164 Izzy Molina RC
165 Brien Taylor
166 Kevin Orie RC
167 Casey Whitten RC
168 Tony Longmire
169 John Olerud
170 Mark Thompson
171 Jorge Fabregas
172 John Wetteland
173 Dan Wilson
174 Doug Drabek
175 Jeff McNeely
176 Melvin Nieves
177 Doug Glanville RC
178 Javier De La Hoya RC
179 Chad Curtis
180 Brian Barber
181 Mike Henneman
182 Jose Offerman
183 Robert Ellis RC
184 John Franco
185 Benji Gil
186 Hal Morris
187 Chris Sabo
188 Blaise Ilsley RC
189 Steve Avery
190 Rick White RC
191 Rod Beck
192 Mark McGwire UER NNO
193 Jim Abbott
194 Randy Myers
195 Kenny Lofton
196 Mariano Duncan
197 Lee Daniels RC
198 Armando Reynoso
199 Joe Randa
200 Cliff Floyd
201 Tim Harkrider RC
202 Kevin Gallaher RC
203 Scott Cooper
204 Phil Stidham RC
205 Jeff D'Amico RC
206 Matt Whisenant
207 DeShawn Warren
208 Rene Arocha
209 Tony Clark RC
210 Jason Jacome RC
211 Scott Christman RC*
212 Bill Pulsipher
213 Dean Palmer
214 Chad Mottola
215 Manny Alexander
216 Rich Becker
217 Andre King RC
218 Carlos Garcia
219 Ron Pezzoni RC
220 Steve Karsay
221 Jose Musset RC
222 Karl Rhodes
223 Frank Cimorelli RC
224 Kevin Jordan RC
225 Duane Ward
226 John Burke
227 Mike Macfarlane
228 Mike Lansing
229 Chuck Knoblauch
230 Ken Caminiti
231 Gar Finnvold RC
232 Derrek Lee RC
233 Brady Anderson
234 Vic Darensbourg RC
235 Mark Langston
236 T.J. Mathews RC
237 Lou Whitaker
238 Roger Cedeno
239 Alex Fernandez
240 Ryan Thompson
241 Kerry Lacy RC
242 Reggie Sanders
243 Brad Pennington
244 Bryan Eversgerd RC
245 Greg Maddux
246 Jason Kendall RC
247 J.R. Phillips
248 Bobby Witt
249 Paul O'Neill
250 Ryne Sandberg
251 Charles Nagy
252 Kevin Stocker
253 Shawn Green
254 Charlie Hayes
255 Donnie Elliott
256 Rob Fitzpatrick RC
257 Tim Davis
258 James Mouton
259 Mike Greenwell
260 Ray McDavid
261 Mike Kelly
262 Andy Larkin RC
263 Marquis Riley
264 Bob Tewksbury
265 Brian Edmondson
266 Eduardo Lantigua RC
267 Brandon Wilson
268 Mike Welch
269 Tom Henke
270 Pokey Reese
271 Greg Zaun
272 Todd Ritchie
273 Javy Lopez
274 Kevin Young
275 Kirt Manwaring
276 Bill Taylor RC
277 Robert Eenhoorn
278 Jessie Hollins
279 Julian Tavarez RC
280 Gene Schall
281 Paul Molitor
282 Neifi Perez RC
283 Greg Gagne
284 Marquis Grissom
285 Randy Johnson
286 Pete Harnisch
287 Joel Bennett RC
288 Derek Bell
289 Darryl Hamilton
290 Gary Sheffield
291 Eduardo Perez
292 Basil Shabazz
293 Eric Davis
294 Pedro Astacio
295 Robin Ventura
296 Jeff Kent
297 Rick Helling
298 Joe Oliver
299 Lee Smith
300 Dave Winfield
301 Deion Sanders
302 Ravelo Manzanillo RC
303 Mark Portugal
304 Brent Gates
305 Wade Boggs
306 Rick Wilkins
307 Carlos Baerga
308 Curt Schilling
309 Shannon Stewart
310 Darren Holmes
311 Robert Toth RC
312 Gabriel White
313 Mac Suzuki RC
314 Alvin Morman RC
315 Mo Vaughn
316 Bryce Florie RC
317 Gabby Martinez RC
318 Carl Everett
319 Kerwin Moore
320 Tom Pagnozzi
321 Chris Gomez
322 Todd Williams
323 Pat Hentgen
324 Kirk Presley RC
325 Kevin Brown
326 Jason Isringhausen RC
327 Rick Forney RC
328 Carlos Pulido RC
329 Terrell Wade RC
330 Al Martin
331 Dan Carlson RC
332 Mark Acre RC
333 Sterling Hitchcock
334 Jon Ratliff RC
335 Alex Ramirez RC
336 Phil Geisler RC
337 Ed Zambrano FOIL RC
338 Jim Thome FOIL
339 James Mouton FOIL
340 Cliff Floyd FOIL
341 Carlos Delgado FOIL
342 Roberto Petagine FOIL
343 Tim Clark FOIL
344 Bubba Smith FOIL
345 Randy Curtis FOIL RC
346 Joe Biasucci FOIL
347 D.J. Boston FOIL
348 Ruben Rivera FOIL RC
349 Bryan Link FOIL RC
350 Mike Bell FOIL RC
351 Marty Watson FOIL RC
352 Jason Myers FOIL
353 Chipper Jones FOIL
354 Brooks Kieschnick FOIL
355 Pokey Reese FOIL
356 John Burke FOIL
357 Kurt Miller FOIL
358 Orlando Miller FOIL
359 Todd Hollandsworth FOIL
360 Rondell White FOIL
361 Bill Pulsipher FOIL
362 Tyler Green FOIL
363 Midre Cummings FOIL
364 Brian Barber FOIL
365 Melvin Nieves FOIL
366 Salomon Torres FOIL
367 Alex Ochoa FOIL
368 Frankie Rodriguez FOIL
369 Brian Anderson FOIL
370 James Baldwin FOIL
371 Manny Ramirez FOIL
372 Justin Thompson FOIL
373 Johnny Damon FOIL
374 Jeff D'Amico FOIL
375 Rich Becker FOIL
376 Derek Jeter FOIL
377 Steve Karsay FOIL
378 Mac Suzuki FOIL
379 Benji Gil FOIL
380 Alex Gonzalez FOIL
381 Jason Bere FOIL
382 Brett Butler FOIL
383 Jeff Conine FOIL
384 Darren Daulton FOIL
385 Jeff Kent FOIL
386 Don Mattingly FOIL
387 Mike Piazza FOIL
388 Ryne Sandberg FOIL
389 Rich Amaral
390 Craig Biggio
391 Jeff Suppan RC
392 Andy Benes
393 Cal Eldred
394 Jeff Conine
395 Tim Salmon
396 Ray Suplee RC
397 Tony Phillips
398 Ramon Martinez
399 Julio Franco
400 Dwight Gooden
401 Kevin Loman RC
402 Jose Rijo
403 Mike Devereaux
404 Mike Zolecki RC
405 Fred McGriff
406 Danny Clyburn
407 Robby Thompson
408 Terry Steinbach
409 Luis Polonia
410 Mark Grace
411 Albert Belle
412 John Kruk
413 Scott Spiezio RC
414 Ellis Burks
415 Joe Vitiello
416 Tim Costo
417 Marc Newfield
418 Oscar Henriquez RC
419 Matt Perisho RC
420 Julio Bruno
421 Kenny Felder
422 Tyler Green
423 Jim Edmonds
424 Ozzie Smith
425 Rick Greene
426 Todd Hollandsworth
427 Eddie Pearson RC
428 Quilvio Veras
429 Kenny Rogers
430 Willie Greene
431 Vaughn Eshelman
432 Pat Meares
433 Jermaine Dye RC
434 Steve Cooke
435 Bill Swift
436 Fausto Cruz RC
437 Mark Hutton
438 Brooks Kieschnick RC
439 Yorkis Perez
440 Lenny Dykstra
441 Pat Borders
442 Doug Walls RC
443 Wally Joyner
444 Ken Hill
445 Eric Anthony
446 Mitch Williams
447 Cory Bailey RC
448 Dave Staton
449 Greg Vaughn
450 Dave Magadan
451 Chili Davis
452 Gerald Santos RC
453 Joe Perona
454 Delino DeShields
455 Jack McDowell
456 Todd Hundley
457 Ritchie Moody
458 Bret Boone
459 Ben McDonald
460 Kirby Puckett
461 Gregg Olson
462 Rich Aude RC
463 John Burkett
464 Troy Neel
465 Jimmy Key
466 Ozzie Timmons
467 Eddie Murray
468 Mark Tranberg RC
469 Alex Gonzalez
470 David Nied
471 Barry Larkin
472 Brian Looney RC
473 Shawn Estes
474 A.J. Sager RC
475 Roger Clemens
476 Vince Moore
477 Scott Karl RC
478 Kurt Miller
479 Garret Anderson
480 Allen Watson
481 Jose Lima RC
482 Rick Gorecki
483 Jimmy Hurst RC
484 Preston Wilson
485 Will Clark
486 Mike Ferry RC
487 Curtis Goodwin RC
488 Mike Myers
489 Chipper Jones
490 Jeff King
491 William VanLandingham RC
492 Carlos Reyes RC
493 Andy Pettitte
494 Brant Brown
495 Daron Kirkreit
496 Ricky Bottalico RC
497 Devon White
498 Jason Johnson RC
499 Vince Coleman
500 Larry Walker
501 Bobby Ayala
502 Steve Finley
503 Scott Fletcher
504 Brad Ausmus
505 Scott Talanoa RC
506 Orestes Destrade
507 Gary DiSarcina
508 Willie Smith RC
509 Alan Trammell
510 Mike Piazza
511 Ozzie Guillen
512 Jeromy Burnitz
513 Darren Oliver RC
514 Kevin Mitchell
515 Rafael Palmeiro
516 David McCarty
517 Jeff Blauser
518 Trey Beamon
519 Royce Clayton
520 Dennis Eckersley
521 Bernie Williams
522 Steve Buechele
523 Dennis Martinez
524 Dave Hollins
525 Joey Hamilton
526 Andres Galarraga
527 Jeff Granger
528 Joey Eischen
529 Desi Relaford
530 Roberto Petagine
531 Andre Dawson
532 Ray Holbert
533 Duane Singleton
534 Kurt Abbott RC
535 Bo Jackson
536 Gregg Jefferies
537 David Mysel
538 Raul Mondesi
539 Chris Snopek
540 Brook Fordyce
541 Ron Frazier RC
542 Brian Koelling
543 Jimmy Haynes
544 Marty Cordova
545 Jason Green RC*
546 Orlando Merced
547 Lou Pote RC
548 Todd Van Poppel
549 Pat Kelly
550 Turk Wendell
551 Herbert Perry RC
552 Ryan Karp RC
553 Juan Guzman
554 Bryan Rekar
555 Kevin Appier
556 Chris Schwab RC
557 Jay Buhner
558 Andujar Cedeno
559 Ryan McGuire RC
560 Ricky Gutierrez
561 Keith Kimsey RC
562 Tim Clark
563 Damion Easley
564 Clint Davis RC
565 Mike Moore
566 Orel Hershiser
567 Jason Bere
568 Kevin McReynolds
569 Leland Macon RC
570 John Courtright RC
571 Sid Fernandez
572 Chad Roper
573 Terry Pendleton
574 Danny Miceli
575 Joe Rosselli
576 Mike Bordick
577 Danny Tartabull
578 Jose Guzman
579 Omar Vizquel
580 Tommy Greene
581 Paul Spoljaric
582 Walt Weiss
583 Oscar Jimenez RC
584 Rod Henderson
585 Derek Lowe
586 Richard Hidalgo RC
587 Shayne Bennett RC
588 Tim Belk
589 Matt Mieske
590 Nigel Wilson
591 Jeff Knox RC
592 Bernard Gilkey
593 David Cone
594 Paul LoDuca RC
595 Scott Ruffcorn
596 Chris Roberts
597 Oscar Munoz RC
598 Scott Sullivan RC
599 Matt Jarvis
600 Jose Canseco
601 Tony Graffanino RC
602 Don Slaught
603 Brett King RC
604 Jose Herrera RC
605 Melido Perez
606 Mike Hubbard RC
607 Chad Ogea
608 Wayne Gomes RC
609 Roberto Alomar
610 Angel Echevarria RC
611 Jose Lind
612 Darrin Fletcher
613 Chris Bosio
614 Darryl Kile
615 Frankie Rodriguez
616 Phil Plantier
617 Pat Listach
618 Charlie Hough
619 Ryan Hancock RC
620 Darrel Deak RC
621 Travis Fryman
622 Brett Butler
623 Lance Johnson
624 Pete Smith
625 James Hurst RC
626 Roberto Kelly
627 Mike Mussina
628 Kevin Tapani
629 John Smoltz
630 Midre Cummings
631 Salomon Torres
632 Willie Adams
633 Derek Jeter
634 Steve Trachsel
635 Albie Lopez
636 Jason Moler
637 Carlos Delgado
638 Roberto Mejia
639 Darren Burton
640 B.J. Wallace
641 Brad Clontz RC
642 Billy Wagner RC
643 Aaron Sele
644 Cameron Cairncross
645 Brian Harper
646 Marc Valdes UER NNO
647 Mark Ratekin
648 Terry Bradshaw RC
649 Justin Thompson
650 Mike Busch RC
651 Joe Hall RC
652 Bobby Jones
653 Kelly Stinnett RC
654 Rod Steph RC
655 Jay Powell RC
656 Keith Garagozzo RC NNO
657 Todd Dunn
658 Charles Peterson RC
659 Darren Lewis
660 John Wasdin RC
661 Tate Seefried RC
662 Hector Trinidad RC
663 John Carter RC
664 Larry Mitchell
665 David Catlett RC
666 Dante Bichette
667 Felix Jose
668 Rondell White
669 Tino Martinez
670 Brian L. Hunter
671 Jose Malave
672 Archi Cianfrocco
673 Mike Matheny RC
674 Bret Barberie
675 Andrew Lorraine RC
676 Brian Jordan
677 Tim Belcher
678 Antonio Osuna RC
679 Checklist CL
680 Checklist CL
681 Checklist CL
682 Checklist CL