2017 Bowman Chrome Mini
Description
2017 Bowman Chrome Mini is a mini-sized partial-parallel factory set containing a selection of cards from the 2017 Bowman and 2017 Bowman Chrome set. Each set includes 30 Refractor parallels.
Distribution
Factory set only.
Reviews
Insertion Ratios
| Cards | Total Cards | Numbered To | Odds |
| --- | --- | --- | --- |
| Base | 273 | - | one full set per box |
| Refractor | 273 | - | R |
| Blue Shimmer Refractor | 273 | 150 | R |
| Black Shimmer Refractor | 273 | 100 | R |
| Green Refractor | 273 | 99 | R |
| 70th Anniversary Refractor | 273 | 70 | R |
| Gold Refractor | 273 | 50 | R |
| Orange Refractor | 273 | 25 | R |
| Red Refractor | 273 | 10 | R |
| SuperFractor | 273 | one-of-one | R |
| Printing Plates | 273 | four for each | R |
Checklist
Base Set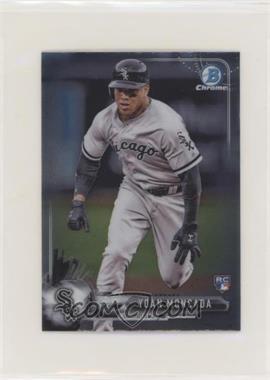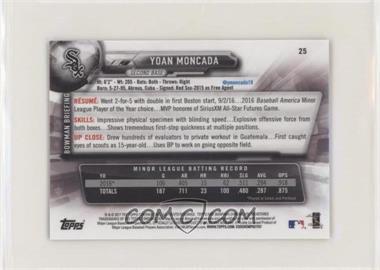 NOTE: Each card has the same number as their respective card in 2017 Bowman and 2017 Bowman Chrome. As a result, some cards share the same number.
2 Jesse Winker RC
4 Jeff Hoffman RC
18 Joe Jimenez RC
20 Manny Margot RC
22 Carson Fulmer RC
23 Andrew Benintendi RC
25 Yoan Moncada RC
26 Teoscar Hernandez RC
27 Reynaldo Lopez RC
27a Cody Bellinger RC
29 Yulieski Gurriel RC
29a Christian Arroyo RC
32 Aaron Judge RC
34 Robert Gsellman RC
35 Ryon Healy RC
41 Orlando Arcia RC
42 Jose De Leon RC
42a Mitch Haniger RC
44 Jordan Montgomery RC
54 David Dahl RC
55 Rob Segedin RC
56 Tyler Glasnow RC
57 Dansby Swanson RC
60 Jorge Alfaro RC
62 Jake Thompson RC
63 Hunter Dozier RC
64 Matt Strahm RC
66 Gavin Cecchini RC
70 Josh Bell RC
75 Alex Bregman RC
78 Raimel Tapia RC
83 Braden Shipley RC
86 Tyler Austin RC
89 Jharel Cotton RC
92 Joe Musgrove RC
95 Amir Garrett RC
98 Alex Reyes RC
99 Hunter Renfroe RC
BCP1 Nick Senzel
BCP2 Gavin Lux
BCP3 Ronald Guzman
BCP4 A.J. Puckett
BCP5 Mike Soroka
BCP6 Roniel Raudes
BCP7 Lucas Erceg
BCP8 Luis Almanzar
BCP9 Beau Burrows
BCP10 Chase Vallot
BCP11 P.J. Conlon
BCP12 Erick Fedde
BCP13 Rookie Davis
BCP14 Chris Shaw
BCP15 Nick Burdi
BCP16 Clint Frazier
BCP17 Luiz Gohara
BCP18 Lourdes Gurriel, Jr.
BCP19 Eric Jenkins
BCP20 Angel Perdomo
BCP21 Dustin May
BCP22 Freddy Peralta
BCP23 Jarlin Garcia
BCP24 Tyler O'Neill
BCP25 Lazarito Armenteros
BCP26 Paul De Jong
BCP27 Antonio Senzatela
BCP28 Kyle Tucker
BCP29 Aramis Garcia
BCP30 Willie Calhoun
BCP31 Chance Adams
BCP32 Vladimir Guerrero, Jr.
BCP33 Braxton Garrett
BCP34 Yeudy Garcia
BCP35 Dane Dunning
BCP36 Andy Ibanez
BCP37 Francisco Rios
BCP38 Joe Jimenez
BCP39 Dylan Cozens
BCP40 Mauricio Dubon
BCP41 Franklyn Kilome
BCP42 Chance Sisco
BCP43 Sandy Alcantara
BCP44 Stephen Gonsalves
BCP45 Grant Holmes
BCP46 Dakota Chalmers
BCP47 Kolby Allard
BCP48 Tyler Alexander
BCP49 Phil Bickford
BCP50 Eloy Jimenez
BCP51 Francisco Mejia
BCP52 Kohl Stewart
BCP53 Garrett Whitley
BCP54 Anderson Espinoza
BCP55 Cal Quantrill
BCP56 Tetsuto Yamada WBC
BCP57 Tyler Beede
BCP58 Jake Bauers
BCP59 Ariel Jurado
BCP60 Austin Voth
BCP61 Tyler Stephenson
BCP62 Yoshitomo Tsutsugo WBC
BCP63 Dominic Smith
BCP64 Matt Thaiss
BCP65 Austin Meadows
BCP66 Mitch Keller
BCP67 Jahmai Jones
BCP68 Alex Speas
BCP69 Nolan Jones
BCP70 Kevin Newman
BCP71 T.J. Friedl
BCP72 Oscar De La Cruz
BCP73 Victor Robles
BCP74 Patrick Weigel
BCP75 Ryan Mountcastle
BCP76 Amed Rosario
BCP77 Nick Solak
BCP78 Abrahan Gutierrez
BCP79 Yu-Cheng Chang
BCP80 Gleyber Torres
BCP81 J.D. Davis
BCP82 Walker Buehler
BCP83 Andrew Sopko
BCP84 Brent Honeywell
BCP85 Kyle Funkhouser
BCP86 Brian Mundell
BCP87 Brian Anderson
BCP88 Brendan Rodgers
BCP89 Josh Staumont
BCP90 Cody Sedlock
BCP91 D.J. Stewart
BCP92 Wuilmer Becerra
BCP93 Nate Smith
BCP94 Alfredo Rodriguez
BCP95 Daz Cameron
BCP96 Taylor Ward
BCP97 Takahiro Norimoto WBC
BCP98 Tomoyuki Sugano WBC
BCP99 Drew Jackson
BCP100 Kevin Maitan
BCP101 Rafael Devers
BCP102 Alex Kirilloff
BCP103 Jack Flaherty
BCP104 Adonis Medina
BCP105 Ke'Bryan Hayes
BCP106 Josh Hader
BCP107 Luis Urias
BCP108 Donnie Dewees
BCP109 Kyle Freeland
BCP110 Matt Chapman
BCP111 Sam Coonrod
BCP112 Andrew Suarez
BCP113 David Fletcher
BCP114 Tyler Jay
BCP115 Franklin Barreto
BCP116 Michael Kopech
BCP117 Rhys Hoskins
BCP118 Triston McKenzie
BCP119 Luis Garcia
BCP120 Harold Ramirez
BCP121 Blake Rutherford
BCP122 Matt Manning
BCP123 Josh Morgan
BCP124 Dylan Cease
BCP125 Kyle Lewis
BCP126 Nick Neidert
BCP127 Ronald Acuña, Jr.
BCP128 Luis Ortiz
BCP129 Isael Soto
BCP130 Adrian Morejon
BCP131 Mark Zagunis
BCP132 Justus Sheffield
BCP133 Jaime Schultz
BCP134 Fernando Romero
BCP135 Mickey Moniak
BCP136 Jorge Bonifacio
BCP137 Jomar Reyes
BCP138 Thomas Szapucki
BCP139 Sean Reid-Foley
BCP140 Willy Adames
BCP141 Yang Hyeon-Jong WBC
BCP142 Bo Bichette
BCP143 Harrison Bader
BCP144 Travis Demeritte
BCP145 Juan Hillman
BCP146 Francis Martes
BCP147 Wilkerman Garcia
BCP148 Christin Stewart
BCP149 Cody Bellinger
BCP150 Jason Groome
BCP152 Andrew Moore
BCP153 Albert Abreu
BCP154 Max Schrock
BCP155 Jonathan Arauz
BCP156 Max Fried
BCP157 Bobby Bradley
BCP158 Leody Taveras
BCP159 Jacob Nottingham
BCP160 Fernando Tatis, Jr.
BCP161 Austin Riley
BCP162 Trevor Clifton
BCP163 Anthony Banda
BCP164 Richard Urena
BCP165 Reggie Lawson
BCP166 Felix Jorge
BCP168 Jorge Ona
BCP169 Brandon Woodruff
BCP170 Sam Travis
BCP171 Derek Fisher
BCP172 Touki Toussaint
BCP173 Forrest Whitley
BCP174 Scott Kingery
BCP175 Jorge Mateo
BCP176 Joshua Lowe
BCP177 Rowdy Tellez
BCP178 Kevin Kramer
BCP179 Desmond Lindsay
BCP180 Juan Soto
BCP181 Isan Diaz
BCP182 Rob Kaminsky
BCP183 Domingo Acevedo
BCP185 Andy Yerzy
BCP187 Tirso Ornelas
BCP189 Adam Ravenelle
BCP190 Mitchell White
BCP191 Dawel Lugo
BCP192 Vladimir Gutierrez
BCP193 Max Povse
BCP194 Delvin Perez
BCP195 Jacob Nix
BCP196 Josh Sborz
BCP197 Torii Hunter, Jr.
BCP199 Yasel Antuna
BCP201 Nick Gordon
BCP202 Brett Phillips
BCP203 Yairo Munoz
BCP204 Bryan Reynolds
BCP205 Dakota Hudson
BCP206 Miguelangel Sierra
BCP207 Jazz Chisholm
BCP208 DJ Peters
BCP209 Jacob Faria
BCP210 Sixto Sanchez
BCP211 Braden Bishop
BCP212 Ryan O'Hearn
BCP213 Garrett Stubbs
BCP215 Trent Clark
BCP216 Jose Albertos
BCP217 Ryan McMahon
BCP218 Khalil Lee
BCP220 Steven Duggar
BCP221 Franklin Perez
BCP222 Tomas Nido
BCP223 Justin Dunn
BCP224 Austin Hays
BCP226 Starling Heredia
BCP227 Bryson Brigman
BCP228 Jesus Sanchez
BCP229 Yusniel Diaz
BCP232 Ian Anderson
BCP234 Jameson Fisher
BCP236 Keegan Akin
BCP237 James Kaprielian
BCP238 Jeisson Rosario
BCP239 Carter Kieboom
BCP240 Nick Williams
BCP241 Brandon Marsh
BCP242 Wander Javier
BCP243 Chris Paddack
BCP244 Luis Alexander Basabe
BCP245 Zack Burdi
BCP246 Anthony Kay
BCP247 Anderson Tejeda
BCP248 Daniel Gossett
BCP249 Heath Quinn
Parallels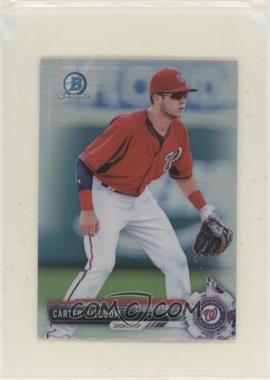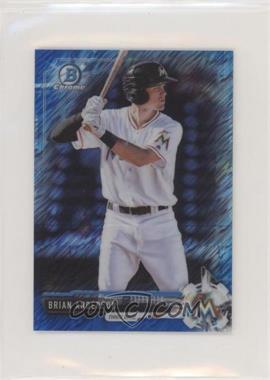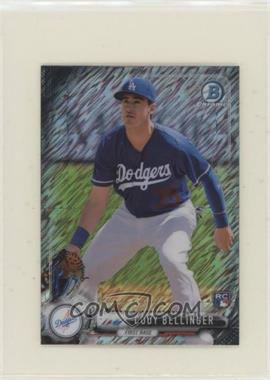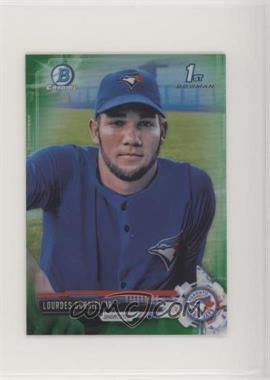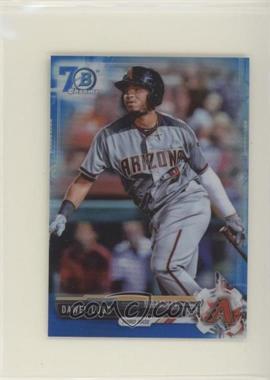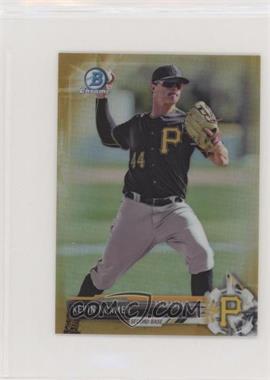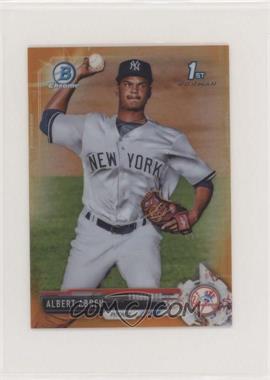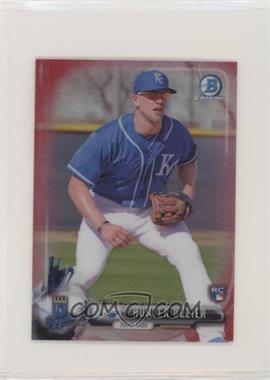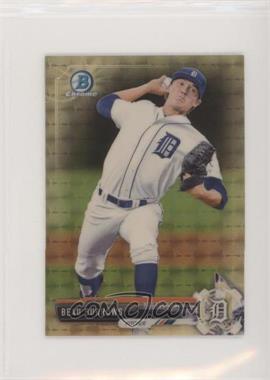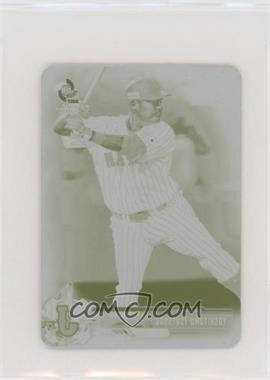 Each card is available in the following Refractor parallels.
Refractor
Blue Shimmer Refractor (serial-numbered to 150 copies)
Black Shimmer Refractor (serial-numbered to 100 copies)
Green Refractor (serial-numbered to 99 copies)
70th Anniversary Blue Refractor (serial-numbered to 70 copies)
Gold Refractor (serial-numbered to 50 copies)
Orange Refractor (serial-numbered to 25 copies)
Red Refractor (serial-numbered to ten)
SuperFractor (one-of-one)
Printing Plates (set of four for each card)