2012 Topps Allen & Ginter's
Description
2012 Topps Allen & Ginter's is a 350-card set that released on July 11, 2012. The final 50 cards (301-350) are short-printed and inserted in a 1:2/pack ratio.
This product is significant in that it is the first Topps set with an attainable Bryce Harper rookie card.
Distribution
Hobby: 24 packs plus one box topper (N43 or Cabinet or variation of either) per box, eight cards per pack (MSRP: $5). 12 boxes per case. Packs without special inserts contain 8 cards. Cards with a Framed Autograph, Relic, Cloth, Printing Plate, or Cut Signature have 7 cards per pack. Cards with a Colony in a Card insert have 4 cards per pack. Cards with a Book Card have 1 card per pack.
Reviews
Insertion Ratios
| Cards | Total Cards | Numbered To | Hobby Odds | Retail Odds |
| --- | --- | --- | --- | --- |
| Base | 350 | - | ? | ? |
| short set | 300 | - | ? | ? |
| SPs | 50 | - | 1:2 | 1:2 |
| Mini | 350 | - | ? | ? |
| Mini A&G Back | 350 | - | 1:5 | ? |
| Mini Black Border | 350 | - | 1:10 | ? |
| Mini No Number | 350 | 50 | 1:111 | ? |
| Mini Baseball Back | 350 | 25 | 1:222 | ? |
| Mini Wood | 350 | one-of-one | 1:2,580 | N/A |
| Mini Printing Plate | 350 | four for each | 1:564 | N/A |
| Framed Cloth | 150 | 10 | 1:602 | N/A |
| What's in a Name? | 100 | - | 1:2 | 1:2 |
| Historical Turning Points | 20 | - | 1:10 | 1:10 |
| You've Gotta Be Kidding Me! | 15 | - | 1:10 | 1:10 |
| World's Tallest Buildings | 10 | - | 1:10 | 1:10 |
| Baseball Highlights Sketches | 24 | - | 1:10 | 1:10 |
| Colony in a Card | ? | - | 1:288 | case hit |
| People of the Bible | 15 | - | ?1:5 | * |
| Man's Best Friend | 20 | - | 1:5 | * |
| World's Greatest Military Leaders | 20 | - | 1:5 | * |
| Giants of the Deep | 15 | - | 1:5 | * |
| Musical Masters | 16 | - | 1:5 | * |
| Culinary Curiosities | 10 | - | 1:5 | * |
| Rip Cards | 100 | Varies, lower than 100 | 1:287 | N/A |
| N-43 | 15 | - | 1:3 | N/A |
| Baseball Highlight Cabinets | 5 | - | 1:5 | N/A |
| Roller Coaster Cabinets | 5 | - | 1:4 | N/A |
| Framed Relics | ? | - | ? | ? |
| DNA Relics | 10 | one-of-one | ? | ? |
| Lepidoptery Cards | ? | - | 1:36, 131 | N/A |
| Book Cards | 25 | one-of-one | 1:36, 131 | N/A |
| Framed Allen & Ginter Buybacks | 100 | one-of-one | 1? | N/A |
| Framed Autographs | ? | - | 1:51 | ? |
| Cut Signatures | 20 | one-of-one | 1:95,900 | N/A |
| Allen & Ginter Originals | 30 | one-of-one | :45,164 | N/A |
| Red Ink Autographs | ? | 10 | 1:785 | N/A |
| Mini Exclusives | 50 | - | ** | N/A |
| Mini Wood Exclusives | 50 | one-of-one | ** | N/A |
| Rip Card Reserves | 25 | one-of-one | ** | N/A |
| N-43 Relics | 10 | 25 | 1:151 | N/A |
| N-43 Autographs | 10 | 15 | 1:251 | N/A |
| N-43 Autographed Relics | 5 | 5 | 1:1,505 | N/A |
| N-43 Artifacts | 5 | varies | 1:753 | N/A |
| Cabinet Relics | 10 | one-of-one | 1:3,763 | N/A |
| Currency of the World Cabinet Relics | 30 | 50 | 1:25 | N/A |
* Overall Odds of finding a Mini-sized insert: 1:5/packs ** Comes embedded inside a Rip Card.
Checklist
Base Set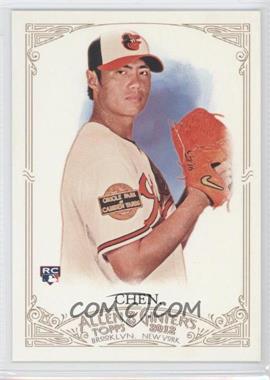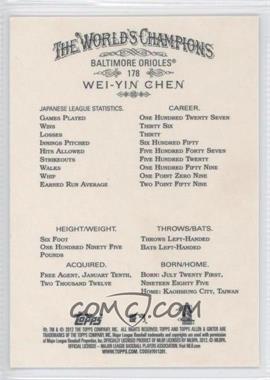 1 Albert Pujols
2 Juan Pierre
3 Miguel Cabrera
4 Yu Darvish RC
5 David Price
6 Johnny Bench
7 Mickey Mantle
8 Mitch Moreland
9 Yonder Alonso
10 Dustin Pedroia
11 Eric Hosmer
12 Bryce Harper RC
13 Drew Stubbs
14 Nick Markakis
15 Joel Hanrahan
16 Rulon Gardner
17 Lonnie Chisenhall
18 Kevin Youkilis
19 Bob Knight
20 Miguel Montero
21 Matt Moore
22 Jair Jurrjens
23 Yogi Berra
24 Paul Goldschmidt
25 Shin-Soo Choo
26 Hunter Pence
27 Ricky Nolasco
28 Dustin Ackley
29 Hanley Ramirez
30 Carlos Zambrano
31 Jackie Robinson
32 Ben Zobrist
33 Chipper Jones
34 Alex Gordon
35 David Ortiz
36 Kirk Herbstreit
37 James McDonald
38 Pablo Sandoval
39 Brad Peacock
40 Jimmy Rollins
41 Clayton Kershaw
42 Justin Upton
43 Josh Johnson
44 Brandon League
45 Ewa Mataya
46 Jarrod Saltalamacchia
47 Buster Posey
48 Jordan Walden
49 Jeremy Hellickson
50 Clay Buchholz
51 Don Dekinger
52 Cameron Maybin
53 Hisashi Iwakuma
54 Al Kaline
55 Colin Montgomerie
56 Jordan Pacheco
57 Michael Pineda
58 Ryan Braun
59 Johnny Damon
60 Reggie Jackson
61 Richard Petty
62 Michael Cuddyer
63 Zach Britton
64 Mat Latos
65 Alex Rios
66 Yadler Molina
67 Desmond Jennings
68 Rickie Weeks
69 Kurt Suzuki
70 Aroldis Chapman
71 Curtis Granderson
72 Joakim Soria
73 Jordan Zimmermann
74 Johnny Cueto
75 Erin Andrews
76 Michael Bourn
77 Chris Young
78 Joe Mauer
79 Yoenis Cespedes
80 Brooks Robinson
81 Jerry Bailey
82 Giancarlo Stanton
83 Matt Joyce
84 Andre Ethier
85 Curly Neal
86 Nyjer Morgan
87 Annie Duke
88 Stan Musial
89 Edwin Jackson
90 Roy Halladay
91 Grady Sizemore
92 Craig Kimbrel
93 Jose Bautista
94 Geovany Soto
95 Felix Hernandez
96 Gavin Floyd
97 Max Scherzer
98 Nelson Cruz
99 Sandy Koufax
100 Troy Tulowitzki
101 James Loney
102 Huston Street
103 Alexi Ogando
104 Ian Desmond
105 Arnold Palmer
106 Bud Norris
107 C.J. Wilson
108 J.P. Arencibia
109 Tim Lincecum
110 Heath Bell
111 Wandy Rodriguez
112 Chris Carpenter
113 Meadowlark Lemon
114 Johan Santana
115 Carlos Santana
116 Brandon Beachy
117 Nick Swisher
118 Carl Yastrzemski
119 Asdrubal Cabrera
120 Mariano Rivera
121 David Wright
122 Brett Lawrie
123 Adam Lind
124 Jered Weaver
125 Ben Revere
126 Justin Masterson
127 Erick Aybar
128 Andrew McCutchen
129 Michael Phelps
130 Madison Bumgarner
131 Jim Palmer
132 Daniel Hudson
133 Carlos Beltran
134 David Freese
135 Michael Morse
136 Jacoby Ellsbury
137 George Brett
138 Josh Willingham
139 Tim Hudson
140 Mike Trout
141 Vance Worley
142 Jose Reyes
143 Nick Hagadone
144 Joe Benson
145 Drew Storen
146 Josh Beckett
147 Tsuyoshi Nishioka
148 Carlos Gonzalez
149 Wilson Ramos
150 Norichika Aoki
151 Jose Valverde
152 Ryan Vogelsong
153 Robinson Cano
154 Bob Hurley, Sr.
155 Edinson Volquez
156 Trevor Cahill
157 Roger Federer
158 Melky Cabrera
159 Devin Mesoraco
160 Shane Victorino
161 Freddie Freeman
162 Jeff Francoeur
163 Tom Seaver
164 Ike Davis
165 Alex Avila
166 Ervin Santana
167 J.J. Putz
168 Jason Kipnis
169 Mark Teixeira
170 Don Mattingly
171 Stephen Strasburg
172 Chris Perez
173 Jay Bruce
174 Ubaldo Jimenez
175 Luke Hochevar
176 Babe Ruth
177 Stephen Drew
178 Wei-Yin Chen
179 Cole Hamels
180 Tim Federowicz
181 Joe DiMaggio
182 Colby Rasmus
183 Darwin Barney
184 Ara Parseghian
185 Starlin Castro
186 Jemile Weeks
187 John Axford
188 Tom Milone
189 Lance Berkman
190 Addison Reed RC
191 Jason Bay
192 Brett Pill
193 Jackie Joyner-Kersee
194 J.J. Hardy
195 Jhoulys Chacin
196 Lou Gehrig
197 Ty Cobb
198 Phil Pfister
199 Ricky Romero
200 Matt Kemp
201 Tommy Hanson
202 Jaime Garcia
203 Ian Kinsler
204 Adam Dunn
205 Tony Gwynn
206 Joey Votto
207 Cory Luebke
208 Martin Prado
209 Coco Crisp
210 Willie Mays
211 Keegan Bradley
212 Ken Griffey, Jr.
213 Joe Nathan
214 Yunel Escobar
215 Dan Haren
216 Corey Hart
217 Brian Wilson
218 John Danks
219 Ian Kennedy
220 James Brown
221 Carlos Marmol
222 Yovani Gallardo
223 CC Sabathia
224 Adam Jones
225 Roger Maris
226 Jim Thome
227 Michael Young
228 Dexter Fowler
229 Ichiro
230 Evan Longoria
231 Todd Helton
232 Kate Upton
233 Shaun Marcum
234 Carlos Lee
235 Victor Martinez
236 Scott Rolen
237 Al Unser, Sr.
238 Austin Jackson
239 Liam Hendriks
240 Stephen Lombardozzi
241 Andrew Bailey
242 Alfonso Soriano
243 Aramis Ramirez
244 Brett Anderson
245 Hank Haney
246 Torii Hunter
247 Hank Aaron
248 Jed Lowrie
249 Phil Hughes
250 Brennan Boesch
251 B.J. Upton
252 Tsuyoshi Wada
253 Jorge De La Rosa
254 Rickey Henderson
255 Dayan Viciedo
256 Brandon Morrow
257 Dan Uggla
258 Doug Fister
259 Wade Davis
260 Alex Liddi
261 Michael Taylor
262 Justin Verlander
263 Jason Motte
264 Brian McCann
265 Chris Parmelee
266 Carlos Ruiz
267 Neftali Feliz
268 Angel Pagan
269 Mike Schmidt
270 Anthony Rizzo
271 Mark Reynolds
272 Jose Tabata
273 Gaby Sanchez
274 Derek Jeter
275 Kerry Wood
276 James Shields
277 Jesus Montero
278 Fatal1ty
279 Brett Gardner
280 Brandon Belt
281 Matt Cain
282 Carlos Quentin
283 Dale Webster
284 Pedro Alvarez
285 Ryan Zimmerman
286 Neil Walker
287 Hiroki Kuroda
288 Alex Rodriguez
289 Brandon Phillips
290 Derek Holland
291 Chase Utley
292 Greg Gumbel
293 Cliff Lee
294 Elvis Andrus
295 Drew Pomeranz
296 Mark Trumbo
297 Justin Morneau
298 Dee Gordon
299 Jeff Niemann
300 Roberto Clemente
Short Prints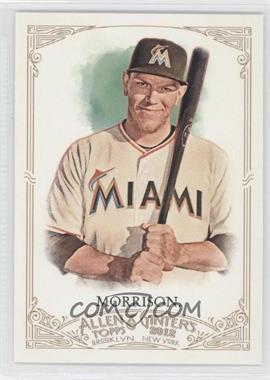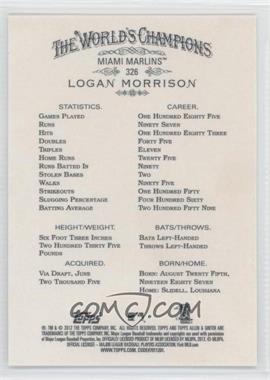 301 Adron Chambers
302 Jayson Werth
303 Ivan Nova
304 Kyle Farnsworth
305 Wilin Rosario
306 Ryan Howard
307 Jhonny Peralta
308 Paul Konerko
309 Bela Karolyi
310 Russell Martin
311 Bob Gibson
312 Anibal Sanchez
313 Carlos Pena
314 Michael Buffer
315 Dellin Betances
316 Adrian Gonzalez
317 Jason Heyward
318 Mike Moustakas
319 Adam Wainwright
320 Jonathan Papelbon
321 Chad Billingsley
322 Sergio Santos
323 Ryan Roberts
324 Cal Ripken, Jr.
325 Frank Robinson
326 Logan Morrison
327 Jon Lester
328 Josh Hamilton
329 Billy Butler
330 Mike Napoli
331 Carl Crawford
332 Guy Bluford
333 Kelly Johnson
334 Adrian Beltre
335 Alexei Ramirez
336 Gio Gonzalez
337 Matt Holliday
338 Prince Fielder SP
339 Swin Cash
340 Marty Hogan
341 Colby Lewis
342 Ryan Dempster
343 Zack Greinke
344 Matt Dominguez
345 Nolan Ryan
346 Lefty Kreh
347 Matt Garza
348 Chase Headley
349 Danny Espinosa
350 Howie Kendrick
Parallels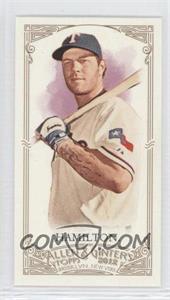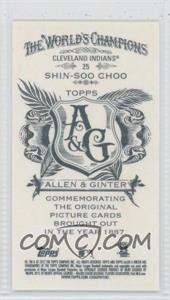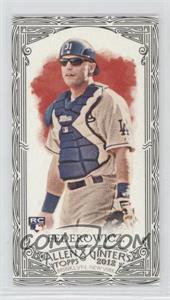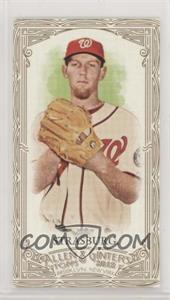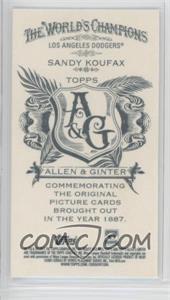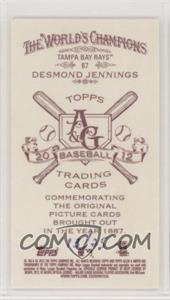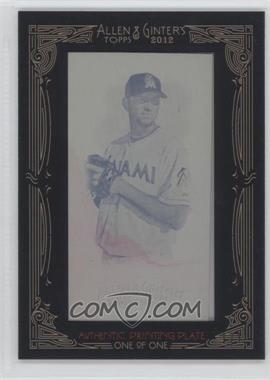 All 350 cards will be available in the following mini-sized parallels.
Mini
Mini A&G Back
Mini Black Border
Mini Gold Border (retail rack packs only)
Mini No Number (limited to 50 copies)
Mini Red A&G Back (serial-numbered to 25 copies)
Mini Wood (one-of-one, Hobby Only- Found in Rip Cards)
Mini Printing Plate (set of four for each color, Hobby Only)
Mini Exclusives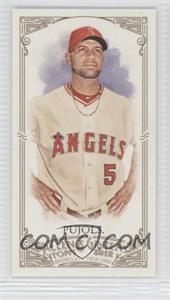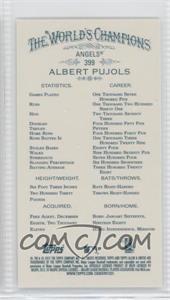 Each Mini Exclusive is embedded inside a Rip Card. A one-of-one Wood parallel is also available in Rip Cards.
351 Prince Fielder
352 Matt Kemp
353 Ryan Zimmerman
354 Derek Jeter
355 Carlos Gonzalez
356 Mark Teixeira
357 Justin Upton
358 Ian Kinsler
359 Cole Hamels
360 Cliff Lee
361 James Shields
362 Roy Halladay
363 Miguel Cabrera
364 Josh Hamilton
365 Giancarlo Stanton
366 Jacoby Ellsbury
367 Starlin Castro
368 Adrian Gonzalez
369 Evan Longoria
370 Felix Hernandez
371 Ken Griffey, Jr.
372 Andrew McCutchen
373 Ryan Howard
374 Tim Lincecum
375 Robinson Cano
376 Justin Verlander
377 Nolan Ryan
378 Sandy Koufax
379 CC Sabathia
380 Dustin Pedroia
381 Willie Mays
382 Hanley Ramirez
383 Ryan Braun
384 Alex Rodriguez
385 Jered Weaver
386 Buster Posey
387 Jose Bautista
388 Stephen Strasburg
389 Ichiro
390 Reggie Jackson
391 Joey Votto
392 Curtis Granderson
393 Eric Hosmer
394 David Wright
395 Jose Reyes
396 Troy Tulowitzki
397 Clayton Kershaw
398 Jose Valverde
399 Albert Pujols
400 Jay Bruce
Silk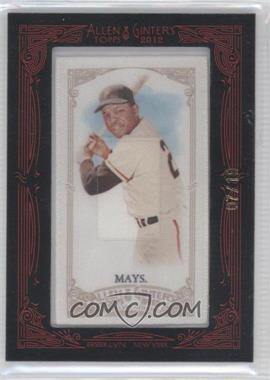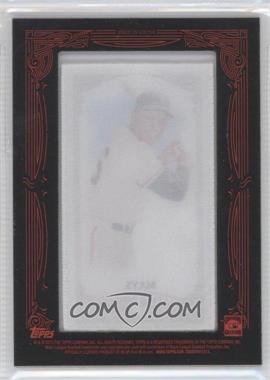 Each Framed Cloth card is serial-numbered to ten copies and exclusive to Hobby packs.
Dan Haren
Torii Hunter
Albert Pujols
Jered Weaver
C.J. Wilson
Mike Trout
Justin Upton
Chris Young
Stephen Drew
Freddie Freeman
Tommy Hanson
Jason Heyward
Tim Hudson
Chipper Jones
Brian McCann
Dan Uggla
Jair Jurrjens
Adam Jones
Nick Markakis
Jim Palmer
Cal Ripken, Jr.
Brooks Robinson
Josh Beckett
Carl Crawford
Jacoby Ellsbury
Adrian Gonzalez
Jon Lester
David Ortiz
Dustin Pedroia
Kevin Youkilis
Carl Yastrzemski
Jackie Robinson
Starlin Castro
Matt Garza
Kerry Wood
Adam Dunn
Paul Konerko
Jay Bruce
Aroldis Chapman
Mat Latos
Brandon Phillips
Drew Stubbs
Joey Votto
Johnny Bench
Frank Robinson
Shin-Soo Choo
Ubaldo Jimenez
Carlos Santana
Asdrubal Cabrera
Carlos Gonzalez
Troy Tulowitzki
Michael Cuddyer
Todd Helton
Miguel Cabrera
Prince Fielder
Jose Valverde
Justin Verlander
Ty Cobb
Al Kaline
Carlos Lee
Nolan Ryan
Alex Gordon
Eric Hosmer
George Brett
Andre Ethier
Matt Kemp
Clayton Kershaw
Sandy Koufax
James Loney
Josh Johnson
Hanley Ramirez
Jose Reyes
Mike Stanton
Hank Aaron
Ryan Braun
Zack Greinke
Rickie Weeks
Aramis Ramirez
Joe Mauer
Justin Morneau
Tom Seaver
David Wright
Robinson Cano
Curtis Granderson
Derek Jeter
Michael Pineda
Mariano Rivera
Alex Rodriguez
CC Sabathia
Mark Teixeira
Yogi Berra
Joe DiMaggio
Lou Gehrig
Reggie Jackson
Mickey Mantle
Roger Maris
Don Mattingly
Babe Ruth
Kurt Suzuki
Rickey Henderson
Roy Halladay
Cole Hamels
Ryan Howard
Cliff Lee
Hunter Pence
Jimmy Rollins
Jim Thome
Chase Utley
Shane Victorino
Mike Schmidt
Andrew McCutchen
Roberto Clemente
Cameron Maybin
Carlos Quentin
Tony Gwynn
Madison Bumgarner
Matt Cain
Tim Lincecum
Buster Posey
Pablo Sandoval
Brian Wilson
Willie Mays
Dustin Ackley
Felix Hernandez
Jesus Montero
Ichiro
Ken Griffey, Jr.
Lance Berkman
Chris Carpenter
Matt Holliday
Bob Gibson
Stan Musial
David Freese
Yadier Molina
Jeremy Hellickson
Desmond Jennings
Evan Longoria
David Price
James Shields
Adrian Beltre
Nelson Cruz
Neftali Feliz
Josh Hamilton
Ian Kinsler
Mike Napoli
Michael Young
Jose Bautista
Stephen Strasburg
Ryan Zimmerman
Michael Morse
Inserts
What's in a Name?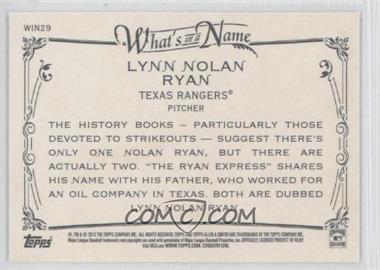 WIN-1 Joe DiMaggio
WIN-2 Carlos Gonzalez
WIN-3 Ryan Howard
WIN-4 Paul Konerko
WIN-5 Troy Tulowitzki
WIN-6 Ryan Braun
WIN-7 Chase Utley
WIN-8 Cliff Lee
WIN-9 Red Schoendienst
WIN-10 Yogi Berra
WIN-11 Torii Hunter
WIN-12 Minnie Minoso
WIN-13 Carl Crawford
WIN-14 Chipper Jones
WIN-15 Michael Pineda
WIN-16 Miguel Cabrera
WIN-17 Dustin Pedroia
WIN-18 Stan Musial
WIN-19 David Wright
WIN-20 Richie Ashburn
WIN-21 Jackie Robinson
WIN-22 Matt Kemp
WIN-23 Mike Stanton
WIN-24 Ian Kinsler
WIN-25 Dan Uggla
WIN-26 Orlando Cepeda
WIN-27 Starlin Castro
WIN-28 Elvis Andrus
WIN-29 Nolan Ryan
WIN-30 Hunter Pence
WIN-31 Andrew McCutchen
WIN-32 Freddie Freeman
WIN-33 Tony Perez
WIN-34 Clayton Kershaw
WIN-35 Brooks Robinson
WIN-36 Jose Bautista
WIN-37 Jason Heyward
WIN-38 Roy Halladay
WIN-39 Monte Irvin
WIN-40 Jemile Weeks
WIN-41 Tim Lincecum
WIN-42 Cal Ripken, Jr.
WIN-43 Justin Verlander
WIN-44 Jimmy Rollins
WIN-45 Don Mattingly
WIN-46 Catfish Hunter
WIN-47 Jacoby Ellsbury
WIN-48 Tony Gwynn
WIN-49 Duke Snider
WIN-50 Mike Schmidt
WIN-51 Josh Hamilton
WIN-52 Derek Jeter
WIN-53 Justin Morneau
WIN-54 Juan Pierre
WIN-55 Robinson Cano
WIN-56 Aroldis Chapman
WIN-57 Josh Beckett
WIN-58 Rickey Henderson
WIN-59 Buster Posey
WIN-60 Jay Bruce
WIN-61 Jim Thome
WIN-62 Jered Weaver
WIN-63 Rod Carew
WIN-64 David Ortiz
WIN-65 Nick Swisher
WIN-66 Sparky Anderson
WIN-67 Willie Stargell
WIN-68 Prince Fielder
WIN-69 Felix Hernandez
WIN-70 Jon Lester
WIN-71 Joe Mauer
WIN-72 CC Sabathia
WIN-73 Ryan Zimmerman
WIN-74 Tom Seaver
WIN-75 Cole Hamels
WIN-76 B.J. Upton
WIN-77 David Price
WIN-78 Jose Reyes
WIN-79 Mickey Mantle
WIN-80 Matt Holliday
WIN-81 Coco Crisp
WIN-82 Ty Cobb
WIN-83 Mark Teixeira
WIN-84 Albert Pujols
WIN-85 Mike Napoli
WIN-86 Dan Haren
WIN-87 Joey Votto
WIN-88 Alex Gordon
WIN-89 Stephen Strasburg
WIN-90 Evan Longoria
WIN-91 Alex Rodriguez
WIN-92 Paul Goldschmidt
WIN-93 Billy Butler
WIN-94 Reggie Jackson
WIN-95 Ken Griffey, Jr.
WIN-96 Ozzie Smith
WIN-97 Justin Upton
WIN-98 Whitey Ford
WIN-99 Babe Ruth
WIN-100 Zack Greinke
Historical Turning Points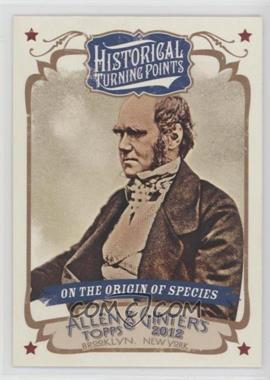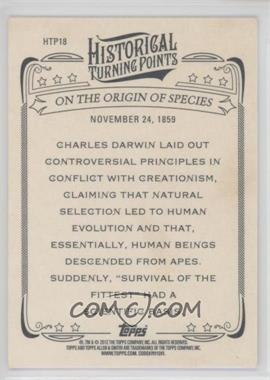 HTP1 Signing of The Declaration Of Independence
HTP2 The Battle Of Waterloo
HTP3 The Fall Of the Roman Empire
HTP4 The Reformation
HTP5 The Fall Of the Berlin Wall
HTP6 The Treaty Of Versailles
HTP7 Invention Of the Printing Press
HTP8 Allied Victory In World War II
HTP9 Discovery Of the New World
HTP10 Discovery Of Electricity
HTP11 Signing Of the Magna Carta
HTP12 The Renaissance
HTP13 The Industrial Revolution
HTP14 The Emancipation Proclamation
HTP15 The First Flight At Kitty Hawk
HTP16 The French Revolution
HTP17 The Great Depression
HTP18 On the Origin Of Species
HTP19 Sputnik I
HTP20 The Agricultural Revolution
World's Tallest Buildings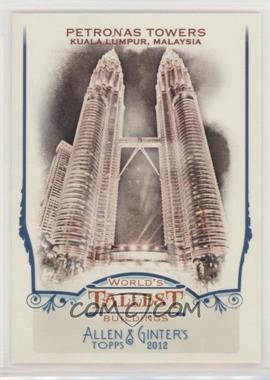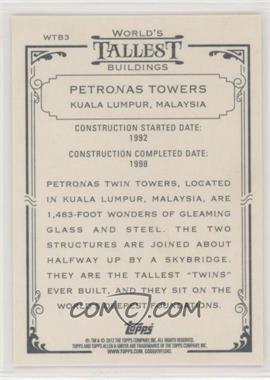 WTB1 Burj Khalifa
WTB2 Taipei 101
WTB3 Petronas Towers
WTB4 Willis Tower
WTB5 1 World Trade Center
WTB6 Empire State Building
WTB7 Chrysler Building
WTB8 40 Wall Street
WTB9 Woolworth Building
WTB10 MetLife Building
Baseball Highlight Sketches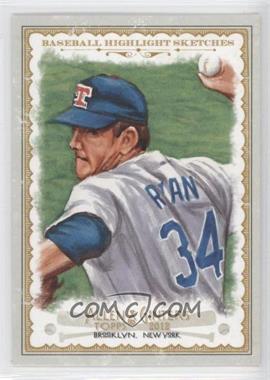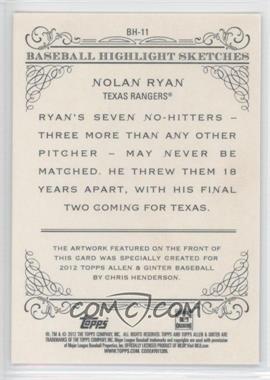 BH-1 Roger Maris
BH-2 Tom Seaver
BH-3 Ichiro
BH-4 Ryne Sandberg
BH-5 Brooks Robinson
BH-6 Frank Thomas
BH-7 John Smoltz
BH-8 Derek Jeter
BH-9 Ryan Braun
BH-10 Albert Pujols
BH-11 Nolan Ryan
BH-12 Justin Verlander
BH-13 Matt Moore
BH-14 Mickey Mantle
BH-15 Ken Griffey, Jr.
BH-16 David Freese
BH-17 Cal Ripken, Jr.
BH-18 Ozzie Smith
BH-19 Carlton Fisk
BH-20 Jose Bautista
BH-21 Willie Mays
BH-22 Joe DiMaggio
BH-23 Jackie Robinson
BH-24 Roberto Clemente
Colony in a Card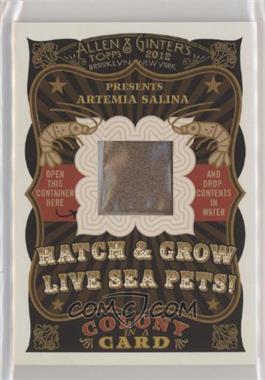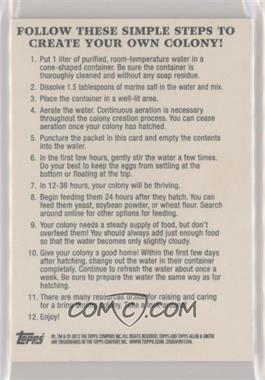 The Colony in a Card inserts are case hits and only found in hobby packs. Some of the cards can grow bugs if you so choose. Packs with a Colony in a Card insert in them only have 4 cards, as opposed to the normal 8 cards.
People of the Bible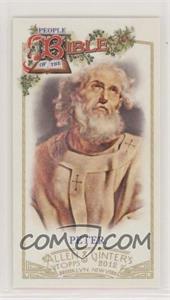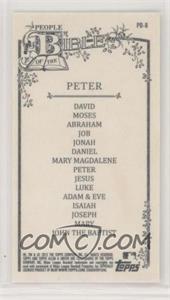 PB-1 David
PB-2 Moses
PB-3 Abraham
PB-4 Job
PB-5 Jonah
PB-6 Daniel
PB-7 Mary Magdalene
PB-8 Peter
PB-9 Jesus
PB-10 Luke
PB-11 Adam & Eve
PB-12 Isaiah
PB-13 Joseph
PB-14 Mary
PB-15 John the Baptist
Man's Best Friend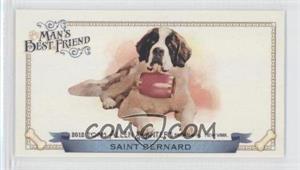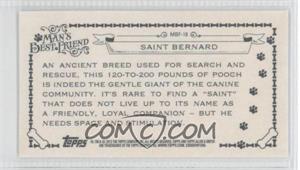 MBF-1 Siberian Husky
MBF-2 Dalmatian
MBF-3 Golden Retriever
MBF-4 German Shepherd
MBF-5 Beagle
MBF-6 Dachshund
MBF-7 Yorkshire Terrier
MBF-8 Labrador Retriever
MBF-9 Boxer
MBF-10 Poodle
MBF-11 Chihuahua
MBF-12 Shih Tzu
MBF-13 Collie
MBF-14 Pug
MBF-15 Cocker Spaniel
MBF-16 Saint Bernard
MBF-17 Bulldog
MBF-18 Boston Terrier
MBF-19 Basset Hound
MBF-20 Shetland Sheepdog
World's Greatest Military Leaders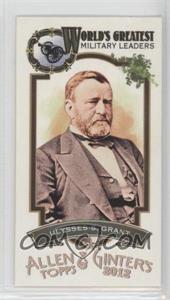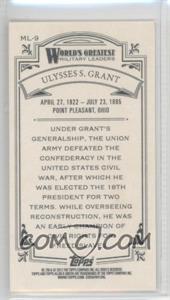 ML-1 Alexander the Great
ML-2 Simon Bolivar
ML-3 Oliver Cromwell
ML-4 Julius Caesar
ML-5 Cyrus the Great
ML-6 Hannibal Barca
ML-7 Napoleon Bonaparte
ML-8 George Washington
ML-9 Ulysses S. Grant
ML-10 Dwight D. Eisenhower
ML-11 Leonidas
ML-12 Charlemagne
ML-13 Saladin
ML-14 Duke of Wellington
ML-15 Horatio Nelson
ML-16 Frederick the Great
ML-17 Duke of Marlborough
ML-18 William Wallace
ML-19 Darius the Great
ML-20 Sun Tzu
Giants of the Deep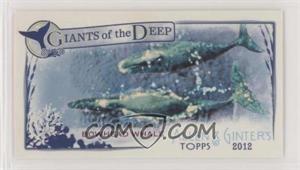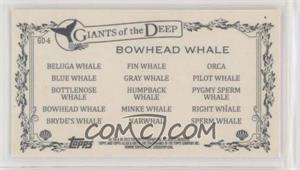 GD-1 Humpback Whale
GD-2 Sperm Whale
GD-3 Blue Whale
GD-4 Narwhal
GD-5 Beluga
GD-6 Bowhead Whale
GD-7 Right Whale
GD-8 Fin Whale
GD-9 Orca
GD-10 Pilot Whale
GD-11 Pygmy Sperm Whale
GD-12 Minke Whale
GD-13 Gray Whale
GD-14 Bottlenose Whale
GD-15 Bryde's Whale
Musical Masters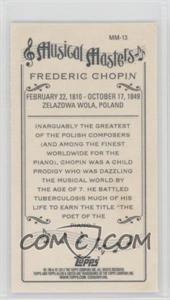 MM-1 Johann Sebastian Bach
MM-2 Wolfgang Amadeus Mozart
MM-3 Ludwig van Beethoven
MM-4 Richard Wagner
MM-5 Joseph Haydn
MM-6 Johannes Brahms
MM-7 Franz Schubert
MM-8 Georg Friedrich Handel
MM-9 Pyotr Ilyich Tchaikovsky
MM-10 Sergei Prokofiev
MM-11 Antonin Dvorak
MM-12 Franz Liszt
MM-13 Frederic Chopin
MM-14 Igor Stravinsky
MM-15 Giuseppe Verdi
MM-16 Gustav Mahler
Culinary Curiosities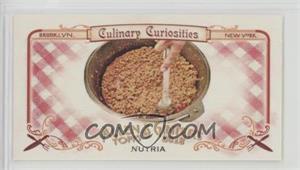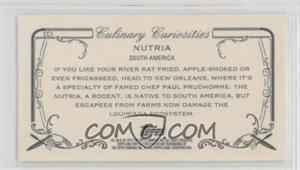 CC1 Nutria
CC2 Haggis
CC3 Kopi Luwak
CC4 Casu Marzu
CC5 Rocky Mountain Oysters
CC6 Hakarl
CC7 Fugu
CC8 Sannakji
CC9 Balut
CC10 Muktuk
Guys in Hats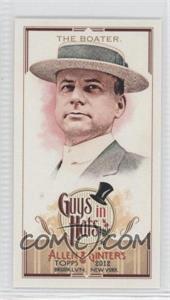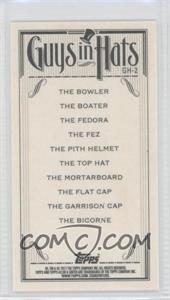 GH-1 The Bowler
GH-2 The Boater
GH-3 The Fedora
GH-4 The Fez
GH-5 The Pith Helmet
GH-6 The Top Hat
GH-7 The Mortarboard
GH-8 The Flat Cap
GH-9 The Garrison Hat
GH-10 The Bicorne
Fashionable Ladies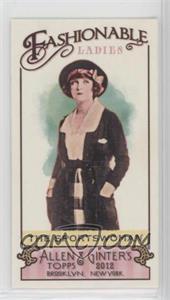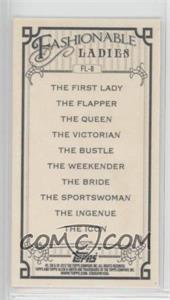 FL-1 The First Lady
FL-2 The Flapper
FL-3 The Queen
FL-4 The Victorian
FL-5 The Bustle
FL-6 The Weekender
FL-7 The Bride
FL-8 The Sportswoman
FL-9 The Ingenue
FL-10 The Icon
Rip Cards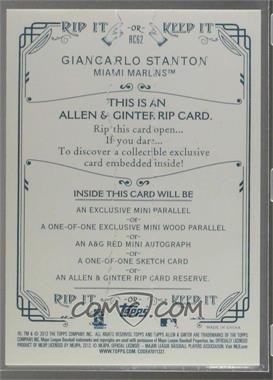 RC-1 Buster Posey
RC-2 Brian Wilson
RC-3 Brandon Phillips
RC-4 Brett Lawrie
RC-5 Ian Kinsler
RC-6 Michael Pineda
RC-7 Troy Tulowitzki
RC-8 Mariano Rivera
RC-9 Dustin Pedroia
RC-10 Adrian Gonzalez
RC-11 Babe Ruth
RC-12 Jacoby Ellsbury
RC-13 Johnny Bench
RC-14 Carl Yastrzemski
RC-15 Dan Uggla
RC-16 Miguel Cabrera
RC-17 Cal Ripken, Jr.
RC-18 Justin Verlander
RC-19 Curtis Granderson
RC-20 Mark Teixeira
RC-21 Matt Kemp
RC-22 Ryan Zimmerman
RC-23 Carlos Gonzalez
RC-24 Roberto Clemente
RC-25 Ryan Howard
RC-26 Kevin Youkilis
RC-27 Joey Votto
RC-28 Ryan Braun
RC-29 Josh Hamilton
RC-30 Stan Musial
RC-31 Hunter Pence
RC-32 Alex Rodriguez
RC-33 David Ortiz
RC-34 Mike Trout
RC-35 Roy Halladay
RC-36 Josh Johnson
RC-37 Reggie Jackson
RC-38 Carl Crawford
RC-39 Robinson Cano
RC-40 Jose Reyes
RC-41 Starlin Castro
RC-42 Josh Beckett
RC-43 Hanley Ramirez
RC-44 Chase Utley
RC-45 David Freese
RC-46 Jason Heyward
RC-47 Derek Jeter
RC-48 Tim Lincecum
RC-49 Lou Gehrig
RC-50 Craig Kimbrel
RC-51 Carlos Santana
RC-52 Mickey Mantle
RC-53 Stephen Strasburg
RC-54 Sandy Koufax
RC-55 CC Sabathia
RC-56 Nelson Cruz
RC-57 Frank Robinson
RC-58 Madison Bumgarner
RC-59 Adam Jones
RC-60 Shin-Soo Choo
RC-61 Ichiro
RC-62 Mike Stanton
RC-63 Roger Maris
RC-64 Bob Gibson
RC-65 Jesus Montero
RC-66 Andrew McCutchen
RC-67 Eric Hosmer
RC-68 Ty Cobb
RC-69 Freddie Freeman
RC-70 Pablo Sandoval
RC-71 Willie Mays
RC-72 Jay Bruce
RC-73 Brooks Robinson
RC-74 Joe Mauer
RC-75 Brian McCann
RC-76 Nolan Ryan
RC-77 Jackie Robinson
RC-78 Tommy Hanson
RC-79 Jon Lester
RC-80 Mike Schmidt
RC-81 Clayton Kershaw
RC-82 Albert Pujols
RC-83 Evan Longoria
RC-84 Jered Weaver
RC-85 Cliff Lee
RC-86 Cole Hamels
RC-87 Rickey Henderson
RC-88 Hank Aaron
RC-89 Tom Seaver
RC-90 Felix Hernandez
RC-91 Matt Holliday
RC-92 Jose Bautista
RC-93 Matt Moore
RC-94 Prince Fielder
RC-95 Joe DiMaggio
RC-96 Ken Griffey, Jr.
RC-97 Justin Upton
RC-98 David Price
RC-99 David Wright
RC-100 Al Kaline
N-43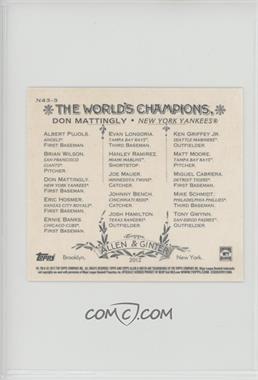 N43-1 Albert Pujols
N43-2 Brian Wilson
N43-3 Don Mattingly
N43-4 Eric Hosmer
N43-5 Ernie Banks
N43-6 Evan Longoria
N43-7 Hanley Ramirez
N43-8 Joe Mauer
N43-9 Johnny Bench
N43-10 Josh Hamilton
N43-11 Ken Griffey, Jr.
N43-12 Matt Moore
N43-13 Miguel Cabrera
N43-14 Mike Schmidt
N43-15 Tony Gwynn
Baseball Highlight Cabinets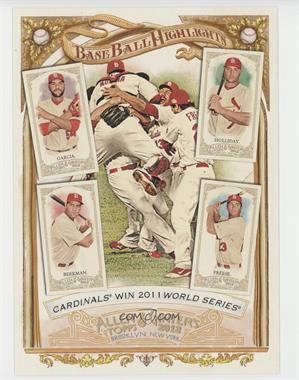 BH-1 Derek Jeter / David Price
BH-2 David Freese / Jamie Garcia / Lance Berkman / Matt
BH-3 Cal Ripken, Jr. / Lou Gehrig
BH-4 Mariano Rivera / Trevor Plouffe / Michael Cuddyer
BH-5 Jeremy Hellickson / Craig Kimbrel
Rollercoaster Cabinets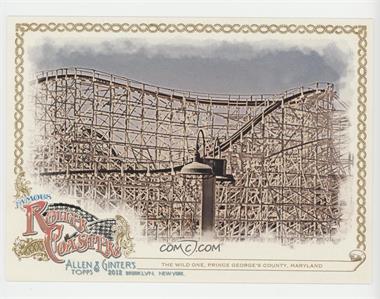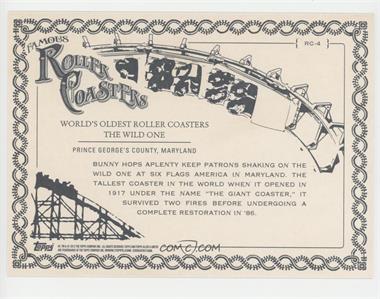 RC-1 Leap-the-Dips
RC-2 Scenic Railway
RC-3 Rutschebanen
RC-4 The Wild One
RC-5 Jack Rabbit
Artist Original
Each Artist Original is a one-of-one sketch card that is embedded inside a Rip Card.
AO-AG Adrian Gonzalez
AO-AP Albert Pujols
AO-BR Babe Ruth
AO-BRO Brooks Robinson
AO-CR Cal Ripken, Jr.
AO-DJ Derek Jeter
AO-DM Don Mattingly
AO-GB George Brett
AO-I Ichiro
AO-JB Johnny Bench
AO-JBA Jose Bautista
AO-JD Joe DiMaggio
AO-JR Jackie Robinson
AO-JV Justin Verlander
AO-KGJ Ken Griffey, Jr.
AO-MK Matt Kemp
AO-MM Mickey Mantle
AO-MMO Matt Moore
AO-NR Nolan Ryan
AO-OS Ozzie Smith
AO-PF Prince Fielder
AO-RB Ryan Braun
AO-RC Roberto Clemente
AO-RH Rickey Henderson
AO-RM Roger Maris
AO-SM Stan Musial
AO-TC Ty Cobb
AO-TS Tom Seaver
AO-TT Troy Tulowitzki
AO-WM Willie Mays
Autographs & Game-Used
Framed Relics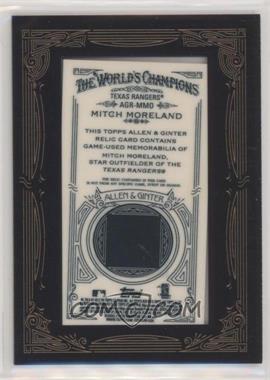 AGR-AA Alex Avila
AGR-AB A.J. Burnett
AGR-ABA Andrew Bailey
AGR-ABE Adrian Beltre
AGR-AD Annie Duke
AGR-AG Adrian Gonzalez SP
AGR-AH Aubrey Huff
AGR-AL Adam Lind
AGR-AM Andrew McCutchen
AGR-AP Albert Pujols
AGR-AP Arnold Palmer
AGR-APA Ara Parseghian
AGR-APG Angel Pagan
AGR-AUS Al Unser, Sr. SP
AGR-BA Bobby Abreu
AGR-BB Balloon Boy
AGR-BBO Brennan Boesch SP
AGR-BBU Billy Butler
AGR-BH Bob Hurley, Sr.
AGR-BK Bob Knight
AGR-BL Barry Larkin
AGR-BM Brian McCann
AGR-BMO Brandon Morrow SP
AGR-BP Brandon Phillips
AGR-BU B.J. Upton
AGR-BW Brian Wilson SP
AGR-CB Clay Buchholz
AGR-CBI Chad Billingsley
AGR-CH Corey Hart
AGR-CI Chris Iannetta
AGR-CJ Chipper Jones
AGR-CL Carlos Lee
AGR-CLU Cory Luebke SP
AGR-CM Casey McGehee
AGR-CMO Colin Montgomerie
AGR-CMR Carlos Marmol
AGR-CN Curly Neal EXCH
AGR-CP Carlos Pena
AGR-CQ Carlos Quentin
AGR-CY Chris Young
AGR-CZA Carlos Zambrano
AGR-DD David DeJesus
AGR-DDE Don Denkinger
AGR-DG Dillon Gee
AGR-DJ Derek Jeter
AGR-DM Don Mattingly SP
AGR-DMC Daniel McCutchen SP
AGR-DO David Ortiz
AGR-DP Dustin Pedroia
AGR-DS Drew Stubbs
AGR-DU Dan Uggla
AGR-DW David Wright
AGR-DWE Dale Webster EXCH
AGR-EA Elvis Andrus
AGR-EAN Erin Andrews SP
AGR-EH Eric Hosmer
AGR-EL Evan Longoria
AGR-ELO Evan Longoria
AGR-EM Evan Meek
AGR-EMA Ewa Mataya EXCH
AGR-EV Edinson Volquez
AGR-FF Freddie Freeman
AGR-FT1 Fatal1ty
AGR-GB Gordon Beckham
AGR-GBL Guy Bluford SP EXCH
AGR-GG Greg Gumbel
AGR-GS Geovany Soto
AGR-HA Hank Aaron SP
AGR-HB Heath Bell
AGR-HCO Hank Conger
AGR-HH Hank Haney
AGR-HR Hanley Ramirez
AGR-I Ichiro
AGR-ID Ike Davis
AGR-IK Ian Kinsler
AGR-JA J.P. Arencibia
AGR-JB Jose Bautista
AGR-JBA Jerry Bailey SP
AGR-JBE Johnny Bench SP
AGR-JBR James Brown SP
AGR-JC Johnny Cueto
AGR-JCH Jhoulys Chacin SP
AGR-JD Joe DiMaggio SP
AGR-JDA Johnny Damon
AGR-JG Jaime Garcia
AGR-JH Josh Hamilton
AGR-JHE Jeremy Hellickson
AGR-JJ Jon Jay
AGR-JJK Jackie Joyner-Kersee
AGR-JL James Loney
AGR-JLO Jed Lowrie
AGR-JM John McEnroe
AGR-JP Jhonny Peralta
AGR-JPA Jonathan Papelbon
AGR-JPE Jake Peavy
AGR-JPO Jorge Posada
AGR-JR Jackie Robinson
AGR-JS Justin Smoak SP
AGR-JU Justin Upton
AGR-JW Jayson Werth
AGR-JWA Jordan Walden
AGR-JZ Jordan Zimmermann
AGR-KB Keegan Bradley EXCH
AGR-KF Kosuke Fukudome
AGR-KG Ken Griffey, Jr. SP
AGR-KH Kirk Herbstreit
AGR-KU Kate Upton
AGR-LG Lou Gehrig SP
AGR-LK Lefty Kreh EXCH
AGR-MB Marlon Byrd
AGR-MBO Michael Bourn
AGR-MBU Michael Buffer EXCH
AGR-MC Melky Cabrera
AGR-MCA Melky Cabrera
AGR-MCB Miguel Cabrera
AGR-MCN Matt Cain
AGR-MCU Michael Cuddyer SP
AGR-MH Marty Hogan SP
AGR-MJ Matt Joyce SP
AGR-MK Matt Kemp SP
AGR-ML Mike Leake SP
AGR-MLA Mat Latos
AGR-MLE Meadowlark Lemon
AGR-MM Mike Morse
AGR-MMA Mickey Mantle
AGR-MMO Mitch Moreland
AGR-MP Michael Pineda
AGR-MPH Michael Phelps
AGR-MPR Martin Prado
AGR-MR Mark Reynolds
AGR-MS Mike Schmidt SP
AGR-MSC Max Scherzer
AGR-MT Marcus Thames SP
AGR-MY Michael Young
AGR-NG Nomar Garciaparra SP
AGR-NM Nick Markakis
AGR-NR Nolan Ryan
AGR-PF Prince Fielder
AGR-PO Paul O'Neill
AGR-PP Phil Pfister
AGR-RA Roberto Alomar
AGR-RB Ryan Braun
AGR-RC Robert Clemente SP
AGR-RD Ryan Dempster
AGR-RDA Rajai Davis
AGR-RF Roger Federer
AGR-RG Rulon Gardner EXCH
AGR-RJ Reggie Jackson SP
AGR-RM Roger Maris
AGR-RMA Russell Martin
AGR-RP Rick Porcello
AGR-RPE Richard Petty
AGR-RR Ricky Romero
AGR-RS Ryne Sandberg SP
AGR-RT Ryan Theriot
AGR-RZ Ryan Zimmerman
AGR-SC Starlin Castro
AGR-SCA Swin Cash
AGR-SCH Shin-Soo Choo
AGR-SK Sandy Koufax SP
AGR-SM Shaun Marcum SP
AGR-SS Stephen Strasburg
AGR-TC Ty Cobb
AGR-TCH Tyler Chatwood SP
AGR-TH Torii Hunter
AGR-THD Tim Hudson SP
AGR-THE Todd Helton SP
AGR-UJ Ubaldo Jimenez
AGR-VM Victor Martinez
AGR-VW Vernon Wells
AGR-VWE Vernon Wells
AGR-WD Wade Davis SP
AGR-WM Willie Mays
AGR-ZG Zack Greinke
Employee Relics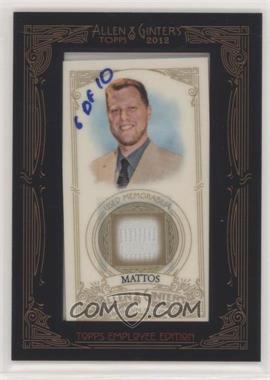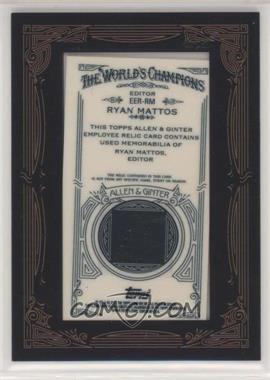 Each Employee Relic is hand-numbered to ten copies.
EER-EP Emil Picchi
EER-JD John Doldan
EER-JP James Perry
EER-JZ Jeff Zachowski
EER-NK Neil Kleid
EER-RM Ryan Mattos
EER-SS Stephanie Schrauth
EER-TD Tracy Dupre
DNA Relics
Each DNA Relic is a one-of-one and containts a strand of the subject's hair embedded in the card.
DNA-AH Alexander Hamilton
DNA-CD Charles Dickens
DNA-DE Dwight D. Eisenhower
DNA-G Geronimo
DNA-JB John Brown
DNA-JFK John F. Kennedy
DNA-JFK2 John F. Kennedy
DNA-KE King Edward VII
DNA-N Napoleon
DNA-RR Ronald Reagan
Book Cards
Each Book Card is exclusive to Hobby packs. Each is numbered one of one.
BC-BC Ernie Banks / Starlin Castro
BC-BR Johnny Bench / Ivan Rodriguez
BC-CO Carl Crawford / David Ortiz
BC-DR Joe DiMaggio / Babe Ruth
BC-FF Miguel Cabrera / Prince Fielder
BC-GA Dee Gordon / Elvis Andrus
BC-GR Curtis Granderson / Alex Rodriguez
BC-HK Josh Hamilton / Ian Kinsler
BC-HM Jeremy Hellickson / Matt Moore
BC-HS Ryan Howard / Mike Schmidt
BC-JM Reggie Jackson / Roger Maris
BC-KS Matt Kemp / Giancarlo Stanton
BC-LR Evan Longoria / Brooks Robinson
BC-MB Mike Minor / Brandon Beachy
BC-MM Eddie Murray / Don Mattingly
BC-PC Buster Posey / Gary Carter
BC-PP Andy Pettitte / Michael Pineda
BC-PS Michael Pineda / CC Sabathia
BC-RD Nolan Ryan / Yu Darvish
BC-RG Nolan Ryan / Bob Gibson
BC-RJG Cal Ripken, Jr. / Lou Gehrig
BC-RR Jose Reyes / Hanley Ramirez
BC-SR Ozzie Smith / Jimmy Rollins
BC-TH Troy Tulowitzki / Todd Helton
BC-YB Carl Yastrzemski / Wade Boggs
Framed Autographs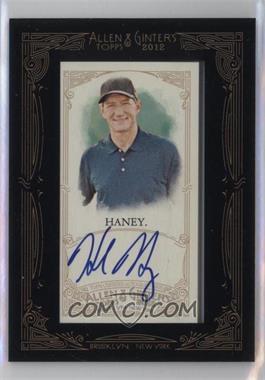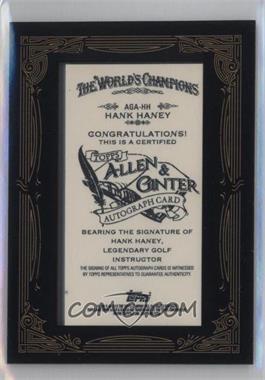 Each Autograph is also available in a Red Ink parallel available only in Rip Cards and hand-numbered to 10 copies. In addition, a complete set of one-of-one "Codebreaker" autographs was given to the first person to solve that year's Ginter Code contest.
AGA-AB Andrew Bailey
AGA-AC Aroldis Chapman
AGA-AC Allen Craig
AGA-ADK Annie Duke
AGA-AG Adrian Gonzalez
AGA-AJ Adam Jones
AGA-AK Al Kaline SP
AGA-AMC Andrew McCutchen
AGA-AO Alexi Ogando
AGA-AP Albert Pujols SP
AGA-APA Ara Parseghian
AGA-APL Arnold Palmer
AGA-AR Anthony Rizzo
AGA-AUS Al Unser, Sr.
AGA-BB Brandon Beachy
AGA-BG Bob Gibson SP
AGA-BH Bryce Harper
AGA-BHS Bob Hurley, Sr.
AGA-BK Bela Karolyi
AGA-BKN Bob Knight
AGA-BL Brett Lawrie
AGA-BM Brian McCann SP
AGA-BP Buster Posey
AGA-BP Brad Peacock
AGA-CC Carl Crawford SP
AGA-CG Carlos Gonzalez SP
AGA-CG Craig Gentry
AGA-CK Clayton Kershaw
AGA-CMO Colin Montgomerie EXCH
AGA-CNE Curly Neal
AGA-CRJ Cal Ripken, Jr. SP
AGA-CS CC Sabathia
AGA-CY Carl Yastrzemski SP
AGA-DB Daniel Bard
AGA-DDK Don Dekinger
AGA-DF Dexter Fowler
AGA-DG Dee Gordon
AGA-DG Dillon Gee
AGA-DM Don Mattingly
AGA-DP Dustin Pedroia
AGA-DP David Price SP
AGA-DU Dan Uggla SP
AGA-DW David Wright
AGA-DW Dale Webster
AGA-EA Elvis Andrus
AGA-EAN Erin Andrews SP
AGA-EB Ernie Banks SP
AGA-EH Eric Hosmer
AGA-EL Evan Longoria
AGA-EMA Ewa Mataya SP
AGA-FH Felix Hernandez EXCH
AGA-FR Frank Robinson SP
AGA-FT1 Fatal1ty
AGA-GB Gordon Beckham
AGA-GBL Guy Bluford EXCH
AGA-GGU Greg Gumbel
AGA-HA Hank Aaron SP
AGA-HH Hank Haney
AGA-JB Johnny Bench SP
AGA-JB Joe Benson
AGA-JBA Jose Bautista
AGA-JBA Jerry Bailey
AGA-JBR Jay Bruce
AGA-JBR James Brown
AGA-JC Johnny Cueto
AGA-JH Josh Hamilton
AGA-JH Joel Hanrahan
AGA-JHE Jeremy Hellickson
AGA-JKJ Jackie Joyner-Kersee
AGA-JM Joe Mauer
AGA-JPA J.P. Arencibia
AGA-JPA Jimmy Paredes
AGA-JS Jordan Schafer
AGA-JT Julio Teheran
AGA-JT Jose Tabata
AGA-JV Jose Valverde
AGA-JW Jered Weaver EXCH
AGA-JZ Jordan Zimmermann
AGA-KBR Keegan Bradley EXCH
AGA-KGJ Ken Griffey, Jr. SP EXCH
AGA-KH Kirk Herbstreit
AGA-KUP Kate Upton SP
AGA-LKR Lefty Kreh
AGA-MBF Michael Buffer
AGA-MC Miguel Cabrera SP
AGA-MH Mark Hamburger
AGA-MHO Marty Hogan
AGA-MK Matt Kemp EXCH
AGA-MLE Meadowlark Lemon
AGA-MM Matt Moore
AGA-MMR Mike Morse
AGA-MP Michael Pineda
AGA-MPH Michael Phelps SP
AGA-MS Max Scherzer EXCH
AGA-MSC Mike Schmidt SP
AGA-MST Giancarlo Stanton SP
AGA-MT Mark Trumbo
AGA-MTR Mike Trout
AGA-NE Nathan Eovaldi
AGA-NR Nolan Ryan SP
AGA-PF Prince Fielder
AGA-PPF Phil Pfister
AGA-RB Ryan Braun
AGA-RC Robinson Cano
AGA-RFD Roger Federer SP
AGA-RG Rulon Gardner
AGA-RH Roy Halladay EXCH
AGA-RJ Reggie Jackson SP
AGA-RPT Richard Petty
AGA-RS Ryne Sandberg SP
AGA-RZ Ryan Zimmerman
AGA-SC Starlin Castro
AGA-SCA Swin Cash
AGA-SK Sandy Koufax SP EXCH
AGA-SM Stan Musial SP
AGA-TG Tony Gwynn SP
AGA-TH Torii Hunter
AGA-VW Vernon Wells
AGA-VW Vance Worley
AGA-WM Willie Mays SP EXCH
AGA-YC Yoenis Cespedes
AGA-YD Yu Darvish
AGA-YG Yovani Gallardo SP
AGA-ZB Zach Britton
Employee Autographs
Each Topps Employee Autograph is hand-numbered to ten copies.
EE-AL Anush Laxpati
EE-CT Coleen Tull
EE-JQ Jennifer Quon
EE-JZ Jeff Zachowski
EE-MS Mark Sapir
EE-NK Neil Kleid
EE-SS Stephanie Schrauth
Cut Signatures
Each cut signature is a one-of-one. It should be noted that the vast majority of subjects are still living, unlike previous years.
AGCS-1 Edward Albee
AGCS-3 Ted Koppel
AGCS-4 Hugh Downs
AGCS-5 John Nash
AGCS-6 Desmond Tutu
AGCS-7 Dick Clark
AGCS-8 Carl Muscarello
AGCS-9 Dutch Van Kirk
AGCS-10 Ernest Borgnine
AGCS-11 Martin Sheen
AGCS-12 Monty Hall
AGCS-13 Gloria Gaynor
AGCS-14 Pat Boone
AGCS-15 Dave Brubeck
AGCS-16 Fats Domino
AGCS-17 Charlie Daniels
AGCS-19 Betty White
AGCS-20 Elliot Gould
AGCS-21 Sophia Loren
AGCS-22 Clarence Thomas
N-43 Relics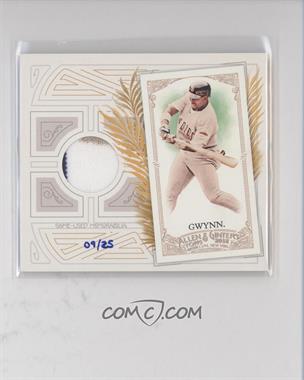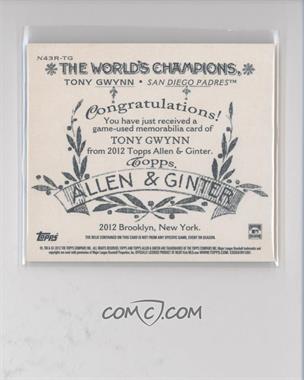 Each N-43 Relic is serial-numbered to 25 copies.
N43R-AP Albert Pujols
N43R-BW Brian Wilson
N43R-DW David Wright
N43R-DM Don Mattingly
N43R-EH Eric Hosmer
N43R-EL Evan Longoria
N43R-HR Hanley Ramirez
N43R-KG Ken Griffey, Jr.
N43R-MM Matt Moore
N43R-TG Tony Gwynn
N-43 Autographs
Each N-43 Autograph is hand-numbered to 15 copies.
N43A-EB Ernie Banks
N43A-EL Evan Longoria
N43A-FR Frank Robinson
N43A-JB Johnny Bench
N43A-JH Josh Hamilton
N43A-JM Joe Mauer
N43A-MC Miguel Cabrera
N43A-MS Mike Schmidt
N43A-RS Ryne Sandberg
N43A-TG Tony Gwynn
N-43 Autographed Relics
Each N-43 Autographed Relic is hand-numbered to five copies.
N43AR-MM Matt Moore
N43AR-DW David Wright
N43AR-EL Evan Longoria
N43AR-DM Don Mattingly
N43AR-TG Tony Gwynn
N-43 Artifacts
Each N-43 Artifact is hand-numbered.
Cabinet Relics
Each Cabinet Relic is a one-of-one.
CR-JU Justin Upton
CR-CU Chase Utley
CR-AP Albert Pujols
CR-CJ Chipper Jones
CR-MK Matt Kemp
CR-AJ Adam Jones
CR-NF Neftali Feliz
CR-SC Shin-Soo Choo
CR-JD Johnny Damon
CR-CL Cliff Lee
Currency of the World Cabinet Relics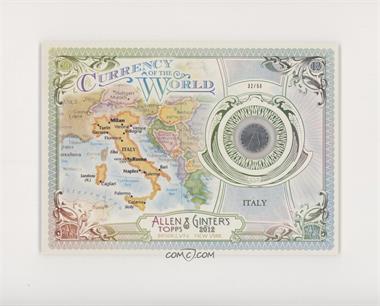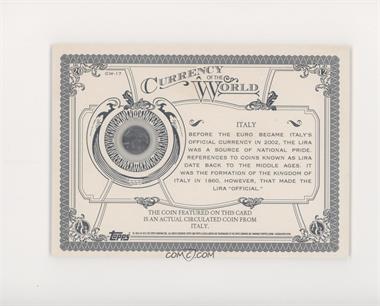 Each Currency of the World Cabinet Relic features an embedded coin from the respective nation/region. All are serial-numbered to 50 copies.
CW-1 Austria
CW-2 Argentina
CW-3 Belgium
CW-4 Brazil
CW-5 Colombia
CW-6 Ecuador
CW-7 East Caribbean
CW-8 Germany
CW-9 Great Britain
CW-10 Guatemala
CW-11 Greece
CW-12 Falkland Islands
CW-13 France
CW-14 Ireland
CW-15 Israel
CW-16 Isle of Man
CW-17 Italy
CW-18 Jamaica
CW-19 Mexico
CW-20 Nicaragua
CW-21 New Zealand
CW-22 Pakistan
CW-23 Poland
CW-24 Russia
CW-25 Romania
CW-26 Turkey
CW-27 Spain
CW-28 St. Helena
CW-29 Venezuela
CW-30 El Salvador
Lepidoptery Cabinet
Each Lepidoptery Cabinet will feature a pressed butterfly embedded into a "shadowbox" style card. All cards packed out as redemptions.
L-1 Sparkling Cherub Butterfly
L-2 Pink Glasswing Butterfly
L-3 Crimson Callicore Butterfly
L-4 Crenis pechuelli Butterfly
L-5 Red Glider Butterfly
L-6 Callithea leprieuri Butterfly
L-7 Orange Albatross Butterfly
L-8 Pearl Morpho Butterfly
L-9 Orea Banner Butterfly
L-10 Asterope hewitsoni Butterfly
L-11 Pink Dotted Appollonia Butterfly
L-12 Peacock Butterfly
L-13 The 88 Butterfly
L-14 Double Blue Butterfly
L-15 Buttercup Butterfly
L-16 White Glider Butterfly
L-17 African Monarch Butterfly
L-18 Black Swallowtail Butterfly
L-19 Purple Spotted Swallowtail Butterfly
L-21 Green Congo Swallowtail Butterfly
Rip Card Reserve
These one-of-one redemption cards are good for whole pieces of game-used memorabilia. Each is embedded inside a Rip Card and expire on July 13th, 2013.
Chone Figgins JSY
Derrick Lee PANTS
Drew Stubbs PANTS
Ryan Zimmerman PANTS