2001 Studio
Description
2001 Studio is a 200-card set released by Donruss-Playoff. This was the first Studio set after a two-year absence due to the bankruptcy of the line's previous owner Pinnacle Brands. The final fifty cards in the base set make up a Rookie subset, with each Rookie serial-numbered to only 700 copies. Each 18-pack Hobby box could be expected to yield two game-used memorabilia cards, a Rookie subset card, and one 5" X 7" Private Signings autograph packaged as a box-topper.
While the design of the set was in the spirit of 1990s Studio, the $10/pack price tag and the extreme difficulty of collecting a set saddled with 50 "gimmicked" rookies led many collectors to take a pass on this product.
2001 Studio does feature "true" rookies of Ichiro and Albert Pujols; however, most of the other "Rookie" subset cards are of players that had their RCs previous to 2001 or had little impact -- including some who never even played in a Major League game.
Distribution
Hobby: 18 packs plus one Private Signings autograph per box, six cards per pack (MSRP: $10).
Reviews
Insertion Ratios
| Cards | Total Cards | Numbered To | Odds |
| --- | --- | --- | --- |
| Base | 200 | - | ? |
| short set | 150 | - | ? |
| Rookies | 50 | 700 | 1:18 |
| Proofs | 200 | 25 | ? |
| Diamond Collection | 47 | - | 1:18 |
| Diamond Cut Collection | 47 | 75 | ? |
| Diamond Collection Autographs | 6 | 25 | ? |
| Leather & Lumber | 47 | - | 1:18 |
| Leather & Lumber Combos | 47 | 25 | ? |
| Warning Track | 34 | - | ? |
| Warning Track Off the Wall | 35 | 25 | ? |
| Warning Track Autographs | 7 | 25 | ? |
| Masterstrokes | 28 | 200 | ? |
| Masterstrokes Artist's Proof | 28 | 25 | ? |
| Round Trip Tickets | 20 | 25 | ? |
| Private Signings 5 X 7 | 48 | varies | one-per-box |
Checklist
Base Set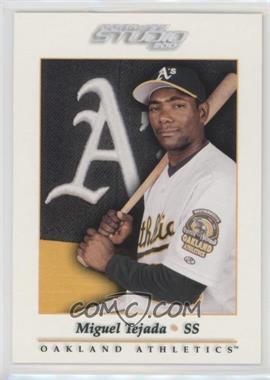 1 Alex Rodriguez
2 Barry Bonds
3 Cal Ripken, Jr.
4 Chipper Jones
5 Derek Jeter
6 Troy Glaus
7 Frank Thomas
8 Greg Maddux
9 Ivan Rodriguez
10 Jeff Bagwell
11 Mark Quinn
12 Todd Helton
13 Ken Griffey, Jr.
14 Manny Ramirez
15 Mark McGwire
16 Mike Piazza
17 Nomar Garciaparra
18 Robin Ventura
19 Aramis Ramirez
20 J.T. Snow
21 Pat Burrell
22 Curt Schilling
23 Carlos Delgado
24 J.D. Drew
25 Cliff Floyd
26 Brian Jordan
27 Roberto Alomar
28 Barry Zito
29 Harold Baines
30 Brad Penny
31 Jose Cruz
32 Andy Pettitte
33 Jim Edmonds
34 Darin Erstad
35 Jason Giambi
36 Tom Glavine
37 Juan Gonzalez
38 Mark Grace
39 Shawn Green
40 Tim Hudson
41 Andruw Jones
42 Jeff Kent
43 Barry Larkin
44 Rafael Furcal
45 Mike Mussina
46 Hideo Nomo
47 Rafael Palmeiro
48 Scott Rolen
49 Gary Sheffield
50 Bernie Williams
51 Bob Abreu
52 Edgardo Alfonzo
53 Edgar Martinez
54 Magglio Ordonez
55 Kerry Wood
56 Matt Morris
57 Lance Berkman
58 Kevin Brown
59 Sean Casey
60 Eric Chavez
61 Bartolo Colon
62 Johnny Damon
63 Jermaine Dye
64 Juan Encarnacion
65 Carl Everett
66 Brian Giles
67 Mike Hampton
68 Richard Hidalgo
69 Geoff Jenkins
70 Jacque Jones
71 Jason Kendall
72 Ryan Klesko
73 Chan Ho Park
74 Richie Sexson
75 Mike Sweeney
76 Fernando Tatis
77 Miguel Tejada
78 Jose Vidro
79 Larry Walker
80 Preston Wilson
81 Craig Biggio
82 Fred McGriff
83 Jim Thome
84 Garret Anderson
85 Mark Mulder
86 Tony Batista
87 Terrence Long
88 Brad Fullmer
89 Rusty Greer
90 Orlando Hernandez
91 Gabe Kapler
92 Paul Konerko
93 Carlos Lee
94 Kenny Lofton
95 Raul Mondesi
96 Jorge Posada
97 Tim Salmon
98 Greg Vaughn
99 Mo Vaughn
100 Omar Vizquel
101 Ben Grieve
102 Luis Gonzalez
103 Ray Durham
104 Ryan Dempster
105 Eric Karros
106 Dave Justice
107 Pedro Martinez
108 Randy Johnson
109 Rick Ankiel
110 Rickey Henderson
111 Roger Clemens
112 Sammy Sosa
113 Tony Gwynn
114 Vladimir Guerrero
115 Kazuhiro Sasaki
116 Phil Nevin
117 Ruben Mateo
118 Shannon Stewart
119 Matt Williams
120 Tino Martinez
121 Ken Caminiti
122 Edgar Renteria
123 Charles Johnson
124 Aaron Sele
125 Javy Lopez
126 Mariano Rivera
127 Shea Hillenbrand
128 Jeff D'Amico
129 Brady Anderson
130 Kevin Millwood
131 Trot Nixon
132 Mike Lieberthal
133 Juan Pierre
134 Russ Ortiz
135 Jose Macias
136 John Smoltz
137 Jason Varitek
138 Dean Palmer
139 Jeff Cirillo
140 Paul O'Neill
141 Andres Galarraga
142 David Wells
143 Brad Radke
144 Wade Miller
145 John Olerud
146 Moises Alou
147 Carlos Beltran
148 Jeromy Burnitz
149 Steve Finley
150 Joe Mays
Rookies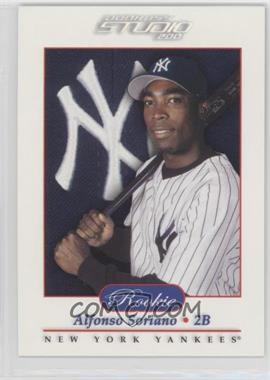 Each Rookie is serial-numbered to 700 copies.
151 Alex Escobar
152 Johnny Estrada RC
153 Pedro Feliz
154 Nate Frese RC*
155 Dee Brown
156 Brandon Larson RC
157 Alexis Gomez RC
158 Jason Hart
159 C.C. Sabathia
160 Josh Towers RC
161 Christian Parker RC
162 Jackson Melian RC*
163 Joe Kennedy RC
164 Adrian Hernandez RC
165 Jimmy Rollins
166 Jose Mieses RC*
167 Roy Oswalt
168 Eric Munson
169 Xavier Nady
170 Horacio Ramirez RC
171 Abraham Nunez
172 Jose Ortiz
173 Jeremy Owens RC*
174 Claudio Vargas RC
175 Corey Patterson
176 Carlos Pena
177 Bud Smith RC
178 Adam Dunn
179 Adam Pettyjohn RC
180 Elpidio Guzman RC*
181 Jay Gibbons RC
182 Wilkin Ruan RC
183 Tsuyoshi Shinjo RC
184 Alfonso Soriano
185 Marcus Giles
186 Ichiro Suzuki RC
187 Juan Uribe RC
188 David Williams RC
189 Carlos Valderrama RC
190 Matt White RC*
191 Albert Pujols RC
192 Donaldo Mendez RC
193 Cory Aldridge RC
194 Endy Chavez RC
195 Josh Beckett
196 Wilson Betemit RC
197 Ben Sheets
198 Andres Torres RC
199 Aubrey Huff
200 Jack Wilson RC
Parallels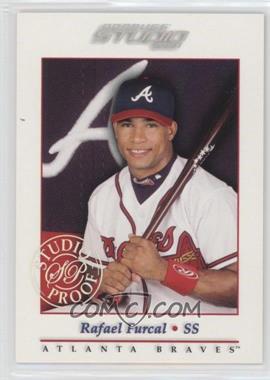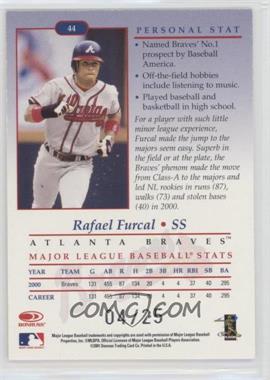 All 200 base cards are available in a Proof parallel, which is serial-numbered to 25 copies.
Chicago Collection
Collectors who attended the March, 2002 Chicago Sun-Times card show and opened packs of 2001 Studio at Donruss-Playoff's corporate booth would be entitled to receive a specially-marked "Chicago Collection" parallel. Each Chicago Collection card is serial-numbered to five copies; but only the first 150 base cards were printed.
Autographs & Game-Used
Diamond Collection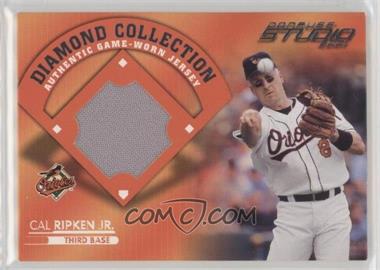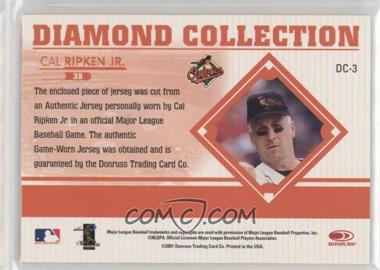 Each Diamond Collection (jersey) is also available in a Diamond Cut Collection (jersey patch) parallel, which is serial-numbered to 75 copies. Six players (see below) signed the first 25 copies of their Diamond Cut Collection card.
DC-1 Vladimir Guerrero
DC-2 Barry Bonds
DC-3 Cal Ripken, Jr.
DC-4 Nomar Garciaparra
DC-5 Greg Maddux
DC-6 Frank Thomas
DC-7 Roger Clemens
DC-8 Luis Gonzalez SP
DC-9 Tony Gwynn
DC-10 Carlos Lee SP
DC-11 Troy Glaus
DC-12 Randy Johnson
DC-13 Manny Ramirez SP
DC-14 Pedro Martinez
DC-15 Todd Helton
DC-16 Jeff Bagwell
DC-17 Rickey Henderson
DC-18 Kazuhiro Sasaki
DC-19 Albert Pujols SP
DC-20 Ivan Rodriguez
DC-21 Darin Erstad
DC-22 Andruw Jones
DC-23 Roberto Alomar
DC-25 Juan Gonzalez
DC-26 Shawn Green
DC-27 Lance Berkman
DC-28 Scott Rolen
DC-29 Rafael Palmeiro
DC-30 J.D. Drew
DC-31 Kerry Wood
DC-32 Jim Edmonds
DC-33 Tom Glavine SP
DC-34 Hideo Nomo SP
DC-36 Tim Hudson
DC-37 Miguel Tejada
DC-38 Chipper Jones
DC-39 Edgar Martinez SP
DC-40 Chan Ho Park
DC-41 Magglio Ordonez
DC-42 Sean Casey
DC-43 Larry Walker
DC-45 Cliff Floyd
DC-46 Mike Sweeney
DC-47 Kevin Brown
DC-48 Richie Sexson
DC-49 Jermaine Dye
DC-50 Craig Biggio
Autographs
The following six players signed 25 copies of their Diamond Cut Collection card.
DC-1 Vladimir Guerrero
DC-8 Luis Gonzalez
DC-19 Albert Pujols
DC-26 Shawn Green
DC-27 Lance Berkman
DC-28 Scott Rolen
Leather & Lumber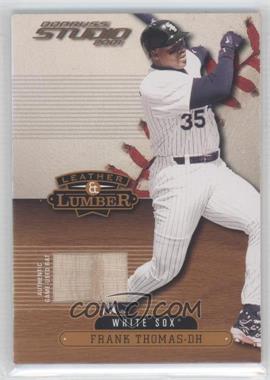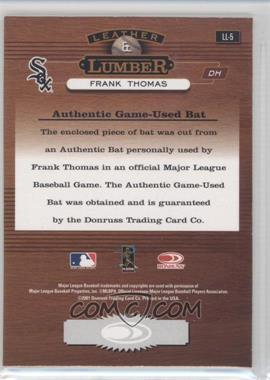 Each Leather & Lumber card features a piece of a game-used bat and is also available in a Combo parallel, which is serial-numbered to 25 copies. Leather & Lumber Combos have a piece of a bat and either a piece of a batting glove or a baseball.
LL-1 Barry Bonds
LL-2 Cal Ripken, Jr.
LL-3 Miguel Tejada
LL-5 Frank Thomas
LL-6 Greg Maddux
LL-7 Ivan Rodriguez
LL-8 Jeff Bagwell SP
LL-9 Sean Casey SP
LL-10 Todd Helton
LL-11 Cliff Floyd
LL-12 Hideo Nomo
LL-13 Chipper Jones
LL-14 Rickey Henderson
LL-15 Richard Hidalgo
LL-16 Mike Piazza
LL-17 Larry Walker
LL-18 Tony Gwynn
LL-19 Vladimir Guerrero
LL-20 Rafael Furcal
LL-21 Roberto Alomar SP
LL-23 Albert Pujols
LL-24 Raul Mondesi
LL-25 J.D. Drew
LL-26 Jim Edmonds
LL-27 Darin Erstad SP
LL-28 Craig Biggio
LL-29 Kenny Lofton
LL-30 Juan Gonzalez
LL-31 John Olerud
LL-32 Shawn Green
LL-33 Andruw Jones SP
LL-34 Moises Alou
LL-35 Jeff Kent
LL-36 Ryan Klesko
LL-37 Luis Gonzalez
LL-38 Rafael Palmeiro
LL-40 Scott Rolen
LL-41 Carlos Lee
LL-42 Bob Abreu
LL-43 Edgardo Alfonzo
LL-44 Bernie Williams
LL-45 Brian Giles
LL-46 Jermaine Dye
LL-47 Lance Berkman
LL-48 Edgar Martinez
LL-49 Richie Sexson
LL-50 Magglio Ordonez
Warning Track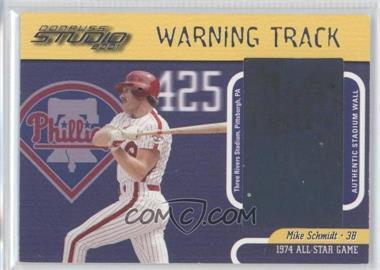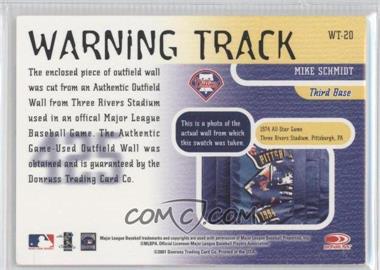 Each Warning Track card features a piece of Three Rivers Stadium's outfield wall -- which was demolished after the 2000 season. An Off the Wall parallel serial-numbered to 25 copies is also available.
NOTES:
Not all players in this set played at Three Rivers Stadium.
Hank Aaron's card (#WT26) is not in the base Warning Track set; only in the Off the Wall set.
WT-1 Andruw Jones
WT-2 Rafael Palmeiro
WT-3 Gary Sheffield
WT-4 Larry Walker
WT-5 Shawn Green
WT-6 Mike Piazza
WT-7 Barry Bonds
WT-8 J.D. Drew
WT-9 Magglio Ordonez
WT-10 Todd Helton
WT-11 Juan Gonzalez
WT-12 Pat Burrell
WT-13 Mark McGwire
WT-14 Frank Robinson
WT-15 Manny Ramirez
WT-16 Lance Berkman
WT-17 Kirby Puckett
WT-18 Johnny Bench
WT-19 Chipper Jones
WT-20 Mike Schmidt
WT-21 Vladimir Guerrero
WT-22 Sammy Sosa
WT-23 Cal Ripken, Jr.
WT-24 Roberto Alomar
WT-25 Willie Stargell
WT-26 Hank Aaron
WT-27 Scott Rolen
WT-28 Roberto Clemente
WT-29 Tony Gwynn
WT-30 Ivan Rodriguez
WT-31 Sean Casey
WT-32 Frank Thomas
WT-33 Jeff Bagwell
WT-34 Jeff Kent
WT-35 Reggie Jackson
Autographs
Each Warning Track Autograph is serial-numbered to 25 copies.
WT-2 Rafael Palmeiro
WT-5 Shawn Green
WT-11 Juan Gonzalez
WT-16 Lance Berkman
WT-21 Vladimir Guerrero
WT-24 Roberto Alomar
WT-29 Tony Gwynn
Masterstrokes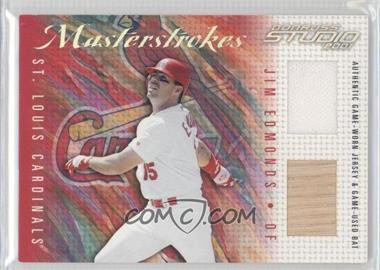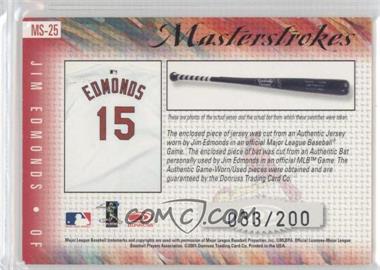 Masterstrokes features both a piece of a game used jersey and a bat. All are serial-numbered to 200 copies with an Artist's Proof parallel (serial-numbered to 25 copies) also available. Six players (#MS2, #MS11, #MS14, #MS19, #MS20, and #MS24) autographed all 25 of their Artist's Proof cards (see below).
MS-1 Tony Gwynn
MS-2 Ivan Rodriguez
MS-3 J.D. Drew
MS-4 Cal Ripken, Jr.
MS-5 Hideo Nomo
MS-6 Darin Erstad
MS-7 Frank Thomas
MS-8 Andruw Jones
MS-9 Roberto Alomar
MS-10 Larry Walker
MS-11 Vladimir Guerrero
MS-12 Barry Bonds
MS-14 Luis Gonzalez
MS-16 Juan Gonzalez
MS-17 Todd Helton
MS-18 Jeff Bagwell
MS-19 Albert Pujols
MS-20 Shawn Green
MS-21 Magglio Ordonez
MS-22 Scott Rolen
MS-23 Rafael Palmeiro
MS-24 Sean Casey
MS-25 Jim Edmonds
MS-26 Chipper Jones
MS-27 Cliff Floyd
MS-28 Carlos Lee
MS-29 Edgar Martinez
MS-30 Lance Berkman
Round Trip Tickets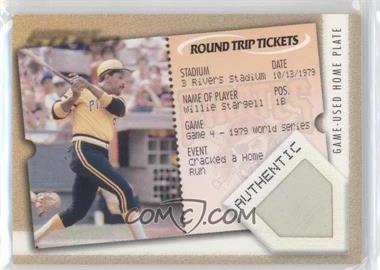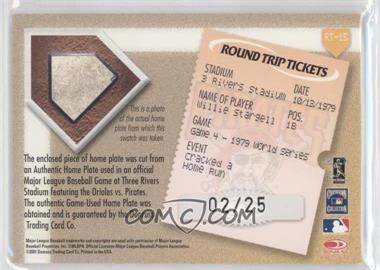 Round Trip Tickets features a piece of Three Rivers Stadium's home plate. Each is serial-numbered to 25 copies. Five cards (#RT7, #RT10, #RT13, #RT18, and #RT19) are all autographed.
RT-1 Mark McGwire
RT-2 Frank Robinson
RT-3 Joe Morgan
RT-4 Mike Piazza
RT-5 Barry Bonds
RT-6 Johnny Bench
RT-7 Vladimir Guerrero AU
RT-8 Mike Schmidt
RT-9 Andruw Jones
RT-10 Todd Helton AU
RT-11 Sammy Sosa
RT-12 Reggie Jackson
RT-13 Cal Ripken, Jr. AU
RT-14 Kirby Puckett
RT-15 Willie Stargell
RT-16 Jeff Bagwell
RT-17 Hank Aaron
RT-18 Tony Gwynn AU
RT-19 Ivan Rodriguez AU
RT-20 Roberto Clemente
Private Signings 5 X 7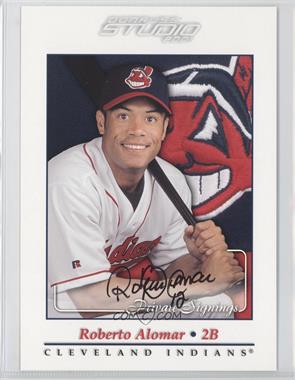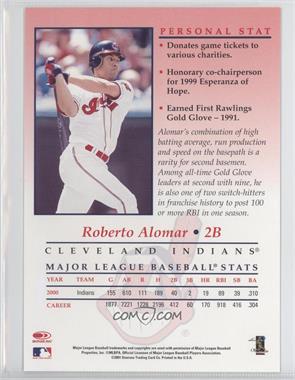 Inserted into each sealed Hobby box as a box topper is a Private Signings autograph. Each card measures 5" X 7".
Bob Abreu
Roberto Alomar 200
Rick Ankiel
Josh Beckett
Lance Berkman
Wilson Betemit
Barry Bonds 95
Sean Casey
Roger Clemens 200
Adam Dunn
Darin Erstad 25
Alex Escobar
Cliff Floyd
Jason Giambi 250
Brian Giles
Troy Glaus
Tom Glavine
Luis Gonzalez
Shawn Green 190
Vladimir Guerrero
Tony Gwynn 190
Todd Helton 125
Andruw Jones 250
Gabe Kapler
Ryan Klesko
Carlos Lee
Greg Maddux 200
Edgar Martinez
Mike Mussina 144
Magglio Ordonez
Rafael Palmeiro 250
Corey Patterson
Brad Penny
Albert Pujols 50
Manny Ramirez 115
Cal Ripken, Jr. 50
Alex Rodriguez
Ivan Rodriguez 150
Scott Rolen
C.C. Sabathia
Curt Schilling
Ben Sheets
Alfonso Soriano
Mike Sweeney
Miguel Tejada
Frank Thomas
Kerry Wood
Barry Zito