1999 Upper Deck Century Legends
Description
1999 Upper Deck Century Legends is a skip-numbered 131-card set released in June, 1999. One of the more popular and influential products of the era, Century Legends was one of the first products to combine current players with retired Hall of Famers.
Cards 1-50 come from The Sporting News' countdown of the 50 greatest players of the 20th Century, while cards 51-100 are TSN's picks for the best 50 active players. The set winds up with the "21st Century Phenoms" and "Century Memories" subsets.
Cards 11, 25, 26, and 126 do not exist. Players 11, 25, and 26 on The Sporting News' list were Joe DiMaggio, Pete Rose, and Sandy Koufax, respectively. Upper Deck was unable to come to terms with Koufax, so his card (#26) was excluded. The March 8th, 1999 death of Joe DiMaggio triggered a clause in his licensing deal prohibiting anyone from using his image for one year after his death, which forced UD to pull cards #11 and #126 from Century Legends.
Due to his lifetime banishment from baseball, UD could not include a card of Pete Rose, and so cards #25 and #EM1 were pulled. Curiously, despite also being banned for life from baseball, "Shoeless" Joe Jackson was included in the set.
Each 24-pack Hobby box yields one "Epic Signatures" autograph.
Distribution
24 packs per box, 5 cards per pack (MSRP: $4.99). Hobby only.
Reviews
Insertion Ratios
| Cards | Total Cards | Numbered To | Hobby Odds |
| --- | --- | --- | --- |
| Base | 131 | - | ? |
| Century Collection | 131 | 100 | ? |
| Century Legends MVPs | 100 | one-of-one | ? |
| Epic Milestones | 9 | - | 1:12 |
| Memorable Shots | 10 | - | 1:12 |
| All-Century Team | 10 | - | 1:23 |
| Jerseys of the Century | 9 | - | 1:418 |
| Epic Signatures | 30 | - | 1:24 |
| Epic Signatures Century | 32 | 100 | ? |
| Artifacts | 9 | one-of-one | ? |
| Legendary Cuts | 9 | one-of-one | ? |
Checklist
Promo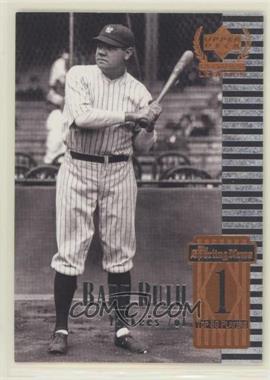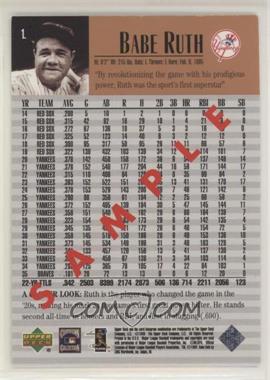 Base Set
NOTE: Thanks to the omissions of Joe DiMaggio, Pete Rose, and Sandy Koufax, this set is missing cards 11, 25, 26, and 126.
The Sporting News' Top 50 Players of All-Time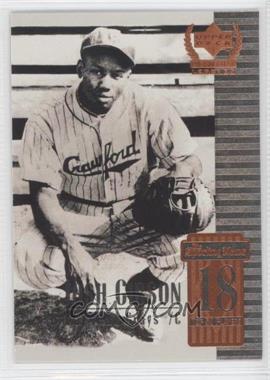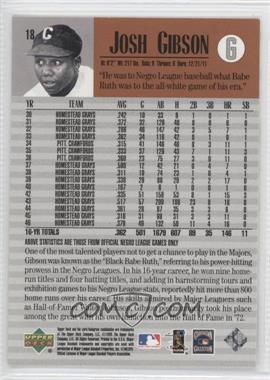 1 Babe Ruth
2 Willie Mays
3 Ty Cobb
4 Walter Johnson
5 Hank Aaron
6 Lou Gehrig
7 Christy Mathewson
8 Ted Williams
9 Roger Hornsby
10 Stan Musial
12 Grover Alexander
13 Honus Wagner
14 Cy Young
15 Jimmy Foxx
16 Johnny Bench
17 Mickey Mantle
18 Josh Gibson
19 Satchel Paige
20 Roberto Clemente
21 Warren Spahn
22 Frank Robinson
23 Lefty Grove
24 Eddie Collins
27 Tris Speaker
28 Mike Schmidt
29 Nap Lajoie
30 Steve Carlton
31 Bob Gibson
32 Tom Seaver
33 George Sisler
34 Barry Bonds
35 Joe Jackson UER NNO
36 Bob Feller
37 Hank Greenberg
38 Ernie Banks
39 Greg Maddux
40 Yogi Berra
41 Nolan Ryan
42 Mel Ott
43 Al Simmons
44 Jackie Robinson
45 Carl Hubbell
46 Charlie Gehringer
47 Buck Leonard
48 Reggie Jackson
49 Tony Gwynn
50 Roy Campanella
Top 50 Contemporaires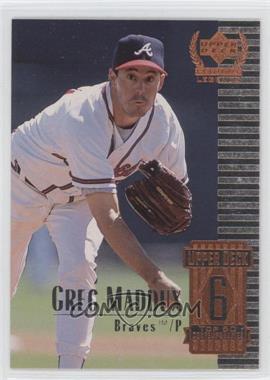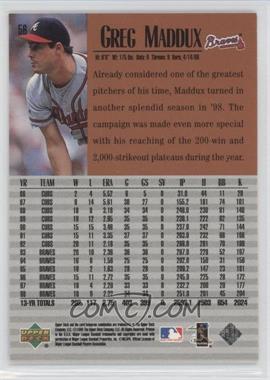 51 Ken Griffey, Jr.
52 Barry Bonds
53 Roger Clemens
54 Tony Gwynn
55 Cal Ripken, Jr.
56 Greg Maddux
57 Frank Thomas
58 Mark McGwire
59 Mike Piazza
60 Wade Boggs
61 Alex Rodriguez
62 Juan Gonzalez
63 Mo Vaughn
64 Albert Belle
65 Sammy Sosa
66 Nomar Garciaparra
67 Derek Jeter
68 Kevin Brown
69 Jose Canseco
70 Randy Johnson
71 Tom Glavine
72 Barry Larkin
73 Curt Schilling
74 Moises Alou
75 Fred McGriff
76 Pedro Martinez
77 Andres Galarraga
78 Will Clark
79 Larry Walker
80 Ivan Rodriguez
81 Chipper Jones
82 Jeff Bagwell
83 Craig Biggio
84 Kerry Wood
85 Roberto Alomar
86 Vinny Castilla
87 Kenny Lofton
88 Rafael Palmeiro
89 Manny Ramirez
90 David Wells
91 Mark Grace
92 Bernie Williams
93 David Cone
94 John Olerud
95 John Smoltz
96 Tino Martinez
97 Raul Mondesi
98 Gary Sheffield
99 Orel Hershiser
100 Rickey Henderson
21st Century Phenoms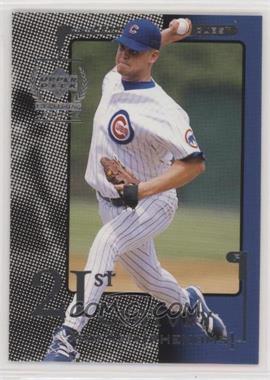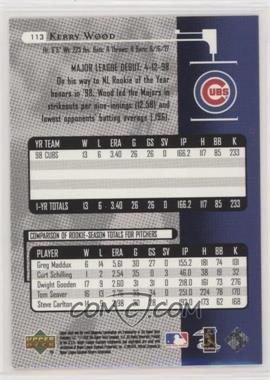 101 J.D. Drew
102 Troy Glaus
103 Nomar Garciaparra
104 Scott Rolen
105 Ryan Minor
106 Travis Lee
107 Roy Halladay
108 Carlos Beltran
109 Alex Rodriguez
110 Eric Chavez
111 Vladimir Guerrero
112 Ben Grieve
113 Kerry Wood
114 Alex Gonzalez
115 Darin Erstad
116 Derek Jeter
117 Jaret Wright
118 Jose Cruz, Jr.
119 Chipper Jones
120 Gabe Kapler
Century Memories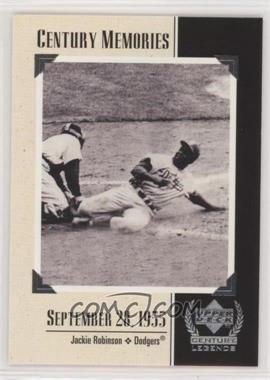 121 Satchel Paige
122 Willie Mays
123 Roberto Clemente
124 Lou Gehrig
125 Mark McGwire
127 Bob Gibson
128 Johnny VanderMeer
129 Walter Johnson
130 Ty Cobb
131 Don Larsen
132 Jackie Robinson
133 Tom Seaver
134 Johnny Bench
135 Frank Robinson
Foil Logo Variations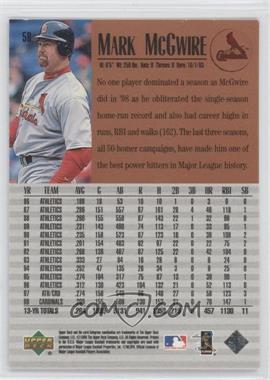 "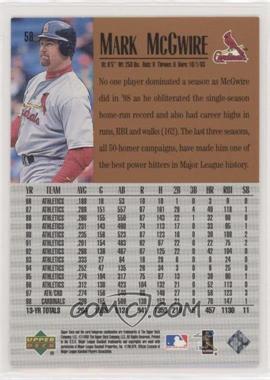 At least three of the base cards #4 (Walter Johnson), #35 (Shoeless Joe Jackson) and #58 (Mark McGwire) have foil-stamped logos on their backs. It is unclear how, or why, these cards came into being. It is known that the McGwire is available in both foil-stamped and non-foil-stamped versions; with the foil-stamped logo being the most common. It is unclear if non-foil versions of the Johnson and Jackson exist.
Parallels
Century Collection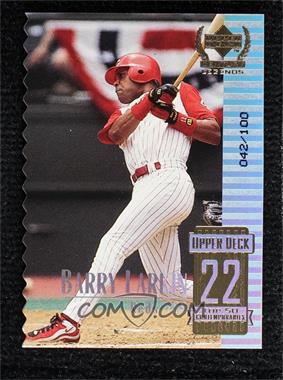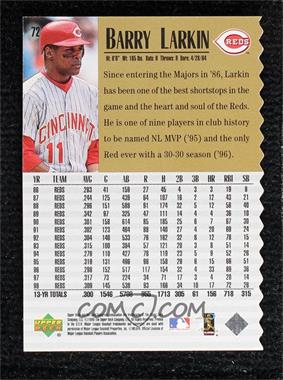 Each of the 131 base cards are available in this die-cut, holographic-foil parallel. All cards are serial-numbered to 100 copies with a dot-matrix printer.
MVPs
This is a 100-card partial-parallel of the 1999 Upper Deck MVP set. Each card is a one-of-one.
C1 Mo Vaughn
C2 Troy Glaus
C3 Darin Erstad
C4 Randy Johnson
C5 Travis Lee
C6 Chipper Jones
C7 Greg Maddux
C8 Tom Glavine
C9 John Smoltz
C10 Cal Ripken, Jr.
C11 Charles Johnson
C12 Albert Belle
C13 Nomar Garciaparra
C14 Pedro Martinez
C15 Kerry Wood
C16 Sammy Sosa
C17 Mark Grace
C18 Frank Thomas
C19 Paul Konerko
C20 Ray Durham
C21 Denny Neagle
C22 Sean Casey
C23 Barry Larkin
C24 Roberto Alomar
C25 Kenny Lofton
C26 Travis Fryman
C27 Jim Thome
C28 Manny Ramirez
C29 Vinny Castilla
C30 Todd Helton
C31 Dante Bichette
C32 Larry Walker
C33 Gabe Kapler
C34 Dean Palmer
C35 Tony Clark
C36 Juan Encarnacion
C37 Alex Gonzalez
C38 Preston Wilson
C39 Derrek Lee
C40 Ken Caminiti
C41 Jeff Bagwell
C42 Moises Alou
C43 Craig Biggio
C44 Carlos Beltran
C45 Jeremy Giambi
C46 Johnny Damon
C47 Kevin Brown
C48 Chan Ho Park
C49 Raul Mondesi
C50 Gary Sheffield
C51 Sean Berry
C52 Jeromy Burnitz
C53 Brad Radke
C54 Eric Milton
C55 Todd Walker
C56 Vladimir Guerrero
C57 Rondell White
C58 Mike Piazza
C59 Rickey Henderson
C60 Rey Ordonez
C61 Derek Jeter
C62 Bernie Williams
C63 Paul O'Neill
C64 Scott Brosius
C65 Tino Martinez
C66 Roger Clemens
C67 Orlando Hernandez
C68 Ben Grieve
C69 Eric Chavez
C70 Jason Giambi
C71 Curt Schilling
C72 Scott Rolen
C73 Pat Burrell
C74 Jason Kendall
C75 Aramis Ramirez
C76 Mark McGwire
C77 J.D. Drew
C78 Edgar Renteria
C79 Tony Gwynn
C80 Sterling Hitchcock
C81 Ruben Rivera
C82 Trevor Hoffman
C83 Barry Bonds
C84 Ellis Burks
C85 Robb Nen
C86 Ken Griffey, Jr.
C87 Alex Rodriguez
C88 Carlos Guillen
C89 Edgar Martinez
C90 Jose Canseco
C91 Rolando Arrojo
C92 Wade Boggs
C93 Fred McGriff
C94 Juan Gonzalez
C95 Ivan Rodriguez
C96 Rafael Palmeiro
C97 David Wells
C98 Roy Halladay
C99 Carlos Delgado
C100 Jose Cruz, Jr.
Inserts
All-Century Team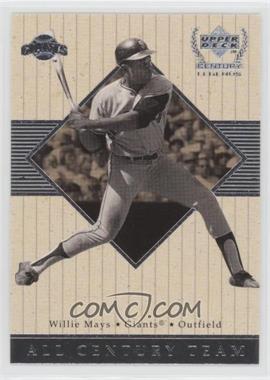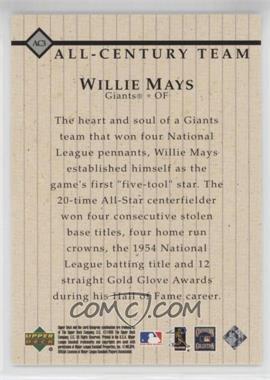 NOTE: Card #AC10 features all nine All-Century Team players.
AC1 Babe Ruth
AC2 Ty Cobb
AC3 Willie Mays
AC4 Lou Gehrig
AC5 Jackie Robinson
AC6 Mike Schmidt
AC7 Ernie Banks
AC8 Johnny Bench
AC9 Cy Young
AC10 Lineup Sheet
Epic Milestones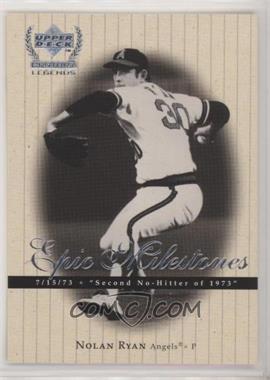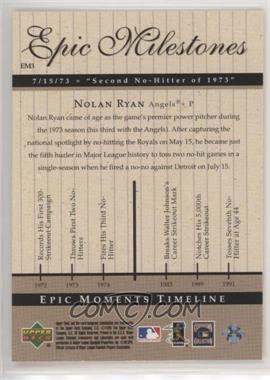 'NOTE: Card EM1 does not exist.
EM2 Jackie Robinson
EM3 Nolan Ryan
EM4 Mark McGwire
EM5 Roger Clemens
EM6 Sammy Sosa
EM7 Cal Ripken, Jr.
EM8 Rickey Henderson
EM9 Hank Aaron
EM10 Barry Bonds
Memorable Shots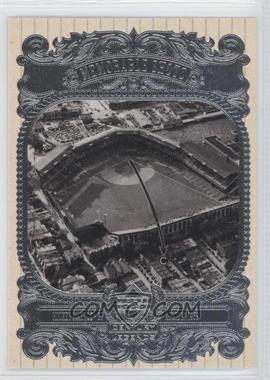 HR1 Babe Ruth
HR2 Bobby Thomson
HR3 Kirk Gibson
HR4 Carlton Fisk
HR5 Bill Mazeroski
HR6 Bucky Dent
HR7 Mark McGwire
HR8 Mickey Mantle
HR9 Joe Carter
HR10 Mark McGwire
Autographs & Game-Used
Jerseys of the Century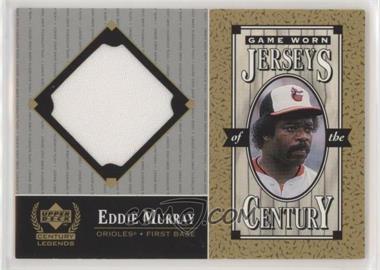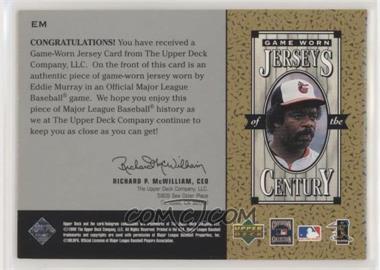 NOTE: This set was supposed to have ten players featured, with the tenth being Upper Deck spokesman, Ken Griffey, Jr. However, a Jerseys of the Century card for Griffey was never produced, despite it being listed on dealer sell sheets and distributed promotional materials. Thus, this was actually a nine-card set and the Griffey does not exist.
DW Dave Winfield
EM Eddie Murray
GB George Brett
GM Greg Maddux
MS Mike Schmidt
NR Nolan Ryan
OZ Ozzie Smith
RC Roger Clemens
TG Tony Gwynn
Epic Signatures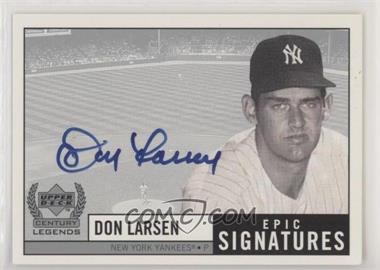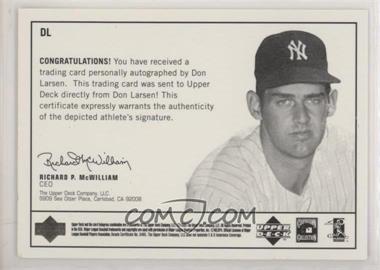 Each card is available in a "Century" parallel, hand-numbered to 100 copies.
Four players signed only a fraction of their allotted signatures. As a result, some of those players had autographs that were BOTH live in packs AND redemptions. Collectors who pulled a redemption had until December 31st, 1999 to exchange it for an autograph.
AR Alex Rodriguez
BB Barry Bonds
BD Bucky Dent
BF Bob Feller
BG Bob Gibson
BM Bill Mazeroski
BT Bobby Thomson
CF Carlton Fisk SOME EXCH
DL Don Larsen
EB Ernie Banks
EMA Eddie Mathews
FR Frank Robinson
FT Frank Thomas
GM Greg Maddux
HK Harmon Killebrew
JB Johnny Bench SOME EXCH
JG Juan Gonzalez
JR Ken Griffey, Jr.
MS Mike Schmidt
NR Nolan Ryan
RJ Reggie Jackson
SC Steve Carlton
SM Stan Musial
SR Ken Griffey, Sr.
TG Tony Gwynn
TS Tom Seaver
VG Vladimir Guerrero
WMC Willie McCovey SOME EXCH
WS Warren Spahn
YB Yogi Berra SOME EXCH
Legendary Cuts
NOTE: Each is a one-of-one
BR Babe Ruth
CY Cy Young
LG Lefty Grove
MO Mel Ott
RC Roy Campanella
SP Satchel Paige
TY Ty Cobb
WJ Walter Johnson
Artifacts
Each Artifact is a redemption card good for the item(s) listed. Each card is a one-of-one.
1900 Ty Cobb Framed CUT
1910 Babe Ruth Framed CUT
1920 Roger Hornsby Framed CUT
1930 Satchel Paige Framed CUT
1950 Willie Mays / Mickey Mantle / Hank Aaron AU Balls
1960 Ernie Banks / Bob Gibson / Johnny Bench AU Balls
1970 Mike Schmidt / Steve Carlton / Tom Seaver AU Balls
1980 Ken Griffey, Jr. / Nolan Ryan AU Balls
1990 Ken Griffey, Jr. AU Jersey
Jimmy Foxx A Piece of History 500 HR Club
See Upper Deck A Piece of History 500 HR Club.
Upper Deck Legends
Other Legends Sets: