1998 Pinnacle Epix
Description
1998 Pinnacle Epix is a multi-tiered, multi-fractured, 72-card, cross-brand insert set. Randomly inserted in 1998 Pinnacle packs at the rate of one in 21, 1998 Score packs at 1:61 and 1998 Zenith packs at 1:11, the 24 players included in this set were featured on three different cards to commemorate (in ascending order of scarcity) their greatest play, game, season or moment. Each card was specific to a particular brand. To obtain all the cards for each player in this fractured insert set, one had to open Pinnacle, Score and Zenith packs.
A final selection of 24 Epix cards was slated for inclusion in 1998 Pinnacle Certified, but the manufacturer went bankrupt before that product shipped. However, a full set of Epix cards from the Pinnacle Certified set emerged on the secondary market nearly 20 years after Pinnacle's bankruptcy.
Each card is available in three different colors: Orange, Purple, and Emerald. Approximately 70% of all Epix are Orange, 20% Purple, and 10% Emerald. According to Pinnacle Brands, only 30 copies of each Emerald Moment card were produced although the cards are not serial-numbered.
Emerald Moment is the most rare while Orange Play is the least rare.
Printing plates for some cards also exist but it is unclear how these were distributed.
A second set of "All-Star Epix" inserts, separate from the regular Epix set, was released in packs of 1998 Score Rookie/Traded and 1998 Pinnacle Plus.
Checklist
Promo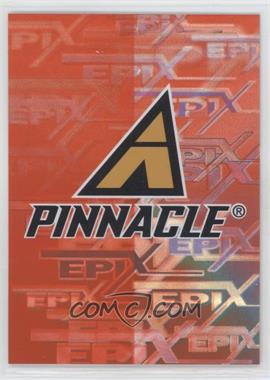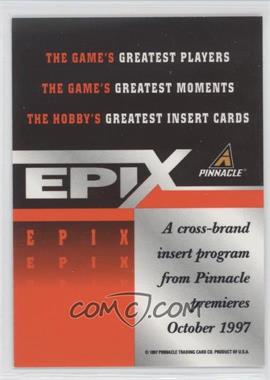 In September 1997 Pinnacle Brands distributed promo cards, available in all three colors, previewing the upcoming 1998 Epix inserts. There is no player depicted and the front merely has Pinnacle's "Icon" logo. Like the regular Epix inserts, the Orange promo is the easiest to find and the Emerald the scarcest.
The back of the promo card incorrectly states that the first series of Epix inserts would be released in October 1997. The first batch of Epix would not be released until December.
NOTES:
Cards marked with an "S" were inserted into 1998 Score packs -- but NOT All-Star Edition packs.
Cards marked with a "P" were inserted into 1998 Pinnacle packs.
Cards marked with a "Z" were inserted into 1998 Zenith packs, and were embedded inside a 5" X 7" jumbo card which had to be torn open to reveal the smaller, standard-sized card.
Cards marked with a "C" were scheduled for insertion into packs of 1998 Pinnacle Certified, but were never officially released. However, in October 2017, a full set of Epix cards intended to be released in 1998 Pinnacle Certified emerged on the secondary market, with some players having multiple copies surface.
Each 1998 Score and Pinnacle wrapper deceptively states that there is an "EPIX INSIDE." The actual insertion ratios are stated above.
Play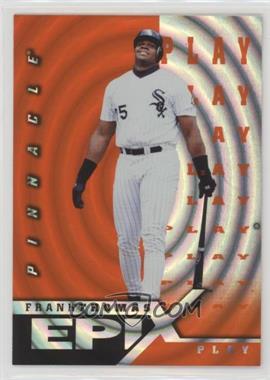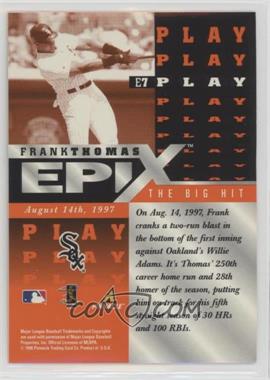 E1 Ken Griffey, Jr. S
E2 Juan Gonzalez S
E3 Jeff Bagwell S
E4 Ivan Rodriguez S
E5 Nomar Garciaparra S
E6 Ryne Sandberg S
E7 Frank Thomas C
E8 Derek Jeter C
E9 Tony Gwynn C
E10 Albert Belle C
E11 Scott Rolen C
E12 Barry Larkin C
E13 Alex Rodriguez Z
E14 Cal Ripken, Jr. Z
E15 Chipper Jones Z
E16 Roger Clemens Z
E17 Mo Vaughn Z
E18 Mark McGwire Z
E19 Mike Piazza P
E20 Andruw Jones P
E21 Greg Maddux P
E22 Barry Bonds P
E23 Paul Molitor P
E24 Eddie Murray P
Game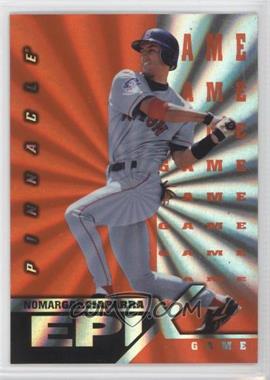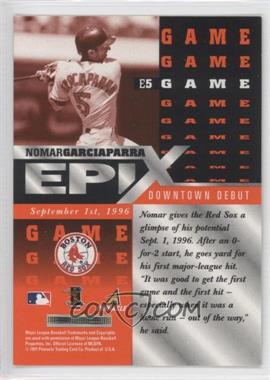 E1 Ken Griffey, Jr. P
E2 Juan Gonzalez P
E3 Jeff Bagwell P
E4 Ivan Rodriguez P
E5 Nomar Garciaparra P
E6 Ryne Sandberg P
E7 Frank Thomas S
E8 Derek Jeter S
E9 Tony Gwynn S
E10 Albert Belle S
E11 Scott Rolen S
E12 Barry Larkin S
E13 Alex Rodriguez C
E14 Cal Ripken, Jr. C
E15 Chipper Jones C
E16 Roger Clemens C
E17 Mo Vaughn C
E18 Mark McGwire C
E19 Mike Piazza Z
E20 Andruw Jones Z
E21 Greg Maddux Z
E22 Barry Bonds Z
E23 Paul Molitor Z
E24 Eddie Murray Z
Season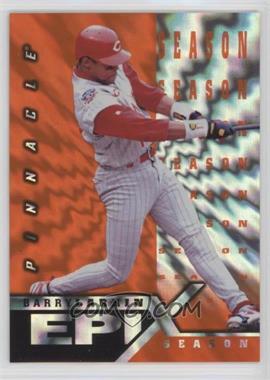 NOTE: Hideo Nomo replaced Eddie Murray on the Epix Season checklist only; thus, no Eddie Murray Epix Season is believed to exist while an Epix Season for Nomo has been confirmed to exist.
E1 Ken Griffey, Jr. Z
E2 Juan Gonzalez Z
E3 Jeff Bagwell Z
E4 Ivan Rodriguez Z
E5 Nomar Garciaparra Z
E6 Ryne Sandberg Z
E7 Frank Thomas P
E8 Derek Jeter P
E9 Tony Gwynn P
E10 Albert Belle P
E11 Scott Rolen P
E12 Barry Larkin P
E13 Alex Rodriguez S
E14 Cal Ripken, Jr. S
E15 Chipper Jones S
E16 Roger Clemens S
E17 Mo Vaughn S
E18 Mark McGwire S
E19 Mike Piazza C
E20 Andruw Jones C
E21 Greg Maddux C
E22 Barry Bonds C
E23 Paul Molitor C
E24 Eddie Murray C
Moment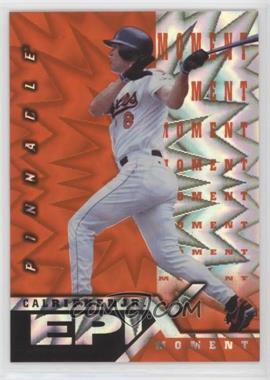 E1 Ken Griffey, Jr. C
E2 Juan Gonzalez C
E3 Jeff Bagwell C
E4 Ivan Rodriguez C
E5 Nomar Garciaparra C
E6 Ryne Sandberg C
E7 Frank Thomas Z
E8 Derek Jeter Z
E9 Tony Gwynn Z
E10 Albert Belle Z
E11 Scott Rolen Z
E12 Barry Larkin Z
E13 Alex Rodriguez P
E14 Cal Ripken, Jr. P
E15 Chipper Jones P
E16 Roger Clemens P
E17 Mo Vaughn P
E18 Mark McGwire P
E19 Mike Piazza S
E20 Andruw Jones S
E21 Greg Maddux S
E22 Barry Bonds S
E23 Paul Molitor S
E24 Eddie Murray S
All-Star Epix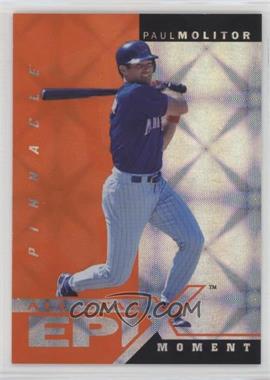 All-Star Epix is a 24-card set released in both 1998 Score Rookie/Traded and 1998 Pinnacle Plus. Similar to the regular Epix inserts, All-Star Epix showcases All-Star Game highlights on holographic matrix cards.
The first twelve cards were seeded in Score Rookie/Traded packs while the final 12 cards were inserted in Pinnacle Plus packs.
Unlike the first batch of Epix inserts, only one All-Star Epix card per player was produced.
70% of the total production of all All-Star Epix inserts were printed on Orange foil, 20% on Purple foil, and the remaining 10% on Emerald foil.
E1 Ken Griffey, Jr.
E2 Juan Gonzalez
E3 Jeff Bagwell
E4 Ivan Rodriguez
E5 Nomar Garciaparra
E6 Ryne Sandberg
E7 Frank Thomas
E8 Derek Jeter
E9 Tony Gwynn
E10 Albert Belle
E11 Scott Rolen
E12 Barry Larkin
E13 Alex Rodriguez
E14 Cal Ripken, Jr.
E15 Chipper Jones
E16 Roger Clemens
E17 Mo Vaughn
E18 Mark McGwire
E19 Mike Piazza
E20 Andruw Jones
E21 Greg Maddux
E22 Barry Bonds
E23 Paul Molitor
E24 Hideo Nomo