1998 Donruss Signature Series
Description
1998 Donruss Signature Series is a 140-card set released under a temporary license by Playoff, Inc., in January 1999. Like in previous years, each pack contained one on-card autograph.
This product was originally intended for release in October, 1998, but was delayed due to the bankruptcy of Pinnacle Brands. As part of Pinnacle's agreement with the Players Association, those players who signed for this product would NOT be paid for their signatures until AFTER the set's release. To ensure that their members would get paid for their services, MLB and the MLBPA granted Playoff (who had bought the rights to Pinnacle's name and inventory in bankruptcy) a temporary license that allowed them to release Signature Series and 1998 Leaf Rookies & Stars.
Distribution
Four cards plus one autograph per pack (MSRP: $14.99)
Reviews
Significant Signatures Autograph Set Review: http://sanjosefuji.blogspot.com/2015/06/very-significant-set-completion.html
Insertion Ratios
| Cards | Total Cards | Numbered To | Hobby Odds |
| --- | --- | --- | --- |
| Base | 140 | - | ? |
| Proof | 140 | 150 | ? |
| Autographs | 98 | varies | 1:1 |
| Significant Signatures | 23 | 2000 | ? |
| Signing Bonus | 32 | varies | ? |
Checklist
Promos
See 1998 Donruss Signature Series Previews.
Base Set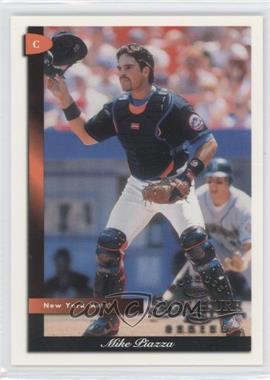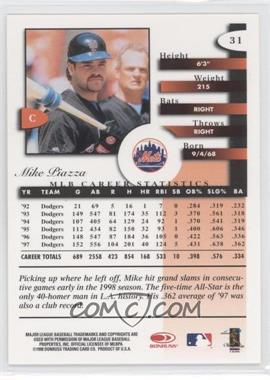 1 Dave Justice
2 Derek Jeter
3 Nomar Garciaparra
4 Ryan Klesko
5 Jeff Bagwell
6 Dante Bichette
7 Ivan Rodriguez
8 Albert Belle
9 Cal Ripken, Jr.
10 Craig Biggio
11 Barry Larkin
12 Jose Guillen
13 Will Clark
14 J.T. Snow
15 Chuck Knoblauch
16 Todd Walker
17 Scott Rolen
18 Rickey Henderson
19 Juan Gonzalez
20 Justin Thompson
21 Roger Clemens
22 Ray Lankford
23 Jose Cruz, Jr.
24 Ken Griffey, Jr.
25 Andruw Jones
26 Darin Erstad
27 Jim Thome
28 Wade Boggs
29 Ken Caminiti
30 Todd Hundley
31 Mike Piazza
32 Sammy Sosa
33 Larry Walker
34 Matt Williams
35 Frank Thomas
36 Gary Sheffield
37 Alex Rodriguez
38 Hideo Nomo
39 Kenny Lofton
40 John Smoltz
41 Mo Vaughn
42 Edgar Martinez
43 Paul Molitor
44 Rafael Palmeiro
45 Barry Bonds
46 Vladimir Guerrero
47 Carlos Delgado
48 Bob Higginson
49 Greg Maddux
50 Jim Edmonds
51 Randy Johnson
52 Mark McGwire
53 Rondell White
54 Raul Mondesi
55 Manny Ramirez
56 Pedro Martinez
57 Tim Salmon
58 Moises Alou
59 Fred McGriff
60 Garret Anderson
61 Sandy Alomar, Jr.
62 Chan Ho Park
63 Mark Kotsay
64 Mike Mussina
65 Tom Glavine
66 Tony Clark
67 Mark Grace
68 Tony Gwynn
69 Tino Martinez
70 Kevin Brown
71 Todd Greene
72 Andy Pettitte
73 Livan Hernandez
74 Curt Schilling
75 Andres Galarraga
76 Rusty Greer
77 Jay Buhner
78 Bobby Bonilla
79 Chipper Jones
80 Eric Young
81 Jason Giambi
82 Javy Lopez
83 Roberto Alomar
84 Bernie Williams
85 A.J. Hinch
86 Kerry Wood
87 Juan Encarnacion
88 Brad Fullmer
89 Ben Grieve
90 Magglio Ordonez RC
91 Todd Helton
92 Richard Hidalgo
93 Paul Konerko
94 Aramis Ramirez
95 Ricky Ledee
96 Derrek Lee
97 Travis Lee
98 Matt Anderson RC
99 Jaret Wright
100 David Ortiz
101 Carl Pavano
102 Orlando Hernandez RC
103 Fernando Tatis
104 Miguel Tejada
105 Rolando Arrojo RC
106 Kevin Millwood RC
107 Ken Griffey, Jr. CL
108 Frank Thomas CL
109 Cal Ripken, Jr. CL
110 Greg Maddux CL
111 John Olerud
112 David Cone
113 Vinny Castilla
114 Jason Kendall
115 Brian Jordan
116 Hideki Irabu
117 Bartolo Colon
118 Greg Vaughn
119 David Segui
120 Bruce Chen
121 Julio Ramirez RC
122 Troy Glaus RC
123 Jeremy Giambi RC
124 Ryan Minor RC
125 Richie Sexson
126 Dermal Brown
127 Adrian Beltre
128 Eric Chavez
129 J.D. Drew RC
130 Gabe Kapler RC
131 Masato Yoshii RC
132 Mike Lowell RC
133 Jim Parque RC
134 Roy Halladay
135 Carlos Lee RC
136 Jin Ho Cho RC
137 Michael Barrett
138 Fernando Seguignol RC
139 Odalis Perez RC
140 Mark McGwire CL
Parallels
Signature Proofs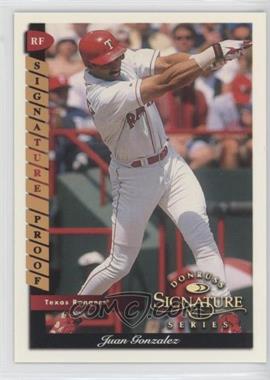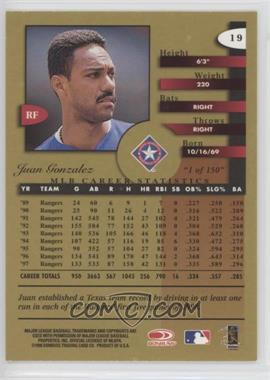 All 140 base cards are also available as a Signature Proof parallel. Proofs are limited (but not serial-numbered) to 150 copies.
Convention Parallels
Special parallels of the 1998 Donruss Signature Series set were produced for numerous conventions held in the United States from 1999-2001. These convention parallels were produced by Playoff and it is unclear why Playoff chose an old baseball product for this promotion, as they had neither an MLB Properties nor an MLBPA license at the time. These cards were not serial numbered and it is unclear if parallels exist for all 140 players in the set or if parallels were produced just for specific players. However, there are 11 Ken Griffey, Jr. convention parallels that exist, with each displaying a unique stamp representing its respective convention:
Sportsfest 1999 (June 17-20, Philadelphia, PA)
Sportsfest 1999 (August 19-22, Chicago, IL)
Superbowl XXXIV (January 26-30, Atlanta, GA)
Comic Con (July 15-18, San Diego, CA)
The 21st National (July 27-30, Anaheim, CA)
General Convention Show (August 6-9, Milwaukee, WI)
Sportsfest 2000 (August 18-20, Chicago, IL)
Wizard World Convention (August 27-30, Chicago, IL)
MLB All-Star FanFest (July 5-10, Seattle, WA)
Comic Con (July 19-22, San Diego, CA)
Wizard World Convention (August 17-19, Chicago, IL)
File:1998 Donruss Signature Convention Parallels.jpg
Autographs
Signature Series Autographs
122 players signed for 1998 Donruss Signature Series. Not all players signed an equal number of cards, and for most players there were three cards produced.
Century Marks (First 100 cards, serial-numbered; blue background)
Millenium Marks (Next 1000 cards, serial-numbered; green background)
Base Autograph (All other cards; red background)
For example, for a player who signed 5000 cards, the first 100 were designated as "Century Marks" and serial-numbered 1 through 100. The next 1000 were "Millennium Marks" and numbered 101-1100. The other 3900 cards were base autographs and not serial-numbered.
For those players who signed less than 1100 cards, no base autograph exists -- only Century and Millennium Marks.
A Travis Lee card featuring a facsimile signature was distributed as a promo card.
Base Autographs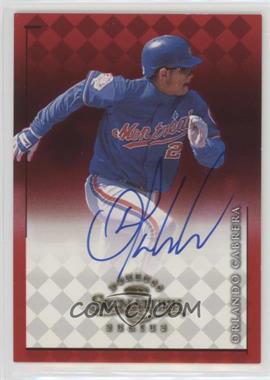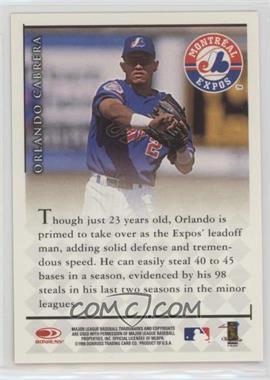 NOTE: The production figures listed below are for the base autograph only. None of the base autographs are serial-numbered.
Roberto Alomar 150
Sandy Alomar, Jr. 700
Moises Alou 900
Gabe Alvarez 2900
Wilson Alvarez 1600
Jay Bell 1500
Adrian Beltre 1900
Andy Benes 2600
Aaron Boone 3400
Russell Branyan 1650
Orlando Cabrera 3100
Mike Cameron 1150
Joe Carter 400
Sean Casey 2275
Bruce Chen 150
Tony Clark 2275
Will Clark 1400
Matt Clement 1400
Pat Cline 1400
Ken Cloude 3400
Michael Coleman 2800
David Cone 25
Jeff Conine 1400
Jacob Cruz 3200
Russ Davis 3500
Jason Dickson 1400
Todd Dunwoody 3500
Juan Encarnacion 3400
Darin Erstad 700
Bobby Estalella 3400
Jeff Fassero 3400
John Franco 1800
Brad Fullmer 3100
Jason Giambi 3100
Derrick Gibson 1200
Todd Greene 1400
Ben Grieve 1400
Mark Grudzielanek 3200
Vladimir Guerrero 2100
Wilton Guerrero 1900
Jose Guillen 2400
Todd Helton 1300
Richard Hidalgo 3400
A.J. Hinch 2900
Butch Huskey 1900
Raul Ibanez 3300
Damian Jackson 900
Geoff Jenkins 3100
Eric Karros 650
Ryan Klesko 400
Mark Kotsay 3600
Ricky Ledee 2200
Derrek Lee 3100
Travis Lee 150
Javy Lopez 650
Mike Lowell 3500
Greg Maddux 12
Eli Marrero 3400
Al Martin 1300
Rafael Medina 1400
Scott Morgan 900
Abraham Nunez 3500
Paul O'Neill 1000
Luis Ordaz 2700
Magglio Ordonez 3200
Kevin Orie 1350
David Ortiz 3400
Rafael Palmeiro 1000
Carl Pavano 2600
Neifi Perez 3300
Dante Powell 3050
Aramis Ramirez 2800
Mariano Rivera 900
Felix Rodriguez 1400
Henry Rodriguez 3400
Scott Rolen 1900
Brian Rose 1400
Curt Schilling 900
Richie Sexson 3500
Randall Simon 3500
J.T. Snow 400
Jeff Suppan 1400
Fernando Tatis 3900
Miguel Tejada 3800
Brett Tomko 3400
Bubba Trammell 3900
Ismael Valdes 1900
Robin Ventura 1400
Billy Wagner 3900
Todd Walker 1900
Daryle Ward 400
Rondell White 3400
Antone Williamson 3350
Dan Wilson 2400
Enrique Wilson 3400
Preston Wilson 2100
Tony Womack 3500
Kerry Wood 3400
Millennium/Century Marks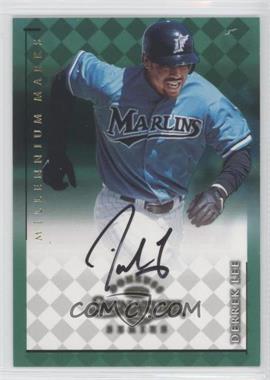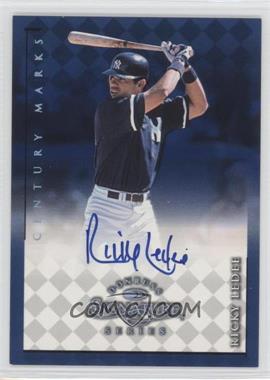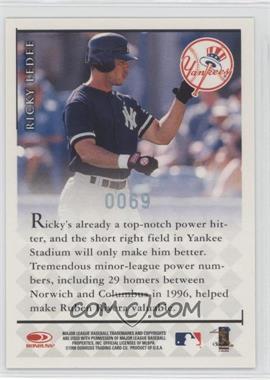 Listed below is the checklist for the Millennium Marks autographs and the number of each produced. As you can see, not all players signed their full allotment of 1000 Millennium Marks.
The checklist for the Century Marks is identical to that of the Millennium's, and for brevity's sake we are not repeating the full checklist. Suffice to say, most players signed their full allotment of 100 Century Marks.
Juan Encarnancion, Dante Powell, and Brett Tomko did not sign any Century Marks.
Roberto Alomar 1000
Sandy Alomar, Jr. 1000
Moises Alou 1000
Gabe Alvarez 1000
Wilson Alvarez 1000
Brady Anderson 800
Jay Bell 1000
Albert Belle 400
Adrian Beltre 1000
Andy Benes 1000
Wade Boggs 900
Barry Bonds 400
Aaron Boone 1000
Russell Branyan 1000
Jay Buhner 400
Ellis Burks 900
Orlando Cabrera 1000
Mike Cameron 1000
Ken Caminiti 900
Joe Carter 1000
Sean Casey 1000
Bruce Chen 1000
Tony Clark 1000
Will Clark 1000
Roger Clemens 400
Matt Clement 900
Pat Cline 1000
Ken Cloude 1000
Michael Coleman 1000
David Cone 1000
Jeff Conine 1000
Jacob Cruz 1000
Jose Cruz, Jr. 850
Russ Davis 950
Jason Dickson 950
Todd Dunwoody 1000
Scott Elarton 900
Juan Encarnacion 1000
Darin Erstad 1000
Bobby Estalella 1000
Jeff Fassero 1000
John Franco 950
Brad Fullmer 1000
Andres Galarraga 900
Nomar Garciaparra 400
Jason Giambi 1000
Derrick Gibson 1000
Tom Glavine 700
Juan Gonzalez 1000
Todd Greene 1000
Ben Grieve 1000
Mark Grudzielanek 1000
Vladimir Guerrero 1000
Wilton Guerrero 1000
Jose Guillen 1000
Tony Gwynn 900
Todd Helton 1000
Richard Hidalgo 1000
A.J. Hinch 1000
Butch Huskey 1000
Raul Ibanez 1000
Damian Jackson 1000
Geoff Jenkins 1000
Derek Jeter 400
Randy Johnson 800
Chipper Jones 900
Eric Karros 1000
Ryan Klesko 1000
Chuck Knoblauch 900
Mark Kotsay 1000
Ricky Ledee 1000
Derrek Lee 1000
Travis Lee 1000
Javy Lopez 800
Mike Lowell 1000
Greg Maddux 400
Eli Marrero 1000
Al Martin 950
Rafael Medina 850
Paul Molitor 900
Scott Morgan 1000
Mike Mussina 900
Abraham Nunez 1000
Paul O'Neill 900
Luis Ordaz 1000
Magglio Ordonez 1000
Kevin Orie 1000
David Ortiz 1000
Rafael Palmeiro 900
Carl Pavano 1000
Neifi Perez 1000
Andy Pettitte 900
Dante Powell 950
Aramis Ramirez 1000
Cal Ripken, Jr. 375
Mariano Rivera 1000
Alex Rodriguez 350
Felix Rodriguez 1000
Henry Rodriguez 1000
Ivan Rodriguez 1000
Scott Rolen 1000
Brian Rose 1000
Curt Schilling 1000
Richie Sexson 1000
Randall Simon 1000
J.T. Snow 1000
Darryl Strawberry 900
Jeff Suppan 1000
Fernando Tatis 1000
Miguel Tejada 1000
Brett Tomko 1000
Bubba Trammell 1000
Ismael Valdes 1000
Robin Ventura 1000
Billy Wagner 900
Todd Walker 1000
Daryle Ward 1000
Rondell White 1000
Matt Williams 820
Antone Williamson 1000
Dan Wilson 1000
Enrique Wilson 1000
Preston Wilson 400
Tony Womack 1000
Kerry Wood 1000
Significant Signatures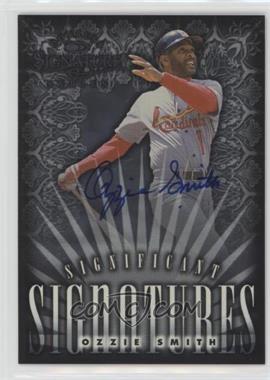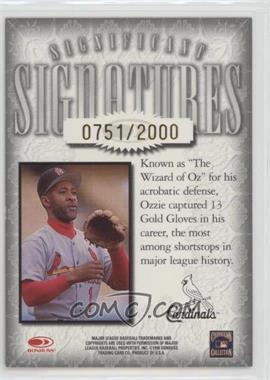 This 18-card set features autographs of some of baseball's all-time great players. Only 2000 sets were produced and each card is serial-numbered.
NOTES
The Catfish Hunter card was signed in either blue or blank ink.
Only 1000 serial #'d copies of Phil Rizzuto's card were produced.
Nolan Ryan and Ozzie Smith packed out as exchange cards as they were unable to return their cards to Playoff in time. Both of the exchange cards were reprints of what the autographed versions would eventually look like and were sequentially-numbered (#14 and 15) as part of the set. Cards 14 and 15 were good for cards R1 and R2.
Sandy Koufax was on the original checklist issued by the pre-bankruptcy Donruss, but he did not return his cards in time for the pack out. In the time between Donruss's acquisition by Playoff and the release of Signature Series, it was uncertain if Playoff could come to terms with Koufax. Therefore, unlike Ryan and Smith, a Koufax exchange card was not issued in packs. Eventually, officials at Playoff were able to come to terms with Koufax and made the Billy Williams card an exchange card. Each collector that pulled Billy Williams's Significant Signature card could send it in to Donruss for the Koufax (#R3) card. In addition, the signed Williams card was sent back too, but marked with the word "REDEEMED" on the back so that it could not be used again.
The exchange deadline for cards R1-R3 was December 31st, 1999. All three "R-Series" exchange cards (Ryan, Koufax and Smith) feature refractive, shiny fronts whereas the other cards seeded in packs are printed on basic foilboard.
At some point in time after the product's release, non-refractive versions of the Ryan, Smith, and Koufax cards made their way into the secondary market. Each card features a different card image than the Refractor versions (most notably with Koufax wearing a Brooklyn cap). The Koufax and Smith cards were serial-numbered to 2000 copies, while the Nolan Ryan was numbered to 1000.
1 Ernie Banks 2000
2 Yogi Berra 2000
3 George Brett 2000
4 Catfish Hunter 2000
5 Al Kaline 2000
6 Harmon Killebrew 2000
7 Ralph Kiner 2000
9 Eddie Mathews 2000
10 Don Mattingly 2000
11 Willie McCovey 2000
12 Stan Musial 2000
13 Phil Rizzuto 1000
14 Nolan Ryan EXCH 2000
15 Ozzie Smith EXCH 2000
16 Duke Snider 2000
17 Don Sutton 2000
18 Billy Williams 2000
18a Billy Williams Redeemed 2000
SP Nolan Ryan 1000
NNO Sandy Koufax (Brooklyn) 2000
NNO Ozzie Smith 2000
R1 Nolan Ryan 2000
R2 Ozzie Smith 2000
R3 Sandy Koufax (L.A.) 2000
Signing Bonus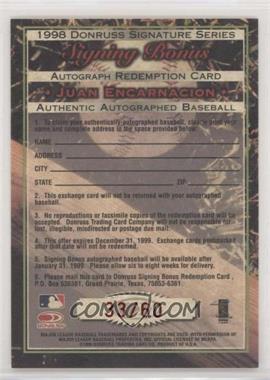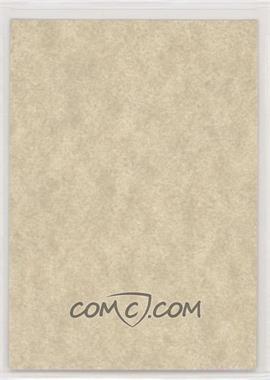 This 32-card set features redemption cards that could be redeemed for an autographed baseball signed by player. Each baseballs was laser burned with a Donruss logo as a security measure. In addition, every ball, except for Ben Grieve's, is serial-numbered.
The blank-backed exchange cards are serial-numbered in gold foil on front, but are unnumbered within the context of a complete set and therefore checklisted in alphabetical order. These exchange cards carried an expiration date of December 31st, 1999.
Roberto Alomar 60
Sandy Alomar, Jr. 60
Ernie Banks 12
Ken Caminiti 60
Tony Clark 60
Jacob Cruz 12
Russ Davis 60
Juan Encarnacion 60
Bobby Estalella 60
Jeff Fassero 60
Ben Grieve 30
Mark Grudzielanek 60
Jose Guillen 120
Tony Gwynn 60
Al Kaline 12
Paul Konerko 100
Travis Lee 100
Mike Lowell 60
Eli Marrero 60
Eddie Mathews 12
Paul Molitor 60
Stan Musial 12
Abraham Nunez 12
Luis Ordaz 12
Magglio Ordonez 12
Scott Rolen 60
Bubba Trammell 24
Robin Ventura 60
Billy Wagner 60
Rondell White 60
Antone Williamson 12
Tony Womack 60
Executive Proofs
In May 2018, a lot of never before seen executive proofs from the autograph set emerged on the secondary market. These proofs were not autographed. The Millennium Marks and Century Marks proofs featured a 'XXXX' designation where the serial number would be while the Base red proofs did not have the 'XXXX' because these were not serially numbered in the autograph set. A proof of each autograph parallel (Base red, Millennium green, and Century blue) surfaced for nearly every player in the set.
Further, executive proofs of players who never signed at all were among the cards that emerged - for example, Mike Piazza never signed a base, Millennium Mark, or Century Mark autograph; however, an executive proof of Piazza's base/Millennium/Century autograph card exists. This is notable because he was not included on the original autograph set checklist and thus there was no reason to expect that cards of his from these sets even existed, until now. Executive proofs in general are very rare, but in the case of Piazza and other players that were not in the original autograph checklist, they are especially noteworthy because it is the first time these cards have ever surfaced. These were probably players that Donruss expected to sign/to be included in the autograph sets but were not for unknown reasons.
Below is the list of the 182 players with a confirmed executive proof. Executive proofs for John Franco, Andres Galarraga, Nomar Garciaparra, Eli Marrero, Mike Mussina, Andy Pettitte, Ivan Rodriguez, Matt Williams, and Dan Wilson, (all players with autographs in the 3 sets) have not been confirmed. Players in bold with an asterisk(*) have an executive proof but do not have an autographed base, Millennium, or Century Marks that were issued in packs (67 players in total):
Edgardo Alfonzo*
Roberto Alomar
Sandy Alomar, Jr.
Moises Alou
Gabe Alvarez
Wilson Alvarez
Brady Anderson
Garret Anderson*
Kevin Appier*
Jeff Bagwell*
Jay Bell
Albert Belle
Adrian Beltre
Andy Benes
Kris Benson*
Geronimo Berroa*
Craig Biggio*
Wade Boggs
Barry Bonds
Bobby Bonilla*
Aaron Boone
Russell Branyan
Jay Buhner
Ellis Burks
Orlando Cabrera
Mike Cameron
Ken Caminiti
Joe Carter
Sean Casey
Eric Chavez*
Bruce Chen
Tony Clark
Will Clark
Roger Clemens
Matt Clement
Pat Cline
Ken Cloude
Michael Coleman
David Cone
Jeff Conine
Jacob Cruz
Jose Cruz, Jr.
Russ Davis
Carlos Delgado*
Jason Dickson
Mike Drumright*
Todd Dunwoody
Lenny Dykstra*
Jim Edmonds*
Scott Elarton
Juan Encarnacion
Darin Erstad
Bobby Estalella
Shawn Estes*
Jeff Fassero
Cecil Fielder*
Brad Fullmer
Travis Fryman*
Karim Garcia*
Jason Giambi
Derrick Gibson
Tom Glavine
Juan Gonzalez
Alex Gonzalez*
Dwight Gooden*
Todd Greene
Rusty Greer*
Ben Grieve
Marquis Grissom*
Mark Grudzielanek
Vladimir Guerrero
Wilton Guerrero
Jose Guillen
Tony Gwynn
Jeffery Hammonds*
Todd Helton
Chad Hermansen*
Livan Hernandez*
Orel Hershiser*
Richard Hidalgo
A.J. Hinch
Todd Hundley*
Butch Huskey
Raul Ibanez
Damian Jackson
Geoff Jenkins
Derek Jeter
Charles Johnson*
Randy Johnson
Chipper Jones
David Justice*
Eric Karros
Jason Kendall*
Jimmy Key*
Ryan Klesko
Chuck Knoblauch
Paul Konerko*
Mark Kotsay
Mike Lansing*
Barry Larkin*
Ricky Ledee
Derrek Lee
Travis Lee
Esteban Loaiza*
Kenny Lofton*
Javier Lopez
Mike Lowell
Greg Maddux
Al Martin
Edgar Martinez*
Pedro Martinez*
Ramon Martinez*
Jesus Martinez*
Ben McDonald*
Fred McGriff*
Mark McGwire*
Rafael Medina
Paul Molitor
Kevin Millwood*
Raul Mondesi*
Scott Morgan
Matt Morris*
Charles Nagy*
Hideo Nomo*
Abraham Nunez
Paul O'Neill
Luis Ordaz
Magglio Ordonez
Kevin Orie
David Ortiz
Rafael Palmeiro
Chan Ho Park*
Carl Pavano
Jay Payton*
Neifi Perez
Mike Piazza*
Dante Powell
Aramis Ramirez
Manny Ramirez*
Cal Ripken, Jr.
Mariano Rivera
Ruben Rivera*
Alex Rodriguez
Felix Rodriguez
Henry Rodriguez
Scott Rolen
Brian Rose
Tim Salmon*
Curt Schilling
Richie Sexson
Gary Sheffield*
Randall Simon
John Smoltz*
J.T. Snow
Sammy Sosa*
Scott Spiezio*
Shannon Stewart*
Darryl Strawberry
Jeff Suppan
Fernando Tatis
Miguel Tejada
Justin Thompson*
Brett Tomko
Bubba Trammell
Ismael Valdez
Mario Valdez*
Mo Vaughn*
Robin Ventura
Omar Vizquel*
Billy Wagner
Todd Walker
Larry Walker*
Daryle Ward
Rondell White
Antone Williamson
Preston Wilson
Enrique Wilson
Tony Womack
Kerry Wood
Steve Woodward*
Jaret Wright*
Ron Wright*
Todd Zeile*