1998 Fleer Diamond Ink
Description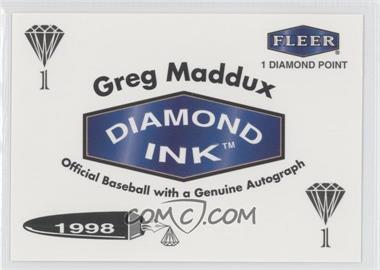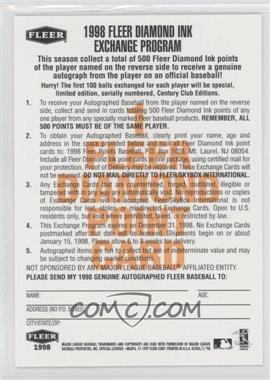 1998 Fleer Diamond Ink was a unique redemption program which allowed collectors to save "points" and exchange them for autographed baseballs.
Randomly inserted into packs of all 1998 Fleer-branded baseball products (1998 Fleer Tradition, 1998 Ultra, and 1998 Flair Showcase) was a Diamond Ink point card bearing the name of one of ten Major League stars, and a point value. Collectors who saved 500 points of the same player could then redeem them for an autographed baseball signed by that player. Point cards came in 1, 5, 10, and 25 point denominations.
Judging from supplies on the secondary market at the time of the promotion it appears that point cards of a few players -- most notably Roger Clemens, Tony Gwynn, and Alex Rodriguez -- were in shorter supply than others. Greg Maddux was a very late addition to the promotion, thus his point cards were made available only in 1998 Fleer Tradition Series One packs.
Collectors had until December 31, 1998 to redeem their Diamond Ink points, and the first 100 balls were serial-numbered and designated "Century Club Edition" balls.
It is believed that unclaimed balls were used for the 2000 Fleer Showcase Sweet Sigs insert, as the checklists for the two sets overlap.
Checklist
Jay Buhner
Roger Clemens
Jose Cruz, Jr.
Nomar Garciaparra
Tony Gwynn
Roberto Hernandez
Greg Maddux
Alex Rodriguez
Scott Rolen
Tony Womack