1996 Leaf Signature Series
Description
1996 Leaf Signature Series is a 150-card set released in two series. The first 100 cards were issued as part of the Leaf Signature Series set in August, 1996; while the final 50 cards came out in January, 1997 as part of the Extended Series.
One of the more significant products of the era, '96 Leaf Signature was the first product to include an autographed card in every pack. A limited number of Signature Series packs were sold to mass-market retail outlets in "Blaster"-style boxes.
'96 Leaf Signature was well received, but one criticism was the number of marginal players who signed for the product. With the exception of ten superstar players (who only signed an aggregate of 1000 cards), each player signed 5000 autographs. The "Extended Series," issued five months later, was intended to fix this. Production of the Extended Series was less than half of the original series and each pack contained two autographs with each 12-pack Hobby box yielding a "Hot Pack" containing four autographs. Again, each player signed 5000 autographs, with the exception of 31 star players who signed significantly less. Each 12-pack Hobby box was guaranteed to yield at least one short-printed star autograph.
Extended Series packs had a selection of base cards from both series, making the Extended Series base cards very difficult to find.
Distribution
Signature Series: 12 packs per box, four cards per pack (MSRP: $9.99).
Extended Series: 12 packs per box, five cards per pack (MSRP: $9.99). Hobby only
Reviews
Insertion Ratios
Signature Series
| Cards | Total Cards | Numbered To | Odds |
| --- | --- | --- | --- |
| Base | 100 | - | 3:1 |
| Gold Press Proofs | 100 | - | 1:12 |
| Bronze Autographs | 244 | 3500 | AU |
| Bronze Autographs SPs | 10 | 700 | AU |
| Silver Autographs | 244 | 1000 | AU |
| Silver Autographs SPs | 10 | 200 | AU |
| Gold Autographs | 244 | 500 | AU |
| Gold Autographs SPs | 10 | 100 | AU |
AU: One autograph per pack.
Extended Series
| Cards | Total Cards | Numbered To | Odds |
| --- | --- | --- | --- |
| Base | 150 | - | 3:1 |
| Signature Series base set | 100 | - | two-per-pack |
| Extended Series base set | 50 | - | one-per-pack |
| Gold Press Proofs | 150 | - | 1:8 |
| Platinum Press Proofs | 150 | 150 | 1:24 |
| Extended Series Autographs | 187 | 5000 | AU |
| Extended Series Autographs SPs | 31 | varies | 1:12 AU |
| Extended Series Autographs Century Marks | 31 | 100 | 1:175 AU |
AU: Two autographs per pack.
Checklist
Promo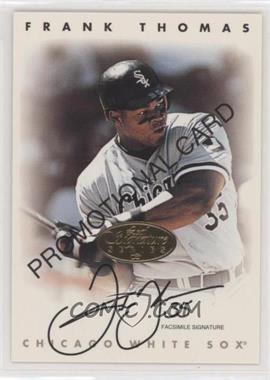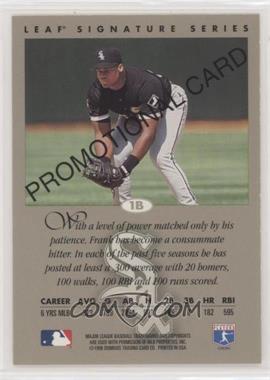 A Frank Thomas card with a facsimile signature was sent to dealers to promote the upcoming Leaf Signature Series set. In addition, some promos signed by Thomas were randomly issued.
Base Set
Signature Series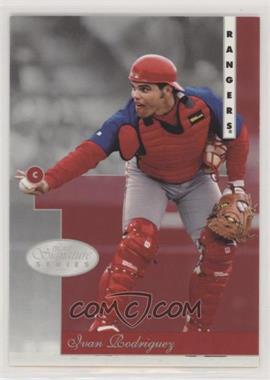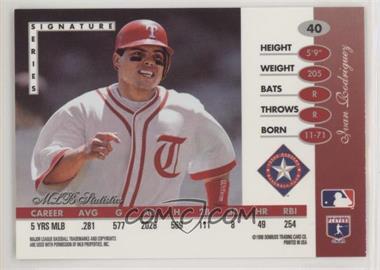 1 Mike Piazza
2 Juan Gonzalez
3 Greg Maddux
4 Marc Newfield
5 Wade Boggs
6 Ray Lankford
7 Frank Thomas
8 Rico Brogna
9 Tim Salmon
10 Ken Griffey, Jr.
11 Manny Ramirez
12 Cecil Fielder
13 Gregg Jefferies
14 Rondell White
15 Cal Ripken, Jr.
16 Alex Rodriguez
17 Bernie Williams
18 Andres Galarraga
19 Mike Mussina
20 Chuck Knoblauch
21 Joe Carter
22 Jeff Bagwell
23 Mark McGwire
24 Sammy Sosa
25 Reggie Sanders
26 Chipper Jones
27 Jeff Cirillo
28 Roger Clemens
29 Craig Biggio
30 Gary Sheffield
31 Paul O'Neill
32 Johnny Damon
33 Jason Isringhausen
34 Jay Bell
35 Henry Rodriguez
36 Matt Williams
37 Randy Johnson
38 Fred McGriff
39 Jason Giambi
40 Ivan Rodriguez
41 Raul Mondesi
42 Barry Larkin
43 Ryan Klesko
44 Joey Hamilton
45 Todd Hundley
46 Jim Edmonds
47 Dante Bichette
48 Roberto Alomar
49 Mark Grace
50 Brady Anderson
51 Hideo Nomo
52 Ozzie Smith
53 Robin Ventura
54 Andy Pettitte
55 Kenny Lofton
56 John Mabry
57 Paul Molitor
58 Rey Ordonez
59 Albert Belle
60 Charles Johnson
61 Edgar Martinez
62 Derek Bell
63 Carlos Delgado
64 Raul Casanova
65 Ismael Valdes
66 J.T. Snow
67 Derek Jeter
68 Jason Kendall
69 John Smoltz
70 Chad Mottola
71 Jim Thome
72 Will Clark
73 Mo Vaughn
74 John Wasdin
75 Rafael Palmeiro
76 Mark Grudzielanek
77 Larry Walker
78 Alan Benes
79 Michael Tucker
80 Billy Wagner
81 Paul Wilson
82 Greg Vaughn
83 Dean Palmer
84 Ryne Sandberg
85 Eric Young
86 Jay Buhner
87 Tony Clark
88 Jermaine Dye
89 Barry Bonds
90 Ugueth Urbina
91 Charles Nagy
92 Ruben Rivera
93 Todd Hollandsworth
94 Darin Erstad RC
95 Brooks Kieschnick
96 Edgar Renteria
97 Lenny Dykstra
98 Tony Gwynn
99 Kirby Puckett
100 Checklist
Extended Series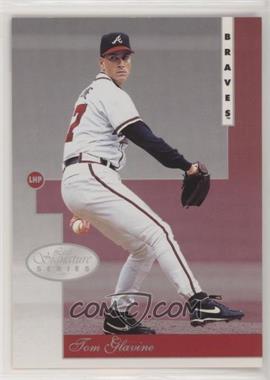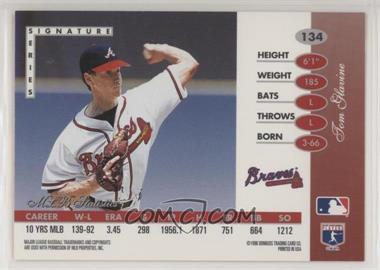 101 Andruw Jones
102 Alex Ochoa
103 David Cone
104 Rusty Greer
105 Jose Canseco
106 Ken Caminiti
107 Mariano Rivera
108 Ron Gant
109 Darryl Strawberry
110 Vladimir Guerrero
111 George Arias
112 Jeff Conine
113 Bob Higginson
114 Eric Karros
115 Brian Hunter
116 Eddie Murray
117 Todd Walker
118 Chan Ho Park
119 John Jaha
120 Dave Justice
121 Mac Suzuki
122 Scott Rolen
123 Tino Martinez
124 Kimera Bartee
125 Garret Anderson
126 Brian Jordan
127 Andre Dawson
128 Javy Lopez
129 Bill Pulsipher
130 Dwight Gooden
131 Al Martin
132 Terrell Wade
133 Steve Gibralter
134 Tom Glavine
135 Kevin Appier
136 Tim Raines
137 Curtis Pride
138 Todd Greene
139 Bobby Bonilla
140 Trey Beamon
141 Marty Cordova
142 Rickey Henderson
143 Ellis Burks
144 Dennis Eckersley
145 Kevin Brown
146 Carlos Baerga
147 Brett Butler
148 Marquis Grissom
149 Karim Garcia
150 Frank Thomas CL
Parallels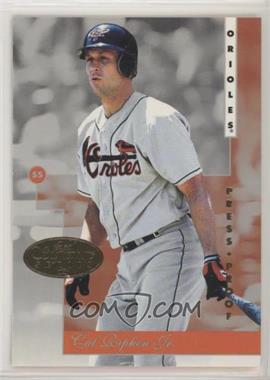 Each of the 150 base cards are available in the following parallels.
Gold Press Proof
Platinum Press Proof (limited to 150 copies, Extended Series packs only)
Autographs & Game-Used
Autographs
Signature Series Autographs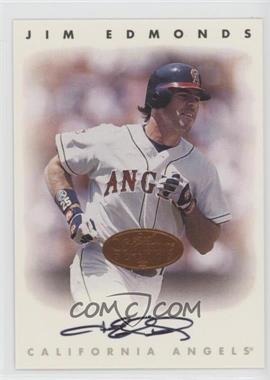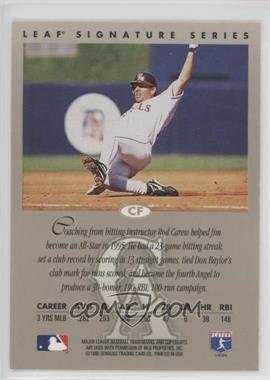 With some exceptions, each player signed 5000 cards for insertion into Signature Series packs. Each card is stamped with either a Bronze, Silver, or Gold foil stamp with the first 3500 cards stamped in Bronze, 1000 in Silver, and the remaining 500 in Gold. Ten "marquee" players (indicated with an "SP" in the checklist below) signed only 1000 cards, with 700 Bronze, 200 Silver, and 100 Gold.
NOTES
Seven players (designated with an "*" in the checklist below) did not return their autographs to Donruss in time for the release of Signature Series. Six of those cards were randomly inserted into packs of Extended Series. The seventh player, Otis Nixon, never bothered to return his cards; however, beginning around 2005, some Nixon Autographs surfaced on the secondary market.
Jim Thome did not sign any Bronze autographs, but erroneously signed 410 Silver and 514 Gold Autographs.
All cards were signed in black ink; however, Alex Rodriguez, Michael Tucker, and Carlos Delgado signed some of their cards in blue ink.
None of these cards are serial-numbered or sequentially-numbered.
1,230,000 autographs were signed for the Signature Series product.
Kurt Abbott
Juan Acevedo
Terry Adams
Manny Alexander
Roberto Alomar SP
Moises Alou
Wilson Alvarez
Garret Anderson
Shane Andrews
Andy Ashby
Pedro Astacio
Brad Ausmus
Bobby Ayala
Carlos Baerga
Harold Baines
Jason Bates
Allen Battle
Rich Becker
David Bell
Rafael Belliard
Andy Benes
Armando Benitez
Jason Bere
Geronimo Berroa
Willie Blair
Mike Blowers
Wade Boggs SP
Ricky Bones
Mike Bordick
Toby Borland
Ricky Bottalico
Darren Bragg
Jeff Branson
Tilson Brito
Rico Brogna
Scott Brosius
Damon Buford
Mike Busby
Tom Candiotti
Frank Castillo
Andujar Cedeno
Domingo Cedeno
Roger Cedeno
Norm Charlton
Jeff Cirillo
Will Clark
Jeff Conine
Steve Cooke
Joey Cora
Marty Cordova
Rheal Cormier
Felipe Crespo
Chad Curtis
Johnny Damon
Russ Davis
Andre Dawson
Carlos Delgado *
Doug Drabek
Darren Dreifort
Shawon Dunston
Ray Durham
Jim Edmonds
Joey Eischen
Jim Eisenreich
Sal Fasano
Jeff Fassero
Alex Fernandez
Darrin Fletcher
Chad Fonville
Kevin Foster
John Franco
Julio Franco
Marvin Freeman
Travis Fryman
Gary Gaetti
Carlos Garcia
Jason Giambi
Benji Gil
Greg Gohr
Chris Gomez
Leo Gomez
Tom Goodwin
Mike Grace
Mike Greenwell
Rusty Greer
Mark Grudzielanek
Mark Gubicza
Juan Guzman
Darryl Hamilton
Joey Hamilton
Chris Hammond
Mike Hampton
Chris Haney
Todd Haney
Erik Hanson
Pete Harnisch
LaTroy Hawkins
Charlie Hayes
Jimmy Haynes
Roberto Hernandez
Bob Higginson
Glenallen Hill
Ken Hill
Sterling Hitchcock
Trevor Hoffman
Dave Hollins
Dwayne Hosey
Thomas Howard
Steve Howe
John Hudek
Rex Hudler
Brian L. Hunter *
Butch Huskey
Mark Hutton
Jason Jacome
John Jaha
Reggie Jefferson
Derek Jeter SP
Bobby Jones
Todd Jones
Brian Jordan
Kevin Jordan
Jeff Juden
Ron Karkovice
Roberto Kelly
Mark Kiefer
Brooks Kieschnick
Jeff King
Mike Lansing
Matt Lawton
Al Leiter
Mark Leiter
Curtis Leskanic
Darren Lewis
Mark Lewis
Felipe Lira
Pat Listach
Keith Lockhart
Kenny Lofton SP
John Mabry
Mike Macfarlane
Kirt Manwaring
Al Martin
Norberto Martin
Dennis Martinez
Pedro Martinez
Sandy Martinez
Mike Matheny
T.J. Mathews
David McCarty
Ben McDonald
Pat Meares
Orlando Merced
Jose Mesa
Matt Mieske
Orlando Miller
Mike Mimbs
Paul Molitor SP
Raul Mondesi SP
Jeff Montgomery
Mickey Morandini
Lyle Mouton
James Mouton
Jamie Moyer
Rodney Myers
Denny Neagle
Robb Nen
Marc Newfield
Dave Nilsson
Otis Nixon *
Jon Nunnally
Chad Ogea
Troy O'Leary
Rey Ordonez
Jayhawk Owens
Tom Pagnozzi
Dean Palmer
Roger Pavlik
Troy Percival
Carlos Perez
Robert Perez
Andy Pettitte
Phil Plantier *
Mike Potts
Curtis Pride
Ariel Prieto
Bill Pulsipher
Brad Radke
Manny Ramirez SP
Joe Randa
Pat Rapp
Bryan Rekar
Shane Reynolds
Arthur Rhodes
Mariano Rivera
Alex Rodriguez SP
Frank Rodriguez
Mel Rojas
Ken Ryan
Bret Saberhagen
Tim Salmon
Rey Sanchez
Scott Sanders
Steve Scarsone
Curt Schilling
Jason Schmidt
David Segui
Kevin Seitzer
Scott Servais
Don Slaught
Zane Smith
Paul Sorrento
Scott Stahoviak
Mike Stanley
Terry Steinbach
Kevin Stocker
Jeff Suppan
Bill Swift
Greg Swindell
Kevin Tapani
Danny Tartabull
Julian Tavarez
Frank Thomas SP
Ozzie Timmons
Michael Tucker
Ismael Valdes
Jose Valentin
Todd Van Poppel
Mo Vaughn SP
Quilvio Veras
Fernando Vina
Joe Vitiello
Jose Vizcaino
Omar Vizquel
Terrell Wade *
Paul Wagner
Matt Walbeck
Jerome Walton
Turner Ward
Allen Watson
David Weathers
Walt Weiss
Turk Wendell
Rondell White
Brian Williams
George Williams
Paul Wilson
Bobby Witt
Bob Wolcott
Eric Young
Ernie Young *
Greg Zaun
Jim Thome (gold)
Jim Thome (silver)
Extended Series Autographs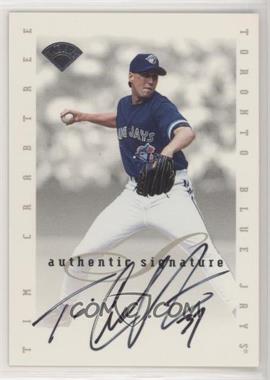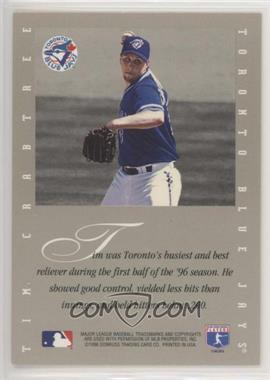 As in the Signature Series, most players signed 5000 cards. Unlike the Signature Series, there are not foil parallels.
NOTES:
31 "marquee" players (designated by an "SP" in the checklist below) signed noticeably fewer cards. The cards are limited, but not serial-numbered, to the product figures listed below. The odds of finding a "marquee" autograph is 1:9 Extended Series packs.
Three of the "marquee" players did not turn in their cards in time for inclusion; therefore, redemption cards were issued. The redemption cards expired December 31, 1998.
Blue ink variations exist for five of the "marquee" players: Andruw Jones, Ryan Klesko, Andy Pettitte, Kirby Puckett and Frank Thomas.
Two non-marquee players signed fewer than 5000 cards. Steve Parris signed only 1800 cards, while Doug Creek autographed 1950.
1,080,000 autographs were signed for the Extended Series product.
Scott Aldred
Mike Aldrete
Rich Amaral
Alex Arias
Paul Assenmacher
Roger Bailey
Erik Bennett
Sean Bergman
Doug Bochtler
Tim Bogar
Pat Borders
Pedro Borbon
Shawn Boskie
Rafael Bournigal
Mark Brandenburg
John Briscoe
Jorge Brito
Doug Brocail
Jay Buhner SP 1000
Scott Bullett
Dave Burba
Ken Caminiti SP 1000
John Cangelosi
Cris Carpenter
Chuck Carr
Larry Casian
Tony Castillo
Jason Christiansen
Archi Cianfrocco
Mark Clark
Terry Clark
Roger Clemens SP 1000
Jim Converse
Dennis Cook
Francisco Cordova
Jim Corsi
Tim Crabtree
Doug Creek 1950
John Cummings
Omar Daal
Rich DeLucia
Mark Dewey
Alex Diaz
Jermaine Dye SP 2500
Ken Edenfield
Mark Eichhorn
John Ericks
Darin Erstad
Alvaro Espinoza
Jorge Fabregas
Mike Fetters
John Flaherty
Bryce Florie
Tony Fossas
Lou Frazier
Mike Gallego
Karim Garcia SP 2500
Jason Giambi
Ed Giovanola
Tom Glavine SP 1250
Juan Gonzalez SP EXCH 1000
Craig Grebeck
Buddy Groom
Kevin Gross
Eddie Guardado
Mark Guthrie
Tony Gwynn SP 1000
Chip Hale
Darren Hall
Lee Hancock
Dave Hansen
Bryan Harvey
Bill Haselman
Mike Henneman
Doug Henry
Gil Heredia
Carlos Hernandez
Jose Hernandez
Darren Holmes
Mark Holzemer
Rick Honeycutt
Chris Hook
Chris Howard
Jack Howell
David Hulse
Edwin Hurtado
Jeff Huson
Mike James
Derek Jeter SP 1000
Brian Johnson
Randy Johnson SP 1000
Mark Johnson
Andruw Jones SP EXCH 2000
Chris Jones
Ricky Jordan
Matt Karchner
Scott Karl
Jason Kendall SP 2500
Brian Keyser
Mike Kingery
Wayne Kirby
Ryan Klesko SP 1000
Chuck Knoblauch SP 1000
Chad Kreuter
Tom Lampkin
Scott Leius
Jon Lieber
Nelson Liriano
Scott Livingstone
Graeme Lloyd
Kenny Lofton SP 1000
Luis Lopez
Torey Lovullo
Greg Maddux SP 500
Mike Maddux
Dave Magadan
Mike Magnante
Joe Magrane
Pat Mahomes
Matt Mantei
John Marzano
Terry Mathews
Chuck McElroy
Fred McGriff SP 1000
Mark McLemore
Greg McMichael
Blas Minor
Dave Mlicki
Mike Mohler
Paul Molitor SP 1000
Steve Montgomery
Mike Mordecai
Mike Morgan
Mike Munoz
Greg Myers
Jimmy Myers
Mike Myers
Bob Natal
Dan Naulty
Jeff Nelson
Warren Newson
Chris Nichting
Melvin Nieves
Charlie O'Brien
Alex Ochoa
Omar Olivares
Joe Oliver
Lance Painter
Rafael Palmeiro SP 2500
Mark Parent
Steve Parris 1800
Bob Patterson
Tony Pena
Eddie Perez
Yorkis Perez
Robert Person
Mark Petkovsek
Andy Pettitte SP 1000
J.R. Phillips
Hipolito Pichardo
Eric Plunk
Jimmy Poole
Kirby Puckett SP 1000
Paul Quantrill
Tom Quinlan
Jeff Reboulet
Jeff Reed
Steve Reed
Carlos Reyes
Bill Risley
Kevin Ritz
Kevin Roberson
Rich Robertson
Alex Rodriguez SP EXCH 500
Ivan Rodriguez SP 1250
Bruce Ruffin
Juan Samuel
Tim Scott
Kevin Sefcik
Jeff Shaw
Danny Sheaffer
Craig Shipley
Dave Silvestri
Aaron Small
John Smoltz SP 1000
Luis Sojo
Sammy Sosa SP 1000
Steve Sparks
Tim Spehr
Russ Springer
Matt Stairs
Andy Stankiewicz
Mike Stanton
Kelly Stinnett
Doug Strange
Mark Sweeney
Jeff Tabaka
Jesus Tavarez
Frank Thomas SP 1000
Larry Thomas
Mark Thompson
Mike Timlin
Steve Trachsel
Tom Urbani
Julio Valera
Dave Valle
William VanLandingham
Mo Vaughn SP 1000
Dave Veres
Ed Vosberg
Don Wengert
Matt Whiteside
Bob Wickman
Matt Williams SP 1250
Mike Williams
Woody Williams
Craig Worthington
Extended Series Autographs Century Marks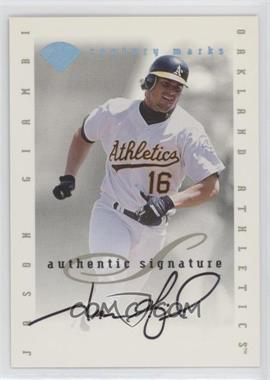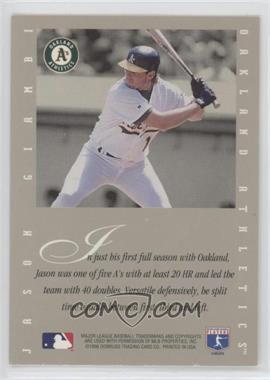 Century Marks is a partial-parallel of the 31 "marquee" autographs. Each card is stamped in blue foil and is limited (but not serial-numbered) to 100 copies.
NOTE: Five players did not sign their cards in time for inclusion into packs, and redemption cards were issued.
Jay Buhner
Ken Caminiti
Roger Clemens
Jermaine Dye
Darin Erstad
Karim Garcia
Jason Giambi
Tom Glavine
Juan Gonzalez EXCH
Tony Gwynn
Derek Jeter EXCH
Randy Johnson
Andruw Jones EXCH
Jason Kendall
Ryan Klesko
Chuck Knoblauch
Kenny Lofton
Greg Maddux
Fred McGriff
Paul Molitor
Alex Ochoa
Rafael Palmeiro EXCH
Andy Pettitte
Kirby Puckett
Alex Rodriguez EXCH
Ivan Rodriguez
John Smoltz
Sammy Sosa
Frank Thomas
Mo Vaughn
Matt Williams
Frank Thomas Jumbo Autographs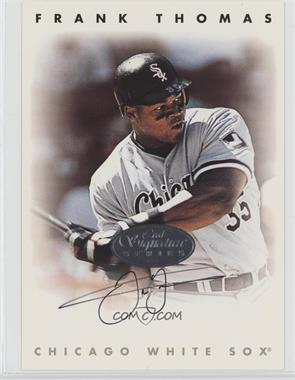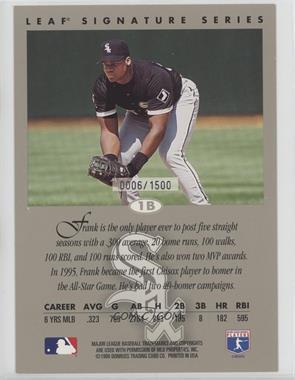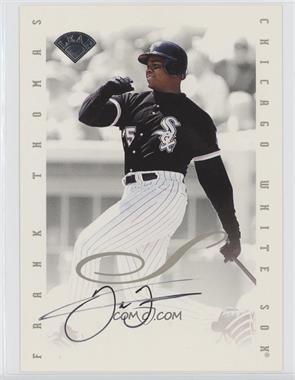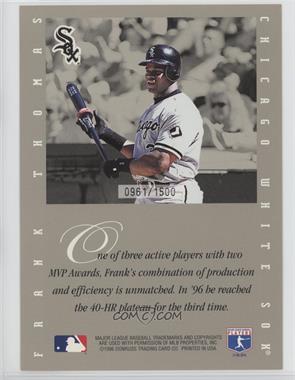 As a gift to dealers who ordered Extended Series, Donruss produced jumbo-sized versions of both Frank Thomas Autographs. Dealers received one Frank Thomas Jumbo Autograph for each Extended Series case they ordered.
Both cards are serial-numbered to 1500 copies.
Frank Thomas EXT
Frank Thomas SIG