2017 Topps Clearly Authentic
Description
2017 Topps Clearly Authentic will be released August 16th. Much like the Topps Archives Signature Series brands, each box will contain one autographed card in a sealed magnetic case.
Each card is signed on an acetate card that uses the design of the 2017 Topps Baseball flagship set -- but with a different photograph.
Distribution
One encased autographed card per box (MSRP: $50). 20 boxes per case.
Reviews
Insertion Ratios
| Cards | Total Cards | Numbered To | Odds |
| --- | --- | --- | --- |
| Autographs | 82 | - | ? |
| Autographs Green | 82 | 99 | ? |
| Autographs Red | 82 | 50 | ? |
| Autographs Blue | 82 | 25 | ? |
| Autographs Gold | 82 | one-of-one | ? |
| Reprint Autographs | 39 | - | ? |
| Reprint Autographs Gold | 39 | one-of-one | ? |
Checklist
Autographs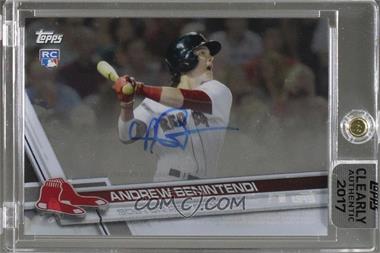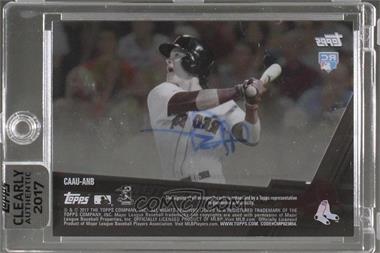 Each Autograph is also available in the following parallels.
Green (serial-numbered to 99 copies)
Red (serial-numbered to 50 copies)
Blue (serial-numbered to 25 copies)
Gold (one-of-one)
CAAU-AB Andrew Benintendi
CAAU-ABR Alex Bregman
CAAU-AD Aledmys Diaz
CAAU-AJ Aaron Judge
CAAU-AJO Adam Jones
CAAU-AJU Aaron Judge
CAAU-ALB Alex Bregman
CAAU-AN Aaron Nola
CAAU-ANB Andrew Benintendi
CAAU-AR Alex Reyes
CAAU-ARE Alex Reyes
CAAU-ARI Anthony Rizzo
CAAU-ARU Addison Russell
CAAU-AT Andrew Toles
CAAU-BH Bryce Harper
CAAU-BP Buster Posey
CAAU-CF Carson Fulmer
CAAU-CK Clayton Kershaw
CAAU-CKL Corey Kluber
CAAU-CS Chris Sale
CAAU-CSE Corey Seager
CAAU-DB Dellin Betances
CAAU-DD David Dahl
CAAU-DDU Danny Duffy
CAAU-DO David Ortiz
CAAU-DSW Dansby Swanson
CAAU-DV Dan Vogelbach
CAAU-FF Freddie Freeman
CAAU-GS George Springer
CAAU-HD Hunter Dozier
CAAU-HR Hunter Renfroe
CAAU-HRE Hunter Renfroe
CAAU-I Ichiro
CAAU-JA Jorge Alfaro
CAAU-JAL Jose Altuve
CAAU-JB Javier Baez
CAAU-JC Jharel Cotton
CAAU-JD Jose De Leon
CAAU-JDE Jacob deGrom
CAAU-JH Jeff Hoffman
CAAU-JJ JaCoby Jones
CAAU-JMU Joe Musgrove
CAAU-JP Joe Panik
CAAU-JT Jake Thompson
CAAU-JTA Jameson Taillon
CAAU-JU Julio Urias
CAAU-JV Joey Votto
CAAU-KB Kris Bryant
CAAU-KM Kenta Maeda
CAAU-KSE Kyle Seager
CAAU-LG Lucas Giolito
CAAU-LW Luke Weaver
CAAU-LWE Luke Weaver
CAAU-MF Maikel Franco
CAAU-MFU Michael Fulmer
CAAU-MM Manny Machado
CAAU-MMA Manny Margot
CAAU-MO Matt Olson
CAAU-MT Masahiro Tanaka
CAAU-MTR Mike Trout
CAAU-NS Noah Syndergaard
CAAU-RB Ryan Braun
CAAU-RG Randal Grichuk
CAAU-RGS Robert Gsellman
CAAU-RH Ryon Healy
CAAU-RL Reynaldo Lopez
CAAU-RQ Roman Quinn
CAAU-RT Raimel Tapia
CAAU-SL Seth Lugo
CAAU-SMA Steven Matz
CAAU-TA Tyler Austin
CAAU-TB Ty Blach
CAAU-TG Tyler Glasnow
CAAU-TGL Tyler Glasnow
CAAU-TH Teoscar Hernandez
CAAU-TM Trey Mancini
CAAU-TN Tyler Naquin
CAAU-TS Trevor Story
CAAU-WC Willson Contreras
CAAU-YG Yulieski Gurriel
CAAU-YGU Yulieski Gurriel
CAAU-YM Yoan Moncada
Reprint Autographs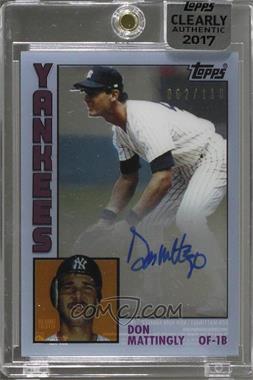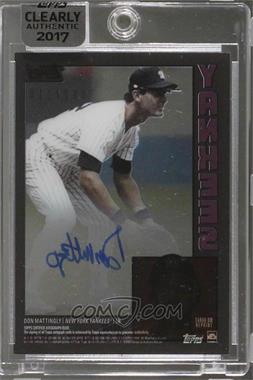 Each Reprint Autograph is an Acetate reproduction of a classic Topps card. All cards are also available in a one-of-one Gold parallel.
CARAU-AG Andres Galarraga
CARAU-AKA Al Kaline
CARAU-AR Addison Russell
CARAU-BJ Bo Jackson
CARAU-BJA Bo Jackson
CARAU-BP Buster Posey
CARAU-CJ Chipper Jones
CARAU-CR Cal Ripken, Jr.
CARAU-CY Carl Yastrzemski
CARAU-DJ Derek Jeter
CARAU-DM Don Mattingly
CARAU-FL Francisco Lindor
CARAU-FR Frank Robinson
CARAU-FT Frank Thomas
CARAU-GM Greg Maddux
CARAU-HA Hank Aaron
CARAU-I Ichiro
CARAU-JB Johnny Bench
CARAU-JC Jose Canseco
CARAU-JD Jacob DeGrom
CARAU-JV Joey Votto
CARAU-KB Kris Bryant
CARAU-LB Lou Brock
CARAU-MMC Mark McGwire
CARAU-MT Mike Trout
CARAU-NR Nolan Ryan
CARAU-NRY Nolan Ryan
CARAU-NS Noah Syndergaard
CARAU-OC Orlando Cepeda
CARAU-OS Ozzie Smith
CARAU-OV Omar Vizquel
CARAU-RC Rod Carew
CARAU-RH Rickey Henderson
CARAU-RJ Reggie Jackson
CARAU-RJO Randy Johnson
CARAU-RS Ryne Sandberg
CARAU-SC Steve Carlton
CARAU-SK Sandy Koufax
CARAU-WB Wade Boggs