2011 Topps Marquee
Description
2011 Topps Marquee is a 100-card set and was released on September 12th, 2011. Billed by Topps as "something for everyone at a mid-range price point," (although at $50/pack, that claim is a bit questionable) each five-card pack will contain: three base cards, a serial-numbered parallel, and either a serial-numbered autograph or a serial-numbered jumbo relic or multi-relic card. Each card will be printed on 48pt cardstock, a gauge not seen in a base set since Fleer's Flair sets of the mid-90s.
Marquee marks the return of Joe DiMaggio to Topps, whose rights had been under an exclusive contract to Upper Deck the past three years. In addition, boxing champion Manny Pacquiao signed for Marquee.
Each four-pack Hobby box will contain an on-card autograph, an autographed multi-relic card, a jumbo relic card, and a quad relic card.
Distribution
Four packs per box, five cards per pack (MSRP: $50). 12 boxes per case. Hobby only.
Approximately 1200 12-box, cases were produced.
Reviews
Insertion Ratios
| Cards | Total Cards | Numbered To | Odds |
| --- | --- | --- | --- |
| Base | 100 | 720 (estimated) | 3:1 |
| Blue | 100 | 299 | * |
| Copper | 100 | 199 | * |
| Gold | 100 | 99 | * |
| Platinum | 100 | one-of-one | * |
| Titanic Jumbo Relics | 130 | 99 | ? |
| Titanic Jumbo Relics Gold Foil | 130 | 10 | ? |
| Titanic Jumbo Relic Autographed | 100 | 5 | 1:48 |
| Titanic Jumbo Patch Relics | 50 | 5 | ? |
| Ty Cobb Jersey Stitching | 1 | one-of-one | ? |
| Gametime Mementos Quad Relics | 55 | 199 | ? |
| Gametime Mementos Quad Relics Gold Foil | 55 | 25 | ? |
| Gametime Mementos Legend Quad Relics | 8 | 25 | ? |
| Gametime Mementos Legend Quad Relics Gold Foil | 8 | 5 | ? |
| Gametime Mementos Quad Patch Relics | 35 | 5 | ? |
| Gametime Mementos Autographed Quad Relics | 25 | 10 | ? |
| Monumental Markings | 75 | ? | ? |
| Monumental Markings Gold Foil | 75 | 5 | ? |
| Monumental Markings Dual | 25 | 15 | ? |
| Acclaimed Impressions Dual Relic Autograph | 75 | ? | ? |
| Acclaimed Impressions Dual Relic Autograph Gold Foil | 75 | 5 | ? |
| Acclaimed Impressions Dual Relic Autograph Patch | 75 | one-of-one | ? |
| Acclaimed Impressions Triple Relic Autograph | 35 | ? | ? |
| Acclaimed Impressions Triple Relic Autograph Gold Foil | 35 | 5 | ? |
| Acclaimed Impressions Triple Relic Autograph Patch | 35 | one-of-one | ? |
| Museum Collection Autograph | 120 | 10 | 1:48 |
* Each pack will contain one parallel.
Each four-pack Hobby box will contain one Titanic Jumbo Relic, one Gametime Memento, one Monumental Markings, and one Acclaimed Impression.
Checklist
Base Set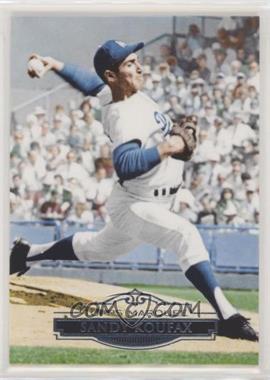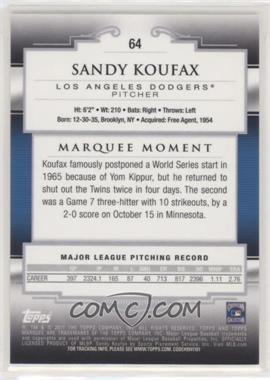 NOTE: Although the base cards are not serial-numbered, we estimate that only 720 copies of each card were produced.
1 Ryan Braun
2 Juan Marichal
3 Cliff Lee
4 Christy Mathewson
5 Ozzie Smith
6 Robinson Cano
7 Mark Teixeira
8 Jim Palmer
9 Jered Weaver
10 Rogers Hornsby
11 Albert Pujols
12 Bob Gibson
13 Dustin Pedroia
14 Ryan Zimmerman
15 Nolan Ryan
16 Brandon Phillips
17 Starlin Castro
18 George Sisler
19 Lou Gehrig
20 CC Sabathia
21 Brian Wilson
22 Justin Verlander
23 Jon Lester
24 Pee Wee Reese
25 Joey Votto
26 Ichiro
27 Mariano Rivera
28 Carlos Gonzalez
29 Chipper Jones
30 Cy Young
31 Mickey Mantle
32 Tony Gwynn
33 Tris Speaker
34 Thurman Munson
35 Jason Heyward
36 Babe Ruth
37 Prince Fielder
38 Cal Ripken, Jr.
39 Cole Hamels
40 Joe Morgan
41 Justin Morneau
42 Michael Pineda
43 Stan Musial
44 Hanley Ramirez
45 Jackie Robinson
46 Derek Jeter
47 Frank Robinson
48 Ty Cobb
49 Whitey Ford
50 Ian Kinsler
51 Kevin Youkilis
52 Matt Kemp
53 Miguel Cabrera
54 Tom Seaver
55 Ryan Howard
56 Andre Ethier
57 Matt Holliday
58 Josh Johnson
59 Ryne Sandberg
60 Zach Britton
61 Jose Bautista
62 Mel Ott
63 Zack Greinke
64 Sandy Koufax
65 Mike Schmidt
66 Ubaldo Jimenez
67 Clayton Kershaw
68 Adrian Gonzalez
69 Nelson Cruz
70 Alex Rodriguez
71 Shin-Soo Choo
72 Willie McCovey
73 Eddie Murray
74 Justin Upton
75 Duke Snider
76 David Wright
77 Hank Aaron
78 Roy Campanella
79 Jose Reyes
80 Evan Longoria
81 David Price
82 Tim Lincecum
83 Reggie Jackson
84 Johnny Mize
85 Roberto Alomar
86 Carlos Santana
87 Adam Dunn
88 Josh Hamilton
89 Buster Posey
90 Joe DiMaggio
91 Troy Tulowitzki
92 Brett Anderson
93 Johnny Bench
94 Chase Utley
95 Roy Halladay
96 Carl Crawford
97 Honus Wagner
98 Felix Hernandez
99 Joe Mauer
100 Brooks Robinson
Parallels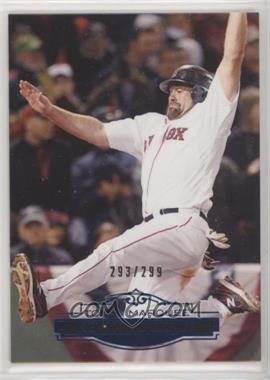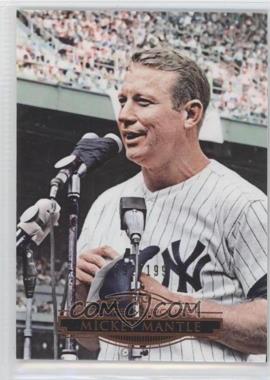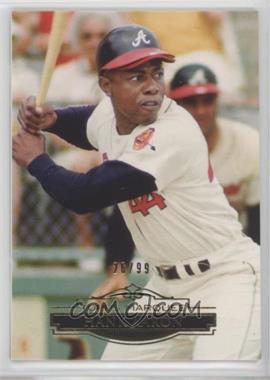 Each five-card pack will contain one base card parallel.
Blue (serial-numbered to 299 copies)
Copper (serial-numbered to 199 copies)
Gold (serial-numbered to 99 copies)
Platinum (one-of-one)
Game-Used
Titanic Jumbo Relics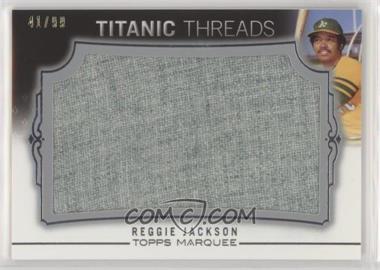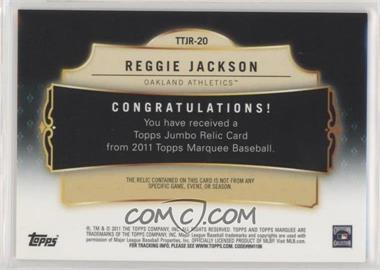 Each Titanic Jumbo Relic is serial-numbered to 99 copies, with a Gold Foil parallel serial-numbered to ten also available.
TTJR-1 Mike Schmidt
TTJR-2 Derek Jeter
TTJR-3 Nolan Ryan
TTJR-4 Evan Longoria
TTJR-5 Joe DiMaggio
TTJR-6 Rickey Henderson
TTJR-7 Mickey Mantle
TTJR-8 Ichiro
TTJR-9 Albert Pujols
TTJR-10 Hank Aaron
TTJR-11 Sandy Koufax
TTJR-12 Roy Halladay
TTJR-13 Stan Musial
TTJR-14 Bob Gibson
TTJR-15 Felix Hernandez
TTJR-16 Joe Mauer
TTJR-17 Tony Gwynn
TTJR-18 Luis Aparicio
TTJR-19 Johnny Bench
TTJR-20 Rollie Fingers
TTJR-21 Carlton Fisk
TTJR-22 Reggie Jackson
TTJR-23 Fergie Jenkins
TTJR-24 Al Kaline
TTJR-25 Juan Marichal
TTJR-26 Willie McCovey
TTJR-27 Joe Morgan
TTJR-28 Eddie Murray
TTJR-29 Jim Palmer
TTJR-30 Tony Perez
TTJR-31 Gaylord Perry
TTJR-32 Brooks Robinson
TTJR-33 Ryne Sandberg
TTJR-34 Red Schoendienst
TTJR-35 Tom Seaver
TTJR-36 Ozzie Smith
TTJR-37 Roy Campanella
TTJR-38 Johnny Mize
TTJR-39 Mel Ott
TTJR-40 Roberto Alomar
TTJR-41 Albert Belle
TTJR-42 Bert Blyleven
TTJR-43 Jim Bunning
TTJR-44 Andre Dawson
TTJR-45 Steve Garvey
TTJR-46 Barry Larkin
TTJR-47 Roger Maris
TTJR-48 Paul Molitor
TTJR-49 Paul O'Neill
TTJR-50 Cal Ripken, Jr.
TTJR-51 Frank Robinson
TTJR-52 John Smoltz
TTJR-53 Frank Thomas
TTJR-54 Jered Weaver
TTJR-55 Torii Hunter
TTJR-56 Hunter Pence
TTJR-57 Brett Wallace
TTJR-58 Brett Anderson
TTJR-59 Trevor Cahill
TTJR-60 Jose Bautista
TTJR-61 Kyle Drabek
TTJR-62 Martin Prado
TTJR-63 Chipper Jones
TTJR-64 Jason Heyward
TTJR-65 Ryan Braun
TTJR-66 Prince Fielder
TTJR-67 Matt Holliday
TTJR-68 Adam Wainwright
TTJR-69 Starlin Castro
TTJR-70 Aramis Ramirez
TTJR-71 Justin Upton
TTJR-72 Stephen Drew
TTJR-73 Andre Ethier
TTJR-74 Matt Kemp
TTJR-75 Clayton Kershaw
TTJR-76 Tim Lincecum
TTJR-77 Pablo Sandoval
TTJR-78 Brian Wilson
TTJR-79 Shin-Soo Choo
TTJR-80 Carlos Santana
TTJR-81 Grady Sizemore
TTJR-82 Michael Pineda
TTJR-83 Carlos Beltran
TTJR-84 David Wright
TTJR-85 Jose Reyes
TTJR-86 Robinson Cano
TTJR-87 Hanley Ramirez
TTJR-88 Josh Johnson
TTJR-89 Mike Stanton
TTJR-90 Ryan Zimmerman
TTJR-91 Zach Britton
TTJR-92 Alex Rodriguez
TTJR-93 Mat Latos
TTJR-94 Heath Bell
TTJR-95 Cliff Lee
TTJR-96 Ryan Howard
TTJR-97 Andrew McCutchen
TTJR-98 Josh Hamilton
TTJR-99 Nelson Cruz
TTJR-100 Ian Kinsler
TTJR-101 Jeremy Hellickson
TTJR-102 Mariano Rivera
TTJR-103 Adrian Gonzalez
TTJR-104 Josh Beckett
TTJR-105 Carl Crawford
TTJR-106 Joey Votto
TTJR-107 Brandon Phillips
TTJR-108 Troy Tulowitzki
TTJR-109 Carlos Gonzalez
TTJR-110 Billy Butler
TTJR-111 Miguel Cabrera
TTJR-112 Justin Verlander
TTJR-113 Justin Morneau
TTJR-114 Carlos Quentin
TTJR-115 Mark Teixeira
TTJR-116 Tim Hudson
TTJR-117 Jay Bruce
TTJR-118 Johnny Cueto
TTJR-119 Drew Stubbs
TTJR-120 Edwin Encarnacion
TTJR-121 Vladimir Guerrero
TTJR-122 A.J. Pierzynski
TTJR-123 Asdrubal Cabrera
TTJR-124 Mark Buehrle
TTJR-125 Jimmy Rollins
TTJR-126 Alex Gordon
TTJR-127 Michael Young
TTJR-128 Fausto Carmona
TTJR-129 Carlos Marmol
TTJR-130 B.J. Upton
Patch
Each Titanic Jumbo Patch is serial-numbered to five copies.
TTJP-1 Nick Markakis
TTJP-2 Bert Blyleven
TTJP-3 Miguel Cabrera
TTJP-4 Barry Larkin
TTJP-5 Josh Hamilton
TTJP-6 Rick Porcello
TTJP-7 Rickey Henderson
TTJP-8 Joakim Soria
TTJP-9 Josh Hamilton
TTJP-10 Ian Kinsler
TTJP-11 Vladimir Guerrero
TTJP-12 Shin-Soo Choo
TTJP-13 Adam Jones
TTJP-14 Chipper Jones
TTJP-15 Brian Roberts
TTJP-16 Ichiro
TTJP-17 Roberto Alomar
TTJP-18 Todd Helton
TTJP-19 Matt Kemp
TTJP-20 Jake Peavy
TTJP-21 Roberto Alomar
TTJP-22 Justin Morneau
TTJP-23 Frank Robinson
TTJP-24 Ryan Braun
TTJP-25 Gaylord Perry
TTJP-26 Troy Tulowitzki
TTJP-27 Frank Thomas
TTJP-28 Felix Hernandez
TTJP-29 Tommy Hanson
TTJP-30 Mike Schmidt
TTJP-31 Justin Upton
TTJP-32 Roy Halladay
TTJP-33 Johnny Bench
TTJP-34 Miguel Cabrera
TTJP-35 Jonathan Papelbon
TTJP-36 Ryne Sandberg
TTJP-37 Jim Thome
TTJP-38 Mark Buehrle
TTJP-39 Chris Carpenter
TTJP-40 Cole Hamels
TTJP-41 Brett Anderson
TTJP-42 Gordon Beckham
TTJP-43 Nolan Ryan
TTJP-44 Shane Victorino
TTJP-45 Gary Carter
TTJP-46 Andre Dawson
TTJP-47 Adam Wainwright
TTJP-48 Tony Gwynn
TTJP-49 Cal Ripken, Jr.
TTJP-50 Jason Heyward
Ty Cobb Jersey Stitching
This one-of-one card features the stitched name tag from the underside of the neck of one of Ty Cobb's jerseys.
Gametime Mementos Quad Relics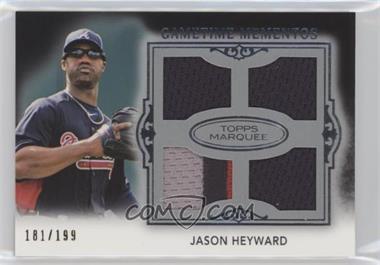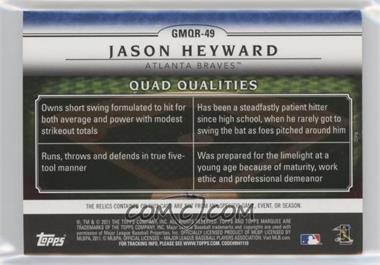 Each Gametime Mementos Quad Relic is serial-numbered to 199 copies with a Gold Foil parallel serial-numbered to 25 also available. The eight "Legends" are serial-numbered to 25 with a Gold Foil numbered to five.
GMQR-1 Rickey Henderson
GMQR-2 Ichiro
GMQR-3 David Ortiz
GMQR-4 Prince Fielder
GMQR-5 Mark Teixeira
GMQR-6 Hanley Ramirez
GMQR-7 Cal Ripken, Jr.
GMQR-8 Starlin Castro
GMQR-9 Gary Carter
GMQR-10 Josh Hamilton
GMQR-11 Alex Rodriguez
GMQR-12 Roy Halladay
GMQR-13 Kevin Youkilis
GMQR-14 Ben Zobrist
GMQR-15 Justin Verlander
GMQR-16 Albert Pujols
GMQR-17 Tony Perez
GMQR-18 Johan Santana
GMQR-19 Miguel Cabrera
GMQR-20 Reggie Jackson
GMQR-21 Joe Mauer
GMQR-22 Phil Hughes
GMQR-23 Jim Bunning
GMQR-24 Joe DiMaggio
GMQR-25 Austin Jackson
GMQR-26 Nick Markakis
GMQR-27 Mariano Rivera
GMQR-28 Jay Bruce
GMQR-29 Johnny Cueto
GMQR-30 Tim Hudson
GMQR-31 Angel Pagan
GMQR-32 Joey Votto
GMQR-33 Martin Prado
GMQR-34 Michael Young
GMQR-35 Ryan Braun
GMQR-36 Stephen Drew
GMQR-37 Brandon Phillips
GMQR-38 Edwin Encarnacion
GMQR-39 Brett Wallace
GMQR-40 Pablo Sandoval
GMQR-41 Michael Brantley
GMQR-42 Kelly Johnson
GMQR-43 Justin Upton
GMQR-44 Logan Morrison
GMQR-45 Brett Gardner
GMQR-46 Freddie Freeman
GMQR-47 Clayton Kershaw
GMQR-48 Heath Bell
GMQR-49 Ian Kinsler
GMQR-50 Jimmy Rollins
GMQR-51 Dexter Fowler
GMQR-52 Carlos Beltran
GMQR-53 Nelson Cruz
GMQR-54 Chris Iannetta
GMQR-55 Derek Jeter
GMQR-56 Jason Heyward
GMQR-57 Mike Stanton
GMQR-58 Jered Weaver
GMQR-59 Matt Holliday
GMQR-60 Hunter Pence
GMQR-61 Matt Kemp
GMQR-62 Shin-Soo Choo
GMQR-63 Carlos Santana
GMQR-64 Babe Ruth
GMQR-65 Roy Campanella
GMQR-66 Ty Cobb
GMQR-67 Lou Gehrig
GMQR-68 Jackie Robinson
GMQR-69 Jimmy Foxx
GMQR-70 Mickey Mantle
Gametime Mementos Quad Patch Relics
Each Gametime Mementos Quad Patch Relic is serial-numbered to five copies.
GMQP-1 Pablo Sandoval
GMQP-2 Nick Markakis
GMQP-3 Bert Blyleven
GMQP-4 Rollie Fingers
GMQP-5 Miguel Cabrera
GMQP-6 Barry Larkin
GMQP-7 Josh Hamilton
GMQP-8 Lance Berkman
GMQP-9 Rickey Henderson
GMQP-10 Joakim Soria
GMQP-11 Josh Hamilton
GMQP-12 Ian Kinsler
GMQP-13 Vladimir Guerrero
GMQP-14 Shin-Soo Choo
GMQP-15 Adam Jones
GMQP-16 Chipper Jones
GMQP-17 Ichiro
GMQP-18 Roberto Alomar
GMQP-19 Matt Kemp
GMQP-20 Jake Peavy
GMQP-21 Justin Morneau
GMQP-22 Brian Roberts
GMQP-23 Frank Robinson
GMQP-24 Ryan Braun
GMQP-25 Carlos Quentin
GMQP-26 Gaylord Perry
GMQP-27 Troy Tulowitzki
GMQP-28 Frank Thomas
GMQP-29 Felix Hernandez
GMQP-30 Howie Kendrick
GMQP-31 Tommy Hanson
GMQP-32 Jon Papelbon
GMQP-33 Justin Upton
GMQP-34 Roy Halladay
GMQP-35 Mike Schmidt
Autographs
Monumental Markings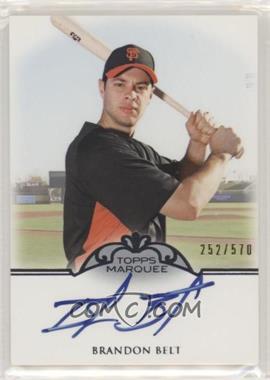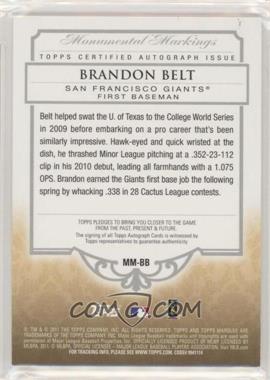 Each Monumental Markings card is also available in a Gold Foil parallel, serial-numbered to five copies.
MM-AC Aroldis Chapman
MM-AE Andre Ethier
MM-AG Adrian Gonzalez
MM-AOG Alexi Ogando
MM-AP Albert Pujols
MM-APA Angel Pagan
MM-BA Brett Anderson
MM-BB Brandon Belt
MM-BGI Bob Gibson
MM-BJU B.J. Upton
MM-BL Barry Larkin
MM-BM Brian McCann
MM-BPO Buster Posey
MM-BR Brooks Robinson
MM-BWA Brett Wallace
MM-CBU Clay Buchholz
MM-CC Carl Crawford
MM-CK Clayton Kershaw
MM-CK Craig Kimbrel
MM-CR Colby Rasmus
MM-CYO Chris Young
MM-DP Dustin Pedroia
MM-DS Drew Stubbs
MM-DST Drew Storen
MM-EA Elvis Andrus
MM-EL Evan Longoria
MM-ESA Ervin Santana
MM-FCA Fausto Carmona
MM-FF Freddie Freeman
MM-FJ Fergie Jenkins
MM-FMA Fernando Martinez
MM-GF George Foster
MM-HA Hank Aaron
MM-HB Heath Bell
MM-ID Ike Davis
MM-IK Ian Kinsler
MM-JB Jay Bruce
MM-JCU Johnny Cueto
MM-JFR Jeff Francis
MM-JH Josh Hamilton
MM-JH Jeremy Hellickson
MM-JHE Jason Heyward
MM-JJ Josh Johnson
MM-JJE Jeremy Jeffress
MM-JM Juan Marichal
MM-JP Jim Palmer
MM-JT Jose Tabata
MM-JW Jered Weaver
MM-KD Kyle Drabek
MM-MBU Madison Bumgarner
MM-MHO Matt Holliday
MM-ML Mat Latos
MM-MP Michael Pineda
MM-MP Manny Pacquiao
MM-MS Mike Schmidt
MM-MST Mike Stanton
MM-MSZ Max Scherzer
MM-NF Neftali Feliz
MM-NWK Neil Walker
MM-OS Ozzie Smith
MM-PON Paul O'Neill
MM-PS Pablo Sandoval
MM-RB Ryan Braun
MM-RED Red Schoendienst
MM-RH Roy Halladay
MM-RZ Ryan Zimmerman
MM-SC Starlin Castro
MM-SK Sandy Koufax
MM-TC Trevor Cahill
MM-TG Tony Gwynn
MM-THA Tommy Hanson
MM-THU Torii Hunter
MM-TRO Tyson Ross
MM-UJI Ubaldo Jimenez
MM-ZB Zach Britton
Dual
Each Monumental Markings Dual card is serial-numbered to 15 copies.
MMD-AC Brett Anderson / Tervor Cahill
MMD-BD Zach Britton / Kyle Drabek
MMD-BL Jose Bautista / Adam Lind
MMD-BM Johnny Bench / Joe Mauer
MMD-BS Jay Bruce / Drew Stubbs
MMD-CA Starlin Castro / Elvis Andrus
MMD-CK Aroldis Chapman / Craig Kimbrel
MMD-EK Andre Ethier / Clayton Kershaw
MMD-GC Adrian Gonzalez / Carl Crawford
MMD-HC Josh Hamilton / Nelson Cruz
MMD-HF Jason Heyward / Freddie Freeman
MMD-HL Roy Halladay / Cliff Lee
MMD-HR Matt Holliday / Colby Rasmus
MMD-HW Felix Hernandez / Jered Weaver
MMD-LU Evan Longoria / B.J. Upton
MMD-MG Stan Musial / Bob Gibson
MMD-MO Don Mattingly / Paul O'Neill
MMD-MT Andrew McCutchen / Jose Tabata
MMD-PK Dustin Pedroia / Ian Kinsler
MMD-SB Pablo Sandoval / Brandon Belt
MMD-SH John Smoltz / Tim Hudson
MMD-SM Mike Stanton / Logan Morrison
MMD-SS Ozzie Smith / Red Schoendist
MMD-WD David Wright / Ike Davis
MMD-ZZ Ryan Zimmerman / Jordan Zimmermann
Museum Collection Autographs
Each Museum Collection Autograph is serial-numbered to ten copies and comes encased in a metal frame.
MCA-1 Hank Aaron
MCA-2 Sandy Koufax
MCA-3 Red Schoendienst
MCA-4 Stan Musial
MCA-5 Andre Dawson
MCA-6 Ryne Sandberg
MCA-7 Jim Palmer
MCA-8 Mike Schmidt
MCA-9 Ozzie Smith
MCA-10 Fergie Jenkins
MCA-11 Luis Aparicio
MCA-12 Paul O'Neill
MCA-13 Albert Belle
MCA-14 George Foster
MCA-15 Juan Marichal
MCA-16 John Smoltz
MCA-17 Don Mattingly
MCA-18 Carlton Fisk
MCA-19 Joe Morgan
MCA-20 Barry Larkin
MCA-21 Paul Molitor
MCA-22 Brooks Robinson
MCA-23 Johnny Bench
MCA-24 Eddie Murray
MCA-25 Frank Thomas
MCA-26 Frank Robinson
MCA-27 Tom Seaver
MCA-28 Roberto Alomar
MCA-29 Bert Blyleven
MCA-30 Bob Gibson
MCA-31 Tony Gwynn
MCA-32 Ernie Banks
MCA-33 Albert Pujols
MCA-34 Tim Hudson
MCA-35 Torii Hunter
MCA-36 Chipper Jones
MCA-37 Aramis Ramirez
MCA-38 Brian Wilson
MCA-39 Ryan Braun
MCA-40 Carlton Crawford
MCA-41 Prince Fielder
MCA-42 Matt Holliday
MCA-43 Evan Longoria
MCA-44 Jered Weaver
MCA-45 Ryan Zimmerman
MCA-46 Clayton Kershaw
MCA-47 Dustin Pedroia
MCA-48 Clay Buchholz
MCA-49 Justin Verlander
MCA-50 Hanley Ramirez
MCA-51 Ian Kinsler
MCA-52 Andre Ethier
MCA-53 Adrian Gonzalez
MCA-54 Jason Heyward
MCA-55 Cliff Lee
MCA-56 Ubaldo Jimenez
MCA-57 Buster Posey
MCA-58 Carlos Gonzalez
MCA-59 Felix Hernandez
MCA-60 Josh Hamilton
MCA-61 Miguel Cabrera
MCA-62 Matt Cain
MCA-63 Pablo Sandoval
MCA-64 Josh Johnson
MCA-65 Starlin Castro
MCA-66 Jose Bautista
MCA-67 B.J. Upton
MCA-68 Drew Stubbs
MCA-69 Jay Bruce
MCA-70 Ike Davis
MCA-71 Johnny Cueto
MCA-72 Chris Young
MCA-73 Neftali Feliz
MCA-74 Mat Latos
MCA-75 Gordon Beckham
MCA-76 Adam Jones
MCA-77 Brandon Phillips
MCA-78 Kendrys Morales
MCA-79 Mike Stanton
MCA-80 Matt Garza
MCA-81 Brett Anderson
MCA-82 Neil Walker
MCA-83 Chris Coghlan
MCA-84 Jose Tabata
MCA-85 Elvis Andrus
MCA-86 Trevor Cahill
MCA-87 Adam Lind
MCA-88 Billy Butler
MCA-89 Pedro Alvarez
MCA-90 Andrew McCutchen
MCA-91 Logan Morrison
MCA-92 Colby Rasmus
MCA-93 Jeremy Hellickson
MCA-94 Brett Wallace
MCA-95 Tsuyoshi Nishioka
MCA-96 Alexi Ogando
MCA-97 Brandon Beachy
MCA-98 Jordan Walden
MCA-99 Kyle Drabek
MCA-100 Brandon Belt
MCA-101 Michael Pineda
MCA-102 Freddie Freeman
MCA-103 Zach Britton
MCA-104 Gaby Sanchez
MCA-105 Hank Conger
MCA-106 Derek Holland
MCA-107 Angel Pagan
MCA-108 Brett Gardner
MCA-109 Jon Niese
MCA-110 Mike Minor
MCA-111 Craig Kimbrel
MCA-112 J.P. Arencibia
MCA-113 Daniel Bard
MCA-114 Justin Upton
MCA-115 Tommy Hanson
MCA-116 Travis Snider
MCA-117 Brent Morel
MCA-118 Chris Sale
MCA-119 Andrew Cashner
MCA-120 Ian Kennedy
Autographed Game-Used
Titanic Jumbo Relics Autographs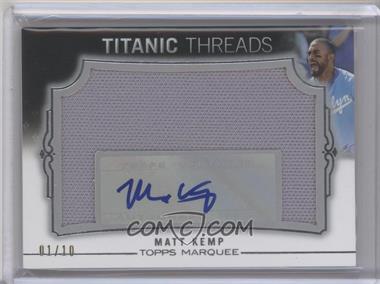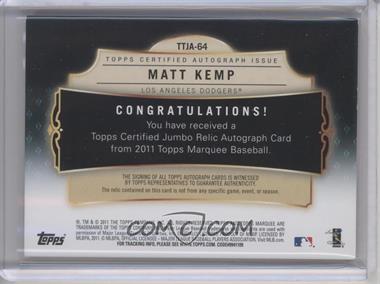 Each Titanic Jumbo Relic Autograph is serial-numbered to ten copies, and will be seeded as "case hits" (1:48/packs).
TTJA-1 Nolan Ryan
TTJA-2 Hank Aaron
TTJA-3 Josh Hamilton
TTJA-4 Sandy Koufax
TTJA-5 Trevor Cahill
TTJA-6 Ryan Howard
TTJA-7 Chase Utley
TTJA-8 Cal Ripken, Jr.
TTJA-9 Clayton Kershaw
TTJA-10 Felix Hernandez
TTJA-11 Frank Thomas
TTJA-12 Heath Bell
TTJA-13 Ian Kinsler
TTJA-14 Joe Mauer
TTJA-15 Josh Johnson
TTJA-16 Paul Molitor
TTJA-17 Reggie Jackson
TTJA-18 Tom Seaver
TTJA-19 Ryan Zimmerman
TTJA-20 Ubaldo Jimenez
TTJA-21 Carlton Fisk
TTJA-22 Nelson Cruz
TTJA-23 Bob Gibson
TTJA-24 David Wright
TTJA-25 Eddie Murray
TTJA-26 Mike Schmidt
TTJA-27 Roy Halladay
TTJA-28 Shane Victorino
TTJA-29 Brett Anderson
TTJA-30 Gordon Beckham
TTJA-31 Clay Buchholz
TTJA-32 Chris Johnson
TTJA-33 Austin Jackson
TTJA-34 Casey McGehee
TTJA-35 Pablo Sandoval
TTJA-36 Justin Upton
TTJA-37 Elvis Andrus
TTJA-38 Neftali Feliz
TTJA-39 Tommy Hanson
TTJA-40 Jason Heyward
TTJA-41 Drew Stubbs
TTJA-42 Jose Tabata
TTJA-43 Mat Latos
TTJA-44 Andre Dawson
TTJA-45 Torii Hunter
TTJA-46 Adam Jones
TTJA-47 Evan Longoria
TTJA-48 David Ortiz
TTJA-49 Matt Cain
TTJA-50 Ryan Braun
TTJA-51 Ozzie Smith
TTJA-52 Fergie Jenkins
TTJA-53 John Smoltz
TTJA-54 Don Mattingly
TTJA-55 Prince Fielder
TTJA-56 Juan Marichal
TTJA-57 Brooks Robinson
TTJA-58 Joe Morgan
TTJA-59 Brandon Phillips
TTJA-60 Jim Palmer
TTJA-61 George Foster
TTJA-62 Paul O'Neill
TTJA-63 Gary Carter
TTJA-64 Steve Garvey
TTJA-65 Roberto Alomar
TTJA-66 Bert Blyleven
TTJA-67 Starlin Castro
TTJA-71 Matt Kemp
TTJA-72 Aramis Ramirez
TTJA-73 Kendrys Morales
TTJA-74 Albert Pujols
TTJA-75 Cliff Lee
TTJA-76 Miguel Cabrera
TTJA-77 Buster Posey
TTJA-78 Dustin Pedroia
TTJA-79 Carlos Gonzalez
TTJA-80 B.J. Upton
TTJA-81 Jay Bruce
TTJA-82 Colby Rasmus
TTJA-83 Ike Davis
TTJA-84 Chris Young
TTJA-85 Neil Walker
TTJA-86 Logan Morrison
TTJA-87 Michael Pineda
TTJA-88 Freddie Freeman
TTJA-89 Kyle Drabek
TTJA-90 Jose Bautista
TTJA-91 Zach Britton
TTJA-92 Billy Butler
TTJA-93 Jeremy Hellickson
TTJA-94 Brett Wallace
TTJA-95 Brandon Belt
TTJA-96 Alexi Ogando
TTJA-97 J.P. Arencibia
TTJA-98 Brent Morel
TTJA-99 Brandon Beachy
TTJA-100 Adam Lind
TTJA-101 Chris Coghlan
TTJA-102 Edinson Volquez
TTJA-103 Hanley Ramirez
TTJA-104 Fausto Carmona
TTJA-105 Ervin Santana
TTJA-106 Marlon Byrd
TTJA-107 Jeff Francis
TTJA-108 Angel Pagan
TTJA-109 Yunel Escobar
TTJA-110 Drew Storen
TTJA-111 Fernando Martinez
TTJA-112 Andrew Cashner
TTJA-113 Jeff Niemann
TTJA-114 Daniel Descalso
TTJA-115 Daniel Hudson
TTJA-116 Danny Valencia
TTJA-117 Jeremy Jeffress
TTJA-118 Tyson Ross
TTJA-119 Chris Sale
TTJA-120 Johnny Cueto
Gametime Mementos Autographed Quad Relics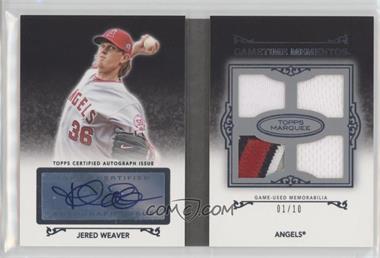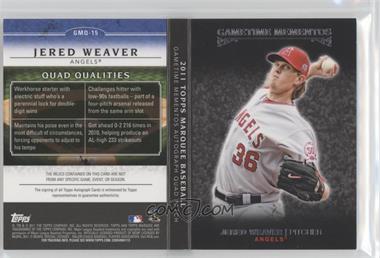 Each Gametime Mementos Autographed Quad Relic is serial-numbered to ten copies.
GMQ-1 Albert Pujols
GMQ-2 Hank Aaron
GMQ-3 Sandy Koufax
GMQ-4 Jim Palmer
GMQ-5 Ernie Banks
GMQ-6 Don Mattingly
GMQ-7 Mike Schmidt
GMQ-8 Chipper Jones
GMQ-9 Starlin Castro
GMQ-10 Miguel Cabrera
GMQ-11 Felix Hernandez
GMQ-12 Dustin Pedroia
GMQ-13 Pablo Sandoval
GMQ-14 Ian Kinsler
GMQ-15 Josh Hamilton UER (Spine says "Patch", relics are from a bat)
GMQ-16 Jered Weaver
GMQ-17 Andre Ethier
GMQ-18 Colby Rasmus
GMQ-19 Brett Anderson
GMQ-20 Aroldis Chapman
GMQ-21 Elvis Andrus
GMQ-22 Andrew McCutchen
GMQ-23 Ryan Zimmerman
GMQ-24 Matt Kemp
GMQ-25 Justin Verlander
Acclaimed Impressions Dual Relic Autograph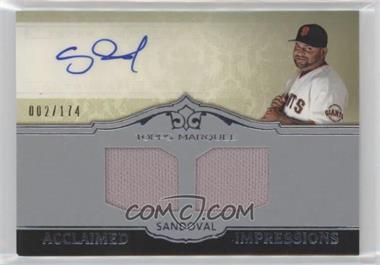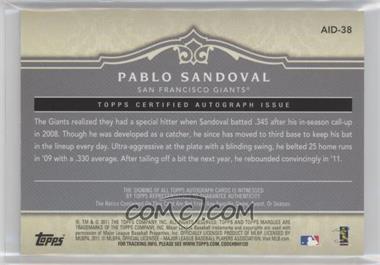 Each Acclaimed Impressions Dual Relic Autograph is also available in a Gold Foil parallel, serial-numbered to five; and a one-of-one Patch version.
AID-1 Felix Hernandez
AID-2 David Ortiz
AID-3 Prince Fielder
AID-4 Hanley Ramirez
AID-5 Cal Ripken, Jr.
AID-6 Starlin Castro
AID-7 Nick Markakis
AID-8 Miguel Cabrera
AID-9 Austin Jackson
AID-10 Reggie Jackson
AID-11 Joe Mauer
AID-12 Gary Carter
AID-13 Steve Garvey
AID-14 Kendrys Morales
AID-15 Rickey Henderson
AID-16 Evan Longoria
AID-17 Andrew McCutchen
AID-18 Ryan Braun
AID-19 Tommy Hanson
AID-20 Chipper Jones
AID-21 Matt Kemp
AID-22 Josh Johnson
AID-23 Ryan Howard
AID-24 Shin-Soo Choo
AID-25 Mike Schmidt
AID-26 Nelson Cruz
AID-27 Josh Hamilton
AID-28 Marlon Byrd
AID-29 Ike Davis
AID-30 Brett Gardner
AID-31 Ian Kinsler
AID-32 Andre Ethier
AID-33 Colby Rasmus
AID-34 Zach Britton
AID-35 Brian McCann
AID-36 Paul Molitor
AID-37 Kyle Drabek
AID-38 Jose Bautista
AID-39 Mat Latos
AID-40 Jonathan Papelbon
AID-41 Dustin Pedroia
AID-42 David Wright
AID-43 Brett Anderson
AID-44 Jim Palmer
AID-45 Pablo Sandoval
AID-46 Clay Buchholz
AID-47 Andrew Cashner
AID-48 Brett Wallace
AID-49 Jeff Niemann
AID-50 Jeremy Jeffress
AID-51 Billy Butler
AID-52 Daniel Descalso
AID-53 Brandon Belt
AID-54 Daniel Hudson
AID-55 Jose Tabata
AID-56 Max Scherzer
AID-57 Fausto Carmona
AID-58 Mike Stanton
AID-59 Neftali Feliz
AID-60 Jason Heyward
AID-61 Ozzie Smith
AID-62 Jeff Francis
AID-63 Tyson Ross
AID-64 Angel Pagan
AID-65 Heath Bell
AID-66 Madison Bumgarner
AID-67 Fernando Martinez
AID-68 Ervin Santana
AID-69 Fergie Jenkins
AID-70 Danny Valencia
AID-71 Yunel Escobar
AID-72 Drew Storen
AID-73 Ryan Zimmerman
AID-74 Bert Blyleven
AID-75 Michael Pineda
Triple Relic Autograph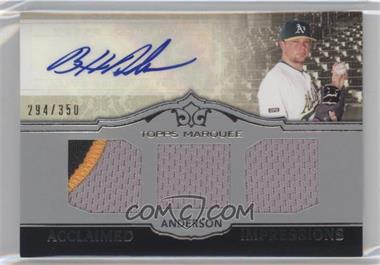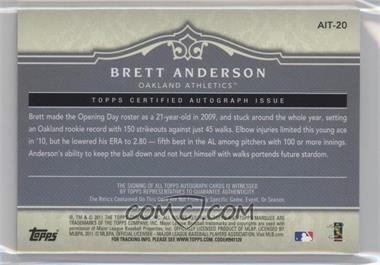 Each Acclaimed Impressions Triple Relic Autograph is also available in a Gold Foil parallel, serial-numbered to five; and a one-of-one Patch version.
AIT-1 Joe Mauer
AIT-2 Tony Gwynn
AIT-3 Elvis Andrus
AIT-4 Jason Heyward
AIT-5 Drew Stubbs
AIT-6 Neftali Feliz
AIT-7 Tommy Hanson
AIT-8 Jose Tabata
AIT-9 Trevor Cahill
AIT-10 Fergie Jenkins
AIT-11 Clayton Kershaw
AIT-12 Felix Hernandez
AIT-13 Heath Bell
AIT-14 Ian Kinsler
AIT-15 Josh Johnson
AIT-16 Ryan Zimmerman
AIT-17 Tom Seaver
AIT-18 Ubaldo Jimenez
AIT-19 Steve Garvey
AIT-20 Nelson Cruz
AIT-21 Shane Victorino
AIT-22 Brett Anderson
AIT-23 Evan Longoria
AIT-24 Adam Jones
AIT-25 Torii Hunter
AIT-26 Matt Kemp
AIT-27 Josh Hamilton
AIT-28 Martin Prado
AIT-29 Clay Buchholz
AIT-30 Austin Jackson
AIT-31 Justin Upton
AIT-32 Andrew McCutchen
AIT-33 Chris Coghlan
AIT-34 Billy Butler
AIT-35 Brandon Phillips